If you're a photography fan of photography from Peter Lindbergh and Bruce Weber, you'll recognize the tall lithe brunette, Carey Lowell, modeling in many of the 1980s era images, followed by roles in blockbusters films from License to Kill to Sleepless in Seattle and her reoccurring role on the smash television series Law & Order.
After 18-months of COVID-inspired studying and classes, Lowell has pivoted successfully once again into a career as a ceramicist.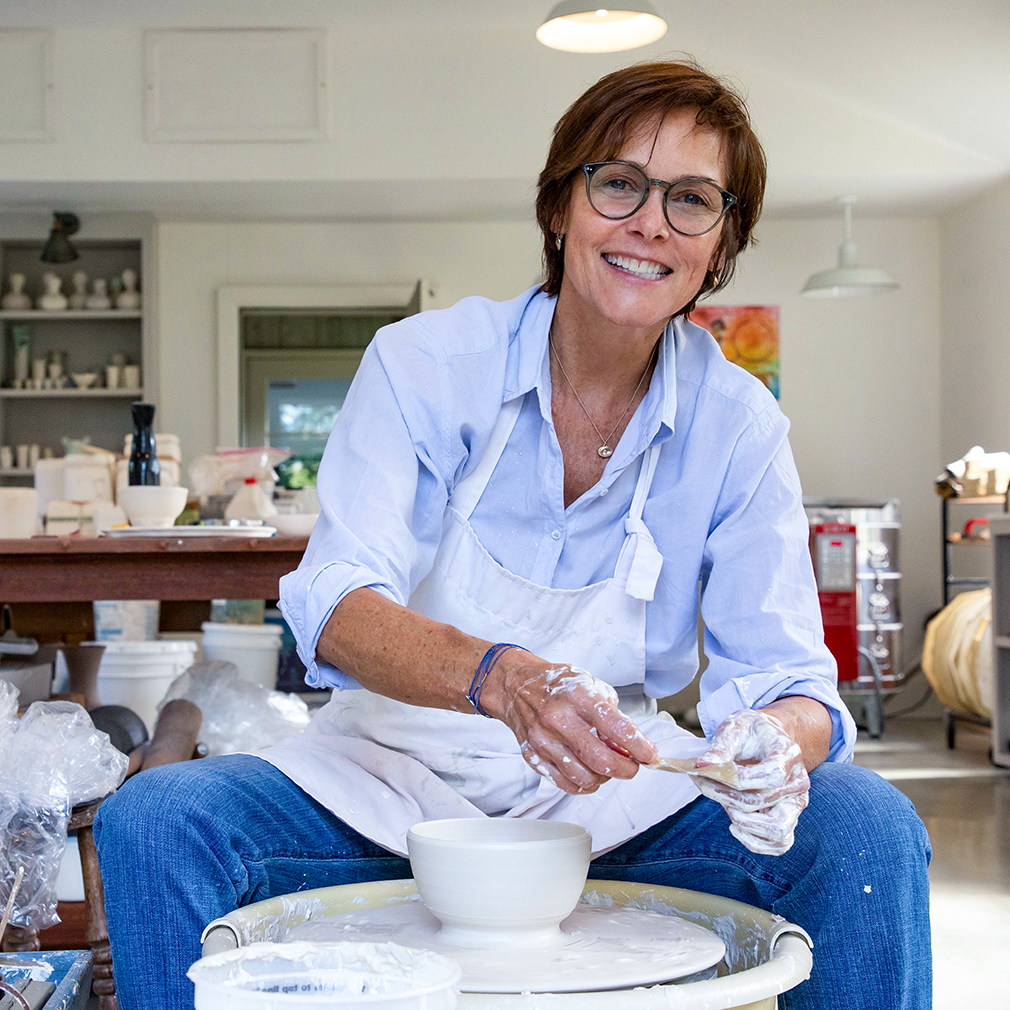 Dividing her time between an East-coast studio in upstate New York and more recently, Montecito, California, where her new ceramics space is covered in ivy with window views of the Pacific Ocean. Lowell has plenty of scenic perches for her drawing inspiration from nature, wildlife and the works of British artist Mary Rogers. Between the two vastly different settings, she creates bowls, plates, dishes, vessels, planters and vases, many of which are adorned with intricate details including exquisitely-pinched petals that represent a mandala of sorts for her practice. Fans of her work include Lisa Eisner, Jann Wenner, Lauren Santo Domingo and Muriel Brandolini, but throwing ceramics for her isn't necessarily a creative stretch compared with performing.
"What I love about the practice of ceramics compared with acting is the ability to lose yourself," she says. "Each are transcendent in their own way in the sense that something is always operating through you."
For our Shop interview, we asked Lowell about her travels, inspirations for her new business, and what she never hops on a plane without.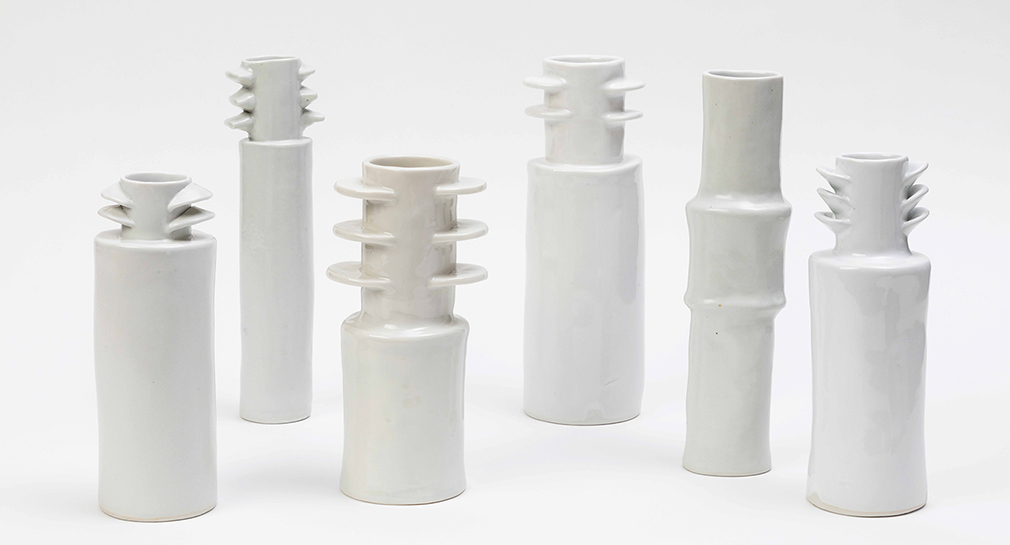 What inspired you to begin working with ceramics initially and to take the next steps by launching a business in terms of producing your own creations?
Wheel throwing was part of my high school art class and I've always loved the challenge of centering the clay and the feel of it under my hands. The endless possibilities of what could be created out of the most basic elements of earth, water and fire.
When I was looking for an art class for my daughter who was 10 at the time, I found a ceramics class at the Children's Aid Society down the block from us in NYC. I saw how much fun she was having and started taking classes myself. It was never meant to be a business but people responded to what I was making and asked for some of my work.
In the early days, I gave it away if someone was in my studio and admired a piece. Then a friend introduced me to a buyer at Barney's NY and they carried some of my work in their home section and everything took off from there. It's still only me in my studio so my output is limited, but I'm working on some collaborations with other artists for 2022 and I'm really excited to see where they will lead.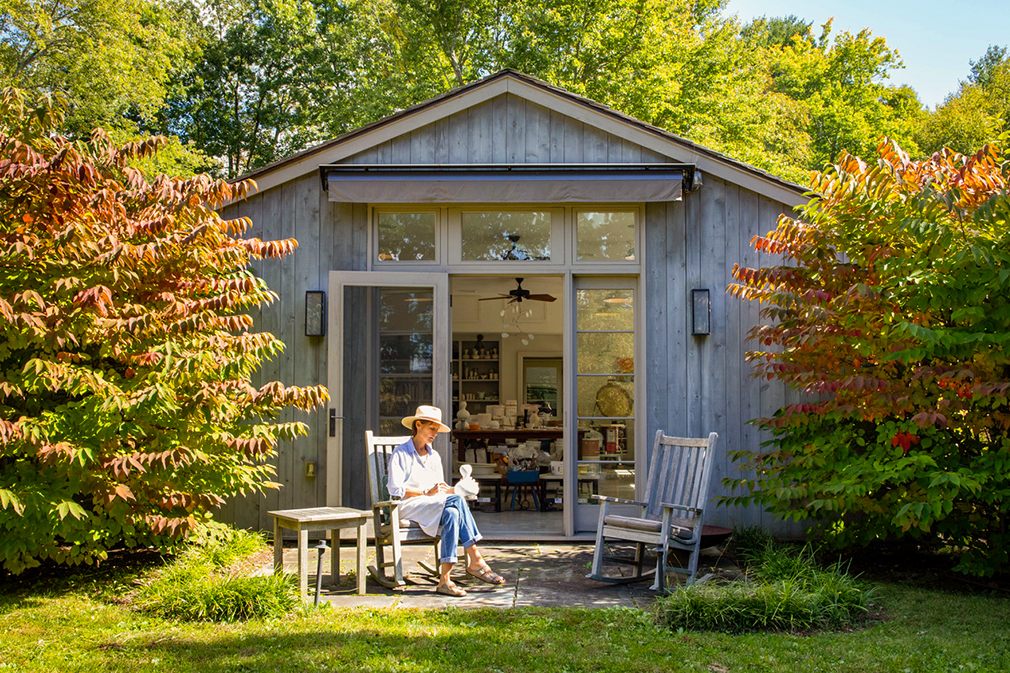 How are you splitting your time between the East and West coasts these days? What qualities do you appreciate about being bi-coastal?
I love both coasts, though I was born on the East Coast and will always think of it as home. I am less enthusiastic about the New York winter and really appreciate the climate in California from January through April. I also love New York by the beach in the summer and the fall is so beautiful as well. I like to be outdoors as much as I can so I tend to follow the warm weather when I can. I love the hiking in California and tending my garden in New York.

What are some of your favorite cities in the world for inspiration and why? Can you tell us about the ceramics you collect on your travels?
I love Kyoto for its rustic refinement and their exquisite ceramics used in everyday life, especially when dining.
Fez or Marrakech – for the color, the artistry, the gorgeous ceramic tiles used in their buildings. The Medersa Ben Youssefin Marrakech is not to be missed. The wonderful pottery you can buy from a vendor by the side of the road driving through the High Atlas Mountains. The food served in beautiful ceramic tagines. I always return home with a suitcase full of ceramics I've purchased in Morocco.
Sifnos in Greece, aside from the fact that I adore Greece in general, for the kindness and positive vibes of the Greeks, the delicious food and the beautiful blues of the sea and they also make exquisite ceramics in Sifnos.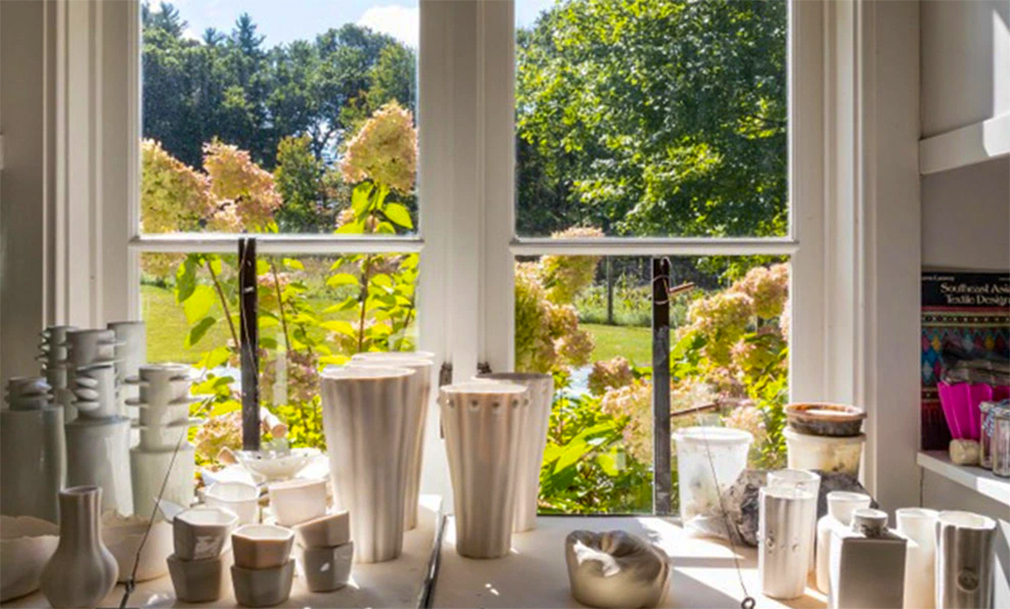 Please give us an example of your perfect day in New York and places you love to visit.
A morning spent at Greenwich House Pottery, working in clay or taking a class, then pop over to MacDougal Street to have a bowl of Pho at Saigon Shack, followed by a visit to any of the museums (The Whitney, The Frick, MoMA or The Met), they're all outstanding New York cultural institutions. A stroll through Central Park and dinner at Omen Azen for the best Japanese food.
Do you have a 'go-to' for travel gear or accessories before a big trip?
My Tumi suitcase with the soft top and hard bottom. I have traveled with it everywhere and am on my second one now. Tumi replaced the first one when the zipper broke after almost 5 years. Their service is truly amazing.
What is one item or product that you can't travel without and where will you be taking it to on your next trip?
My iPhone (it's my favorite camera), plus my Kindle (with all of my books downloaded for reading). And I always carry Jasmine Pearl Green Tea, and sometimes even my own Bee House teapot. My next trip is tentatively to Iraq and Saudi Arabia, and if the journey happens, I'm particularly looking forward to going to Jordan and visiting Petra.