"Travel changes you. As you move through this life and this world you change things slightly, you leave marks behind, however small. And in return, life—and travel—leaves marks on you," Anthony Bourdain.
Today is the long-awaited official release of television host Anthony Bourdain's posthumous book World Travel: An Irreverent Guide" (Ecco.)
Is it a coincidence that this travel tome came out on April 20 – international cannabis day? Maybe not. Seems that Tony (as his friends and family called him) would have gotten a kick out of that in some way.
And, the fact that his last book is already a best seller on Amazon before it was officially released.
Before Bourdain passed away in France in 2018, over the years we collectively caught the travel bug with his Emmy-Award winning television travel diary-series No Reservations, Parts Unknown and The Layover, not to mention his other novels Bone in the Throat, Gone Bamboo, the memoir A Cook's Tour, and the New York Times bestsellers Kitchen Confidential, Medium Raw, and Appetites.
This bitter-sweet compilation of Bourdain's favorite countries and cities along with unique flavors and foods also includes recommendations for airports, hotels, taxi fares and contact information. While it's more of a traditional guide book that was completed by Bourdain's longtime assistant and editor, Laurie Woolever, it is punctuated with witty and acerbically brilliant quotes, thoughts and observations from the voracious travel host, including how to "hit the ground running in Penang, Malaysia" to "eating like an Englishman" in London – a favorite stop on all of his series.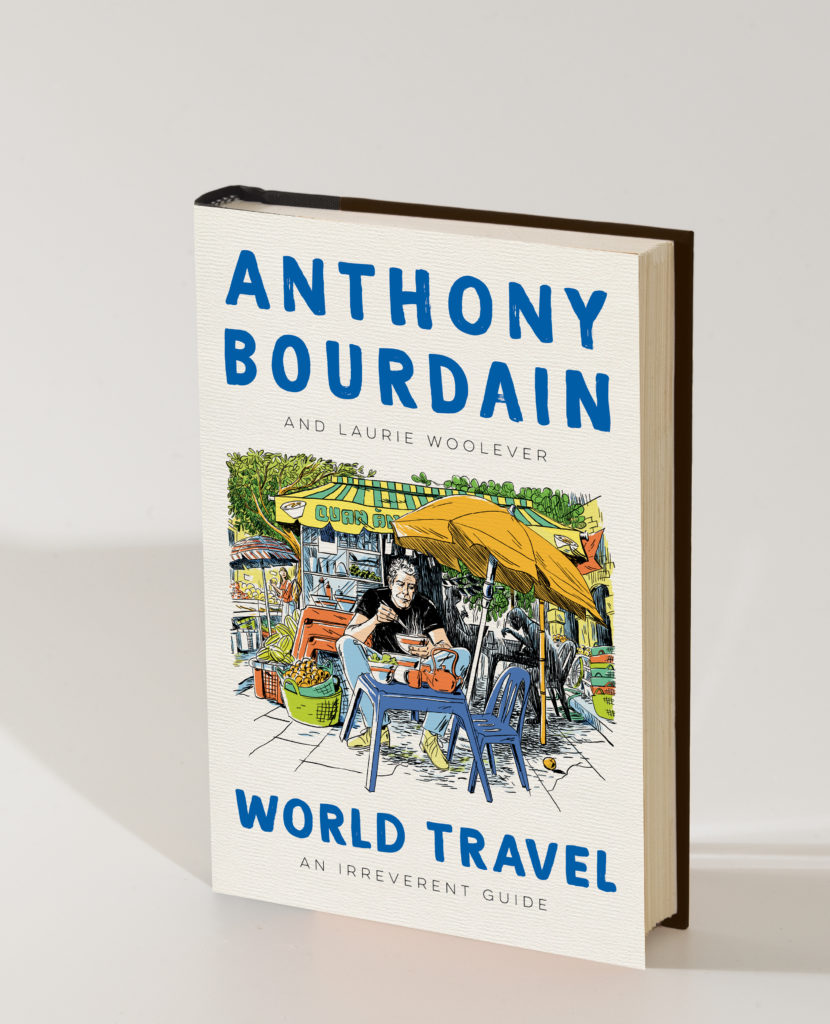 The 471-word tome covers Buenos Aires to Barcelona, Mozambique to Miami but sadly, there are no final images to accompany the destinations but there are black and white drawings between chapters by brilliant cartoonist Wesley Allsbrook.
So why do you need this book? In the end, it's a thought-provoking collection of Bourdain's best quotes about his favorite places woven into useable info such as the 'who, what, where and how' about his favorite haunts (and ones to avoid) and anecdotes about when the authors visited or were filming which show.
As co-author Laurie Woolever asks in her introduction to the book, "Did the world need another travel guide, and did we need to write it?" She goes on to tell the story of how the book grew from a conversation with her longtime collaborator and friend "Tony" back in the spring of 2017. Although the end result wasn't' the book she'd begun to plan with him, and it took a different form than they'd originally envisioned, what readers' now have is one-of-a-kind recommendations from Bourdain with essential context and information from Woolever.
Of course, food also plays a central role in the destinations highlighted, "About to get on a plane? Eat something Good before you go to the airport, something big and good that's going to knock you on your ass."
Over the years he dined in some of the world's most legendary culinary destinations with top toques, hole-in-the-wall pit-stops with locals, and even grabbed a bowl of noodles in Vietnam with then-President Barak Obama, he also regularly tempted fate with scarily exotic indigenous choices. Who could forget the 2013 Cook's Tour episode in Saigon where he ate the beating cobra heart? And described it as 'an aggressive oyster.' Bourdain also relished in tried-and-true favorites such as the Chateau Marmont bar and In-N-Out burger in Los Angeles, and Grey's Papaya and Katz's Deli in New York. He also loved Paris, along with dining and traveling with his good friend Michelin-starred French chef Eric Ripert of Le Bernadin in New York.
He also adored Spain and visiting with his close friend and native José Andrés. He told us back in 2016, "This is not going to be a punishment. So much great food and ingredients and a lot of great places to eat. They are food crazy. Something I've noticed over the years is they are very similar to Japan and even Italy. There is this notion, particularity in the Basque country, that you take two or three ingredients and do your very best to honor them. They have a true tapas culture. They know how to live and their level of douchery is minimal. It's awesome."
Another great component of this book is the contributions from his friends and brother Christopher Bourdain. "We got the food bug, the travel bug, and the understanding that you could hang out with people from other countries, and learn things and take pleasure in coming to understand them. This is where is all started," he confirmed.
The publishers hope that readers, whether armchair traveling or planning future jaunts can experience the world once again with Anthony Bourdain and walk in his shoes. And, critics such as Publisher's Weekly, are expecting fans to devour this book. There was no one in the world who traveled the way Bourdain did and this tome offers a glimpse into his world and his thoughts on his last trip around the sun, and for that, we are grateful.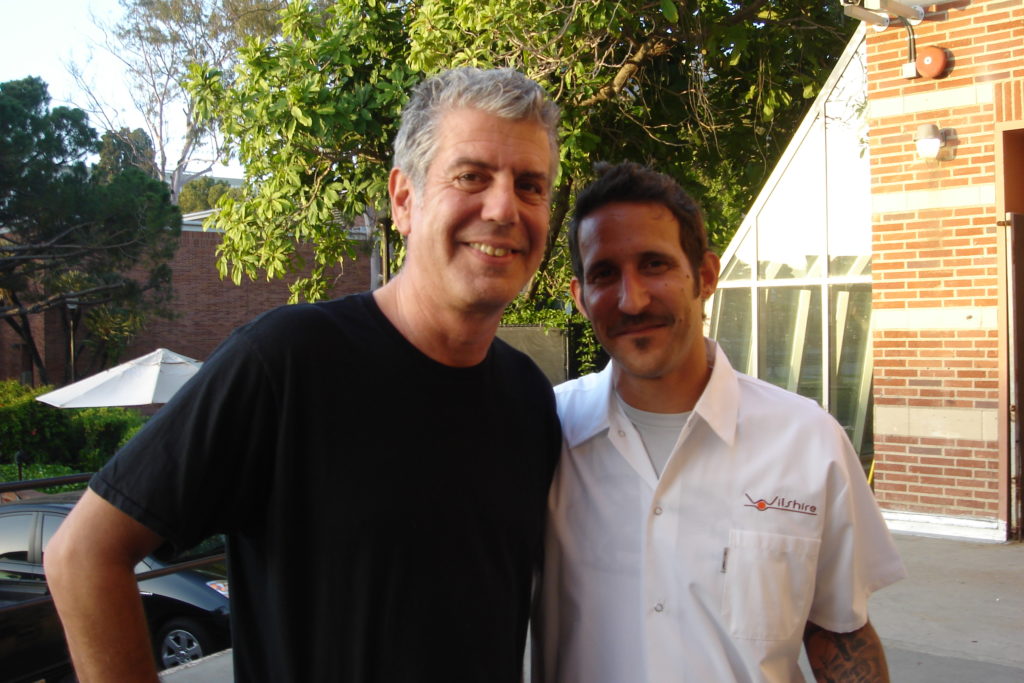 I've had the good fortune of interviewing Bourdain many times over the years from London to Los Angeles, and here are some of my favorite quotes from a few of the ones we did in L.A.
"If you invite me to your house for dinner and cook with a cheap non-stick pan, I'd probably bludgeon you to death with it, but it would probably break halfway through."
"You do something for the love and craft of the product, surely that's a noble thing. I wish I could make something as tangible and lasting but five minutes into assembling something from IKEA, I'm ready to have a nervous breakdown. A lot of cooking is pounding and shaping food into compliance."
Favorite Episode of Parts Unknown:
One of his favorite episodes was the Cuba show – which one him an Emmy. "If I rode around on a pony in a parking lot eating BBQ for every episode, the ratings would be through the roof. But we choose to spend an unnecessary amount of time making beautiful shots and a handcrafted show. "
Favorite City to Eat:
"If I had to be imprisoned behind one city wall for the rest of my life and only eat that one food it would be Tokyo."
Where he liked Eating and Drinking in L.A.
After hitting one of his tried-and-true L.A. favorite burger joints, In-n-Out, then Night + Market Thai in Silver Lake and a Mexican restaurant where he appeared to be filming, along with giving the finger in his Instagram photo, Bourdain revealed to us what his top three restaurants were of the moment. "I hate to name favorites," but here are a few that we persuaded him to reveal.
Chi Spacca– owned by LaBrea Bakery and Mozza pizzeria queen Nancy Silverton, this Melrose spot is a chef's favorite and features giant cutting boards of charcuterie and a not-for-the-faint-of-heart rich bone marrow pot pie. Musso & Franks – One of the oldest restaurants in town, Bourdain loves this classic Hollywood Boulevard spot where the waiters still dress in formal attire, "for drinking good quality whiskey." Bar at Chateau Marmont– according to Bourdain, "This is one of the best hotels in the world," and he always stayed in one of the bungalows when visiting the storied Sunset Strip hotel where in the words of Raymond Chandler "anything can happen" which he posted on his Insta page shortly after arriving in town that year. Jumbo's Clown Room – A dive bar and exotic dance club on the East end of Hollywood. "I think there is something kind of perfect about drinking a really expensive whiskey at a table at Jumbos," he jokes. Courtney Love allegedly used to dance there.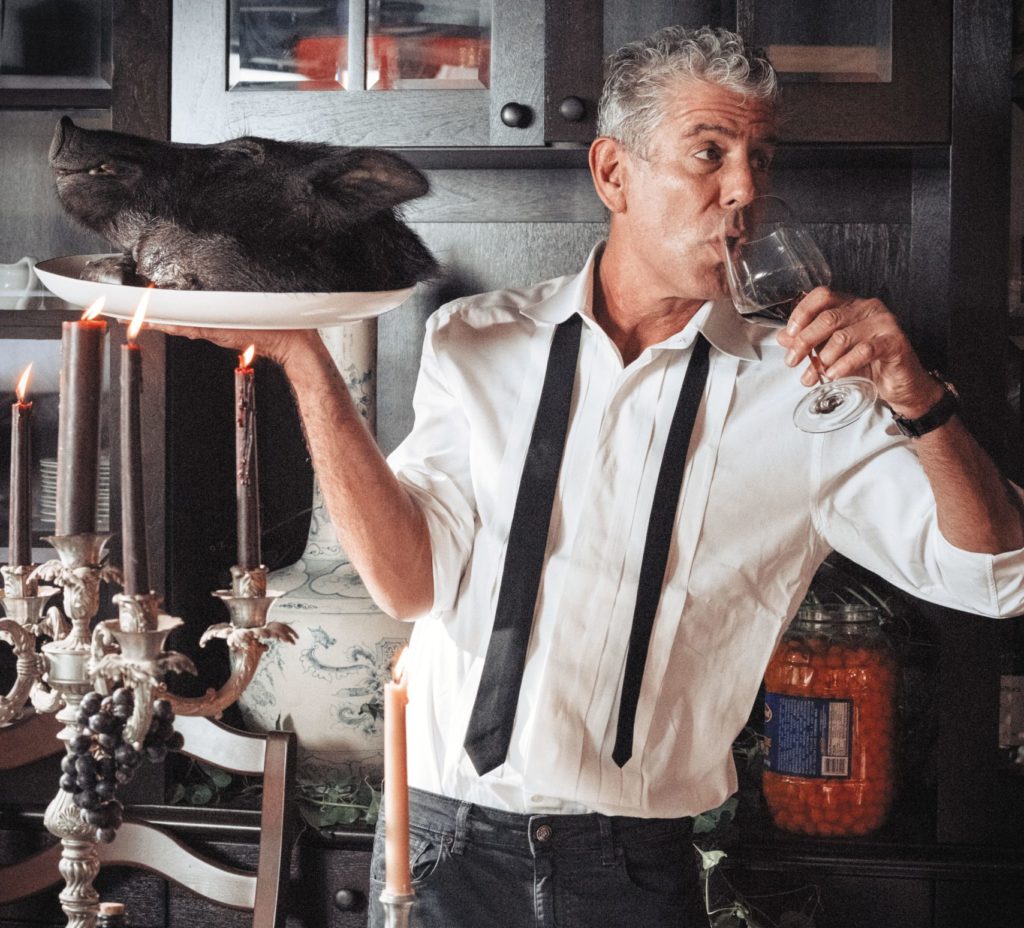 Five of our favorite quotes from Anthony Bourdain's books and shows:
"The journey is part of the experience – an expression of the seriousness of one's intent. One doesn't take the A train to Mecca."
A Cook's Tour: Global Adventures in Extreme Cuisines
"If you're twenty-two, physically fit, hungry to learn and be better, I urge you to travel – as far and as widely as possible. Sleep on floors if you have to. Find out how other people live and eat and cook. Learn from them – wherever you go."
Medium Raw: A Bloody Valentine to the World of Food and the People Who Cook
"Your body is not a temple, it's an amusement park. Enjoy the ride."
Kitchen Confidential: Adventures in the Culinary Underbelly
"Do we really want to travel in hermetically sealed popemobiles through the rural provinces of France, Mexico and the Far East, eating only in Hard Rock Cafes and McDonald's? Or do we want to eat without fear, tearing into the local stew, the humble taqueria's mystery meat, the sincerely offered gift of a lightly grilled fish head? I know what I want. I want it all. I want to try everything once."
Kitchen Confidential: Adventures in the Culinary Underbelly
"Travel isn't always pretty. It isn't always comfortable. Sometimes it hurts, it even breaks your heart. But that's okay. The journey changes you; it should change you. It leaves marks on your memory, on your consciousness, on your heart, and on your body. You take something with you. Hopefully, you leave something good behind."
No Reservations: Around the World on an Empty Stomach