Phantasmagoric trees and plants, craggy mountains, caves, freshwater wadis, white sand dunes, deserted beaches that dissolve into turquoise waters—and next to no tourists. Impossible? It's the island of Socotra, the largest in an archipelago of four islands some 240 miles southeast of Yemen, declared a UNESCO World Heritage Site in 2008. Biologists have identified some 700 species on the islands, a third of which are found nowhere in the world but Socotra.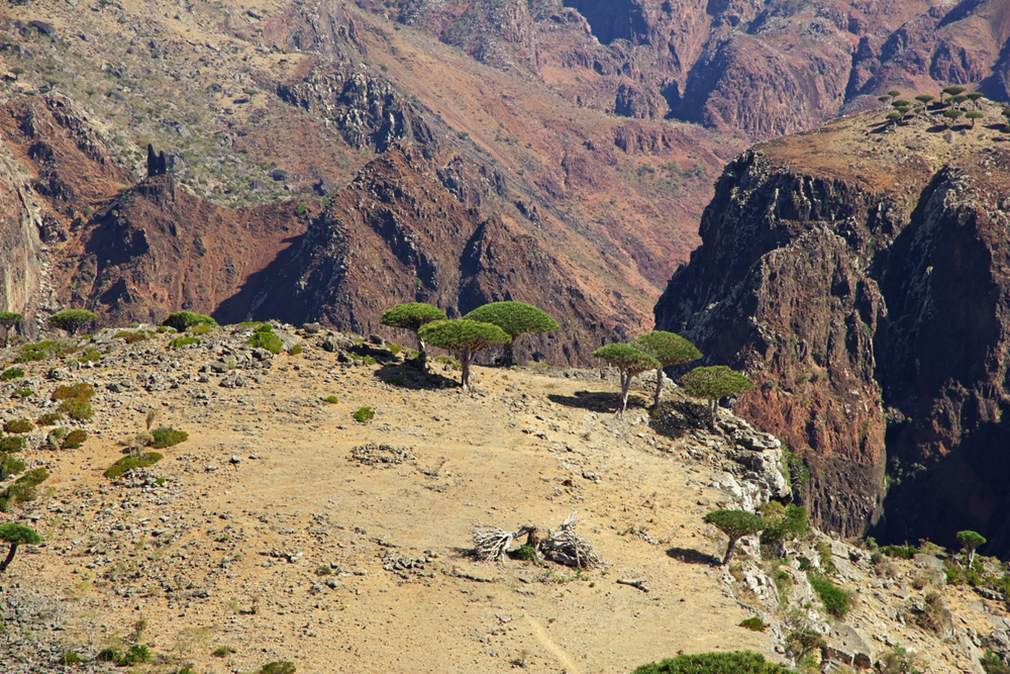 Probably the most famous of Socotra's endemic plant species is the Dragon's Blood Tree, an other-worldly umbrella-like tree that can live centuries and produces blood-red sap. Unfortunately, a combination of drought, winds and overgrazing goats have put the tree in danger of extinction. Equally anomalous are the bottle tree, the cucumber tree, and the Desert Rose, all of which appear like something Doctor Seuss might have dreamed. The Desert Rose, for instance, can have a trunk up to eight feet wide, with, like an afterthought, a scattering of leaves at its peak and vivid pink blooms in the spring.
"I've been all over the world and I've never been any place as completely unique as Socotra," says John Leupold of Champaca Journeys, who's alone at the moment in offering curated tours. "Not only is it bizarrely and uniquely beautiful, but it's virtually untouched."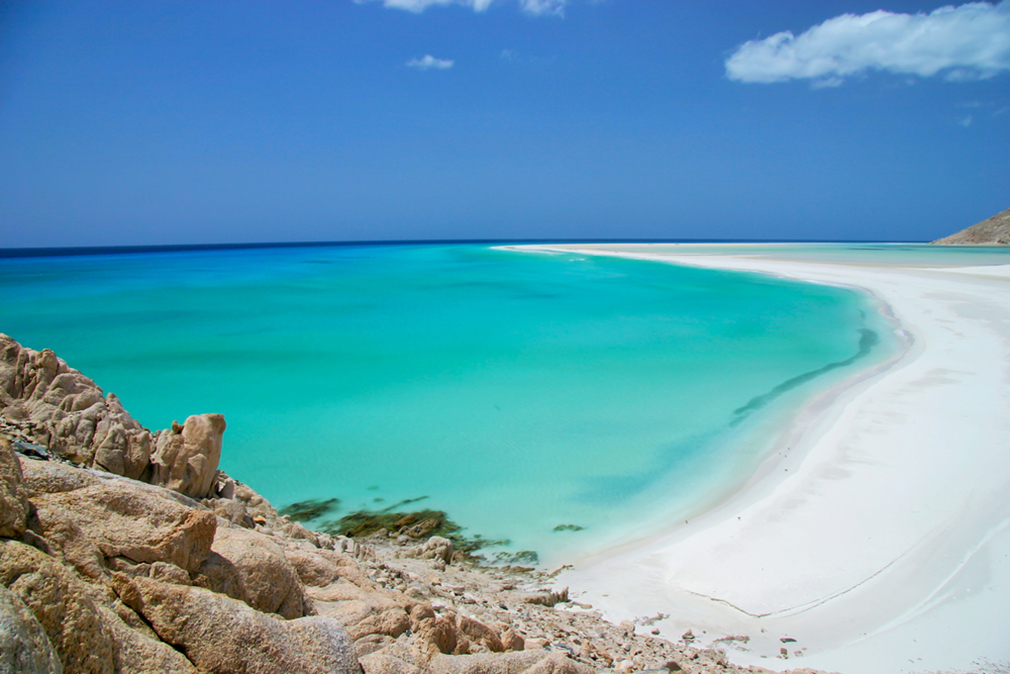 Socotra is part of Yemen, but it's far from the brutal civil war. The island is small, 82 miles long by 30-wide, with a population of around 80,000. It receives as few as 1,000 tourists a year, mostly Europeans. As Yemen has sunk into tragedy, the Saudis and Emiratis have stepped in, providing Socotra with electricity, schools, fishing boats and natural gas. They've improved the lives of the islanders, but beachfront property is being quietly bought, to the distress of local environmentalists.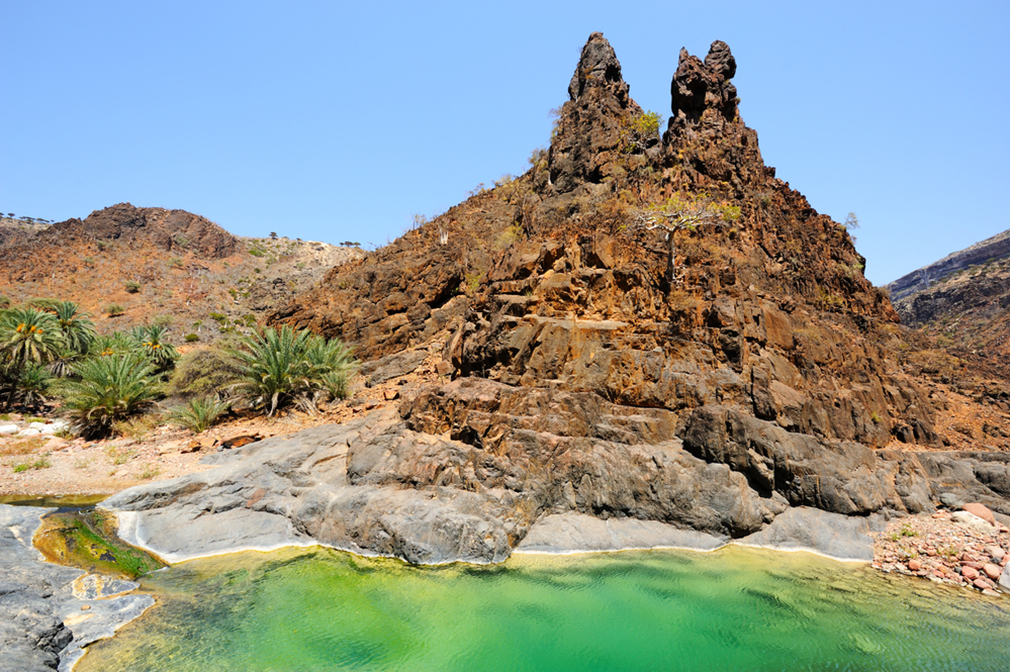 The island is reachable only via a weekly flight from Abu Dhabi. There are several very basic hotels in the capital, Hadibu, but to see the island requires camping.
"This isn't glamping," Leupold emphasizes. "But you don't have to carry your own gear or set up your own tent or anything like that." His tours, which are limited to 10 people, are accompanied by Toyota Land Cruisers, a cook, camp assistants, and a guide who's considered the best on the island. Local experts are added in each area. At night the crew entertains their guests with music and dancing. Guests sleep in individual tents, and there's a large canopy set up each day with tables for meals.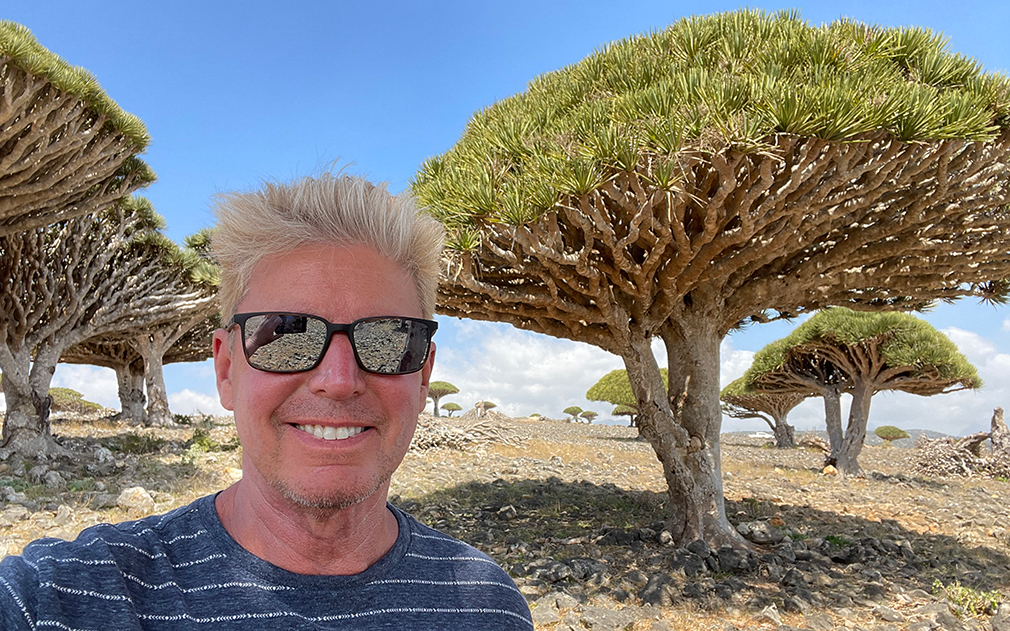 Everyone who visits Socotra is bowled over by its beauty. Leupold is captivated by the genuine warmth of the Socotri people, whom he says have so far mercifully not been jaded by hordes of tourists behaving badly. The Socotri are conservative Muslims, and the women are completely veiled, but they welcome foreigners enthusiastically.
Leupold discovered Socotra as a teenager spinning his parents' globe, and had always dreamed of visiting. But his travels kept him away. He was especially drawn to Bhutan. "I was so taken by it that I started Champaca Journeys so I could return," he says. He's since led tours and visited 51 times. Other destinations include Laos and Cambodia, Mexico, Colombia and Peru. He plans to add Namibia and Ethiopia. The next trip to Socotra will be October 10-17, 2022.
"I only take people to places I love," he says. "And I like to take people to places they've never heard of or are unlikely to travel to." And, its apparent that Socotra has his heart.