While we can't travel to many of our favorite spa destinations in the Maldives or Thailand, we can still access the soothing tips from top wellness destinations from around the world that you can apply in the comfort of home. And, who couldn't use a little self-love and healing after 2020?
If you're craving that head-to-toe mind, body and soul restorative renovation, here are some of the best at home practices from Zoom meditation to yoga and DIY facials or sound baths, and just remember to breathe.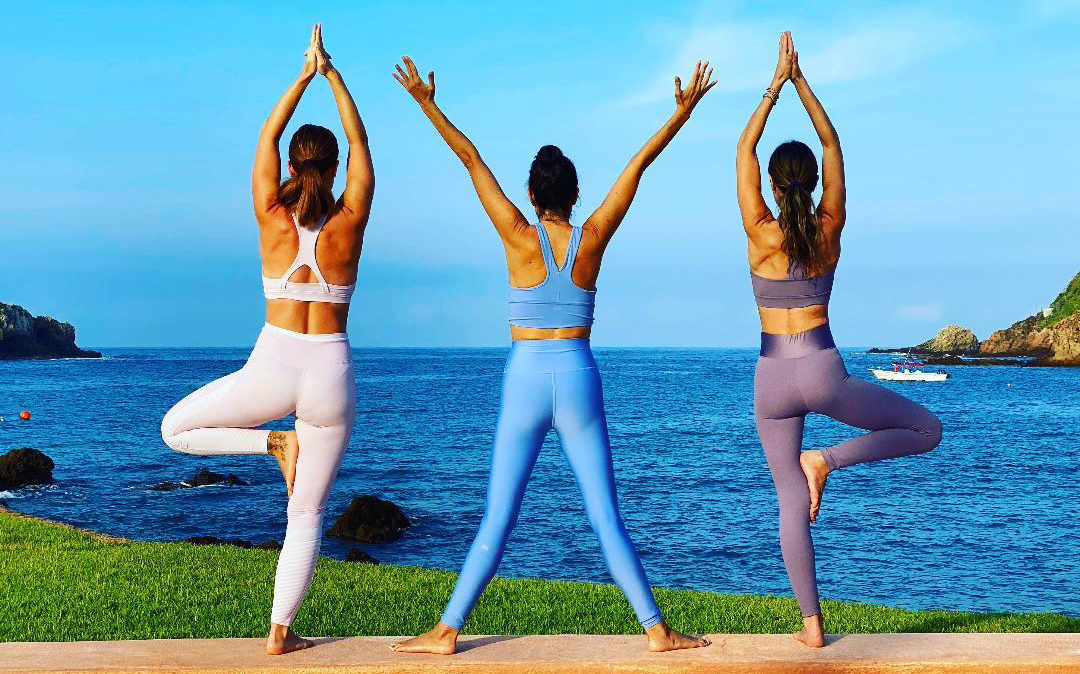 Costa Rica & Mexico
Kasiiya at Home is a video series led by the on-site healer at lush Eco-retreat Kasiiya Papagayo in the Northern region of Costa Rica. Yamuna brings health and wellness energy right to your door with a variety of three-minute video tutorials set to calming music. The result is self-healing and connecting through massage and pressure points targeting various body parts from head to toe while balancing your energies to understand the alignment of your chakras.
If you missed out on one of the month-long visiting practitioner's programs at the Jalisco jungle resort of Costa Careyes on the Pacific Coast of Mexico, don't fret. You can catch all of the top wellness instructors who also offer Zoom or Instagram Live classes from anywhere in the world. These include vinyasa yoga to breathwork meditation and sound healing sessions by Daniel Pardo. Using a gong to activate heart-brain coherence, this powerful "sound medicine" helps to calm and balance the nervous system to reduce stress.
For another sound wave, scientific studies have proven that natural soundscapes strengthen the immune system, control anxiety, and increase energy levels. Travelers at home can now meditate to the tranquil jungle and forest sounds from the Yucatán or the soothing waves from the Baja California Peninsula with the help of Velas Resorts' virtual meditation videos, available on the resort's YouTube channels.
Five-star, boutique resort Chable Yucatan was founded on Mayan rituals and traditions. Now you can connect and channel a relaxing vibe at home with DIY Mayan wellness treatments by Monica Simone, the spiritual leader and wellness director who has 30 years of experience in Chinese and Mayan Medicine. She recommends to light a candle or incense and cleanse your body as if you were sweeping it with your hands, from head to toe. Release all tension and feel the present moment. There is nothing else.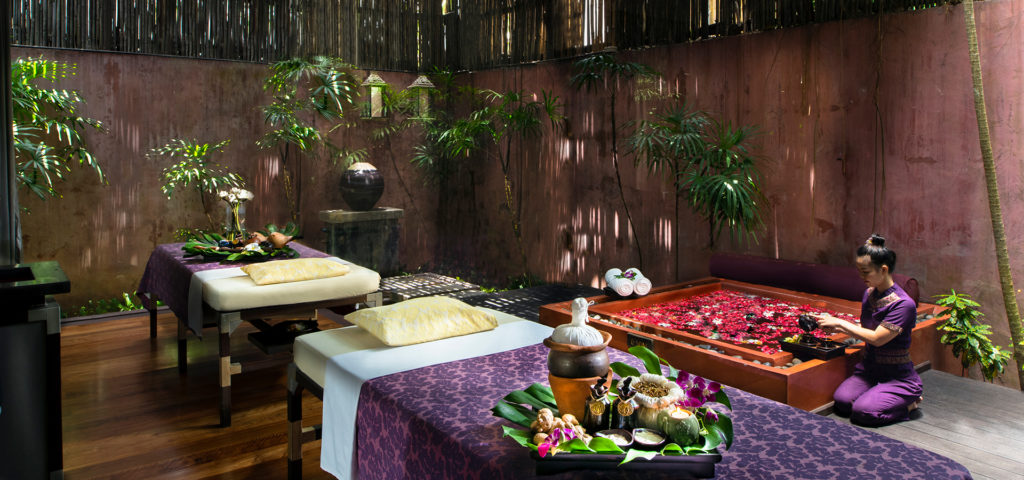 Europe
Anantara Villa Padierna Palace Benahavis Marbella Resort, Spain
It's fitting that a county known for Michelin-level chef's tomato dishes also utilized the fruit for a brightening mask to breathe life back into your skin. Tomato helps even skin tone, while honey has beneficial moisturizing properties. Grab that half of ripe tomato that didn't make it into last night's salad, and one tbsp of honey, then blend together until it becomes a paste. Gently apply to your face avoiding eye area and leave on for 15 minutes. Wash off with cold water, pat skin dry with a clean towel, and voila! instant spa-level facial from common kitchen ingredients.
South Asia & Indian Ocean
The Siam Hotel in bustling Bangkok has a cool trick to depuff your eyes after a big night out using ingredients from your cupboard. Who knew that parsley has active properties that help to diminish dark circles under the eyes and reduce puffiness? Fill an ice cube tray with fresh water and add a pinch of parsley to each cube then place in the freezer. Rub frozen cubes gently under the eyes to get rid of bags and fine lines before your next date—or Zoom call.
Naturopathic doctor and yoga expert Dr. Govindasamy at the Anatara Rasananda Koh Phangan Villas in Thailandspecializes in Ayurveda, wellness, nutrition and lifestyle. The doctor recommends simple H2O to maintain optimum wellness during self-isolation. Try to hydrate with three quarts of room temperature mineral water every day. Cold water can decrease blood supply in various organs in your body and can disturb your natural digestion, yet boiled water that has cooled down to a warm temperature can aid digestion, metabolism and reduce cholesterol.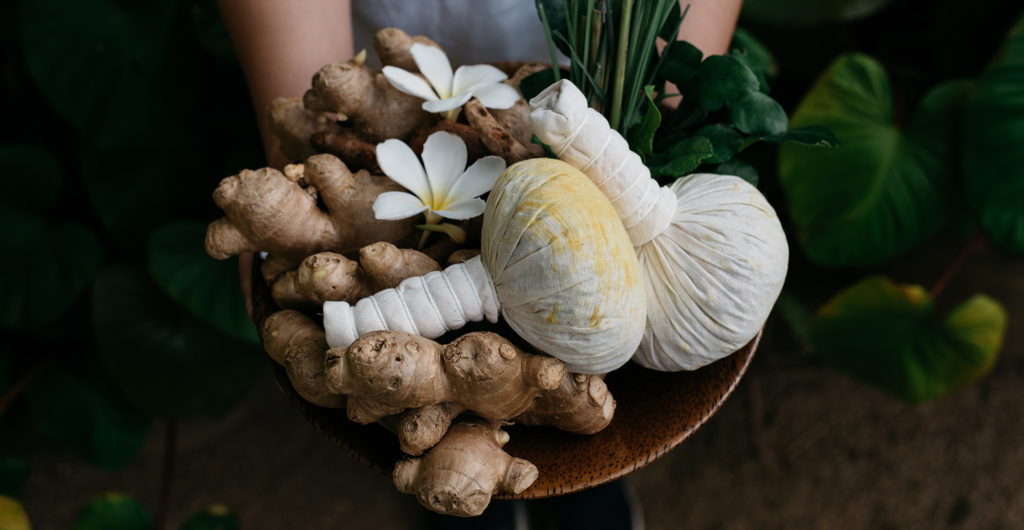 At Anantara Kalutara Resort, Sri Lanka it's all about breathing techniques to reduce blood pressure and strengthen immunity. According to their Ayurvedic Dr. Dinusha Kaushal, take a steady breath in through both nostrils and inhale until you reach your lung capacity while maintaining a tall spine. Hold the breath for a second, constrict some of the breath at the back of your throat and then exhale slowly through the nostrils and repeat. You can even do this on a conference call with your boss after pressing mute.
The leading holistic brand of Singapore-based COMO Group, has launched at home wellness programs and personal consultations via a new digital companion. COMO Shambhala By My Side is comprised of comprehensive video tutorials led by a panel of internationally-accredited specialists that include one-on-one consultations with a nutritionist, naturopath, physiotherapist or life coach. You can also shop the online retail store for spa products using their signature scent – Invigorate.
Located in the heart of the Dhaalu Atoll, The St. Regis Maldives Vommuli Resort offers a hideaway acclaimed for its healing environment. Tune into their wanderlust with wellness experiences featured on the resort's IGTV from morning yoga to a 15-minute Zumba workout set in a dreamy, tropical paradise that might also feel like a mini-vacation when you're finished feeling the burn.
United States
"Let's do a wellness weekend in NYC," said no one ever but thanks to Four Seasons Hotel New York Downtown, there are self-healing immersions which include some of the new Resident Healer Sessions led by Astrologer, Rebecca Gordon and Hypnotist, Nicole Hernandez which can now be accessed virtually.
In the healing vortex of Sedona, Enchantment Resort's 30-minute meditations are part of the Mii amo Mii Time series, highlighting the need for self-care at home. Created by Kim McDermott, senior member of mindfulness, each meditation (from clarity to courage) is podcast-style and sent out to guests each month via email.
In adapting to today's socially distant world, Carillon Miami Wellness Resort has an online retail store where cutting-edge technology and wellness products can be found. These include the Restorative Sleep Experiences by Bryte—a bed that intuitively personalizes your night time experience adjusting firmness and temperature. For travel, HaloPocket is the smallest, commercial-grade Halogenerator for dry salt therapy which is good for the respiratory system, or an Avacen gadget that increases microcirculation by applying pressure to the palm which reportedly reduces joint pain though out the body within 15-minutes.
At Four Seasons Hualalai Spa on the big island, they focus on building a curated apothecary with Hawaiian ingredients that encompass specific healing properties, yet are easily found at home in your pantry or local farmer's market. A handful of these includes ginger for stimulating circulation, pineapple juice for exfoliating the skin and turmeric to relieve inflammation. That cup of sweet cocoa is also loaded with anti-oxidants that soften skin and smooth wrinkles, while sea salt eases achy muscles and joints. Hopefully, this bounty will hold you over until your next trip to the islands.