Travel Dish spotlights Michelin-star chefs, master mixologists and global gourmet treats that you can recreate at home.
Sustainable haven ORIGINS Lodge in Costa Rica is enshrouded in a dense jungle-style setting with only 7 luxury villas amidst 111 acres of verdant rainforest with a gorgeous waterfall. All this can be reached in just one and a half hours from Liberia Airport in Alajuela. And, one of the best-kept secrets, this is the only culinary program in the region that is overseen by a Michelin-starred chef from France.
Chef Jean-Jean-Luc L'Hourre is a traveler at heart and has been passionate about cooking since he was a child growing up in coastal Brittany. Many impressive accolades have followed including being elected Meilleur Ouvrier de France (Best Worker in France) in Lannilis, near Brest in Finistère. The chef has also worked in the most prestigious establishments such as Taillevent, Lasserre and La Tour d'Argent, and has been awarded three Michelin stars. This top toque has also shared his experience of gastronomy at the prestigious Paul Bocuse Institute in Lyon, France.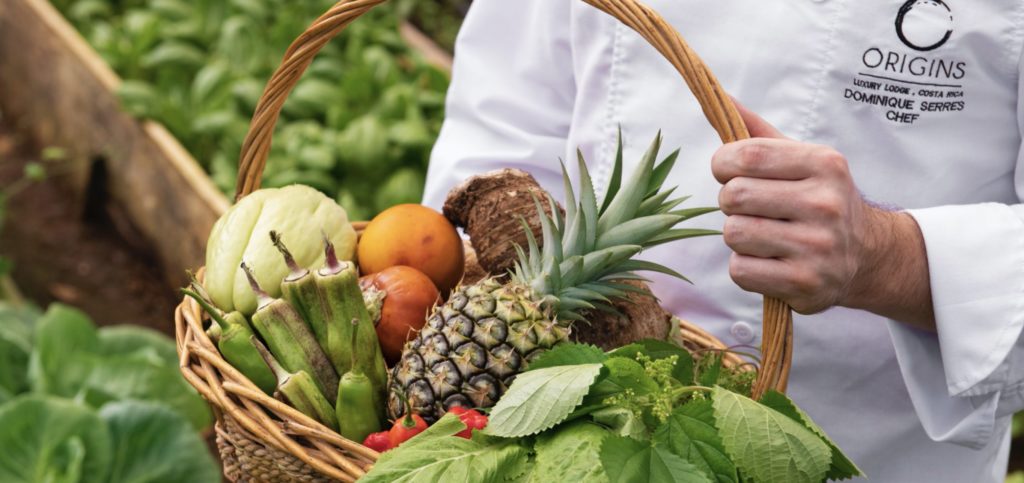 At the open-air El Sato restaurant on the ORIGINS property, the kitchen staff can pluck much of the fruits and veggies for the seasonal menus from the organic gardens where 150 different species of local plants and medicinal herbs grow freely around the grounds. Costa Rican chestnuts and l'araza, a fruit used in juice or marmalades are among the bounty. Fifteen beehives provide Mélipona honey that's considered the best in Costa Rica surrounded by 10 lakes where fish such as tilapia and sardines are sourced. Since Costa Rica lacks a sustainable fishing industry, chefs also collaborate with fishermen from the village of Puntarenas, along the Pacific coast. As part of the resort's commitment to sustainably, most of the dishes are cooked over a wood-burning stove instead of gas, and waste is turned into compost and used as fertilizer in the garden.
Even if you don't have an organic garden at home, you can impress your family, friends or a new person in your life with your culinary skills over the Easter holiday weekend. Traditional lamb or ham can be heavy and a roast chicken just doesn't have that 'special occasion' feel. However, this adopted French recipe for crispy duck breast with carrot puree and fried carrot chips might take several days to perfect, but it's one of the most requested dishes currently being served at the eco-friendly Costa Rician lodge, so it should hit the spot – and be a hit for the holiday. Good luck and bon appétit!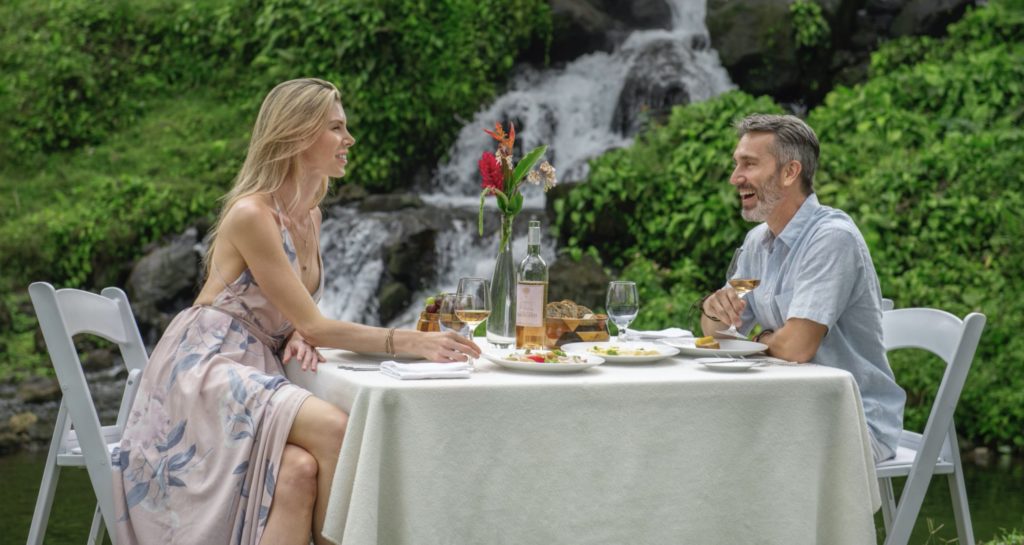 Kitchen recipe from El Salto Restaurant at Origins Lodge, Alajuela-Costa Rica
Main course:
Deconstruction of carrots, duck breast and demiglace sauce. | Preparation time 3 days (sauce) | Plate 60 to 80 minutes
Preparation:
Making demiglace sauce: In a dish, place beef bones and mirepoix of vegetables. Cover with tomato paste and cook in the oven until roasted and deglaze with red wine, and place in a pot with plenty of water and reduce.
Reduce red onion, thyme and red wine, mix with the dark background reduction, froth, cooler, degrease and rectify seasoning.
Make a carrot puree; cook in water, drain, cook in orange juice, until reduced, liquefied, strain.
Wash, peel carrot-mini, place in a sous vide bag with orange juice and simmer in water all day.
Make a poultry brood.
Peel the mini carrots and make them flat on two sides, cook in a pan with ginger and turmeric of the property, garlic, thyme and poultry brood.
Make fried carrot chips with flour, keep dehydrated.
Wash the colorful carrots of the property, and peel the top part leaving the leaves, sauté with extra virgin olive oil and Michelin starflower salt.
Make curly carrots with the fighter and cook in salted water, place the curly carrots in a decorative way.
Cook the duck breast with the skin and make it crispy, seal on the other side, carve and serve it with pink finished.
In a suitable dish, place all the ingredients in a decorative way and serve warm at the table with a good medium-bodied wine, Carmeniere or Cabernet Sauvignon.
Ingredients (based on one person)
Product & Quantity
Demiglace sauce 25 ml
Carrot puree 100 grams
Sous vide carrots 50 grams
Ginger carrots 100 grams
Poultry stock 250 ml
Carrot chips 10 grams
Saute carrot 25 grams
Curly Carrots 10 grams
Duck breast 150 grams