In Fiji, you'll be smitten even before you discover what the word "bula" means. That's because you'll feel the gravitas the word carries as Fijians say it to you. They'll utter "bula" to say hello, express happiness, wish you good health, or refer to the region's intangible, but totally palpable, feel-good energy, a life force sure to restore the spirit. Easily reached by a ten-hour flight from California, Fiji is composed of 333 islands, many of them occupied by thatched-roof, beachside resorts. A legendary hotspot for divers and snorkelers, Fiji features gin-clear waters that brim with marine life – seductive Manta Rays may lure you to join them for a swim! Home to characteristic villages, affable inhabitants, ukulele and mandolin bands, evocative church services, kava ceremonies, stunning waterfalls, a warm culture and unforgettable retreats, Fiji pleases honeymooners, culture seekers, scuba buffs, and families in search of jam-packed days.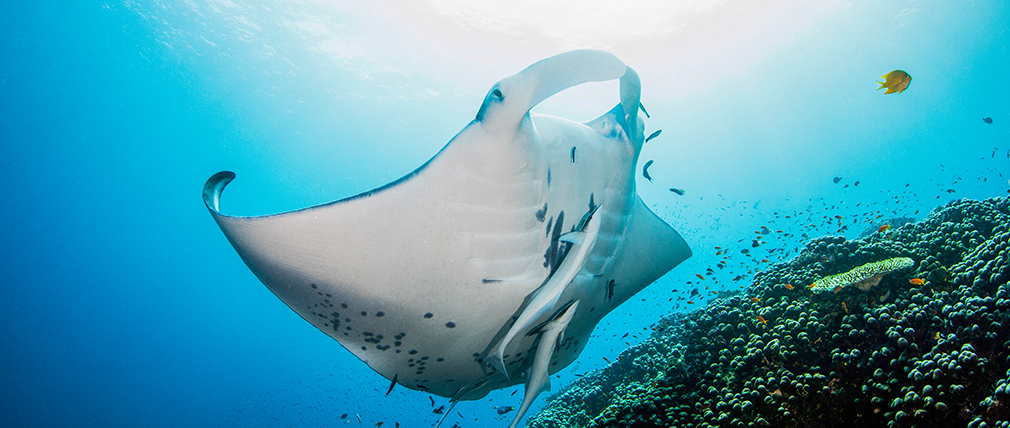 We rounded up the top 10 spots to help you plan your island-hopping adventure from where to stay, dining, water sports, mind-blowing ecological excursions and private islands.
The Mamanuca Islands
Storybook, with pristine slips of white sand, crystalline waters and coconut trees, these islands lie just off the coast of Viti Levu, the nation's main island, which holds the airport city of Nadi. Girding the closest resorts for international arrivals, these islands are easily accessed by travelers. Reach them by water ferry, private boat or helicopter transfer.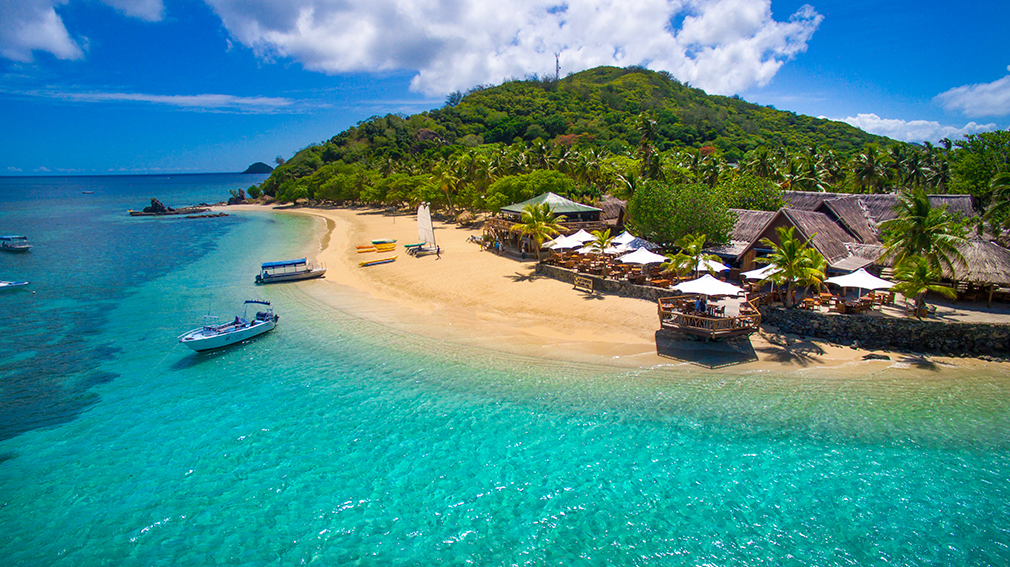 Castaway Island
As one of Fiji's oldest and most revered retreats, casual Castaway has been living up to its name with barefoot pursuits for five decades. Encompassing 174-acres, the playground is a paean to nostalgic, old- school travel, where simple pleasures rule the day. Ringed by bone-white sand, the island features 65 thatched bure (the Fijian word for suite), each decorated with local elements, such as tapa cloth—and not one room boasts a television. Meant to be a place where days blur into dreamy pleasure and evenings follow suit, Castaway operates with a kind of summer camp appeal. Myriad activities from cooking classes to paddle-boarding tempt, while Fijian cultural adventures, such as a meal made in a "lovo" (earth oven) or Fijian dancing underscores the sense of place.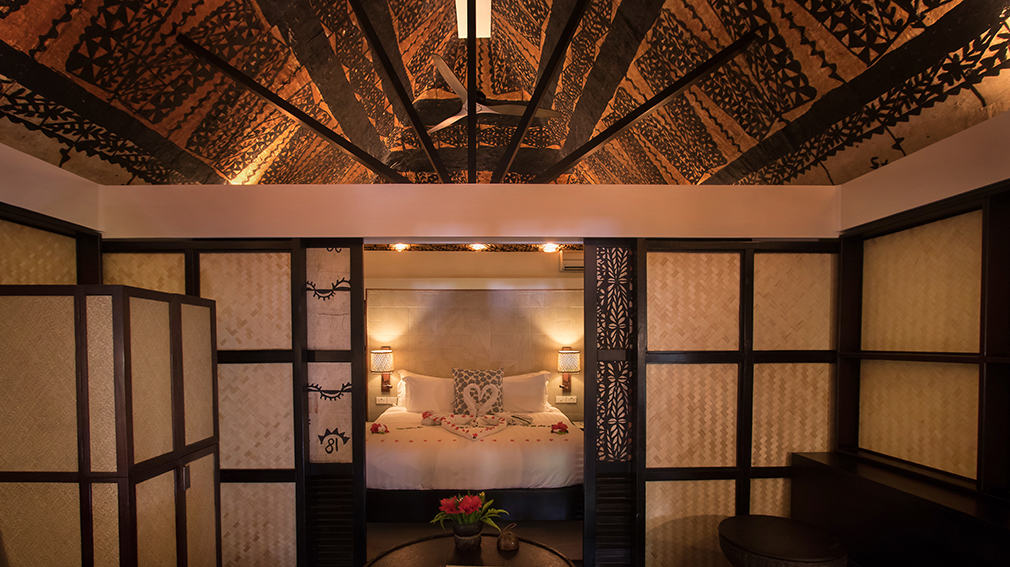 Dine: Four restaurants and bars await. Restaurant 1808 sources from many local farms, to provide an authentic and healthy Fijian dining experience.
What We Love: Castaway offers various off-island outings, such as the Shell Market Excursion and the motto "disconnect to reconnect."
Room to Book: The Family Beach Bures sit right at the beachfront, ideal for larger groups.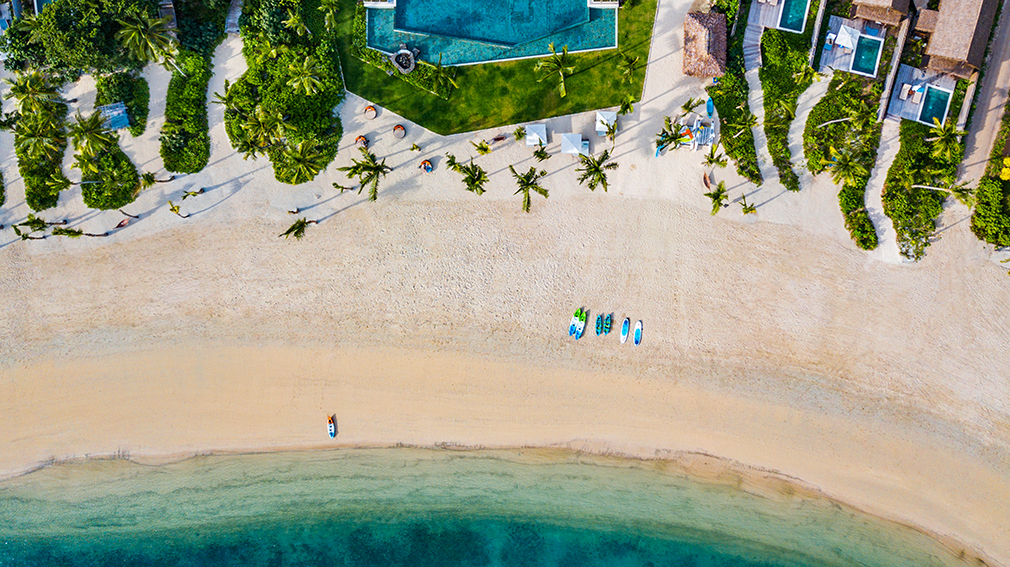 Six Senses Fiji
Touting one of the largest off-grid solar installations in the Southern Hemisphere, this posh, wellness-savvy retreat on the island of Malolo uses Tesla batteries, which work with the sun to produce 100% or the resort's power, including its desalination plant. With their own chicken farm (Cluckingham Palace) and an Iguana conservation program for bonus points, the tony, Asian-intoned hotel clearly pleases eco-conscious travelers. But sustainability isn't the only reason to visit. Intimate and romantic, Six Senses Fiji conveys guests beyond the fray to blissful peacefulness with 24 spacious pool villas, as well as a collection of beachfront villa residences for families. Be sure to reserve time in the Six Senses Fiji Spa, which structurally and spiritually references the elements of a traditional Fijian village. Treatments borrow from island traditions to offer renewal.
Dine: Try Fijian specialities, such as kokoda, or coconut cream ceviche at Tovolea.
What We Love: The Surf Academy by Tropicsurf, amongst other water sports.
Room To Book: The elegant Beachfront Pool Villas have space for three.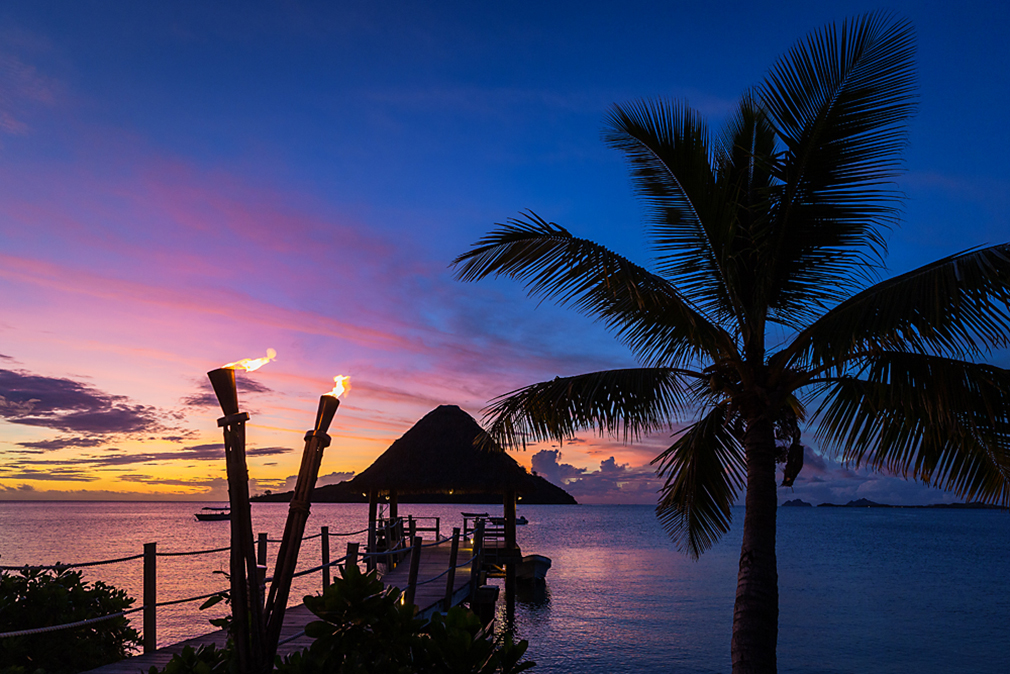 Likuliku Lagoon Resort
Likuliku means calm waters, a concept which this resort presents to guests both literally (via its serene, cobalt lagoon) and metaphorically (thanks to its restorative resort vibe). Imparting a sense of timelessness, Likuliku, situated on a hidden, unspoiled portion of Malolo Island, takes travelers to a paradisiacal dimension where authentic Fijian architecture conjures the mood of a traditional village from bygone times. Built around its impressive main building, a classic Fijian canoe house, replete with hand-woven thatch and coconut husk art, Likuliku pampers guests in a range of slope roofed bures. Of 45 luxurious suites, ten straddle the water atop poles. An exemplar spot for snorkeling and fishing, Likuliku gets accolades for its Endangered Iguana Reserve, where the retreat partners with various entities to restore the natural habitat of the endangered Fijian Crested Iguana, thought to be extinct for 25 years, but miraculously rediscovered amid the resort grounds.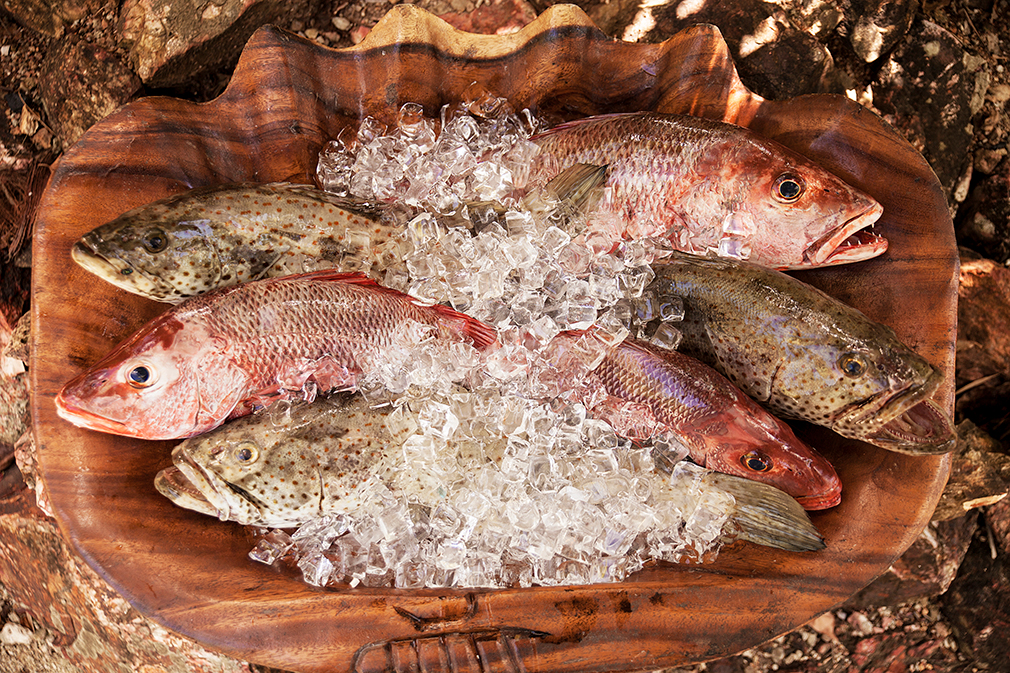 Dine: At Fijiana Restaurant, Executive Chef Gregory Llewellyn summons a melding of the myriad cultures that comprise the South Pacific, relying heavily on seafood and tropical fruit.
What We Love: On the resort's own, Lilliputian island, Mociu (Honeymoon Island) guests can experience enchanting activities such as sunrises, picnics and snorkeling adventures.
Room to Book: Go for the thrill of the Over Water Bures, Fiji's first and best of the genre.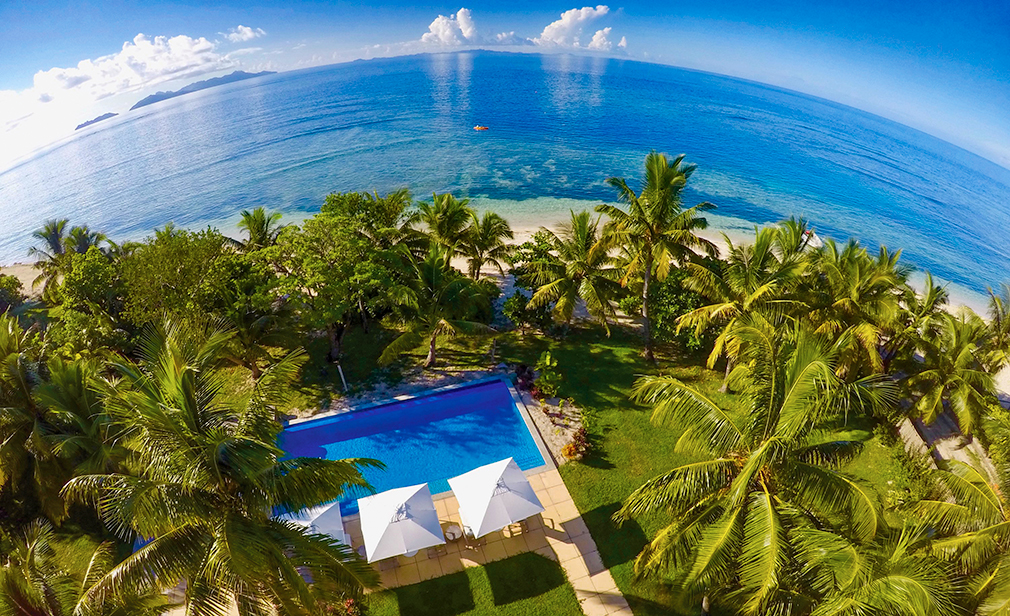 VOMO Island
Redolent of postcard-perfect, Robinson Crusoe-style, private island fantasies, 255-acre Vomo Island specializes in all-inclusive, customized itineraries. A reverie of palm-shaded niches, flowering trees, and sugary beaches, the resort takes shape with two pools and 32 exquisite villas, woven across an expansive tropical terrain. Eco-conscious, the haven caters as much to repose seekers as adrenaline junkies. From Mt. Vomo sunrise hikes to a PADI Open Water Certification courses, activity calls. But lolling about is equally encouraged. Consider a romantic outing on Vomo Lailai, Vomo's own (yet more private than Vomo itself), diminutive isle. Staff will deliver guests with snorkel equipment, sun loungers, picnic baskets and a two-way radio for sequestered, sun=dappled days. As for children: they'll beg to be dropped off at Kid's Village, where baby butlers await, freeing up parents for some alone time.

Dine: VOMO's main dining restaurant, The Reef, features ever changing three-course lunches and four-course dinners.
What We Love: The Rocks, the stunning, beachside, adults-only, pool bar and restaurant reignites romance.
Room to Book: Choose a Beachfront Villa for easy reef access.
Yasawa Islands
More remote, situated north of the Mamanucas, this group of twenty islands, ringed by bright turquoise waters, stands out as Fiji's driest. Expect to arrive by small plane.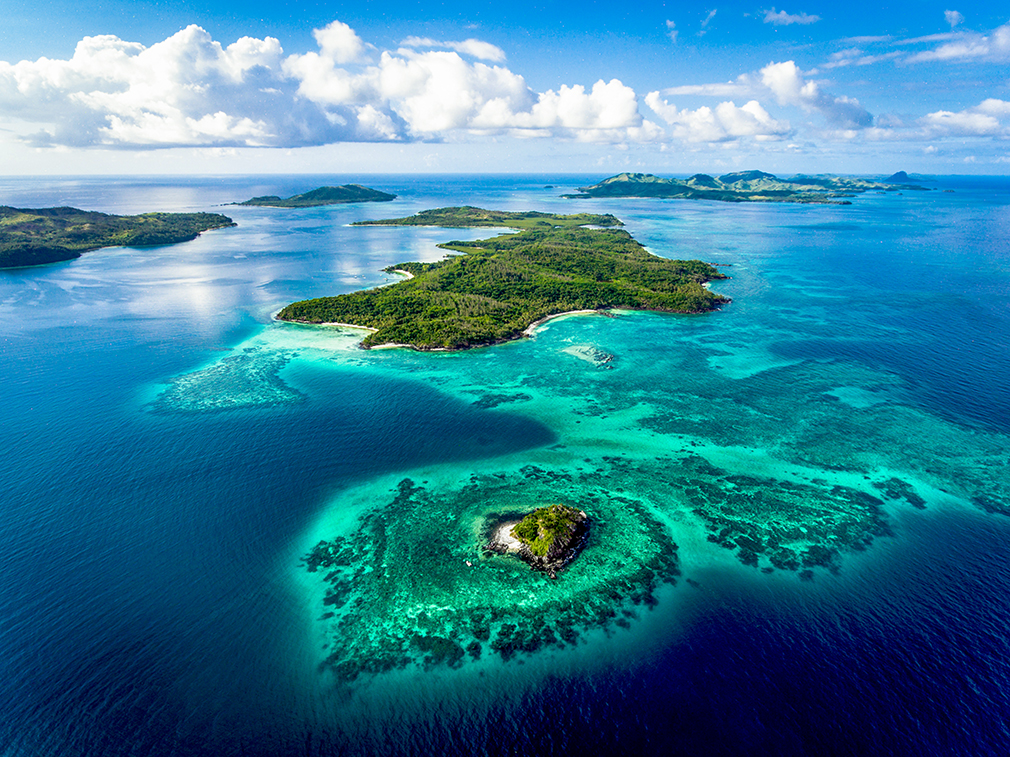 Turtle Island
Settling into your abode at Turtle Island feels like joining a family friend at their elegant estate for a visit in paradise. Perhaps it's the welcoming ambiance, reinforced by the fact the all-inclusive hideaway has been family-owned for generations. All who visit seem invited to join the clan. Intimate, though spread across 500 verdant acres, the resort has only 14 bures, each facing beachfront. Buoyed by the brilliant blue sea and the isles' sandy crescents, guests can partake of bespoke excursions, which might include scuba, horseback riding, Fijian-inspired spa treatments or angling for fish. Long committed to celebrating the Yasawa region's distinctive culture, Turtle Island supports the surrounding community and sustains a dynamic on-island conservation program. Don't miss the nightly dinner parties and traditional kava ceremonies.
Dine: Turtle Island's Dine Under the Stars offers elegant table set-ups in remote locations around the island.
What We Love: The resort has 12 private beaches and a maximum capacity of 28 guests.
Room to Book: The Grand Beachfront Villas are not only commodious but front the famous Blue Lagoon.
Northern Islands
As emerald green as the gem itself, these rainforest abundant islands occupy ocean space far off the beaten path.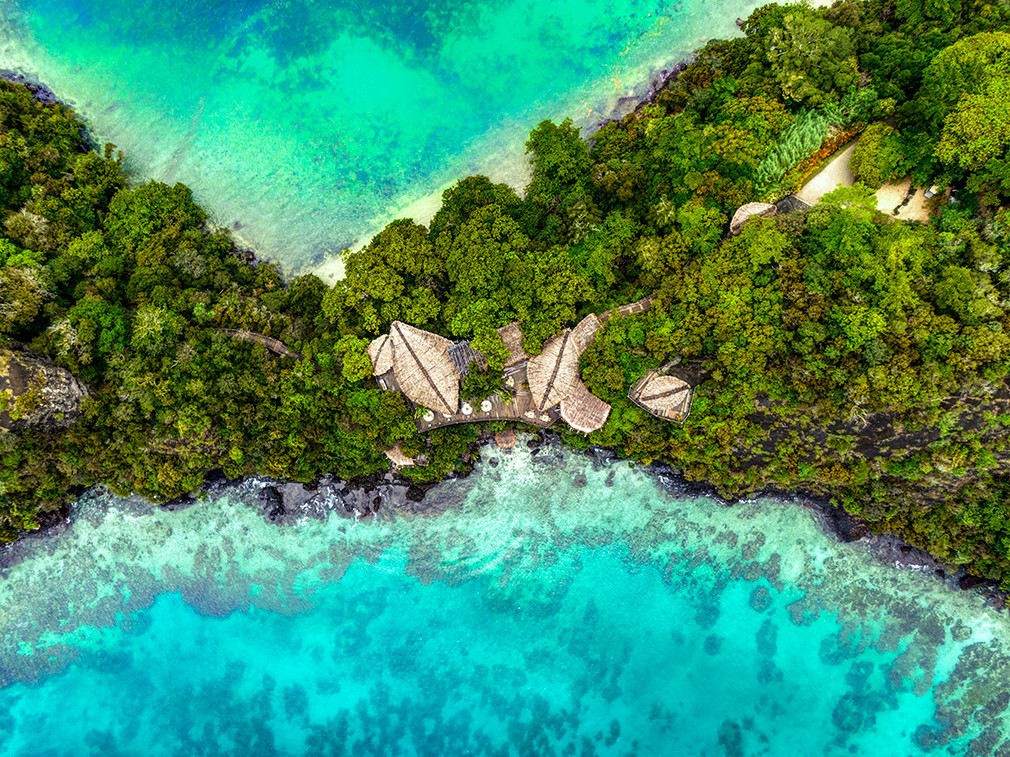 COMO Laucala Island
Recently reborn and reopened as COMO Laucala, this private, fantasy island-style, getaway received a meg- dose of zen when COMO, the highly regarded wellness hotel brand, took over management. Owned by the founder of Red Bull, Laucala had previously been a mecca of indulgence, where every wish was granted day or night— and whims satisfied were the order of the day. Coddling still happens at Laucala, but now the retreat presents with the Como Shambhala precepts—that is, as a peaceful oasis of well-being. With slightly Asian influences and an organic riff, dedicated to recalibration and rejiggering, this island promises to fortify mind, body and spirit. With jungly expanses, mountains and beaches, the resort has 25, stunning residences, each situated for seclusion. Horseback riding, golf, sunset yacht cruises, organic farm tours, couples treatments in the spa fulfill island dreams.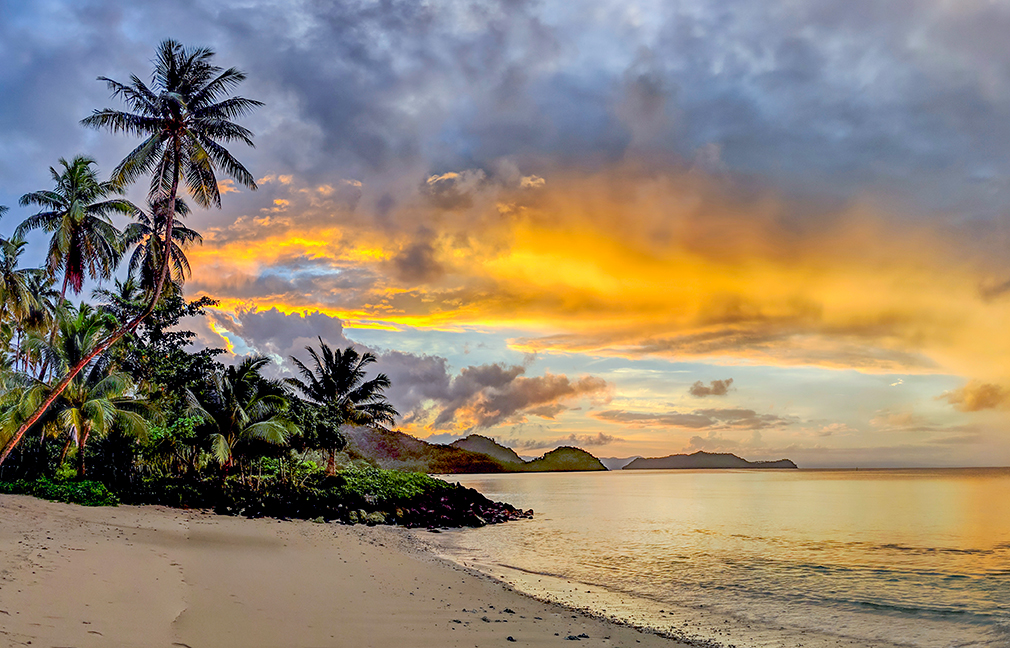 Dine: Island-sourced gastronomy centers around healthiness. Expect COMO Shambhala options made from the purest raw and cooked ingredients at the various restaurants. Choose the Seagrass Lounge and Restaurant for Pan-Asian options.
What We Love: The gorgeous COMO Shambhala Spa sports four couples treatment rooms, prime for pampering.
Room to Book: The romantically cozy Udu Residence lords over its own peninsula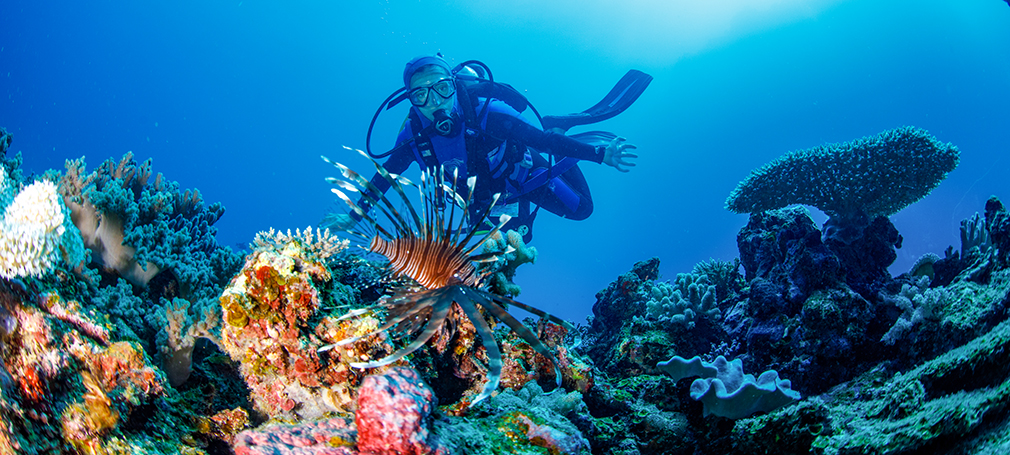 Jean Michel-Cousteau Resort
Proving that luxury and sustainability can go hand in hand, this ground-breaking eco-resort carries on the Cousteau family tradition. Dedicated to the preservation and study of marine life, socially and culturally responsible, it excels in its goal to awaken curiosity among its guests and to share the natural riches of the region with them. On 17 acres, Cousteau frames limpid Savusavu Bay with 25 thatched-roof bures and various inventive corners—such as the treehouse-like Bula Club for children—among the foliage. A complete list of recreational activities, dining options and spa treatments beckon, but its creme-de-la-creme moments remain with Cousteau's unrivaled ecological experiences: diving with the marine biologist, taking part in a reef protection project or studying the lifecycle of giant clams.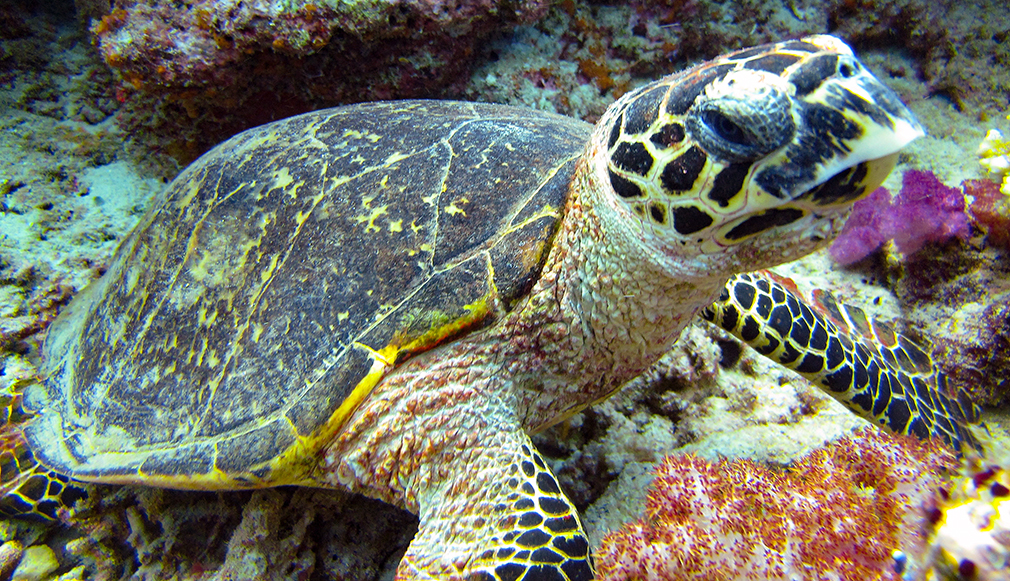 Dine: Private dining on the pier is a honeymooner's favorite, while families love the traditional "lovo" feast.
What We Love: This resort has the only on-site marine biologist in Fiji. Guests return to explore with Johnny Singh again and again.
Room to Book: Romancers should choose the Honeymoon Point Reef Bures for their secluded locations.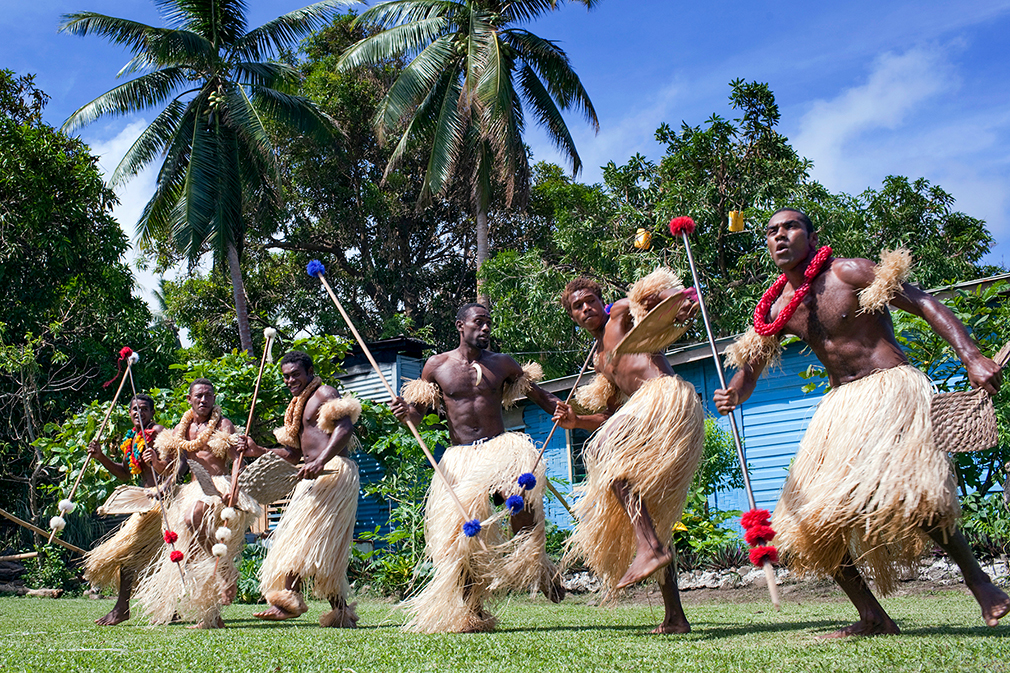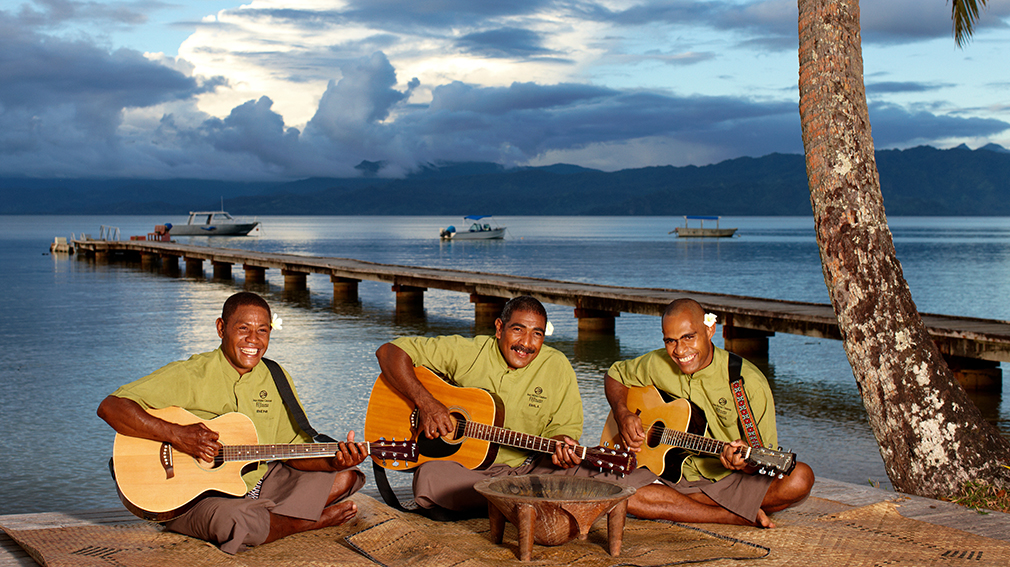 Eastern/other Side of Viti Levu
This region has a far-flung feel, as if you've landed in the middle of nowhere—and that's the appeal, yet, it's quite close to Nadi.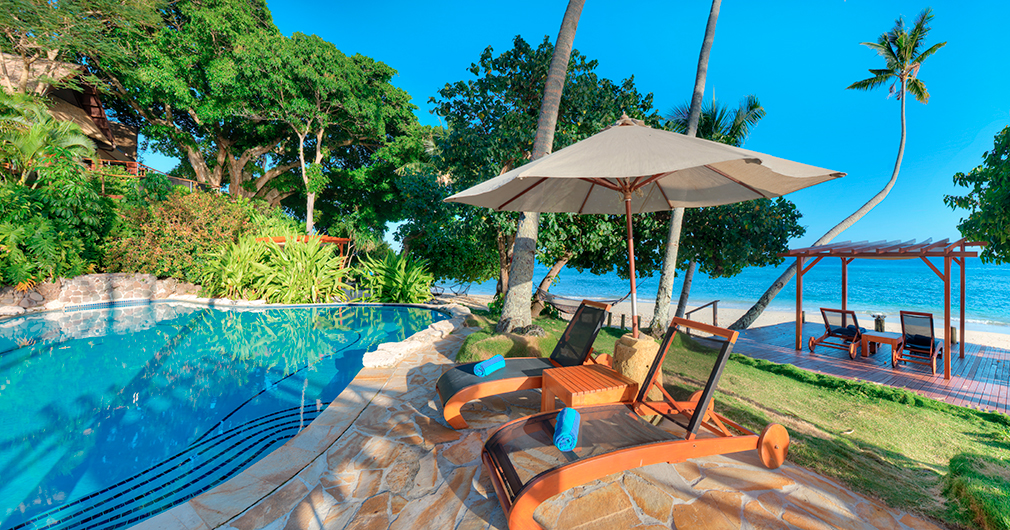 Royal Davui
Helicopter over to Beqa Island, which resides atop a living barrier reef with coral gardens for an adults-only, barefoot extravaganza of elegance— bar none. (You can also arrive by a combination of flight and ferry.) Family-owned and run by 5th generation Fijians (you'll likely see a member of the Southwick family gallivanting about), the stunning private island epitomizes the essence of Fiji. Just 16 vales (the Fijian word for home) dot the island's rim, each as fetching as a holiday ornament. Expansive, poshly appropriate to tropical climes, the house-like rooms open to startling views of cobalt seas. With the soft adventure capital Pacific Harbor nearby, anything can be arranged: zip lining, white water rafting, surfing, fishing, sailing and hiking to name a few. On Sunday, visit a typical Fijian church service (the hats steal the show), a short boat ride away.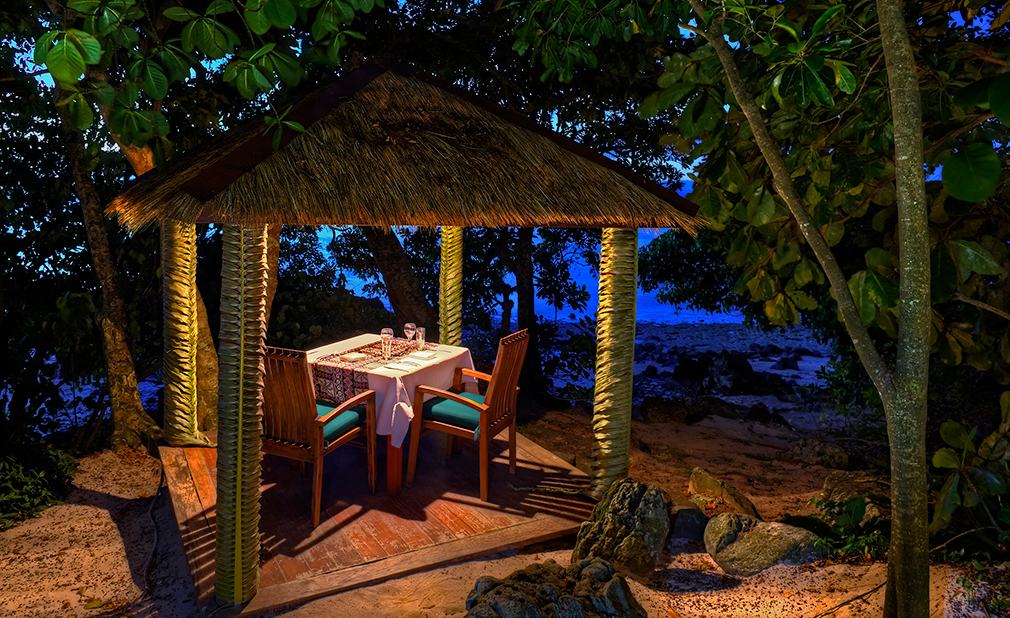 Dine: Meals take place in gastronomic Banyan Restaurant and Bar—the resort's veritable living room
What We Love: The welcoming best friend vibe and true private island reality.
Room to Book: Go for the Royal Davui Pool Suite for the sense of hovering atop the lagoon.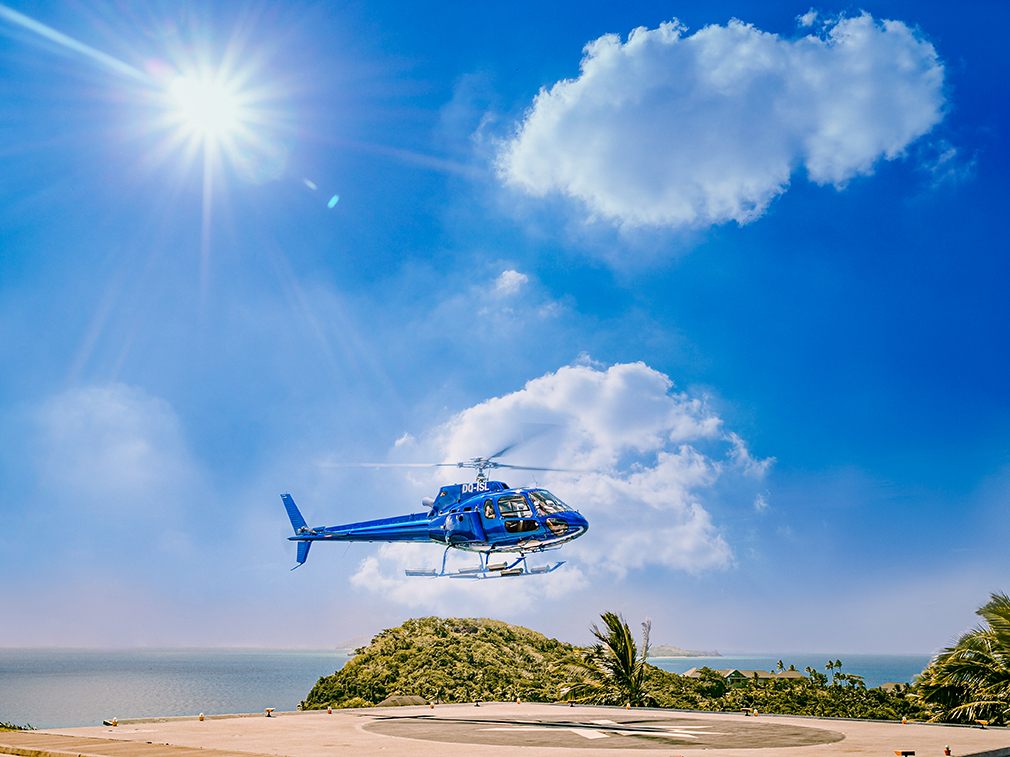 Kokomo Private Island
Further to the east, technically in the pristine Kadavu region, all-inclusive Kokomo Private Island comforts the soul. As ecology "passionistas," the resort fuses sustainable elements with first-class pampering at every level. Led by a team of marine biologists, Kokomo vaunts an organic farm and dock-to-dish fishing, among other tools of the eco-conscience trade. Tuck into the splendor of the sanctum's 140 arbored acres, where 21 villas rim two stock photo-worthy beaches, each aligned to capture either sunrise or sunset vistas. For those who prefer a bird's eye view to direct beach access, five hilltop residences accommodate larger groups, and add a sense of reclusion. The Residences on Kokomo are the largest in all of Fiji and provide a butler, chef and nanny. With cultural activities at Kokomo's forefront, they also cater to scuba lovers with its plenitude of diving excursions—from night dives to PADI certification to daily, scheduled shore outings.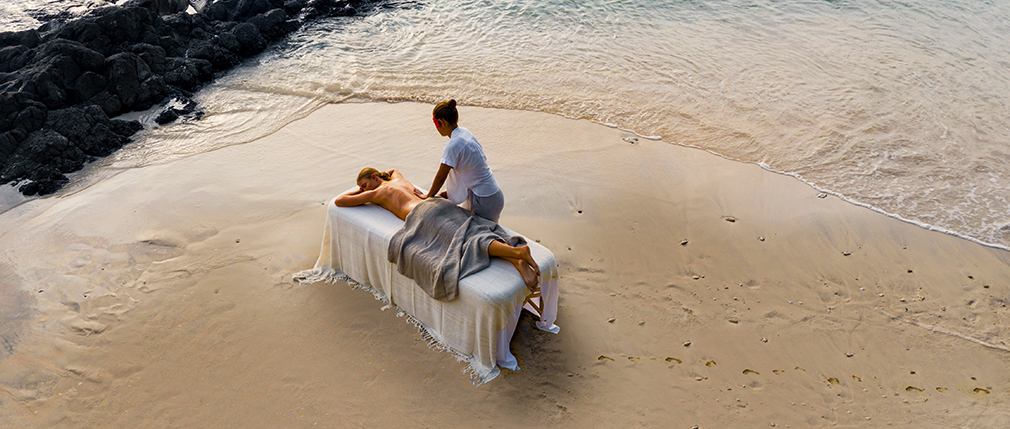 Dine: With the sea in view, nibble Asian-style street food at whimsically named Walker D' Plank
What We Love: Find repose in the Yaykauve Spa Sanctuary, which has five treatment rooms and rituals by Sodashi.
Room to Book: All villas feature a private pool, walled tropical garden and direct beach access. Choose between sunrise or sunset versions depending on your favorite time of day.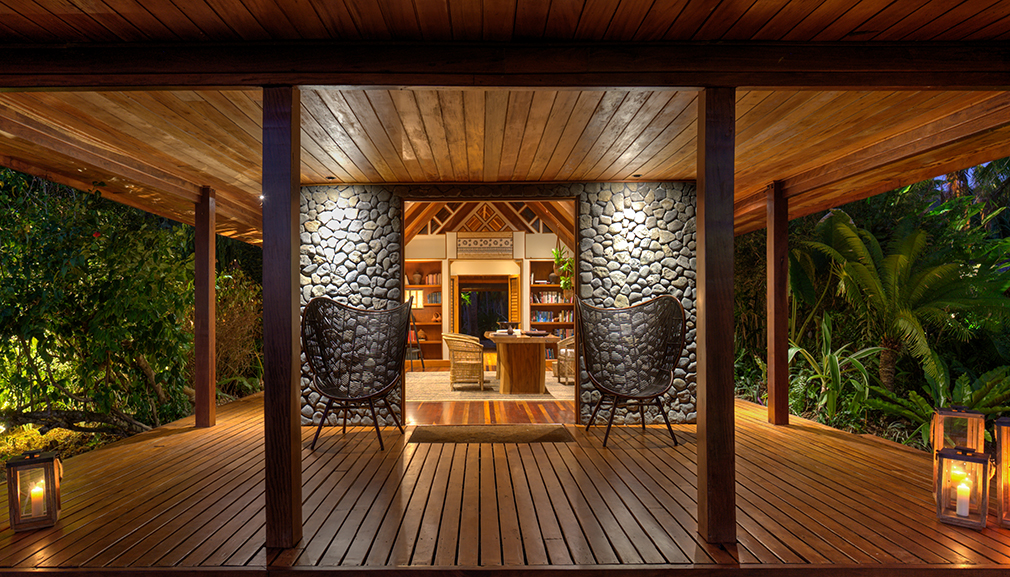 Wakaya Club & Spa
Further flung, as if it were the only island in the South Pacific, Wakaya has done a great job for decades of promoting the virtues of living the low-key paradise life with opulent undertones. Famous for decades for attracting celebrities and socialites in need of an escape from the buzz, Wakaya continues to be a place for jet setters to rediscover their center. Experts in conveying the art of simple opulence, the resort was created by Fiji Water founder David Gilmour. It received a makeover after storm damage in 2016, which renovated its 10 commodious bures and four villas. All inclusive, with a slew of daily options, Wakaya offers everything from sailing to stargazing.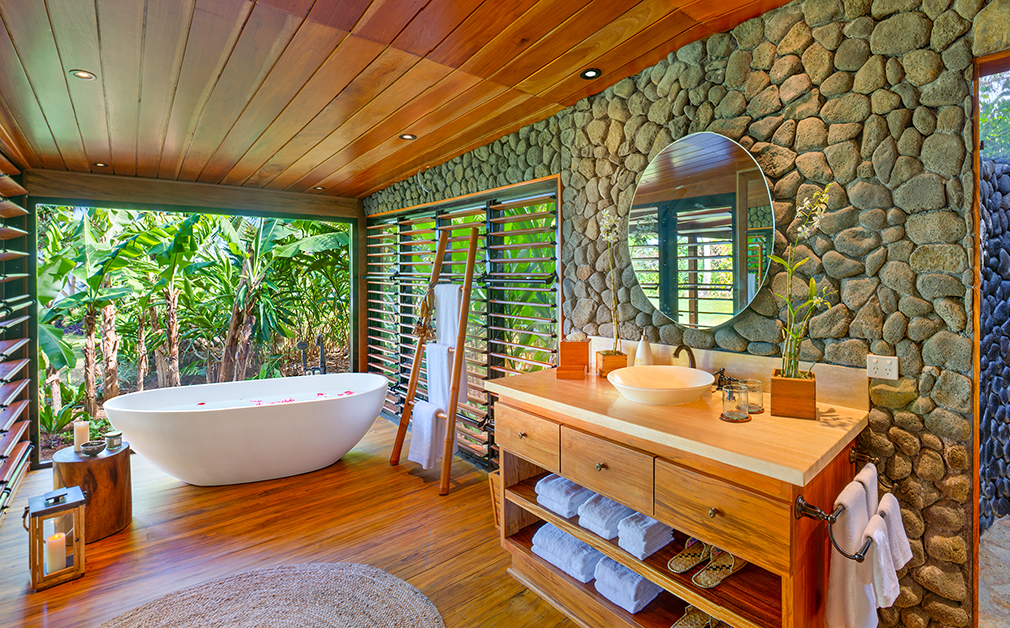 Dine: The main restaurant, Palm Grove, draws from the island's bounty, serving as much food as possible grown or caught on property.
What We Love: Nightly prices include not just meals but transportation from Nadi, a scuba tank and massages.
Room To Book: The sumptuous 1,650 Ocean View Bures, set steps from the water, are like private islands themselves.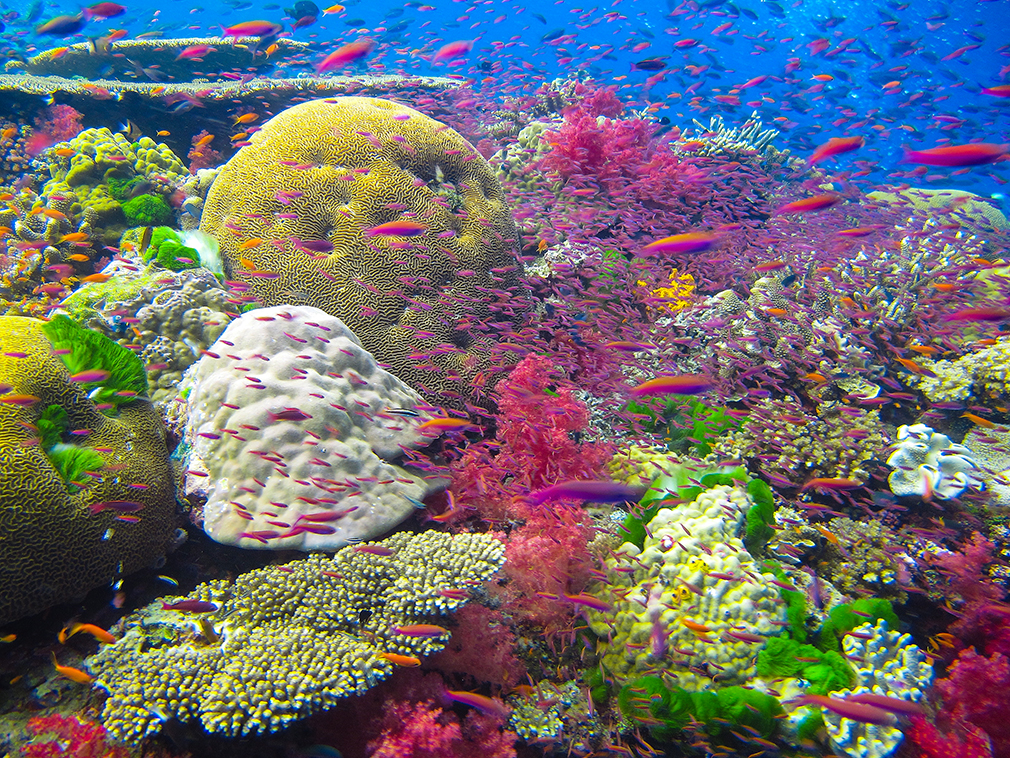 Words to Know
Bula!: Hello and more
Vinaka: Thank you
Moce: Goodbye (moe-they")
Sota Tale: The Fijian way of saying "see you again"