February 1st marks the start of Lunar New Year, a 16-day period of celebrations enjoyed by East and Southeast Asian communities across the world.
2022 welcomes the Year of the Water Tiger: every year is represented by one of the 12 animals of the zodiac (rat, ox, tiger, rabbit, dragon, snake, horse, goat, monkey rooster dog and pig) and one of the five elements (earth, water, fire, metal, wood).
Did you know that the oldest Chinatown in Europe is in Britain? There is actually a strong synergy between the UK and China, so we have tracked down a handful of different and fun ways to celebrate the occasion in England. And, COVID restrictions have been lifted there, so masks are optional.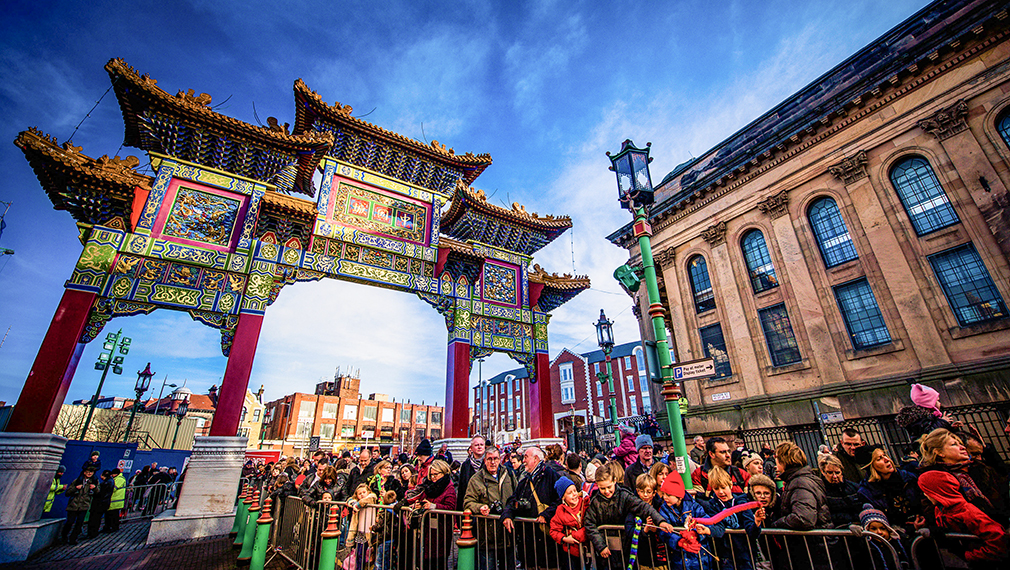 Make Cultural Connections in Liverpool
Celebrate the link between China and Britain in the oldest Chinatown in Europe. During the late 1850s, groups of Chinese sailors arrived in Liverpool from Shanghai and established the first-ever Chinatown in Europe. Today, Shanghai and Liverpool are twin cities and an imposing monument – Europe's tallest imperial arch – in Liverpool's lively Chinatown district celebrates their long-standing connection.
The towering, 13.5m-high structure was created by Chinese craftsmen and shipped, piece by piece, to Liverpool before being reassembled to span Nelson Street. With 5 rooves and decorated with 200 dragons, this stunning structure was a gift from the city of Shanghai and has become one of Liverpool's most striking landmarks.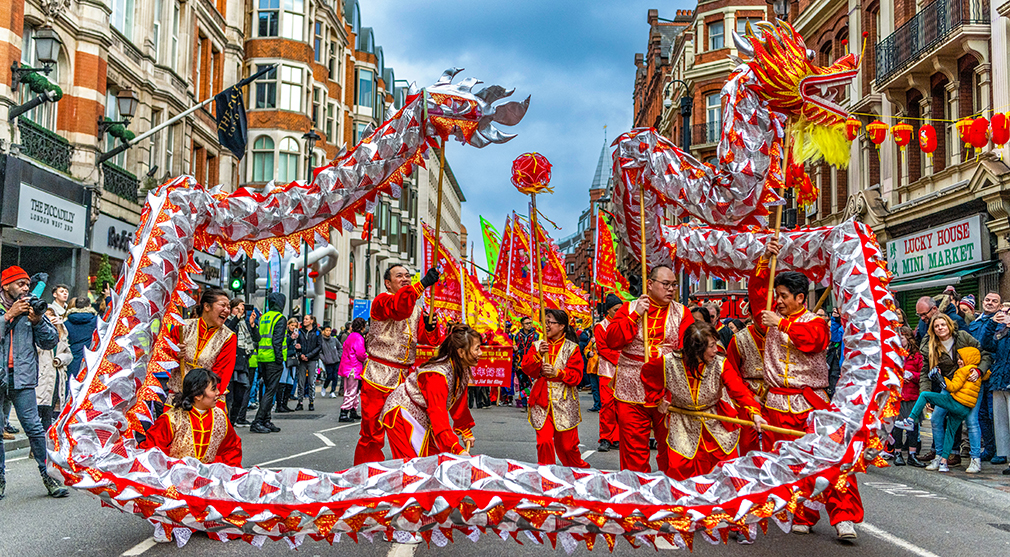 Glimpse China's Past
Visit an exhibition of extraordinary images at the Manchester Central Library documenting China during the 1980's. In 1984, British photojournalist Adrian Bradshaw traveled to China and spent the next 3 decades working there as a photographer. Drawing from an archive of over 2 million images, 'The Door Opened: 1980's China' features a series of posed and candid shots that capture the atmosphere of China at a moment of great change as it opened up to the world. Running until April 26th with free entry.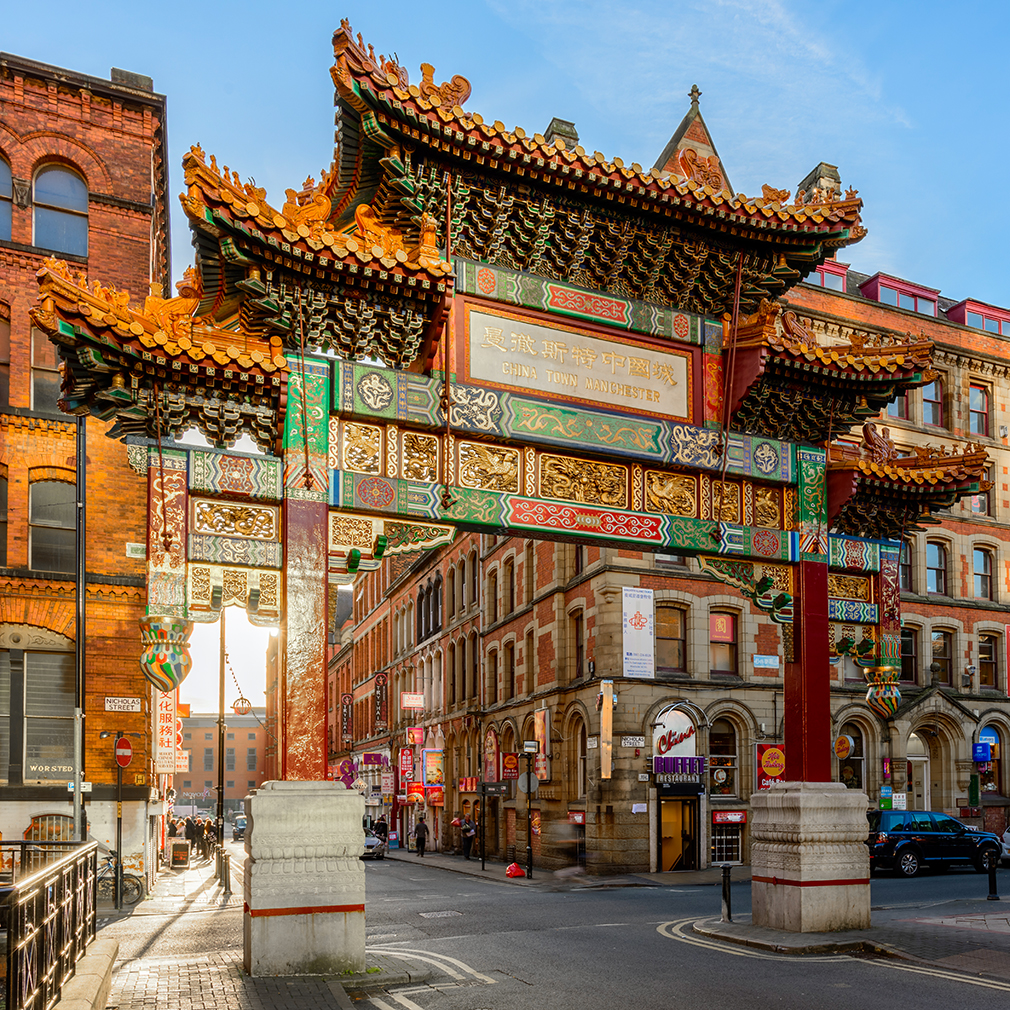 Celebrate the Future
Culture vultures should make their way to Manchester's Chinatown to enjoy a mesmerizing series of performances and installations. For 6 days over the festive period, a stunning statue of a tiger, heralding the upcoming Lunar Year, will stand guard over St Anne's Square. Made from wood and recycled materials, the tiger will be illuminated each night to create a showstopping spectacle.
For those who prefer performance arts, the car park area of Manchester Chinatown will turn into a vast stage on February 6th, 2022. Visitors can enjoy an array of Lunar New Year entertainment including traditional lion dances, kung fu displays, acrobatics, poetry reading and singing.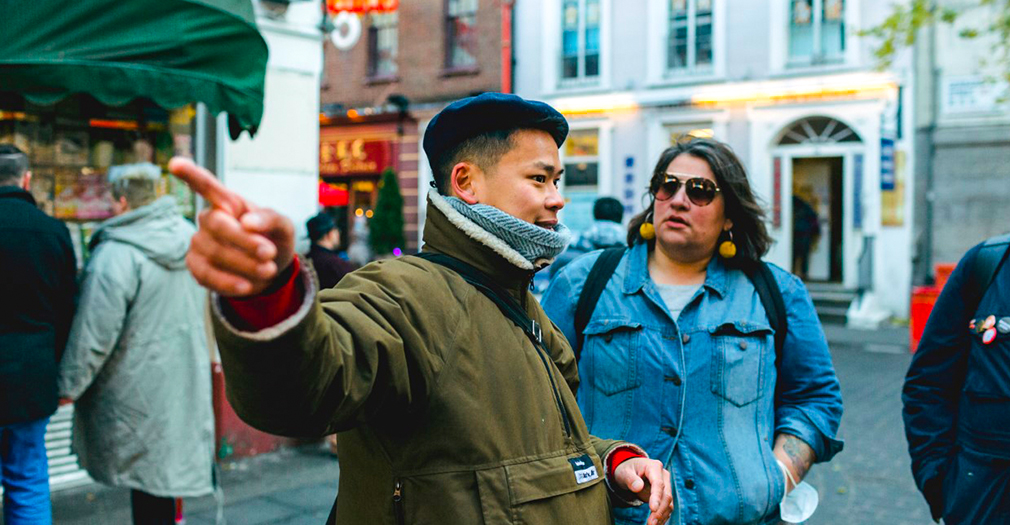 Walk With the Community
Led by China Exchange, take a "Chinatown Stories" walking tour around London and learn about migration, history and entrepreneurship. Trained volunteer guides, who are members of London's thriving Chinatown community, lead the 2.5-hour tours which, for just £27, include a delicious lunch served "family style" – an opportunity to ask questions about the area and get to know your guide. And it's not just you who will benefit from this experience – tickets include donations to three charities that benefit the neighborhood. A special Lunar New Year-themed walk is scheduled – but these fascinating excursions take place every month throughout the year.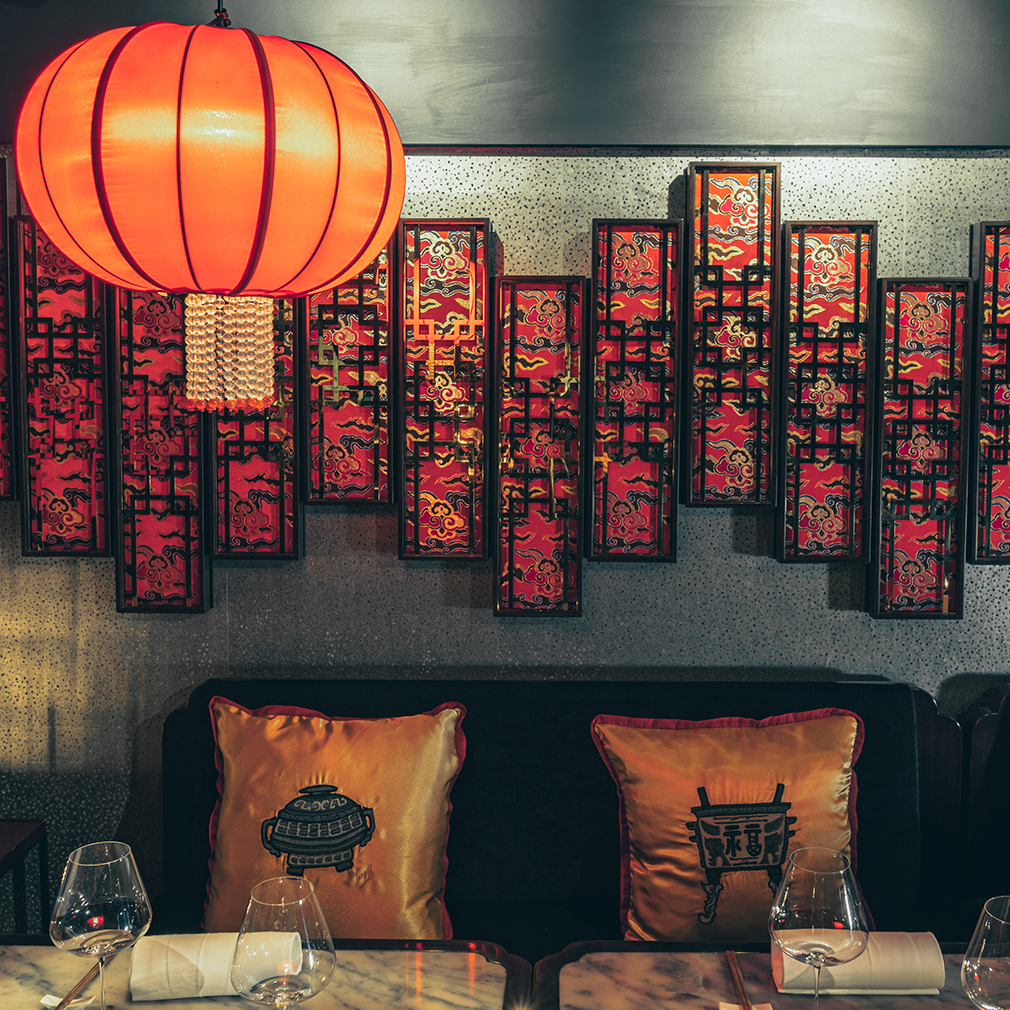 Dine Like an Emperor
While travel to China is off the menu, at 2-Michelin-starred Chinese restaurant A Wong in Pimlico, London, guests can tour the Middle Kingdom without leaving their dining chairs. Chef Andrew Wong's "Taste of China Evening Menu" introduces exquisite dishes from across the country – reflecting the diversity of China's food culture and its multiple international borders.
On February 1st, Wong will launch a second evening menu mirroring the movements of historic Imperial banquets at which guests shared dishes as "collections". Featuring dishes like "Cherry smoked memories of Peking duck, plum, caviar and smoked wrap" and "Cod cheek with fermented chili and scalded Chinese chives," guests will feast like royalty.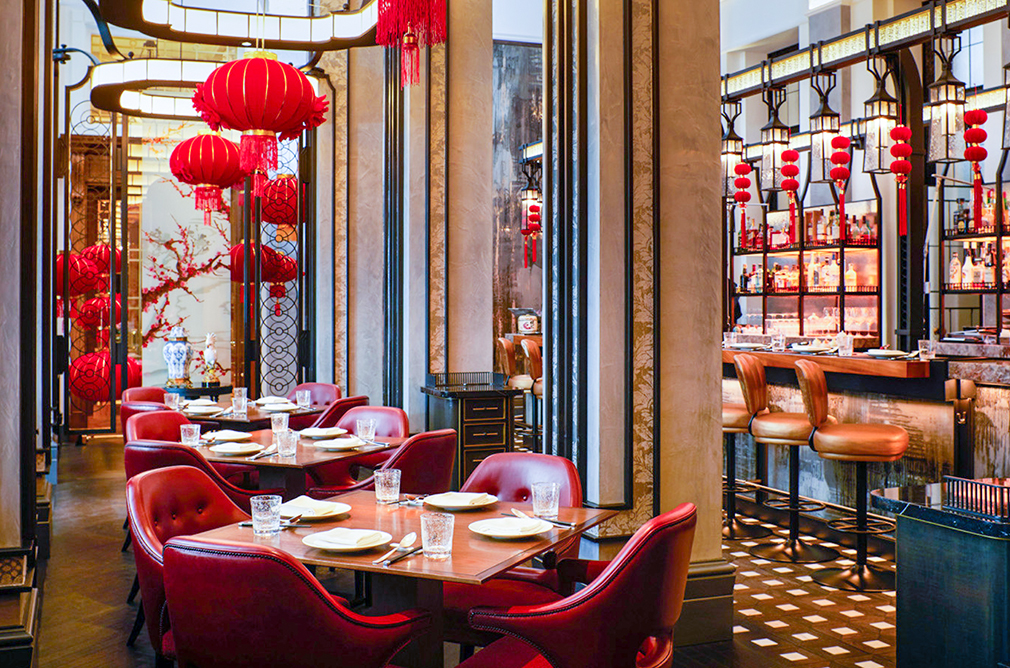 Must Do's for Celebrating the Lunar New Year:
Four Seasons Hotel London at Ten Trinity Square's specially crafted tasting and a la carte menus from head chef Tony Truong are available until February 11. And, the chef shares his "must-dos" on how to celebrate the Lunar New Year with us below.
---
Good Luck – Hui Chun. Hui chun is a traditional decoration that you will find on many people's front doors. They are usually written by hand on red and gold colored paper, which symbolizes good luck. These are marked with messages of good fortune such as happiness, prosperity and long life.
Ward Off Bad Luck – Handing Out Red Envelopes. During Chinese New Year, money is located inside a red envelope and presented at family gatherings during this annual festival. The red envelopes are a symbol to ward off bad luck and evil spirits. The amount of money inside the envelope usually ends with an even number, as even digits are associated with reunion and pairing.
Prosperity – Hosting a Family Gathering Dinner. A Chinese New Year dinner is also known as "reunion dinner." It is often referred as the most important meal of the year, as it symbolizes unity, ending the year together and starting the year together with prosperity.
Joy – Chinese Candy Box. A common custom for each family in China, this candy box usually holds up to eight varieties of dried fruits and sweets. This candy box symbolizes sweetness and joy to kick-start the year.
Giving Gold – Eating Mandarin During the Festival. This citrus fruit symbolizes wealth as the mandarin word kam sounds similar to gold. According to traditions, the gesture of gifting mandarin oranges to one another also means "giving gold," which represents wishing well to the recipient.