Out of Office spotlights pioneers who have decided to pursue their passions beyond the typical 9-to-5 job.
You've undoubtedly heard of surfing lessons being offered at some top resorts around the world from Malibu to Morocco, but Niyama Private Islands in the Maldives also offers a surf pro who will actually capture your cowabunga moment live. Enter Erick Proost, a native Brazilian who has found himself in a paradise pinch-me career.
The haven where Proost currently resides is located on an archipelago in the middle of the Indian Ocean spread out over two islands connected by a bridge, called 'Play' and 'Chill' with a lagoon. There are luxe beach and pool villas for sleeping, coconut- scrubs for spa-lovers, along with several gourmet dining options from a safari-style feast to an Asian restaurant in a treehouse and wine tasting under the sea.
As the only luxury resort in the region with its own wave breaking onto the shore, there are also more water sports and activities than one would have time to complete on a typical one or two-week vacation, including surfing. Paradise decided to check in with Proost to examine his 'day in the life' in Paradise.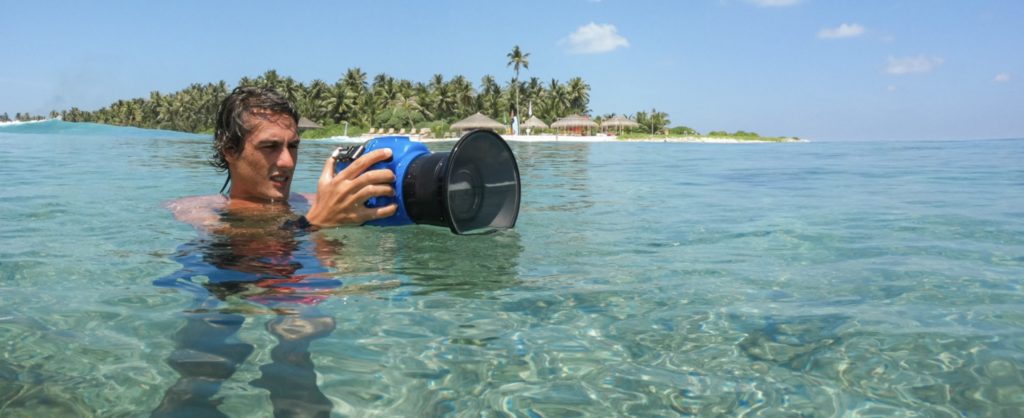 What does your typical day in Paradise look like?
My typical day is to wake up early in the morning and check the conditions at Vodi (the wave that breaks in front of the resort) and chat with the surfers at the resort about the conditions and best time to shoot their session. But I usually shoot one session during the morning and one end of the day.
Depending on the conditions I stay the whole day shooting at Vodi, or I go on the surf transfer with the surfers to shoot Kasabu, which is a right-hander wave that breaks in the island next to Niyama. I shoot from water, land or drone, depending on the light and conditions.
During the day I also try to find some times when the line-up is empty to surf for a little bit. And it always happens because it's a private wave so there's always a moment when I can enjoy surfing the wave all to myself.
After the sunset, I usually hang out for a while at the Surf Shack (the beach bar overlooking the wave) with the guests before they head back to their villas. During the evening I organize all the photos in a specific folder for each guest and get ready for the next day.
It's actually pretty busy here, but it is still possible to surf with no one out during the breaks, which feels like a dream.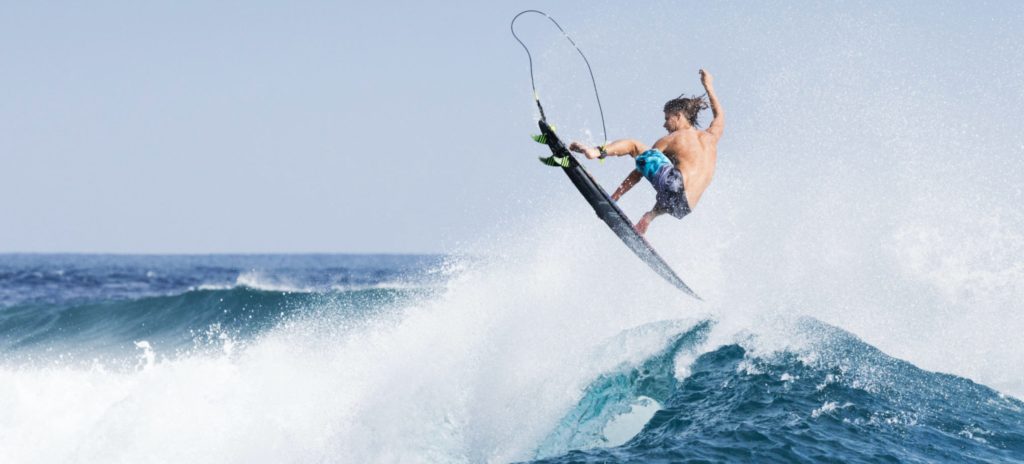 How did you land this dream job?
I was referred by a friend, and as soon I got the call, I knew it was something special because before I got the call, I already knew about Niyama and really wanted to be there.
And in my first month here, I had an amazing time, working with good people and witnessing perfect waves. We had one of the best swells I've seen here so it made this experience unforgettable.
Who are some of your clients or people you are photographing?
Many of the guests here are business people who also surf and want to take some time for themselves and their wives or husbands, be in a 5-star resort, and surf a 5-star wave with no one out.
We've had some pro surfers come here, and they have had the best time during their stay at Niyama. But what I like the most about being here is that I usually work with people who start as clients and end as good friends. We're all connected by surfing and it makes what I do feel more like fun than actual work.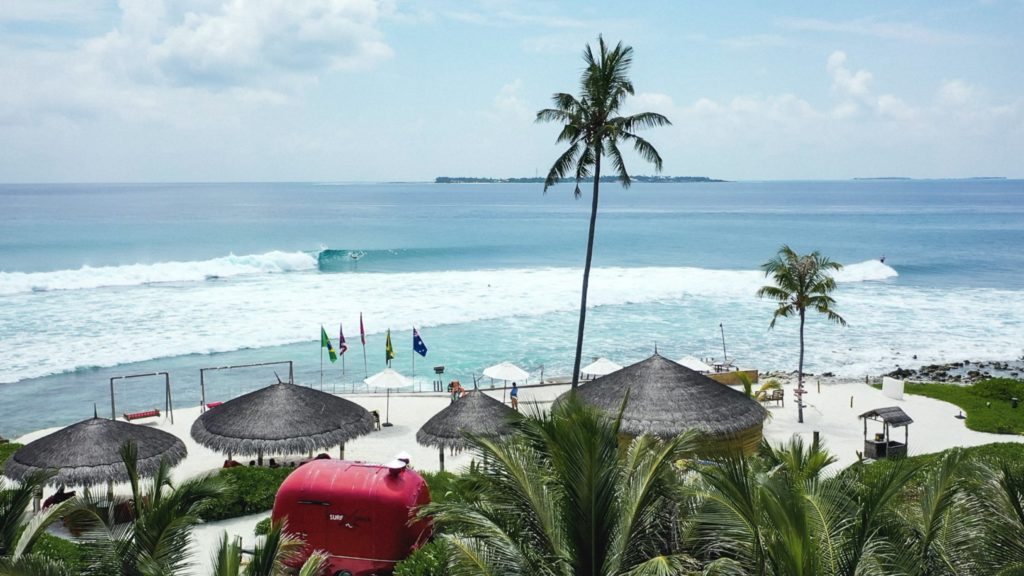 How long have you been doing this?
I started my first season in September of 2019. I visited Niyama twice in 2020 but sadly, I had to leave when the resort closed due to the pandemic, and this is now my fourth time here.
I only come during the Maldives surfing season from March to November, although at Niyama you can surf year-round. After my time here, I will go somewhere else in the world– somewhere with an excellent beach, ha-ha!
I've worked in film and photography since 2008, but it was in 2012 when I moved to California (where I attended college for film and cinematography) that I got my first job as a surfing photographer. That was a moment in my life when I discovered what I was going to do for the rest of my life!
Since graduation, I have had the chance to work with many professional surfers from all around the world, especially Brazilians. I worked with surfers like the 2-time world Champion Gabriel Medina, and the World Champions Adriano de Souza and Italo Ferreira, and have traveled to many places like Indonesia, Hawaii, South Africa and the Maldives to shoot surfing. So, it's been a nice adventure to do what I like the most for work: surfing.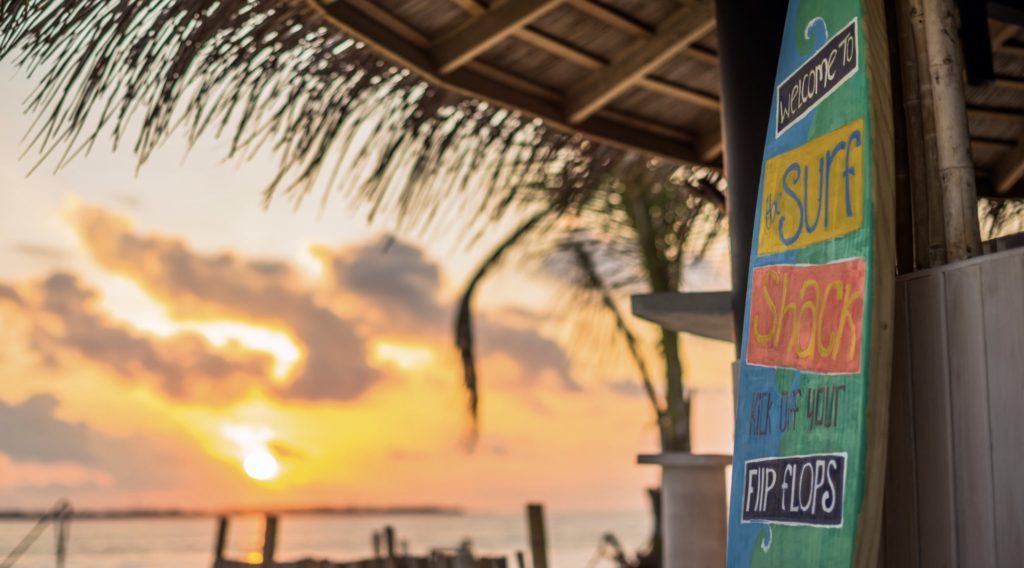 What's your favorite thing about being in the Maldives?
I think there are a lot of good things about being in the Maldives. From a life perspective, I'm the kind of person who loves the sunlight and warm weather, and we have this here every day.
With my photographer's hat on, there's this unique blue/green ocean water in the Maldives that makes the photos so special. I love to shoot above and underwater here – both have fantastic results.
And from a surfer perspective, there is a perfect wave breaking just a few meters in front of the island with just a few guests around, making it feel like a private wave. So, for me, it's the whole package for being here. I'm super thankful for having the opportunity to live this dream.