No longer just an airport pit-stop on the way to Rio or Argentina, this South American capital city is also shedding its reputation as just an industrial or corporate financial hub with top gastronomic experiences, master mixologists, 5-star hotels, world-renown local goods (hello, Havaianas) and a thriving arts and cultural scene. We asked a longtime former resident and travel writer to take us for an inside peek of the new and not to be missed creative corners of São Paulo.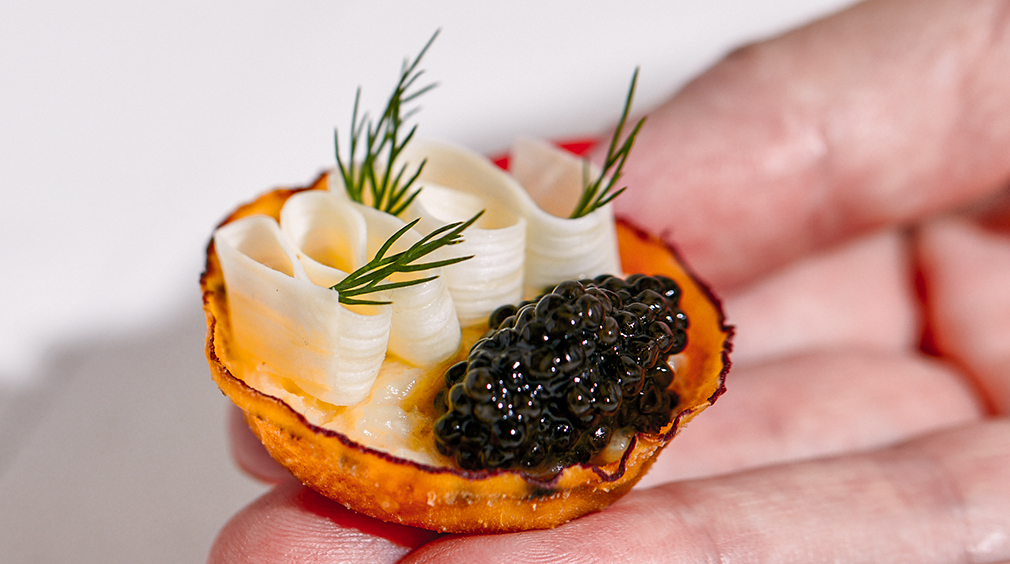 RESTAURANTS

Worth the Splurge: Maní
Former Veuve Cliquot World's Best Female Chef (2014) Helena Rizzo is the longstanding mastermind behind Maní, which offers São Paulo's most singularly Brazilian gastronomic experience. Trading pretension and stuffiness for rustic-chic environs, a meal here is a journey in which an instilled sense of place is never lost – it feels like dining in a dressed-up beach cabana teeming with palate-elevated Paulistanos. Rizzo isn't afraid to dabble in the Old World or neighboring countries, resulting in culinary dreams such as arracacha and arrowroot gnocchi with manioc root sauce (tucupi) dashi or bife ancho with pollen béarnaise – both representative of the epicurean melting pot that makes up not only Brazilian cuisine bit Brazil itself.
Brazilian on a Budget: Jiquitaia
Easily one of the best deals in a notoriously expensive city, Jiquitaia is devoted to contemporary takes on classic Brazilian dishes at entry-level prices, resulting in standouts like fish and shrimp moqueca (a type of Bahian seafood stew), duck rice with tucupi or okra with shrimp serving up maximum cost-to-flavor benefit. The R$69 daily-changing lunch special is a Sampa legend. Chef Marcelo Bastos dishes up the goods while sister Nina mixes up some of the city's freshest caipirinhas (Brazil's national cocktail – fresh fruit, sugar and cachaça, a distilled firewater) – the obvious accompaniment to any meal here.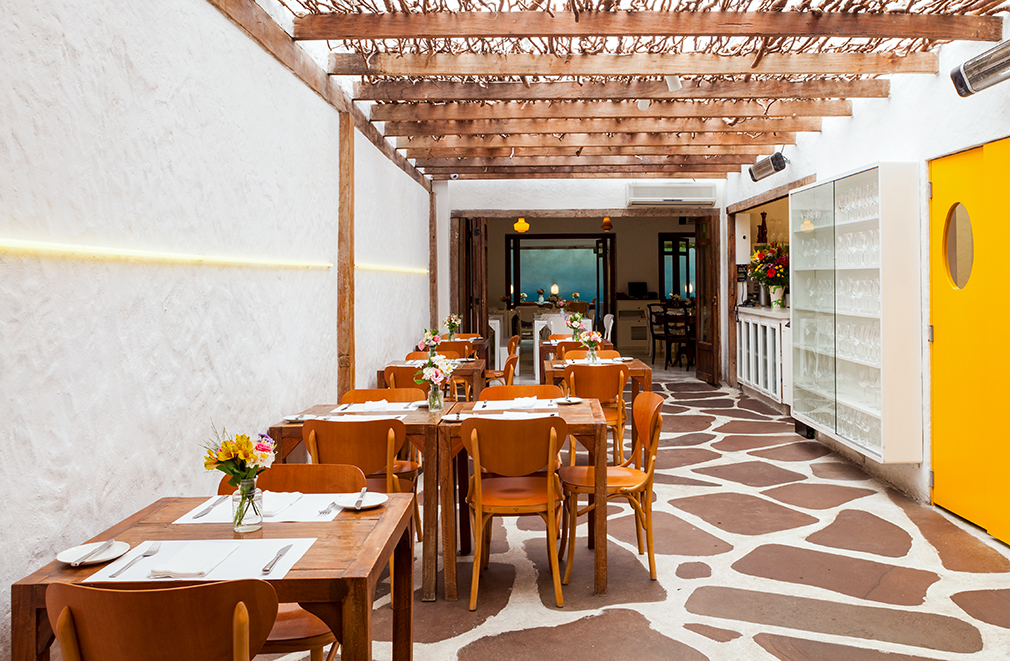 São Paulo's pizza scene ranks right up with the world's best (Naples, NYC, Chicago, New Haven), dividing allegiances between pizza paulistana and classic Neapolitan. For the latter, go to Leggera Pizza Napoletana, but if you want to indulge in the local take, Bráz Pizzeria is the best of a long list of choices (over 5000 at last count). Caprese (buffalo mozzarella, caqui tomato, basil and black olive pesto) and Fosca (mozzarella, smoked ham and Catupiry cheese) are favorites, but there's no wrong order. Outstanding chope (draft beer) and service make this a quintessential São Paulo night out.
Jefferson Rueda's temple of swine will have you praising pork. This is whole hog heaven – pork belly, pork croquettes, pork rinds with pancetta and guava, pork jowl sushi (you read that right) – if a pig produced it, it's on the menu, and in wholly satisfying ways. It all culminates in the house specialty, Porco San Zé, slow-cooked for six to nine hours and served with an arsenal of Brazilian sides such as tutu de feijão (beans thickened with cassava flour). Only Brazilian breeds (Sorocaba, Plau, Canastra, Caruncho and Pereira) are used and anything non-swine related comes from small artisanal producers as well.
São Paulo is home to the world's largest Japanese population outside Japan and Nipponese cuisine is serious business in the city. At this traditional ramen house in Liberdade, the city's Japanese enclave, a mostly homeland clientele slurps exquisite versions of fiery Kara Misso Lamen (spiced pork in spicy broth) drizzled with house-made chili sauce. It's all set to the soundtrack of "Irasshaimase!" ("Welcome, please come in …"), sung in unison by staff as hungry patrons bound in from the hectic city streets outside. It's quite hard to remember you're even in Brazil when dining here – its unique ability to perform chameleon-like transformations across various culinary landscapes being one of the city's signature attributes.
It's no longer the secret it once was, but the "underground" restaurant in the basement of the Bela Vista home of Bahian bombshell Bá remains the city's most unique night out. First, you must secure a reservation, which involves a referral from a previous guest or an exercise in charming Bá's headdress off. If successful, an orgy of Bahian specialties commences: acarajé (black-eyed pea fritters stuffed of vatapá, a creamy paste of shrimp, peanuts, coconut milk and palm oil, and dried shrimp), moqueca (a fiery, coconut milk-based seafood stew) or bobo de camarão (shrimp in manioc sauce), for example, or whatever else Bá feels like cooking that night. She mixes the cocktails, too. You won't be disappointed.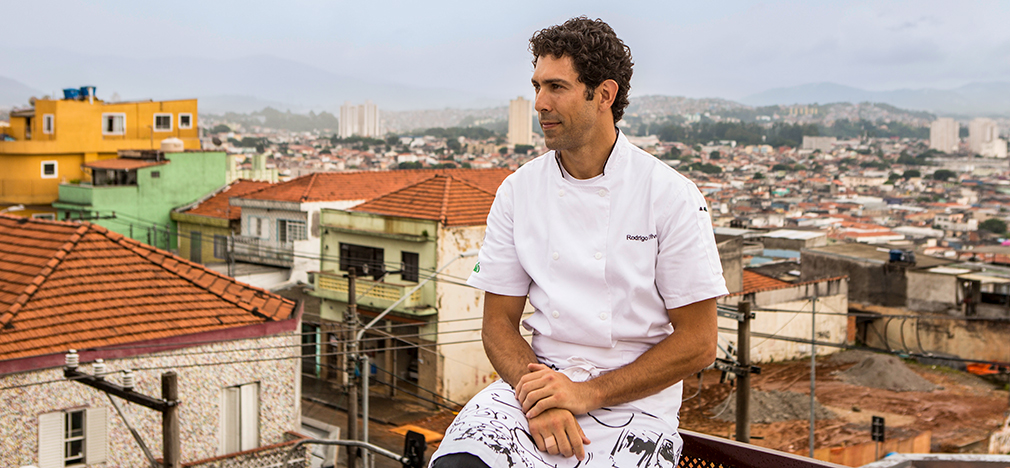 Best Regional: Mocotó
The darling of São Paulo's culinary scene for over a decade, Chef Rodrigo Oliveira's journey began in the humble emporium of his father way out in the suburbs some 7.5 miles northeast of the city's main square. This is regional Brazilian at its best. The homey comfort food of Brazil's Northeast – may we suggest baião de dois (rice and beans with coalho cheese, sausage, bacon and jerked beef) or the braised pork leg, served with corn couscous and roasted pumpkin – is chased with hundreds of artisan cachaças. On weekends, it's a full-on hurry-up-and-wait gastro-party with gaggles of Paulistanos who previously had no idea where the Vila Madeiros neighborhood even was spilling out into its very streets.

BARS

Brazilian craft beer has been well on its way for years and there are many choices in the city, but Empório Alto dos Pinheiros – known as "EAP," lovingly pronounced "eap-pay" by Brazilian connoisseurs of craft – remains the classic that could along a tony residential street in Alto dos Pinheiros. The 45 taps feature a lofty list of local chope along with a definitive concentration on Belgian lambics and krieks (including coveted Cantillion). Be it bottled or draft, the suds beat back the Brazilian heat on their wonderful front patio.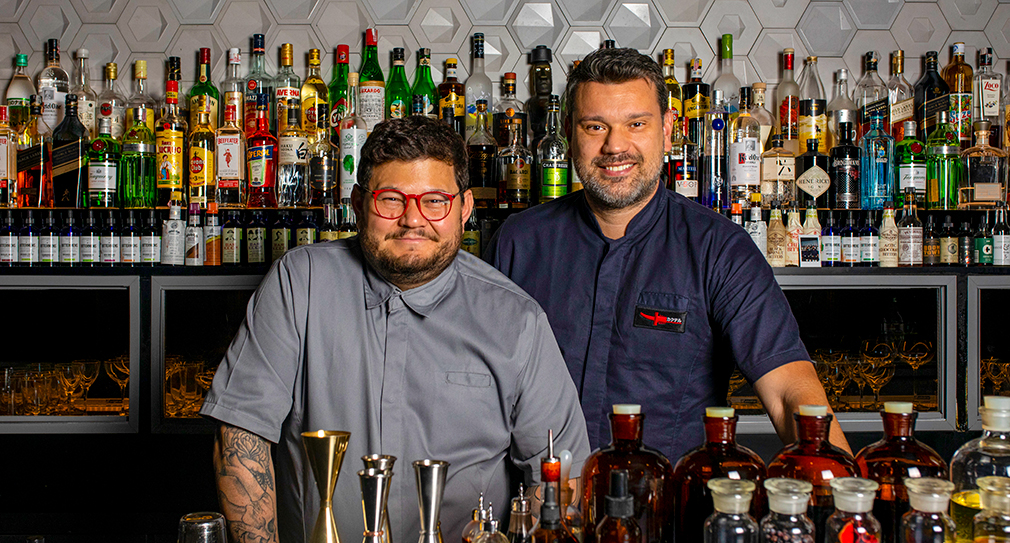 Creative Cocktails: Tan Tan
In a city of 21 million, the cocktail chronicles are capricious to say the least, so it's often best to follow Sampa's best mixologists as they hop, skip and jump from yesterday's news to tomorrow's hot spot. Enter Tan Tan, the latest bola da vez (hotspot) in the trendy neighborhood of Pinheiros. Renowned mixologist Alex Mesquita collaborates with an outstanding bar team on a biannually-changing seasonal cocktail menu served up to in-the-know liquid enthusiasts. Try the Cantaloupe Island (bourbon, ginger ale, homemade melon syrup, lime juice and Angostura bitters) and kick back among São Paulo's finest at moodily-lit wooden tables and comfortable leather sofas.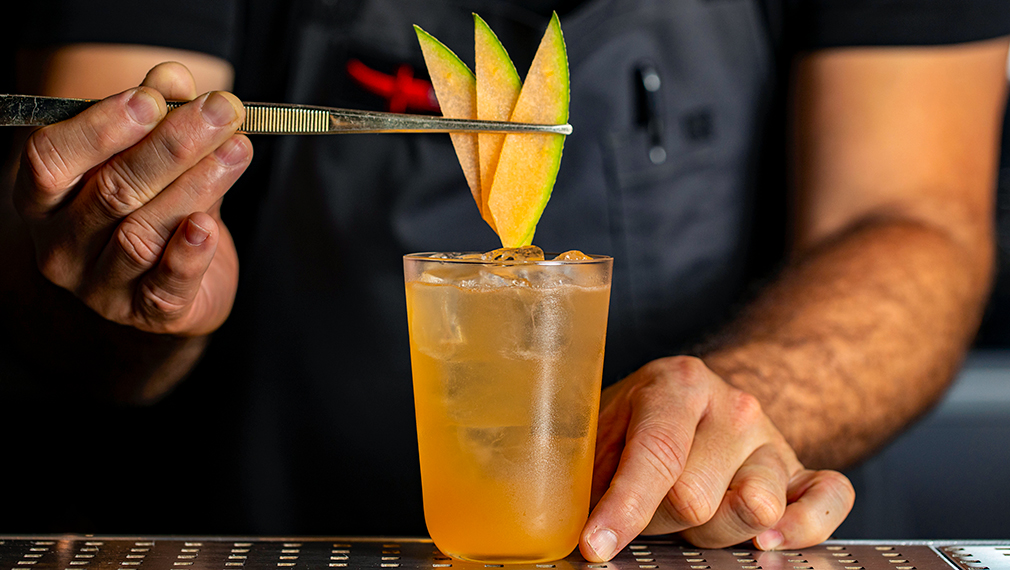 Best Caipirinha: Veloso
The city's best caipirinha is an endless debate, but if this oft standing-room-only boteco (neighborhood bar) near the Vila Mariana metro station hasn't achieved perfection, nobody has. Their exotic takes up the ante on the classic recipe, marrying cachaça and sugar not with lime but rather the likes of tangerine and spicy dedo-de-moça pepper or starfruit with basil or grape-esque jaboticaba fruit. Paired with their scrumptious coxinhas (battered and fried shredded chicken, Catupiry cheese and spices), it's a cornerstone combination of Sampa's dizzying food and drink arsenal.
Best View with a Drink: Skye
The rooftop bar at Hotel Unique – São Paulo's funkiest boutique hotel – has a longstanding reputation as the stomping grounds of fashionistas, rock stars and other creative glitterati, (see below) but its strongest suit is the absolute pelting of shock and awe that the city's gargantuan skyline drops on all who view it from here. Like an advancing tsunami of concrete and steel, the never-ending skyline is a jarring reminder that this metropolis has view rivals. The drinks, if anything, calm the nerves when confronted by urban onslaught.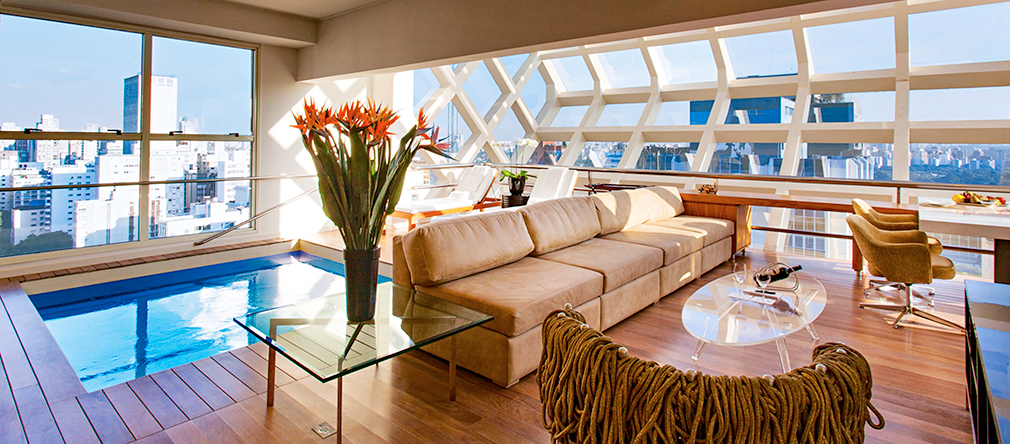 HOTELS/PLACES TO STAY

Minimalist and sleek, Hotel Emiliano stands discreetly along Rua Oscar Freire, the city's glitziest street (often touted as the 8th most luxurious street in the world), comfortable in not attracting too much attention to the refined luxury within its walls. A lush, vertical garden off the lobby reminds guests that they're in the jungle, baby; and rooms modestly boast details like Eames armchairs, Italian leather sofas, Japanese electronic toilets and Hungarian goose down pillows. It's all painfully hip without being too cool for its own good. Think managed modesty.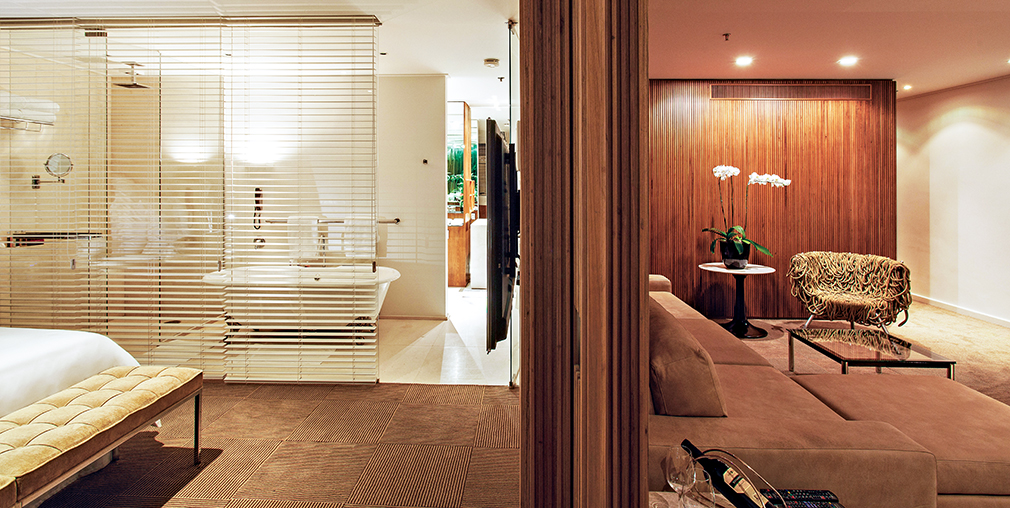 For folks who want a bit of intimacy and boutique bourgeoisie without making it rain Reais, this converted 1930s mansion in the trendy Pinheiros district fits the bill nicely. Exposed brick, unfinished concrete and steel beams characterize the vintage-leaning décor, while cutting-edge art adds a splash of color and contemporariness. With just 14 rooms, it's pint-size by São Paulo standards, and the sun-splashed outdoor patio is a wonderful place to unwind from the big city blues. It's kind of like a hostel for discerning adults too old to sleep in a dorm bed.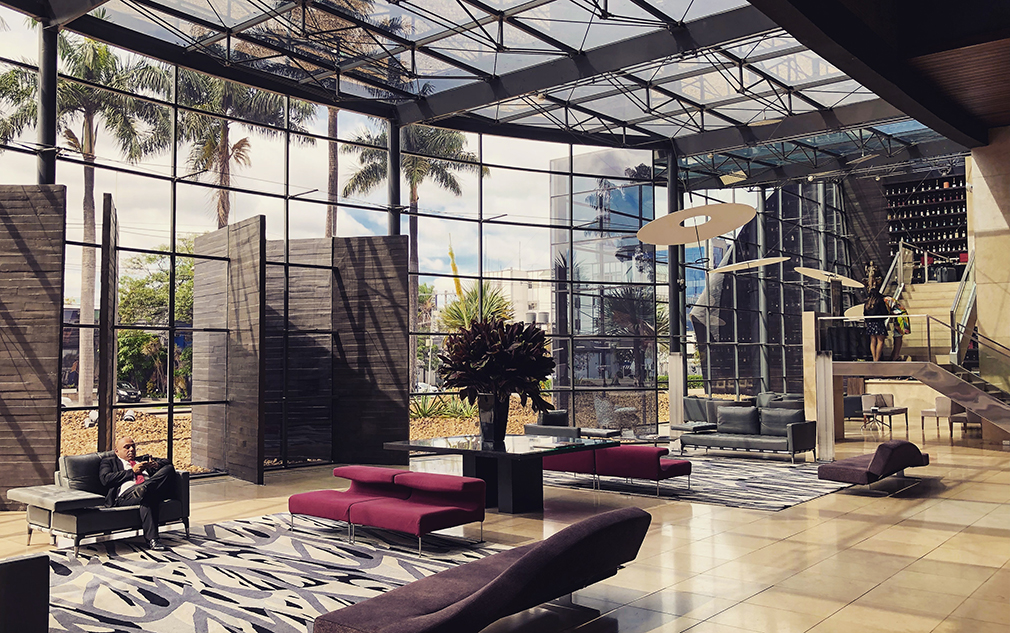 Fashionistas, Rock Stars & Creative Glitterati: Hotel Unique
When late Brazilian-Japanese architect Ruy Ohtake, designer of countless unusual buildings in Brazil and throughout the world, unleashed Hotel Unique in the early 2000s, it was dubbed the "Little Watermelon." Its inverted half-moon design was created to accommodate more rooms on the higher floors, allowing for better views of the city's 395-acre Ibirapuera Park to the south and the upscale neighborhood of Jardins Europa to the east. Everything through its 25-foot-high, 650-pound double-door entrance is just as dazzling, right down to the minimalist rooms with selfie-friendly circular windows (these form the "seeds" of the watermelon from the outside), whose sills can be sprawled upon for unique photos.
Ignore the odd name – this gorgeous whitewashed 1920s mansion in the neighborhood of Vila Mariana is home to the city's best hostel, a beautiful bounty of vintage design touches, mid-century modern furniture and architectural pizzaz that's walking distance from Ibirrapuera Park and one of the city's best bars (Veloso). Upkeep here approaches incredible levels for a hostel (it's spotless and maintained like a museum); and the amenities (extraordinary guest kitchen, wonderful near-wrap around porch, kitschy living room) have all been curated with the utmost attention to detail and design, so much so that it could just as easily pass for a hip boutique hotel.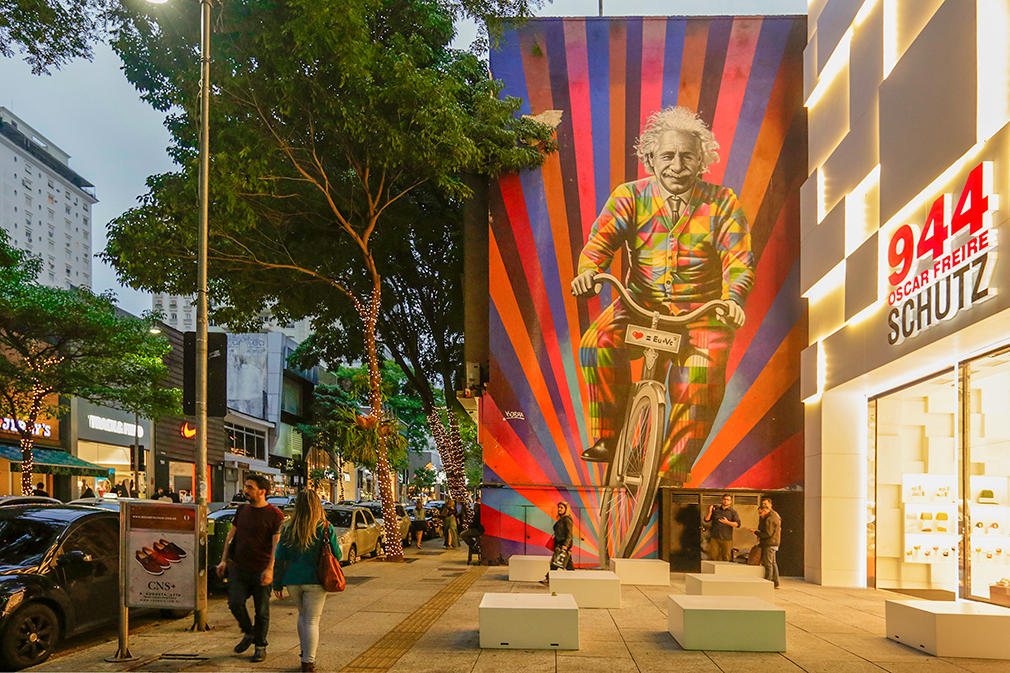 PLACES TO SHOP

Visitors flock to this famed Brazilian flip-flop brand not only for domestic prices and the latest and greatest styles in every color and design imaginable, but its trendy flagship store on São Paulo's flashiest street was designed by celebrated Brazilian architect Isay Weinfeld. So, this beach blanket Babylon is easy on the eyes as well. You probably never knew you needed 10 pairs of flip-flops, but you're about to find out.
Known affectionately among locals as the "Mercadão" ("Big Market"), São Paulo's principal food market is a must for spectacle as much as sustenance. Located in Centro, the building itself is a 1920s belle epoque cavalcade of stained glass and looming domes clocking in at 136,000 sq ft. Inside, endless rows of colorful exotic fruits and produce, fish, meats, sweets, spices, fresh juices and numerous specialty restaurants (famed mortadella sandwiches at Bar do Mané, fried pastries known as pasteis at Hocca Bar and so on). You can nosh away an entire afternoon here!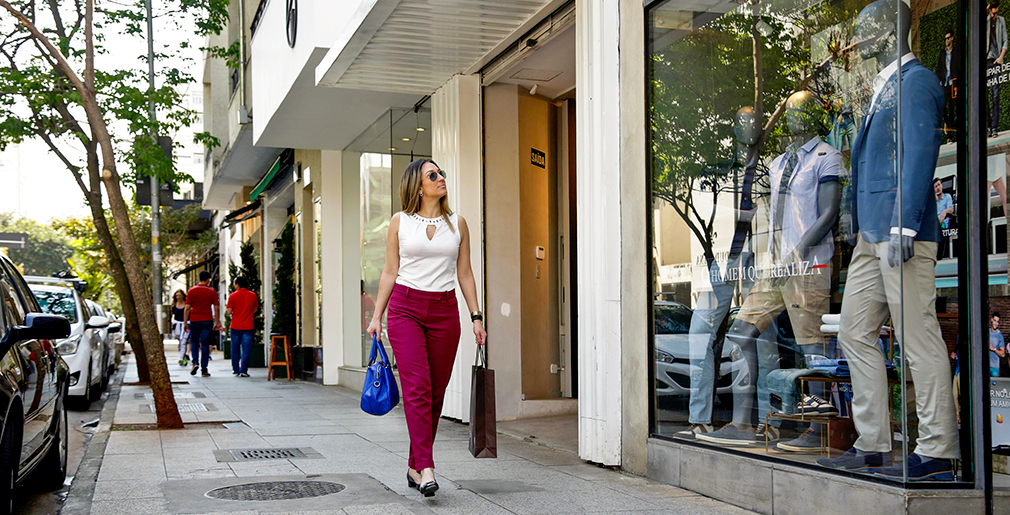 Best Specialty Street: Rua Oscar Freire
A refuge for glitz and glamour in a concrete jungle, tree-lined Rua Oscar Freire in the tony Jardins district of the city is the go-to address for trendy cafes, concept stores, flagship boutiques, top-end restaurants and beautiful people being hot. Homegrown brands like Oshklen, Havaianas, Chili Beans, Richards, Ellus, Galeria Melissa and Cavalera occupy some of the most expensive real-estate per sq meter in Latin America; and the original location of Brazil's best gelato, Bacio di Latte, is here as well. Get to steppin'!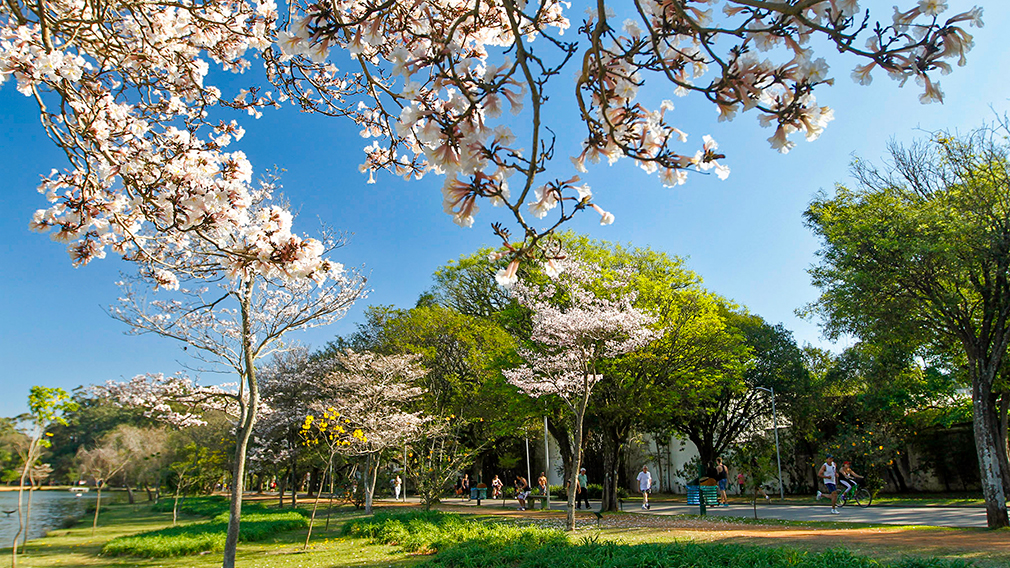 Best for Local Design: Firma Casa
Brazil's most famous furniture designers, the Campana Brothers, showcase their designs at this signature showroom in the Jardim América district. The innovative work on display here feels no different than previous exhibits at New York's MOMA and often uses discarded household items, cardboard and scrap metal to form unique, avant-garde pieces. You aren't likely to buy anything here, but it sure is fun to browse and dream.
If you're looking for Fair Trade and NGO handicrafts from throughout Brazil, this excellent shop in Casa Amarela (a space shared with the fascinating Museu Xingu) is one of the city's best. It bills its wares as "socio-cultural art" and works with painstakingly curated regional crafts. Everything is gorgeous, sustainably-sourced and profits go into the hands of the people they should: the artisans.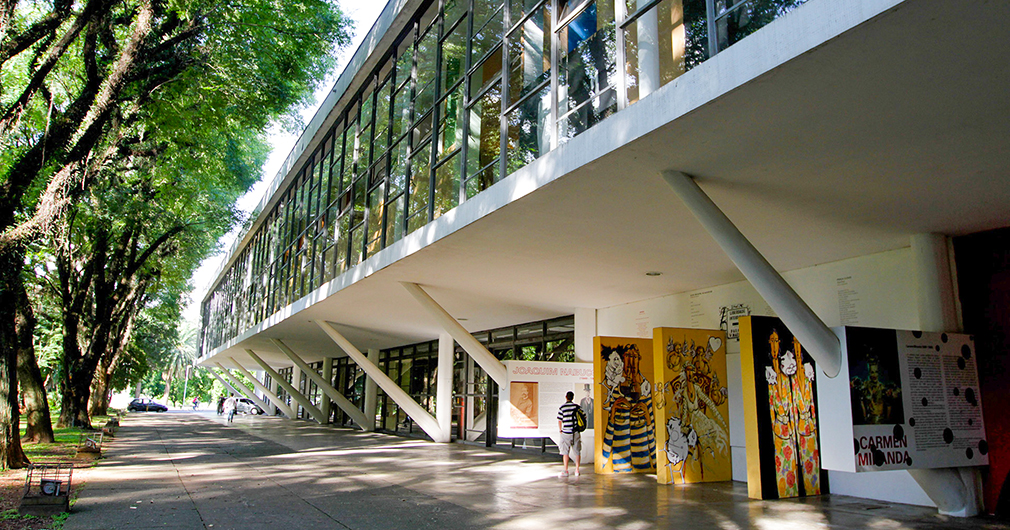 THINGS TO SEE & DO

São Paulo is chock full of interesting museums covering history, design, culture and the like, but few are more important than theMuseu Afro-Brasil, whose permanent collection chronicles five centuries of African immigration to Brazil – the good, the bad and the ugly. At its more poignant, the lost lives of the 10 million African lives lost during the construction of the country are archived in heartbreaking detail. The museum also features two floors of rotating, Afro-centric exhibitions as well.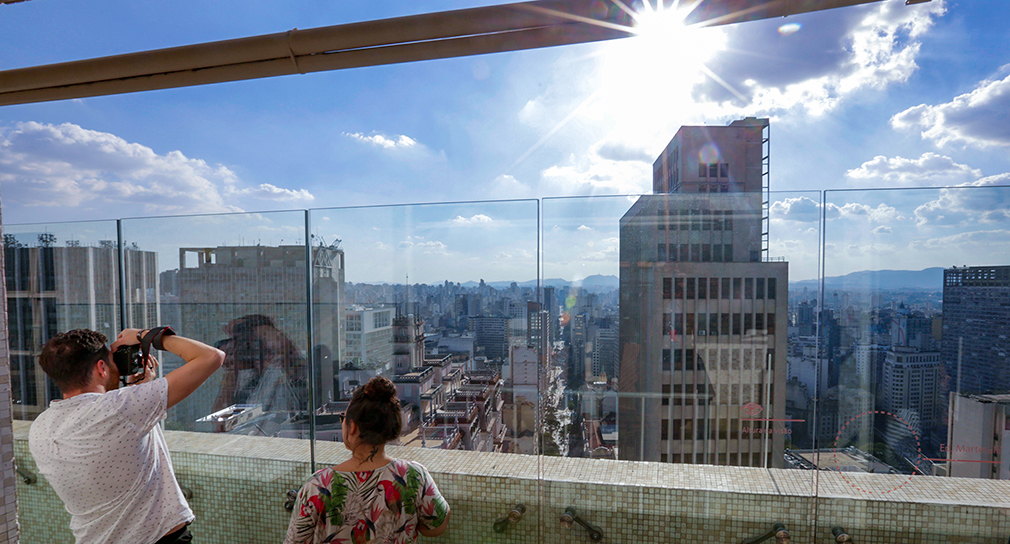 Best View:
São Paulo's skyline counts an estimated 40-50,000 buildings above 10 stories or so and getting a view of them all is mostly impossible. The city counts numerous buildings with rooftop observation decks, all of which frame flippin' outrageous city views (Edifício Itália, Edifício Copan, etc) but the 528-foot-high Farol Santander, completed in 1939 as a nod to the Empire State Building, might just stand a cut above. Extras complimenting the vistas include a panorama of São Paulo's skyline made up of junk by artist Vik Muniz and a three-minute historical film screened in a mirrored cinema room – bonuses you won't enjoy at competing height attractions in the city.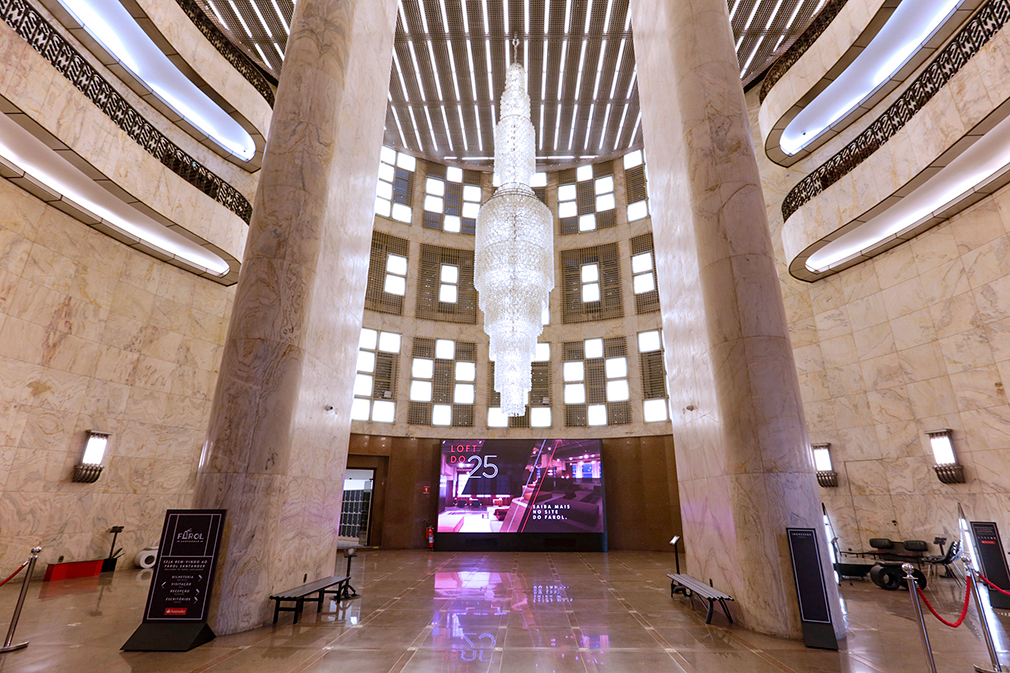 Located in a rather edgier part of Centro known as Santa Cecília (take an Uber if you're aren't skilled in navigating the city), Dogma set itself up as a gentrification anchor in a neighborhood not exactly known for its craft beer appreciation. The original Santa Cecília taproom is no-frills (20 taps await), but the hop-heavy brews (most notably the boozy IPAs and DIPAs) are worth the adventure. They've since opened in posher neighborhoods – Jardins, Pinheiros, Itaím – if venturing downtown isn't your bag.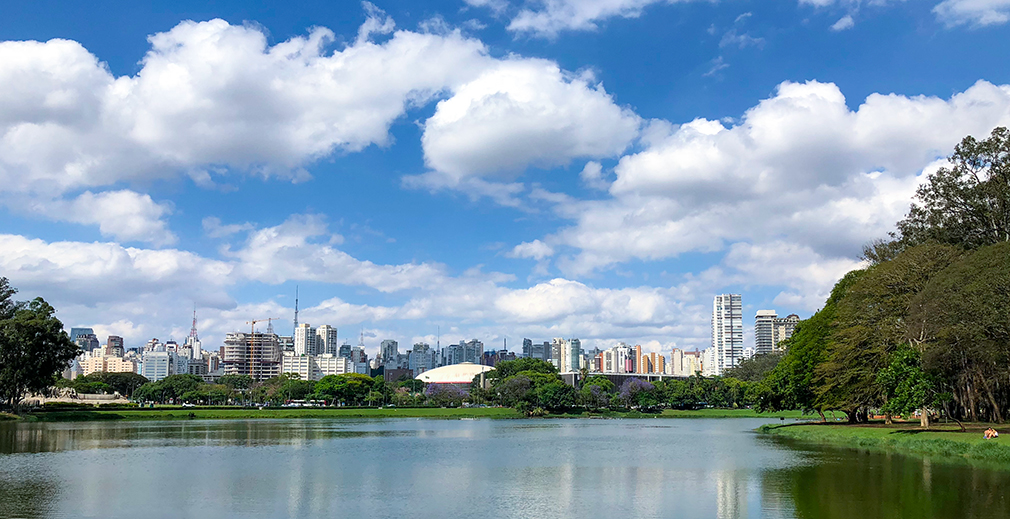 In a city known for 3067 sq mi of concrete, beloved Ibirrapuera Park in Vila Mariana is an oasis of green for Paulistanos. Top museums, architecturally-significant structures, swan-filled lakes – even grass! – draws flocks of locals and tourists alike to this near 500-acre greenspace in the middle of the city. It's no Central Park by any stretch, but it remains a wonderful and welcomed respite from the diesel and dust.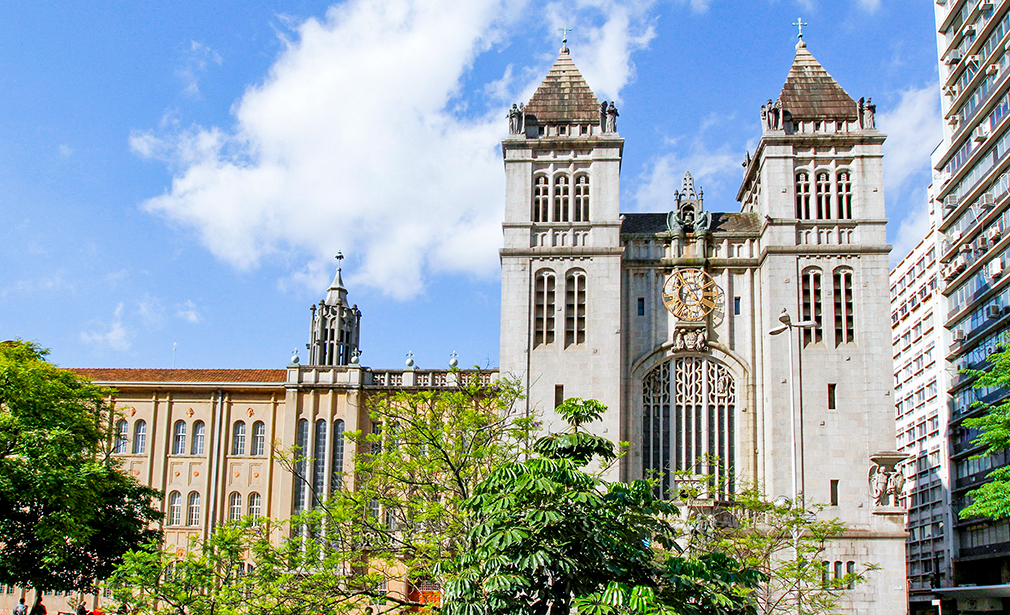 Given its surroundings, the monks at this remarkable monastery dating to 1598 (though its current neo-Gothic structure is early 20th century) must be fiercely committed to the cause. Located bang downtown among an army of skyscraping office buildings, not only have they persevered as the world's third-largest city sprung up around it, but they still find the calm for both Gregorian chanting and top-shelf baking (their breads, cakes and pastries are legendary). Pop in for a glimpse of impressive stained-glass depictions of the life of Saint Benedict or their coveted brunch, a feast of Last Supper proportions on the last Sunday of the month.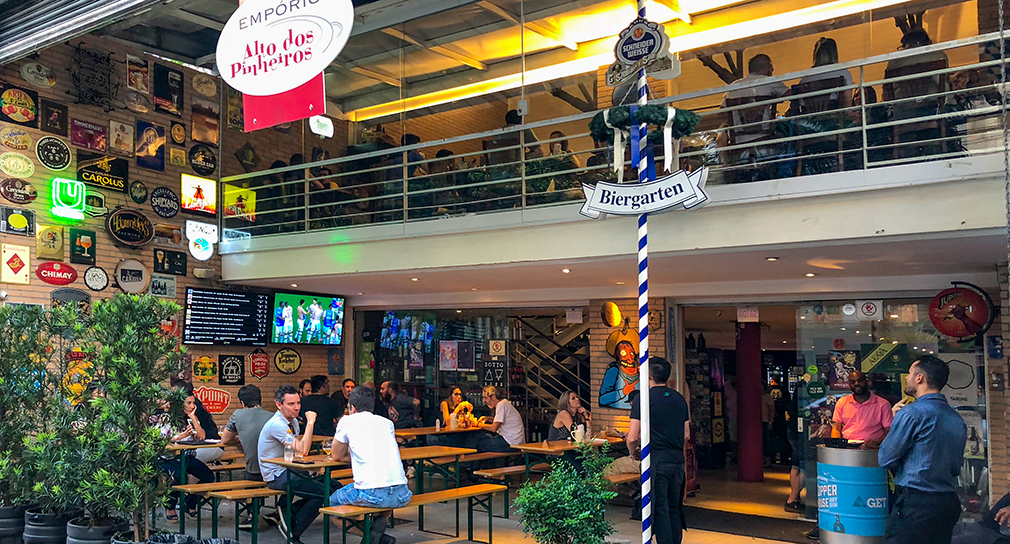 SPOTIFY PLAYLIST

"Sampa," Caetano Veloso (1978)
"Não Existe Amor em SP," Criolo (2011)
"As Minas de Sampa," Rita Lee (2003)
"São Paulo," 365 (1987)
"Pobre Paulista," Ira! (1986)
"Sampa no Walkman," Engenheiros do Hawaii (1991)
"Cohab City," Negritude Junior (2021)
"Fim de Semana no Parque," Racionais MCs (1993)
"Modão de Pinheiros," O Terno (2012)
"São, São Paulo" Tom Zé (2000)
"Pânico em SP," Inocentes (2009)"Trem das Onze," Adoniran Barbosa (1964)