People who've visited New Zealand tend to get that faraway look and heave sighs about returning one day. Fortunately, with the pandemic shutdown looking like history, the doors to this dazzling country have re-opened to travelers.
So, what is it about the place? Consider this: New Zealand, at a thousand miles southeast of Australia, was one of the last places on earth settled by humans. The geography of its two main islands ranges dramatically from glorious beaches and islets in the subtropical north to the Southern Alps and vast lakes in the south. You can tick off everything you love in a country, from the cultural attractions of the cities, to skiing, surfing, hiking, biking, fishing, golf, or sipping your way through award-winning wineries.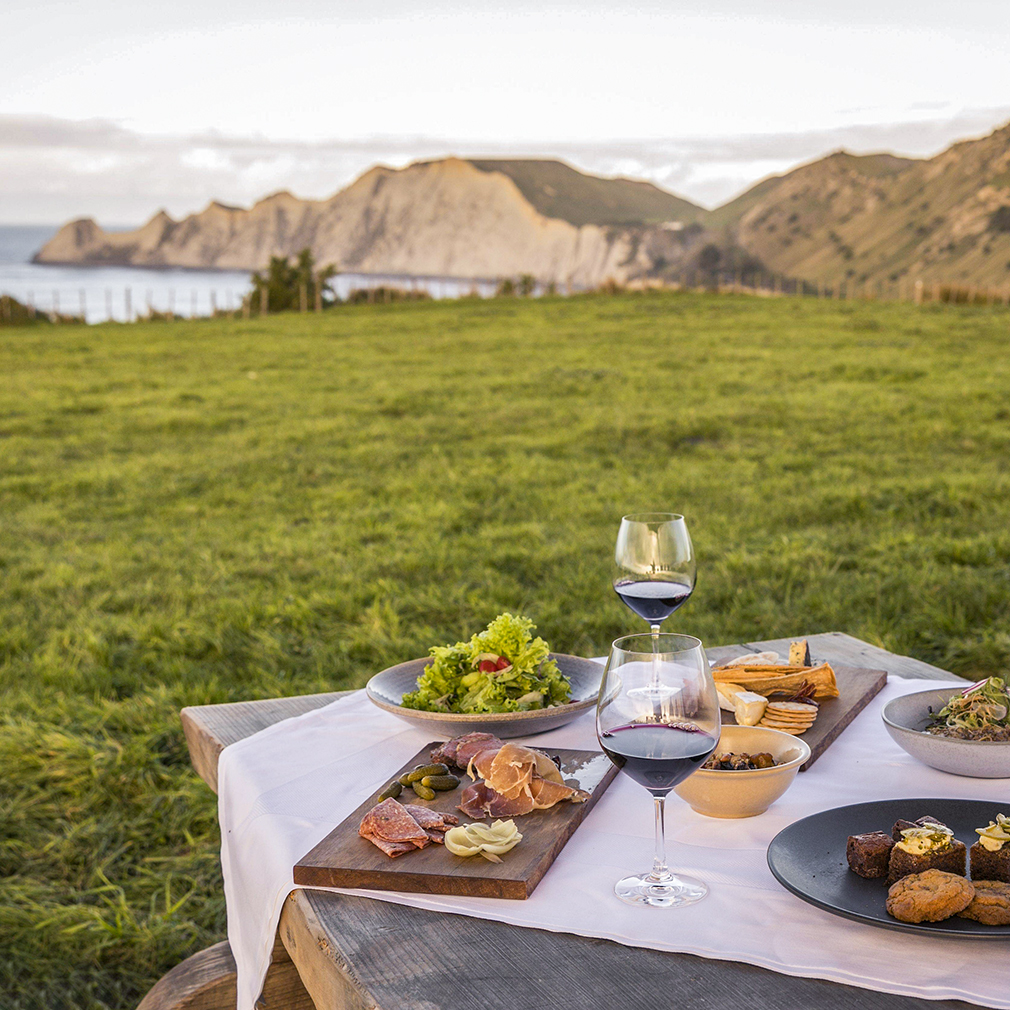 Even with so many ways to enjoy the islands, probably the most rewarding is to splurge on one or more of the luxury lodges for which New Zealand is renowned. It would have taken too long to do them all, so some excellent lodges will have to wait for the next visit (sigh). But here is a selection of three of the best on each island. All but one is a Relais & Chateaux property, and many are owned by Americans, including the three Robertson Lodges.
NORTH ISLAND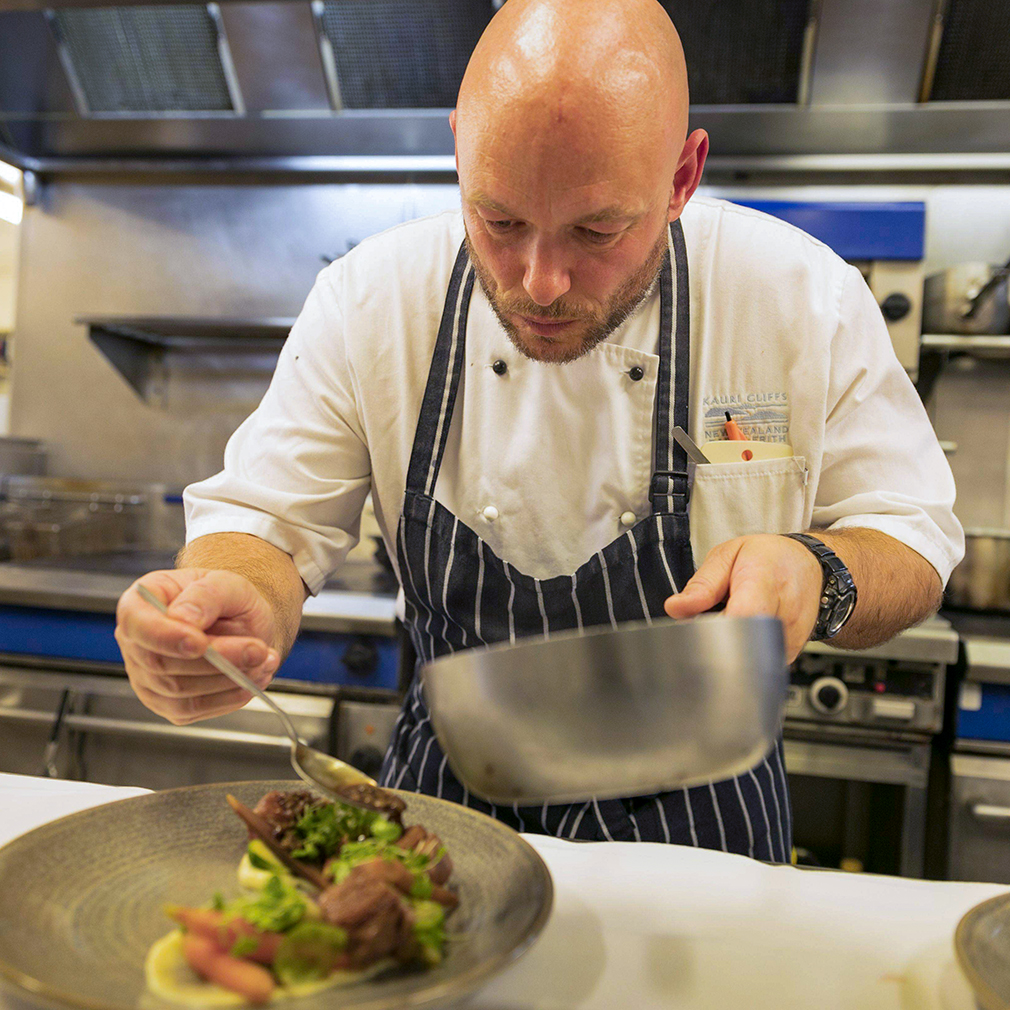 Kauri Cliffs
In 2001, Kauri Cliffs was the first to open of the three Robertson Lodges, a 6,000-acre farm with prime coastline on the North Island's breathtaking Bay of Islands. The lodge is celebrated for its David Harman-designed par 72 golf course, 15 holes of which have ocean views, including six along cliffs. Since guests often add a stay at its sister The Farm at Cape Kidnappers, cocktail hours are often occupied in debates over which has the best course. Not a golfer? There's so much more: the landscape is mesmerizing, including sandy beaches, islets, the Pink Beach cove (actually ocean-smoothed pebbles and shells), rolling farmland, waterfalls, and forests of native trees, the most breathtaking of which is an immense 800-year-old kauri tree. My walk to the spa led me through forest and ferns pierced by shafts of sunlight, a stream, and vocal birds to the four very Zen treatment rooms, an indoor lap pool and a fitness room. The chef turns out indulgent meals to end a day of golfing, kayaking, tennis and more, and the Robertsons own their own winery, Dry River, in the Martinborough region to the south. Accommodations include 22 suites, the Owner's Cottage and three 4-bedroom Residences.
Suites start at $1790.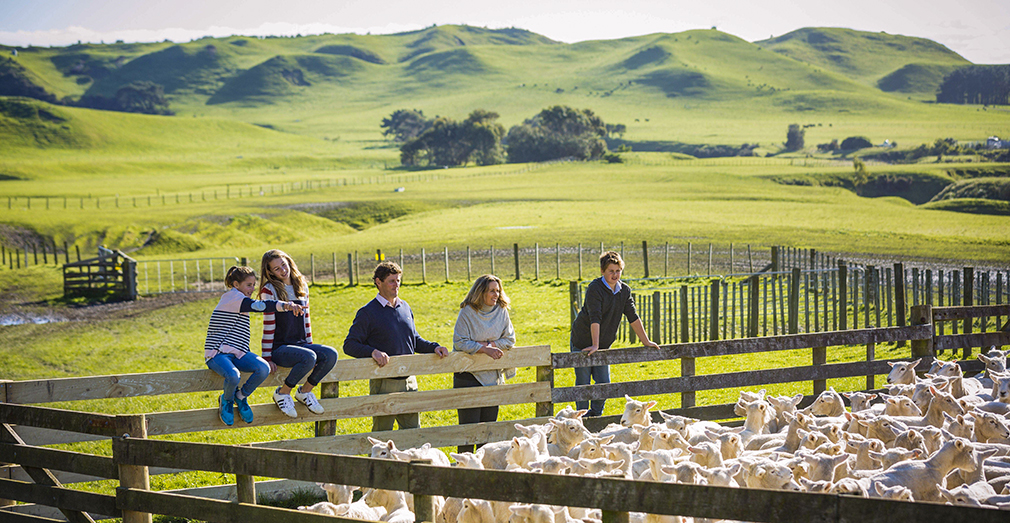 The Farm at Cape Kidnappers
The Robertsons' second lodge is another 6,000-acre working farm, but this one lies on the southern end of Hawke Bay on the North Island's east coast. The lodge views take in distant sheep on rolling green hillside that tumbles into ocean. Take an ATV tour and you'll see nearly invisible fences designed to keep predators away from protected native flora and fauna. From May to September seaside cliffs are covered in mating and newborn gannets, and a short way from the lodge is a reserve for kiwis (no, not just a fruit or a nickname for New Zealanders, it's a furry-looking flightless bird), parrots, and tuataras, reptiles dating back to the age of dinosaurs. But back to the golf debate: 71-par Kidnappers offers slightly fewer ocean views than Kauri Cliffs, but dramatic, vertigo-inducing cliffside tees and holes and rates higher in Golf Digest's Top 100 than Kauri Cliffs. (The course is presently being completely repaired and will reopen in July, 2022.) Food at Kidnapper's is fresh, seasonal, local and delicious. The Hawke's Bay area is one of New Zealand's premier wine regions, and nearby seaport Napier is a trove of Art Deco architecture. There are 22 modern suites with rustic accents spread through hillside cottages and the silo-accented main building, along with a set-apart 4-bedroom Owner's Cottage.
Suites start at $1790.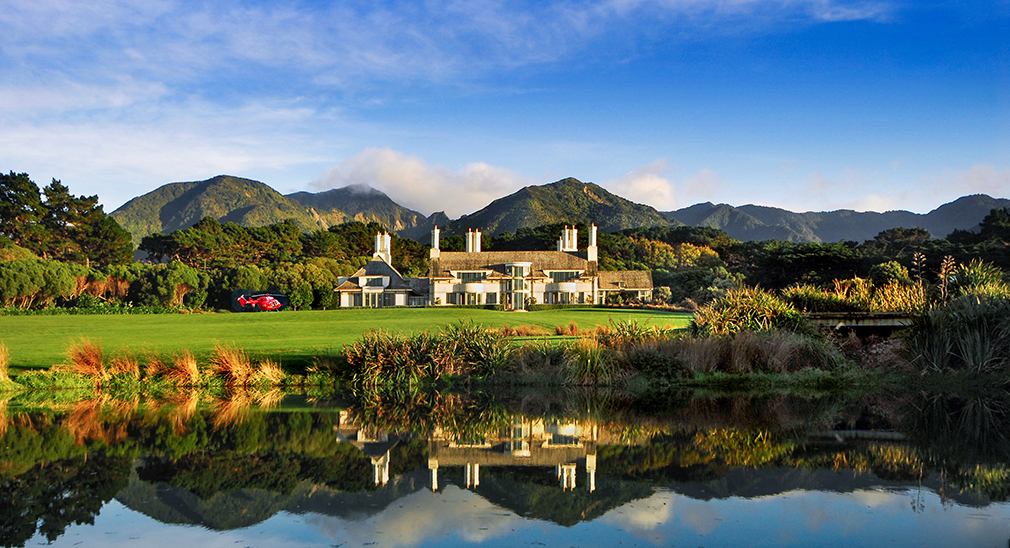 Wherekauhau
Another truly magic spot, Wharekauhau is a working farm on the southern tip of the North Island, a scenic 90-minute drive or a short helicopter flight from the capital, Wellington. Their new self-description says it all: Wild Beautiful Luxury. Your stay can be as private or as social as your mood dictates. There's a wine hour for guests, but the main lodge has so many public rooms and intimate nooks that you can dine in a new private spot each night. Set-apart 3-bedroom Foley Villa is perfect for families or complete privacy, and the 16 cottage suites offer sweeping views past a duck pond and endless lawn dotted in the distance by sheep, just before the land plunges to the lodge's ten miles of coastline. A local gin is made using the lodge's spring water, and a day trip can be made to the nearby Martinborough wine region famous for its Pinot Noirs. Meals feature fresh local produce, lamb and beef and, of course, fish. The first thing to do is take the farm tour, whether you have any interest in the 6,000 sheep and 300 cows or not—the windswept land is soul-enrichingly gorgeous and the sheep shearing finale is quite fun. There are seasonal activities, but year-round you can bike, hike, fish, play tennis, take an ATV for a spin or visit wineries. Or just settle by the indoor pool after a spa treatment.
Suites start at $1221.
SOUTH ISLAND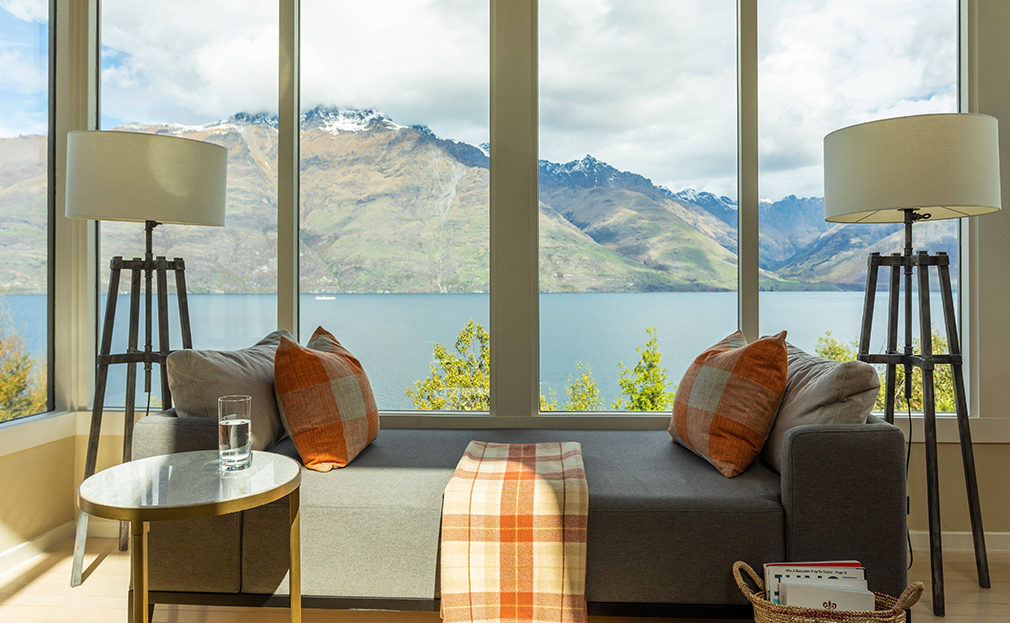 Matakauri
The third of the Robertson lodges, Matakauri is the only one without its own golf course (but no worries, the lodge can connect you with championship golf courses), and the only one not built by Robertson. But oh! The views. A short drive outside Queenstown, the 12-suite lodge buildings—plus a separate, lakeside Owner's Cottage—occupy a high bluff over Lake Wakatipu, with dizzyingly beautiful views of the Southern Alps, including the aptly named Remarkables range. My Deluxe Suite had a bathtub smack beside the window and a raised open bedroom several steps above a living room with floor-to-ceiling windows, so that I never had to take my eyes off the scenery. The restaurant, a few steps down from the main lounge, has the same indelible views, and delicious food. Queenstown is all about sports, but Matakauri can also provide a restful tour of the local wineries, or you can take a 1,475-foot steep gondola ride combined with a "luge" back down. Just below the lodge is a lovely lakeside path framed in colorful wildflowers. Matakauri is the kind of stay that quickly grows on you, especially once you've raised a glass to one of the lake's spectacular sunsets.
Suites start at $1217.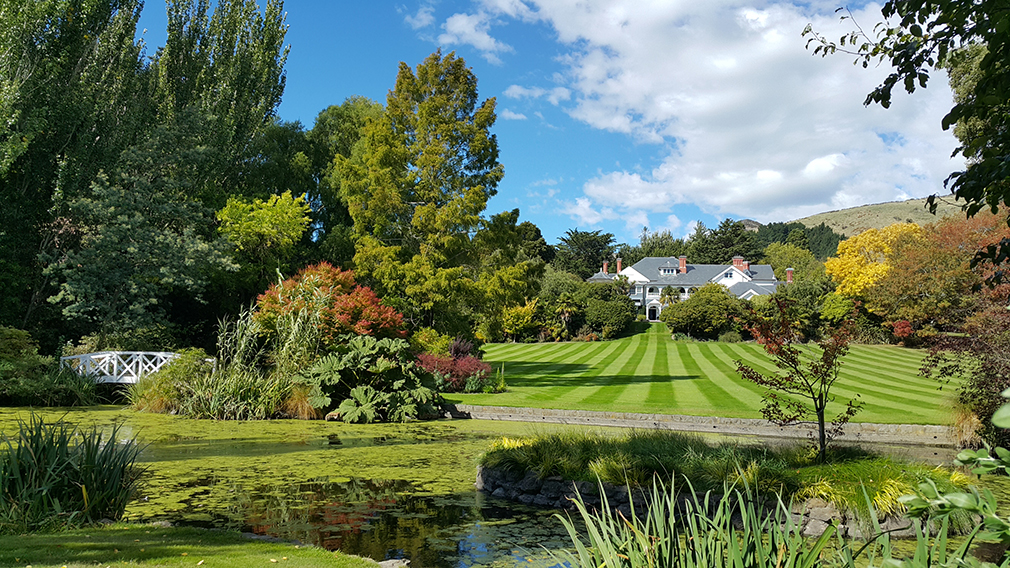 Otahuna Lodge
Trees lining the long entry drive to Otahuna Lodge suddenly part for the first view up manicured lawns to this stunning white Queen Anne-style mansion built in 1895. Surrounded by 30 acres of both formal and fanciful gardens, orchards, greenhouses and kitchen plots, the lodge is a fantasy world you're loathe to leave, but it's close enough to the numerous attractions of Christchurch that you just might venture out. Americans Hall Cannon and Miles Refo bought the mansion in 2004, and meticulously restored the elegant Victorian woodwork, combing antique shops for the pieces that adorn the seven unique suites. I found myself in the Verandah Suite, where I had the front-facing verandah to myself and a bathroom equal in size to the bedroom with a standalone tub warmed by a fireplace. Chef Jimmy McIntyre has been at the lodge close to 19 years, and his quietly expert multi-course dinners are served in intimate spots hidden throughout the lodge.
Suites start at $1187.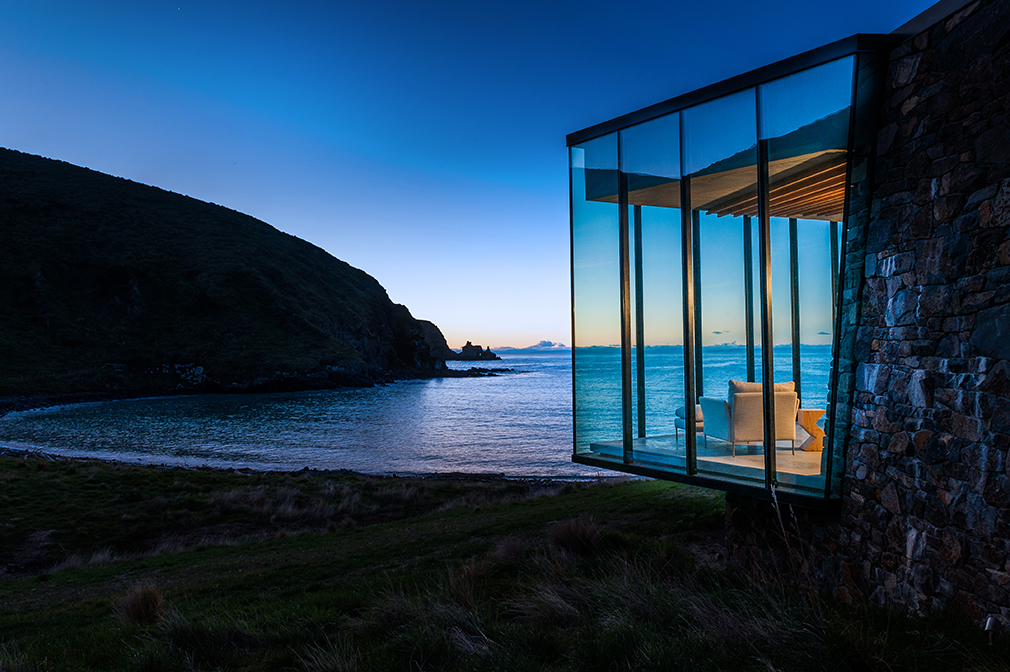 Annandale
Set on the Banks Peninsula south of Christchurch, Annandale is a 4,000-acre working farm, where two of its five widespread cottages claim their own private bays. It took around 20 minutes to journey via 4-wheel drive from Reception to our jaw-dropping, one-bedroom modern cottage, Seascape, where floor-to-ceiling glass windows kept the rabbits, ducks and passing dolphins permanently in view. An outdoor living room terrace with firepit was perfect for sundowners. Scrubby Bay, a 4-bedroom house, is also on its own bay, and the one-bedroom Shepherd's Cottage is high on a hill with panoramic views of the ocean. At the property's entrance on calm Pigeon Bay, is the Homestead, a stately 5-bedroom home built in the 1880s, with an orchard, vegetable and flower gardens and easy access to the swimming pool, tennis court and fitness room. Above the old stables is the 2-bedroom, loft-like Stables. The only drawback we could find amid the idyll was that unless you hire the chef, meals are delivered ready to heat or assemble—but who wants to interrupt the calm to sauté scallops? Aside from aquatic adventures or farm tours, the lovely French-settled town of Akaroa, on a bay known for its diminutive dolphins, is only a 30-minute drive away. But then, why would you leave?
The Stables starts at $1060, Seascape at $2,600.