As if to ease our spring fever this year, the Japanese cherry blossoms, or "sakura," have started sprouting early ahead of the usual late March through April peak blooming window around Japan.
Filled with hope and renewal, the rows of cherry trees enshrouded with varying shades of delicate pink and white flowers (only during full bloom), have been celebrated since the 8th century as a seasonal ritual, and are one of the most important and beautiful sites to behold in the world.
March is also commencement month in Japan for elementary school through university students. Families celebrate graduation with Hanami picnics – consisting of snacks for the kids and sake for the adults – which can be savored under up to 200 different types of cherry blossom trees found in the city of Tokyo, Kyoto and all over the countryside.
During this spring transition, it might seem as though the entire country is enveloped a pink hue. Not only a visual treat, the smell of the blossoms can be intoxicating and are believed to also increase appetite. You will find the thematic color popping-up in clothing and houseware shops from t-shirts and scarves to plates and chopsticks while being utilized in traditional foods such as rice cakes wrapped in salted cherry blossom leaves or cocktails down at the local izakaya and at cozy ryokans dotted around the country.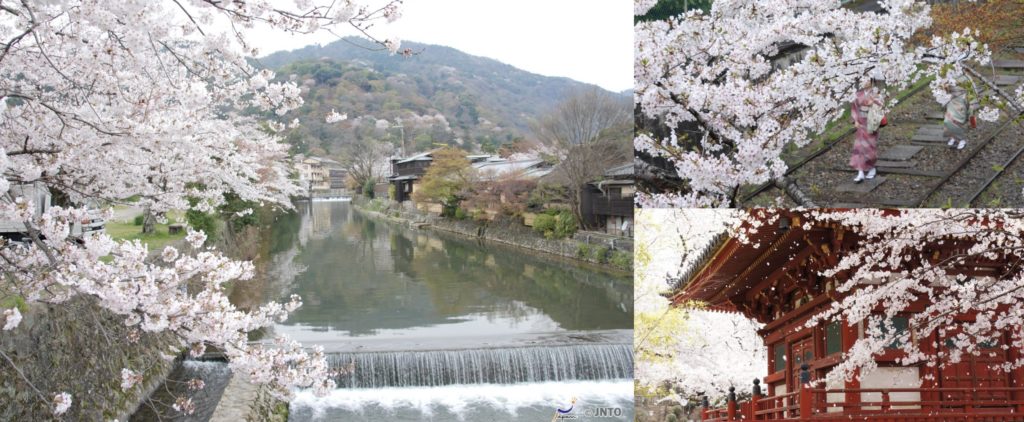 Spring fugue also brings the month-long Tokyo Spring Music Festival starting on March 19 and running through April 23. Surrounded by Ueno's budding cherry blossoms, the annual event, in the 17th year, will be performed in person at concert halls or museums with 50% capacity and live-streamed online for the first time in history for the rest of the planet to enjoy.
The 2021 festival features a diverse lineup of performances such as maestro Riccardo Muti's "Italian Opera Academy in Tokyo," the "Tokyo-HARUSAI Wagner Series," and performances that were postponed last year. An online ticket purchase is required to view live streaming programs.
To that end, the Kagurazaka Street Stage O-edo Tour in the central Tokyo area, or locals call it, "Little Paris," which celebrates traditional and modern culture, music, and performance, will also air over a series of YouTube videos.
So, while we wait for the Tokyo Olympics to proceed this year, we have these top five cherry blossoms festivals listed below, and other picture-perfect landscapes to view them all over Japan from Hirosaki Castle in Aomori Prefecture to ancient Temples, walking trails and kayaking in Kyoto that will help to entertain us until early summer.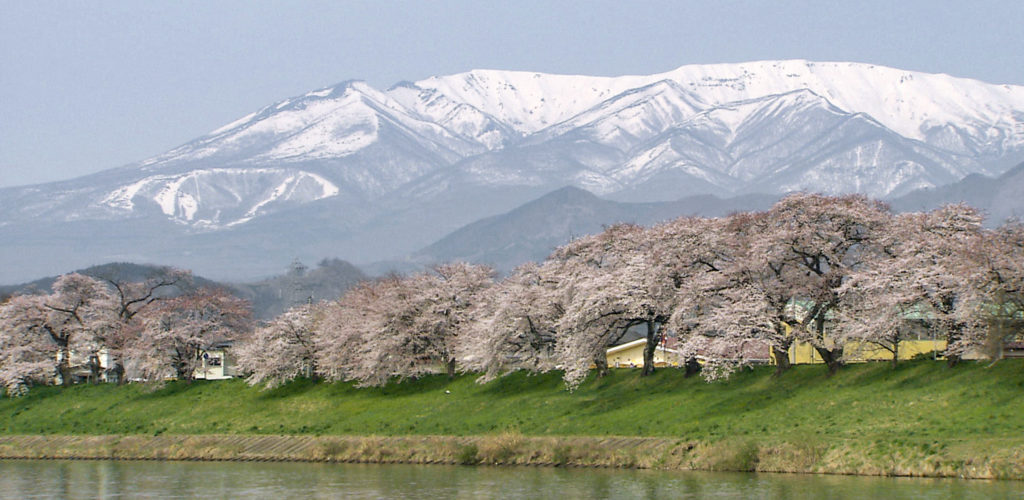 Top Five Cherry Blossom Events:
The below five events (with peak blooming months noted), are in the Nikko/Tochigi/Kinugawa region, between one and two hours by limited express train or private car north of Tokyo.
Kokuzoson, Nikko
The Kokuzoson temple, registered as a designated cultural property of Tochigi Prefecture, is home to a beautiful weeping cherry tree reportedly over 350 years old. Experience full bloom from mid-to-late April.
Tamozawa Imperial Villa, Nikko
The Nikko Tamozawa Imperial Villa is the biggest wooden imperial villa, erected in the Meiji and Taisho eras. Three parts date, respectively, from the Edo, Meiji and Taisho eras, each representing the very best feature of Japanese architecture of those respective times. There are weeping cherry trees with weeping blossoms in the garden. Full bloom: Mid to late April.
Imaichi Undo Koen Park, Near Nikko
This public park has a row of cherry blossom trees and is very popular among locals. Full bloom: Early April.
Kinugawa Koen Park, Kinugawa hot spring area
Kinugawa Onsen with its natural hot springs and the bucolic riverfront is another beautiful spot to admire the sakura. This park is located by Tobu Railway's Kinugawa Koen station. Full bloom: Late April.
Kinugawa Onsen Cherry Blossom Festival
Located in Gokoku Shrine, explore Kinugawa's Night Cherry Blossom Festival located is home to a cherry blossom tree that is over 500 years old. The delicate blooms are illuminated by lanterns in a magical scene.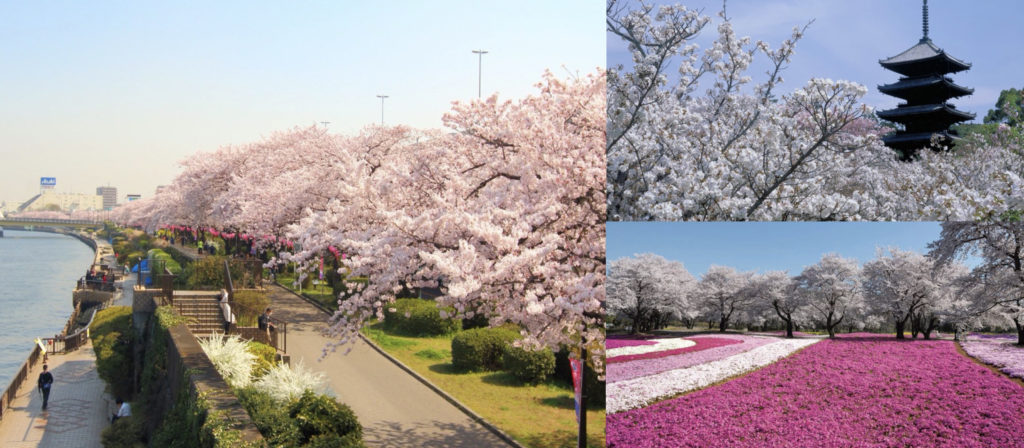 Other Ways to View Cherry Blossoms
During peak sakura season, Sumida Park displays nighttime illuminations which can be viewed from a yakatabune (Japanese boat), water buses, and other vessels floating along the Sumida River which divides the park into two districts.
Here you will also find Tokyo's oldest Buddhist temple Asakusa Sensoji Temple and Sumida Ward featuring the Tokyo Skytree – one of the world's tallest structures. In 1717, during the Edo era, the Eighth Shōgun, Tokugawa Yoshimune, started planting cherry trees. Today, there are close to 1,000 trees on the Taito Sumida side of the river.
You might need retail therapy after viewing this densely populated cluster of trees, so head to Sumida River Walk elevated promenade, completed in summer 2020, that runs along the TOBU SKYTREE line railway bridge and is connected to the fairly new Tokyo Mizumachi (https://www.tokyo-mizumachi.jp/en/) waterfront development with shops and restaurants.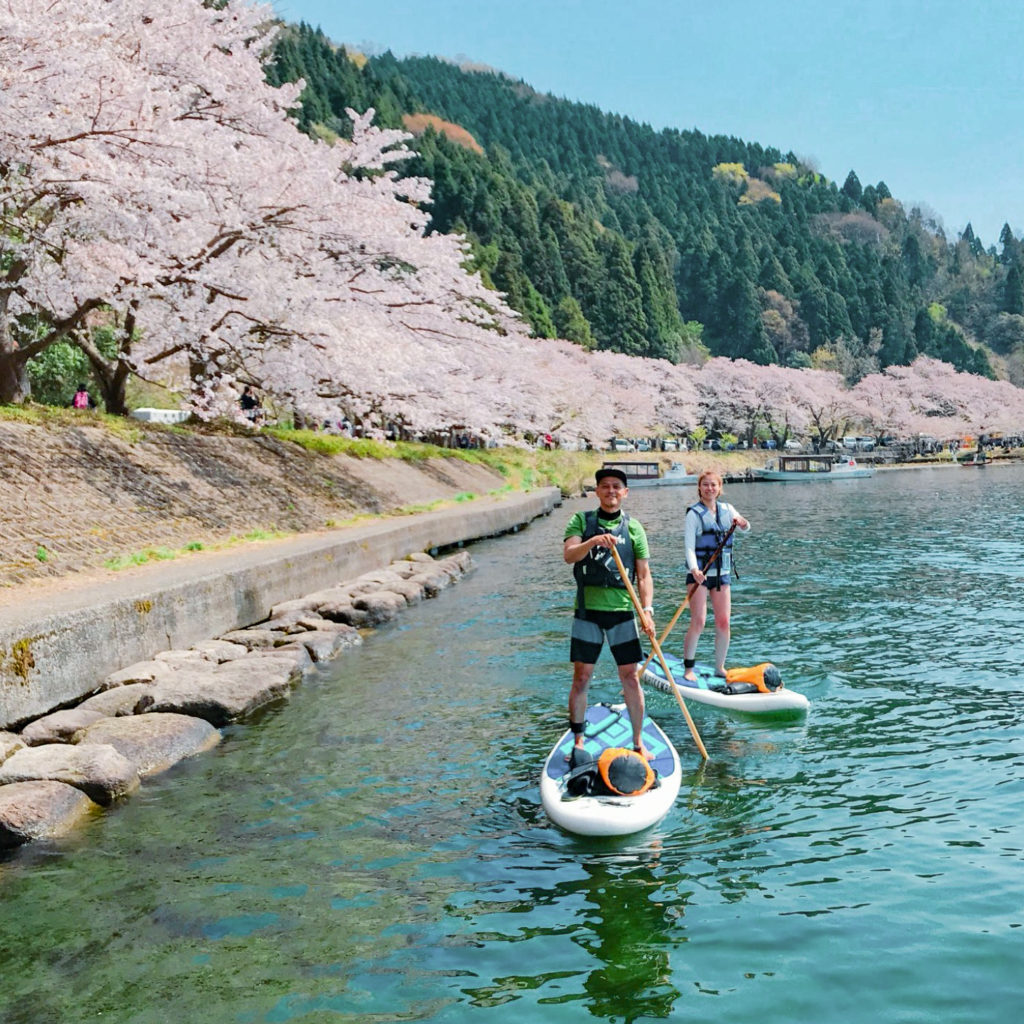 At Lake Biwa (about ten minutes away from central Kyoto) at Shirahige Beach, adventurous visitors head to Shirahige SUP (stand-up paddleboarding) where you can rent the equipment and tour the lake with a guide. The lake is also home to the Shirahige Shrine and there is a torii gate that you can row through while viewing the cherry blossoms on the shore.
If you'd rather do this on dry land, The Philosopher's Path is a mile-long stone pathway, also in Kyoto, that runs next to a canal leading to the Eikando temple and many others in the region. And, don't forget, once the trees shed these delightful blooms, the grounds are covered in the petals like a carpet of pink-tinged snow.