Travel Dish spotlights Michelin-star chefs, master mixologists and global gourmet treats that you can recreate at home.
If you ever spend any time watching cooking shows on PBS or Netflix you know that New York Times best-selling author, no-nonsense podcaster and the charismatic culinary nomad of Ugly Delicious, Chef David Chang, is the creator of Momofuku Noodle Bar, inspired by his time in Japan. The simple concept of crafting comforting ramen dishes with American ingredients, started in New York City before it grew into a globally recognized brand with locations from Australia to Toronto and Las Vegas.
Chang grew up in Washington, D.C. where he was also influenced by his Korean father who was in the restaurant business before he worked with superstar chefs Tom Colicchio and Daniel Boulud in New York. Chang went on to receive 2 Michelin-stars of his own for his fine-dining tasting menu at Momofuko Ko in 2009 and has retained them since.
We had the chance to interview Chang before his recent live appearance at an American Express Business Platinum event at The Huntington in Pasadena where he orchestrated a four-course meal that included signature dishes and a few new surprises. He spoke about his past, successes, his favorite cities to dine and his top celebratory meal. In terms of remaining relevant with product launches and pop-ups, Chang commented, "I have very little idea of what's cool, I'm not that person anymore. I trust the instincts of those around me."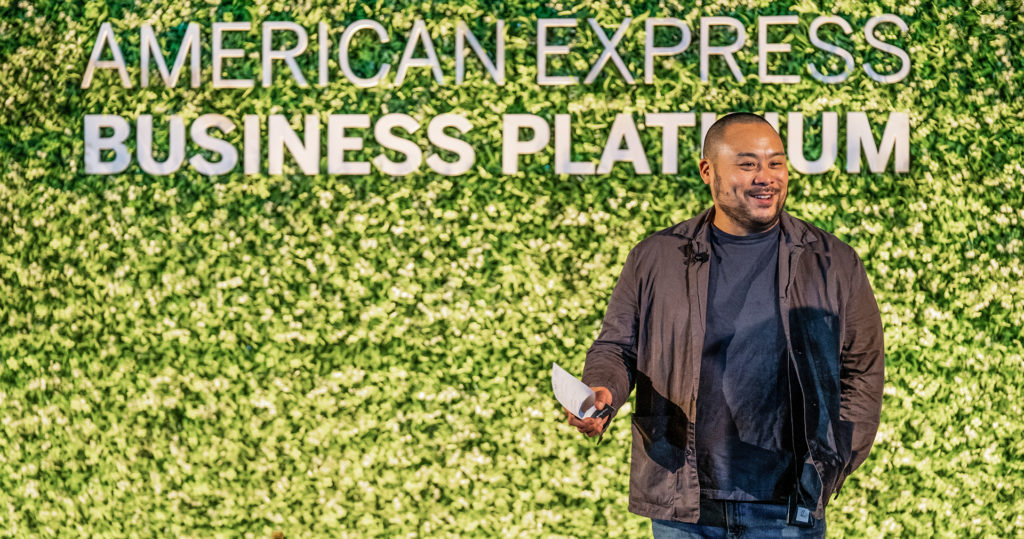 You're a busy man. Why did you want to get involved with this event at The Huntington?
I've had a long working relationship with American Express and don't think I would be in business without them. They were able to do so much for me as a small business and I want to celebrate the launch of that [Platinum Business events] and know that I was a part of that history, and to make food that is going to be part of this festive occasion of going out and eating again, making new friends and drinking great wines. I'm so excited to eat myself and go out. This is a celebration and getting people out.
Chefs are having a moment in world-class museums right now. Are there more of these events in your future?
Right now, we are worried about the four walls of our restaurants right now after the past couple of years, so that is our focus, on the employees and guests that dine there. Our team has been remarkable and has rolled with the punches. I couldn't be prouder of what they have done.
Now that the world is bouncing back a bit, is there anywhere that you would like to expand or the Momofuku group or another Majordomo [located in LA] at this time?I've been in LA now for five years, I lived there for that year Majordomo was opening. My wife became pregnant with our first child and that delayed the move [out west.] That was the plan, for me to step down and focus on doing media exclusively and come to Los Angeles. Then the pandemic hit.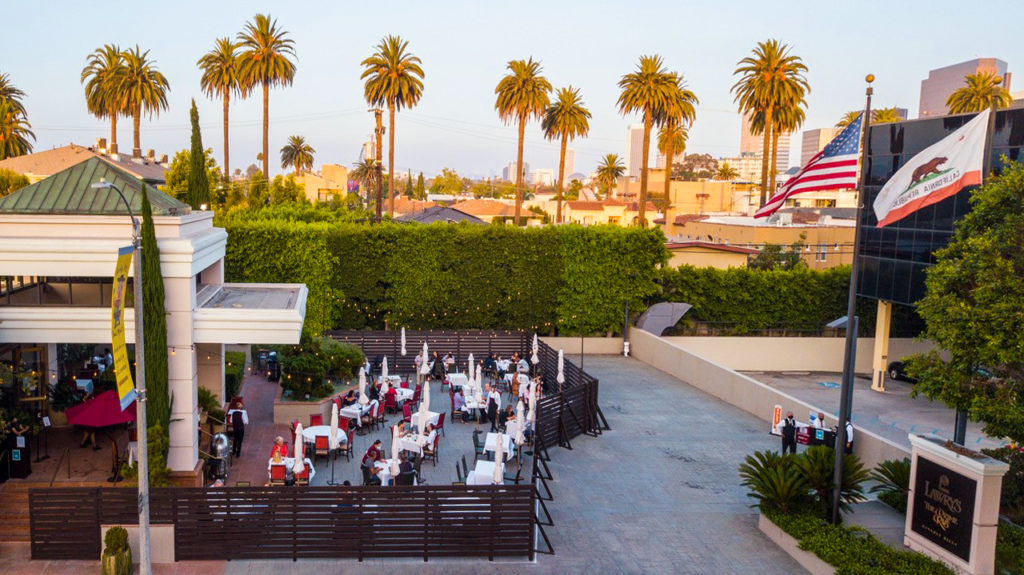 How do you feel about L.A. now that you have had a business here?
I spent a week in Koreatown with my dad about 30 years ago. It was my first trip and remember it being so delicious. I've always felt strongly about LA and wanted to do something distinctly different than anything we have ever done. Mainly because of the produce. You'd be hard-pressed to find a city in America that can compete with the sheer diversity of what LA can provide in food offerings.
Also, one of my favorite restaurants is Lawry's in Beverly Hills. I just love that experience. When I was a kid, my father would take us out for Prime Rib. When I think of people coming together after a long time, a graduation, a celebration, Prime rib is a Chang celebratory meal. We did ours [famous dish at Majordomo] a little bit different – it's cured with a savory salt and it's smoked but it's a tribute to that.
My father worked his entire life in the restaurant business to make sure that I never had to. It didn't work out that way! But in 1973 he opened a steak house in Washington, DC and the only meat they served was prime rib. So, it makes sense why that was a celebration for our family.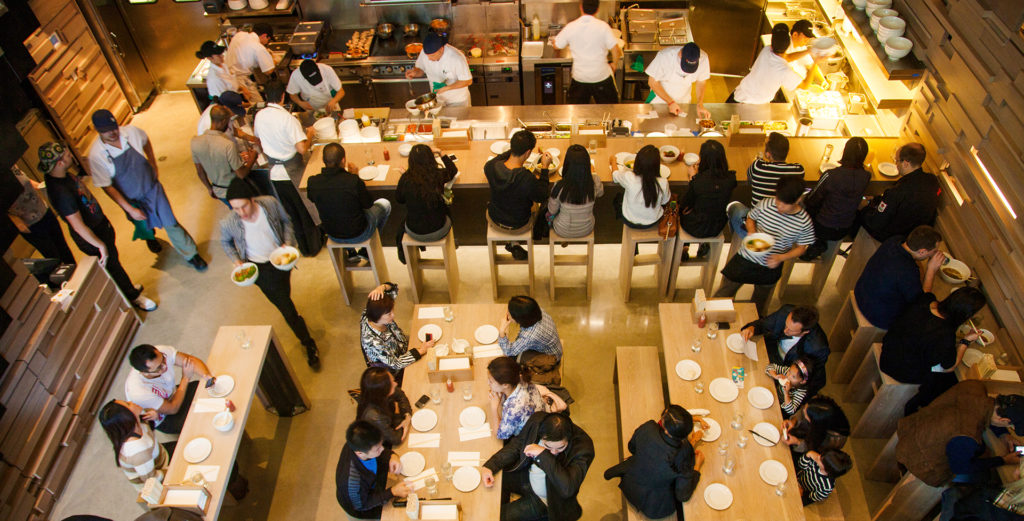 Outside of NY and LA, what is your favorite eating city in the world and why?
I love Toronto for eating. It's one of the best places to eat Chinese food and the most diverse. Fishman Lobster Clubhouse – I want to eat there all the time. They also have great Jamaican food – things that you wouldn't expect. It's the most diverse – LA might be number two.
One of the best places to eat Chinese in North America is Markham– it's the SGV [San Gabriel Valley] of Toronto. Then Richmond is the SGV of Vancouver. And then there is the actual SGV of LA – that's some of the best eating.
Can you tell us some of your favorite places or neighborhoods to dine in LA?
Parks BBQ doesn't need attention but it's one of the most consistent restaurants in Koreatown. I've also been eating a lot of kabobs of late from Mini Kabob in Glendale, Hamlet's kitchen, Why Not Kabob? Glendale, has amazing eating – it's so unbelievable and diverse. You have Armenian, Iranian, Greek, it's a level of quality and diversity that I was not accustomed to having before. Every place in Glendale that makes a kabob is delicious.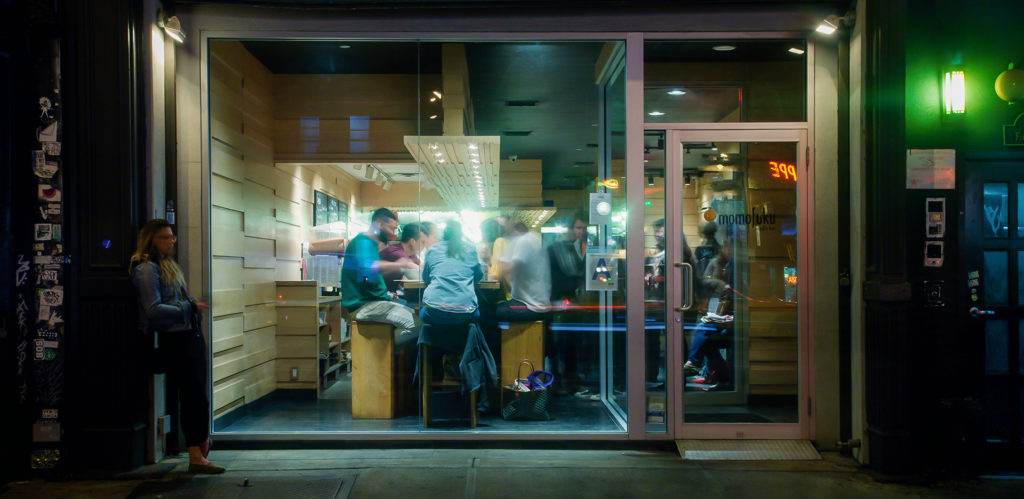 What are some of the similarities or differences between LA and NY diners?
People out here are more accustomed to fruits and vegetables that you can only get one or two months a year out in New York City. I have two spring pea seasons here Feb and March. I can get dates in New York but I can't get dates from Palm Springs.
My son is so spoilt on fruit now. If it's not perfectly sun-ripened California fruit, he won't eat it – and I don't blame him! That's one of the differences. Things just taste different. Not necessarily better or worse. People here are accustomed to the abundance of Southern California which can't be denied because you can't grow year-round in New York. One of the big differences and diner awareness of that.
Diners in LA might sit in traffic for 45 mins, transportation has a big effect on how people dine out in LA vs NY. People dine out earlier in NYC than in LA. It's the traffic. You can navigate how to get across town in NYC and plan pretty accurately. In LA it's a crap-shoot. You have no idea.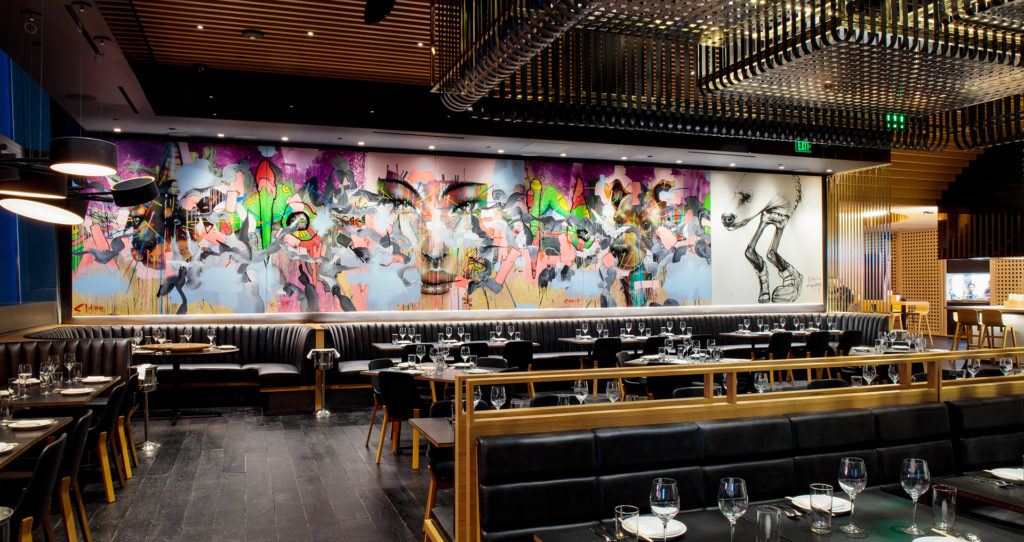 Majordomo LA opened in an industrial warehouse, not in Chinatown or Frogtown. People said that we were crazy but they said that about Bestia [in the Arts District] too. People will come out from the Westside to the Eastside in LA for two reasons: a Laker's or Dodger's game. So we needed to make food that was a celebration. One that would not make people upset after a long commute. One that they would want to go out and have a good time and celebrate. Dining in LA has is a different style, it's much more communal with places like Korean BBQ and you can customize things the way you want like tacos.
Where do you go in New York for a night out?
My first trip back to NY was several months ago, and all I ate were slices of pizza from Lucaliand can't wait to try Baby Luc's when I'm back the first place I want to go. That is one thing LA doesn't have – I know that it does but it doesn't have the ease. It can be good at 3 in the morning walking on a star (on Hollywood Blvd.) but that isn't the pizza that I want to eat. That is one of the things that I miss about NYC the ability to eat pizza at any time of day. I miss Lucali's the most.
Any place in place in the world that you have been wanting to discover or return to?I would say that a place I would want to go back to is Istanbul. It was one of my last big trips before 'the world ended' and it's haunted me to go back. I find the food, produce and culture to be hypnotic. I was only there for one week but wish I'd spent more time. I love the merger of cultures. It's the OG in Europe and Asia. I want to learn more about Turkish cuisine. Also, I've never been to Vietnam but I want to go for 3-4 months.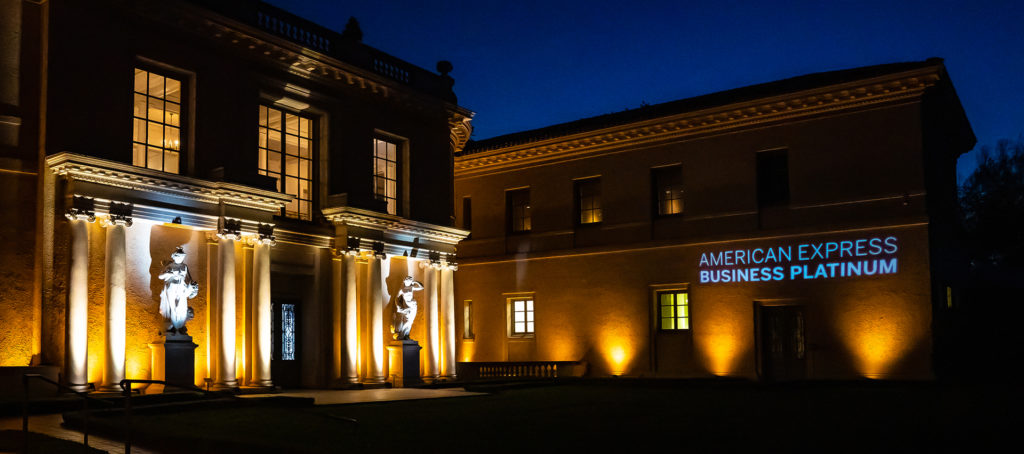 Can we expect more shows on Netflix, publishing or podcasts from you in 2022? 
I have a few more things planned but hopefully, it will be less about me and more about the team and the content we are going to produce. And, creating more content with Hulu [like The Next Thing You Eat.] I'm trying to not be on camera but use this [platform] to find some new voices, people that might not have had the opportunity. We are talking about the changes in the world of food [on the new Hulu show The Next Thing You Eat] and I'm excited about what we can do with the platform that we have.
The world is much smaller than you think and everybody wants to eat delicious food but it's not always accessible to everyone. When you travel it's a great reminder to get out of your bubble a little bit. If you think you know something, oftentimes you don't. Stay humble and go off the guidebook. Go out there, get lost and discover some place to eat yourself.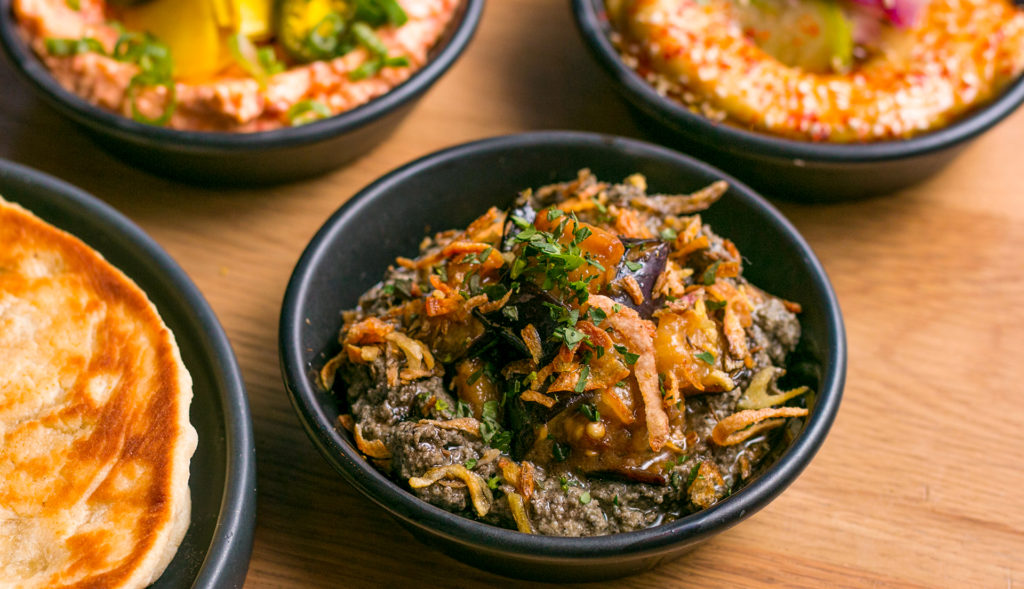 Recipe from David Chang for a Celebratory gathering or snack at home.
Charred Eggplant Dip
Serves 4
Ingredients:
2 Eggplants (2–2½ lbs. total)
½ cup Miso
3 tablespoons Mirin
4 Garlic Cloves
1 Fresno Chile, thinly sliced
Chile Oil (for garnish)
Kosher Salt
Momofuku Tingly Seasoned Salt (Substitute salt and pepper) (optional)
To Prepare:
Preheat oven to 350°F. Heat a heavy cast iron pan over high heat on the stove.
In a bowl, whisk to combine miso with mirin.
Slice eggplants in half and lightly score each side, you do not need to deeply pierce the flesh. Season with Kosher salt.
When the pan is very hot, add the eggplant flesh side down and allow it to cook until completely blackened, about 10–15 minutes. Alternatively, you can cook the eggplant flesh side down directly onto your stove burner on high heat and cook until deeply charred and completely blackened.
Remove eggplant from stove and allow to cool blackened side up. Using a spoon, liberally spread the miso/mirin mixture all over the blackened flesh of the eggplant. Place eggplant in a baking dish with miso/mirin side up and put in the oven. Check in 15 minutes. Miso/mirin mixture should be slightly caramelized, and the eggplant should be completely soft. If not, keep cooking and check every 5 minutes.
Meanwhile, make the garlic confit. Combine peeled garlic cloves with neutral oil in a small saucepan and cook over low to medium-low heat until garlic is soft. The oil should entirely cover the garlic cloves, you may need to add more oil depending on the size of your saucepan.
Scoop out the flesh of the eggplant halves and discard the skins. Place eggplant into a food processor. Add about 4 cloves of strained garlic confit. (Set aside the rest of the garlic to use for the future—it's a delicious spread on the bing bread alone, great in tomato sauces, and more. Puree the eggplant and garlic until smooth. Taste and add salt as needed. Scoop into a serving bowl.Garnish with the sliced Fresno chili and Momofuku Tingly Seasoned Salt (optional).