The Big Apple, the city that never sleeps, the center of the universe—whichever affectionate phrase you like to use, New York City is the place to be right now with new hotels, restaurants, bars, shops, and fun activities that range from a candlelit catacombs tour to a ferry ride to a Tulum-inspired-island. While the Upper East and West sides are always desirable neighborhoods, these days it's all about Midtown and downtown Manhattan, from Tribecca to the Lower Eastside. Here is our guide to some new spots and old favorites worth a reboot on your itinerary.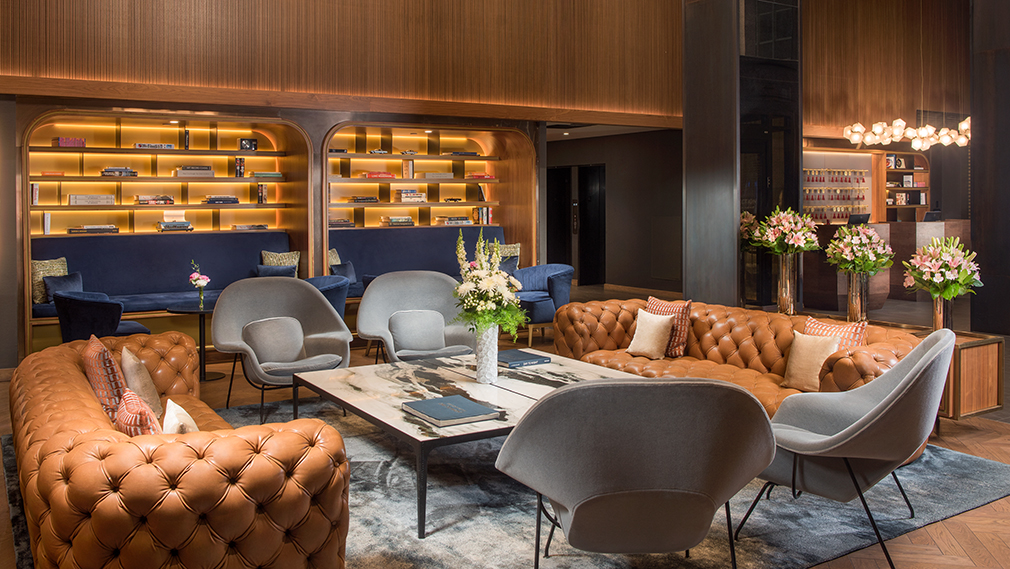 Where to Stay
4-Star That Feels Like a 5-Star
The NH Collection (part of the Minor Hotels) on Madison Avenue in Murray Hill is a true "Mad Men"-esque property, but with luxe service. The hotel offers a 'living lobby' where you can work on your laptop, meet up with friends, or kick back and read one of the many coffee table books. The popular Italian Serafina serves up breakfast through dinner, with salads, pizza from the wood-burning oven, limoncello pasta, and truffle ravioli on the menu. Off the lobby, the Mad Bar & Lounge comes alive at night with live jazz during the week and a DJ on weekends, along with retro-themed cocktails. Try to book Room 1702 as it is the only accommodation—aside from the two penthouses—that has a large terrace overlooking the city, where you can have drinks and watch the sun set over the Empire State Building. You'll also be walking distance to Grand Central Sation to the north and Grand Central Park to the south.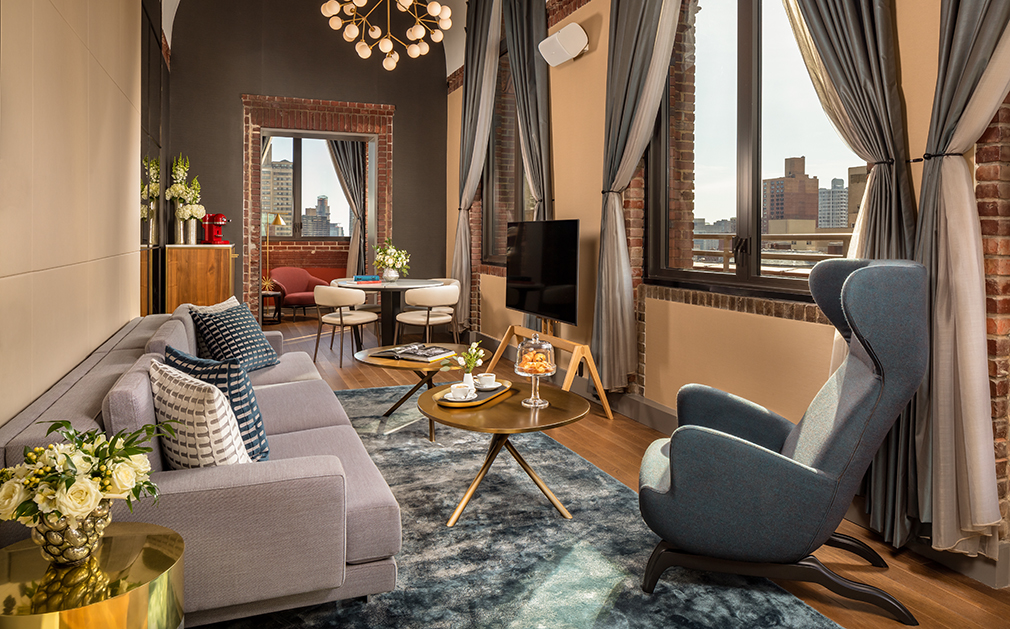 Entertaining Options
If you want a hotel that has a lot of food and beverage options, try CIVILIAN, in Hell's Kitchen. The hotel, created by the team behind Sixty Collective, was designed by award-winning architect David Rockwell. The guest room décor has a loft-warehouse feel that carries on to the Rosevale Kitchen on the ground floor, which serves breakfast and dinner—think lobster rolls, Wagyu cheesesteak bites, and roast chicken, along with great cocktails and a secret garden area for brunch in the back. The second floor holds a wine bar and a cocktail room filled with Broadway memorabilia, but keep going and find the Starchild rooftop, a glass-ceiling bar lounge that's perfect for a party with a skyline view.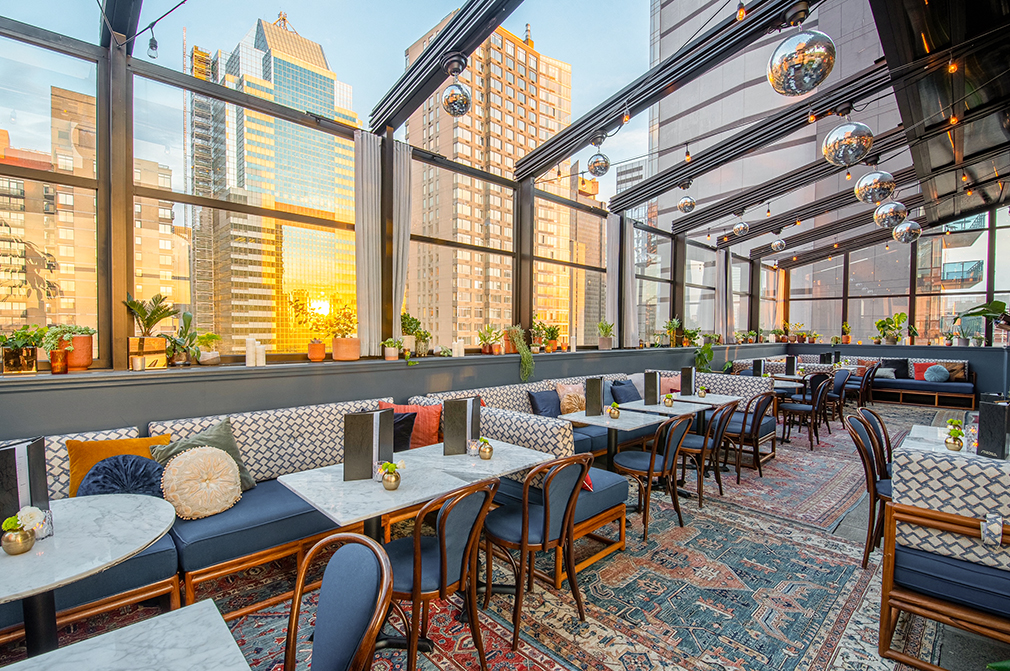 Give Your Regards to Broadway
If you plan to see a lot of shows on the Great White Way, stay at the Tempo by Hilton – a newly opened branch of the chain that offers vast city views. The rooms are well appointed and comfortable, and a restaurant and bar on the Sky Level gives optimal views. The location, right in the heart of Times Square, can't be beat. If you are looking for something more luxe in the downtown area, try sister property the Conrad, on the waterfront near One World Trade Center.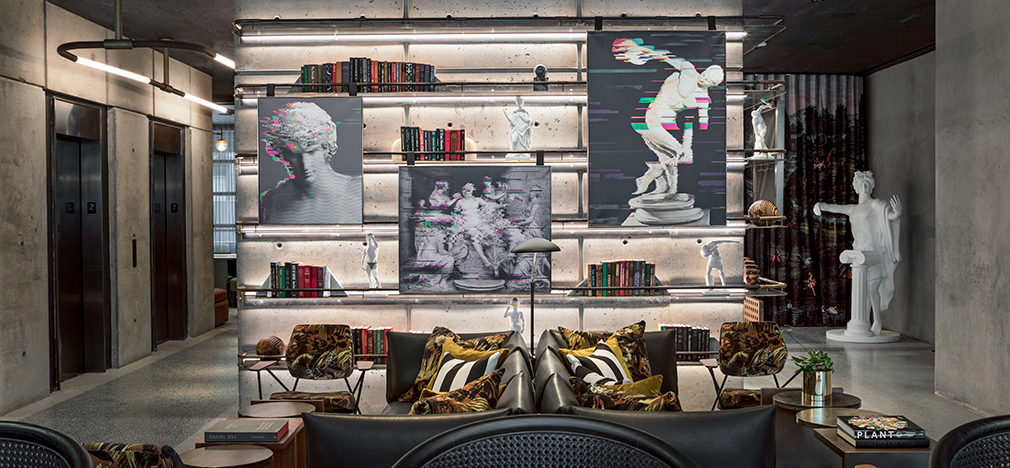 Budget Conscious but Cool
There are tons of trendy hotels downtown from the Soho Grand to the Smyth, but if you are watching your wallet, try one of the Moxy hotels, part of the Marriott family. This brand offers less-costly options from Chelsea to the East Village and Lower East Side with an understated yet hip atmosphere, plus great destination amenities from restaurants, bars, lounges, and meeting spaces where you will want to linger.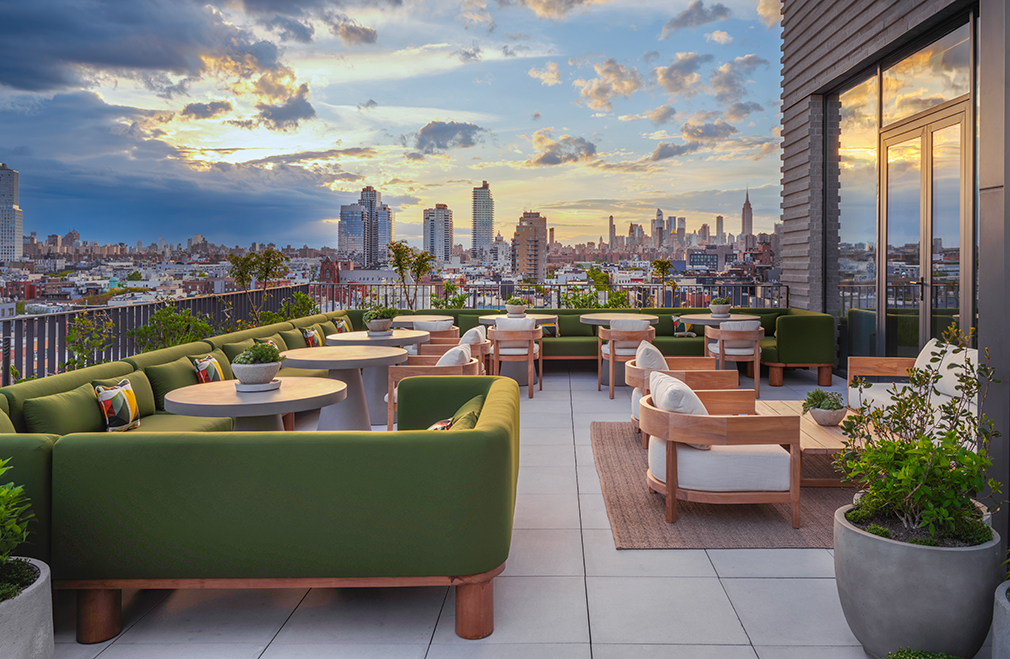 Art and Views
For a chic boutique hotel feel with the best views, the Penny in Williamsburg (by the Sydell Group, who created NoMad, the LINE hotels and Freehand) boasts several impressive outdoor patios where you can see downtown New York to Staten Island from the rooftop lounge. The incredible Mexican restaurant, elNico, features the talents of chef Fer Serrano, who cooked at famed Pujol in Mexico City with Enrique Olvera. Order the whole black seabass, lobster tostada, caviar sope, fried oyster tacos, and plenty of the creative cocktails, such as the clarified Cosmo or the tomato martini.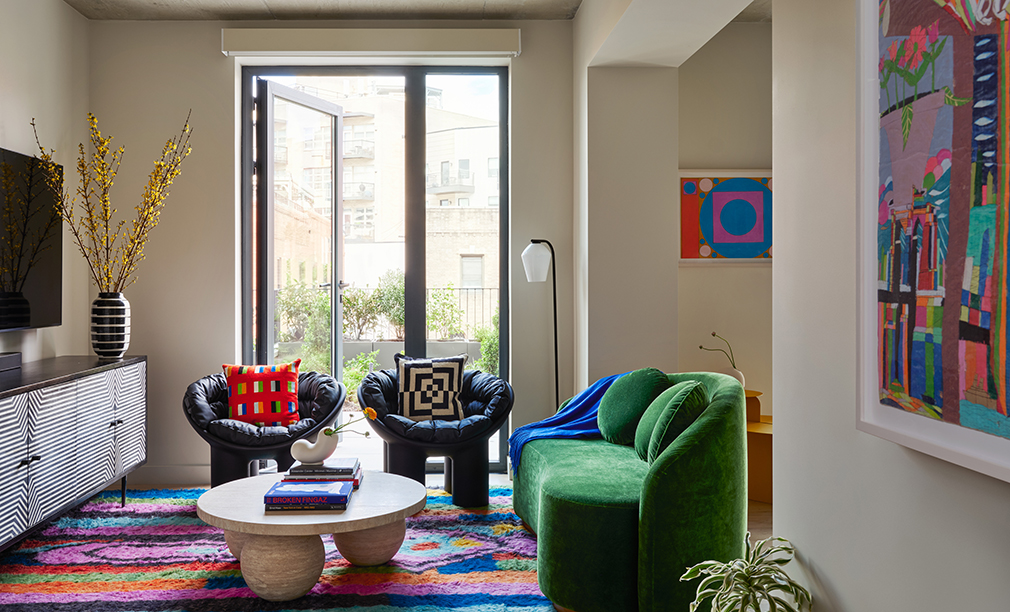 The highly stylized hotel has colorful art around every corner, thanks to a partnership with two nonprofit organizations, LAND Gallery and Pure Vision Arts. The property showcases hundreds of works by New York artists with developmental disabilities. The rooms are like small apartments with some kitchen amenities like microwaves and pour-over kettles, plus a bar code you can scan for mini-bar and wellness amenities. You can even get treats for your pup at this dog-friendly property.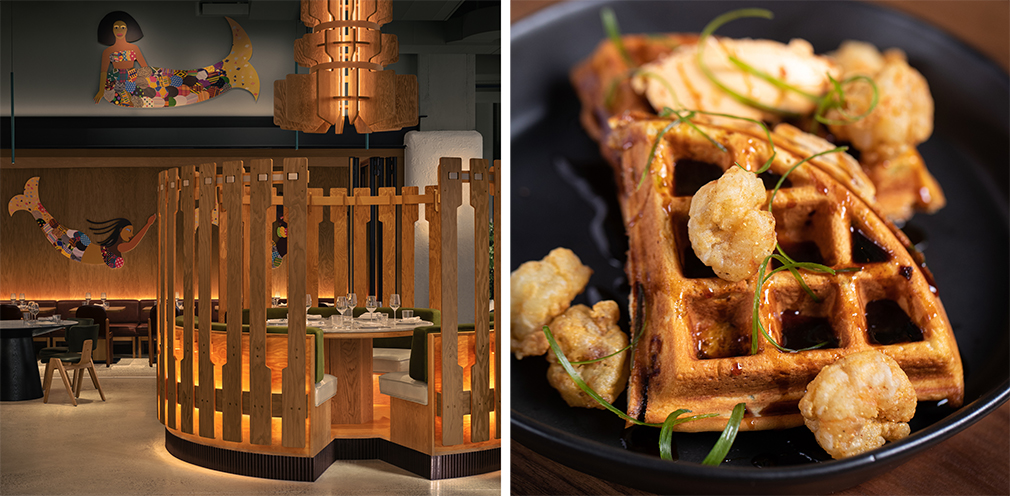 Where to Eat
Food Network Cred
Hav & Mar is the latest by celebrity chef Marcus Samuelsson, who also owns top fried-chicken eatery Red Rooster in Harlem. Leaning heavily on seasonal seafood, the venue combines the words for ocean in Swedish and honey in Amharic, a nod to the chef's heritage. Hav & Mar is located a few blocks from the High Line in the Starrett-Lehigh building, surrounded by the galleries of Chelsea. Dishes include hamachi with black ceviche, a seafood tower with blue shrimp and poached lobster, and bucatini with crab and uni butter.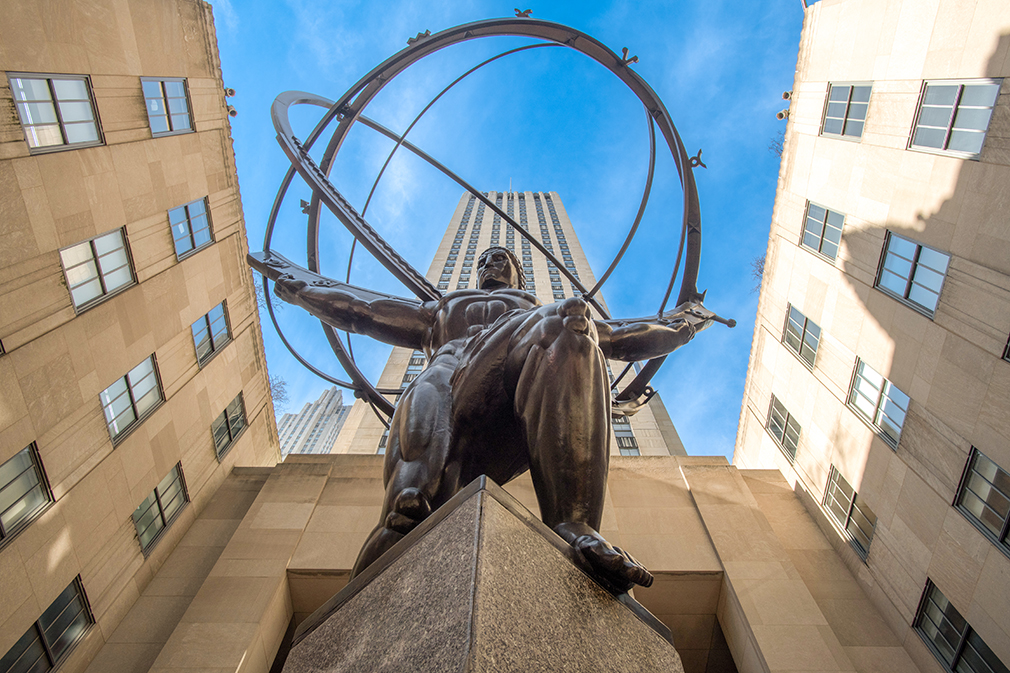 Upscale Food Court
It may be best known for the observation deck, towering holiday tree, ice-skating rink, and Rainbow Room, but there are many more reasons to put Rockefeller Center on your NYC dining bucket list. Some of the city's top restaurants have opened around the famed rink, bringing talents from downtown and Brooklyn to Midtown. Top picks include European outdoor café and bakery Lodi and Italian fare at Jupiter, by the same team from Frenchette in Tribeca. There are dozens of options from formal to casual on the lower level and street courtyard, including the 5 Acres food truck near an outdoor wine bar.
Modern French
Located inside the cool Ludlow Hotel, Dirty French is one of the jewels in the culinary crown of Major Food Group, who is behind wildly popular local hot spots Carbone, Sadelle's, and the Parm chain. Here you can enjoy classics from bone marrow to shrimp beignets, duck a la orange, cod Provencal and steak au Poivre. Choose from an array of martinis, Champagne, and French wines by the glass. If you arrive early or cannot get a table, stop in the lounge to enjoy drinks and bites such as oyster Bourguignon and lamb carpaccio.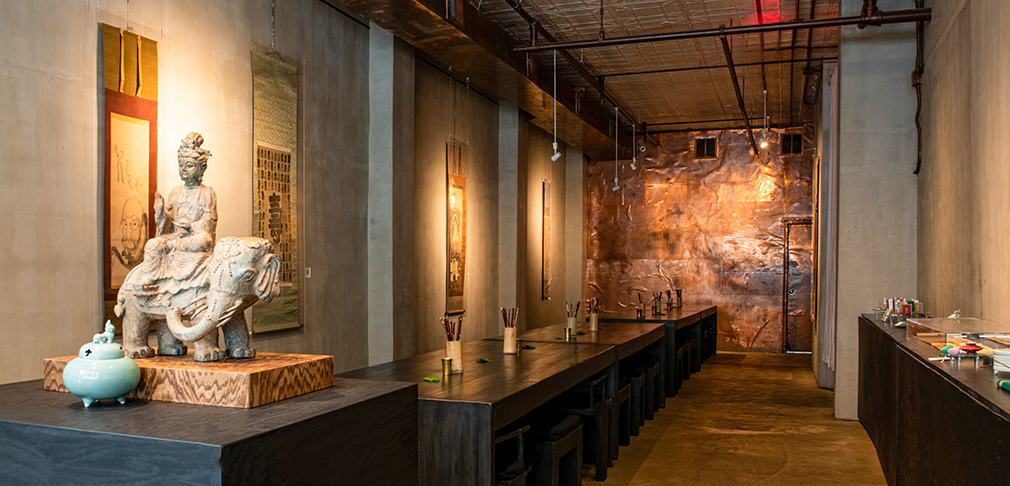 Art and Options
At first glance, The Gallery is an austere Japanese spot with only eight minimalist wooden tables where you can nibble on sushi omakase and panko-fried wagyu skewers amid rotating art and ceramic exhibits. But this Flatiron District mixed-media complex by chef and artist Hiroki Odo holds many surprises. In the back is a small speakeasy bar. Next door is another bar with a street entrance where you can order foie gras burgers and whisky. Upstairs is an intimate Michelin sushi counter, o.d.o. You could literally have four completely different experiences in one night—as long as you plan ahead, as reservations are essential.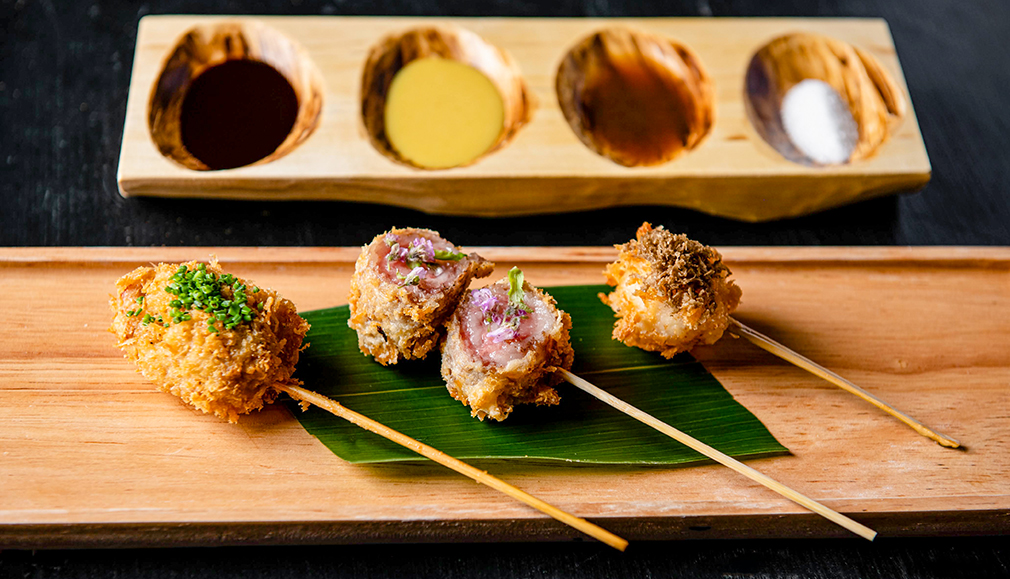 Asian Fusion
Focusing on Peranakan food culture, Kebaya has been open only a few months but chef Salil Mehta has long been raising the profile of South Asian and Singaporean cuisine in New York with his popular bars and restaurants, including Singapura in Gramercy. Here, the food is from Malaysia and the coastal areas of Indonesia's Java and Sumatra islands and includes nasi goreng and duck curry among many highlights.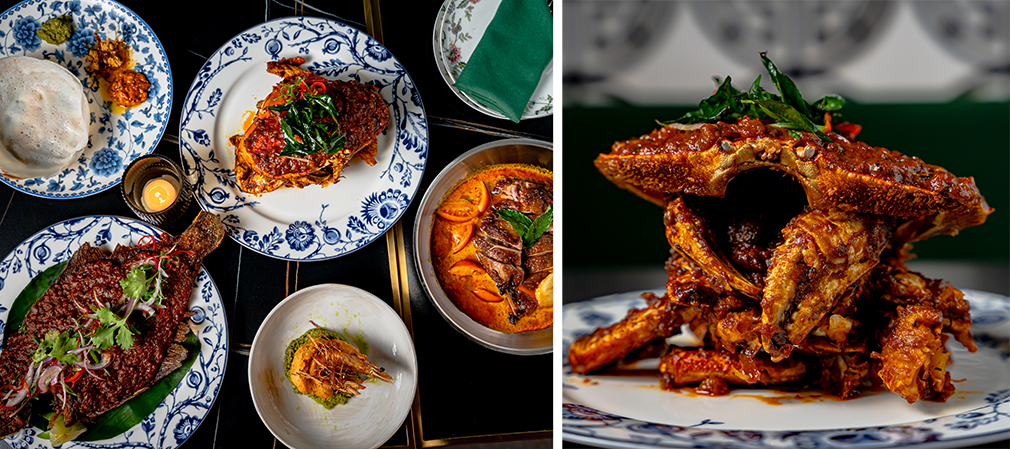 Hit the Classics
Mischa might be raising eyebrows with its massive $29 hot dog (which we like to think is a nod to the city's street vendors) but do try some of the other iconic foodie spots here. Try Michelin-recognized Katz's Delicatessen for a mile-high pastrami sandwich, Russ & Daughters for a bagel with lox, or Joe's Pizza for a slice. For something little fancier, Balthazar in Soho or Pastis in the Meatpacking District are two longstanding French eateries by restaurateur Keith McNally. Both are open all day for breakfast, lunch, and dinner—and are great for people watching all day long.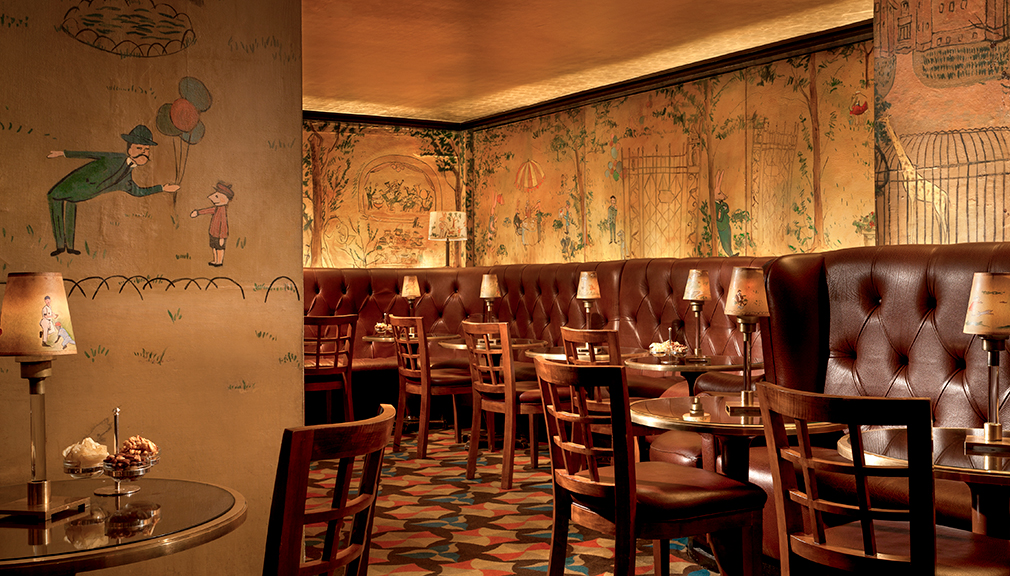 Bars and All That Jazz
Old School
Bemelmans Bar at The Carlyle is a classic for live piano music and jazz, plus excellent martinis with a sidecar. Even the wall illustrations from Ludwig Bemelmans date back to the 1940s, when the artist and author of "Madeline" was commissioned to depict the four seasons in nearby Central Park. Wondering how to snag a seat at such a beloved spot? One way is to wait in line, but get try to arrive early before the music starts at 5:30. Or you can try your luck in between sets, when the crowd turns over between 8:30 to 9:30. You never know who you might spot here: Celebrities such as Bono, Mariah Carey, Cyndi Lauper, Liza Minelli, Billy Joel, John Mayer, and Bill Murray have all made impromptu cameo appearances at the piano.
New School
While the new Aman in the historic Crown building, just off 5th Ave. and 57th Street near The Plaza, might be a private residence-style hotel where you might just spot Oprah, it also holds The Jazz Club that is open to the public. Head here for DJs and live acts from around the world.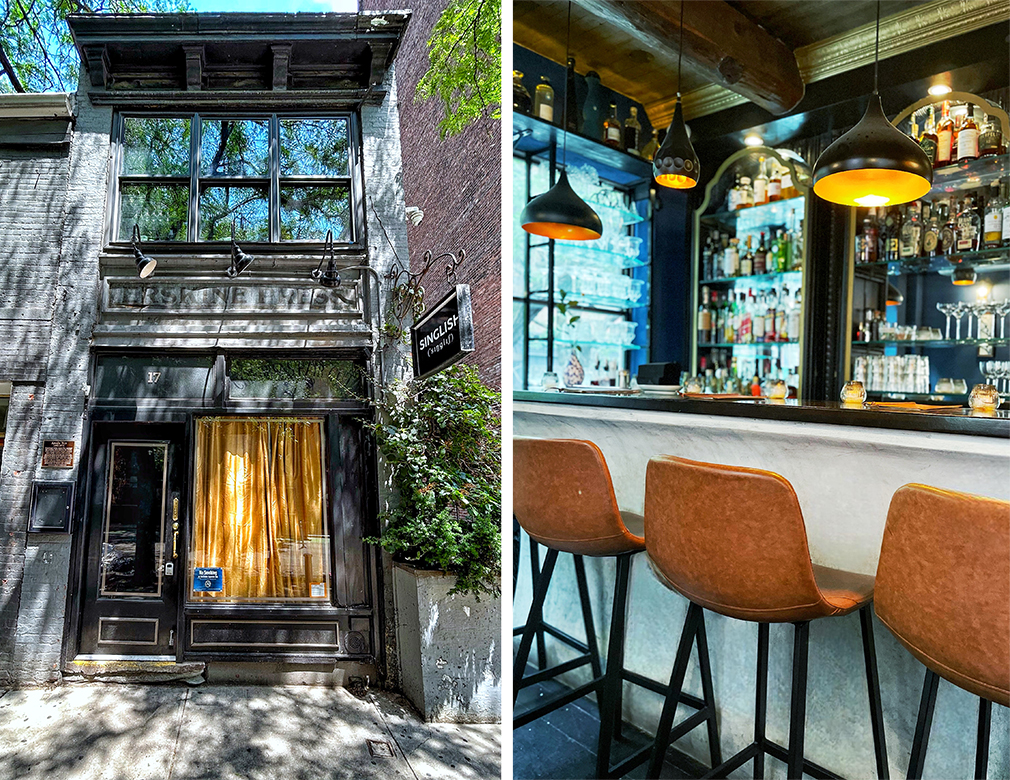 Hidden Gem
Located behind a secret door on the second floor of a townhouse building in Union Square, Singlish features world-class Singaporean-themed cocktails and small bites. Heavily influenced by Singapore's booming cocktail scene, the menu blends the familiar with the unexpected, such as libations made with Baijiu, a distilled grain alcohol that originated in China.
Historic Core
Originally opened in 1913 by railroad baron Cornelius Vanderbilt, Grand Central Oyster Bar is still top historic spot for bivalves and Champagne in the train station, but you do not need to be headed out of town to enjoy top-notch seafood and libations while you people-watch. They also have a sandwich menu until 5 p.m., and do try one of the award-winning cocktails after that. Word to the wise: Plan your visit for mid-week, because the restaurant is closed on Saturday and Sunday.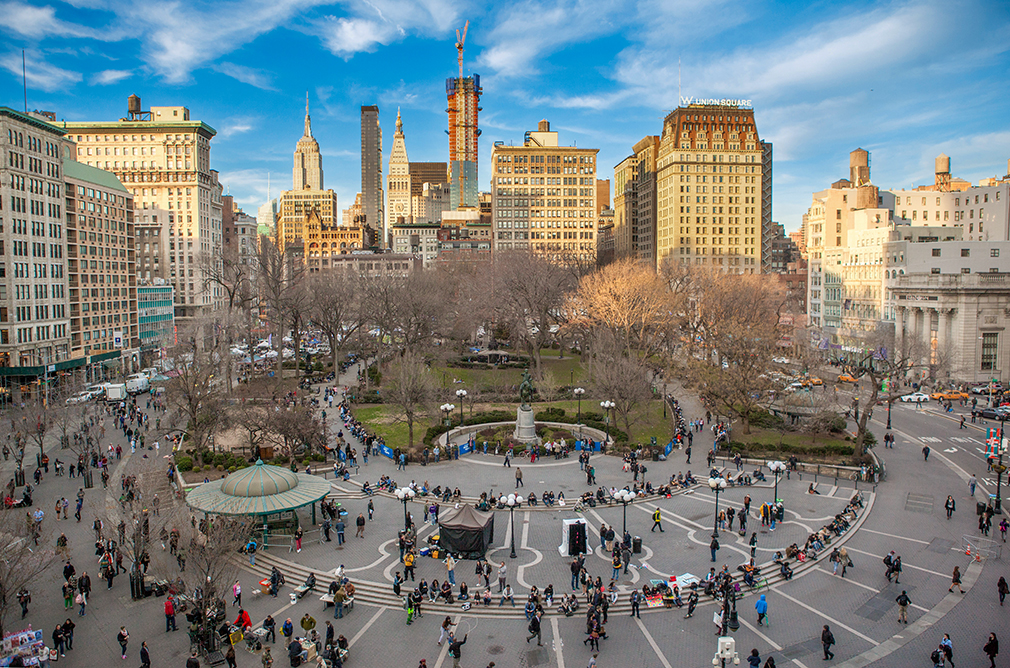 Shops and Emporiums
French influence
Now open to the public is the Den, a high-end concept shop curated by Yaron Cohen, along with Blvck Paris, a lifestyle apparel and accessories brand in the heart of Soho. Here you will find New York's own Ground Central Coffee, EditionX magazines, jewelry brand Olive & Chain, Inimigo, NYC-based denim brand NTK NTC, and Lost Tribe, a high-end cologne boutique. All store furniture is by Kardiel (and available for purchase). With a retail and café experience upstairs, The Den has a downstairs level with Blatt Billiards, a bar and a recording studio where you can book an appointment. The location has an elevated, dark interior with black marble accents and acts as a community location for those to shop, work, and create.
Raising the Bar
Golden Bar in the Village is for new trends in women's clothing, accessories, jewelry, and home goods from chic candles to coffee table books and quirky coasters featuring mugshots of celebrities. Do not miss this newly opened shop on Huson Street in the West Village—it's perfect for gifts or treating yourself to a memorable souvenir from your trip.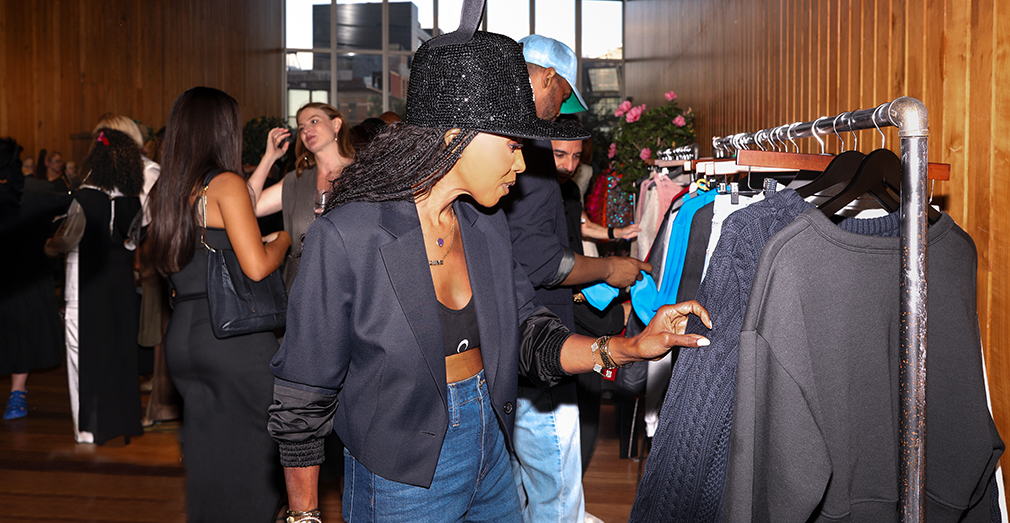 High Line Bling
If you are walking through the park, before you descend stop at The Shop at The Standard, High Line. This shop features museum-quality merchandise from hats to sunglasses, carry-on tote bags to notebooks—and is not your typical branded hotel store. This space also holds pop-ups throughout the year, including its most recent partnership with RAISEfashion, during New York Fashion Week in September. Customers were given a chance to own rare pieces from designers' artistic visions, shoppable with a QR code linking directly to the designers.
Sardines in Time Square
It might sound odd, but conserva, or tins of fish, are currently all the rage in the culinary world. A brand-new spot, The Fantastic World of the Portuguese Sardine, has opened in Times Square with about 30 different flavor options. The eccentric shop looks like a spin-off of a Willy Wonka chocolate shop—but with the finest sardines from Portugal lining the walls by the hundreds. While most run in the $15 dollar range, you can score a $44 tin with gold leaves. This is for the food-obsessed person who has everything else.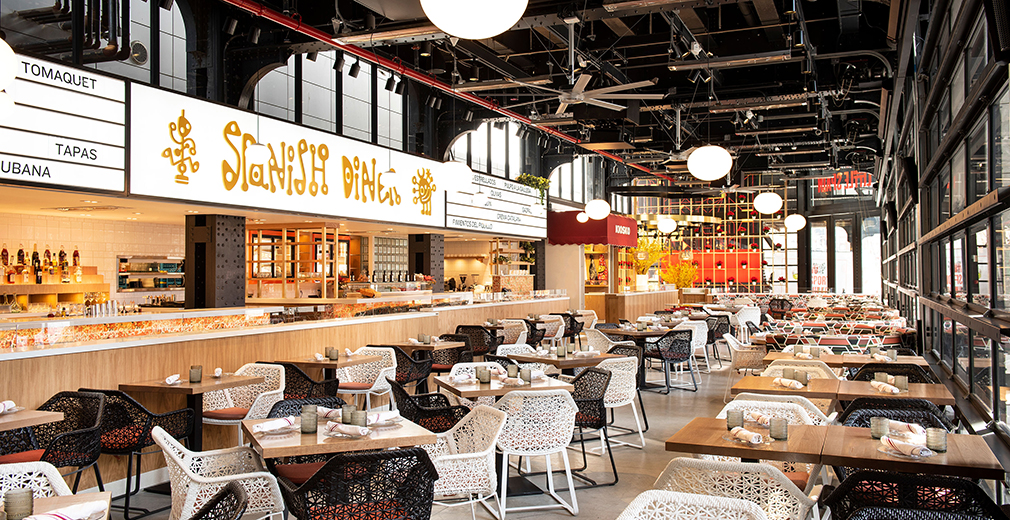 Things to Do
Spend a Day in Spain
A conceptual marketplace from humanitarian, chef, and restaurateur Jose Andres, Spanish emporium Mercado Little Spain is must visit at Hudson Yards. After you walk through the mall, view the Vessel structure, and window shop at all the high-end shops and cafes, head to this lower-level marketplace to check out the flower shop and specialty kitchen items from Spain. Continue further and you will be able to explore about a dozen different kiosks and food stalls with everything from coffee and churros to cheese and jamon iberico. Interspersed throughout the space are more specialty shopping opportunities from cookbooks to candy and cookies and bars where you can custom order your own gin and tonic cocktail or try a wine pairing. There are four main anchor restaurants: Lena with woodfired meats and paella, Mar for seafood specialties, La Barra for tapas, and the Spanish Diner for all-day eggs (or tortilla), patatas bravas, croquetas and gazpacho.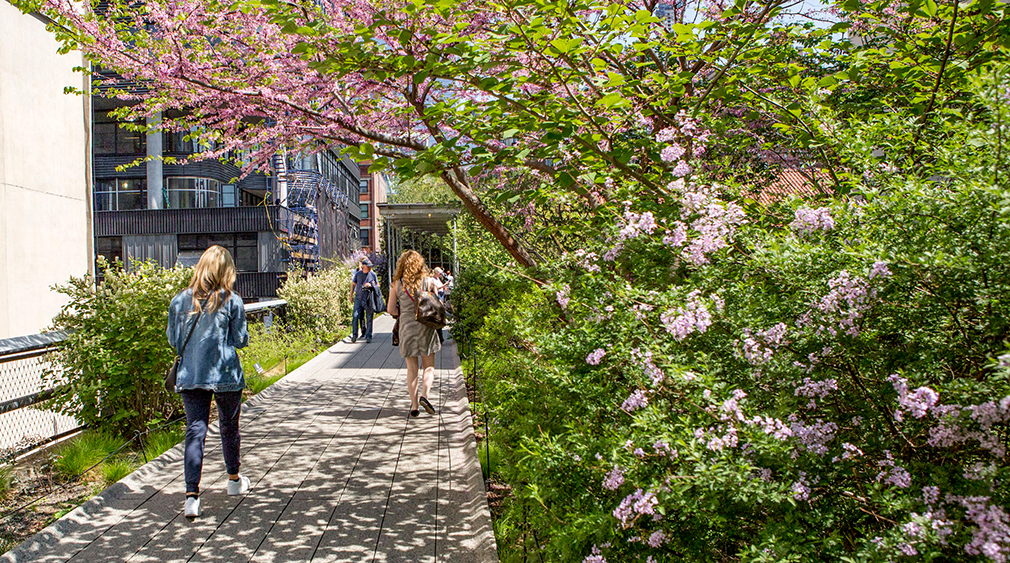 Take an Elevated Park Walk
Continue from Hudson Yards (especially if you sampled your way through Little Spain) and walk the High Line park all the way to Greenwich Village. Stroll the tree-lined 1.5-mile path where you can see gardens and famous architectural structures such as the futuristic residential building by Zaha Hadid. Take in world-class sculptures including the bright red "Old Tree" by Pamela Rosenkranz, and Gabriel Chaile's large adobe "The wind blows where it wishes." Along the way, you can stop at Chelsea Market or continue to the end and you'll find yourself at the Whitney Museum of American Art.
Pay Respects
Visit the eight-acre site of the 9/11 Memorial, which holds two of the largest manmade waterfall pool structures, surrounded by a railing of bronze plaques paying homage to the victims. A historical museum with artifacts is adjacent, as is a park with over 400 trees, one of the largest outdoor spaces in Manhattan.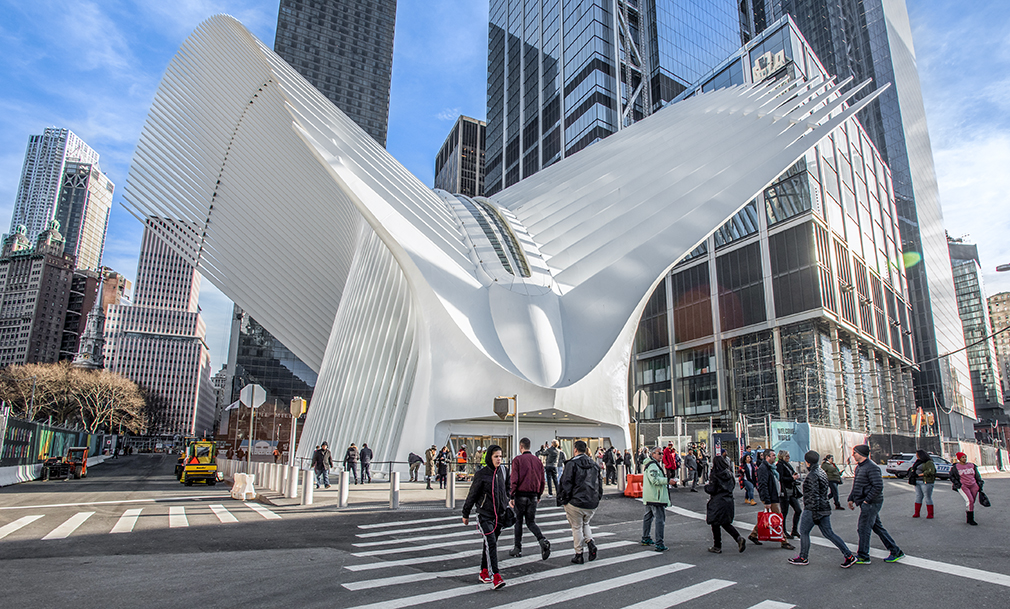 Cruises and Guided Walks
City Experiences offer dinner or brunch cruises around the city such as New York Fall Foliage Lunch Cruise (October 21) where you can peep the vibrant hues from the Hudson as you float past the Empire State Building with food, cocktails, and music included in the ride.

They also offer walking tours such as Ultimate Greenwich Village NYC Food Tour where you can order the original New York cappuccino. Or Meet the Met for an extended Metropolitan Museum of Art Tour. See the Catacombs of St. Patrick's Cathedral by Candlelight with a guide taking you into areas otherwise off-limits to the public, while sharing secrets of the Basilica. See New York with fresh eyes as you tour the streets of Midtown Manhattan with a local guide before indulging your inner tourist with a visit to the SUMMIT One Vanderbilt building, a mind-bending way to experience the Manhattan skyline.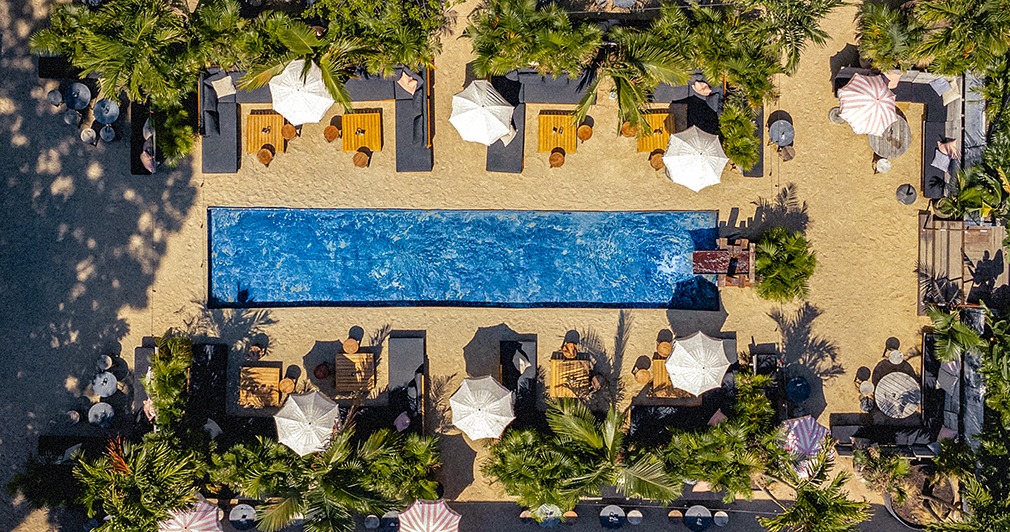 Head to Another Island
You can also take a five-minute ferry ride from downtown (or Brooklyn) and head out to Gitano Island restaurant and beach club for a tropical afternoon escape from the city on Governors Island. After four seasons in New York's SoHo neighborhood, the team moved the Garden of Love Restaurant to a new 27,000-square-foot waterfront setting. The island is lined with giant palm trees and hundreds of tropical plants and includes a black Bedouin Dining Tent with marble bar, twin dining pergolas, open fired kitchen, and sunbeds, along with a new club members lounge centered around a 40-foot water feature and a giant disco ball suspended over the water. For the first time, they will introduce a tented stage and program of local and international DJs and live artist performances.