The Kimberley, the remote northernmost region of Western Australia, is bordered on the west by the Indian Ocean and the north by the Timor Sea, with much of its coastal areas only accessible by sea. Our Abercrombie & Kent luxury expedition cruise ship, Le Laperouse, plied these waters from Broome to Darwin along a dramatic, often cliff-lined coast with extreme tidal changes.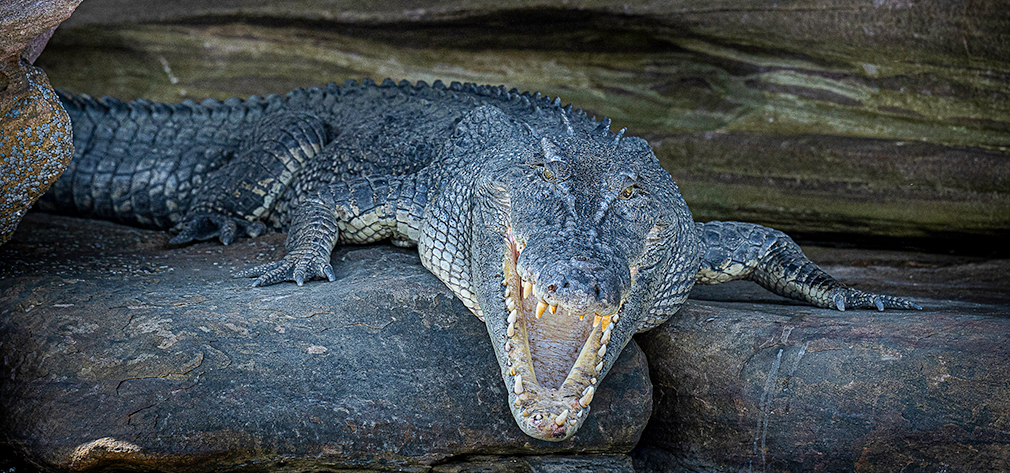 While Caption James T. Kirk's vessel for traveling the "final frontier" was a starship, our vessel for exploring Australia's "last frontier" had cabins with verandas and land and sea excursions without the need for phasers. Not that there weren't critters around – especially saltwater crocodiles – to whom we had to give a wide berth.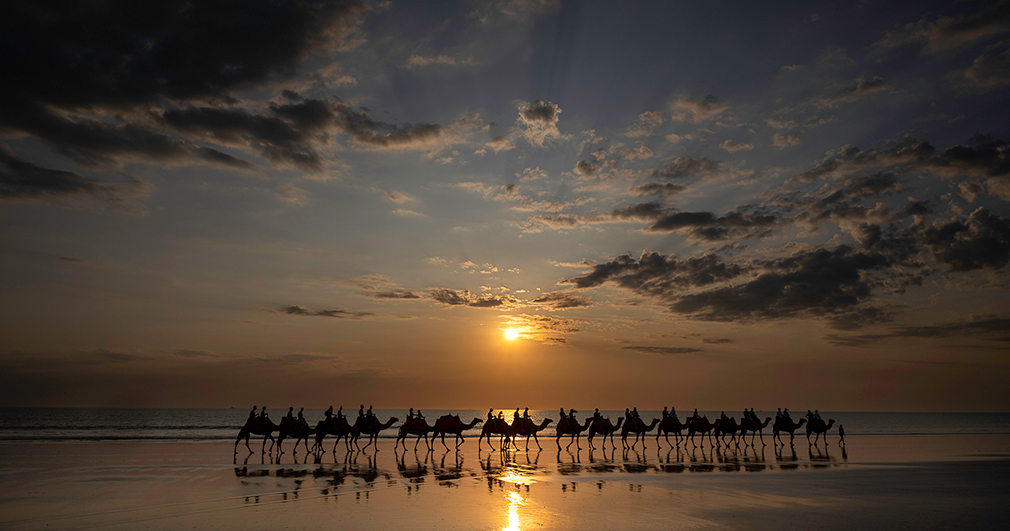 Ironically, The Kimberley was one of the earliest settled regions of what was to become Australia, with the first humans landing here approximately 40,000 years ago. Aboriginal rock art in places such as Wandjina and Gwion Gwion give us clues to this early history. Yet the area is sparsely populated in part due to its rugged terrain and year-round intense heat. In fact, it was not until the late 1800s that government surveyor Alexander Forrest put a European name to the region that is almost the size of California, giving the honor to Secretary of State for the Colonies John Wodehouse, the 1st Earl of Kimberley.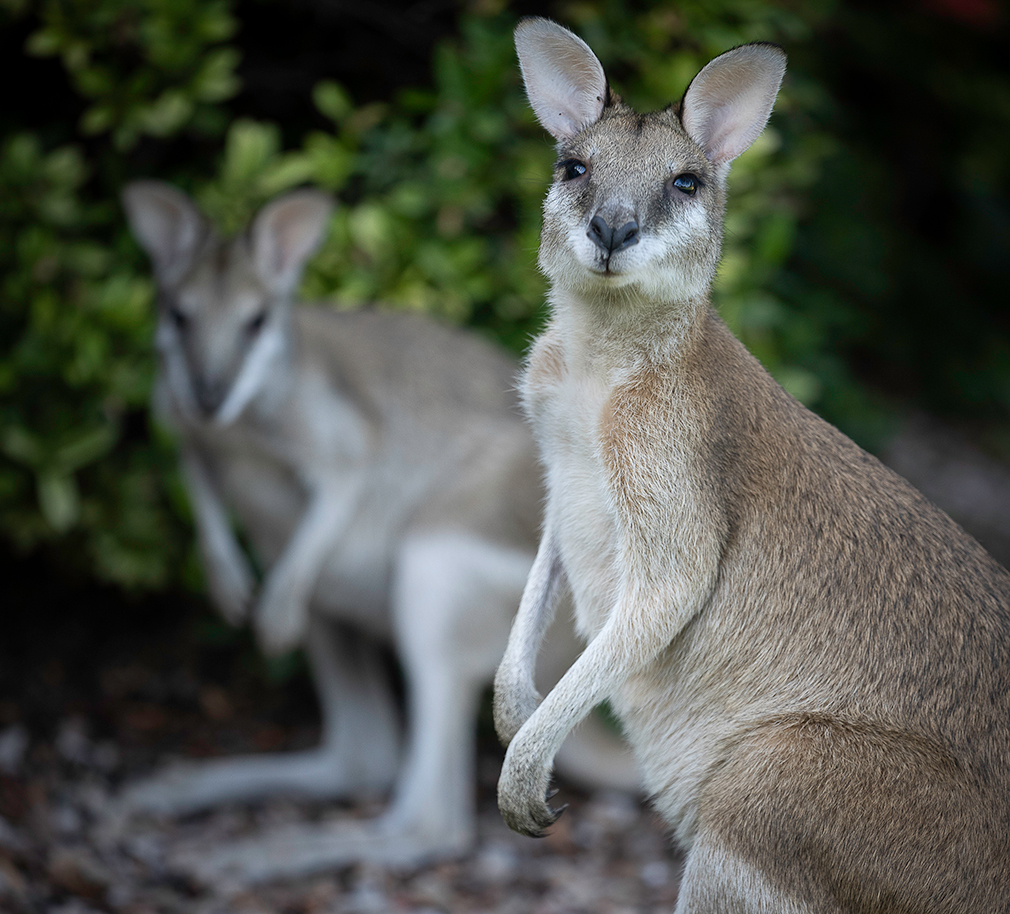 After two nights at the Cable Beach Club Resort & Spa in Broome, a town known for its flourishing pearling industry and rich multicultural past,it's time to set sail. Experts on topics ranging from geology and marine biology to zoology and indigenous cultures are welcomed aboard by Abercrombie & Kent for daily lectures to educate and inspire the assembled guests for the 1270 nautical mile Kimberley voyage.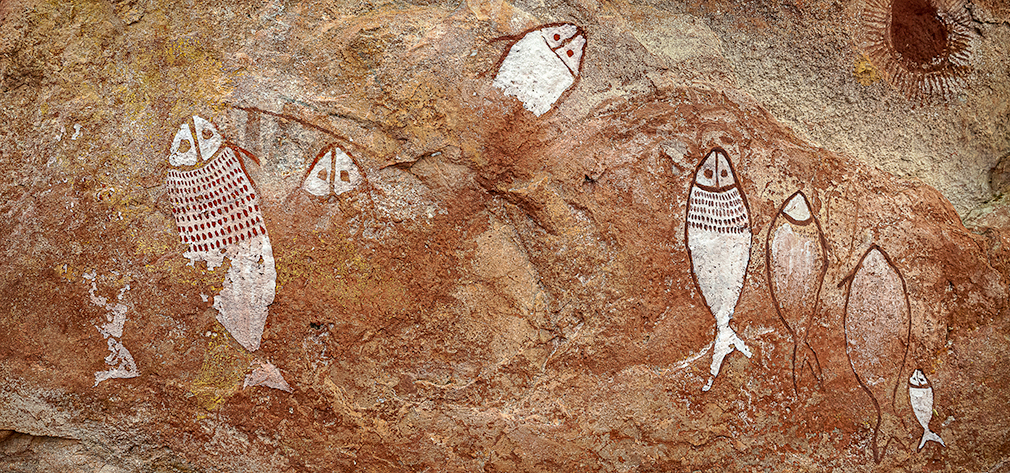 Our first expedition sets the stage for the journey ahead. We dock off the Lacepedes and board zodiacs to explore these four low-lying cays set atop a coral reef that are an important nesting site for green sea turtles and seabirds including brown boobies, crested terns, red-chested frigate birds, and speckled ruddy turnstones. The Lacepede skies are filled with flapping wings and a cacophony of bird calls. Also on our itinerary is Long Reef which becomes a smorgasbord for birds to feast on the marine life trapped in pools in the exposed reef by the receding waters, and Ashmore Reef, a designated Marine Nature Reserve classified as an IBA (Important Bird Area). Ashmore also gives us the opportunity to swim and snorkel in its pristine lagoon.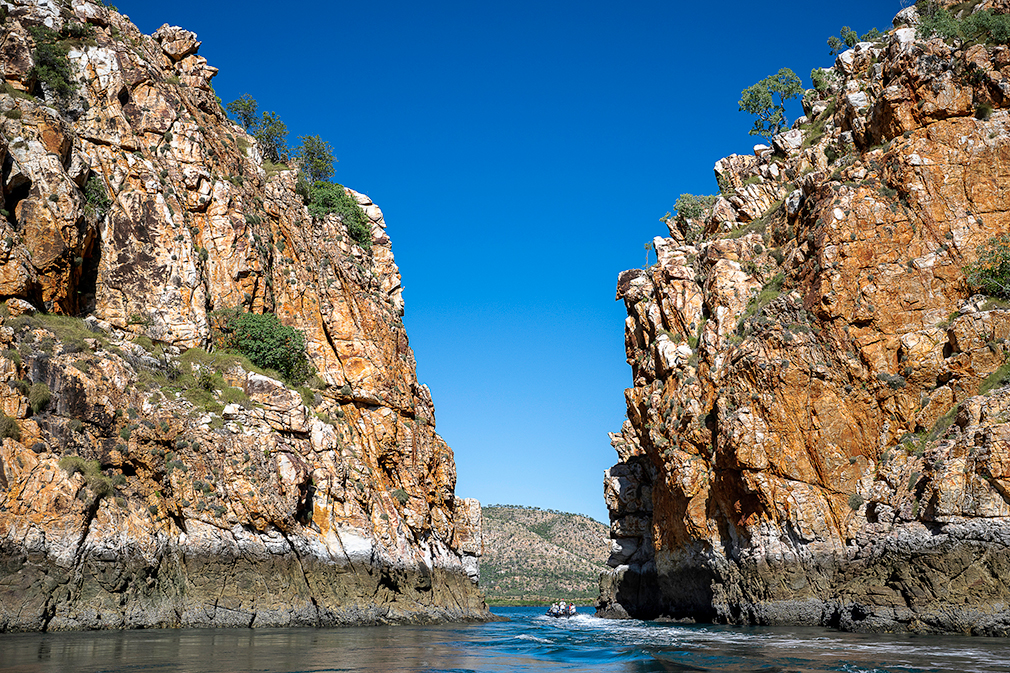 Geology-focused explorations of The Kimberly start with a zodiac excursion to and through Horizontal Falls, described by Sir David Attenborough as "one of the greatest natural wonders of the world." Set within Talbot Bay, the horizontally flowing waterfalls are created when massive tidal currents squeeze through two narrow gorges.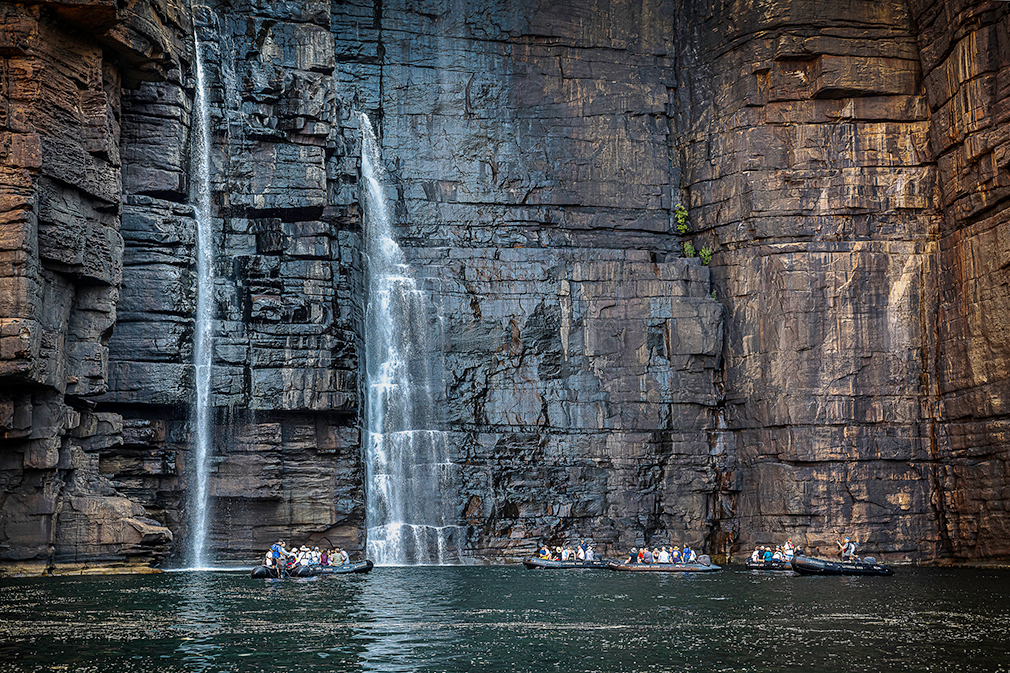 The diversity of The Kimberly continues to reveal itself on our next excursion, a guided bushwalk to a cave depicting indigenous rock art with local Australian Aborigines as site interpreters at Freshwater Cove. These ancient paintings of Wandjina figures reveal the myths and traditions of the Worrorra people. Also on the itinerary is Bigge Island, sacred to the indigenous Wunambal people for more than 20,000 years. Caves on the island contain well-preserved Wandjina paintings including a visual record of the European ingress into their ancient way of life. Another form of art, this one created geologically, is a spectacular array of sandstone pinnacles on Langgi Beach. Smartphones and 35mm cameras are out en masse to record these dramatically shaped figures.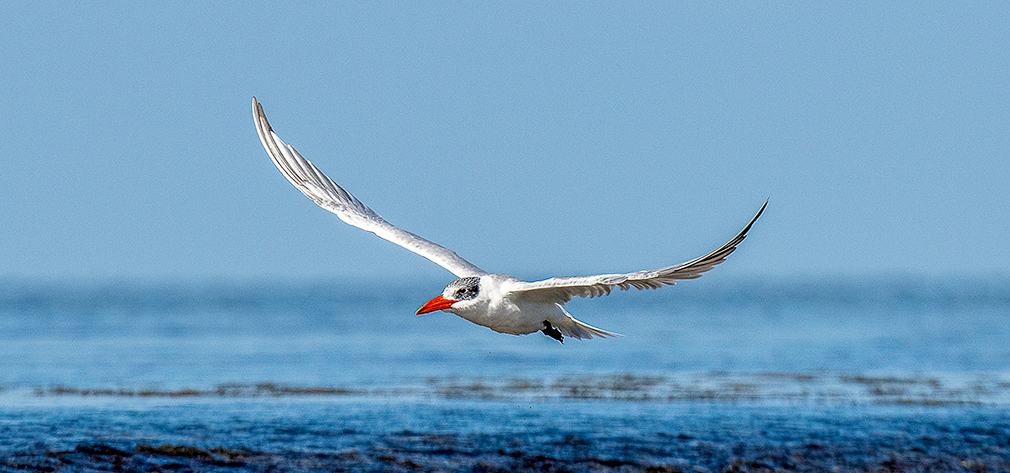 One of the most thrilling photographic highlights is a doorless helicopter flight over the vast Mitchell Plateau to Mitchell Falls and after landing a hike to some spectacular overviews. I came to The Kimberley with a Nikon Z9 with lens coverage from 14-500mm, the wider for the spectacular landscapes and the longer focal lengths for wildlife. While many of the excursions were zodiac-focused a number required hiking to get to the most interesting aspects of the landings. My The North Face FUTURELIGHT hiking boots were definitely something I was glad to have added to the packing list. Every excursion has options for those who prefer to keep their hiking boots at home or have mobility issues. Some, such as exploring the Hunter River and the King George River are strictly done by zodiac or boat.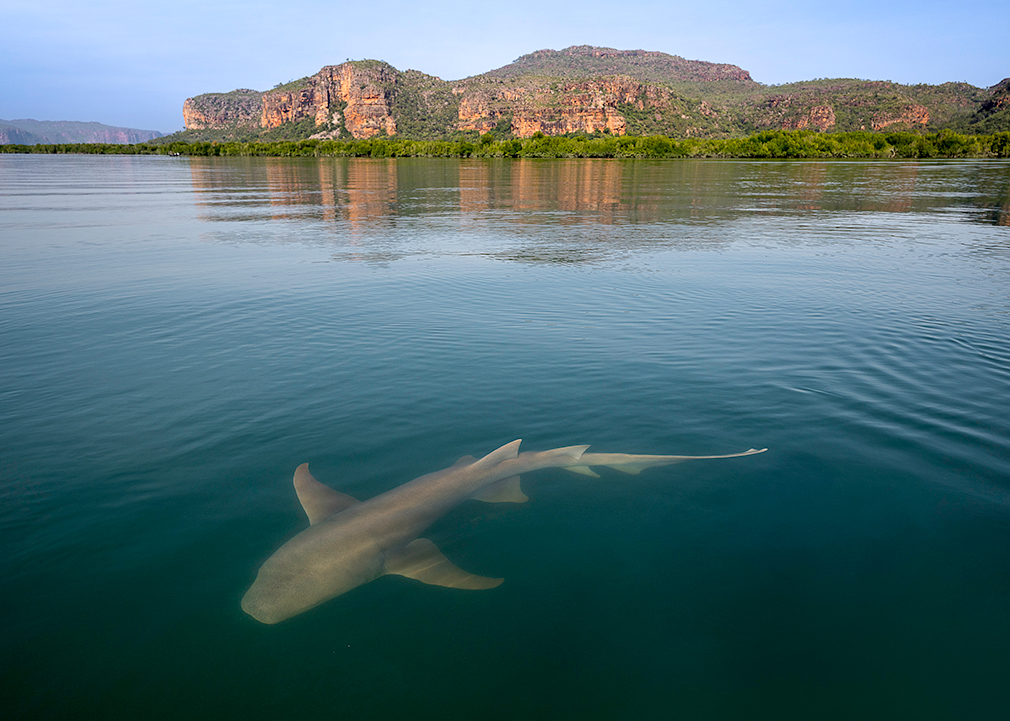 Wyndham is the first location since Broome where we are able to dock the Le Laperouse. Some guests head to the local airport in this former gold-rush town for a Bungle Bungle Overflight to see these beehive-like mounds from the air while others including myself opt for the Ord River, one of the most stunning river systems in Australia surrounded by an endless array of flora and fauna including freshwater crocodiles. The hundreds of bird species make this region a must for amateur twitchers and professional ornithologists.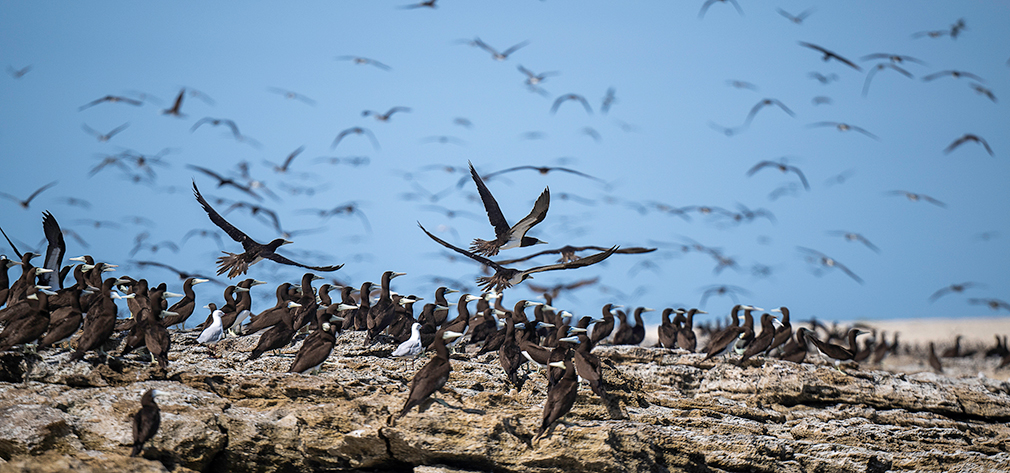 A final day at sea includes a PowerPoint presentation of images taken by the exhibition staff gives us all a chance to reflect upon this amazing shared journey. We then retire to our cabins to change into evening attire for a cocktail party during yet another spectacular sunset followed by a farewell captain's dinner as we sail toward Darwin. Adventure in comfort has made its way to Australia's last frontier.