Bringing the food to the field and the table to farm, Outstanding in the Field is a traveling communal feast and culinary celebration, founded in the 90s by artist Jim Denevan. It has been dubbed a roving restaurant without walls where farmers sit among guests after the daily harvest.
If you have ever experienced one of the dinners, you can expect a desolate and sometimes eerie trek to a location that ultimately reveals a jovial eclectic crowd and a culinary team ready to feed hundreds of people at one long serpentine table weaving through the landscape. It's a little like Burning Man meets a Food Network competition.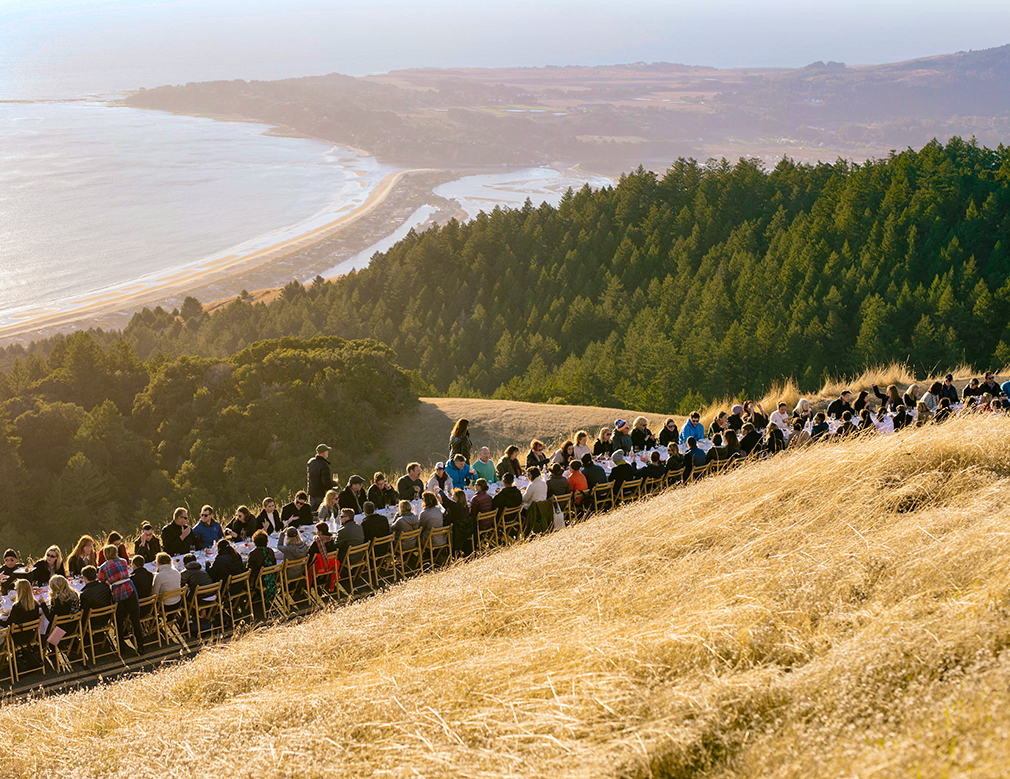 Actually, hundreds of the world's most celebrated chefs including James Beard Award winners and "Top Chef" champions have brought their talents to Outstanding in the Field's outdoor kitchens, which have taken place in 16 countries since 1999.
Denevan recently embarked on a Winter tour, that included Mexico, with local farmers and chefs who brought regional specialties to the locations which has become a cornerstone of the culinary and cultural experiences. This spanned from Valle de Guadalupe to Oaxaca at one of the only female-owned palenques in the state, Mezcal Real Minero, with a dinner by guest chef Rodolfo Castellanos, the first winner of "Top Chef Mexico."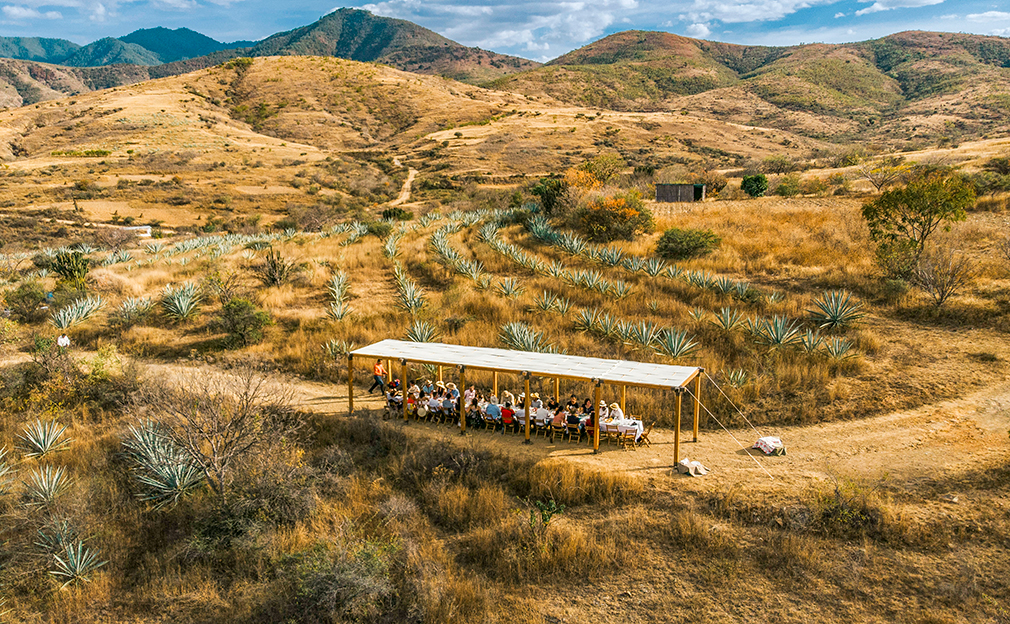 Denevan carefully curates each experience. "The tables that we set up during the upcoming Winter dates are fully immersive and offer a sense of escape, whether ensconced in an olive field, on a pier surrounded on all sides by water or amongst the floating gardens of Xochimilco, which date back to the Aztecs," he said. This dinner was only reachable by boat and featured Donnie Masterton of The Restaurant in San Miguel de Allende and Eduardo "Lalo" Garcia of Maximo Bistrot, consistently named one of Latin America's 50 Best Restaurants.
An original nomad, who has traveled much of the country by van, Man in the Field: The Life and Art of Jim Denevan documentary was released in October of 2021. We spoke to Denevan on his way back from Mexico en route to Saudi Arabia for his show at Desert X AlUla.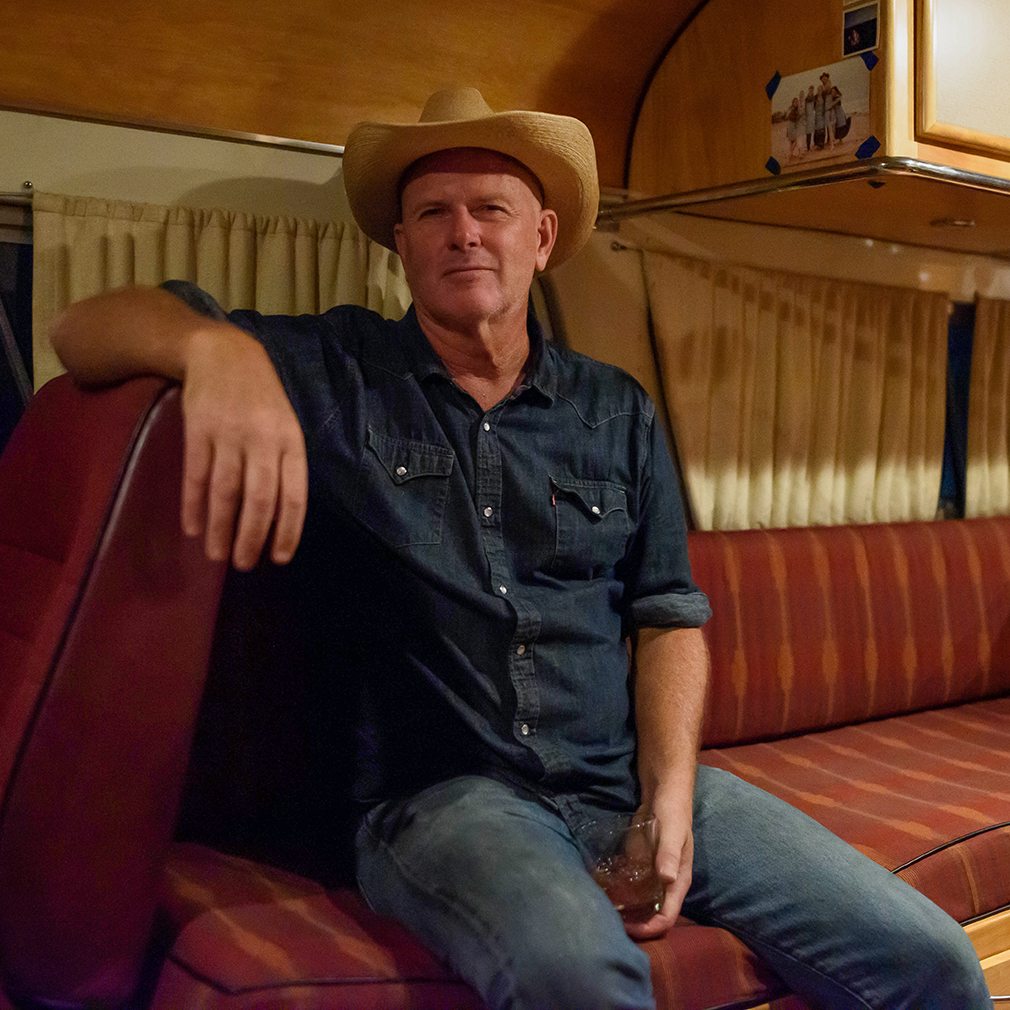 What locations are you most excited about for the 2022 tour?
We're going to be in 18 countries with four new ones – Peru, Korea, Portugal and Georgia. It's where the first wine was made – we made some great connections in Mexico, where a natural winemaker has a friend that makes wine in Georgia. He's been out there and has some interesting contacts. I'd like to go to the Philippines and we're also going to India in early next year to Kerala.
I think this year, coming out of COVID, that this last tour was kind of a false start. We did do the events and we had an incredible support, and of course, we're outside. But things are opening up more. So, I'm excited about the international events and going to Mount Fuji again, for the third time and also going to Portugal, where I've never been and also Peru. So, I'm super excited and feel more comfortable about travel right now. There is a pretty good energy.
What will you be doing in Peru?
We're doing something interesting. There are some chefs and restaurants in Vermont and they are from Peru, and we are going to be working with them in Peru. Whenever we have an international event, it's a cross-pollination thing that we want someone that's deeply knowledgeable and is inevitable in that country. And then we want someone coming from North America that's just interested in that particular place and has a deep knowledge. We once had a chef that went to Japan and he had an amazing sake collection. I think that's the most fun way to do it.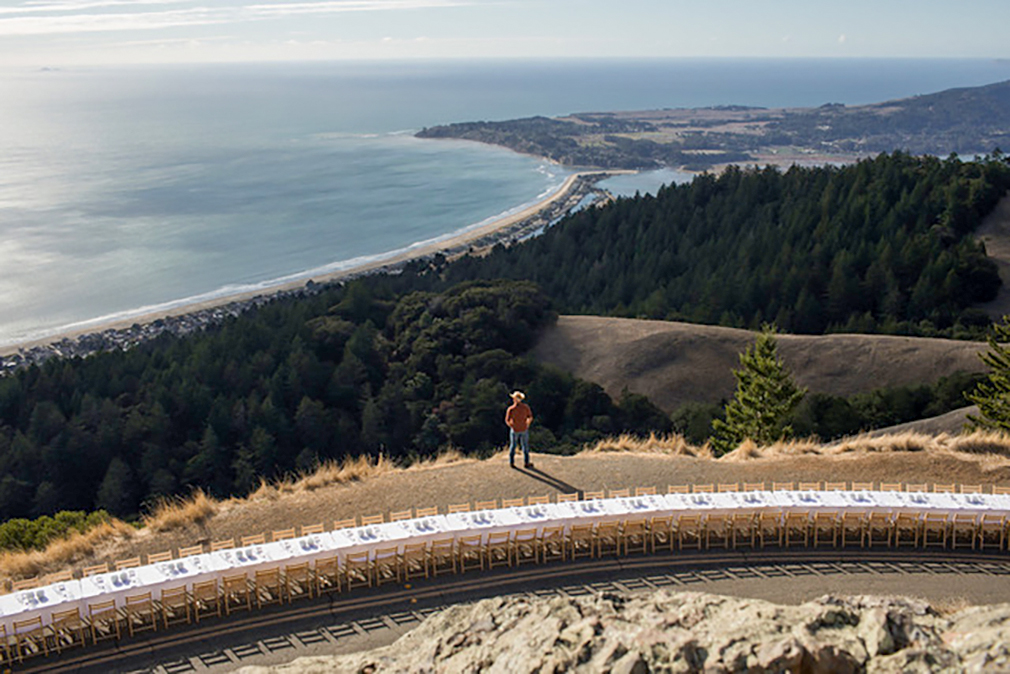 Is that how some of your locations come about or how you choose the spots?
There are powerful fans from other countries who approach us and have done the research on their own before they even say 'hello.' But ideas are always coming in and it's a two-month process to do the research and pull an event together with only three full-time people on staff who are communicating with the farms and chefs.
For the Sepulveda Damn event [in the San Fernando Valley] that location was super obscure. Although it's in the middle of this gigantic city surrounded by traffic yet without much activity. When I see a large patch of artistic frame like that, where I can do larger work, I think that would be a cool place to do something. Eventually, it was a dream come true.
You were ahead of your time in many ways when you launched the events. What has surprised you the most about creating this alternative, outdoor dining movement decades ago?
Two things: one is that the format is evergreen – it was great then and its great now. Family-style dining at a communal table and sharing a platter together is really powerful.
And, second, the weather can be challenging. We started in a Mediterranean climate in California but now that we have expanded, the potential for the event to go off the rails is greater. It's a combination of an organized and very precise environment in the kitchen but then there is always plan B if there is going to be weather.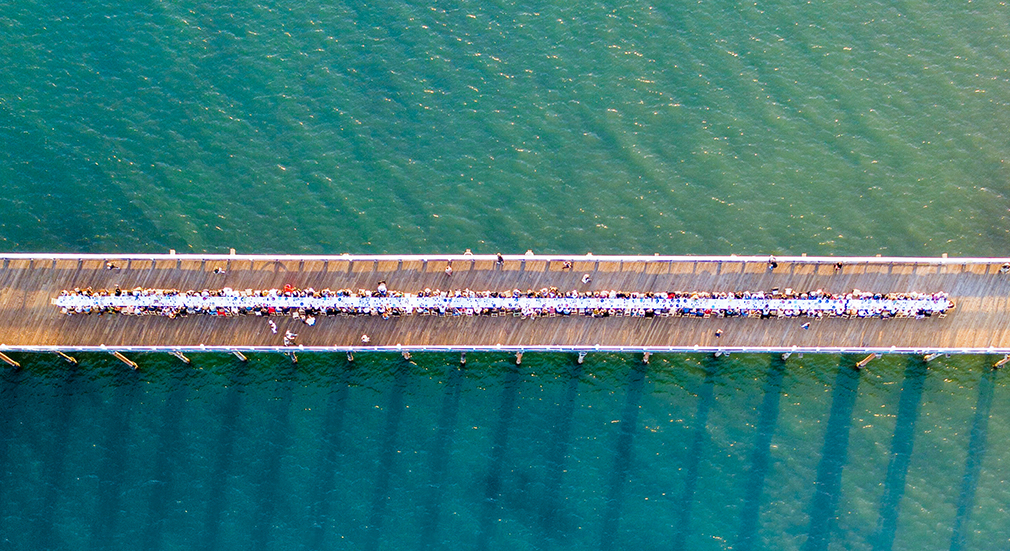 Right, you can try and follow the weather but have you ever had to switch a location at the last minute?
One time there was a tornado outbreak in Florida. That's one of the few events that was actually canceled. The funny thing is I wanted to be a weatherman when I was a kid. I love weather and it's very fun for me.
I don't want people to be in danger but I want there to be adventure. I want to go to locations where there's a bit of a walk. There's the reward of getting out in nature and tripping over some holes.
It's kind of a fun thing about a real ranch in Texas. There is a potential for hazard. Like, where am I? What am I doing? So, there's an aspect of it that's a bit of discomfort in the beginning but it turns out to be a huge plus, actually, paradoxically, when people arrive. It's kind of like when you go to a party. Will I know anybody? What's this is going to be like? But when you're in nature like that, then add that you're meeting new people, and then you find out, oh wow, this is fun. It's great to realize that people are eager for connection, and that little bit of trepidation makes it more fun in the long run and enhances it strangely.
CD: I understand that completely. It's kind of like watching a scary movie.
Yeah, totally. I mean, I've put together events where people were sitting and the waves washed under the table. On purpose, just knowing the tides, but it's playful. Some people might consider it like too playful!

How do you keep the momentum going and create new concepts, experiences and locations?
I'm going to do more artwork this year and at least 8 more events but that's part of the fun. Every year, there are five or six events, where you're sort of like, wow, I can't believe they let us use this site. And top that off with the potential for an extraordinary day where the view is just over the top amazing. It's kind of like when you're making the recipe and you add the different parts, you're gonna, occasionally get an opportunity like we did in Mount Fuji. You could not see it at all, it was obscured by the clouds. People were asking where it was and then 10 minutes later, the clouds broke through to the site and everyone applauds for the appearance of Mount Fuji – the world's most beautiful volcano. The schedule is a list of possibilities and what happens we don't know until that day and the chef doesn't come up with the menu until a few weeks before from what has come in that season.

CD: Since you are also a chef, how involved are you in the actual menu selection?
I did all the early events as the chef and I still do the first event of the year. The format that we have always used, is the chef is asked to visit the site and consider it from an ingredient perspective, not just the place itself, which might be a vineyard or vegetable farmer or rancher at the top of a cliff overlooking the ocean. It's also the general area to get out and meet the people that we're presenting on the property where people make a living and realize what goes on the table. It's not just calling and saying, 'do you have some carrots next week?' And that's been continuous throughout, which brings out the magic of the event.
One of the most important jobs, is really being there and chatting with people and cooking their first dinner. But I think being the architect of the schedule, I already do a lot, but I'm going to do more land-work art pieces which I do every season.
Do you have any other art projects on the horizon this year – besides Desert X?
There's an art project in Mexico for the musical festival in the Yucatan. My son, who's 29, is also an artist and doing really great things with his art, so we will do this project together for the first time. It's pretty cool and I like mixing it up and doing something different each season.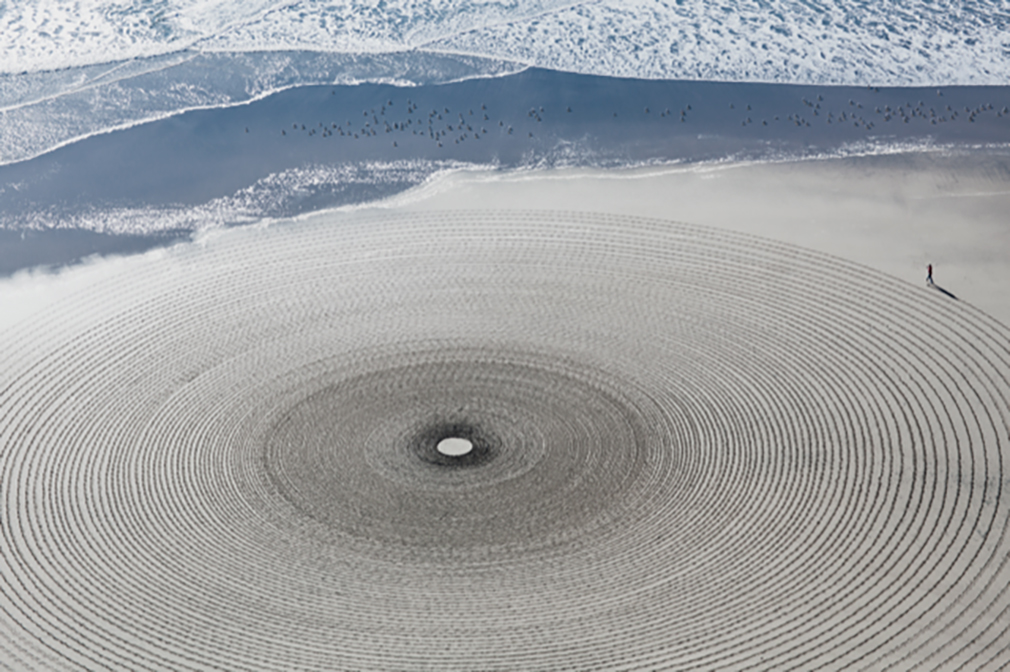 Do you ever go on vacation? Where do you go when you just want to relax and disconnect?
I go to the tip of Baja for the surfing. I've done a lot of surfing around the world, but I actually think I'm going to a nice hotel in San Jose Cabo [this time.] I like nice hotels like the One&Only Palmilla. Which is historic and the bar is just great. There is a bartender there who's in his 70s and he's been there forever. But that being said, I love the contemporary hotels too. I stay at The Thompson Cape at Monuments [the beach point break.] They have a funny little theme of drawings in the sand as part of their motif.
Sounds like one of your works. Maybe you should design a boutique hotel?
I'd really like to explore that. I'm super curious about how hotels function out in the environment. And, of course, the food. It's a dream of mine.
What's the first thing you'll do when you arrive in Saudi for Desert X?
I do this thing where I feel a space before I make a composition. I'll go out to the canyon – there are 14 other artists within this canyon complex. I have my own area that's about 400 feet across and that's where I will make my artwork. I'll sort that out when I get there, that will be my first task.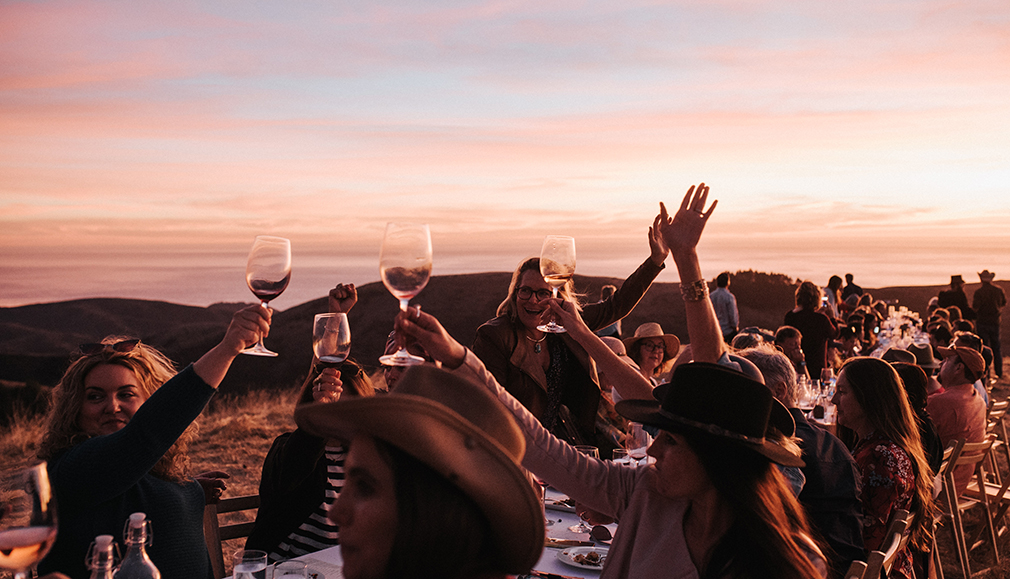 Outstanding in the Field's primary season runs May through November across North America and around the world. The schedule for OITF's 2022 Summer/Fall Tour will be announced in February. Ticket sales open March 20th, the first day of Spring, and many events sell out within hours – so you've been warned.