Milan is everything much of Italy is not: Cosmopolitan, modern, diverse. What it lacks in big-ticket tourist sites, it makes up for with a design and fashion-forward ethos, wonderful culture, world-class shopping, and an entirely different attitude than most Italian cities. Of course, there is the magnificent Duomo and Leonardo da Vinci's The Last Supper—but Milan's big draw is not the sites and attractions. If you come for Roman ruins and La Bella Vita, you'll likely find yourself disappointed. Instead, come to Milan to immerse yourself in La Vita Milanese, a faster-paced, intoxicating version of the Italian lifestyle that is not afraid of outside influence.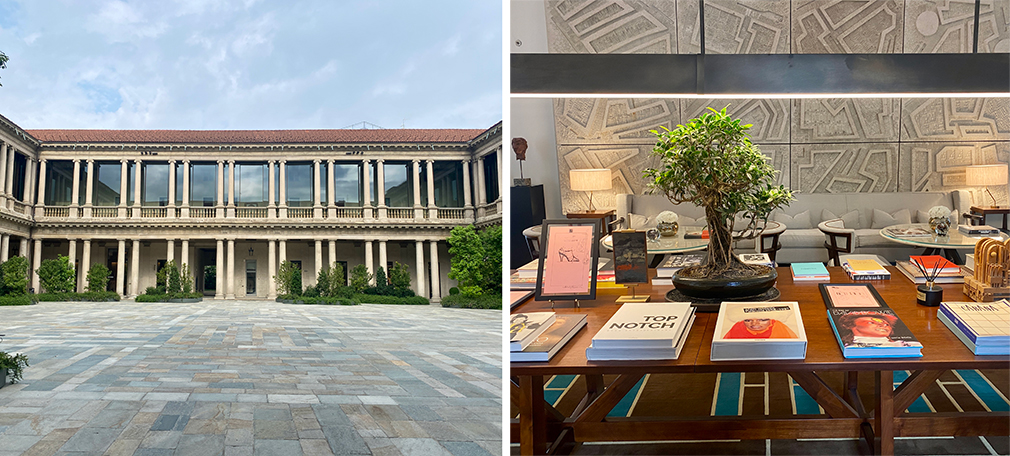 WHERE TO STAY IN MILAN
Big Spenders Only: Portrait Milano
The Ferragamo family's stunning new boutique hotel occupies a restored 16th-century Corso Venezia seminary that was previously closed to the public. It's everything you'd expect from such an illustrious pedigree. Architect Michele Bönan's usual brand of polished wood, elegant marble, and art tomes are only enhanced by archival Ferragamo sketches across 73 lavish rooms. An ornate Baroque gateway welcomes guests into an incredible courtyard, Piazza del Quadrilatero, which now clocks in as the largest public square in the fashion district. And rising superstar chef Alberto Quadrio wows diners with his pasta in bianco (white pasta), forged from 36-month-old Parmigiano Reggiano rinds (no butter, no oil, no cheese). Here, everything stops you in your tracks.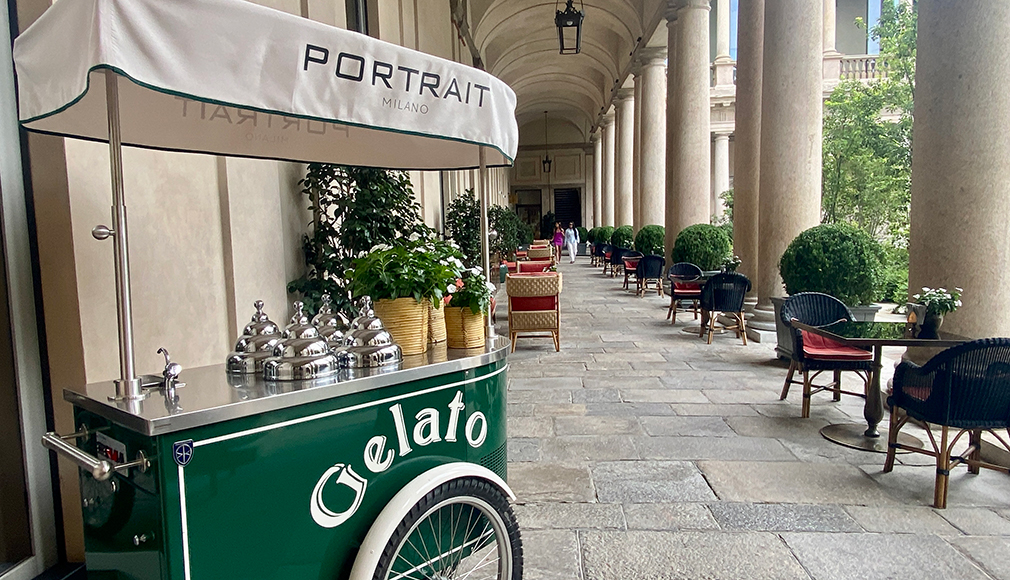 Stylish Midrange: Boutique Hotel Borgo Nuovo
While it may not be set right next to the Duomo, this suburban boutique gem is just 30 minutes by metro from Milan's main square and delivers stylish residential tranquility southeast of the city. Midcentury modern accents accompany rustic and vintage touches throughout the 13 rooms, which feature locally crafted furniture and exclusive works of art and installations by contemporary Milanese mainstay artist Samantha Lina. Garden-view floor-to-ceiling windows illuminate the hip restaurant and bar. Immerse yourself in Milanese elegance without the noise.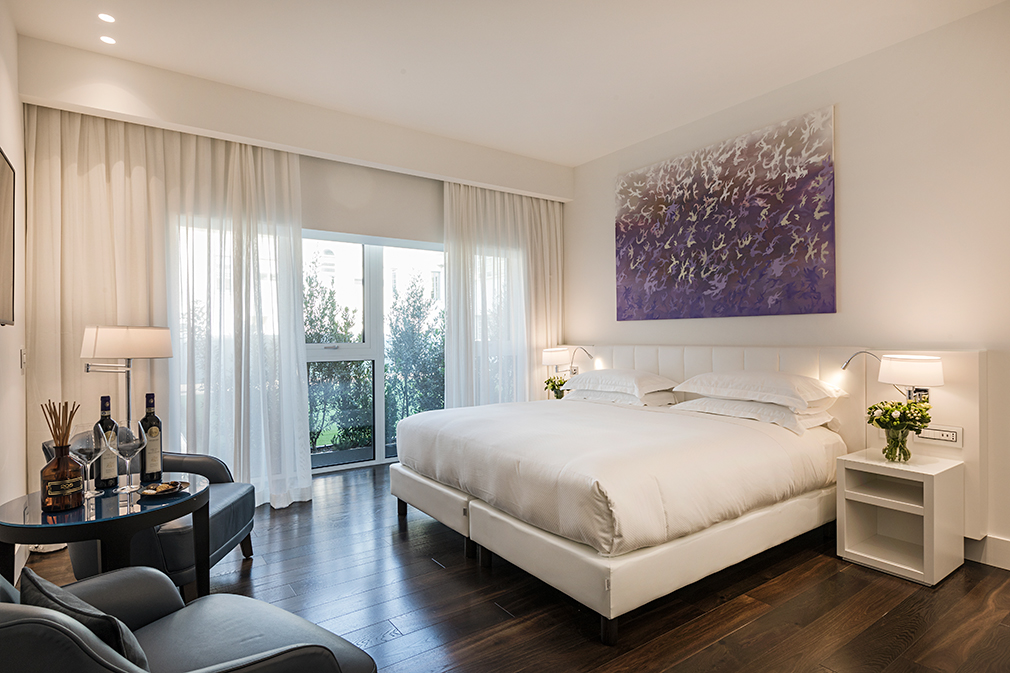 Best Smelling Boutique Hotel: Magna Pars
Occupying the former perfume factory of Italy's first homegrown cosmetic company Marvin, established in 1945, this fragrant boutique hotel is a discerning choice that is steeped in the olfactory experiences you'd expect. Each of its 68 suites (along with bar cocktails and other elements) is based on one of the scents from LabSolue, a higher-end line from the same company. Fragrance aside, white steel and controlled-forestry conifer wood from Central Europe dominate the hotel's interiors, which feel modern, stylish, and discreet—fitting right into the aesthetic cultivated by the nearby Porto Genova headquarters of designers Giorgio Armani, Moncler, and Zegna.

Holiest Hotel: NH Collection Milano CityLife
Milan's popular CityLife district is the Lombardian capital's most modern moment: High-rise luxury apartment buildings and fancy commercial builds dominate space that was once part of the Milan Fairgrounds and has been reimagined by famed architects such as Zaha Hadid, Arata Isozaki, and Daniel Libeskind. The formerly abandoned neo-mannerist Cristo Re church, deconsecrated in 2017, has been equally reborn as a fascinating 185-room NH Collection Milano CityLife. The church's former façade and nave have been preserved. Now, the nave is a wonderful open-air lobby entrance leading to reception, while rooms are housed in a new, attached 14-story building behind. Praise be!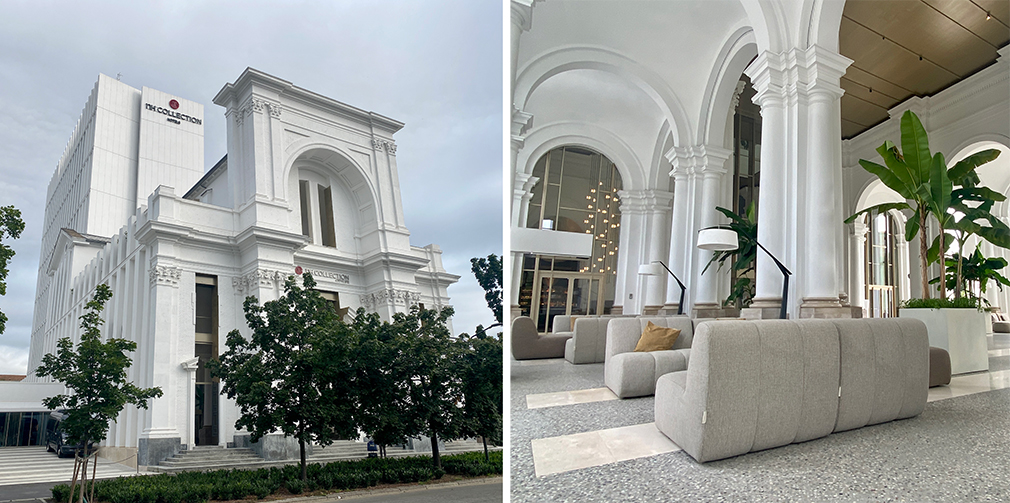 Historic Cheapie: Un Posto a Milano
Like a stubborn owner who refused to sell, this unique four-room guesthouse occupies the first floor of a farmhouse in the middle of Milan, just 13 minutes from the Duomo by metro. Dating to 1695 and reopened to the public in 2012, this urban agricultural outpost features hand-crafted beds following the Pedano system (all-natural latex mattresses with rye or peat straw), private bathrooms, and other rustic chic touches at shockingly low prices (€ 35-60 per night).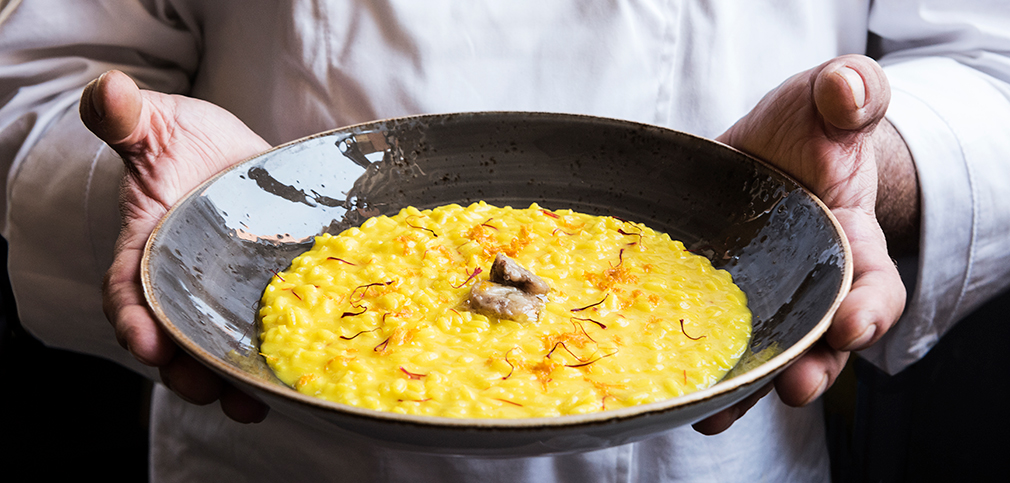 WHAT TO EAT IN MILAN
Best Risotto: Rataná
Forget about pasta for a minute; Milan is rice territory. Few would argue that contemporary Rataná—a pioneer when it opened in 2009 in a former railway warehouse in then-derelict Isola-Porto Nuova district, later home to Milan's Vertical Forest skyscrapers—is the best restaurant in the city to indulge in Risotto alla Milanese. Laced with butter, white wine, and saffron, it is a velvety, immensely satisfying dish and one of the few to mix the primo (first course, usually pasta) and secondo (second course, usually meat or fish, and in this case ossobuco) on one plate. Rataná's seasonal menu is hyper-regional, using only local producers, but chef Cesare Battisti's risotto alla Milanese is an evergreen fixture.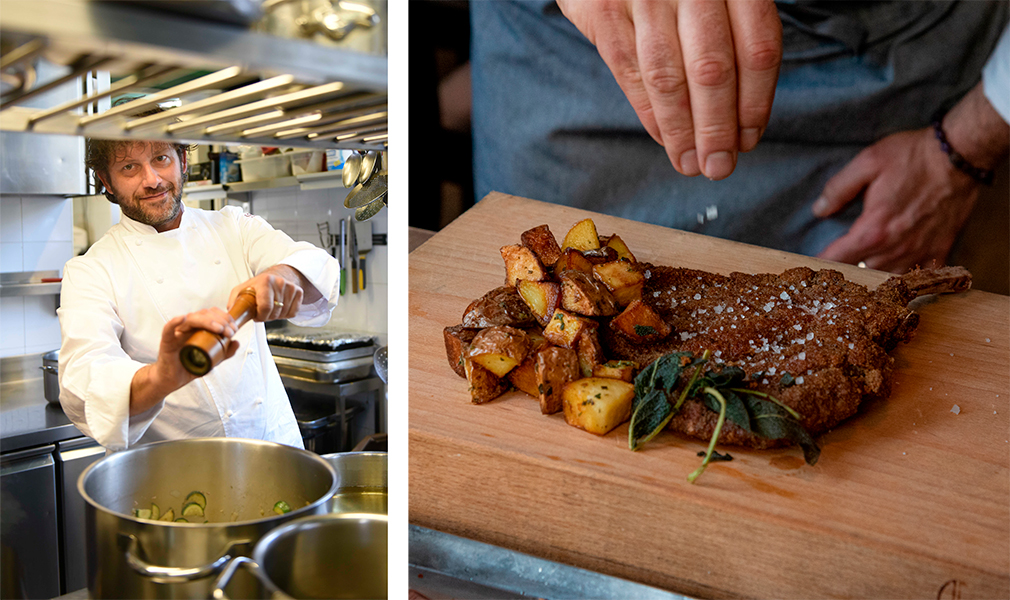 Best Sandwich: De Santis
Americans often make the mistake of thinking panini are a special kind of Italian sandwich. They are not—panino is simply the Italian word for sandwich (and panini is actually plural). De Santis has been turning out an arsenal of delectable fillings on perfectly crunchy ciabatta from its nearly standing-room-only space on Corso Magenta since 1964. Culled from more than 200 recipes, some 38 options exist at last count. The Ronny (prosciutto crudo, brie, mozzarella, white truffle cream, lemon juice and black pepper) is just about perfect, but you will be spoiled for choice—vegetarians and vegans included.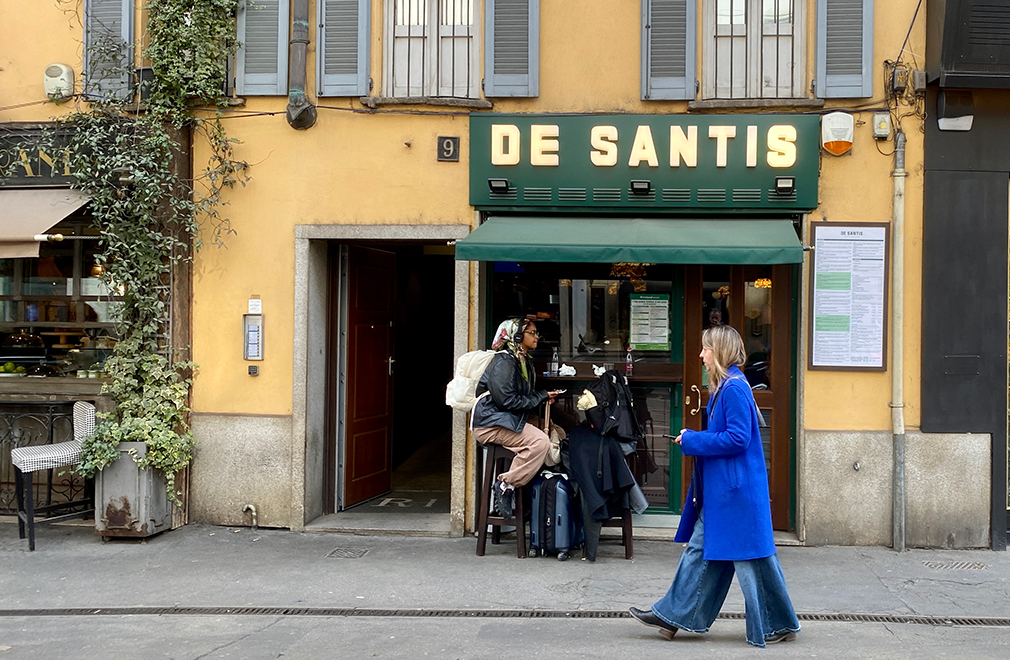 Best Breakfast: Pavé
There are no piles upon piles of croissants and pastries at this destination patisserie near the train station. Pavé master pastry chefs Diego, Luca, and Giovanni—three friends who share a love of baking—lay their creations out minimally, as if they are precious artifacts behind museum exhibition glass. All the Italian standards are here, and done well (including softball-sized maritozzi), but rarer sightings, such as Kouign-Amann, Madagascar vanilla, and savory fillings like ham and Fontal cheese are the true draw. More substantial breakfast choices (bombolone stuffed with stracciatella cheese and culatta ham, rye bread avocado toast) and excellent coffee ensure legions of open-minded Italians and international clientele walk aware ready for a buon giorno!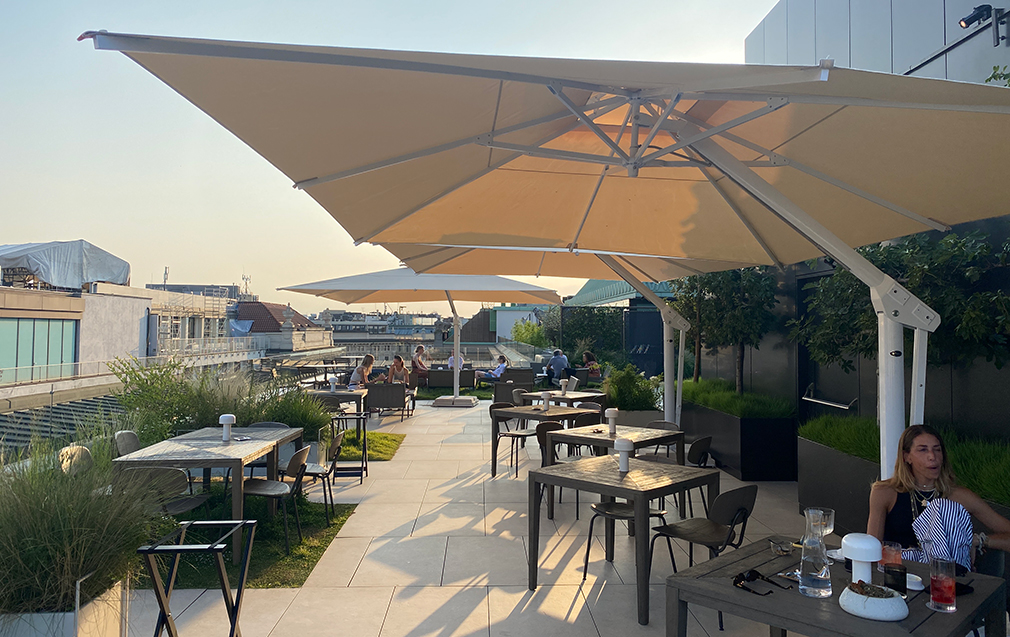 Best Rooftop Restaurant: Horto
Believe it or not, rooftop experiences are in short supply in Milan, which just makes Horto all the easier to love. With the spires of the Duomo sprouting just a few blocks north, Milan's cityscape unravels in near panoramic spectacle but still feels a world away. The kitchen, strategized with South Tyrolean Michelin three-star chef Norbert Niederkofler, calls on Lombardian farms, dairies, and producers within an hour's jaunt for its ethically responsible, globally influenced cuisine. Furnishings, cutlery, dinnerware, and glassware follow a near-similar philosophy, with purposely broken plates and recycled steel cutlery from Broggi, chairs, and outdoor tables by Ethimo. It all makes for a slow gastronomic journey in direct contrast to the hustle and bustle below. The eggplant gnocchi (crunchy on the outside, a melting morsel of pillowy pizazz on the inside) in basil-scented tomato water is worth traveling for.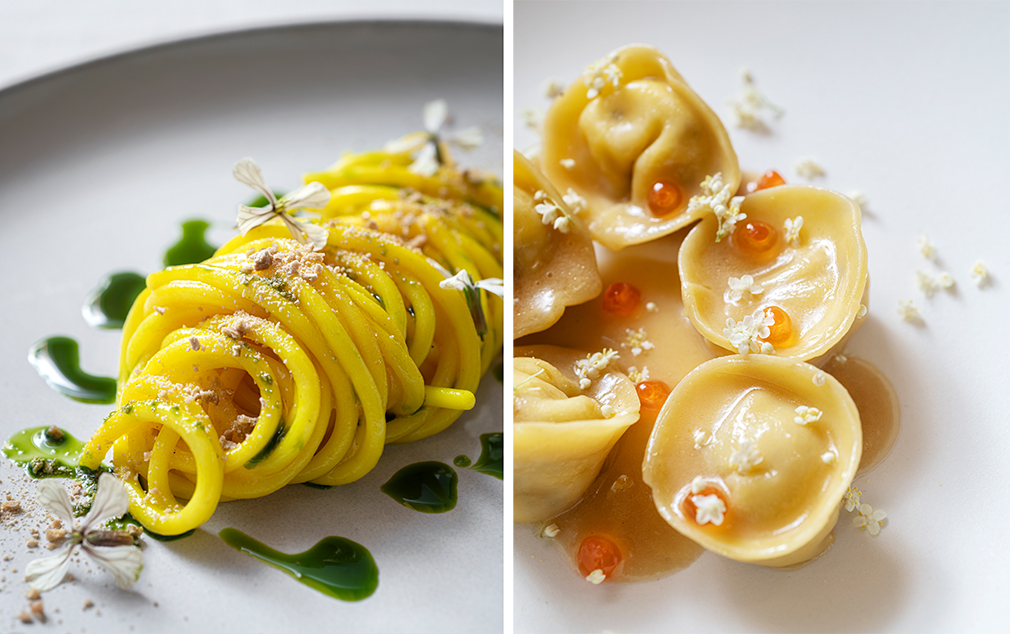 WHERE TO DRINK IN MILAN
Best Negroni: Camparino in Galleria
Liberty furnishings seemingly unchanged since its 1915 opening may highlight the interior of the Campari aperitif brand's signature drinking den, but the views inside Milan's most beautiful building (Galleria Vittorio Emanuele II) and out over Piazza del Duomo from the second-floor terrace best even those. Obviously, a negroni expertly mixed by Campari-employed master bartenders only goes down that much more beautifully in the presence of such eye candy. It is tourist central for Milan, so prices are stiff (€9 at the bar, €16 at a table) but indulging in Italian cocktail perfection at ground zero is priceless.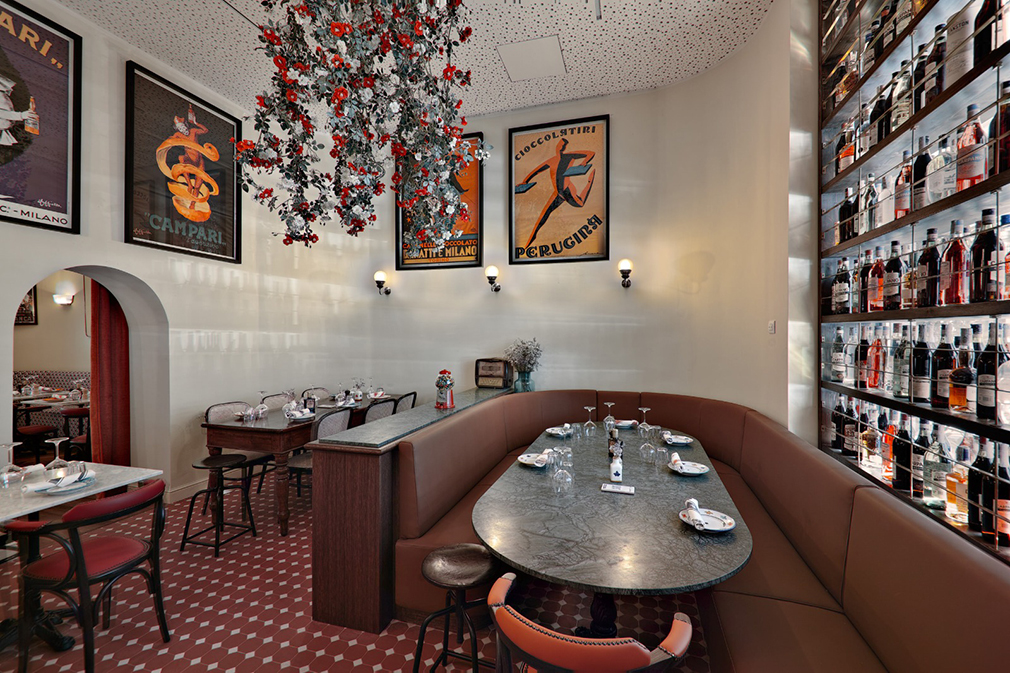 Cocktails and Shenanigans: Ristorante Caciara
"Caciara" is Italian slang for "racket," as in a wave of loud noise—an apt name for this colorful, good-time gastrobar in Porto Venezia, Milan's LBGTQ+ district. With a come-one, come-all inclusivity mantra and an urban retro vibe, it combines exquisite cocktails (still a rarity in Italy) with live music and entertainment several nights each week. Model-slash-mixologist Annalisa Convertino has cultivated an inventive cocktail menu, which pairs perfectly with the raucous vibe when the night gets moving. But do not discount the food. The pasta all 'Amatriciana—a nod to Roman roots of the owner, a former Prada manager—is flambeed tableside and the beef carpaccio (organic plum tomatoes, Roman pecorino flakes DOP, organic extra virgin olive oil and truffle mayo) melts in your mouth. Things get hot and heavy for quiz nights and karaoke. Make a night of it!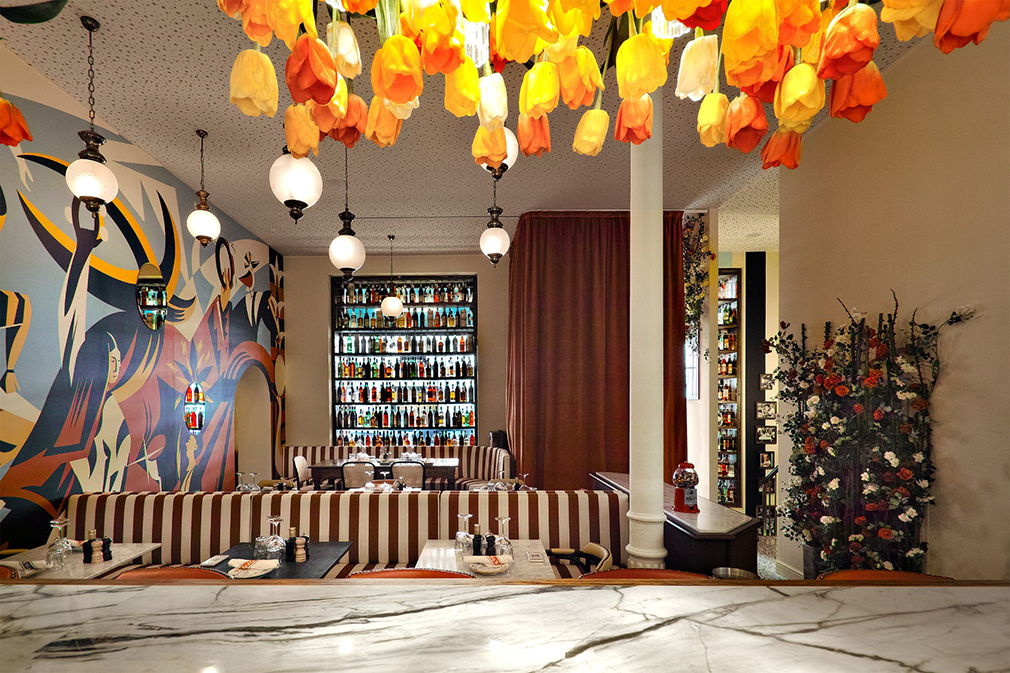 Best for Craft Beer: Lambiczoon
In collaboration with a sea of characters who have worked in some of Italy's most famous craft beer bars, including Arrogant Pub in Reggio Emilia, Lambiczoon's pedigree easily catapulted it to Beer Nerd Centrale status in the city when it opened in 2013. The 15 taps lean Belgian (Cantillon, Brasserie de la Senne, etc. along with a fantastic selection of Cantillon in bottles), but Lombardian offerings from Birrificio Italiano, Alder Beer Co., and Croce di Malto, and others make frequent appearances. The small bar is more social than most, and the staff is molto simpatico.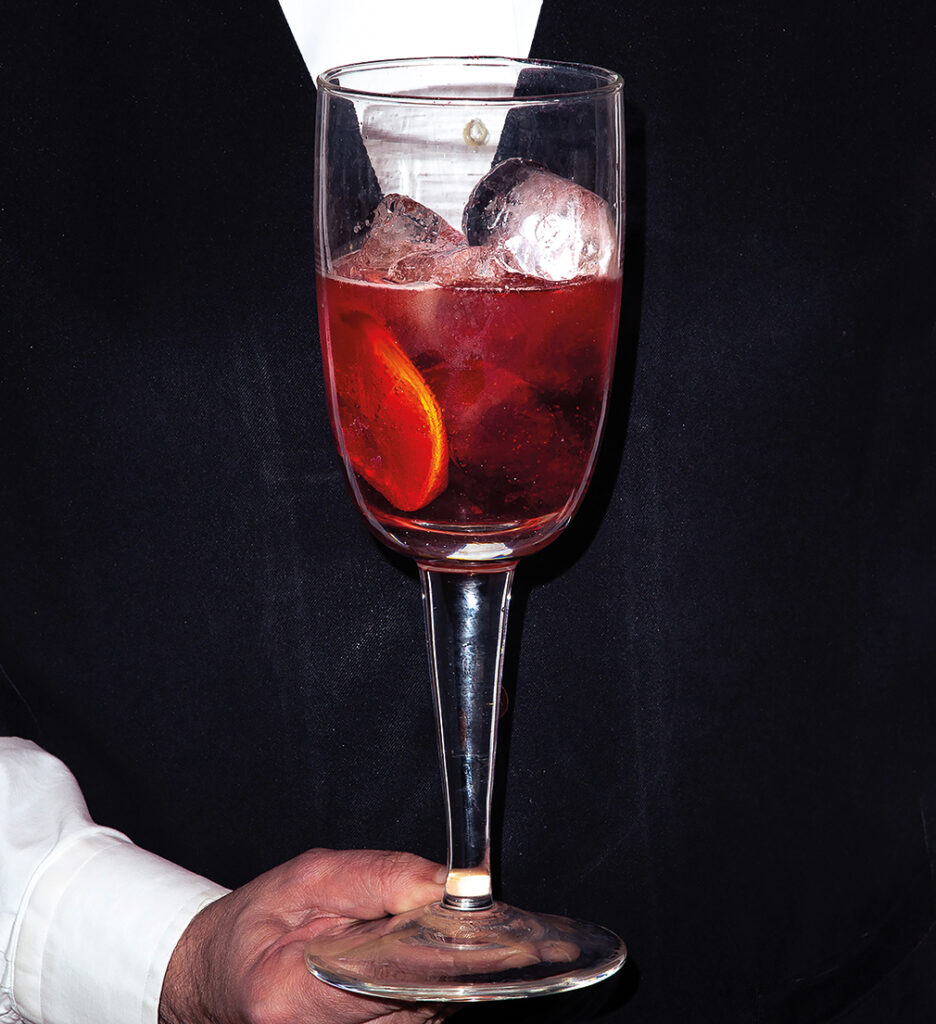 Best for Natural Wines: Enoteca Naturale
This excellent wine bar, hidden in the shadows of Basilica of Sant'Eustorgio, helps to socially integrate migrants into Italian society by providing a critical first step: a job. Cin cin! But that's not all. The bar is also commendable for its selection of natural wine, which is currently having a moment in Milan. Over 4,000 labels have been poured here, best taken on the idyllic front garden with shaded basilica views. It's not the easiest spot to find, but that just ensures you are drinking with a serious, in-the-know crowd only. (Expert tip: It's located Casa Emergency, a more easily searchable location than the bar itself.)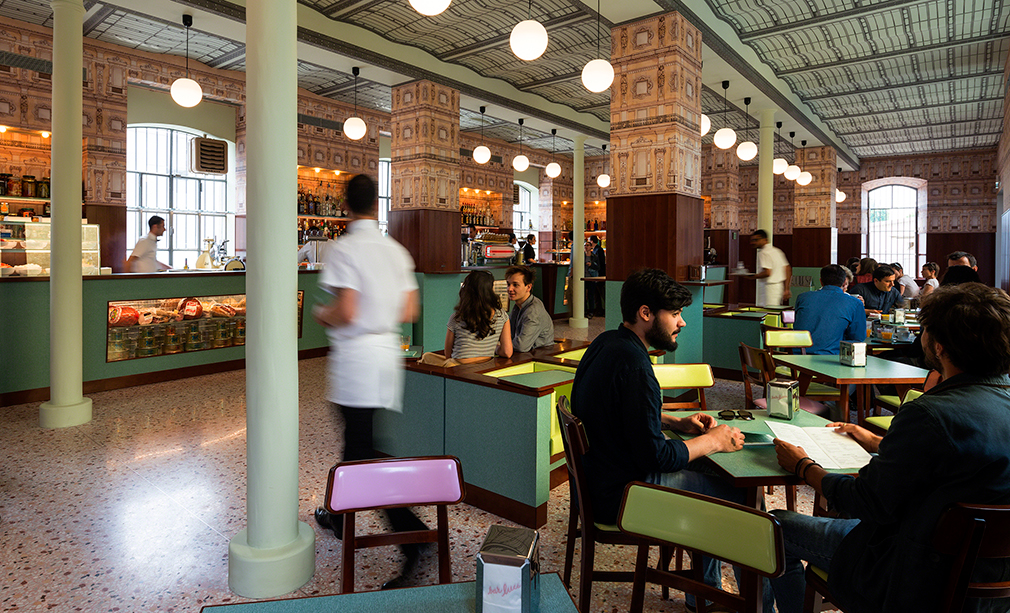 Actually Wes Anderson: Bar Luce
Popular hashtag #accidentallywesanderson does not apply to this gorgeous bar tucked away in Fondazione Prada's contemporary art space: It was no accident. Wes Anderson's spin on a typical old-style Milan café opened in 2015 and is a superb space for a cocktail or espresso served with a side of Anderson's signature formalism. Wooden panel and Formica furnishings dominate the chromatic space, and whimsical touches like retro pinball machines give it a sense of playfulness while maintaining the director's aesthetic rigidness. The result: A café that's practically the definition of Instagramable.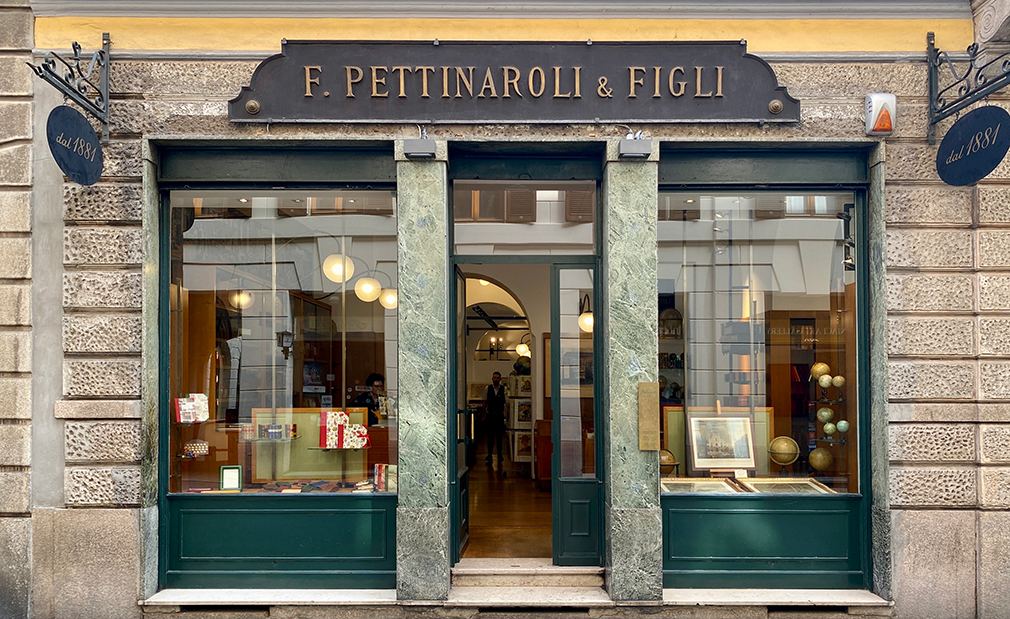 WHERE TO SHOP IN MILAN
Best Historic Shop: F. Pettinaroli
Step into any of Italy's Botteghe Storiche (historic shops) and you're nearly guaranteed a good time, no matter the wares for sale. Milan's F. Pettinaroli, in the business of writing and printing since 1881, is no exception. Harboring a cavalcade of finely crafted stationery, old maps, leather-bound notebooks, quill pens, and antique prints, this shop is a fairy tale for map nerds, writers, and fans of bygone 19th-century handicrafts.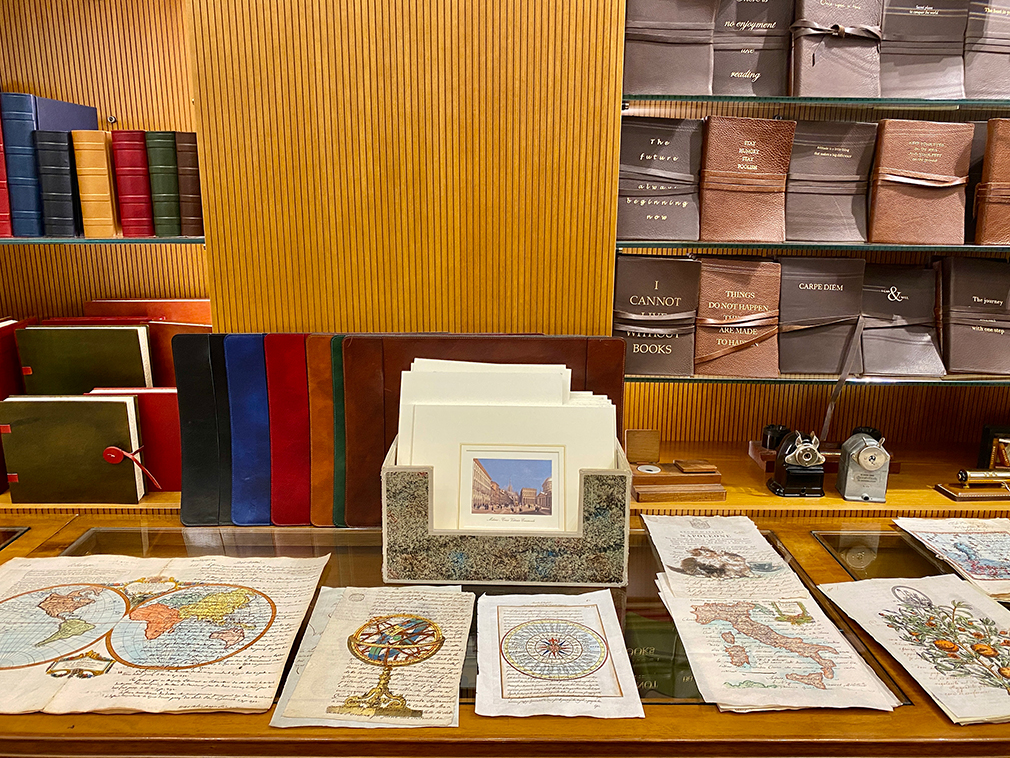 Best Concept Store: 10 Corso Como
Considered by many to be the first and most important concept store ever, former Vogue editor Carla Sozzani's inaugural art, fashion, dining, and shopping vision has been carried on and expanded by high-profile retailer Tiziana Fausti since 2020. An early 20th-century apartment block with shared balconies forms the backdrop to this wonderful retail world and garden bar and restaurant. High-end merch spans from kitsch to luxurious and you will often find exclusive, ever-changing collaborations from brands like Autry, Sundek, K-Way, and Armani, among others. Even if the prices shock and awe, it is worth a look-see and a €4 espresso.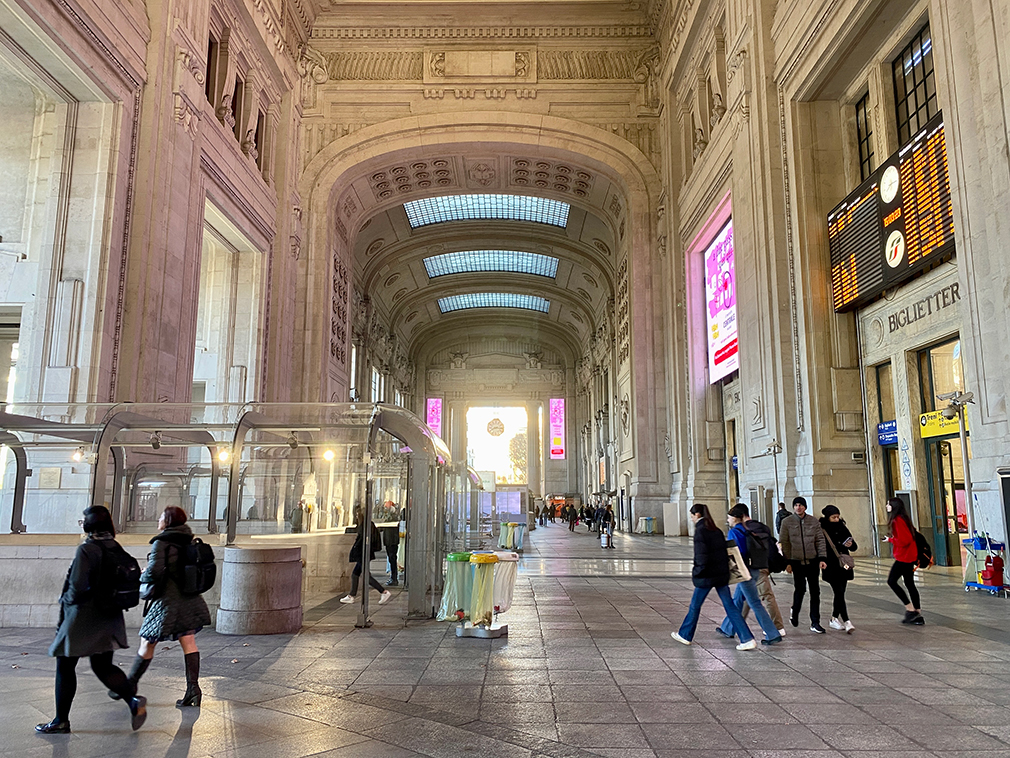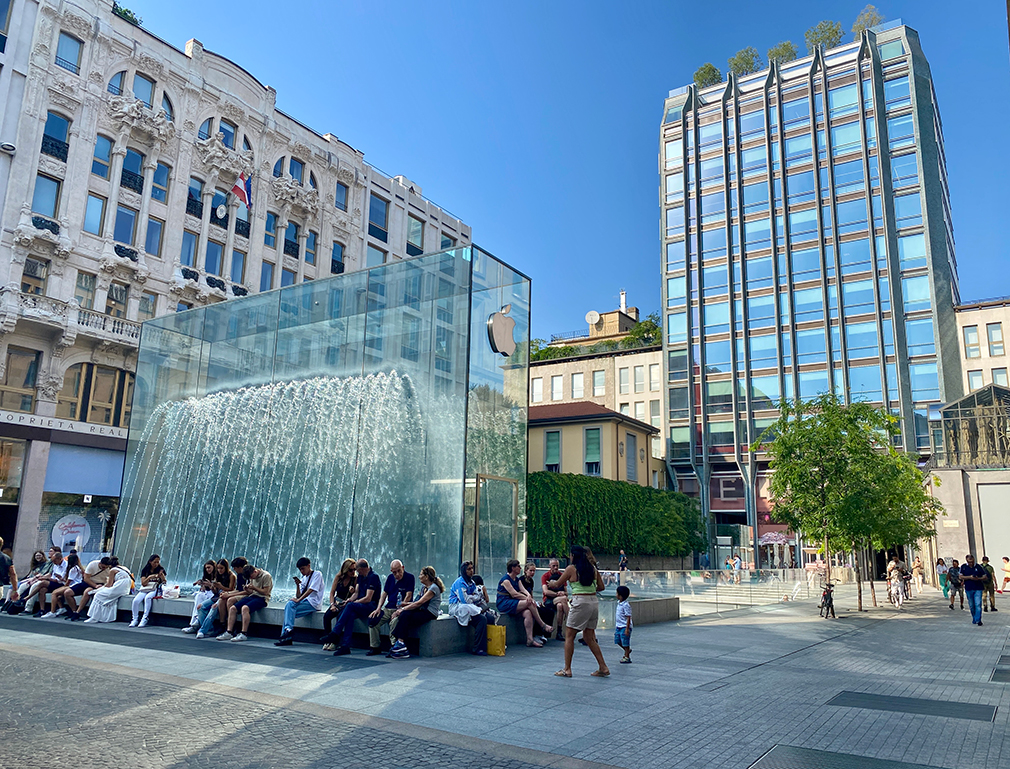 Best Vintage: Cavalli e Nastri
Browsing the showrooms at this vintage Milan staple is like getting exclusive access to a Hollywood costume designer's backroom stash. Pre-ownded designer apparel and accessories from iconic fashion houses like Gucci, Chanel, and Pucci grace the racks across three stories. The original Via Gian Giacomo Mora location sells women's clothes, jewels, shoes, scarves, hats, and more, while a second Giacomo Mora shop is dedicated to menswear, including cufflinks, ties, shoes, tailored jackets, and antiques. Another womenswear shop is located on Via Brera.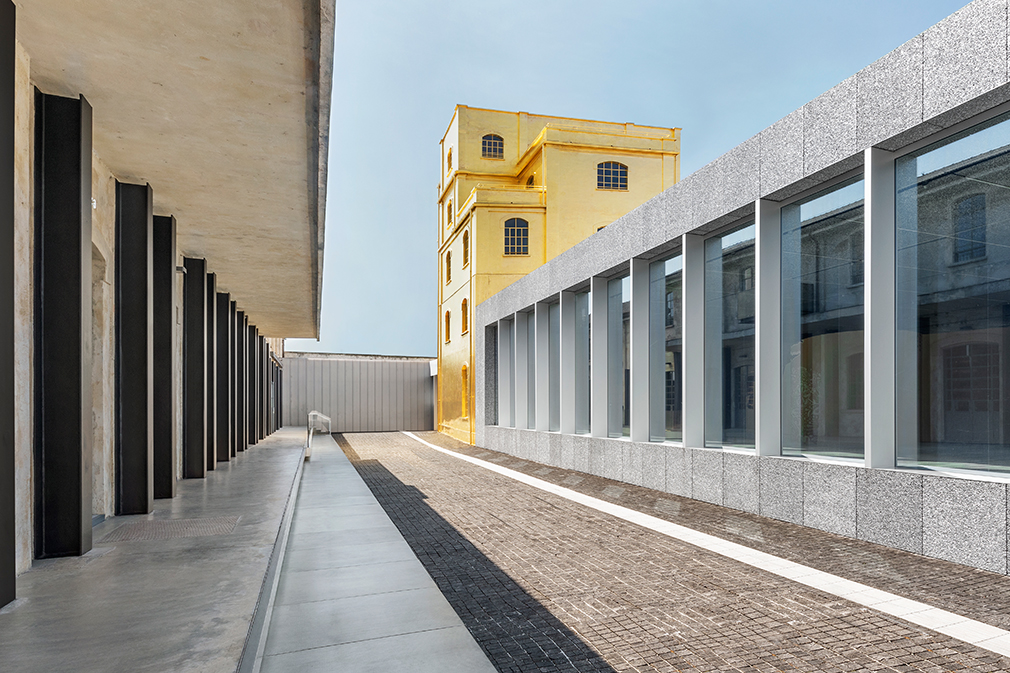 WHAT TO DO IN MILAN
Best for Contemporary Art: Fondazione Prada
While certainly synonymous with Milanese style, Prada's work beyond the runway is perhaps a little less obvious. Until you have seen what they have done with this former distillery, located next door to the Porta Romana railyards. The massive complex includes a trendy bar designed by Wes Anderson, a cinema, a four-story building wrapped in 24-carat gold foil and numerous exhibition spaces. Do not miss Thomas Demand's Processo Grottesco (a Majorca grotto recreated entirely out of 30 tons of gray cardboard), Le Studio d'Orphée (a replica of Jean-Luc Godard's living and working space) and Carsten Höller's Synchro System (a mind-altering space of upside-down mushrooms).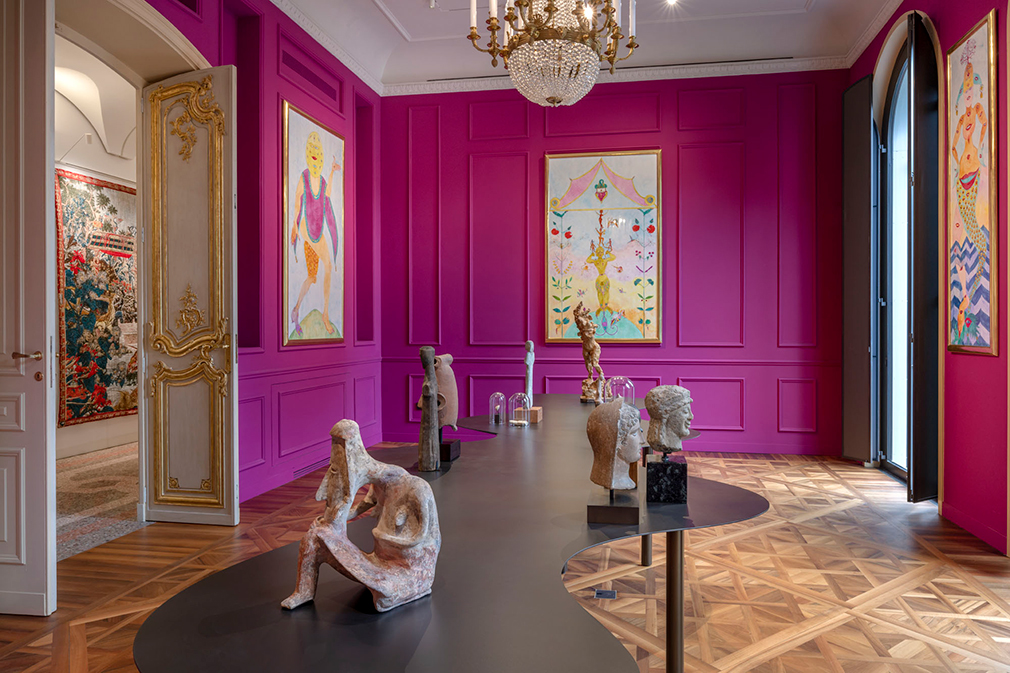 Most Stunning Museum: Fondazione Luigi Rovati
If there is one museum that typifies the difference between Milan and the rest of Italy, it's this new offering from the Rizzoli publishing family. Opened in 2022 behind a typical and uneventful palazzo along fashionable Corso Venezia, it reveals itself as anything but classic once behind the façade. A seamless blend of ancient Etruscan and contemporary art are coupled in the magnificent hypogeum (ancient underground temple/tomb), a space reimagined with 24,000 hand-placed Tuscan turbiditic sandstone blocks which unravel in waves, aerating the contemporary space as it flows around the room. Etruscan impasto ceramics and ornaments sit seamlessly alongside pottery by Picasso and jewelry by Alberto Giacometti. It is unlike any Etruscan museum in Italy.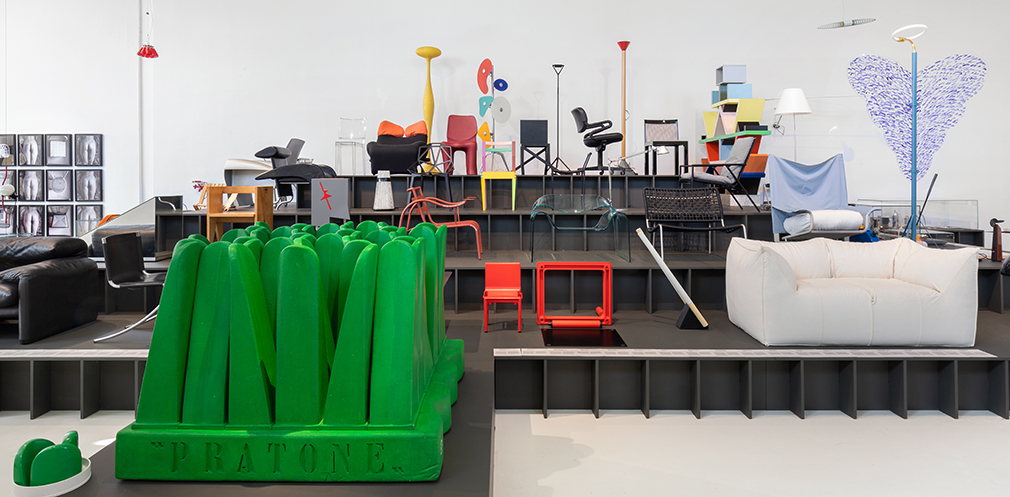 Best for Design: Triennale Milano
Milan's signature design museum is more of an event and cultural space with a small design exhibition, but its permanent Museo del Design Italiano gallery takes visitors on a gorgeous ride through the history of Italian design without being overwhelming. Iconic furniture, vehicles, and other household items tell a chronological story of Italy's design evolution across 200 items curated from a 1600-strong collection. Franco Audrito's Bocca sofa, Sergio Asti's Marco vase, Umberto Riva's E63 lamp, and classic Vespas and Fiat 500s are highlights. Be sure to check out Ettore Sottsass' recreated Casa Lana living space as well.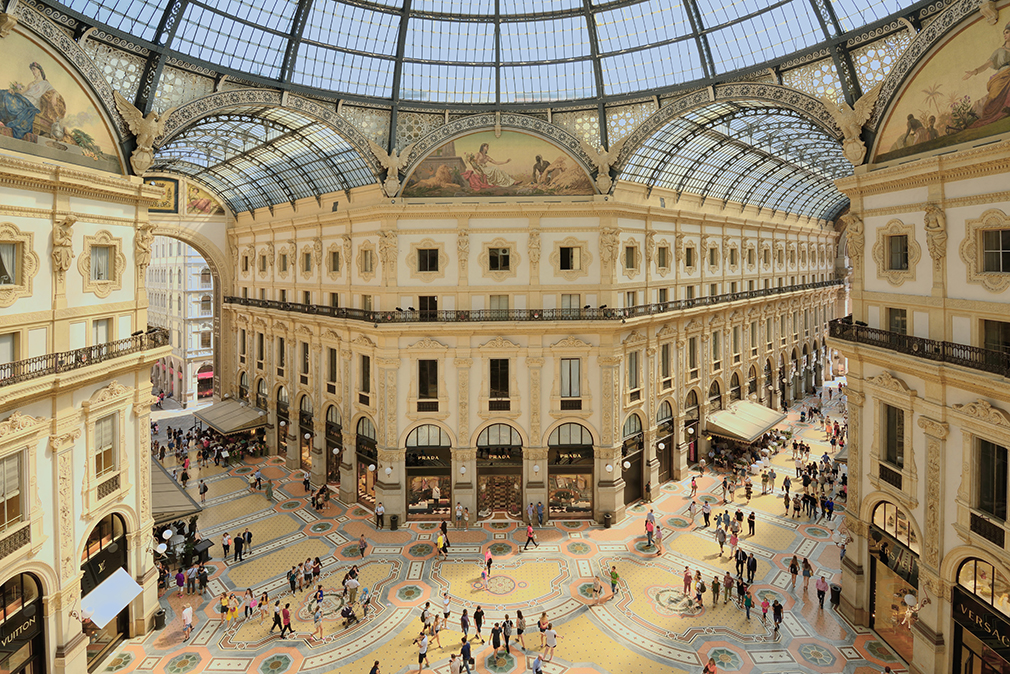 Most Beautiful Building: Galleria Vittorio Emanuele II
If Milan has a tourist hotspot, the city's most beautiful building is certainly it—but don't let throngs of looky-loos put you off. A stroll through this stunning shopping arcade—Italy's oldest mall, actually, dating to 1861—is mandatory. A marvelous confection of iron-and-glass, vaulted arcades and domes, and mosaics and caryatids linking the Duomo to Teatro alla Scala (Milan's two other constructional works of art), it is jaw-dropping from every angle. Luxury brand shops, white tablecloth restaurants and trendy bars populate its vault, but it is really all about the structure itself.