You'd be forgiven for not knowing much of anything about the Azores, a cluster of cinematic Portuguese islands that sit in the middle of the pond, 1,400 miles west of Portugal's capital, Lisbon, and 1,200 miles southwest of Newfoundland. Even though this volcanic archipelago floating in the Atlantic shares an immigration history with both the US and Europe, it remains an enigma, content to making a go of it in splendid isolation, a bit too remote to embrace big tourism, but well connected enough to dazzle the chosen few. And dazzle it does!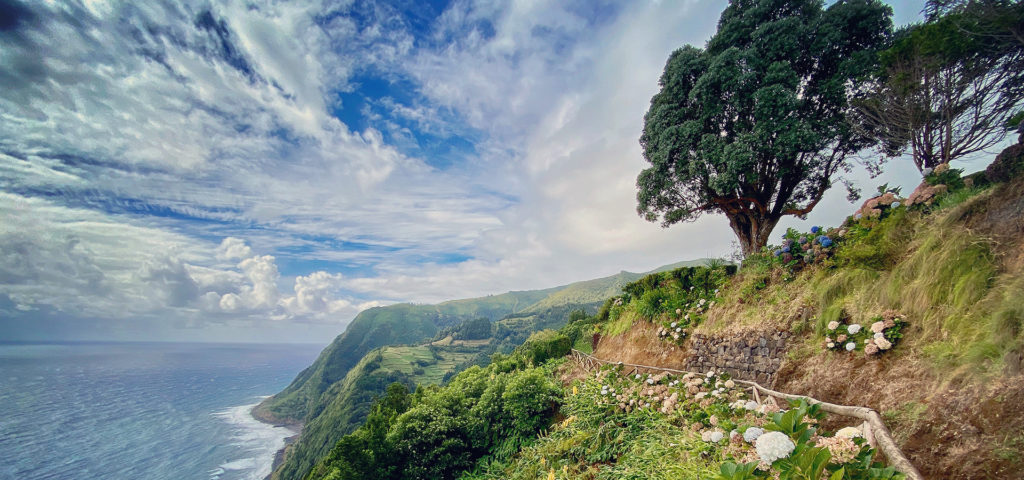 The nine islands that make up the Azores are peppered over an area of 908 square miles. Each island possesses its own personality and quirks, yet are united, much like a family of nine siblings. Myriad incredible crater lagoons, dramatic volcanic peaks; murky, rust-toned hot springs and sweet pineapple plantations make up this magical fairy tale land of implausible prettiness – and that's merely São Miguel, the largest and most populous island. São Miguel is the archipelago's beautiful workhorse – blanketed with brilliant blooming hydrangeas and Crayola-green pastures teaming with dapper dairy cows producing the island's famous cheeses and milk – and the entry point for most travelers. You'd be forgiven here, too, for never even meeting the rest of the family.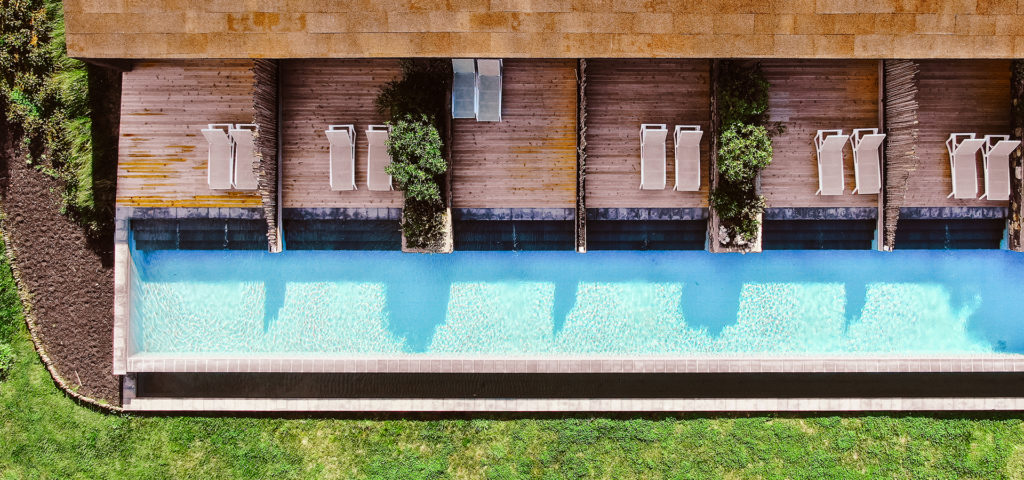 Stay
The basalt stone-embedded walls, rock arched ceilings and whitewashed ambiance making up the nine suites on hand at White Exclusive Suites & Villas, 4.5 miles or so east along the coast from the Azorean capital of Ponta Delgada, evoke a Mediterranean ethos. While it's easily the hippest hotel in São Miguel, it's the cliff-clinging patio and infinity pool that will monopolize your Instagram stories. Everything about Furnas Boutique Hotel, 28 miles east of Ponta Delgada, is geared toward the area's restorative hot springs, which bubble up to the surface nearly everywhere you look in the village of Furnas. Those steamy, soothing waters are corralled into the hotel's indoor/outdoor spa and thermal pool. At breakfast, fresh Azorean pineapple and local cheeses elevate the usual morning routine. On the island's northern coast, 12 miles north of the capital, Santa Bárbara Eco Beach Resort sits a volcanic stone's throw from São Miguel's top beach and surf spot, Praia do Areal de Santa Bárbara. Several of the 30 stylish suites and villas offer studio decks emptying out into a climatized saltwater swimming pool.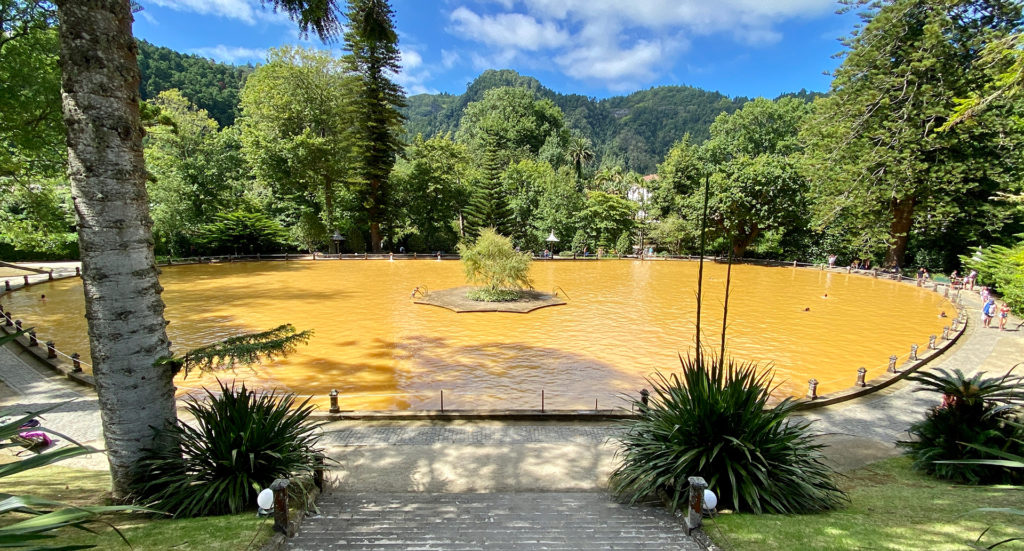 Explore
It's immediately evident flying into Ponta Delgada's João Paulo II Airport that the landscape offered up by the Azores is the stuff of legend: Rolling hills come in impossible assortments of green, only yielding either to deep and expansive, emerald-filled craters inland or jagged, dramatic cliffs spilling over into the sea around the island's edge. If you did nothing but rent a car and drove aimlessly, being wowed at the inevitable barrage of postcard-perfect lookouts (each more stupefying than the last), you'd reach travel enlightenment. To the east, the remote Miradouro da Ponta do Sessego awaits with its painstakingly landscaped gardens dispensed among cliff-hugging trails and terraces. But it's Miradouro da Boca da Inferno that – weather cooperating – feels most not of this earth. A scenic footpath often enveloped in fast-moving clouds leads to this lookout some 56 miles west of Ponta do Sessego. As the clouds open, the view of Sete Cidades crater, Rasa Lake, Santiago Lake and Sete Cidades village is nothing short of miraculous. Miradouro de Santa Iria, Miradouro da Lagoa de Fogo and Miradouro Pico do Ferro round out an exhaustive list to get you started.
However, there is more to São Miguel than viewpoints. Head to Terra Nostra Park in Furnas to take a dip in the island's famed thermal waters. Built in 1780, the golden-brown pool of warm gunk, slick with essential minerals, turns ducks and visitors alike orange due to its astounding iron content. At Augusto Arruda Pineapple Plantation, you can wander one of the world's most famous pineapple plantations – and walk away with a juicy souvenir of your own (as well as pineapple-laced liquors and jams). Or get out on the water with Picos de Aventura, whose whale watching trips led by local marine biologists turn up some astonishing encounters with sperm whales.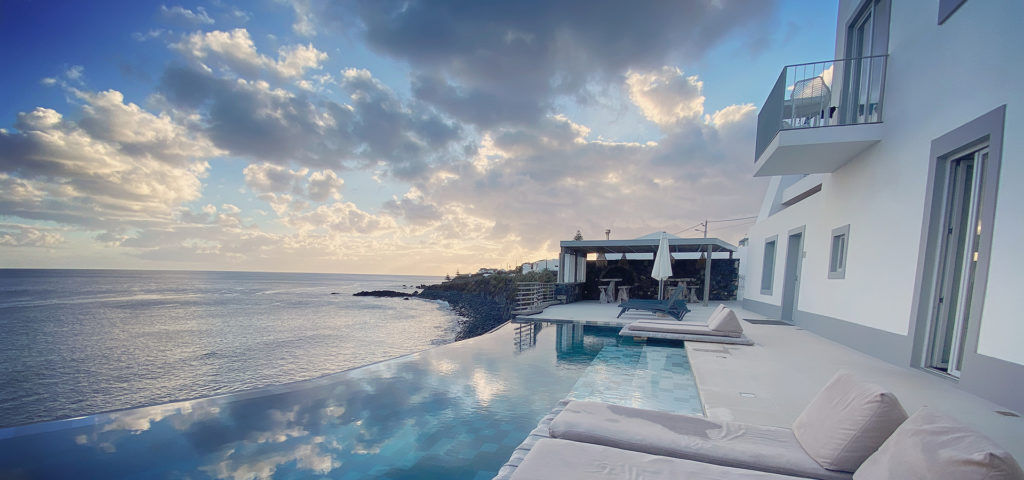 Dine
Azorean tuna is perhaps only second to Japan in its quality and freshness – for the gourmand's version, look no further than daily-changing menu at the farm-to-table Cardume restaurant inside White Exclusive Suites & Villas. Here Chef André Fragoeiro never makes the same dish twice, but tuna sashimi with ponzu sauce and fennel apple salad is an example of what might hit your plate between May and October. Chase it all down with volcanic wines from neighboring Pico island. At Bar Caloura in Água de Pau, you'll not only fight Azoreans for a table, you'll fight the wind and crashing waves as well. A simple seafooder at heart – perfectly grilled daily catch and outstanding octopus salad are the way to go. Ponta do Garajau in Ribeira Quente is a great spot to try grilled limpets, a local mollusk, served sizzling in butter, pepper, and garlic. And don't miss a sweet finale at Queijadas da Vila do Morgado, where missing the island's most famous custard cakes, a 16th century recipe originating with the nuns of Saint André's Convent, would be unforgivable.