Located by a lake in Ticino, the Italian section of Switzerland, and encircled by majestically sculpted mountains, Lugano is one of the most beautiful cities on earth.
I ease into the dolce vita at an outdoor table at the Grand Café Al Porto in this city of 63,000 to watch the world stroll by, my mind attempting to process that this is indeed the sunny side of Switzerland rather than a town across its nearby southern border with Italy.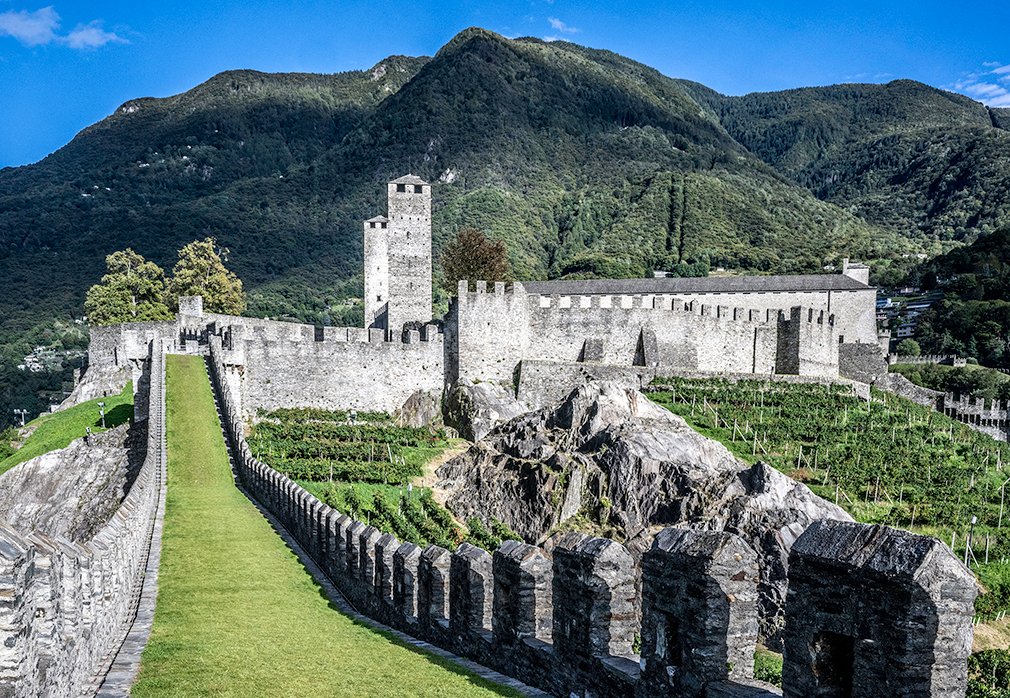 After a cappuccino and a Torta Amaretto I join Echo Trails for a day tour to gain a deeper understanding of Lugano and its environs. We start in its historic center then transfer to the outskirts of town for an hour walk on the Gandria Olive Trail Nature footpath to the village of Gandria. From this romantic oasis on the Lake Lugano shoreline we board a public boat and cruise to a risotto cooking class at San Rocco Grotto.
Our chef/instructor Jasmine sets us up with all the ingredients and tools to create risotto from scratch. She infuses us with confidence and a Ticino white merlot, checking our progress to insure that the three types of rice dishes our group is preparing are delicious successes. After a multicourse lunch which includes our self-proclaimed award-worthy risotto and both white and red merlot, we reboard the public boat and return to our respective hotels for well-deserved and much-needed sonnellini (siestas).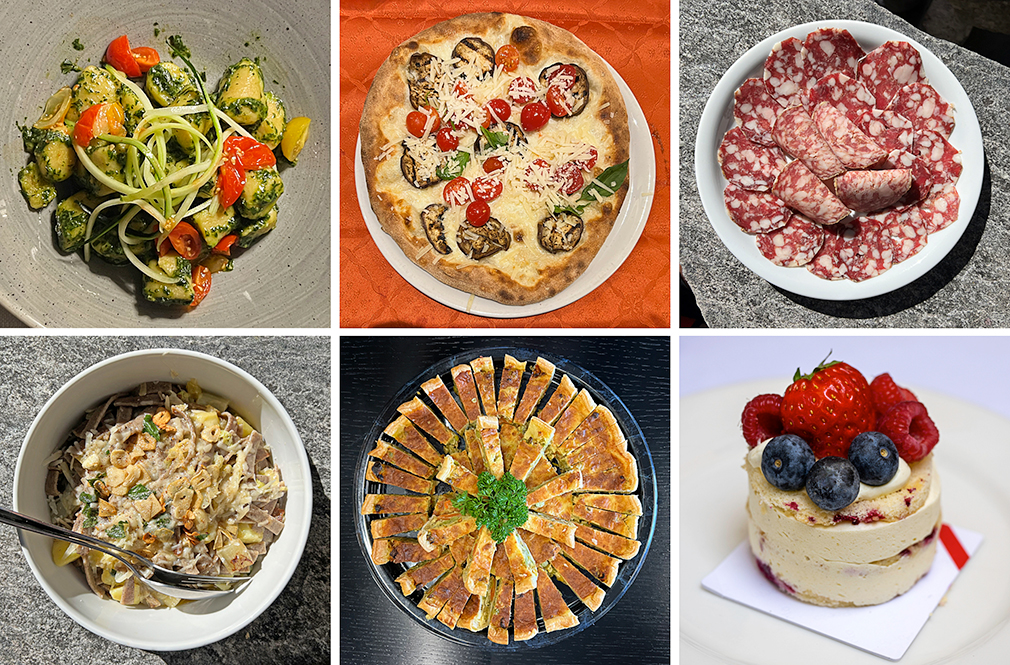 Fortunately, the upcoming days are filled with hiking, biking, climbing, canyoning (AKA canyoneering), canoeing and exploring the towns and villages of Ticino on foot so I should be able to keep pace with the heightened calorie intake.
Basing myself for the first few days at the three-star Hotel & SPA Internazionale across the street from the Bellinzona train station – a 19-minute train ride from Lugano – I explore the three medieval UNESCO World Heritage fortresses of Ticino's capital. Dinner at Castelgrande, is a great way to end a day of urban exploration.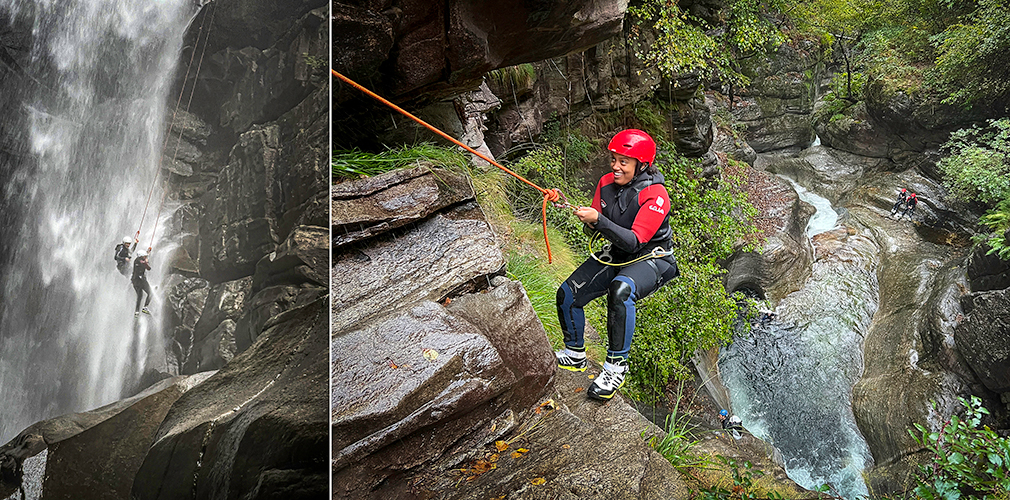 A 17-minute bus ride from Bellinzona to Cresciano Stazione delivers me to the doorstep of Swiss River Adventures, experts in the fine art of canyoning. After suiting up in wetsuits and harnesses our group heads to Iragna Gorge where water has carved out deep clear pools in granite rock, creating a natural playground with jumps and slides over 30 feet high. We hike up to the top of a 130-foot waterfall and are given rappelling lessons. For the dozen of us on this adventure, the word "daunting" might be an understatement, especially after we peer over the cliff that we need to descend to begin our downward journey. If anyone wants to experience mindfulness, this is the place and the way to do it. There is no room for the mind to wander, and if for some reason it somehow does, the power and frigid temperature of the towering waterfall we encounter during the final stage of the descent brings us back to the present in a hurry.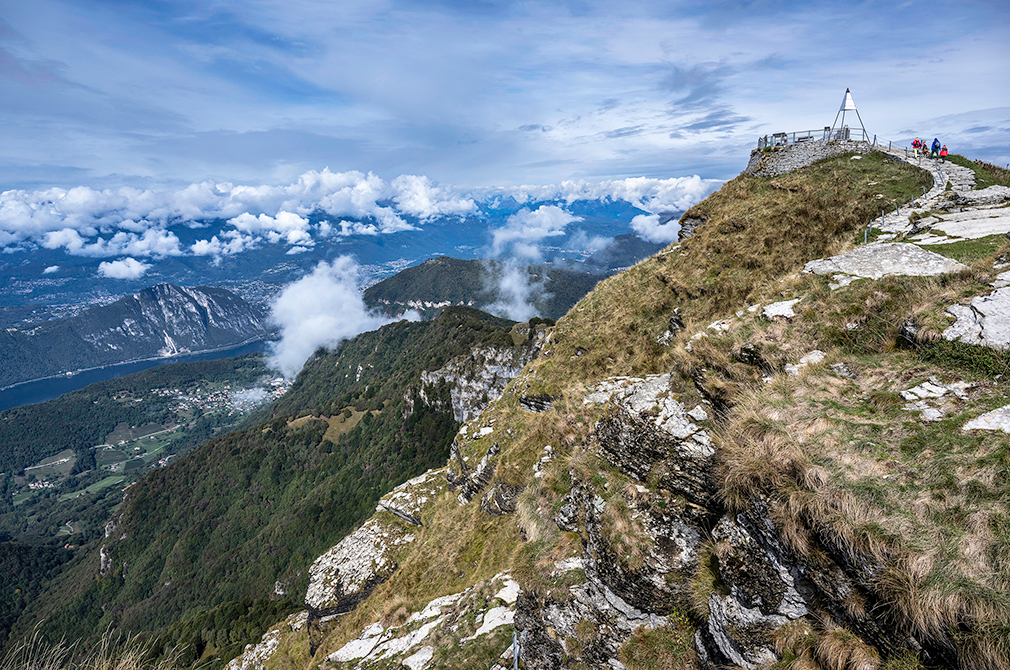 The next day brings the classic Swiss adventure, hiking. The country of eight million citizens has more than 40,000 miles of well-marked trails that crisscross and snake through their pristine, mostly mountainous, territory. It's time to suit up again for another day of adventure, this time in my The North Face ensemble including their Vectiv Fastpack Mid Futurelight boots. I also add my Black Diamond Distance FL trekking poles to my ThinkTank camera bag. I also don synthetic sports clothing since cotton kills, as I almost learned the hard way during a blizzard on an Everest basecamp trek. Quick wicking garments are the proper attire for being active to the point of sweating in cold conditions.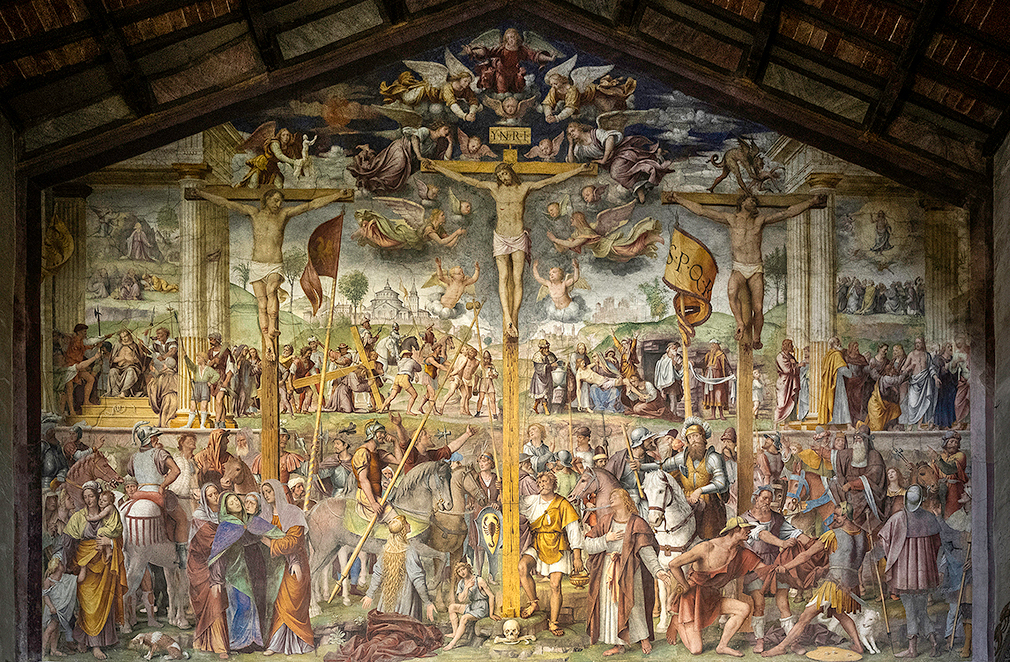 The first part of the ascent up one of Ticino's most famous peaks, Monte Generoso is no sweat, literally, since we do it by funicular from Capolago on a Eurotrek guided itinerary. We get off about two thirds of the way up to hike to our lunch at the "Fiore di pietra"(stone flower) by famed architect Mario Botta, built in the shadow of the summit.
After a successful summit attempt, our hike takes us along a mountain ridge straddling the Swiss/Italian boarder with magnificent panoramas of snow-covered peaks of the Valais and the lakes of Ticino and Italy. The trail descends into the Muggio Valley where we catch a public bus for a return to Lugano.
For those that are looking for a quicker way down Monte Generoso, tandem paragliding with experienced pilots is an option. One of the most popular can be found in Mendrisiotto.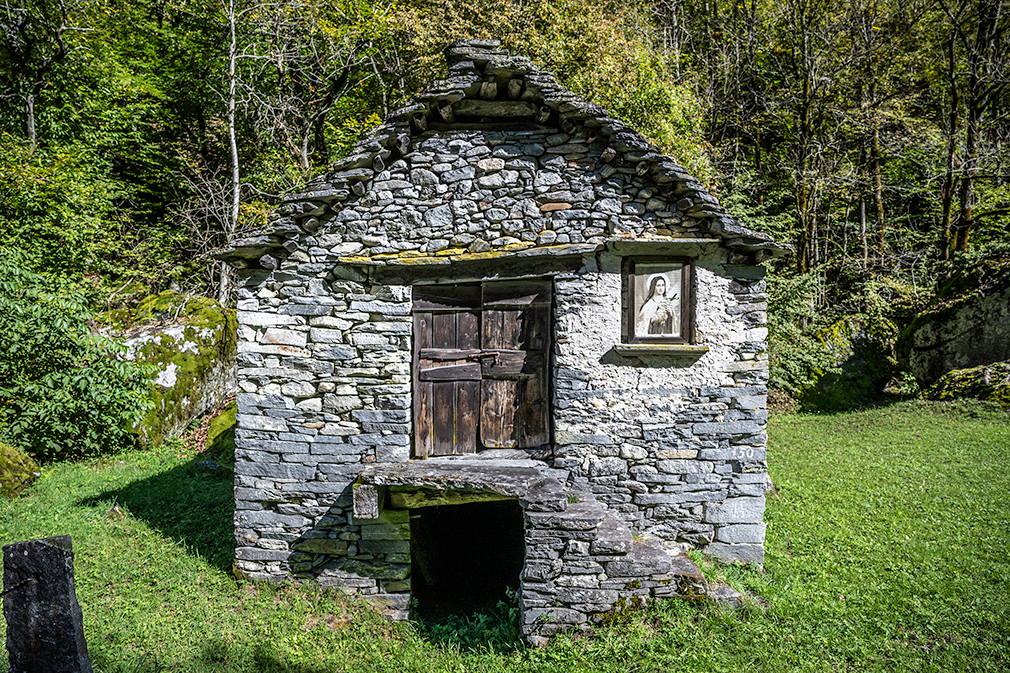 I prefer to keep my adventures on terra firma or water so for me, another day, another hike, this time through the unique landscape of the Bavona Valley with Alps and Beyond. The Bavona Valley is an integral part of the history and culture of the pastoral life of Ticino. Our hike through this "living museum" winds along a historic trail above the valley floor through chestnut forests and among 12 fairy-tailish stone hamlets called "terre" (lands).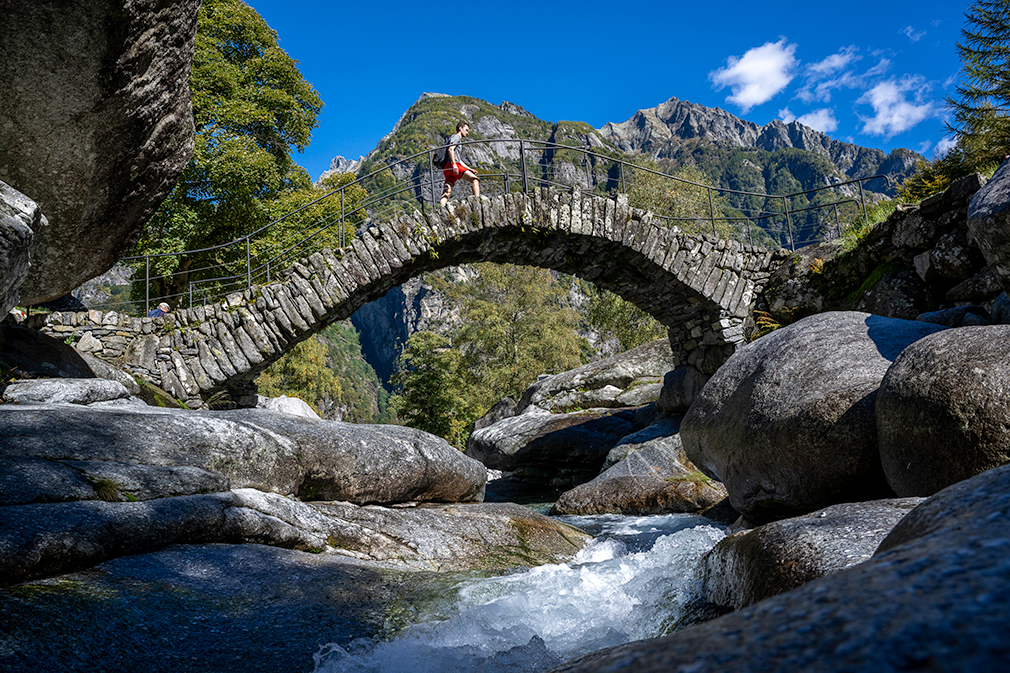 The most challenging part of our hike is up a trail to the top of Foroglio Waterfall where the water of the Calnegia River plunges to the valley floor. A well-deserved hearty, traditional lunch at a restaurant run by a local family near the base of the waterfall in the village of Foroglio awaits us upon descent.
Ticino is a well-known wine region and one definitely worth exploring. My method of transportation is by a bike rented at the Locarno train station. A tour and wine and vinegar tasting at Vini & Distillati Delea is well worth the pedaling to get there. Before returning my bike, I cruise around Locarno, a beautiful town famed for its annual film festival.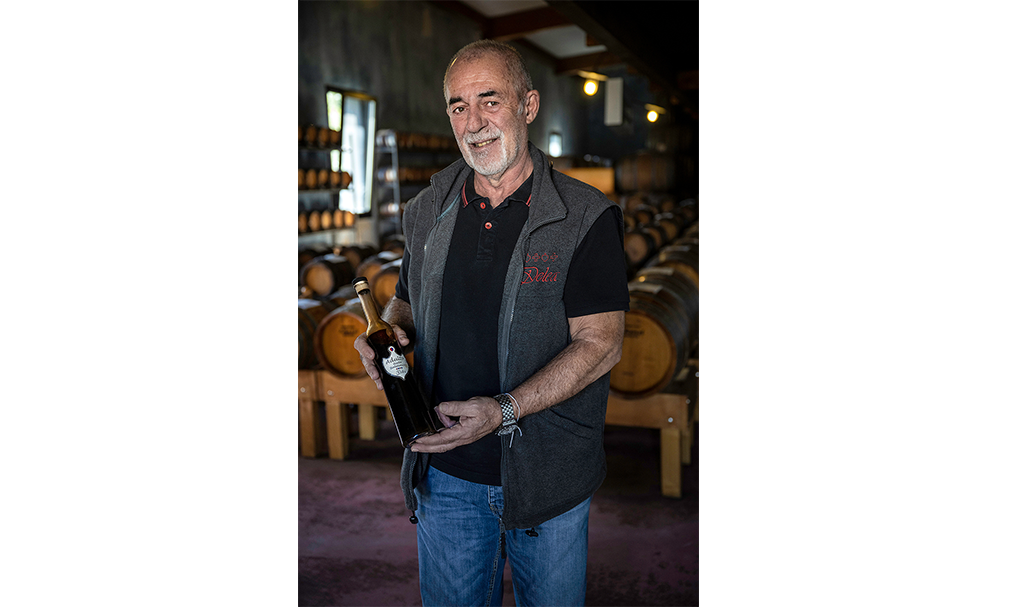 Following in the footsteps of James Bond is reserved for the very bravest among us. That includes bungee jumping off the Verzasca Dam on Lake Vogorno as a stunt-double did for the opening scene of the GoldenEye. My feeling is the same one I have when it comes to skydiving, "What's the point of jumping out of a perfectly good airplane?" I do admire the those who want to take the leap of faith and experience freefalling for 7.5 seconds down the face of Switzerland's fourth-highest dam.
Another of the seemingly countless adrenaline rush-filled adventure opportunities in the Ticino region is the challenging 820-foot San Salvatore via ferrata. This climb across the north-western flank of Monte San Salvatore includes overhangs and spectacular views of Lake Lugano.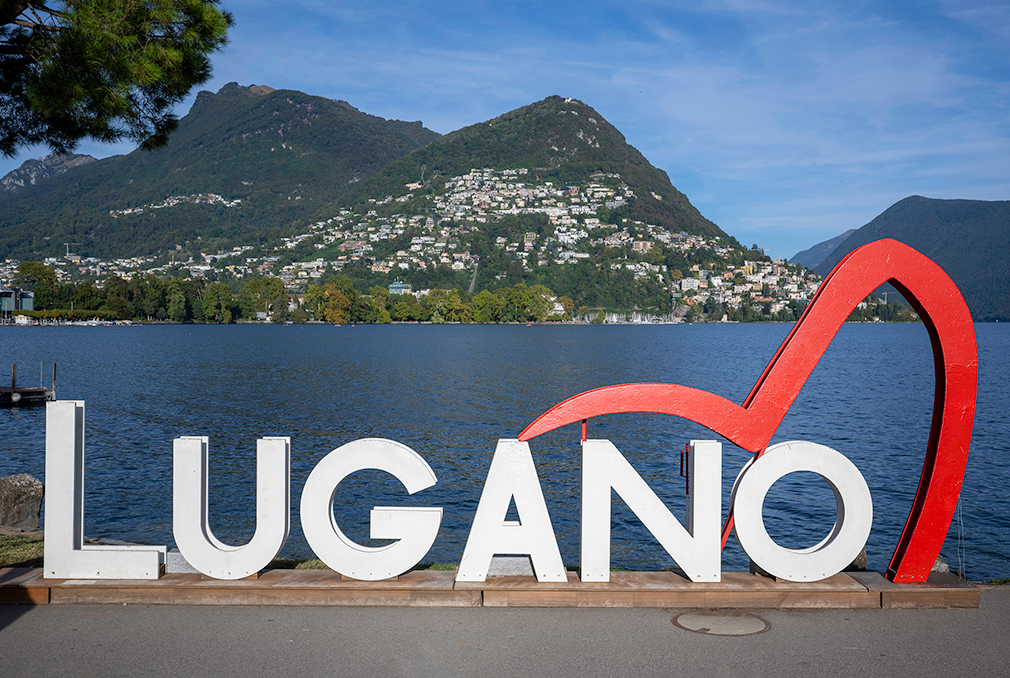 After five days of outdoor adventure, it's time to slip into my Hugo Boss ensemble for a few nights luxuriating at the magnificent five-star Hotel Castagnola in Lugano. This doesn't mean that the skies the limit when it comes to my expense account. A Swiss Travel Pass keeps me on budget, covering transportation throughout the country including my two-hour return to my point of entry/exit, Zurich Airport. After bathing in luxury (literally and figuratively) and experiencing the culinary and historic highlights of Lugano it's time to head home. But it's only arrivederci to Ticino for now, there are simply too many other opportunities in this magnificent Swiss canton to prematurely check it off the travel bucket list.