Mumbai (formerly Bombay) at first glance appears to be in a constant state of chaotic movement – where taxis, rickshaws and cows all compete for same space on the road – and with a population of over 18 million people, you wouldn't be wrong.
With exotic sights, sounds and smells enveloping every moment, it's an attack on the senses but in the best possible way. This city is also one of the friendliest, culturally rich and invigorating places on the planet.
We sifted through the overwhelming possibilities to highlight some of the top destinations, best bites and bars, unique shops and places to stay for a memorable journey of a lifetime.
RESTAURANTS

Worth the Rupees: Peshwari
Peshwari is Mumbai's version of New Delhi's Bukkara, the signature Northwest Frontier restaurant of ITC Hotels, and features the same astounding menu and dazzling décor. Located inside the ITC Maratha in Andheri East (next to the international airport), it's a culinary journey through the succulent wonders of Northern Indian cuisine, including a buttery black dhal simmered for 24 hours, a long list of mouthwatering kebabs (our favorite is the murgh malai – tandoori-grilled chicken marinated with a spicy cream-based mixture) and an insane raan, a slow-roasted lamb hock doused in a masala of all the good things (cumin seeds, coriander seeds, black mustard seeds, cardamom, cinnamon, cracked black pepper, cloves, garlic – you get the idea). A meal for the memory books.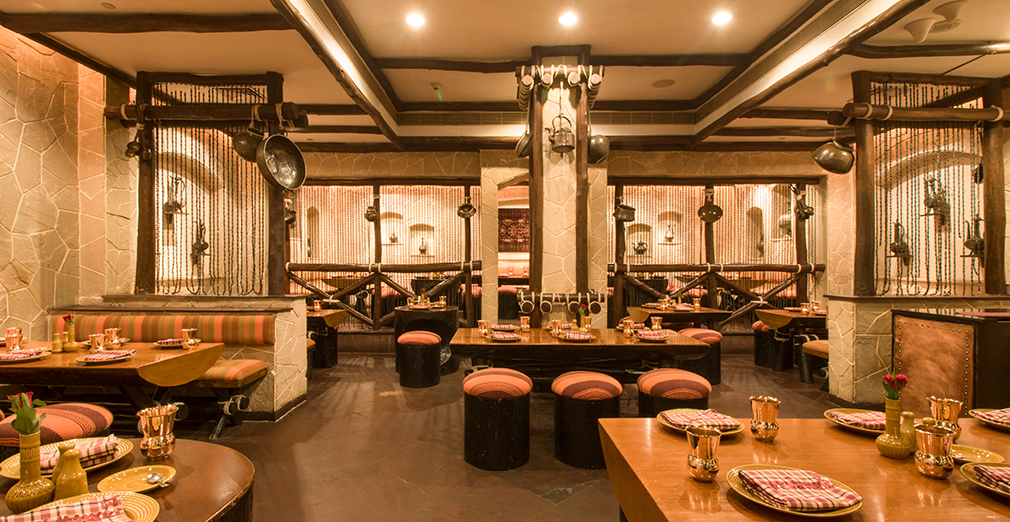 Best Street Food: Ashok Vada Pav
Street food is an institution in India and Mumbai is no exception. Picking one spot in the city is not only torturous but an exercise in futility. Be that as it may, hunger pains lead throngs to the most famous street stall for Mumbai's most famous street snack: Vada Pav. As is often in the case in India, Ashok Vada Pav doesn't look like much – hell, you'd walk right past it without so much as a glance were it not for the lines of people – but the deep-fried mashed potato patty served on a soft bun with spicy green chilies and various sweet and spicy chutneys defines Mumbai-street gastronomy. Hurry up and wait on Kashinath Dhuru Marg in Dadar (near Kriti College), a 30-minute commuter train ride north from CSTM.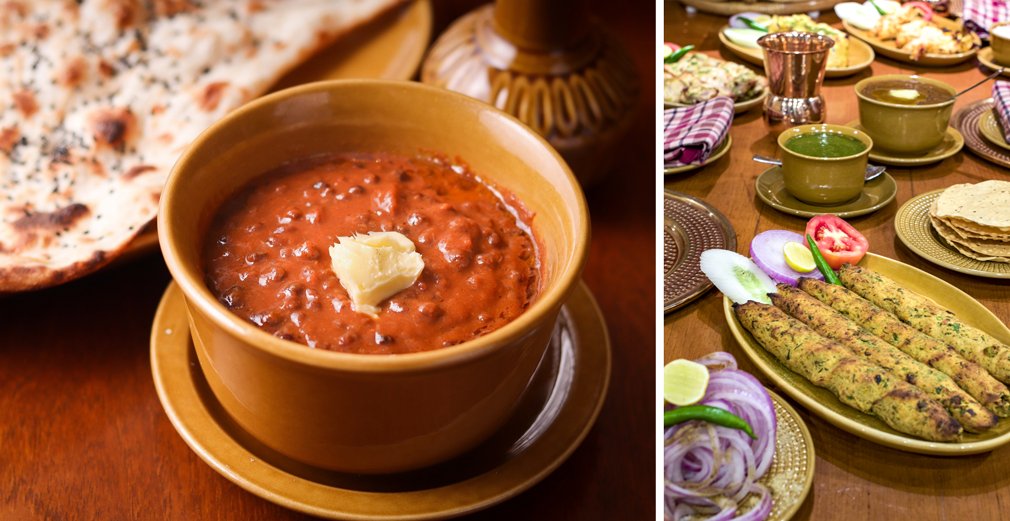 This South Indian institution is tucked away discreetly in Juhu's baby blue Anand Hotel a few hundred meters back from the beach. Inside, delicacies of the South (dosas, idli, uttapam) doused in impossible fresh chutneys are peddled by brightly-sareed waitresses and waiters donning sarongs known as lungis. For those who like it hot, the house 'gunpowder' spice mix kicks the molagapudi idli into fiery high gear; and the dosas (a crepe-like flat bread made with a fermented batter from lentils and rice, stuffed with potatoes and spices) are some of the city's best. No meal here is complete without a starting off with the fantastic rasam (tomato soup with spices and tamarind) and finishing with excellent South Indian-style filtered coffee.
Old School North Indian Perfection: Khyber
Khyber was the first meal this journalist ever had in India – way back in 1999 – and, in over a dozen trips back since, is the one restaurant that under no circumstances can be skipped. From the Mughal-heavy frontier ambiance to a litany of succulent, meat-heavy kebabs, rich curries and tandoori favorites, Khyber takes patrons on a quintessential North Indian culinary journey. Anything doused in the restaurant's signature red masala will floor you, leaving a taste in your mouth that you'll still be thinking about a decade down the road. Chicken Kadai (sauteed with cumin, coriander and red masala) is a favorite, but there's no wrong turn on this marvelous menu.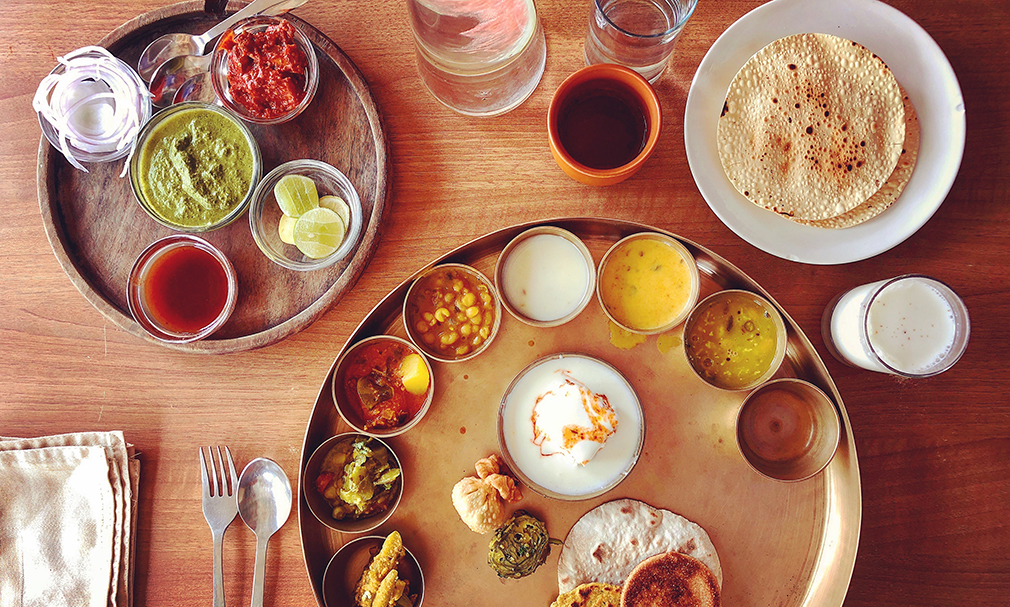 Nothing can really prepare you for the culinary onslaught that is one's inaugural thali and there's no better spot to be initiated than divey Shree Thakkar Bhojanalay in Marine Lines. Thali is the Hindu word for plate and this set meal is at once completely simple and astoundingly complex. In a nutshell, a round platter hosts a cornucopia of dishes and condiments served in small bowls that sit around the platter. You'll get five or so daily-changing vegetable curries (Shree Thakkar Bhojanalay specializes in Gujarati/Rajasthani thalis) along with a host of farsans (bite-sized snacks), choice of bread (roti, puri, several other kinds of paranthas and so on) and numerous sauces and chutneys, all of which are bottomless – as soon as your bowl is empty, deft servers swoop in with refills. It's totally overwhelming in the most glories of ways.
BARS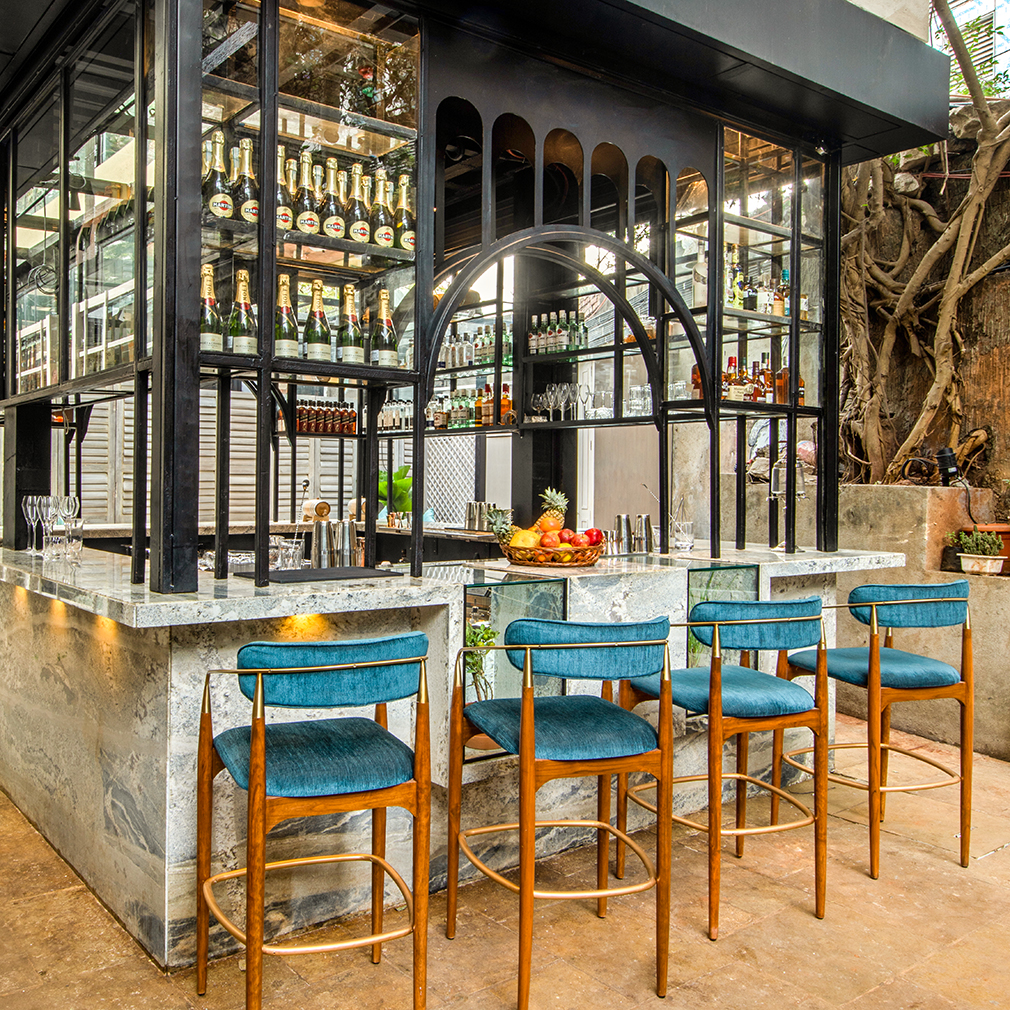 Cocktail Haven: PCO
Mumbai's latest hotspot, PCO (Pass Code Only), requires a code for entrance. The signless entry in the hip Lower Parel hood is marked by little more than an unassuming wooden door with a keypad (call +91 99200-55588 for the goods). Once seated in this New Delhi transplant, you'll have checked Mumbai's urban grit at the door, embracing instead a speakeasy-esque world of Prohibition-era mixology and Indian twists on classic cocktails served from a beautiful Art Deco-inspired bar (Mumbai's only dedicated cocktail bar). A Negroni, for example, is juiced with the addition of fragrant, sous vide-infused pandan leaves and coconut oil, a gin and tonic sees the addition of saffron, turmeric and sage; and so on. PCO's jazzy soundtrack welcomely bucks the unfortunate Mumbai soundtrack trend of brash, thumping house or Bollywood dance numbers; and small-bite ceviches, tapas, bao and dim sum make it a spot to call it a night.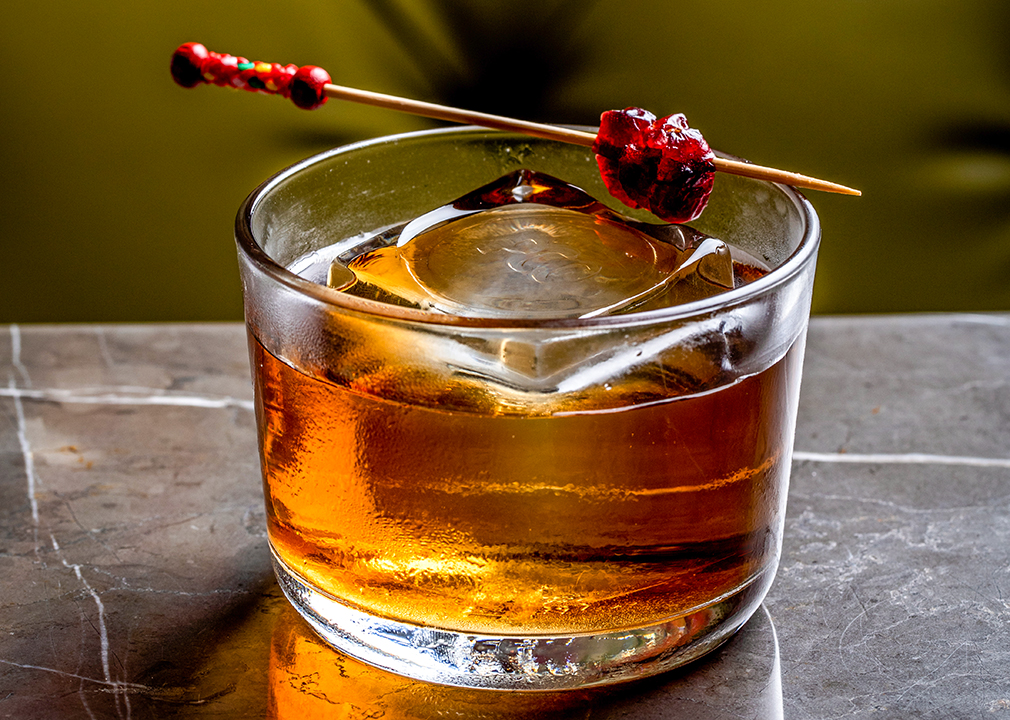 Best Neighborhood Bar: Social
This hip Mumbai chain teeter-totters between a collaborative co-working space and a dependable restaurant/bar/nightlife entertainment destination. With locations in many of Mumbai's trendiest hoods (Colaba, Khar, Lower Parel, Bandra Kurla Complex, Andheri West and Carter Road), among others, it's never far away, be it for excellent Parsi-style egg dishes for breakfast, a poutine or Punjabi lunch or imaginative cocktails as the sun winds down. Expectedly, it draws a beautiful crowd of creatives, freelancers and other self-employed gurus during the day; plus, a festive party crowd as the evenings wear on. Each location is different, but the general ethos is stabilized across the city.
Before there were buzzwords like "industrial chic" and before every out of business automobile repair shop was converted into a hipsterized restaurant, craft beer bar or millennial coffeehouse, there was Toto's Garage in Bandra. It's a no frills, heavily soundtracked, motors-themed bar running on cold beer and nostalgia. It has survived a government razing of illegal building extensions in 2017 and is the kind of dive bar where you are as likely to sip a beer under a suspended VW bug next to a chai wallah (teamaker) as you are a mid-level Bollywood star.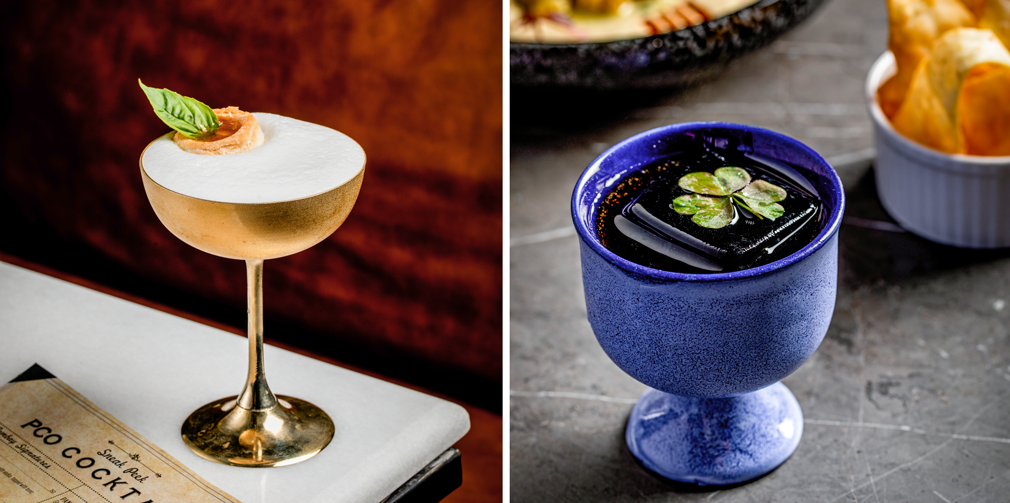 Best View with a Drink: Aer
Mumbai is massive and there's few rooftops to rival this chic open-air bar atop the Four Seasons Hotel Mumbai. From this vantage point in Upper Worli, the entire spectacle is laid out before you, including the sea, the sunsets and the skyline views. Cocktails like the O'Eight (Ketel One Vodka, watermelon, basil, acid, watermelon foam) and All About Pineapple (pineapple-infused Tanqueray, pickled pineapple brine, lime) refreshingly ward off the Mumbai meltdown (heat rises, remember?); and DJ's spin a smooth soundtrack of house and lounge that just about drowns out the noise 34 stories below.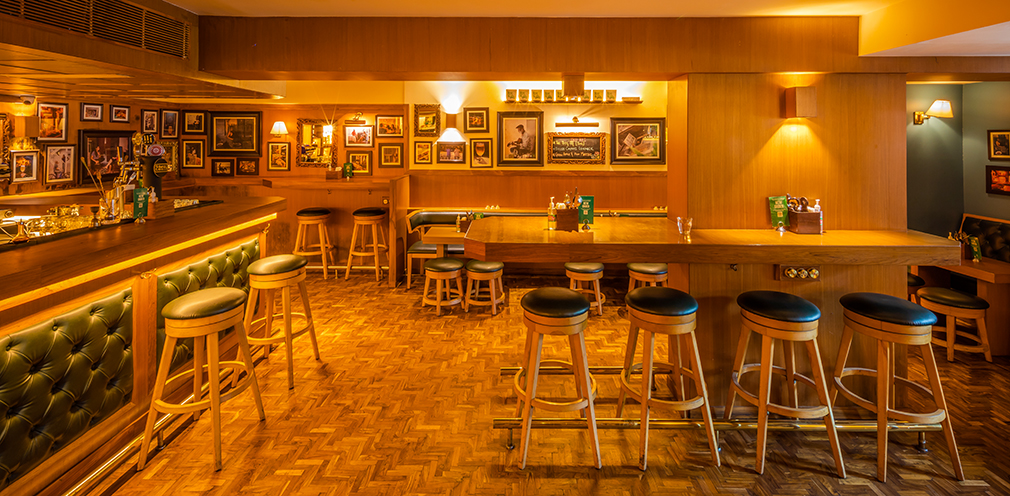 Woodside Inn, a longstanding gastropub icon with three locations in Mumbai, was the city's first outlet to offer options beyond Kingfisher and Haywards 5000 in 2014. The latest location in Bandra – opened during the Pandemic, no less – doubles down on its craft devotion with 19 taps from some of Maharashtra's best breweries: Gateway, Bombay Duck and 2 Down from Mumbai; and Great State Aleworks from Pune. Settle in upstairs, where the open space and ceiling recall the great beer halls of Munich – and drown out the chaos outside in a sea of beer and burgers (try the Bandra Bugger – pepperoni, smoked sausage, pickled Goan chorizo, pork shoulder, Gouda cheese and plum compote).
HOTELS/PLACES TO STAY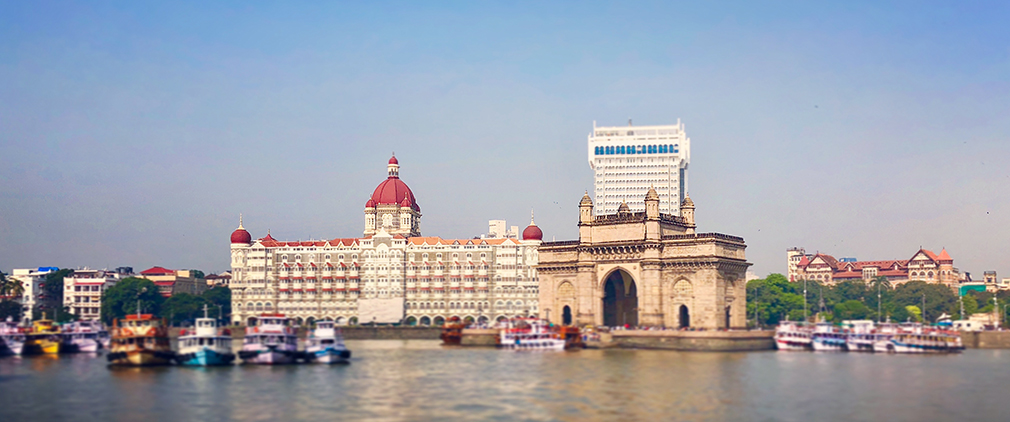 There is no hotel in India more iconic than The Taj Mahal Palace, Mumbai, which stands on the edge of the Arabian Sea alongside the grand Gateway of India, together forming a monumental entrance to the Indian Subcontinent. Constructed in 1903 as a giant luxurious "F-U!" by Parsi industrialist JN Tata after he was refused service elsewhere, this palatial hotel blends a dreamy juxtaposition of Islamic and Renaissance architectural styles, unrelenting 5-star service and incredible food and drink. Today, it stands as much a cultural icon of India as a place to sleep: It was the first hotel in the country to employ women and the first to have electricity; it has survived independence struggles and one of the worst terrorist attacks in Indian history in 2008. It cannot be fallen.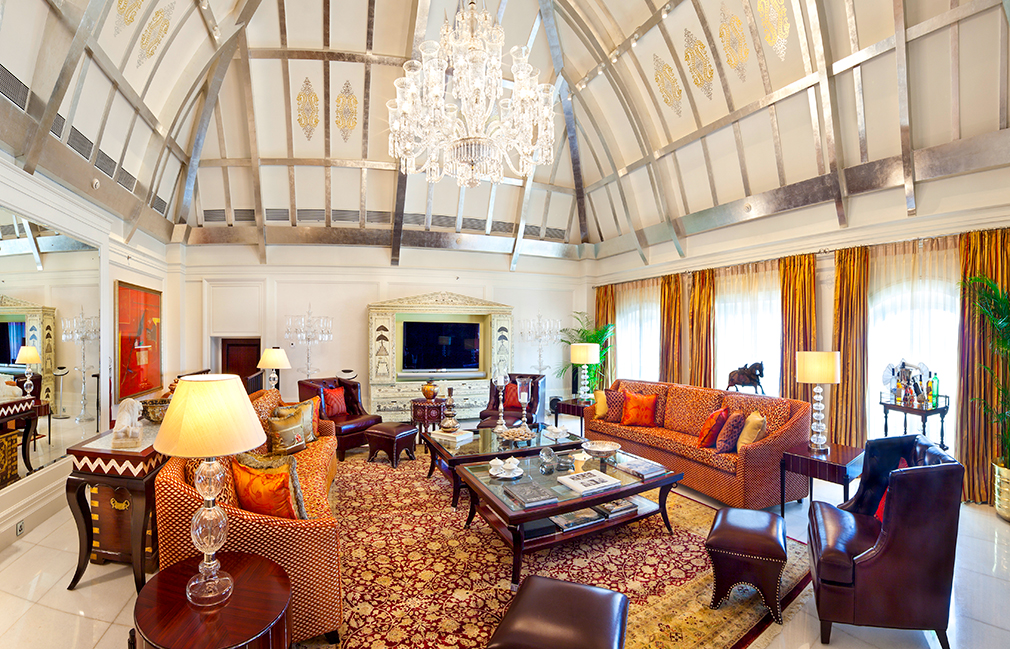 If you don't want to drop fistfuls of rupees on over-the-top five-star luxury but you still want to be wowed with art, design and service, Abode Bombay is a perfect boutique retreat in otherwise chaotic Colaba. Colonial-style and Art Deco furniture pervades throughout the reclaimed teak-floored common areas and individual designed rooms. The freestanding bathtubs are a rare find and do wonders wash away the silt after a day of Indian sightseeing. Breakfast is curated to guest's tastes without straying too far from local roots and service feels bespoke. With just a handful of rooms, it feels more like an exquisitely-designed private villa than a hotel.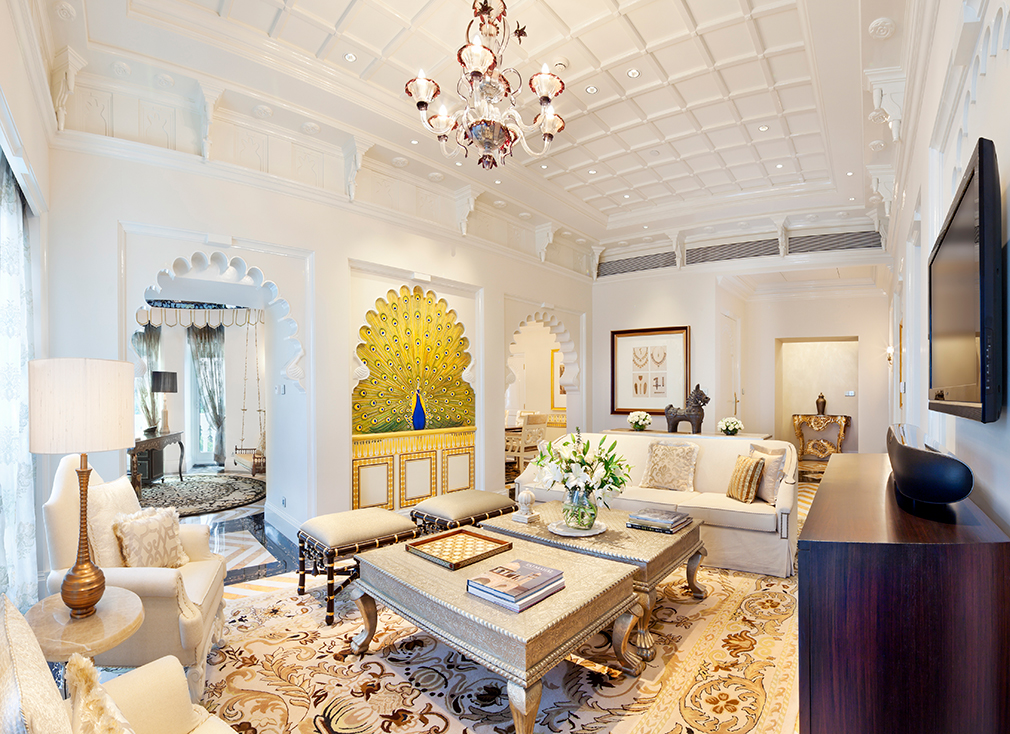 A Mumbai midrange standby, this extremely well-located home away from home is everything you want in a hotel: A friendly staff, a clean and comfortable room and no surprises. Hotel Residency has been at it for years, in many cases with the exact same staff. And they will remember you if you are a returning guest! Factoring in all the bullet points (location, comfort, price, service, hospitality), you'd be hard-pressed to find a better midrange option in the city. There's no Ayurveda massages or butler service here – amenities don't reach far beyond daily limeaid in the lobby – but it will never let you down.
Long before Mumbai had any hostels or budget accommodations of any kind that weren't downright shady, this longstanding budget staple towing the line between the wildly touristy Colaba district and the trendier Fort area served up basic rooms for incredible value. Though the front desk is disproportionally strict about check-in times and other procedures, the rooms are clean, sizable and well-maintained, with desks, wardrobes and multichannel TVs. But it's the included amenities – buffet breakfast, dinner, a daily newspaper and bed tea – that are rarely seen at this price point. It feels like stealing.
PLACES TO SHOP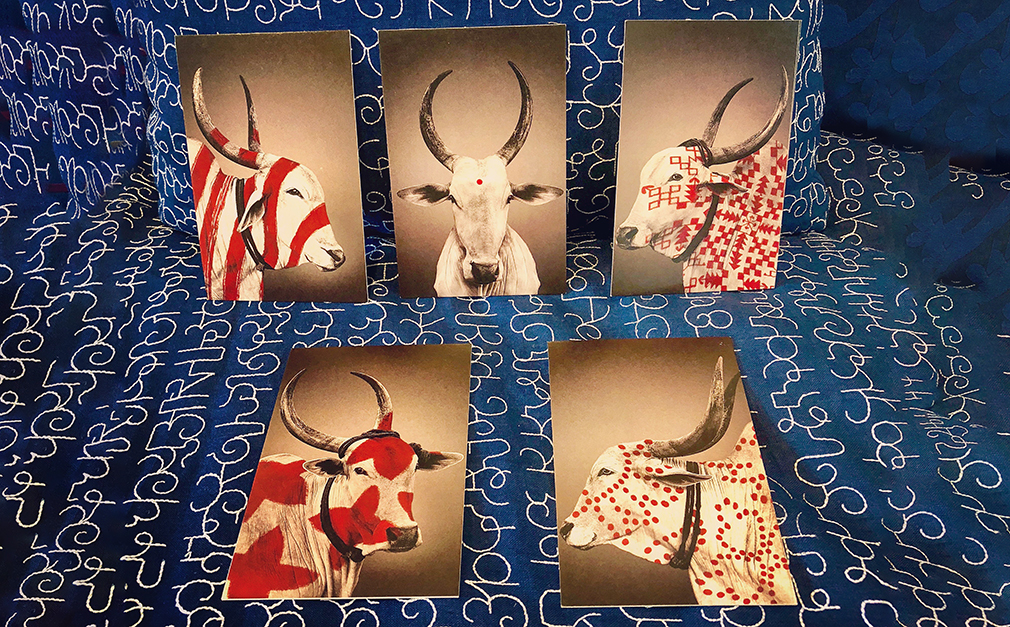 Best for Home Decor: No-Mad
Finding this fantastic and sizzling-hot newcomer feels like an adventure. You'll need to venture into the chaotic layers of Mangaldas Market near Chowpatty Beach and, if successful, a home interior haven awaits. Shopping here means you can fill your home with all manner of delightful India-inspired items nobody else will have: Pillow covers, tablecloths, bed linens, copper serving trays and other stylish and colorful items. A bigger showroom that will be far less of an adventure to find is coming to Oak Ln in trendy Kala Ghoda in late 2022; until then, like most things in India, the chaos leads to calm.
Consciously crafted, customizable made-to-order dress shirts are the Bombay Shirt Company's pav and ghee (bread and butter; come on, folks!), coming in both Western and Indian-style collar options and a bevy of styles and colors. With five shops in Mumbai (and more around India and the world, including New York), the brand quickly made a name for itself in 2012, when it began as an e-commerce platform. Once physical stores appeared in Mumbai, it didn't take long for the extremely friendly, amazingly efficient and, best of all, applause-worthy affordability of BSC to begin crowd-pleasing the masses faster than a Bollywood sex scene. It's a fantastic stop for a bespoke wardrobe (T-shirts, denim and chinos are also available) for a fraction of the Western price.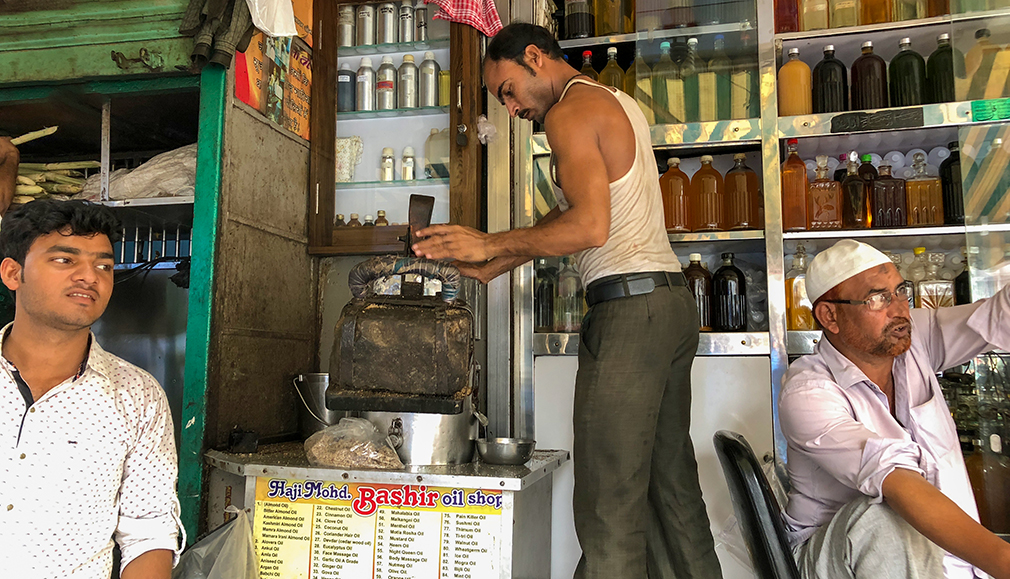 Best for Essential Oils: Haji Mohammad Bashir Oil Shop
This incredible, near-century-old traditional oil shop in bustling Bhuleshwar is everything that's mesmerizing about India. While the rest of the world bottles their essentials oils in fancy packaging and sells them at elevated prices at Whole Foods and the like, this old school stall hand-presses its medicinal, cooking and massage oils on the spot with a sesame wood and metal press. It's worth paying a visit just to watch them work. Every essential oil known to man is on the menu (coconut, turmeric, rose, avocado, sandalwood, neem, tulsi, almond, jojoba, cardamom and about 75 others), which are bottled in everything from travel-friendly 100ml bottles to leftover soda bottles; and sold shockingly cheap. It's opposite the Pydhonie Police Station and next to the Hamidiyah Masjid (mosque) in a very busy part of the city.
Best for Vintage Bollywood Posters: Poster Stuff
Hectic Chor Bazaar is home to this treasure trove of vintage Bollywood movie posters. Culled from a collection that began with the owner's grandfather, the posters, lobby cards and show cards date to the 1930s (originals and reprints) and plaster every inch of available real estate in the tiny Mutton Street space. Perusing the stacks is both soothing and therapeutic for lovers of the Bollywood of yore; for others, it offers piles and piles of unique souvenirs that will give your place back home a bit of flair!
Best for Scissors: M/S KN Ajani
You read that right! One of my most cherished items acquired abroad is a pair of scissors from this century-old stall inside the textile-heavy Swadeshi Market.Paresh, grandson of the 1918 founder, carries on the family tradition of hand-forged brass, carbon-steel and aluminum scissors (as well as nutcrackers, locks and knives). They cut like a dream and few things in life have satisfied me as much as buying a hand-operated shearing tool that comes with a story. It's the kind of shop that could likely only exist in this part of the world and, if it ever becomes extinct, the world will be worse off without it. You'll never buy at Staples again!
THINGS TO SEE & DO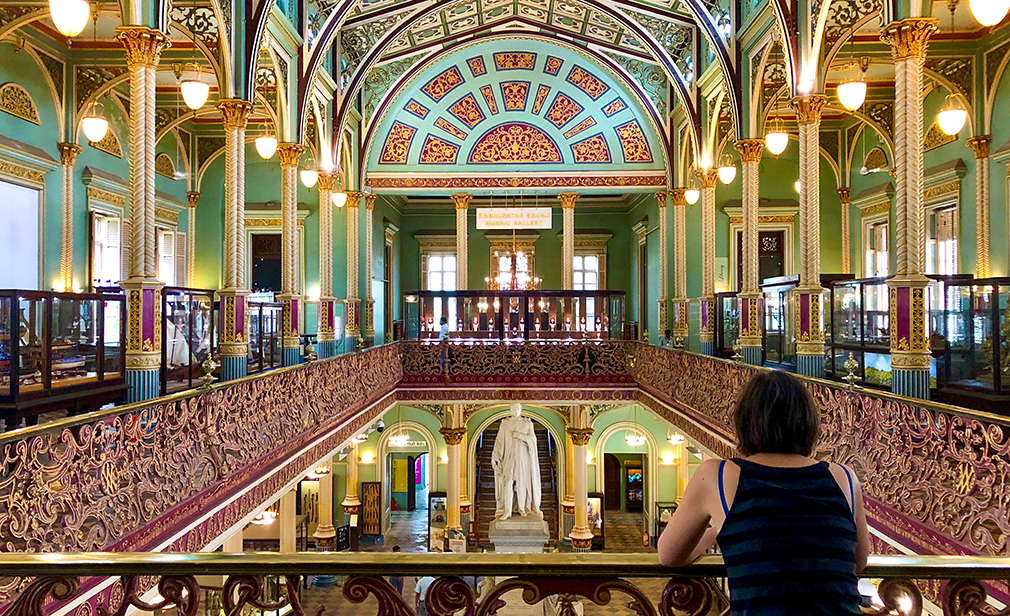 Most Stunning Museum:
The small and manageable Dr Bhau Daji Lad Mumbai City Museum isn't Mumbai's most comprehensive museum – those honors go to the rolls-right-off-the-tongue
Chhatrapati Shivaji Maharaj Vastu Sangrahalaya – but it sure is easy on the eyes. Immaculately restored, this Byculla Renaissance Revival style building's ornate ceiling steals the show from the excellently curated exhibit featuring 19th Century J.J School of Art paintings, photos from 18th Century Mumbai, bidriware (Bidar's metalwork,) weaponry, laquerware and other Mumbaiker artifacts. Corinthian columns and exquisite decorative-tiled floors round out the visual spectacle.
Undoubtedly one of the world's most beautiful buildings, the striking, UNESCO-listed Chhatrapati Shivaji Maharaj Terminus – otherwise known as Victoria Terminus – is a High Victorian Gothic masterpiece designed by British born architectural engineer Frederick William Stevens. Completed in 1888, the monumental train station harbors a potpourri of style-busting detail, including spires, turrets, domes and stained glass that run the gamut between Islamic, Hindu and Victorian origins. The beast of a building is emblematic of colonial-era India and today is the terminus of India's Central Railway, serving some three million passengers and commuters per day.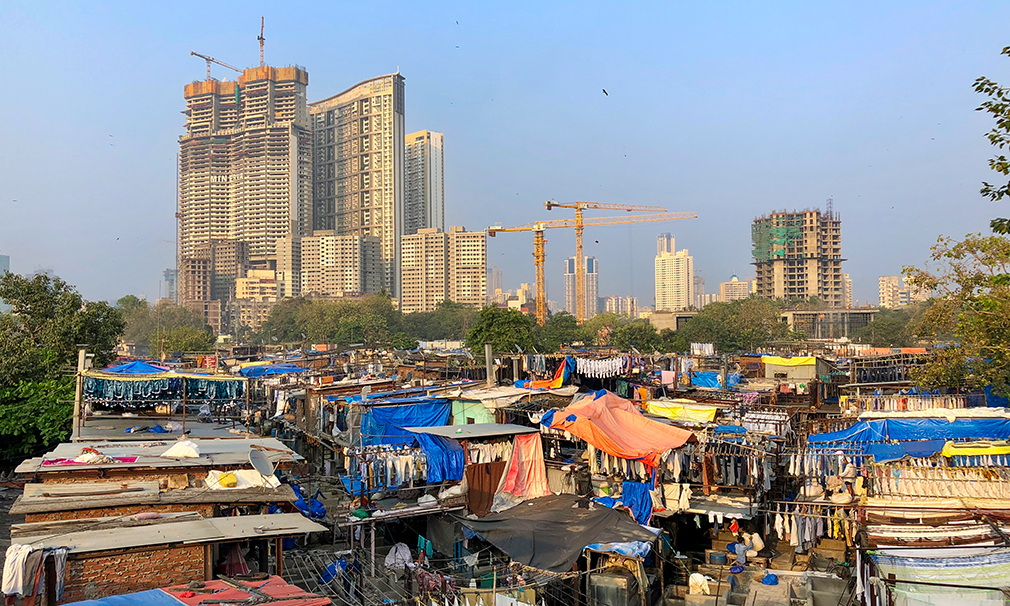 Most Unusual Site: Mahalaxmi Dhobi Ghat
If you've sent your laundry out for washing in Mumbai, it likely winds up at this highly unusual accidental attraction in Mahalaxmi, where the diesel and dust is hand-beaten out of soiled clothes by thousands of dhobiwallas (washerfolk). The work spreads across more than 1000 concrete troughs lined with colorful drying saris and pristine linens. Dhobi Ghat holds the world record for the largest number of people simultaneously hand-washing clothes at a single location. The best view of this astounding open-air laundry facility is from the bridge near Mahalaxmi station. In addition to an amazing photo op, the whole scene will leave you positively floored at the systematic precision of it all. How do you they keep track of it all? We will never know.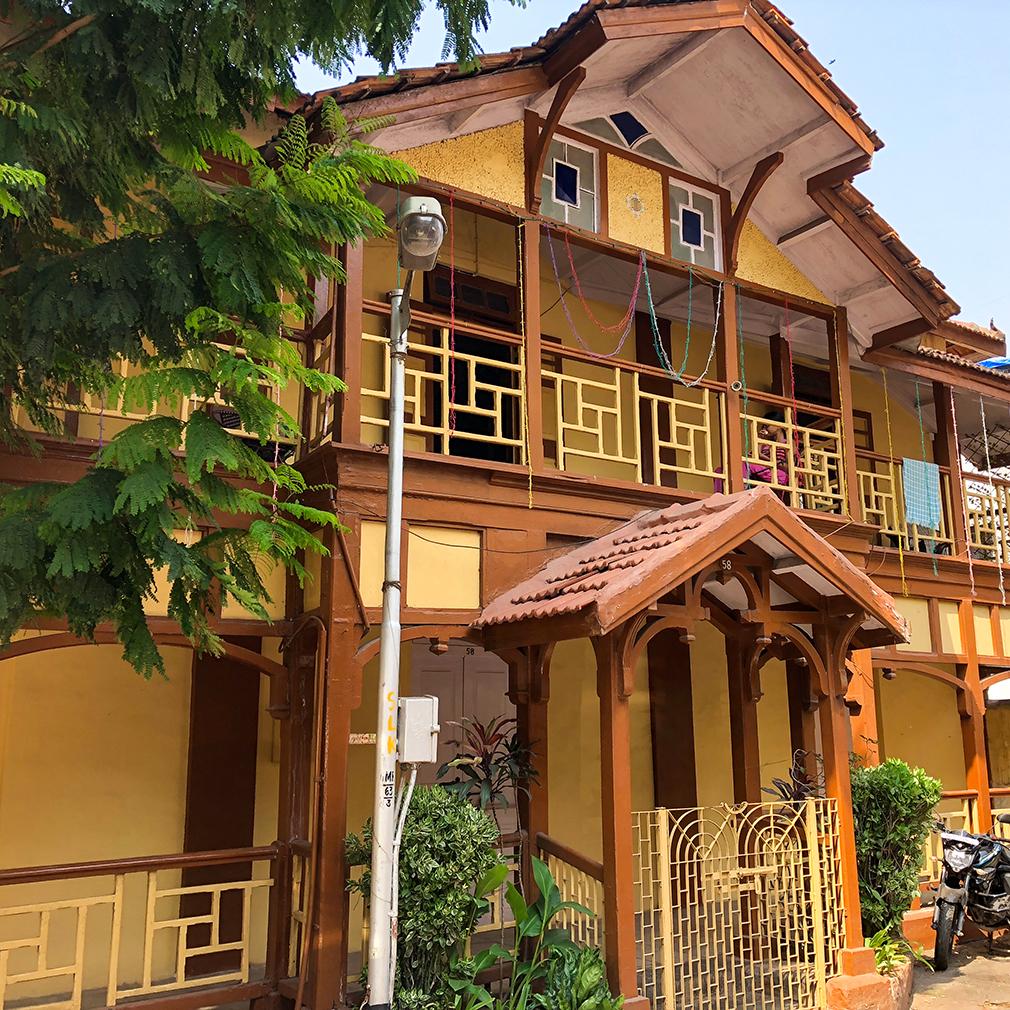 Best Hamlet: Khotachiwadi
This atmospheric heritage village in the middle of Mumbai is a wadi (hamlet) and has been holding on to all it holds dear for nearly 180 years as the metropolis encroached from all angles. It's chock-full of two-story Portuguese-style wooden mansions erected by the Christian minority, which is surrounded here by predominantly Hindi and Muslim neighborhoods. Characterized by winding lanes, colorful villas and the artistic prowess of its residents, including celebrated fashion designer James Ferreira, it makes for a wonderful wander in an otherwise incredibly hectic and noisy city. It's 500m northeast of Girgaum Chowpatty (it's hard to find but there's a faded Khotachiwadi wall stencil map that says 'Khotachiwadi Imaginaries' on the wall near the entrance on JSS Marg).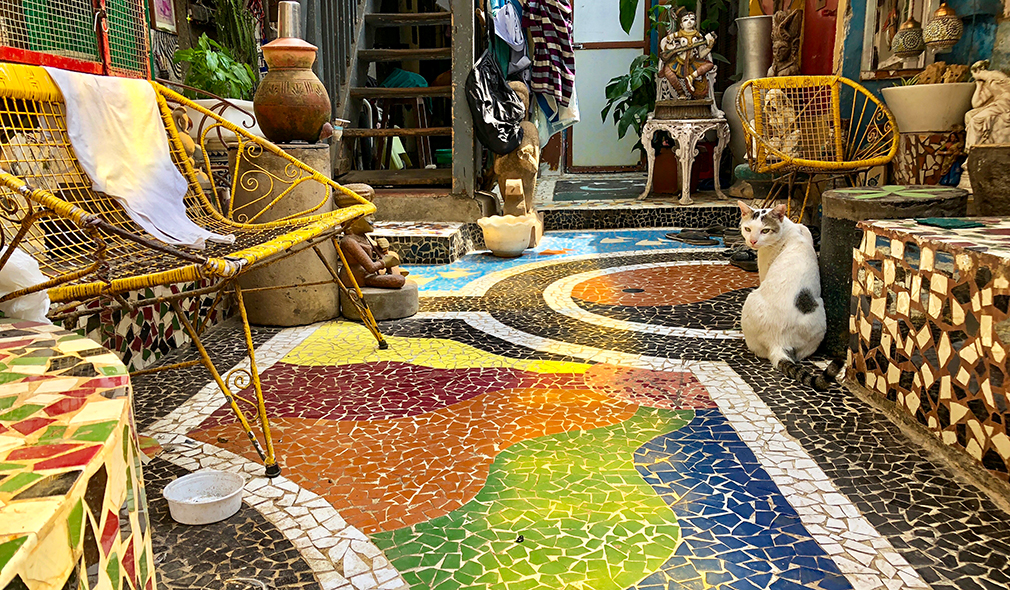 This massive Buddhist temple seemingly appears out of nowhere in Gorai Creek, its colossal 96m-high stupa (modeled on Myanmar's Shwedagon Pagoda) rising above the surrounding greenery like a golden rocket ship set to launch. Constructed using an ancient technique of interlocking stones, it soars above the meditation hall, which holds 8000 Vipassana meditators – the largest such hall in the world. Its northern Mumbai location marks the point where the concrete jungle actually gives way to more natural surrounds, so it's a peaceful venture out of the city and a startingly pleasant surprise on arrival.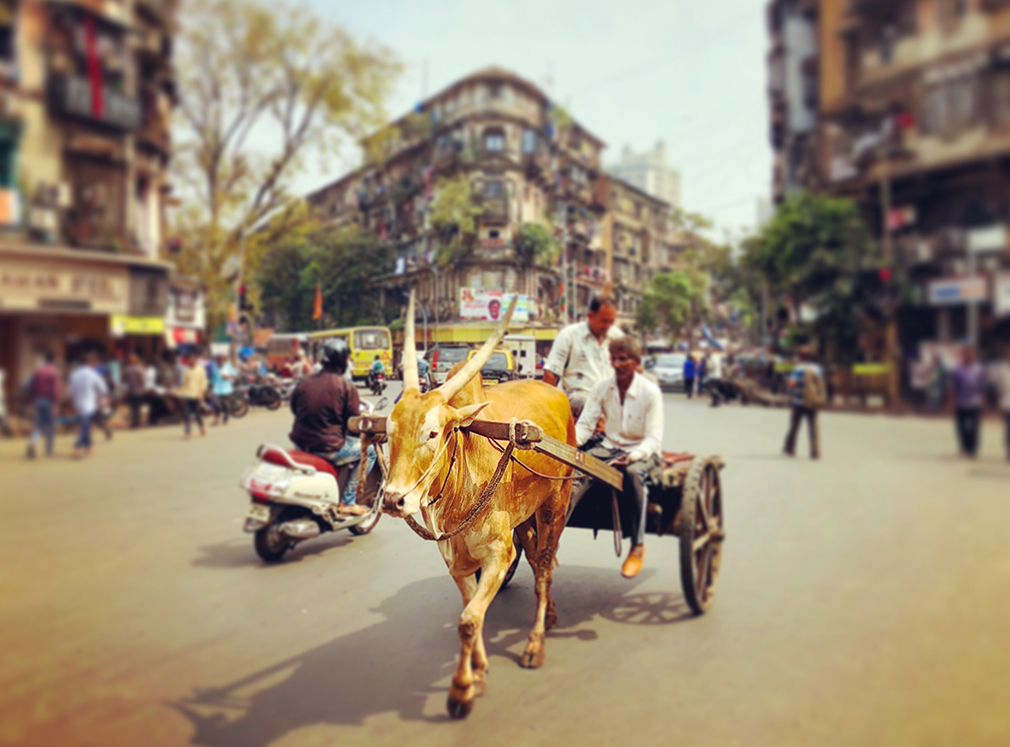 Spotify Playlist
1. "Yeh Hai Bombay Meri Jaan," Mohammed Rafi & Geeta Dutt (1956)
2. "Boombai Nagariya (Living in the City)," Bappi Lahiri (2006)
3. "Mumbhai," Javed Jaffrey (1998)
4. "Mumbai Salsa," Adnan Sami (2009)
5. "Bombay Theme," A.R. Rahman (1994)
6. "Mere Gully Mein," Divine featuring Naezy (2015)
7. "Deva Shree Ganesha," Ajay-Atul (2012)
8. "Pretty Child," Indus Creed (1993)
9. "Asli Hip Hop," BeatRAW, D-Cypher & Ranveer Singh (2019)
10. "Let's Go to Mumbai City," Adnam Sami & Jermaine Jackson (2009)
11. "Apna Time Aayega," Divine (2019)
12. "Jai Ho," A.R. Rahman (2013)