Charming, athletic and wholehearted, Hunter Jones grew up here in the South Bay. "I love the people, the community, the vibe," he shares. "It's my home."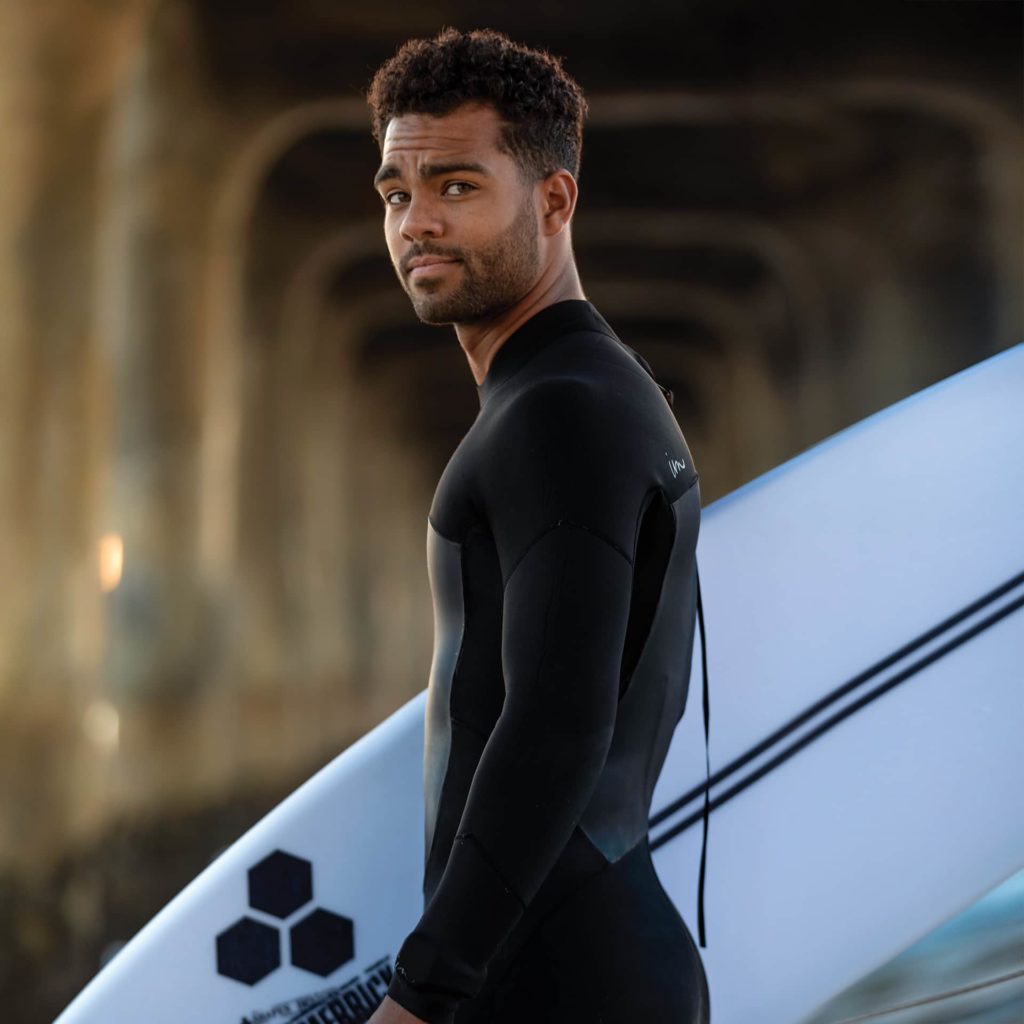 The pro surfer, filmmaker and creative whirlwind says he knew he was different when he was coming of age in the South Bay, but he never felt like he was different. "I am biracial, and I grew up as the only biracial kid of all of my friends," he shares. "I have a Caucasian mother and an African American father, so I have both sides in me."
He shares his thoughts on dealing with the current climate of our country. "I have never felt more Black in my life. That's not a bad thing. We've all gone through different things and had different life experiences. I have been in the water and felt like I may have been called out or targeted because of the color of my skin. But that's my experience, and how you deal with it is how you deal with it. I try to just love the people back and not fuel a fire that is totally unnecessary. I want to be an example. I want to be like the ocean. The ocean accepts all of us, regardless of the color of our skin, regardless of what we've done in the past, regardless of our social standings. It accepts everyone for who they are. I choose not to have anger or any animosity toward people, and I think this is how we will see change."
On Juneteenth this year, in the wake of George Floyd's tragic death, Hunter along with Selema Masekela, Ryan Harris and Danielle Black Lyons—all African American surfers like Hunter—launched 1 Planet One People—a platform for climate action and social equality. "Now more than ever, we all need to focus on loving and respecting each other as humans while simultaneously making a conscious effort to take care of the planet we live on," says Hunter of the collective. "We hope that this movement can inform individuals on the various issues we all face as people and act as a catalyst for change and unity."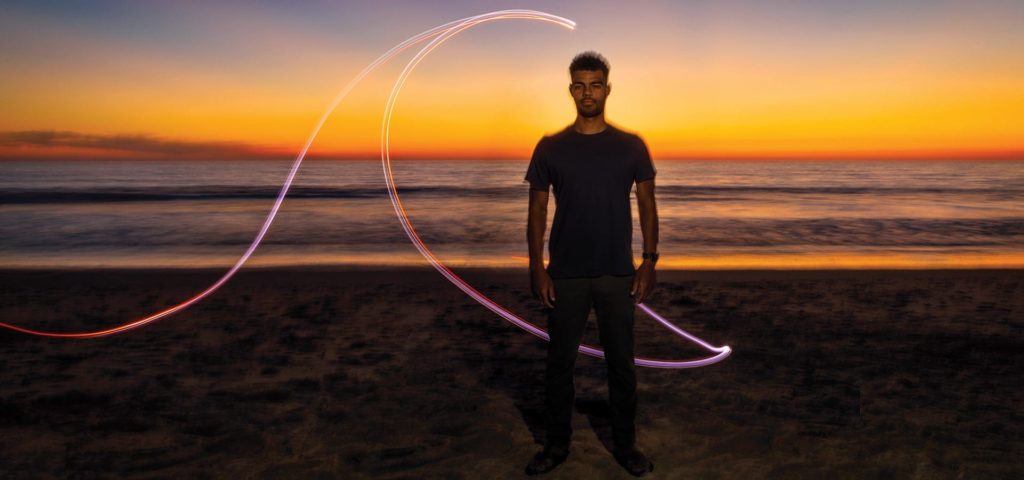 Hunter's journey to becoming a creative man of influence—both in his sport and in life—has its beginnings in the South Bay. His introduction to surfing began at age 10 when his best friend, Easton Jones, picked up the board. Hunter's and Easton's mothers grew up together—and coincidentally both married men with the last name Jones—so the two are often mistaken for brothers.
Easton's father, Rob Jones, whom Hunter endearingly calls Uncle Rob, took him to surf off 45th Street in El Porto. "I remember it vividly," he says. "He put me on a board, we paddled out, he pushed me into my first wave and I stood up. It was a feeling I had never felt before, and ever since that moment I have been trying to recreate that same feeling. That's what surfing is all about—chasing that feeling of standing up for the first time."
A lover of action sports, Hunter grew up as the eldest of three boys, participating in Junior Lifeguards and skating at all the local skate parks. As a boy, his dream was to be a professional skater, which made the transition from skating to surfing so seamless for him.
Hunter attended school at South Bay Faith Academy through Hope Chapel, which he describes as a very creative environment. He also had the enviable option of selecting surf as his school sport. His father, Prince, generously took Hunter to the beach to surf at 5 a.m. before he went to work. Hunter fell in love with the sport and lifestyle, looking up to many of the pro surfers who came out of the South Bay at the time, including Matt Pagan, Alex Grey and Dane Zaun. He wanted to do what they were doing.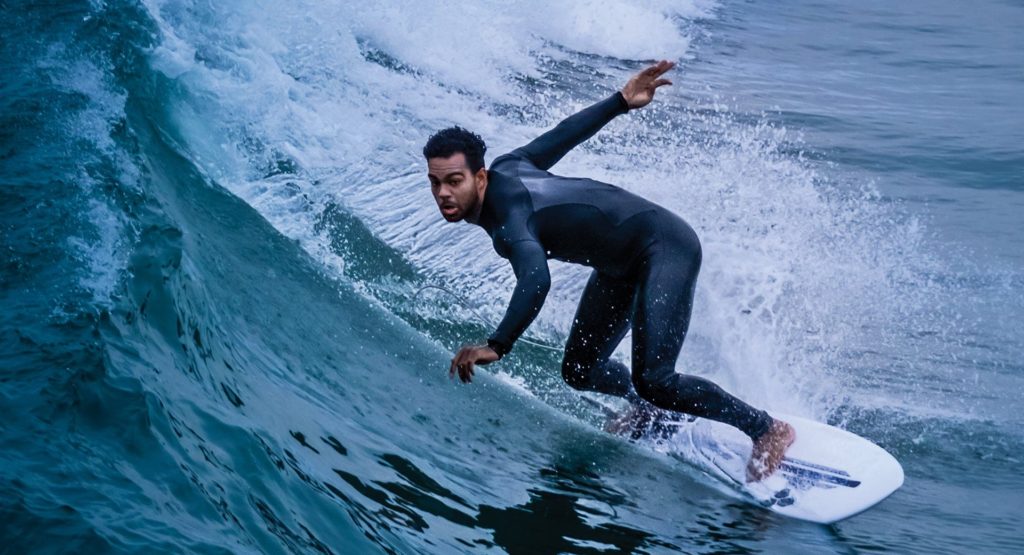 Hunter is a "free surfer," meaning he didn't compete on the professional surf tour but instead represented surf brands, like Body Glove, who recently brought him on board. Surfing opened up many opportunities for him, including giving him a chance to travel and see the world. Soon after school, he landed his dream job working for the World Surf League (WSL) running their social platforms and creating all of their global campaigns. The tour took him to Europe, South Africa and Central America.
"The rad thing about surfing is that you travel and go to all these exotic places, but when you get in the water it feels like home," he says. "You meet so many people through sharing a common bond with the ocean."
Although surfing remains his top priority, Hunter has also always been creative and interested in the arts. As a masterful storyteller with a visual inclination, he discovered video production as a natural fit. When they were kids, Hunter and his brothers made VHS videos in their backyard, taping a headphone onto the microphone to play a song while filming.
In addition to filming and editing, his creative pursuits include modeling, performing as a stunt double, production and directing. As a video editor and marketing specialist, he cut a series of global ads and digital shorts and also produced multiple viral social campaigns. His notable clients include Ridge Wallet, Wham-O, WSL, The Players Tribune, 686, Sanuk, GLORY Kickboxing, O'Neill, Imperial Motion, Takeya and JuneShine. Most recently, Hunter landed the role as a host for the WSL daily news show "Surf Breaks."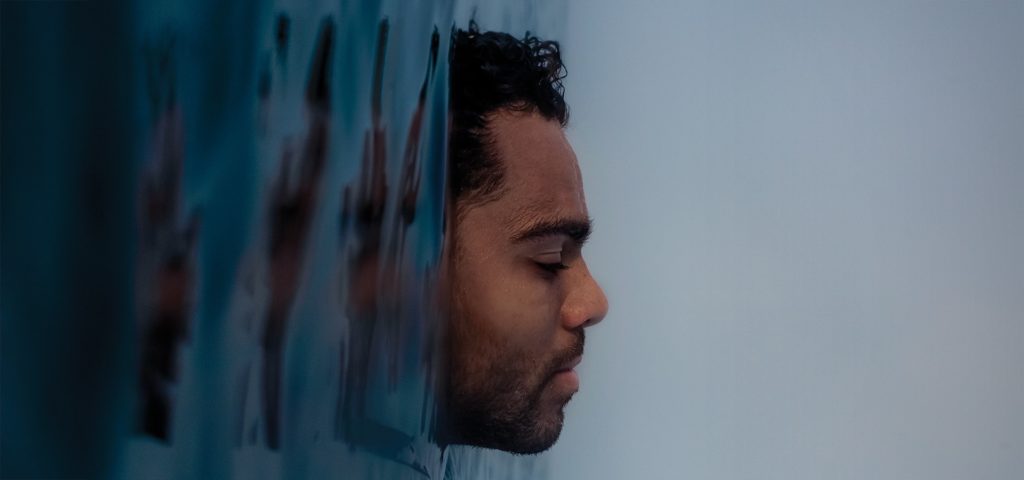 After working for WSL for two years and gaining valuable skills and experience in what it takes to run a company, Hunter decided it was time to pursue his own entrepreneurial goals. He started freelancing and creating videos for clients and brands within the surf industry.
Creativity runs in the family. His brothers Blake and Miles are both accomplished, signed music artists, and the trio looks for opportunities to work together. "My parents were always very supportive. They always told us to do what we love, pursue our passions and not let anything else get in the way," shares Hunter. "My dad would always say, 'You can do anything you put your mind to,' and that always stuck with me. I want to do the same for my future family. I am still doing the things today that made me happy when I was super young, and I have always stayed true to those passions."
While his new career requires plenty of hours outside the water, Hunter makes it a priority to connect with Mother Nature daily. "Every day is different, and it's a way to decompress and connect with nature—it's humbling," he says. "I finally feel like I am in a position that I have been working for my whole life. I want to continue to help make a difference and live this lifestyle for as long as I can."