TRAVEL DISH SPOTLIGHTS MICHELIN-STAR CHEFS, MASTER MIXOLOGISTS, AND GLOBAL GOURMET TREATS THAT YOU CAN RECREATE AT HOME.
On the South East Asian Island of Phuket in Thailand, Trisara is not just another luxury resort with a lush backdrop of the Indian Ocean. The Sanskrit name means 'Third Garden in Heaven,' and perhaps that is why the grounds here provide the bounty for most of the meals at the Michelin-recognized Pru and Jampa eateries.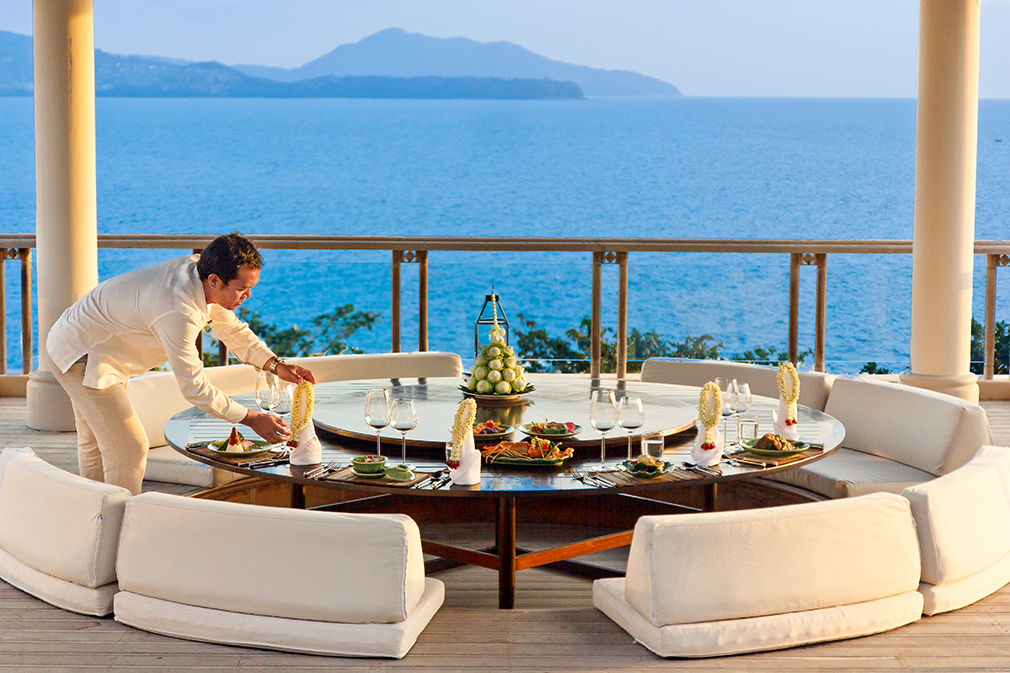 Acclaimed Dutch chefs Jim Ophorst is at the helm of Pru, the signature restaurant at Trisara and Rick Dingen, runs the show at Jampa, its sister venue, which deploys a zero-waste philosophy, along with farm to fork and live fire cooking. Both chefs hail from Holland and place an emphasis on sourcing from within Thailand, with much of the organic produce grown at the 16,000 sq ft farm shared by the two venues.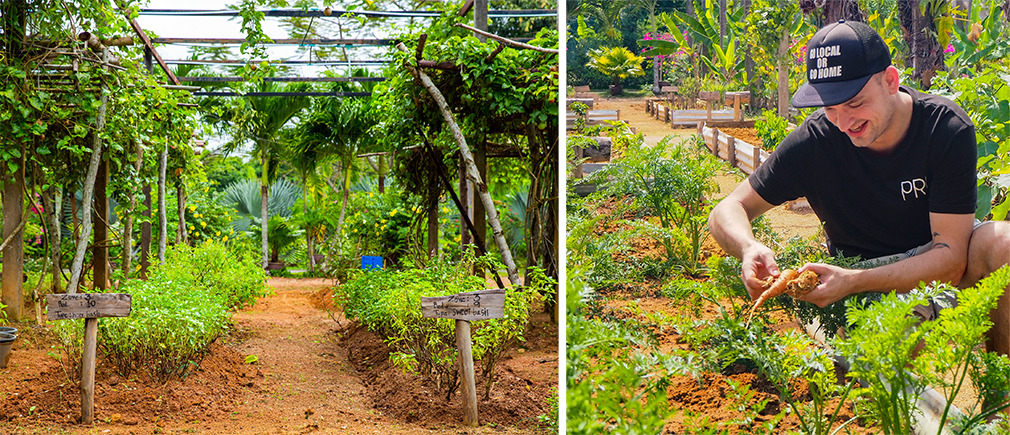 Both chefs are always staying one step ahead and are determined to continue innovating in a mindful way in the coming months, while taking eco-conscious dining to the next level on the Thai paradise island.
The pair not only share a nationality, but a desire to promote a seasonal, sustainable food ecosystem. Both were recognized at the Michelin Guide Thailand Star Revelation 2023, with Pru retaining its one Star and Michelin Green Star, and Jampa earning a Green Star for its zero-waste, plant-based food.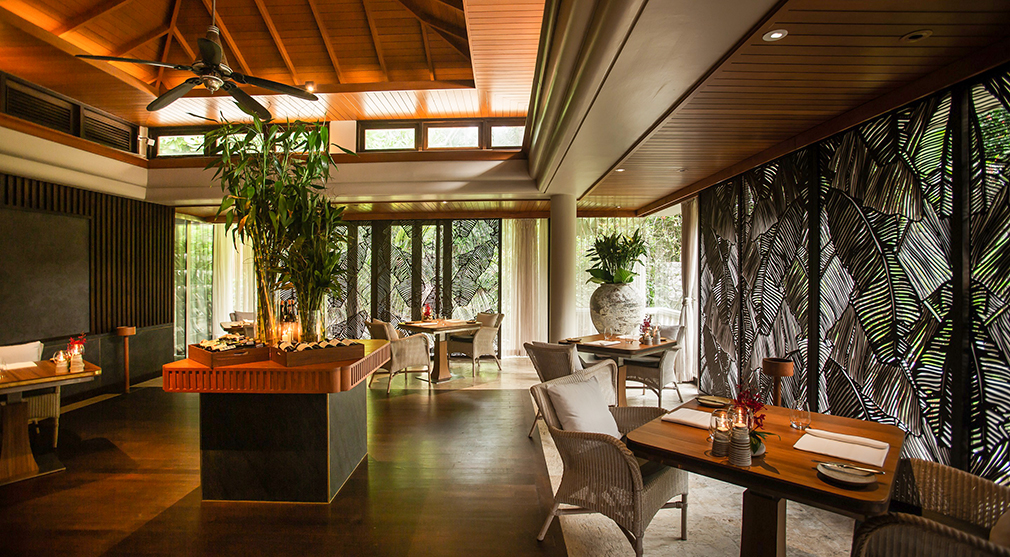 "Sustainability is the heart of our business," says Ophorst who, at Pru, steers the only venue in Phuket with a Michelin star. "It's integral to our restaurants and our lives."
At Pru, Thai ingredients are shaped into gourmet creations that draw inspiration from both the east and west, along with the local farmers. The venue's name is an acronym for Plant. Raise. Understand. – and provides a solid clue as to its overriding philosophy. Ingredients are 100% sourced from within Thailand, with much of the organic produce grown at the Pru-Jampa farm.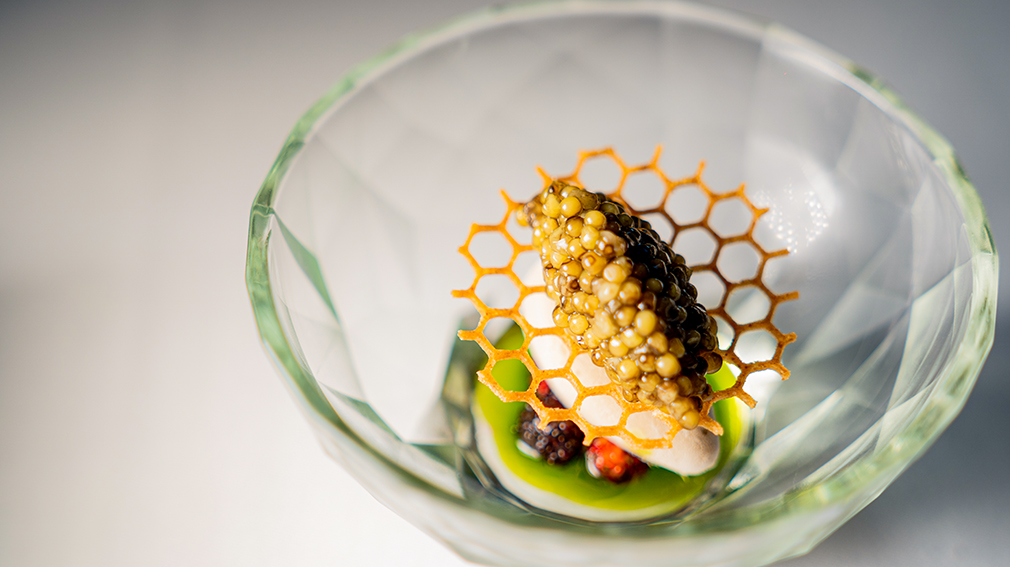 "There's a huge interest among the public in dining experiences that support local communities and showcase amazing Thai produce," said Ophorst. "I look forward to furthering our commitment to sustainable cooking and sourcing and delighting guests through innovation."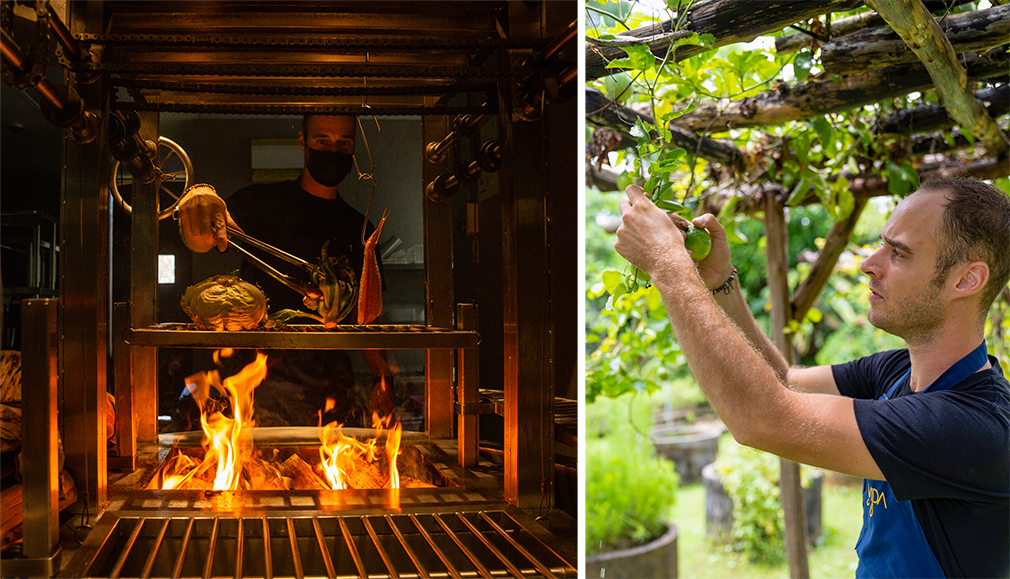 Over at Tri Vananda, Jampa innovates by using live fire to transform local ingredients — many of which, just like at Pru, are sourced from the Pru Jampa organic farm — into healthy and balanced, yet elevated, culinary creations.
"I aim to showcase locally sourced, seasonal ingredients in the best way possible," says Dingen, whose hyper-local, plant-focused, zero-waste cuisine is marking him out as a rising star in Thailand.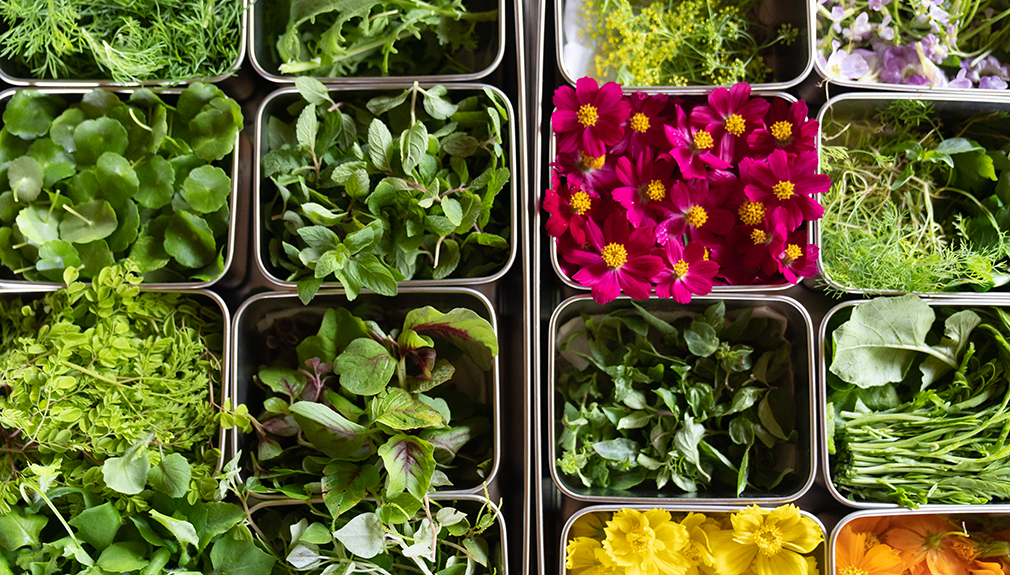 Dingen is known for his commitment to zero waste and he aims to make Jampa the first venue in Phuket to achieve a zero-waste-to-landfill ratio. "We want to exert the absolute minimal impact upon the earth and our aim is to break down our kitchen waste to ensure nothing goes to landfill," he said.
Jampa innovates by using only live fire to transform local ingredients, almost entirely sourced from their own farm, into dishes with a European twist and an emphasis on healthy and balanced food that is good for one's body and soul. In 2022, Jampa eliminated meat completely from its menu, instead offering a plant-focused cuisine highlighted by locally sourced seafood.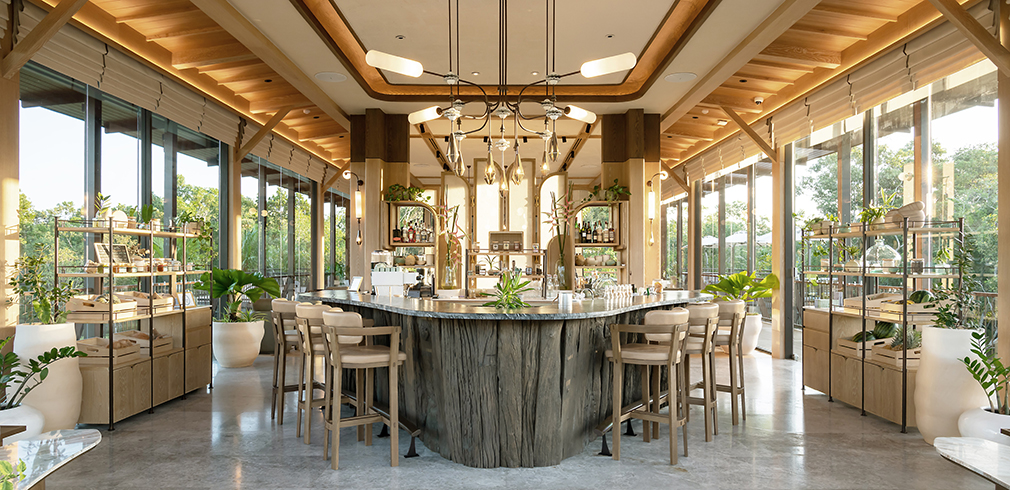 The chefs want to connect emotionally to the guests, to share with them why we have selected these ingredients, why they cook them the way we do so they can learn from the experience. This includes outdoor open fire cooking and weekly pop up at the Hideaway by Jampa, where new ingredients and creative ideas are explored.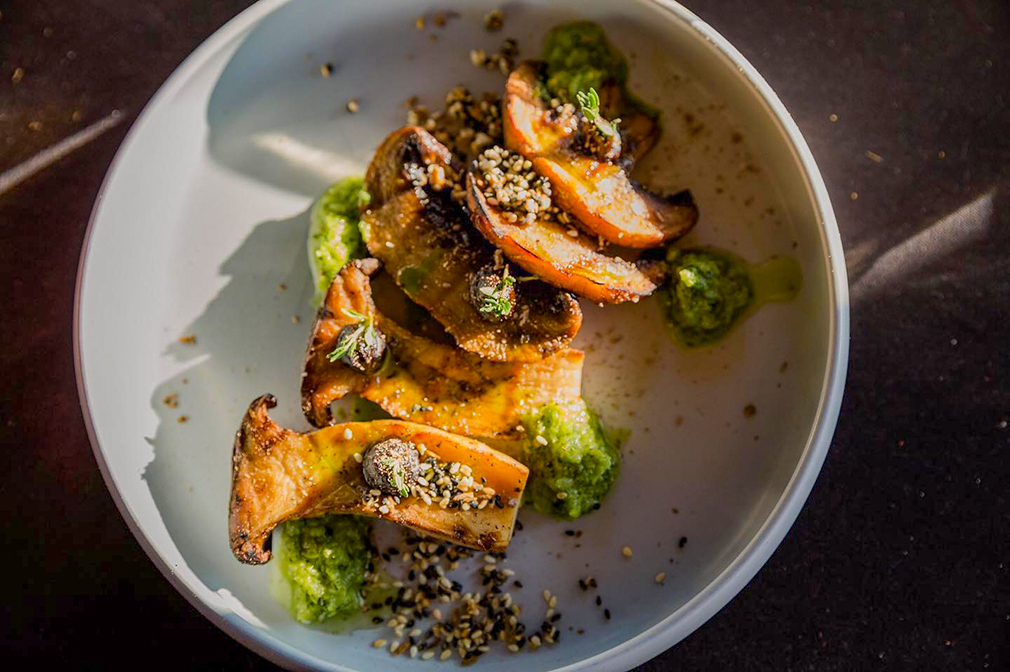 The restaurant also aims to become the first in Phuket to achieve zero waste to landfill cuisine. "We want to exert the absolute minimal impact upon earth and we break down all our kitchen waste to ensure nothing goes to landfill," said Dingen. The success of the two restaurants is in line with the aims of Montara Hospitality's "Dine Good, Do Good" concept, which it has rolled out across all its F&B outlets.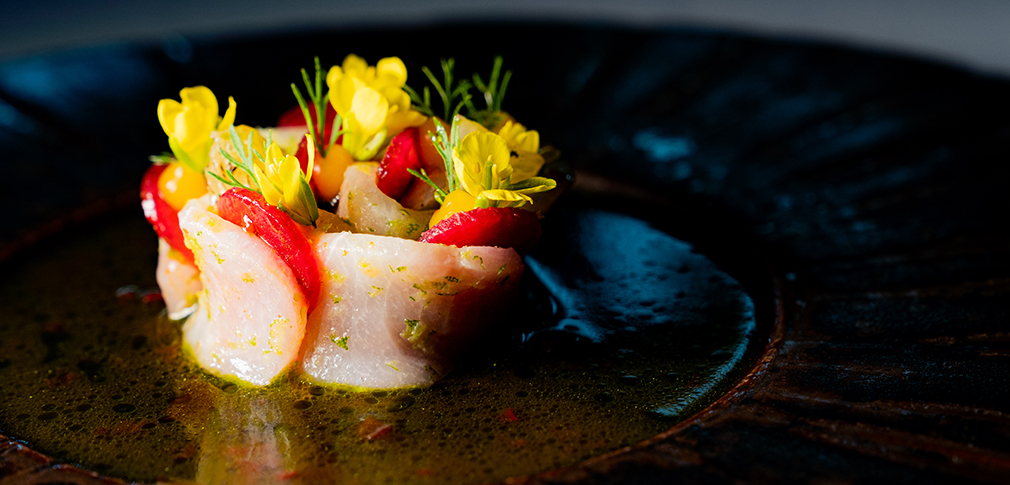 "For us we never stop learning," said Dingen, "We always find a way to make a step higher. To make our guests experience better and better Thailand has a lot of beautiful products to offer and by creating our own eco-system it helps our guest to understand where what comes from, we believe that what grows together taste well together."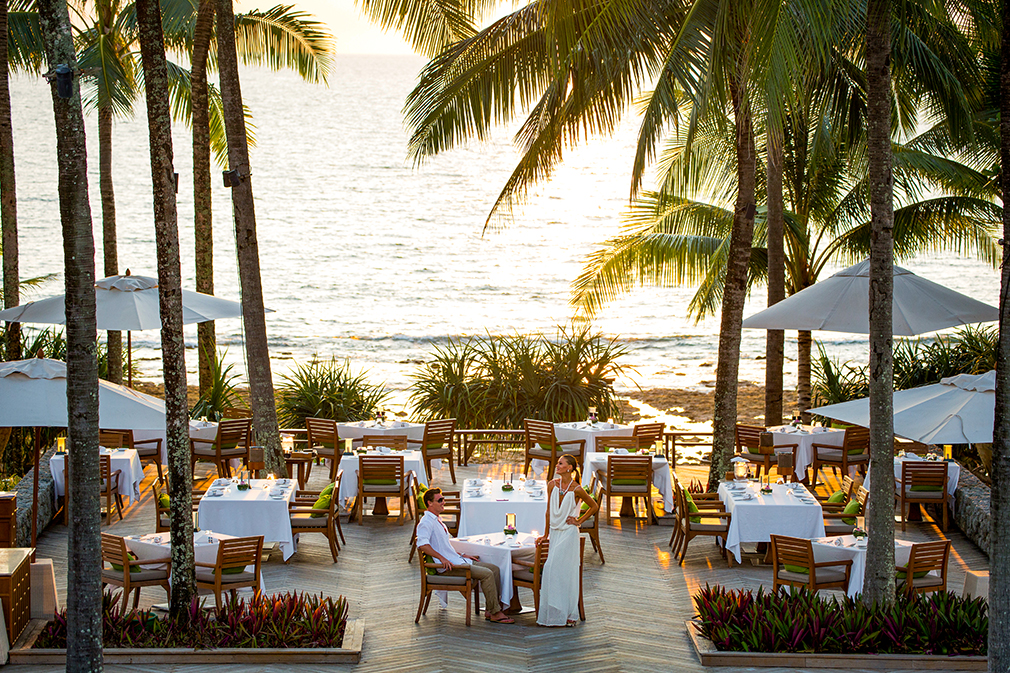 Featured Dish:
Sunchoke | Karonda fruit | Fig Leaf
From Chef Jim Ophorst
We have different textures of the sun choke, first the baked sun choke is the same and is stuffed with a duxelle of mushroom, shallot, and spring onion. The second one is the sun choke crème, using 2 different kind of crème, one is made of sun choke and brown butter. Then on top of the sun choke we have raw slice of the sun choke and under the caviar we have a confide slice of sun choke.
We use fig leaf oil and top with pickled karonda fruit.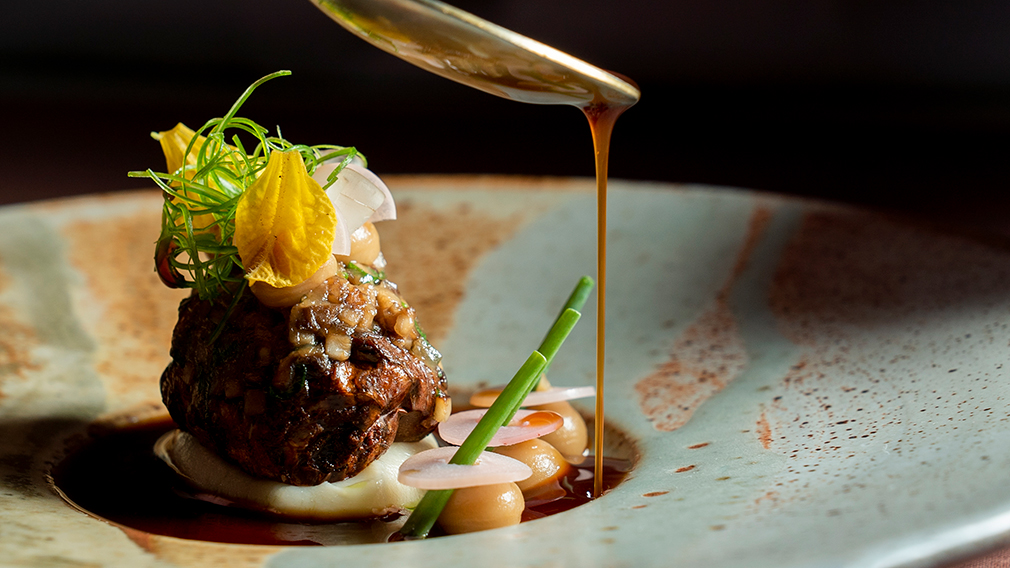 How is it sustainable?
After we added this dish on our menu, we wanted to see if we were able to grow sun chokes at our farm. The left over sunchokes were given to our farm team to see if they could start something, and surprisingly they did! We now grow our own sunchokes! For us, this was the completion of a cycle, as with the waste from our kitchen we were able to start a new crop at the farm, which then supplies our kitchen. We use the left-over bones from the sturgeon, as we use the meat in another dish, to make this amazingly complex sauce, often described as one of the highlights of our dining experience. And the rest of the ingredients, karonda fruit, fig leaf and chives are from our farm, which is also using the compost made from our kitchen waste as fertilizer.