Travel Dish spotlights Michelin-star chefs, master mixologists and global gourmet treats that you can recreate at home.
On June 25, Disney+ released WOLFGANG a candid, inspiring and emotional documentary that follows culinary legend Wolfgang Puck as he reckons with his past and the price of his dreams. From director David Gelb (Jiro Dreams of Sushi), and the creators of Chef's Table, the film follows Puck home to Austria.
Before he was a household name and celebrity chef with a global restaurant empire from Singapore to Cincinnati, Austrian-born Michelin-star Chef Wolfgang Puck was cooking at now-defunct Los Angeles French restaurant Ma Maison in the 1970s. The gregarious chef soon started a dining phenomenon by opening the original Spago on Sunset in 1982 that would eventually change the way in which the world looked at California cuisine and gourmet pizza. It would also catapult Puck into international stardom with his famous A-list Oscar parties after the Governor's Ball where he feeds over 1,500 entertainment industry VIPs each year.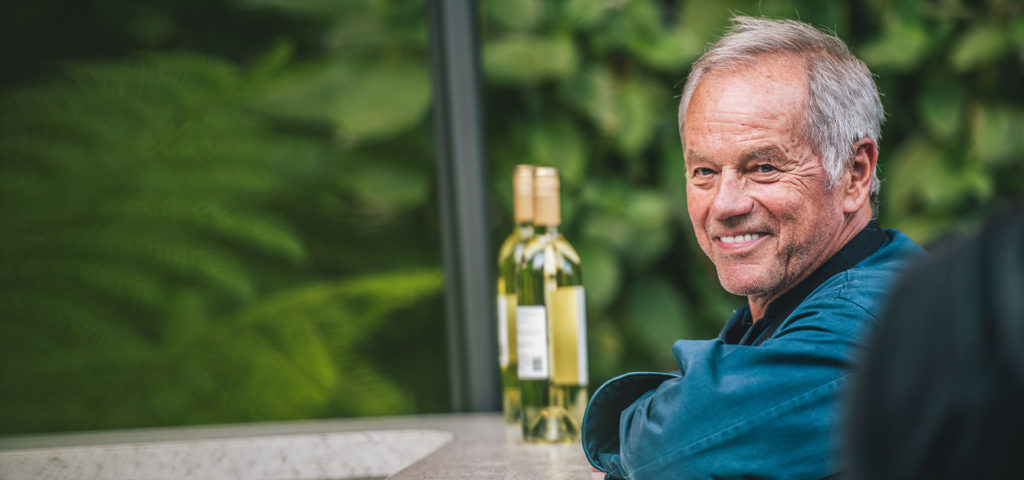 When most would consider slowing down and resting on the laurels of their iconic status, chef Puck is just getting started. The James Beard and Emmy Award winning chef recently opened two restaurants at the Pendry (Merois and Ospero) on Sunset in April of 2021 and will oversee the dining program at the Academy Museum when it opens this September.
We had the chance to talk with chef Puck recently about the past, his favorite places to travel and who he would still love to cook for.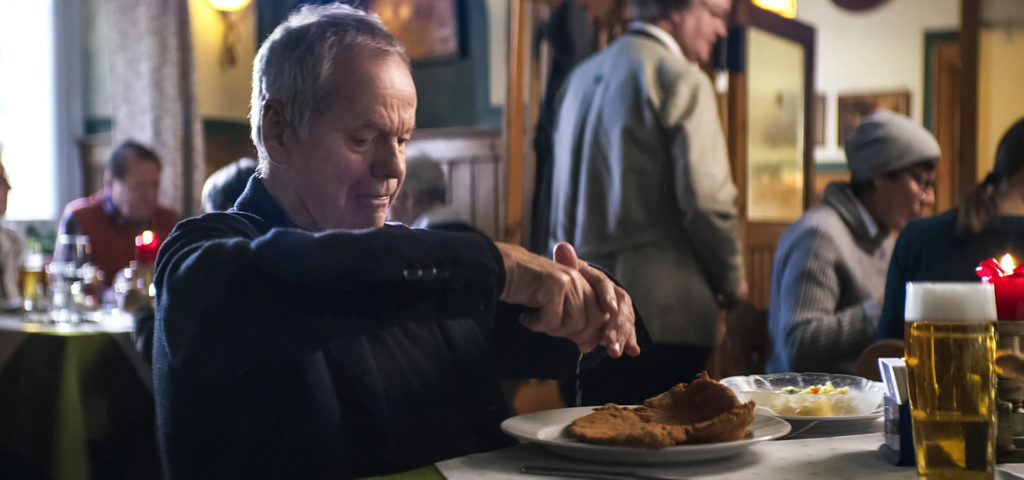 This documentary is very personal and emotional. It must have been therapeutic for you in many ways. What was the best part for you about returning home to Austria?
I don't know if it was therapeutic or reliving the anxiety of the past. When I went back to Carinthia and stood on the river there and I thought, 'was it all like a movie before or was it a bad dream.' Each time I do that and think about that part of my life, it doesn't get out of my head or my heart, so it's still in me and thank God. I tried to eliminate it before but about 15 years ago, I put wienerschnitzel on the menu [at Spago] along with other Austrian dishes. That way, I got the good feelings from cooking with my mother. I still say if some makes a wienerschnitzel, 'my mother is looking from up there so it better be right.' This way I can relive my childhood souvenirs which were very good.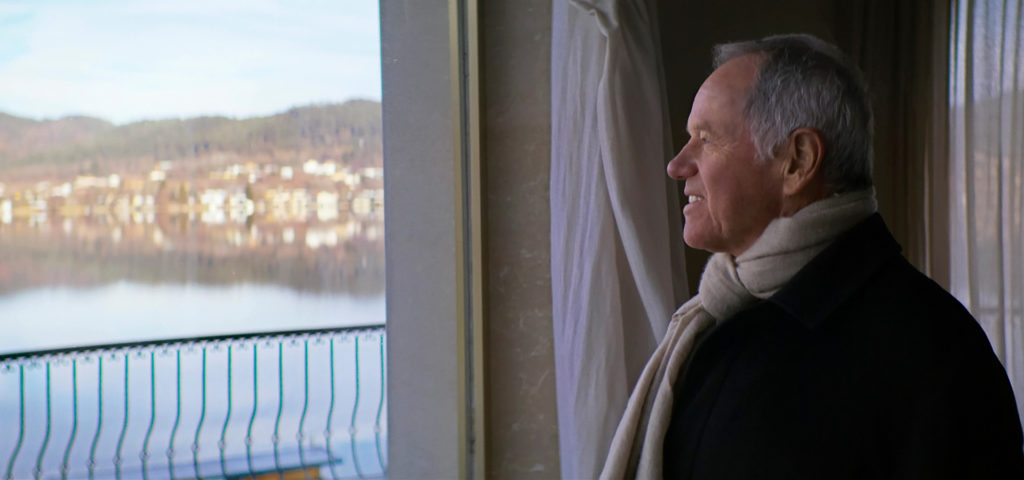 In the documentary you sum up fate with a train station analogy: "Grab on and hope train takes you where you want to go." Looking back, is there anything that you might have done differently like going to another station?
You never know what would have happened. I could have gotten on a different train to a different country or place but it feels like someone was guiding me in a way. Like going to Baumanière when I was 19, that really changed my life. Mr. Thuilier was the first guy who believed in me and who thought that I could cook really well and make sauces better any French guy they had in the kitchen. I went to all the 3-star restaurants. He was the first one who accepted me.
Looking back at that early Spago footage from the film, it was the most exciting time in L.A.'s culinary history. Do you have a favorite memory?
So many favorite memories but also so much anxiety. At first [the press] tried to make me look like I was opening a spaghetti or pizza joint. They always tried to put me down a little bit. At that time [at Ma Maison] I was cooking French, very elaborate food. [When I opened Spago] I always thought, 'what if no one shows up?' I used to get sweats and have bad dreams. But then we opened and the first night I looked around and said, 'Sh*t, the restaurant is full of people and I don't know if I can serve them all!' I had bought these big plates to serve the food on and after we ran out of vegetables, I started to use smaller and smaller plates for the food.
Then I remember two or three weeks into it, Bill Wilder called me up and he wanted a table with 10 people. It was in the middle near the kitchen with Sidney Portier and Gregory Peck and Joan Collins. George Christy at The Hollywood Reporter did the first article on us and he said, 'You better make your reservation now or you will never get in this restaurant.' So, naturally the phone rang off the hook and everybody started to show up.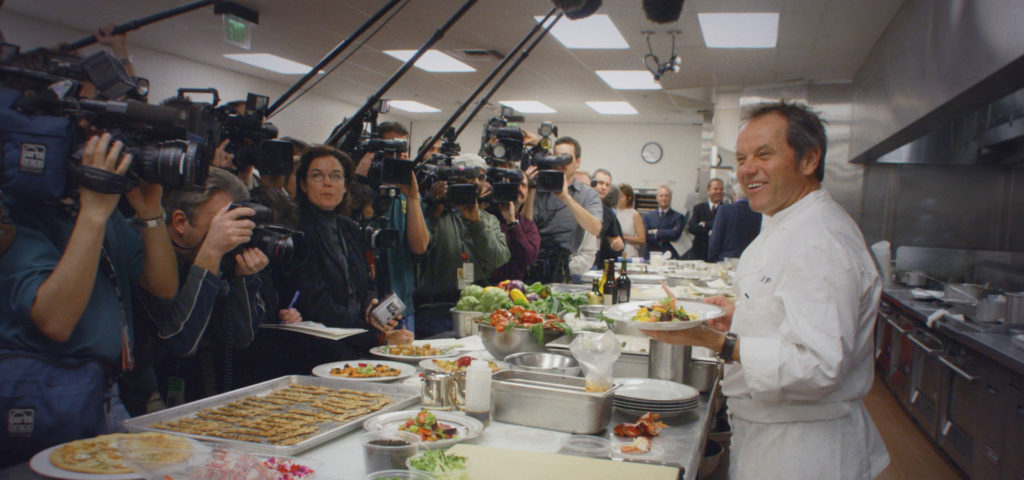 You came full circle opening back up on Sunset with the Pendry and now at the Academy Museum. Will it be the best hits of your Oscar Governor's Ball menu?
I haven't really thought about it yet. We are going to do the opening of the Academy Museum in September so we will see how many people they allow, maybe 5-600. It looks like LA is ok and if they are all vaccinated, it should be fine. I like to work under pressure. If you tell me, you are getting married in October, make me a menu I now, I couldn't do it. I have to wait until closer to the time and see what is available.
You mentioned that you only have so many summers left. What's your idea of a perfect summer? Your favorite travel destination? Or a meal you would have?
I love Italy. Since my kids were small, we often go as a family to Sardinia. I love the beach there and it's really a great place for a vacation. It's also very expensive there. That's the only downside to it. I love to go to Turkey and Greece – more than Austria. This year we are going with some friends on a boat and will maybe go to some of the Greek islands. I think it's perfect when you are on a boat and with friends that you want to be with and hanging out. You can spend time to together and drink, while the kids have their Jet skis. It's really a great vacation.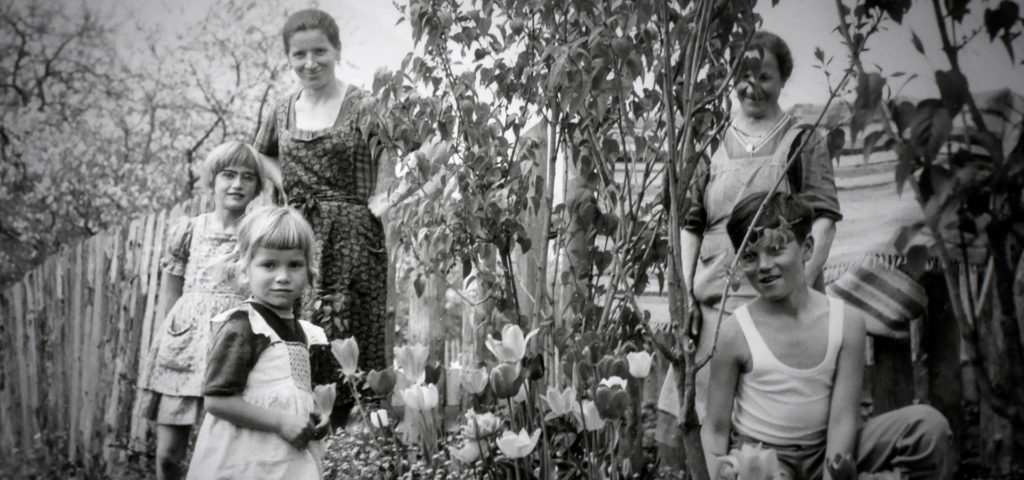 I'm sure that it's also rejuvenating. Is that one of the ways that you gather inspiration for new concepts?
I think you learn all the time. Life and curiosity are really the most important thing and the willingness to learn and do different things. For example, I love the way the Turks do their eggplant and different dishes. For me it's about going and experiencing different cultures. I also want to go to Syria where they have all the pistachios and I want to see what they really do there. I think it's really an important part to experience a country, the food and the people. I think there are great people everywhere.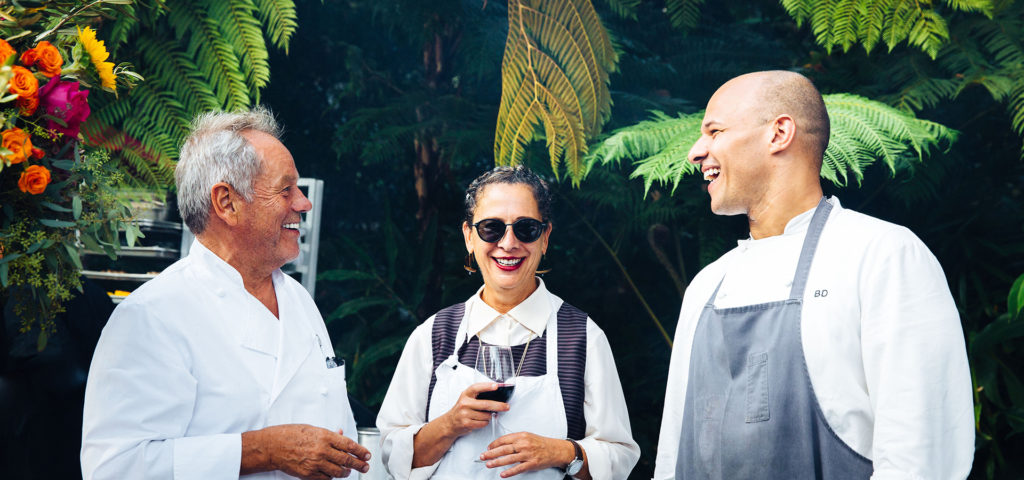 With all the famous people you have fed over the years, is there anyone left that you would still like to cook for?
The Pope. I'd like to make him some steak with chimichurri so he feels like he's back in Argentina.
Maybe on your next trip to Italy you can make that happen?
I will invite him to come to Sardinia. I know he loves soccer so maybe we will go to the soccer game and then we will have dinner.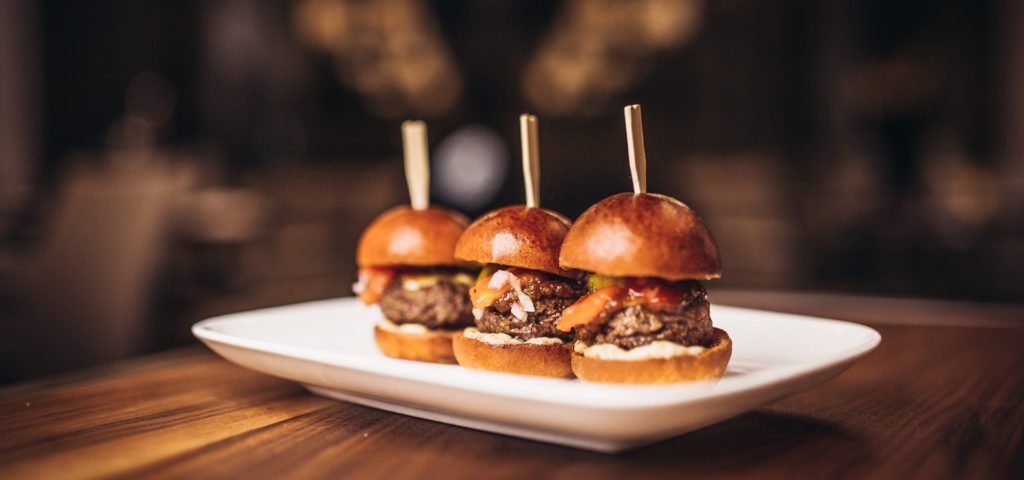 July 4th BBQ Recipe
With July 4th around the corner, chef Puck shared with us his recipe for Kobe beef sliders which you can find at his CUT restaurants around the world from London to Las Vegas.
MINI KOBE CHEESE BURGERS WITH REMOULADE
Yield: Makes 12 mini burgers
3/4-pound Kobe ground beef
Pinch of kosher salt and freshly ground black pepper
4 tablespoons extra-virgin olive oil
3 slices organic cheddar cheese
6 slices Brioche bread, punched out with a 2-inch ring cutter
Remoulade (recipe follows)*
Organic iceberg lettuce
6 cherry tomatoes, sliced
3 cornichons, sliced
Instructions
Preheat a grill or grill pan.
Put the ground beef in a bowl and season with a generous pinch of salt and pepper. Mix together with your hands to combine. Take a small amount (about 2 tablespoons worth) of the ground beef and roll it in the palm of your hand like you are making meatballs. Flatten the top slightly and put the mini burger patties on a side plate. Drizzle the burgers with oil and season the tops with salt and pepper. Turn the burgers over and season the other side.
Place the burgers on the hot grill. Cook for 3 minutes, and then turn them over with tongs. Put 1/4 slice of cheese on top of burger. While that's cooking, put the brioche circles on the grill. Let them toast slightly on both sides, about 2 minutes total time.
To put the burgers together: Put the toasted brioche circles on a platter. Top each with a small spoonful of the Remoulade (recipe below). Put the burger on top (cheese side up), followed by sprinkling of finely chiffonade of iceberg, a slice of tomato and a slice of cornichon.
REMOULADE
Yield: Makes 1 cup
1 cup store-bought mayonnaise
1/8 cup ketchup
2 tablespoons sherry vinegar
1/8 cup red onion, finely chopped
1 teaspoon capers, chopped
1 teaspoon chives, chopped
1 teaspoon fresh parsley, chopped
1/2 teaspoon fresh thyme, chopped
Pinch kosher salt
Pinch sugar
Instructions:
Place all ingredients in a bowl and stir to combine.
*Note: To make this recipe even simpler, instead of making the Remoulade, make your own special sauce by combining 3/4 cup of store-bought or homemade Thousand Island dressing with 2 tablespoons of bottled barbecue sauce and a little bit of diced red onion. Stir to combine.