Based on our 2022 travel predictions, train travel is on the rise – especially in Europe. One of the finest trains on the tracks is the Venice Simplon-Orient-Express, especially the magnificently preserved original 1920s Art Deco train.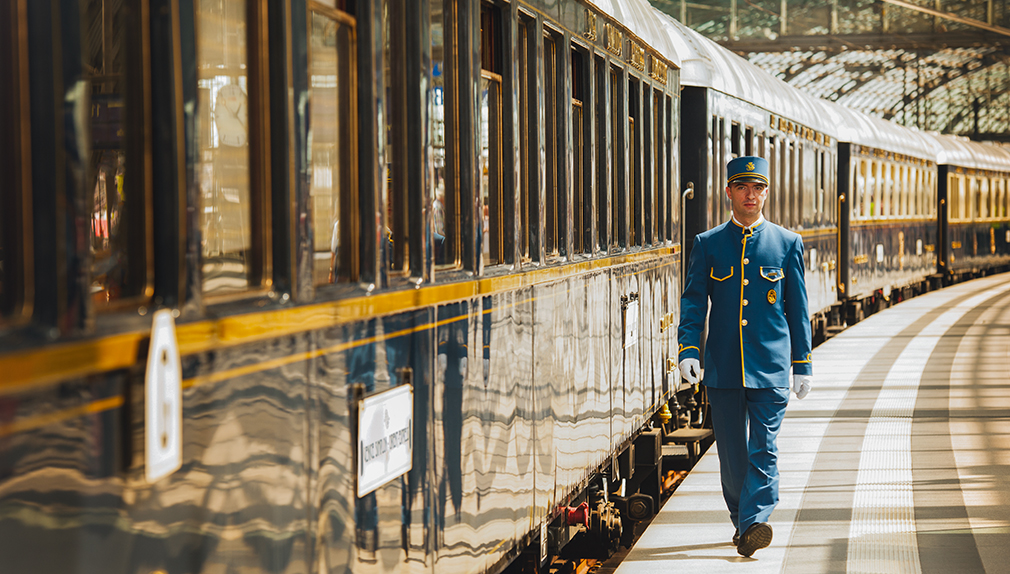 After a 2020 travel pivot by the Belmond brand with virtual programming that included cooking, wellness and live performances, it's high-time we harken back to the Golden Age of Travel in the actual flesh this year. This March, new itinerates will launch on the most famous train in the world that includes London to Venice or Istanbul, along with new Grand Suites and routes on Venice Simplon-Orient-Express and a design collaboration with filmmaker Wes Anderson on its day-train the British Pullman.
"At Belmond we are custodians of timeless heritage. We are always seeking new ways to remain relevant and create new legendary adventures," said Arnaud Champenois, Senior Vice President of Brand Marketing at Belmond. "It is our mission to keep the travel dreams alive by collaborating with the most creative talents, who share our passion for design and craftsmanship. It has been a privilege to work with Wes Anderson who is one of the most captivating story-tellers in the world and a true legend."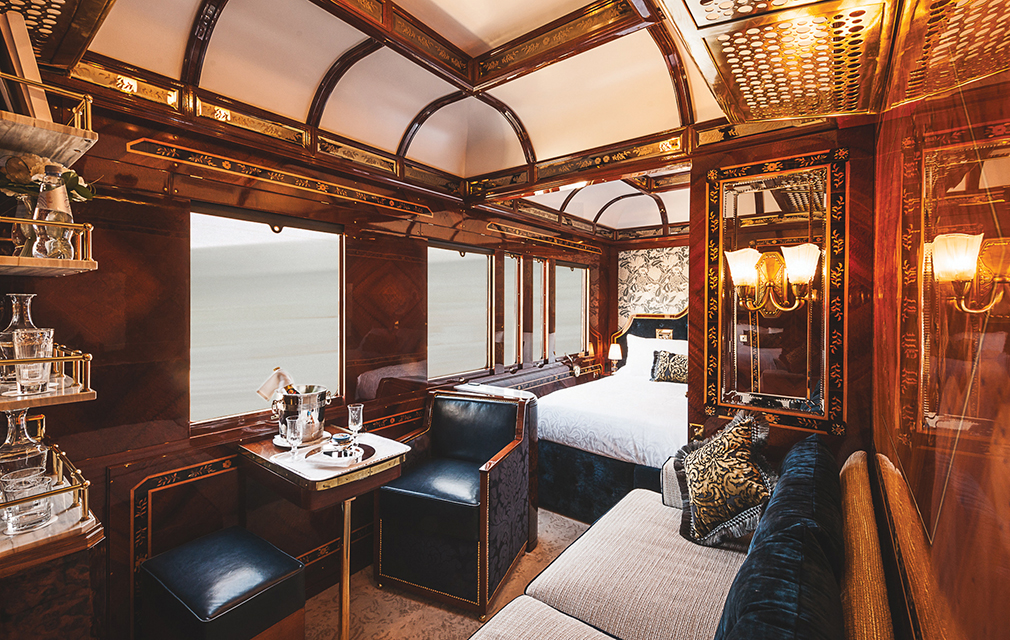 What that means for consumers, is the 1920s Art Deco icon, Venice Simplon-Orient-Express will roll-on in all its nostalgic glory of the Golden Age of travel with its restored 17 vintage carriages that contain a unique history. This train formed part of the most historic trains of the 1920s and 1930s, including Le Train Bleu and the Rome Express.
Crisscrossing through Europe, there are journeys between some of the beautiful and historic cities including Paris, Venice, Prague, Vienna and Budapest. The classic overnight journey en route to and from London and Venice via Paris, through the Alps and across the Venetian lagoon is a staple. Just once a year, the Venice Simplon-Orient-Express makes a five-night journey between Paris and Istanbul. This once-in-a-lifetime excursion includes overnight stops in Budapest and Bucharest and daytime halts in Sinaia and Varna for excursions.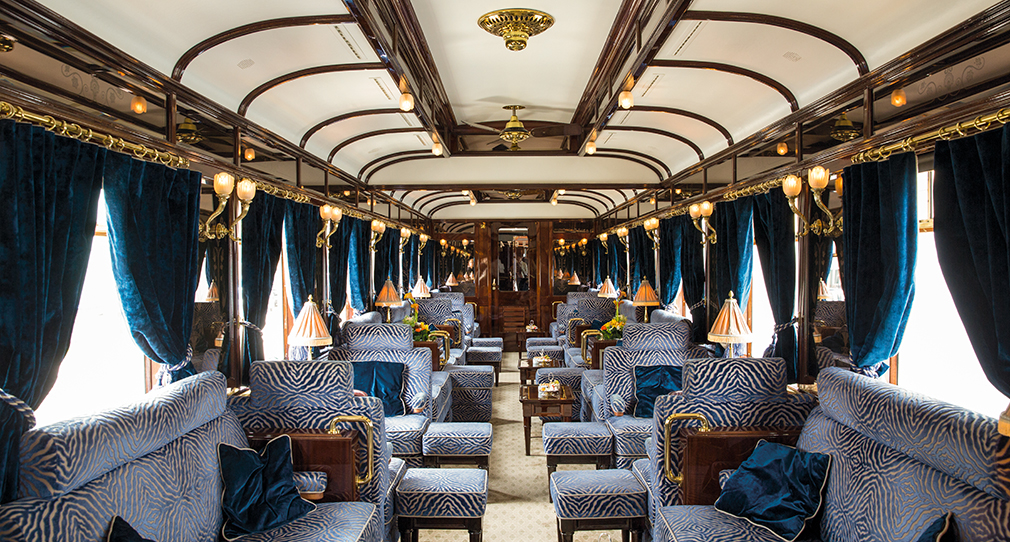 Belmond has also launched new routes evoking the Golden Age of glamour with five new boarding points in Rome, Florence, Geneva, Brussels and Amsterdam. Onboard the train's restored Art Deco carriages, guests will be whisked along one-night journeys from Florence and Rome, passing the Italian lakes and snowy Swiss mountains, before arriving in Paris. Wind through the Brenner Pass as the train crosses from Geneva to Venice or take off on a grand tour of three European Capital cities – Paris, Brussels and Amsterdam – during a Venice to Amsterdam itinerary.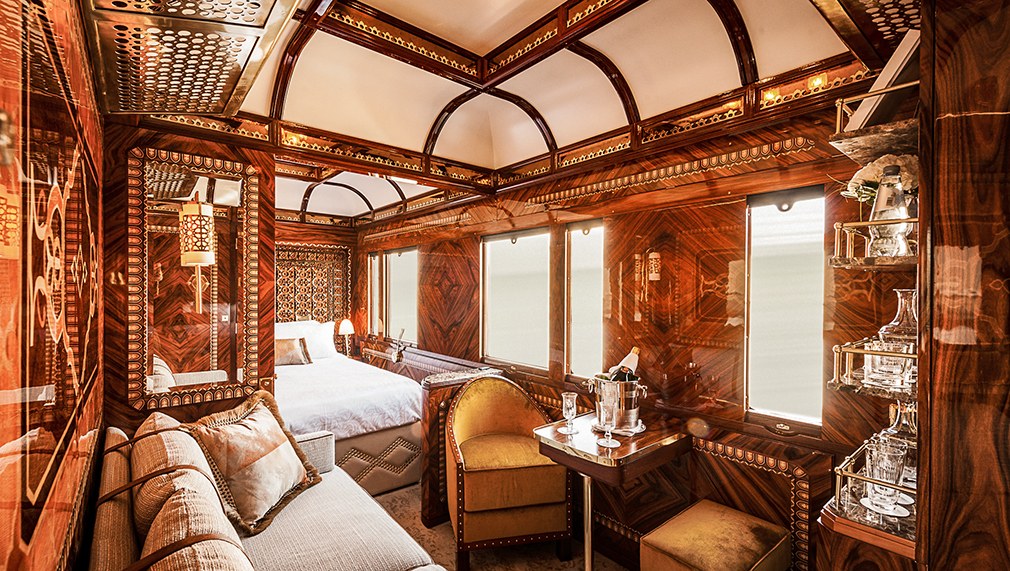 With that kind of heady travel, Belmond also debuted three new Grand Suites, bringing the total number onboard to six. The new suites – Vienna, Prague and Budapest – will each feature private bathrooms with showers, double beds and a living area with underfloor heating. Named after the cities to which the train travels, Wimberly Interiors, who oversaw the initial three Grand Suites, created each cabin to reflect the spirit of each city while staying true to the original 1920s Art Deco design. Additional amenities include a personal 24-hour cabin steward, free-flowing champagne, in-suite dining and private transfers to and from the train.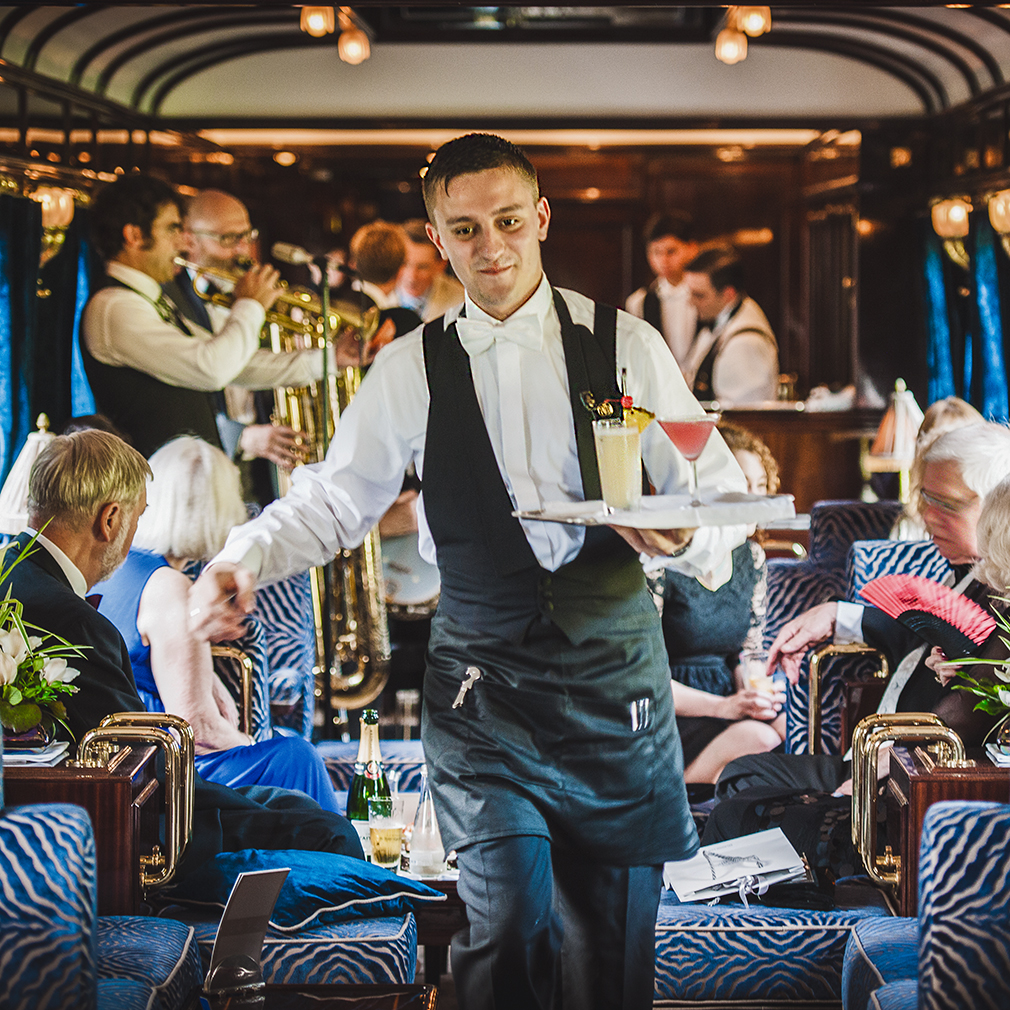 British Pullman, A Belmond Train in London
For the cool collaboration with Wes Anderson, the historic Cygnus carriage was reimagined with the filmmaker's trademark quicky cinematic-style while paying tribute to the carriage's 1950s origins. Some of Anderson's most popular films from "The Darjeeling Limited" which took place on a train ride to India and "The Grand Budapest Hotel" also features surreal lux train journeys, so this seemed like the perfect partnership.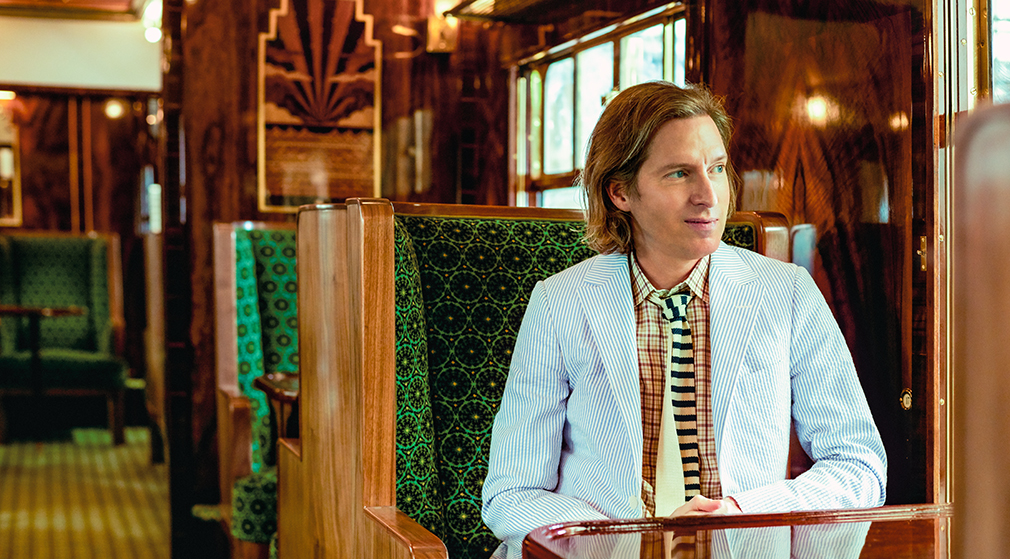 "I love trains! I have often had the chance to invent train compartments and carriages in my movies — so I was immediately pleased to say 'yes' to this real-life opportunity, and very eager to make something new while also participating in the process of preservation which accompanies all the classic Belmond train projects. They are keeping something special alive and igniting this endangered species of travel into a new golden era," said Anderson.
Named after the Greek God of Balance, Cygnus is often personified as a swan and immortalized as one of the most recognizable constellations in the night sky. References to the myth and legend can be found throughout the design in the intricate waves and swan detailing in the marquetry. From the meticulously positioned silver leaf on the ceiling that reflects like water, to the swan shaped champagne coolers – the carriage is a tribute to the majestic swan.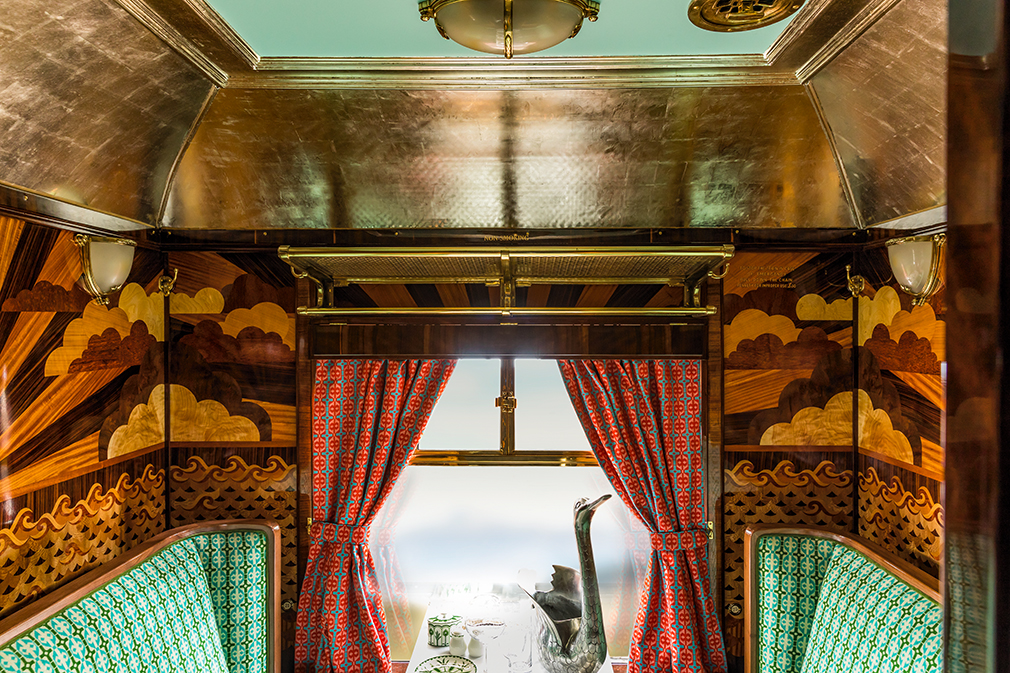 Fun Fact: the Cygnus's starry career began in 1951, when it was a First-Class parlor with the Golden Arrow, used by traveling royalty and Heads of State on official visits. It joined Perseus in Sir Winston Churchill's funeral train in 1965. By 1976, it was in service on the North Yorkshire Moors Railway when it was featured in the film "Agatha" with Vanessa Redgrave and Dustin Hoffman, appearing as a carriage named Anne in the scenes shot in York and Harrogate stations. It was bought by Belmond in 1977.
And just like an Agatha Christie novel or movie, the "Murder Mystery Lunch" on the British Pullman is one of the new offerings on the 2022 itineraries.
The carriage features two private coupés (accommodating up to 4 people) with private check-in and priority boarding, free-flowing Veuve Clicquot champagne, exclusive menus and wine-pairing with unique crockery and glassware selected by Wes Anderson. This also includes one gift box per booking with two champagne glasses, a hand-tied bouquet as a parting gift, a tour through the train exploring its legacy and heritage with the train manager.