On June 10, 2022, Japan reopened its torii gates to travelers from 98 countries including the United States, initially for those on organized tours. This is a major step in the reopening of the country. I can almost smell the sulfur from the onsen (hot springs) awaiting my return.
My first onsen experience in Beppu, a town often shrouded in water vapor on the southern island of Kyushu, converted me into a furo-aholic (bath-aholic) in the early 1990s. Three decades later I still find these magical waters an endless source of both visual and visceral pleasure.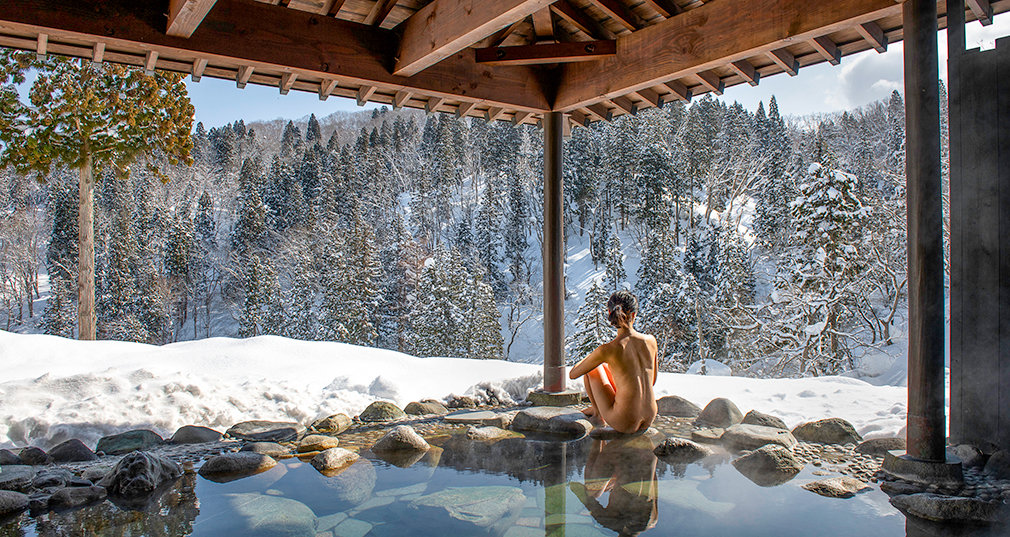 For the introduction to my book that documents the country's hot spring tradition, "The Way of the Japanese Bath now in its 3rd edition, I wrote: "While all the primeval geological and geothermal rumblings under Japan have set off devastating volcanic eruptions, tsunamis, and earthquakes (ten percent of the world's volcanic activity occurs in Japan), they have also provided the 126 million inhabitants of the island nation on the Ring of Fire with a very unique way of life. Millions of people check in each year at onsen (hot springs) ryokans (Japanese-style inns) or hotels, often to escape the extreme stress-inducing population density of its country's cities. The 20,000 thermal hot springs that flow from the ground are meccas, a place to bathe not only the body but the soul as well."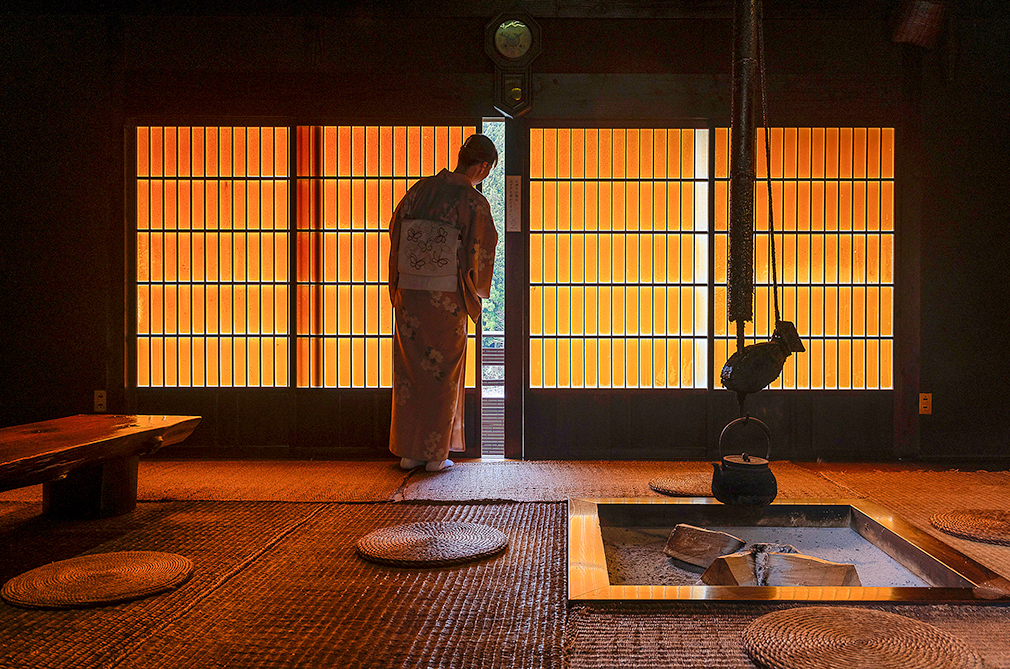 These natural wonders are presented in a variety of settings and styles from rustic wabi-sabi to ultra-modern and found throughout Japan. Some hot spring areas have risen to superstardom including Beppu and Yufuin on the southern island of Kyushu, Dogo in Shikoku, Noboribetsu in Hokkaido, and Kusatsu, Atami, Arima, Ginzan, Takawagawa, and Nyuto on the main island of Honshu. In addition to public baths, these onsen regions and towns have ryokans that most often have their own hot spring facilities. An overnight at one of these is to bathe not only in its hot spring but to be immersed in Japanese culture.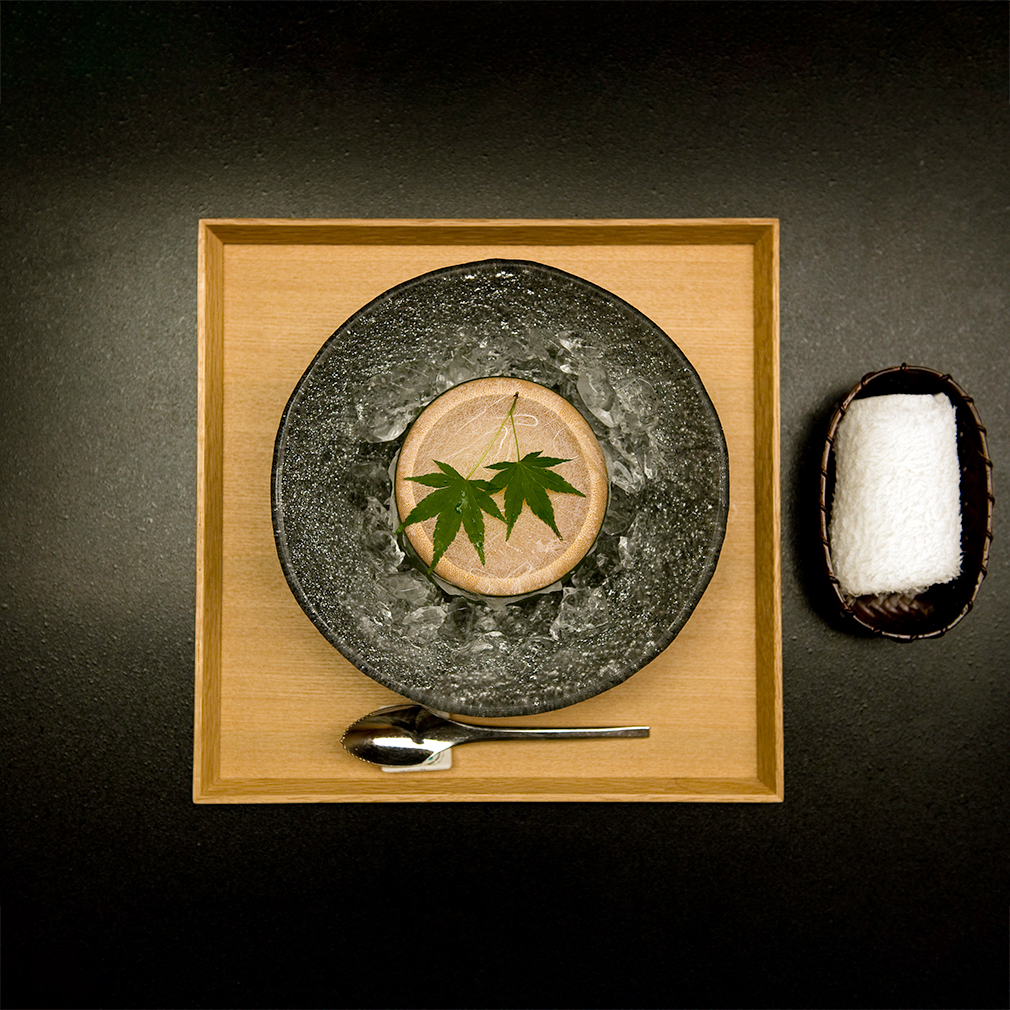 Once checked in, the usual routine is to change out of your city clothes and slip into a yukata (a light cotton kimono) with the addition of a hanten (a short coat) in winter, then head for a bath. After the meditative dip you return to your room for a bit of rest then a private kaiseki meal is served while you sit on a cushion on the tatami floor. This is usually followed by an après-dinner bath. By the time you return to your room this second time, the dishes are gone and a futon on the tatami is awaiting you. A variation of the same theme is to have the kaiseki meal in a shared space with other guests.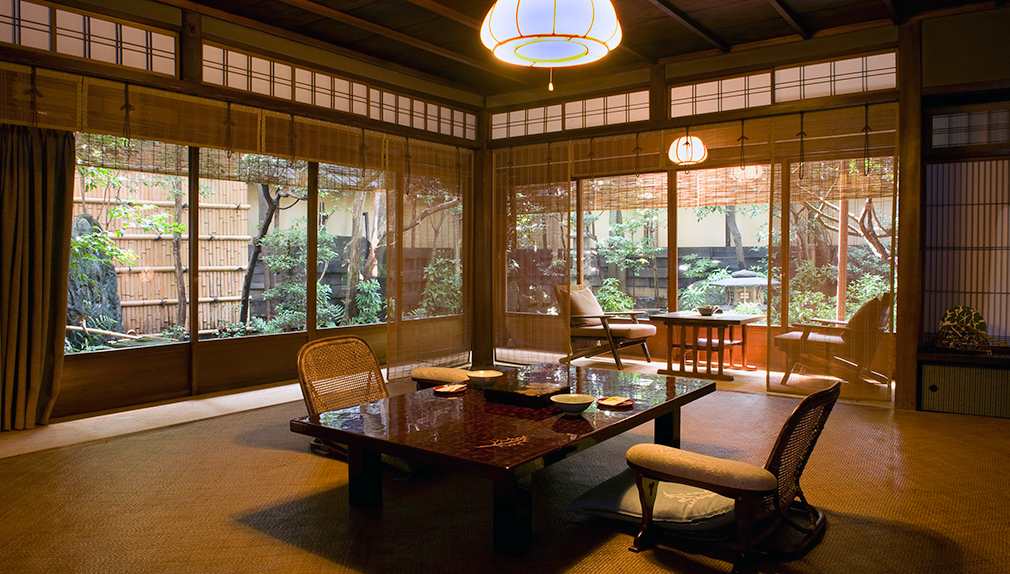 Some older historic hotels that have catered to foreigners for more than a century such as the Fujiya in Hakone have both unique bathing facilities and western-style rooms while many of the newer ryokans and hotels have rooms with beds as options.
Even in the heart of Japan's capital, there are modern ryokans and hotels that incorporate the country's bathing tradition. The Hoshinoya Tokyo's dark exterior lattice of leaf-like patterns veils its true identity as a ryokan embedded in the city's skyline. Entering through a door made from a single cut of cypress and having your shoes deposited in a bamboo shoebox by a kimono-clad receptionist, means you have taken the first steps (albeit shoeless) into the magical realm of the ryokan. Almost 5,000 feet above is the property's famous bath with a tunnel through saline waters into an outdoor section with an open roof high above this top-floor sanctuary.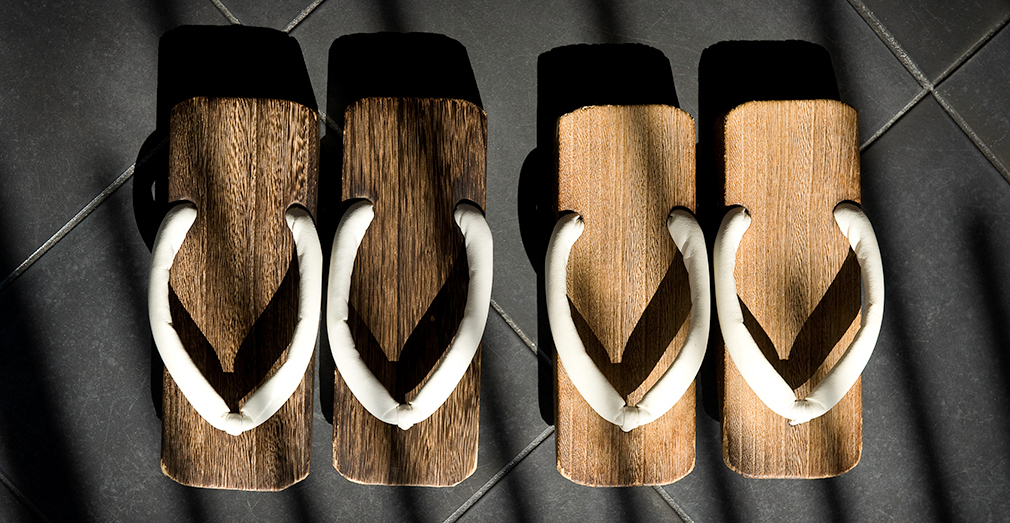 The 19th floor Club Lounge at the ideally situated Palace Hotel Tokyo offers spectacular views of the Marunouchi skyline and surrounding Imperial Palace gardens and moats. In addition to the artwork displayed throughout the property, its rooms are filled with bath linens made in Imabari – a city renowned for over a century for the quality of its towel production – Nambu-tekki cast iron teapots, and tea cups handmade in the traditional Mashiko-yaki style of pottery.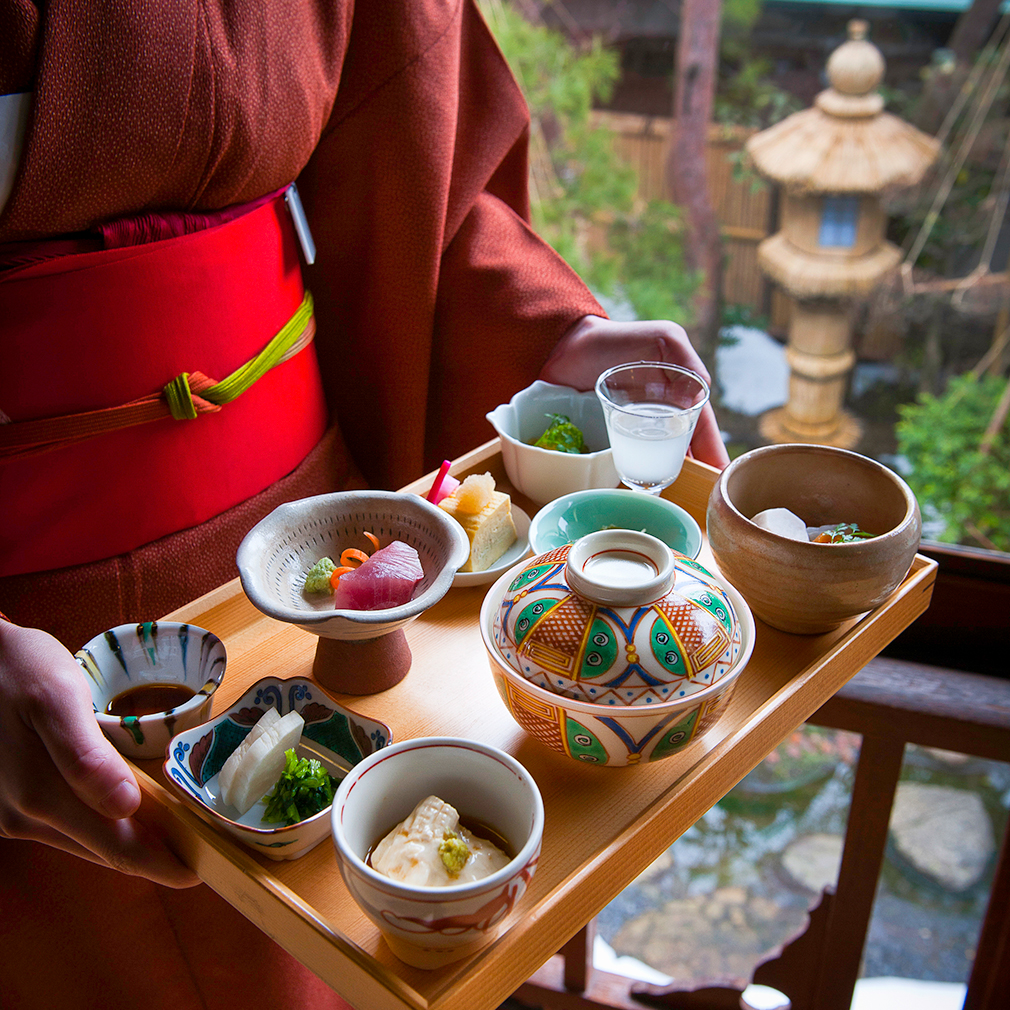 Architects and designers are finding ingenious ways to make the most out of Tokyo's limited available space. This often translates as building up rather than out with hotels such as the Park Hyatt Tokyo, The Prince Gallery Tokyo Kioicho, and Park Hotel Tokyo topping off modern office buildings. As with the Palace Hotel Tokyo, these properties offer spectacular views of their respective sections of the city far below with their restaurants, clubs and bars becoming urban oases for both travelers and locals.
The Park Hyatt Tokyo, designed by Pritzker Prize-winning architect Dr. Kenzo Tange and interior designer John Morford contains the Club On The Park, a tranquil spa and fitness center that offers specialized spa treatments and access to an indoor pool with breathtaking views from the 47th floor. Its 52nd floor New York Bar was made famous as the watering hole for Bob Harris, played by Bill Murray, in Sofia Coppola's critically acclaimed film, "Lost In Translation."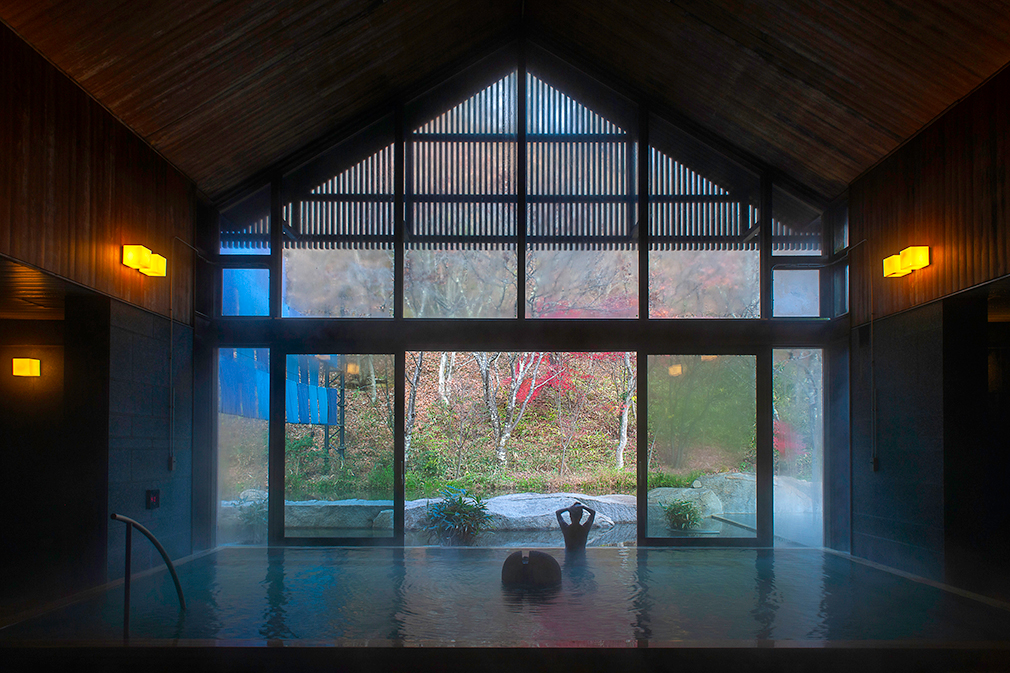 At the Park Hotel Tokyo in Shiodome Media Tower the elevator brings guests to the 25th floor atrium to check-in. Their 31st floor is dedicated to original pieces of art painted directly onto its walls. These themed rooms by individual artists have names such as Haiku, Kabuki, Wabi-Sabi, Samurai, Mount Fuji, Beauty of Akita, Public Bathhouse, and The Tale of Genji. "Public Bathhouse" (Sento) by Keiko Migita was a natural for me. Migita explains why she chose this theme for her commission, "In Japan, there is a bath culture. It's not only a place where you wash your body, but also where you relax your mind. I think of hot springs as special, but the local bathhouse is a public place, and rather than being something fancy, it's a place where you can just go and be yourself."
Regardless of where you stay be aware that bathing for cleaning is not practiced in Japan. Soap is never brought into a bath either at a communal bath or at home. Washing is done before going into the bath for a soak and then often followed by a thorough rinsing and shampooing.
To experience an ancient ritual at the Nisseki temple on Oiwa-san, clients on a Backroads hiking tour stand under its spirit-cleansing ice-cold waters.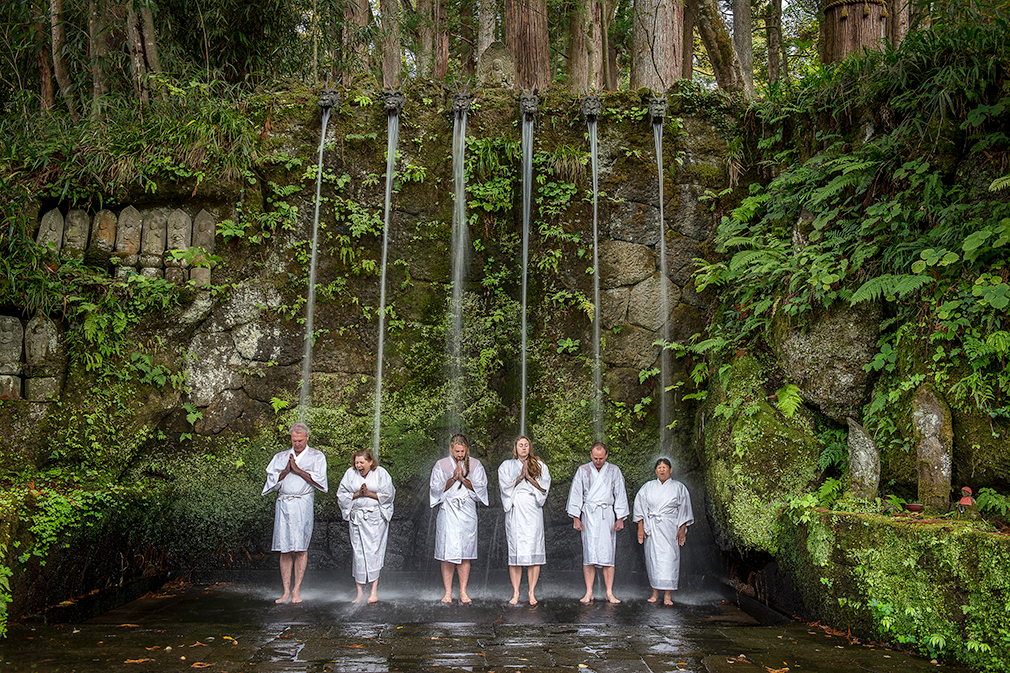 Physical maladies are often treated at baths with specific mineral properties in the water. In fact, it's ­­­­­­the high mineral content that separates regular water that you often find in sentos to water that rises to the level of onsen water.
An old Kusatsu folksong declares, "A hot spring bath can cure anything but love." For instance, radioactive water is reported to help those suffering from gout, diabetes, chronic digestive problems, gallstones, and fatigue. Sulfur content in the water is considered a remedy for metallic poisoning and is said to be good for the complexion. Noboribetsu in Hokkaido is one of the most popular onsen towns because of its variety of waters with medicinal benefits yet most water is classified as simple thermal and most onsen visitors come for simple relaxation.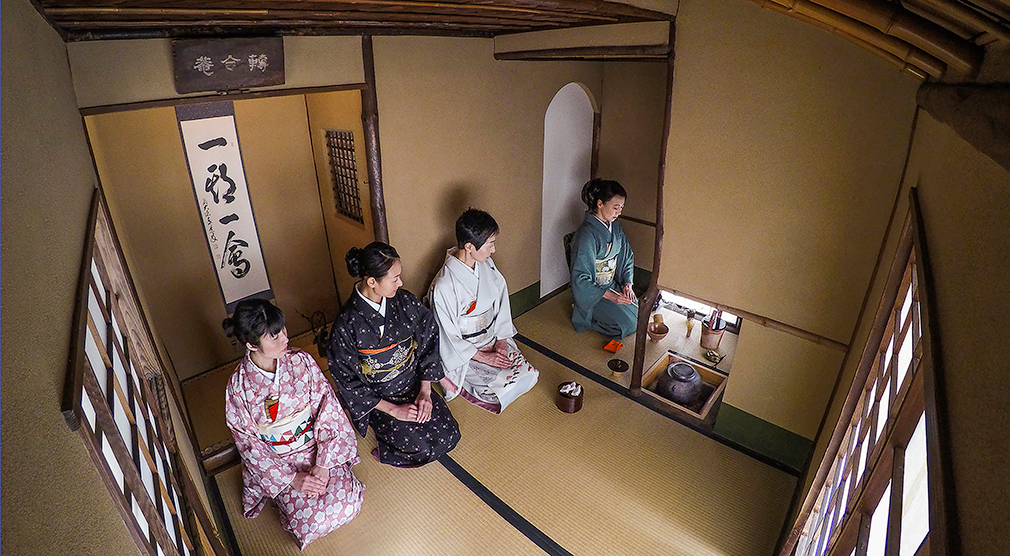 Though Japan's doors were pried open by Commodore Matthew Perry's "Black Ships" (kurofune) in 1853, much of its inner self remains cloaked. Yet even in the ultra-modern megatropolis of Tokyo, there are opportunities to experience traditional Japanese culture from the Japanese tea ceremony at Shizu-Kokoro Chado School with sessions in English to witnessing training sessions at a sumo stable to a kyudo archery class. The latter might be enhanced with a quick read of "Eugen Herrigel's seminal book, "Zen and the Art of Archery." Traditions such as kabuki and geisha (the latter especially in the Gion District of Kyoto) are other windows that give outsiders the ability to peer into the soul of the country for fleeting moments. But one ancient tradition, which foreigners and residents alike can literally immerse themselves in throughout the country, is the ritual associated with the Japanese hot spring.