It's easy to find yourself wowed by almost anything in Saudi Arabia – the mere fact that it was closed to tourism for its entire lifespan until late 2019 means navigating something as mundane as a roundabout elicits disproportional reactions from travelers (it's a Saudi roundabout, after all)! Jeddah, though? This ancient Arabian city by the sea holds its own without the novelty – it seizes even the most hardened of globetrotters in its clutches, checking their cynicism at the door and recalibrating their wanderlust.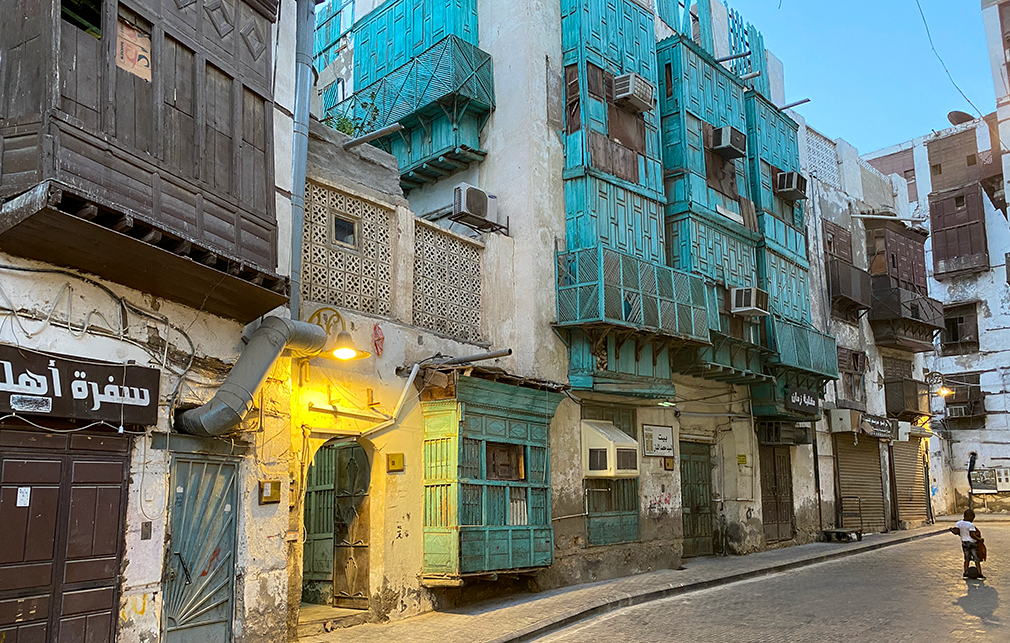 Drowning in atmospheric, UNESCO-listed architecture and teeming with the daily pottering from a kaleidoscope's worth of colorful nationalities, Jeddah wastes no time sucking one in – the vibe (aged crossroads), the aromas (spices, incense), the sights (dilapidated though finely intricate architecture) and the sounds (bustling market, a mélange of meowing, calls to prayer) all converge into a fascinating welcome wagon. Here's how to take in the best of the city in one perfect day.
What to See
Jeddah counts itself as the Middle East's second-largest and second-busiest trading seaport, so it would be inappropriate to kick things off in any way other than a wander about the blue-walled Central Fish Market, where a Red Sea cavalcade of colorful fish – hammerhead sharks, grouper, parrotfish, squid – are gobbled up fresh off the local fishing boats by frenetic shoppers from as early as 5am. Take in the sensual assault before heading out to the Jeddah Waterfront, which was completely reimagined in 2017.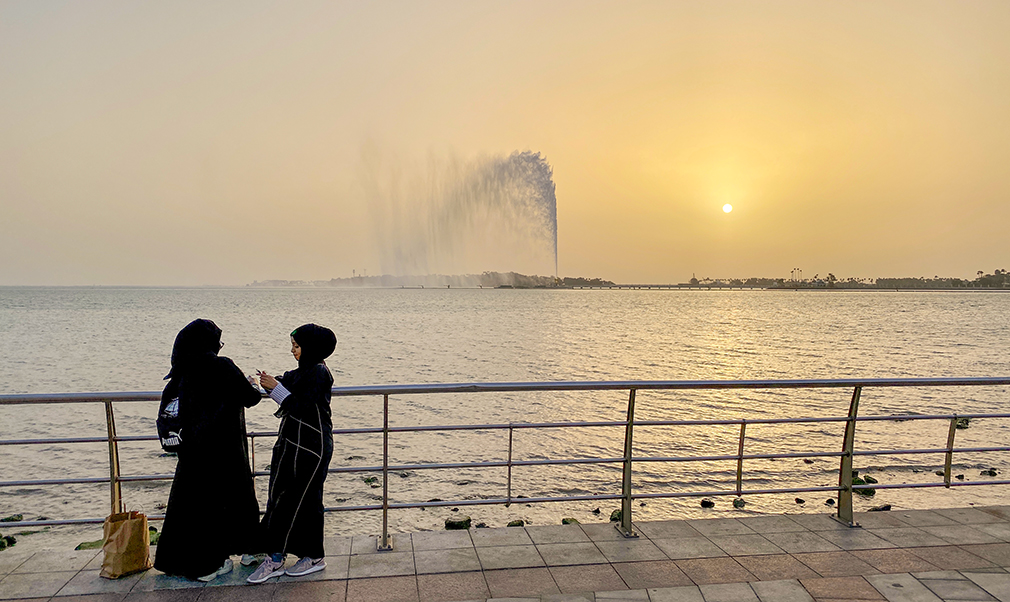 Though 30km long in its entirety, one of Jeddah's most pleasant sea-lined stretches is the 4.5km Corniche, featuring restored sculptures by Henry Moore and Joan Miró, new parklands and swimming bays and redeveloped promenades. It's a cornucopia of family strolling, waterfront workouts, giggling children, starry-eyed wannabe couples and tempting street vendors. Everyone comes to gawk at King Fahad's Fountain, the world's tallest fountain of its kind (water gushes skywards at dizzying speeds of 375 km/h, reaching heights between 260m and 312m). At night, over 500 spotlights illuminate this captivating H2O extravaganza.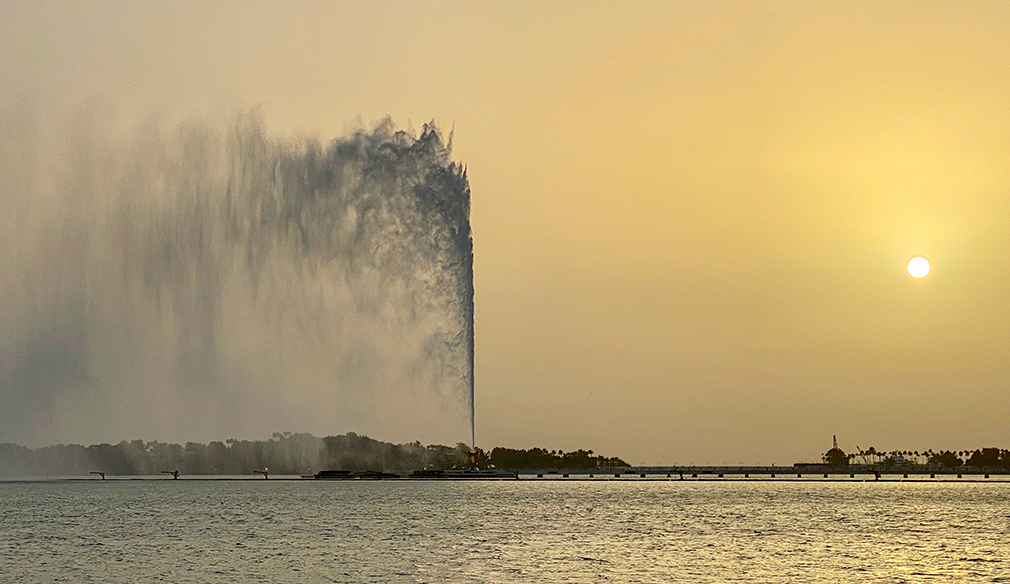 Set aside the entire afternoon for exploring Jeddah's atmospheric UNESCO-listed historic core: The gripping Al-Balad district. A long-held crossroads of pilgrims (Islam's two holiest sights, Mecca and Medina, are reached from here), traders and wayward gangs of cats, Jeddah's bustling core is everything alluring about travel in a compact, walkable neighborhood which elicits all the more exciting knowing nobody could explore it for tourism purposes until a few years ago. In the later afternoon, as the slow-build of the day's afterglow clambers towards sundown, beams of light recoil from projecting latticed windows (known as Roshan) awash in tones of emerald, aqua and coffee, each clinging to the neighborhood's trademark coral stone houses.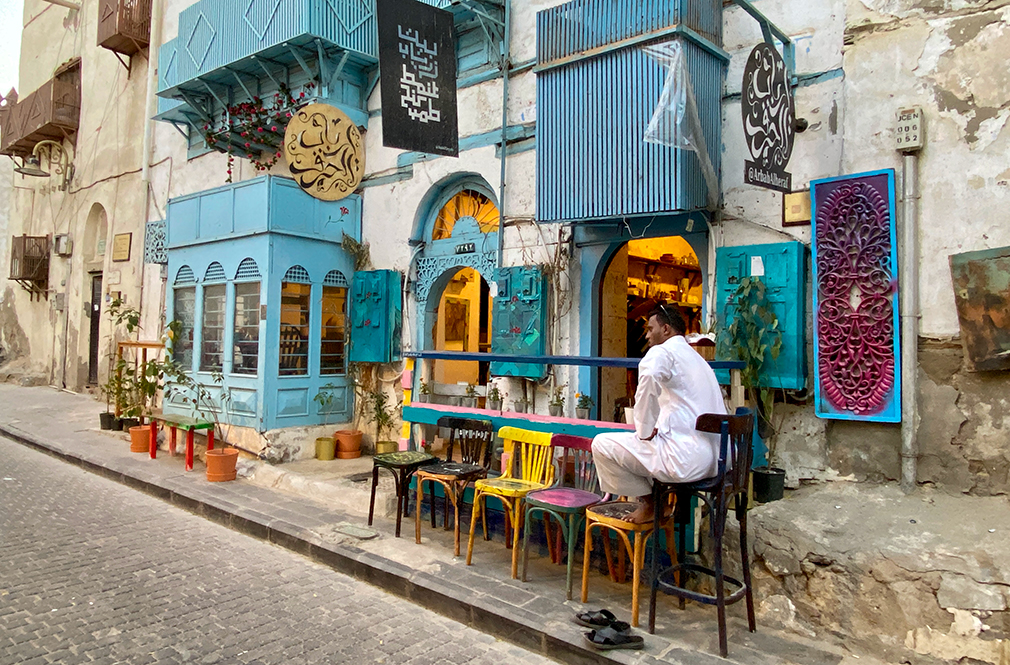 Calls to prayer emit from numerous mosques, only broken up between shouts of vendors hawking everything from madas sharqi (traditional Saudi sandals) to lemon-coated almonds. The frenetic capitalism shuffle leaves the eyes of onlookers in a perpetual tailspin. Historic homes such as Bait Naseef and Bait Jeddah fascinate in their preservation from simpler times. Around every corner, a story unfolds, and down every narrow alleyway a photo op emerges. This is Jeddah's finest hour.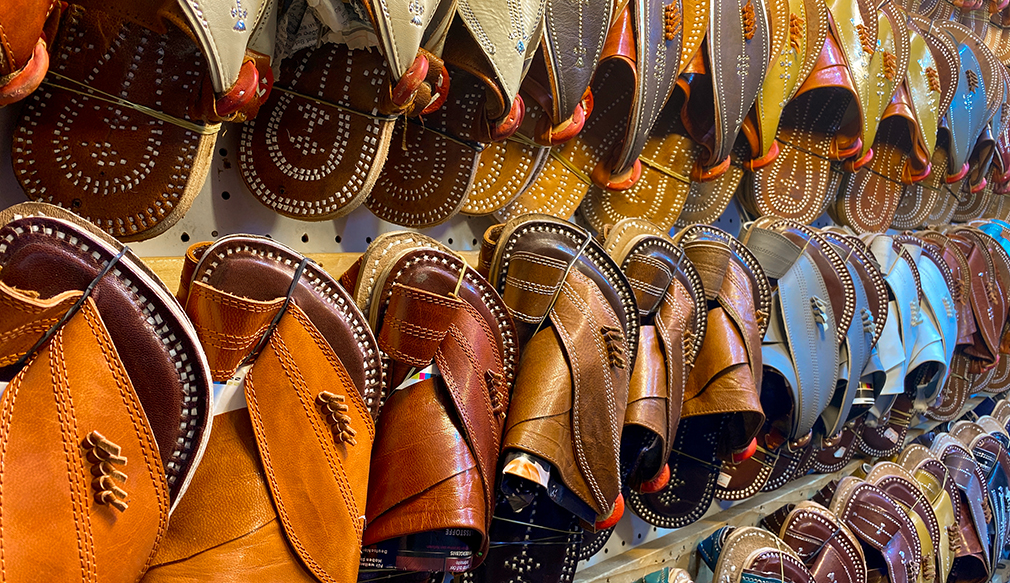 However, if you happen to be anywhere else besides Al-Balad (or the Corniche, for that matter) at dusk, make it the city's famed floating mosque, known as Al -Rahmah. Hovering on stilts above the Red Sea, this beloved sanctuary seemingly floats on the water, commandeering the sunset during the magic hour 27km north of Al-Balad. Visitors are free to wander the mosque's open courtyard 24 hours a day (though prayer times are best avoided) and wonder at the marvel of its turquoise dome blending in with the evening hues. If you can't squeeze it in, however, it's perfectly-positioned for a quick stop en route to King Abdulaziz International Airport.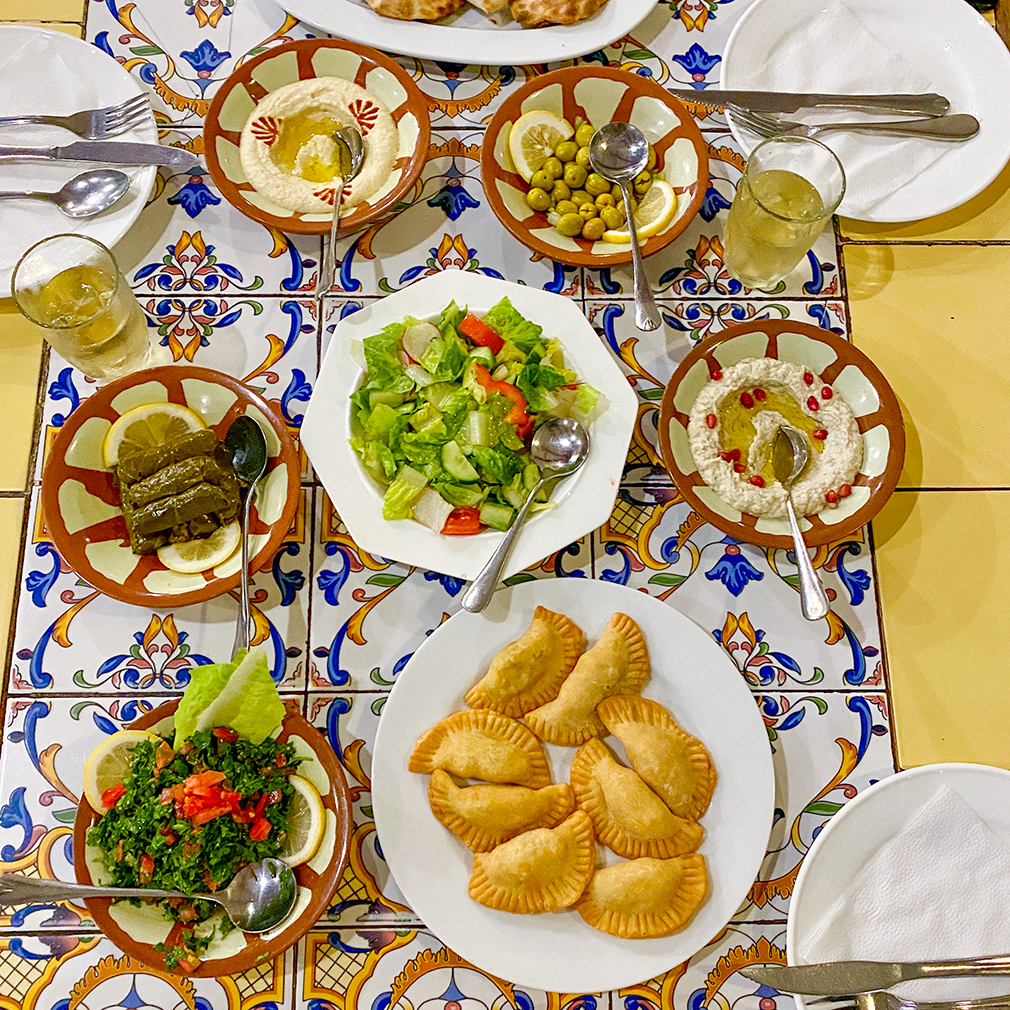 Where to Eat & Drink
Lunch is – take a guess! – fresh seafood. At the Sari branch of upscale Twina, Jeddah's well-to-do unite over pay-by-weight daily catch displayed on ice at the entrance. Seek out local fish like najil and hammour, which are grilled to perfection and wind up requiring little more than a squirt of lemon to delight (pair it with a side of fragrant cumin-laced sayadiyah rice like the Saudis do).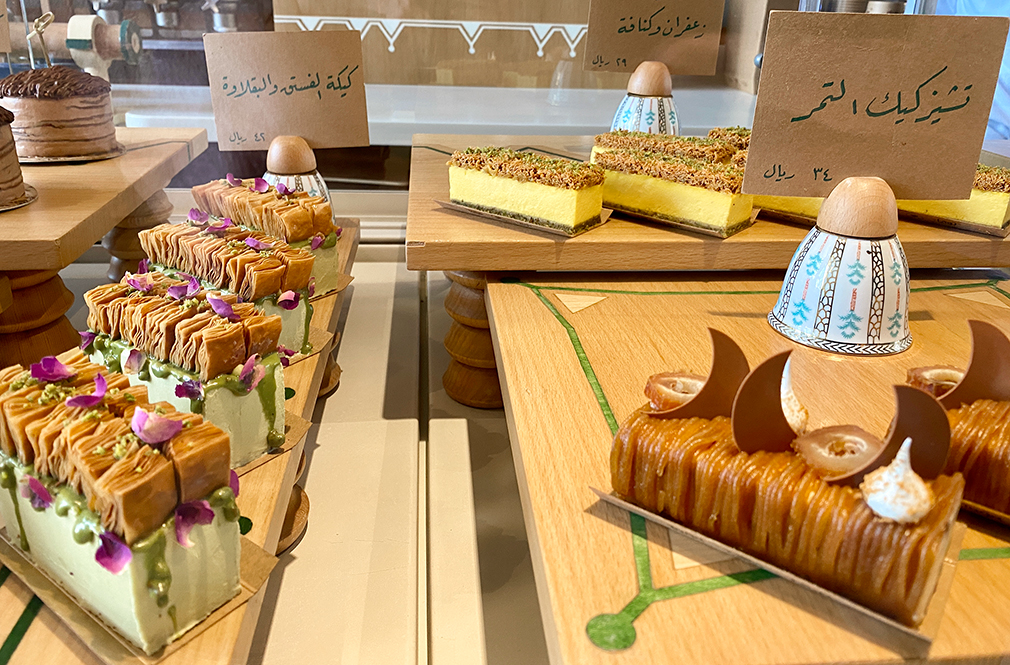 For dessert, head around the corner to Toqa Coffee, one of Saudi Arabia's hippest and finest coffeehouses. This female-owned caffeine superstar does much more than espresso, however. Scrumptious pastries such as saffron and kunaffa cheesecake are as visually stunning as they are delicious; and the hanin (a date cake made with ghee and sugar) is a saccharine juggernaut as well. If you're like us, you'll want pics for your Instagram but be forewarned – breaking out your smartphone at Toqa causes a swift and immediate international incident (house rules, they say, but for the sake of journalism, we did it, anyway!)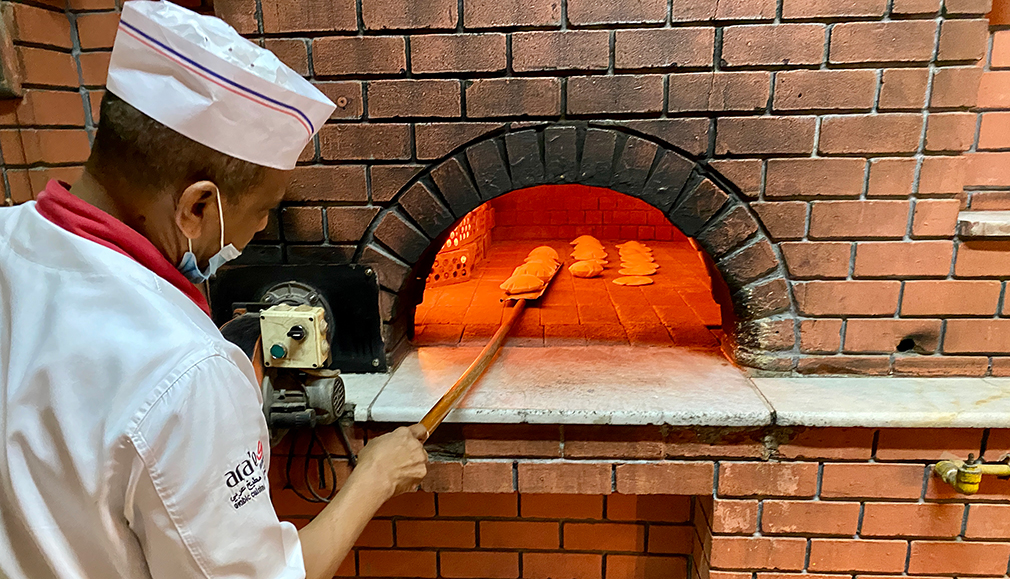 For dinner, no balmy Jeddah evening can be better spent than inside the outrageously spacious palm garden at Al Nakheel restaurant, which sits right on the Red Sea on Northern Corniche Road. Gaggles of Saudis pack in under the massive open-air tent, each family or set of friends collapsing on sectioned traditional couches strewn under slowly rising plumes of fragrant shisha smoke. Servers dance amid the plush and puff slinging traditional Arabian pita bread, plucked fresh from nearby wood-burning ovens, only pausing to concoct pitchers of "Saudi champagne" (apple juice, sparkling water and fresh fruit) or drop dazzling platters of exotic Arabian delicacies.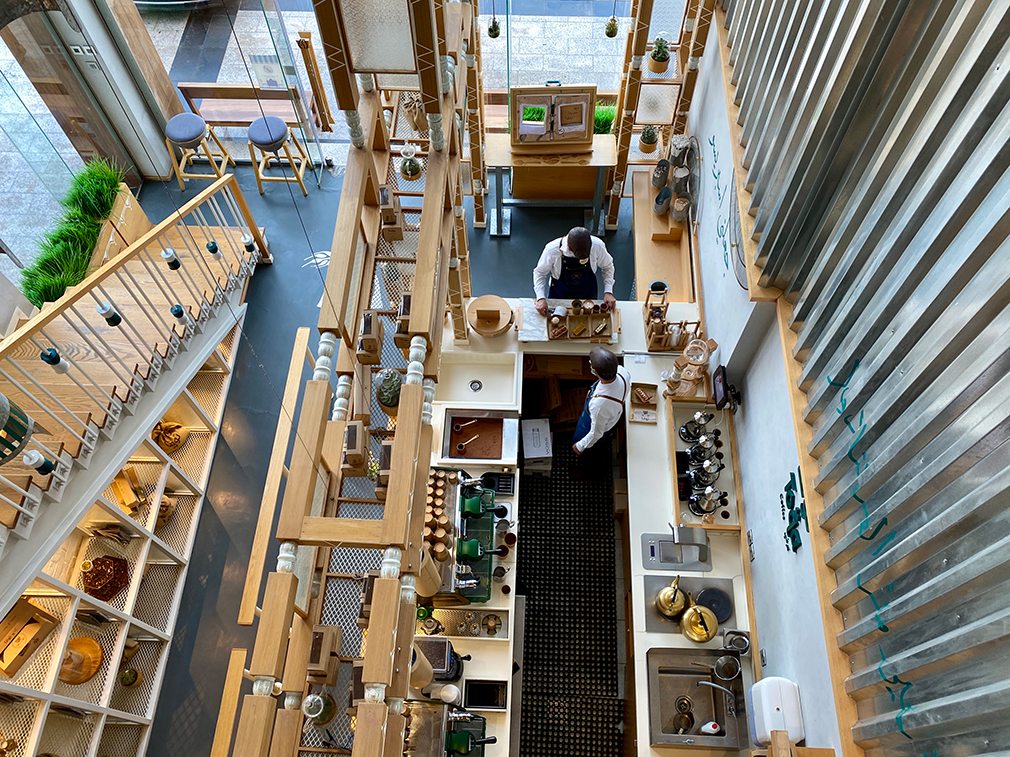 As with all travel, culinary exploration is always an integral part of discovering a new place, but Saudi Arabia is really new (for most travelers, anyway). Of course, your table will be peppered with some usual suspects (tabbouleh, fattoush, hummus, stuffed grape leaves) but then there's also Saudi-style mantou (meat-filled dumplings) and yaghmous, a sort of baked meat pastry (the likes of which isn't even Google-able according to the spelling on the menu!). Succulent platters of barbecued chicken and lamb followed, too – a Hejazi Last Supper, if you will. The relaxed atmosphere feels as local and unfamiliar as one finds in an international city – and it's wonderful.
Be it a roundabout or a restaurant, Jeddah dazzles, even if only for one day.