OUT OF OFFICE SPOTLIGHTS PIONEERS WHO HAVE DECIDED TO PURSUE THEIR PASSIONS BEYOND THE TYPICAL 9-TO-5 JOB.
If you are looking for pro photo tips on your next Mexican holiday, the W Punta de Mita, on the Riviera Nayarit has dedicated Instagram concierge, Wanda Anzaldo. Located on one of Mexico's best surf breaks, this picture-perfect resort is helping guests step up their selfie game this program.
Find out how it works, how you can book it and a few top tips from Anzaldo.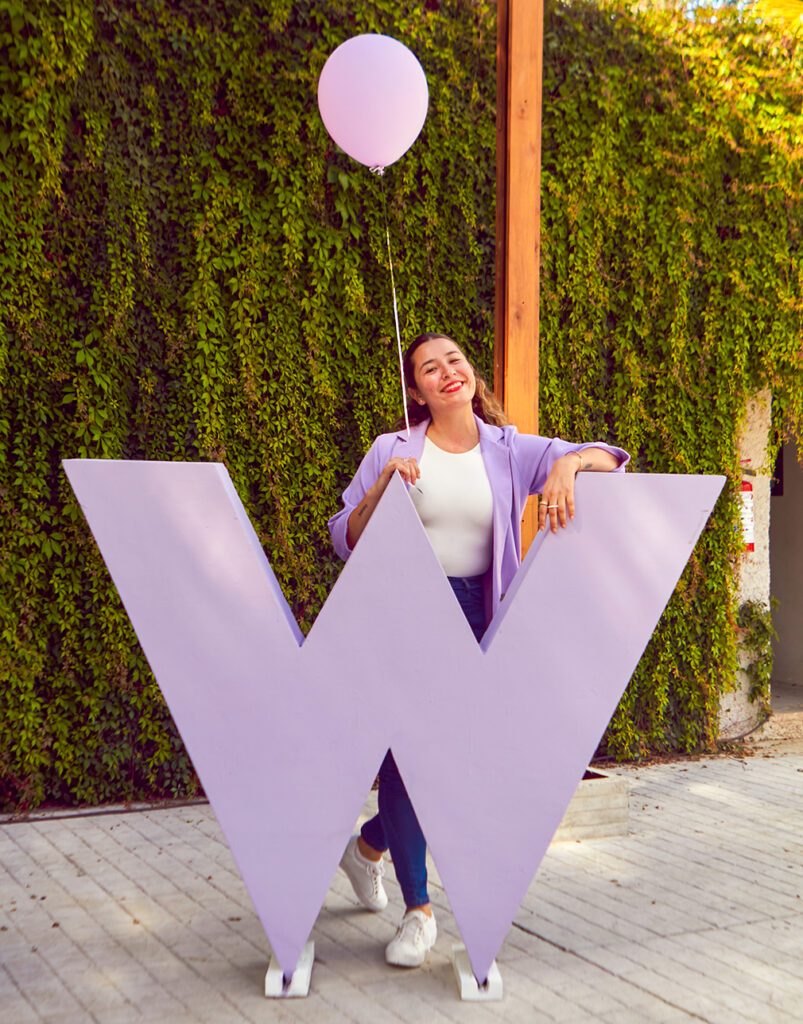 How long have you been the Instagram Concierge at the W Punta Mita and how did this job come about?
I've been the Instagram Concierge for almost a year. We noticed an influx of travelers that were drawn to the property for its bright, bold and colorful design. In this social media driven age, social channels like Instagram and TikTok are driving factors in consumers deciding where they want to spend their next vacation. I'm happy to be leading this initiative and sharing my expertise and love for capturing moments with those who visit the resort.
What is a typical day like for you?
Lucky for me, no day is the same and this job truly allows me the freedom to let my creativity run wild. On certain days, you can find me curating IG maps for guests based on their aesthetics, other days I'm assisting with on-site photoshoots or marketing and social initiatives.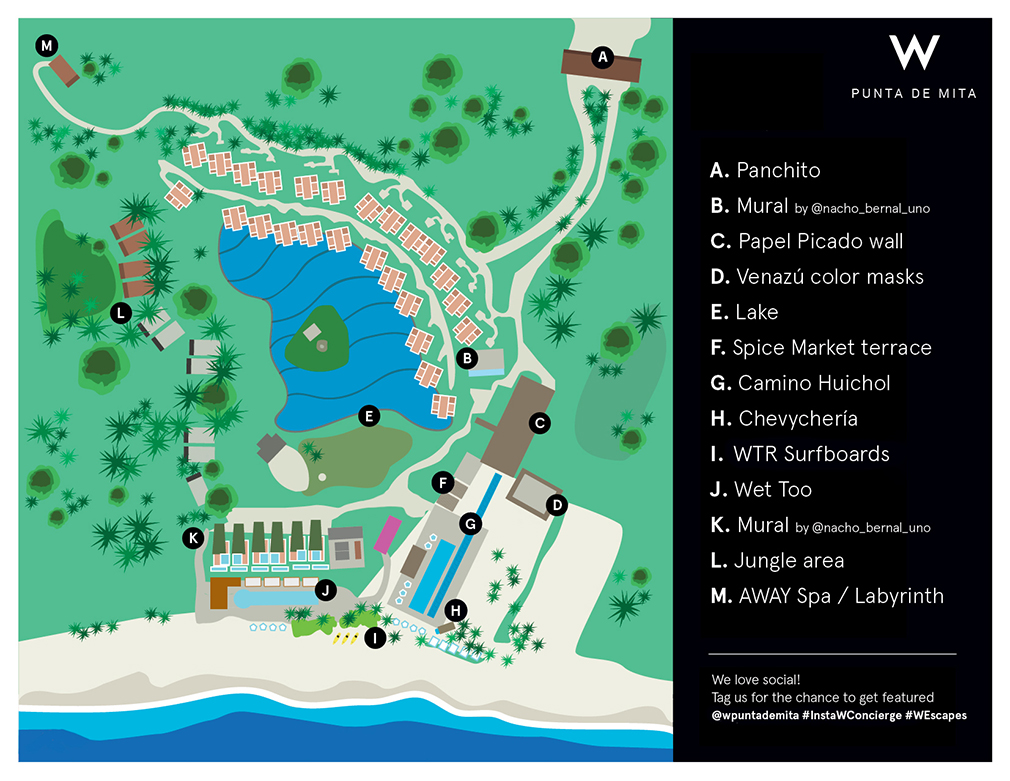 How do guests book this service?
Guests email a link to their Instagram profile to myself before or during their stay to receive an infographic map marked with the most Instagram-able spots on property. Based on their interests and aesthetic, I will recommend several spots on the map where guests should snap pics.
What are the best spots on the property?
While the entire property is backdrop worthy, among the best include the beautiful Camino Huichol, a walkway made up of more than 700,000 individual mosaic tiles with designs inspired by the area's indigenous natives. This walkway extends from the Welcome Area all the way out to the ocean.
Also, the sunset views here can't be beat! Most people don't think of it, but another great spot for snapping photos is right in their guest room. Our lake and ocean view suites feature funky decor, headboards made of surfboards and private patios with bright chairs and surf-inspired wall art with images of icons like Frida Kahlo holding a surfboard. Guests don't have to travel very far or try too hard to find these stunning backdrops during their stay, there's beauty in every corner.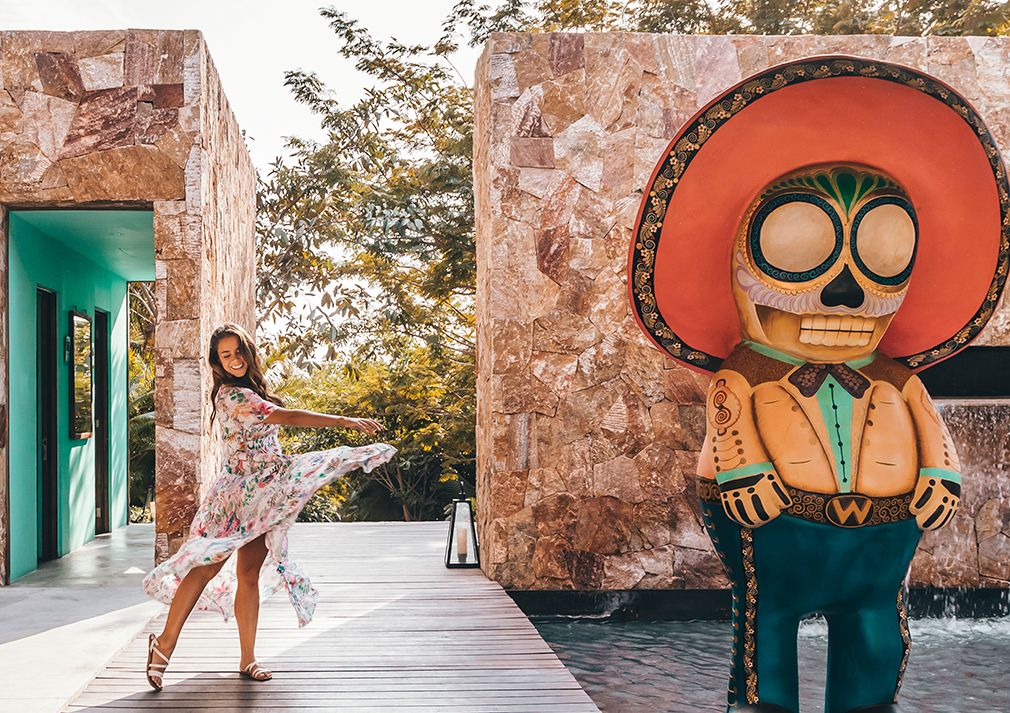 Any tips for guests to take the best images for social media?
Any great image has the best lighting, angles and of course, scenery. Lucky for us, guests can take advantage of the natural beauty that surrounds them like the lush jungle and flora, pristine beach, and beautiful lake. Lighting is another important factor to take in when getting that perfect shot. Fortunately, Riviera Nayarit has great weather for most of the year with some of the most gorgeous sunsets imaginable in Mexico.
Do you think other resorts should or will start offering this service?
I could see other hotels adapting and adding something similar to their resort offerings. Travelers want to capture these special moments to share with their loved ones for years to come. This initiative allows them to do just that without the stress.