The increasing popularity of Portugal over the past few decades can be measured by all the Europeans and Americans who have decided to call this Latin country home. In fact, it's been recently dubbed the 'the California of Europe." At the hub, is the capital city of Lisbon which has become a haven for gastronomy, design and top hotels. With diverse neighborhoods made up of seven hills steeped in history and culture with a thriving nightlife scene, we asked a local expert to help us navigate 'the best of the city' including where to eat, drink, shop and sleep – with a few hidden gems that don't even have a website.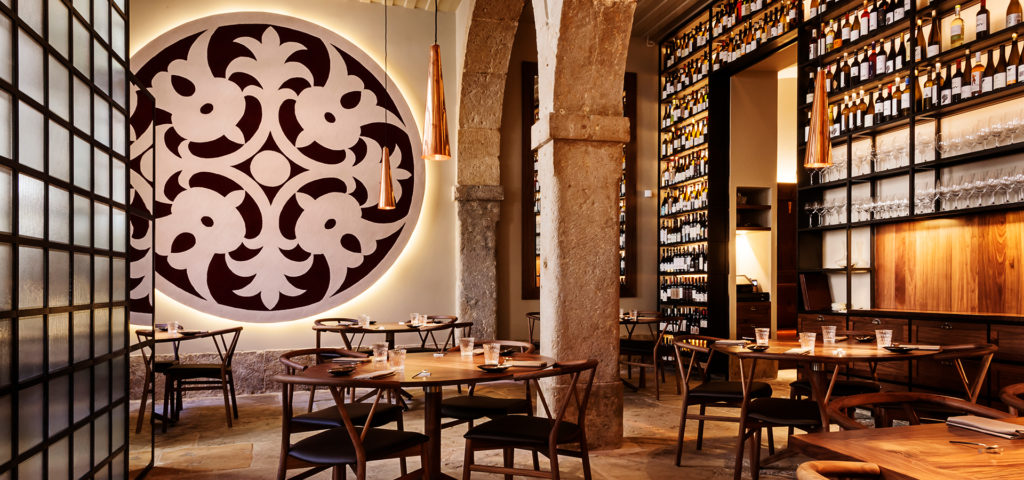 RESTAURANTS

Worth the Splurge: Alma
Amicable two-star Michelin chef Henrique Sá Pessoa's flagship Alma isn't the most famous fine dining destination in Lisbon, but it's almost certainly the best. His tasting menu takes on nouveau Portuguese cuisine (€145) will floor you with flavors (even those as simple as a red pepper coulis pop with culinary pizzazz) and surprise you with outside-the-box wine pairings.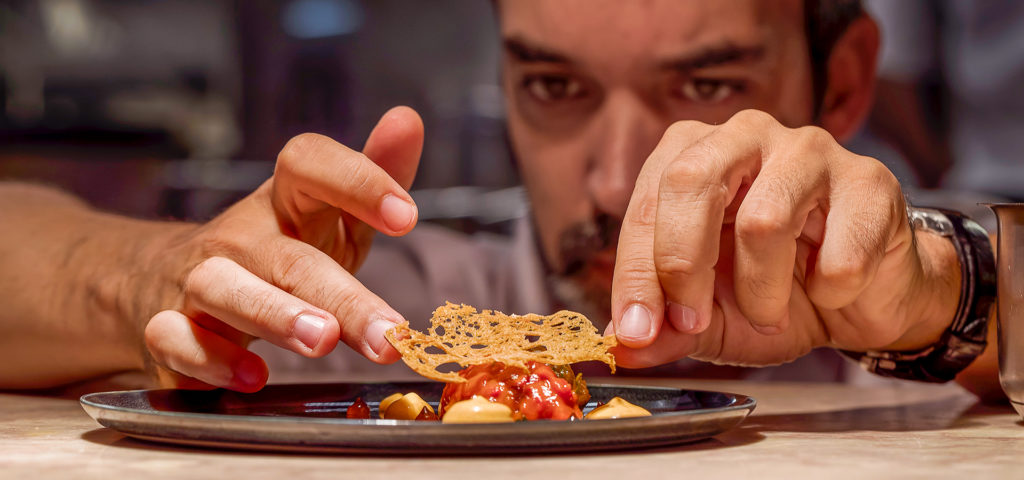 Lisbon's favorite tasty mess is a simple Portuguese sandwich known as a bifana (thinly sliced, slow-cooked pork marinated in white wine, garlic and paprika, served on a soft roll with mustard and/or piri-piri hot sauce). Cheap as chips and usually chased with a modest imperial (draft beer), it's cooked in bubbling lard across town, but is considered a work of art by Afonso.
Don't let the idea of dining inside a circus school throw you, new chef Pedro Bandeira Abril's modern twists on Portuguese classics – often with Algarvean leanings likely leftover from longstanding gourmet Chef Bertílio Gomes – are almost as magical as the view from this intimate dining room jutting from the edges of an Alfama hillside. Newly-introduced fado nights are more touristy, but the soundtrack remains expectedly phenomenal nonetheless.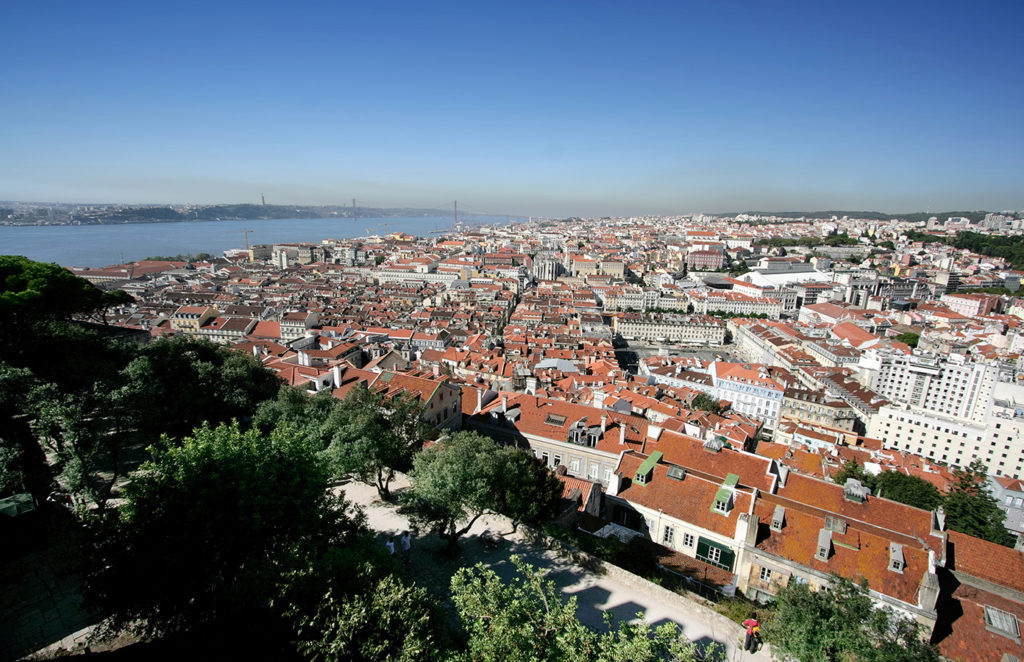 For Lovers of the Sea: O Relento
Everyone – including the late Anthony Bourdain – sends folks to Cervejaria Ramiro for Lisbon's best seafood and that's perfectly fantastic, but those who prefer top quality-level fare without the fame-induced hullaballoo head to O Relento in Algés, an 11-minute train ride from central Lisbon. You'll encounter less fanfare and clamoring for a table (they take reservations!), and even better tremendously-fresh seafood. A bib wouldn't be inappropriate.
Located across the Tejo River in Almada, Atira-te ao Rio boasts all the trimmings of a splendidly romantic evening out: Riverside tables, under the eye of the city's Golden Gate-esque 25 de Abril Bridge, with the entirety of Lisbon's illuminated landscape laid out before you. You'd be hard-pressed to find a more starry-eyed supper anywhere in the city – and the seasonal Portuguese cuisine is excellent.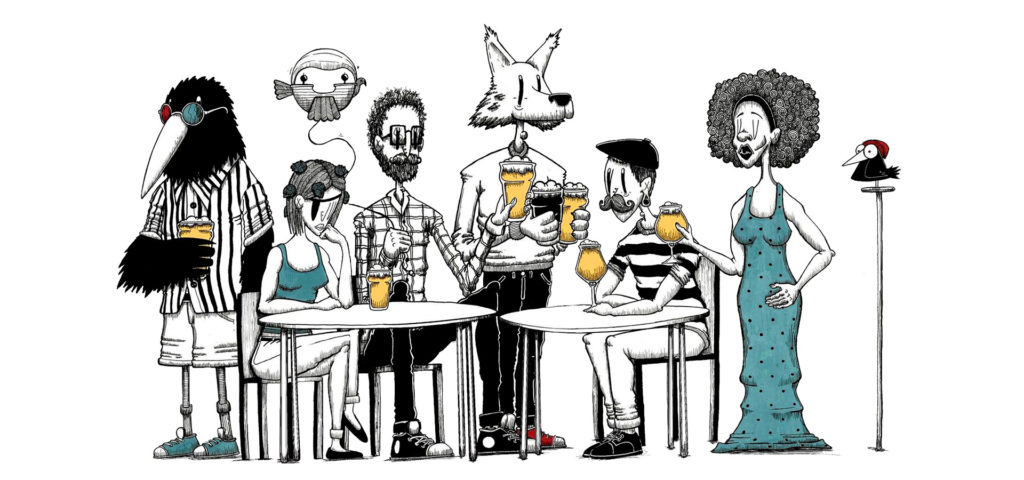 BARS

Cerveteca Lisboa was the first – and remains the best – craft beer destination in Lisbon. Owners Rui and Carolina know their suds and meticulously curate cervejas artesanais from Portugal, Europe and North America. There are two locations to quench your thirst: on pretty Praça das Flores in trendy Príncipe Real; and the newer, roomier location in more suburban Roma-Areeiro.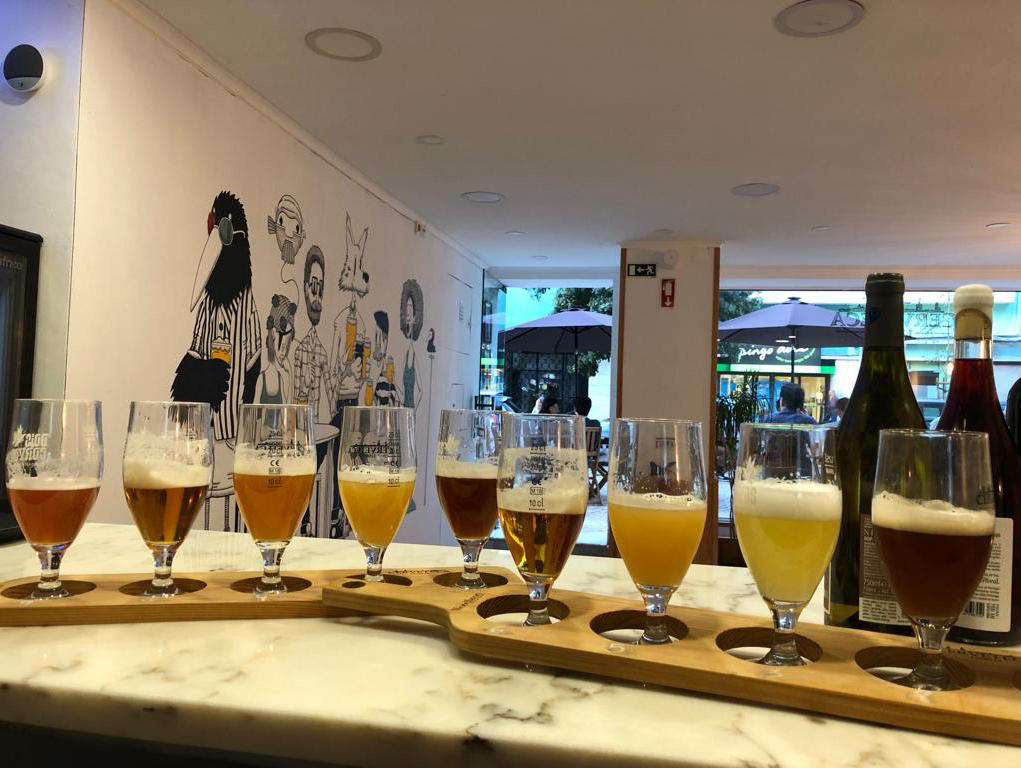 Best Drink with a View: Park
Lisbon is chock-full of rooftop bars – the city's privileged position among seven hills means drinks with a view are never more than an elevator ride away. Unlike the competition, however, Park, is planted on the rooftop of a multistory parking garage rather than a five-star hotel. Of course, that unorthodox detail ensures a painfully hip see-and-be-seen crowd: literati, artsy creatives and social media mavens among it.
Best Natural Wine Bar: Black Sheep
The tiny wine bar that could: Black Sheep, originally conceived by an American couple from Seattle, only held about 15 oenophiles at a time pre-Covid; today, even less can squeeze in to enjoy some of Portugal's best boutique natural wines, poured by the glass or bottle. Friendly Brazilians Lucas and Bruna will steer you towards some of the city's best juice – if you can manage to snag a spot!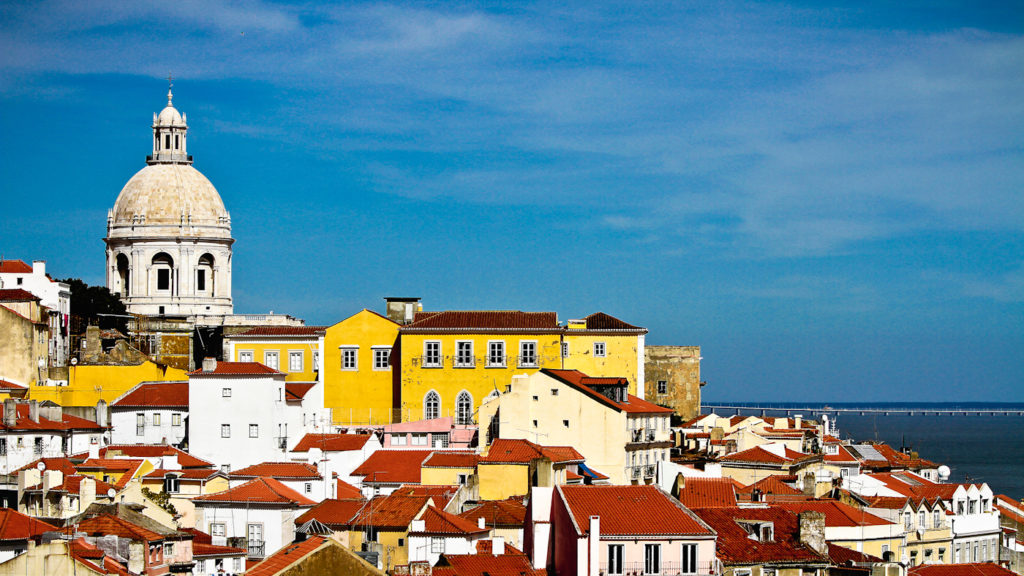 If you like your drinks with a fascinating array of bric-a-brac to gawk at, this fascinating watering hole is stuffed full of thousands of 18th-20th century artifacts, the results of a private collection that serves every bit as a museum as it does a cocktail bar. Wandering its five darkened rooms on the way to the restroom can often result in disorientation – you'd be wise to recall the exact miniature doll, model airplane or vintage Bordallo Pinheiro ceramic you were sitting near. If Alice in Wonderland featured a trippy speakeasy, this would be it.
The downstairs Delibar at JNcQUOI Avenida (for Avenida da Liberdade – Lisbon's most fashionable avenue) is the domain of €320 bottles of Dom and the stylish crowd who thinks nothing of throwing a few vintages on their corporate expense accounts. Around a rounded rectangle bar forged from marble, you'll jockey for position amid shuffling pairs of Christian Louboutin's and Manolo Blahnik's attached to beautiful people chasing Beluga Caviar with liquid gold. The name? It's French. Get it?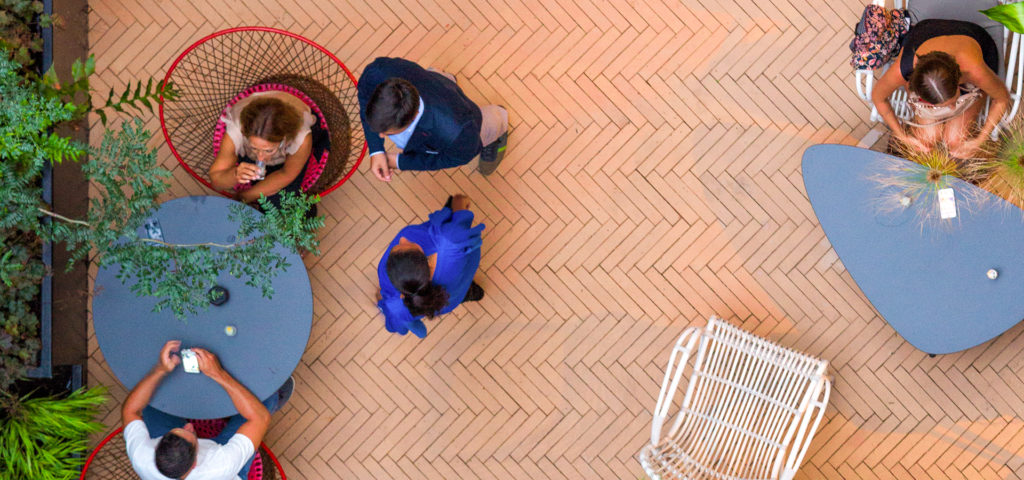 PLACES TO STAY

Trendsetters a

nd Fashionistas Only
:
Valverde
A design delight spanning neoclassical to Scandinavian mid-century-modern, this discreet boutique hotel is the stomping grounds of Lisbon's artsiest, most discerning glitterati. Don't let the subdued entrance fool you – inside this urban-inspired townhouse are 48 painstakingly considered rooms across two buildings connected by a walled indoor garden; the whole place an Instagram-ready showpiece of form and function.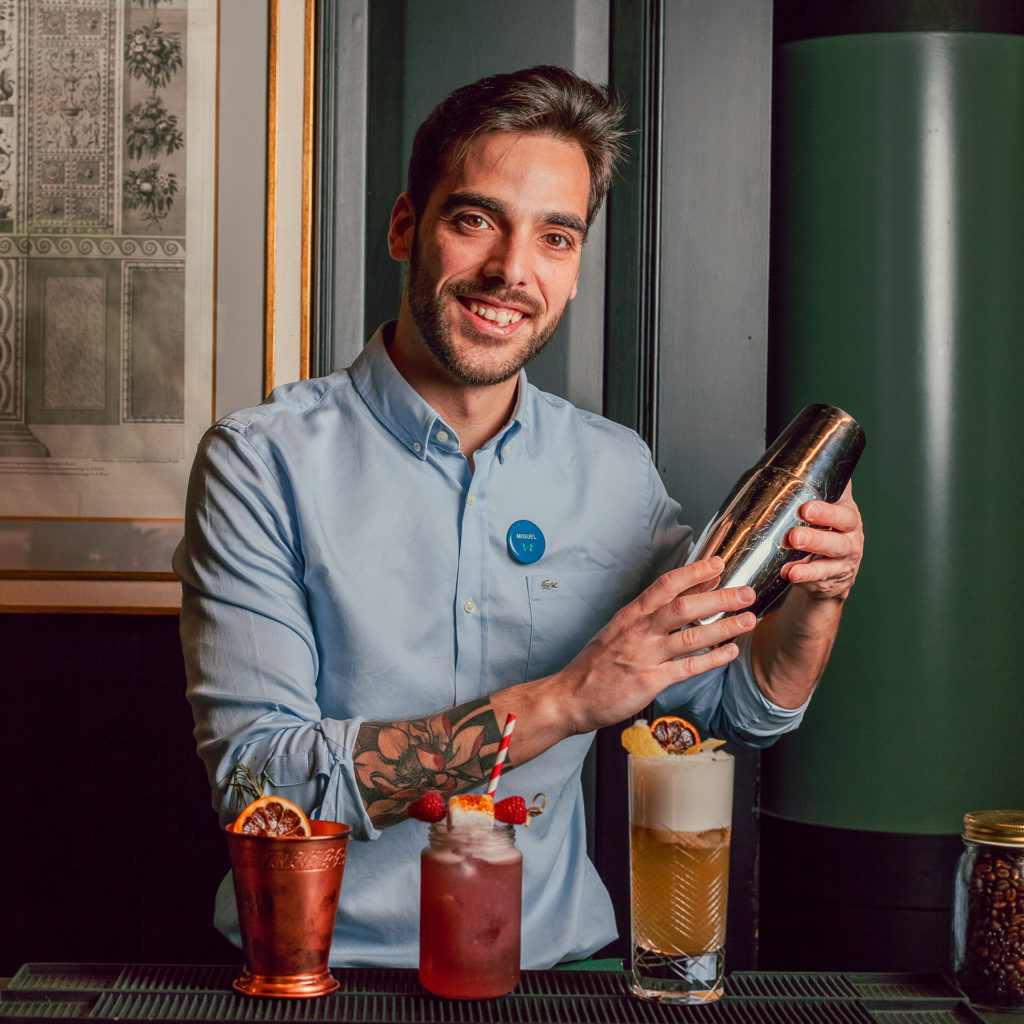 Right on Principe Real's leafy main square, this exceptional B&B occupies a 19th-century neo-Moorish palace, much of whose original accoutrements remain in the 14 rooms and suites (exquisite artistic tiles, elaborate frescos, ornate molded ceilings). Staying here means forgoing things like a constantly-manned reception, but the period accents, spacious rooms and in-the-heart-of-it location will leave you wondering why it's not twice the price.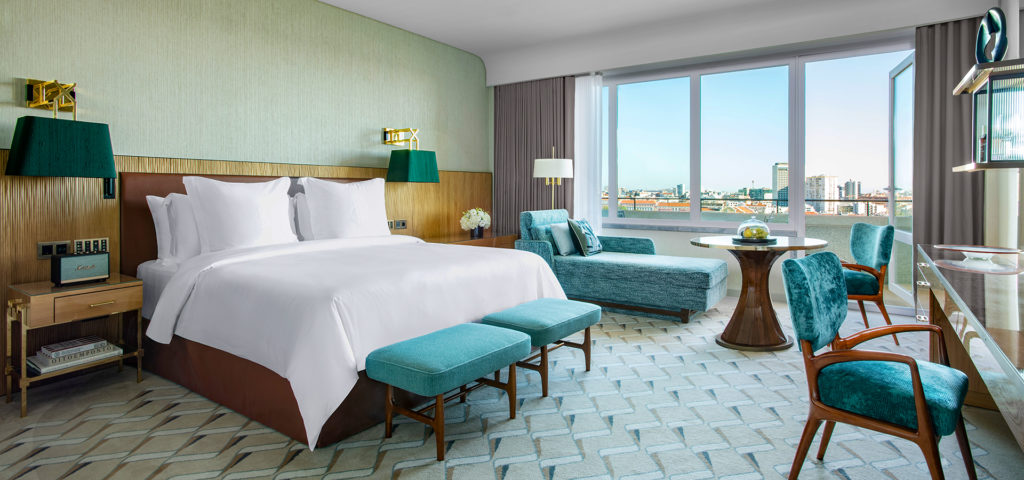 A Modernist Lisbon showpiece built on an order by former Portuguese dictator António de Oliveira Salazar in the late '50s, this iconic Four Seasons has far outlived the authoritarian command responsible for its construction. The newly-redesigned 282 rooms are steeped in classic FS luxury and amenities, but it's the open-air rooftop fitness track and the incredible art collection (one of the largest and most important private assemblies of contemporary art in Portugal) that sets it apart.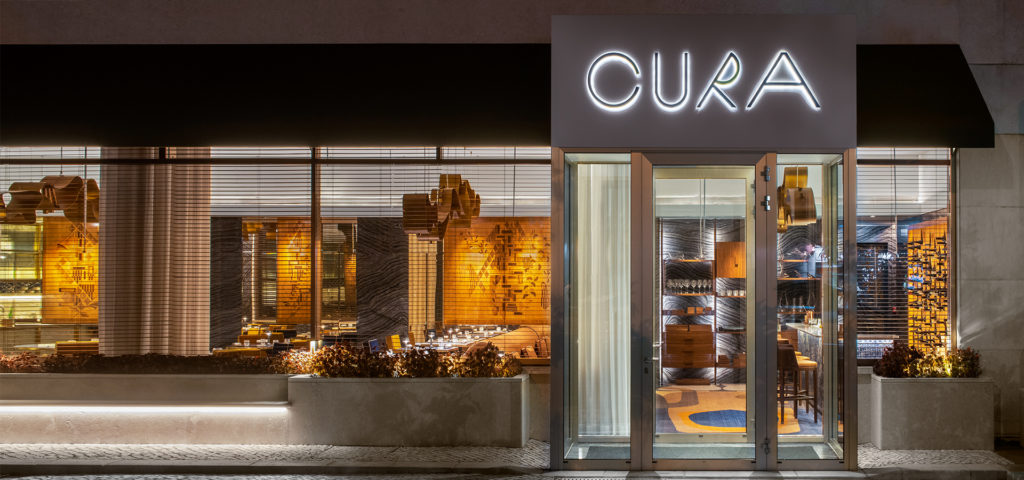 This 16-room Bairro Alto guesthouse welcomes gay couples and open-minded others into its Lisbon safe haven, a restored 18thcentury space of whitewashed rooms and lively common areas (sexy lounge, small triangular pool and garden patio). Events like wine and cheese evenings, series nights and Sunday brunch welcome the public, so a continuous social buzz permeates this discrete, design-forward choice.
Home Lisbon is the kind of stylish accommodations that helped define the Portuguese capital as a beacon of luxury hosteling in recent decades. Located in bustling Baixa, it's a consistent top-hostel in the world award winner housed in a 200-year-old building still boasting original dark hardwood floors, period furniture and contemporary touches. While the doting matriarch cooks dinner, guests convene at the fantastic bar, which negates the need to bar hop. It's above and beyond for budget travelers.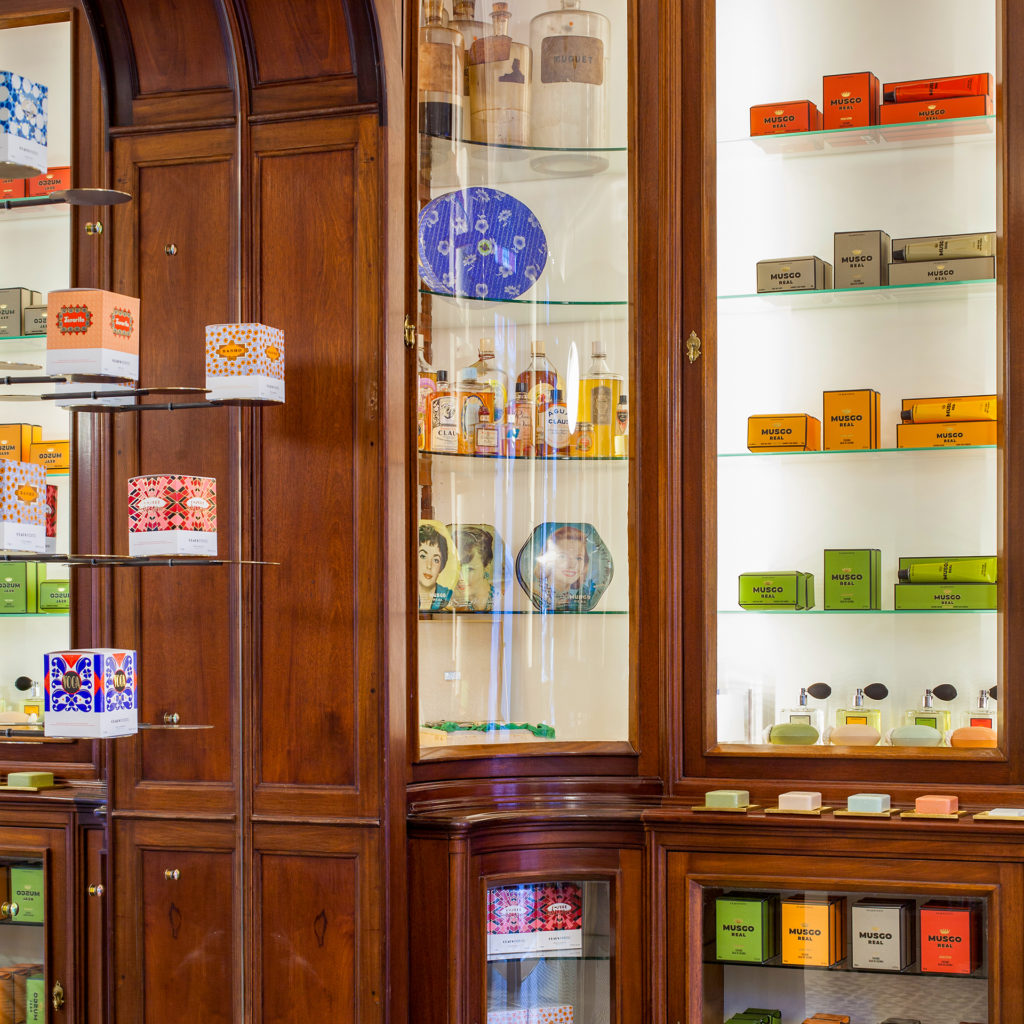 WHERE TO SHOP

Claus Porto has produced its trendy soaps, lotions and room diffusers since 1887, but it was the brand's 2016 re-branding that saw it reach into their design archives and resurrect the painstakingly vintage Art Deco and Belle Époque-style packaging that propelled it onto the Portuguese hipster forefront. Today, it has flagship stores in Lisbon and Porto, and its portfolio of cosmetics look every bit as good in your guest bathroom as they smell on your skin.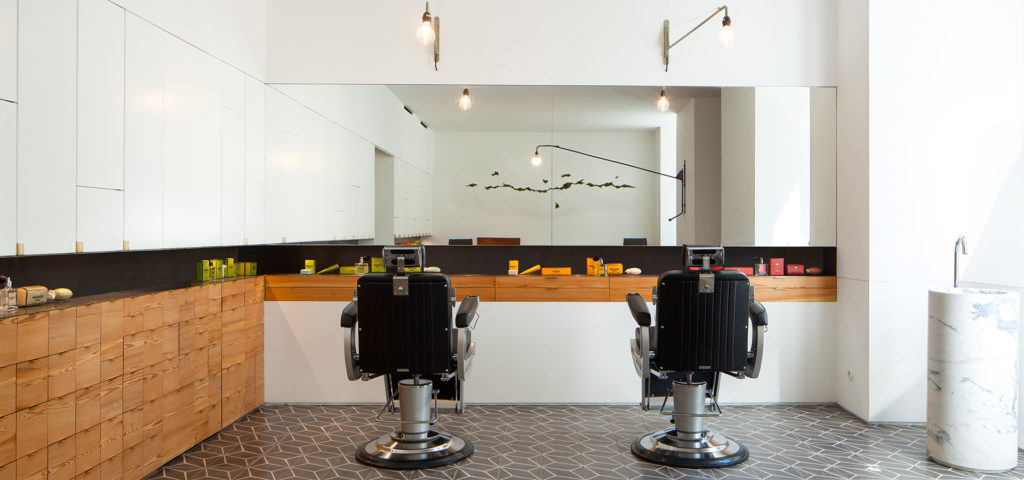 Lisbon's coolest tourist shop is stuffed with locally-produced artisanal items that you won't regret buying when unpacking your suitcase upon returning home. It features an all-Portuguese inventory of the country's most iconic brands (Bordalo Pinheiro porcelain, Emílio Braga notebooks, Viarco pencils, Claus Porto cosmetics, etc.) as well as designs from its own studio.
Portugal is the world's largest producer of cork, which is cultivated from oak trees in the montado (Portugal's Mediterranean forest). Of course, most of it goes to wine bottles, but cork is used to fashion all sorts of everyday items, most of which is touristy junk. Not at Cork & Co., where stylish items like rustic bowls, trendy bracelets and minimalist tea cups are a high-quality exception to the kitschy crap you see in street stalls.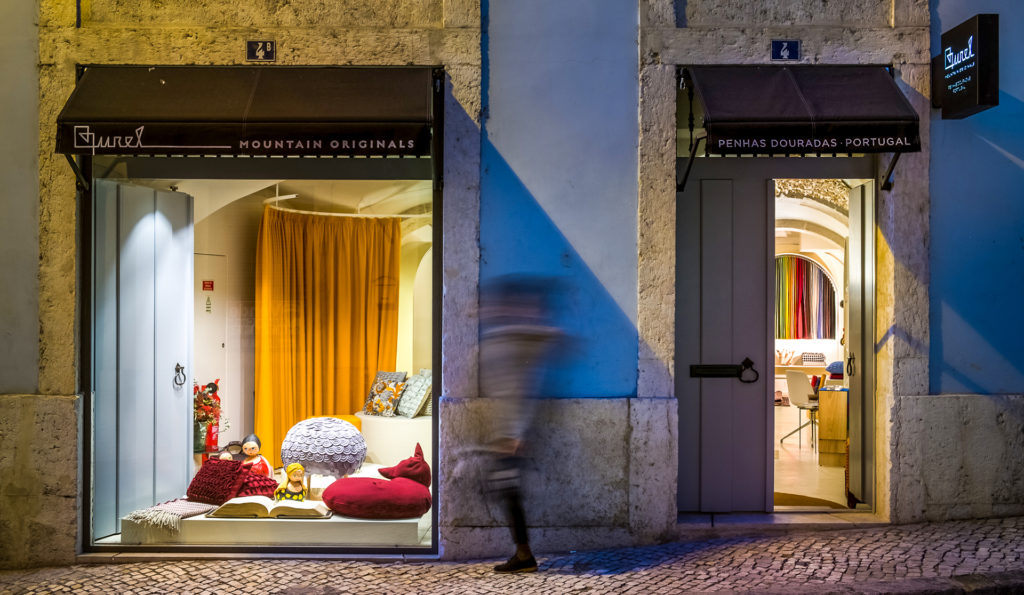 Burel, a Portuguese black wool that was once standard wardrobe fare for mountain-dwelling shepherds on the country's highest mountain region (Serra da Estrela), was nearly extinct before the ambitious owners of this shop resuscitated one of the country's most unique industrial heritages. Ethically dyed home décor objects, hats, blankets, shoes, throws and handbags, among other items, are beautifully handcrafted and fit for a 21st Century fashion show.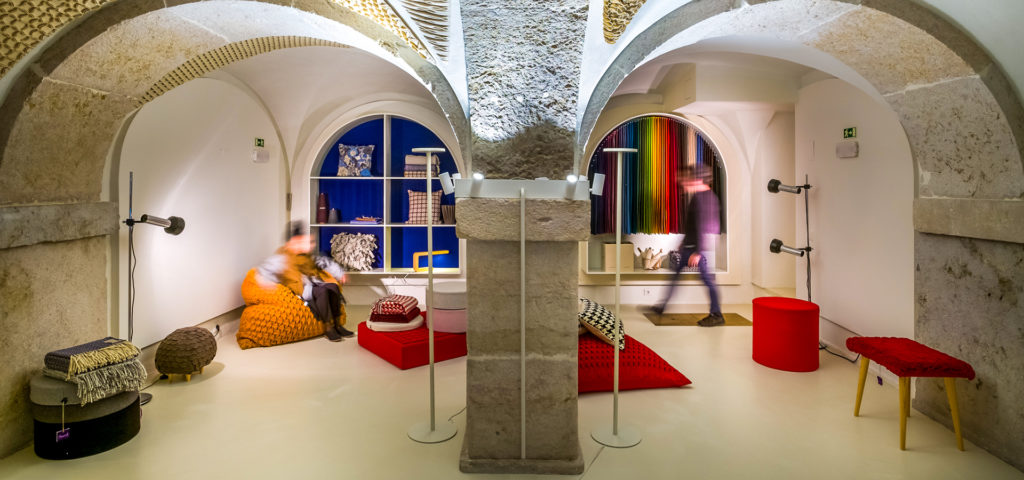 It's best to steer clear of Portugal's elaborate traditional azulejos, or decorative tiles, as most are fakes or stolen, but this hip, family operation sells discontinued original industrial tiles from the '60s forward. The designs often skew more modern and are likely more suited to whatever you might have had in mind back home. Browsing the stacks here evoke feelings of wandering the ever-elusive record shop for something that jumps out at you.
After a successful run online, Kintu has opened its inaugural shop in the São Bento district, where it features myriad Portuguese brands and creators across a wealth of categories: ceramics, jewelry, textiles, fashion, illustration and more. The minimalist shop is an absolute showcase for the cutting-edge works of Portuguese artists and a wonderful spot to pick up both gifts and a little piece of Portugal to take home.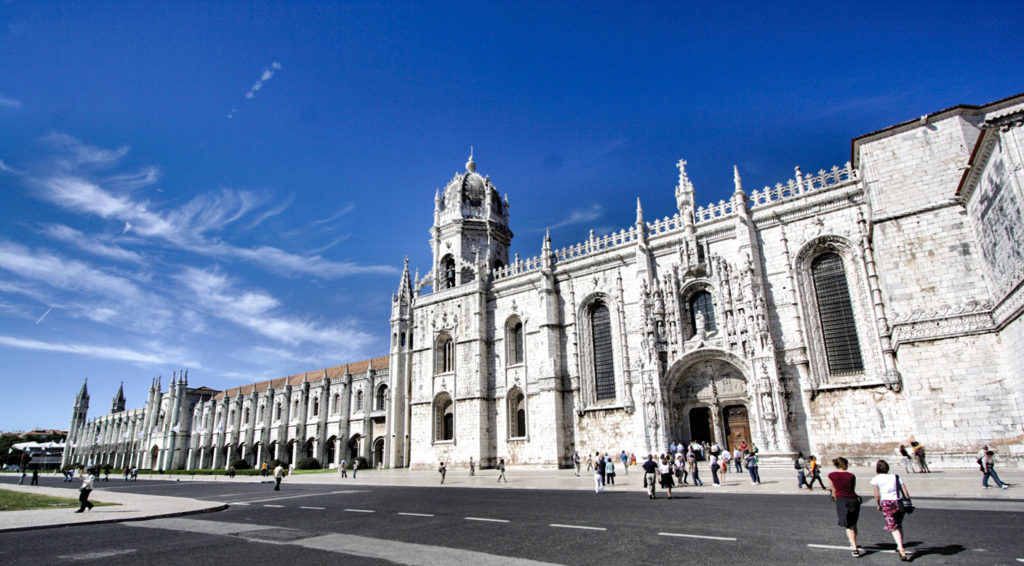 UNIQUE EXPERIENCES

Every nook and cranny of the gargantuan UNESCO-listed monastery in Belém is captivating, but nothing more so than the cloisters, where twists and turrets and knots of honey-hued stone reveal the intricacy and wow of one of the world's great Portuguese Late Gothic Manueline masterpieces. Dating to 1501, the fascinating structure was built on the order of Manuel I in celebration of Vasco da Gama's discovery of a sea route to India in 1498.
Best Ride: Tram 28
Lisbon's cheapest thrill is the €3 ride on Tram 28, which serves a commuter route between Campo do Ourique and Martim Moniz, passing many of Lisbon's greatest hits along the way. The charming neighborhoods of Estrela, Chiado, Baixa, Alfama and Graça; and postcard-perfect points of interest such as the Basilica de Estrela, Praça Luís de Camões and Sé de Lisboa, are all en route, making this the cheapest city tour you'll find in Lisbon.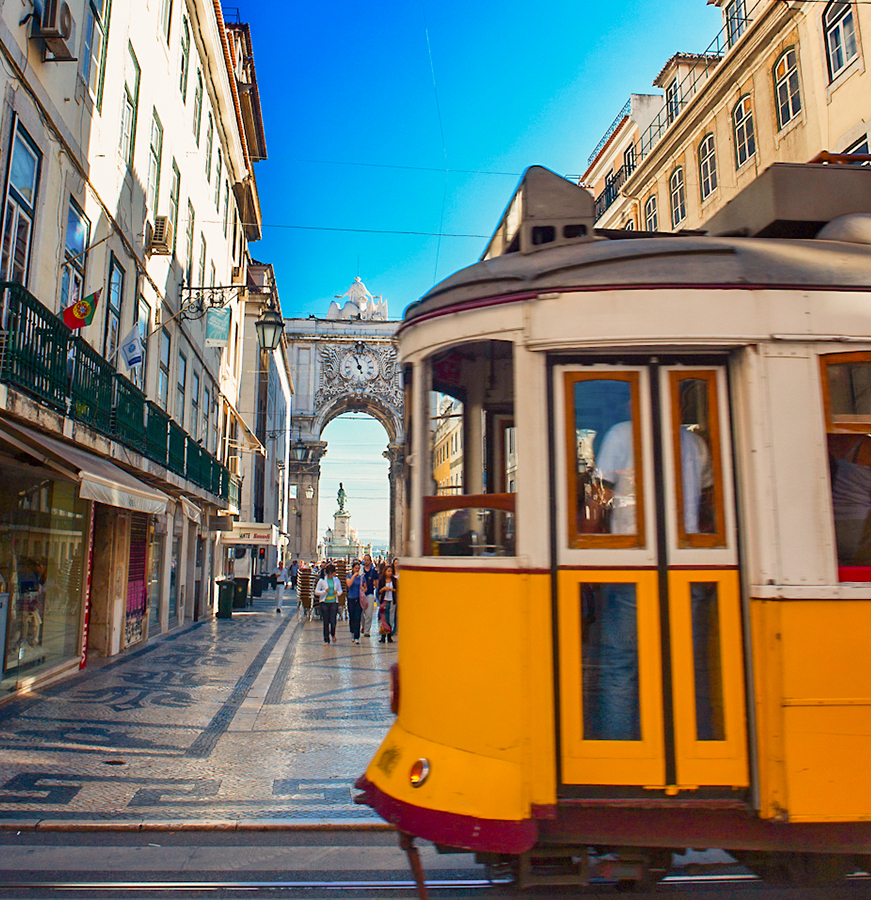 Dois Corvos, with its international team of brewers led by American-Portuguese co-owners who came to Lisbon via the Pacific Northwest, makes Portugal's best craft beer without fail. Their artsy-industrial Marvila taproom is the domain of hoppy double IPAs, barrel-aged stouts, imperial porters and a constant rotation of seasonal one-offs and guest brews.
Located under a non-descript Millennium Bank in Baixa, this fascinating underworld of ruins was once a 1st Century AD Roman sardine factory. Medieval and Islamic ruins were removed from the layered remains to reach the Roman layer, which includes Lisbon's only visible Roman mosaic, a Visigoth burial site and various baths and fish-preservation tanks. Archaeologists lead tours of the remarkable 850-sq-meter site, which sees unbeknownst travelers stroll by every day.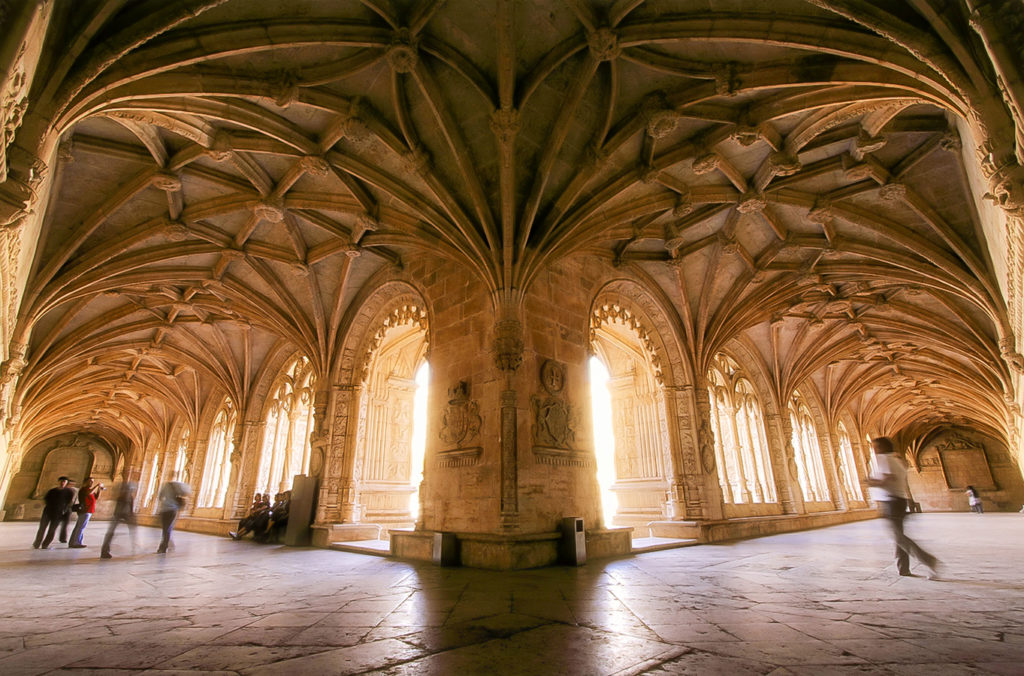 Playlist Pairing: Your Musical Accompaniment to Lisbon

"Cheira a Lisboa" | Amália Rodrigues (1972)
"Amar Pelos Dois" | Salvador Sobral (2017)
"Lisboa" | Tara Perdida (2013)
"Serviço Público" | Valete (2006)
"Loucos de Lisboa" | Ala dos Namorados (1994)
"Lisboa Mulata" | Dead Combo (2011)
"À Minha Maneira" | Xutos e Pontapés (2004)
"Nova Lisboa" | Dino d'Santiago
"Ó Gente da Minha Terra" | Mariza (2001)
"Não Percebes" | Sam the Kid (2002)
"Midnight in Lisbon" | Richie Campbell (2017)
"Lisboa Antiga" | Amália Rodrigues (1957)