In New Orleans, when they ask you "Where y'at?", be sure not to tell them where you are, but answer "Awrite,"—meaning: "I'm fine." Indeed, this buzzy burg on the Mississippi River has not only its own language but its own culture, a bricolage that blends its richly textured heritage. With French, African, Native American, Spanish and Italian roots, accented with folkloric elements from pirates to vampires to voodoo to tales of duels beneath the shady trees, the city is woven with a musical threadwork that includes both Jazz and the Blues.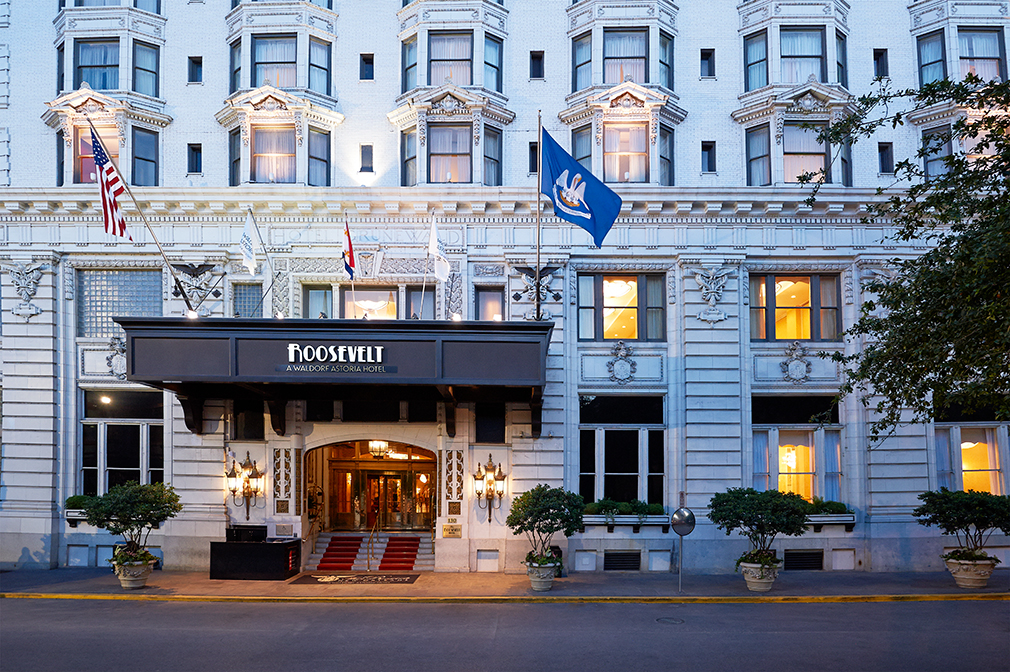 A culinary treasure trove, it is home to oysters, mile-high muffulettas, jambalaya, Creole cuisine, Cajun fare, chicory coffee and sugar-dusted beignets. Some of your favorite cocktails (the Sazerac for one) were invented here—and you can drink them in the original bars from whence they hailed. Blessed with both glamorous and characteristic hotels that evoke the city's attributes, museums, captivating shopping streets, Mardi Gras parades and streetcars, the sometimes-quirky city revels in its dollop of elegant Southern hospitality, its mysterious allure, its overt bawdiness and that forever enticing gritty charm. The result? The Big Easy may well be the United States' most fascinating destination. Here is what we propose you do.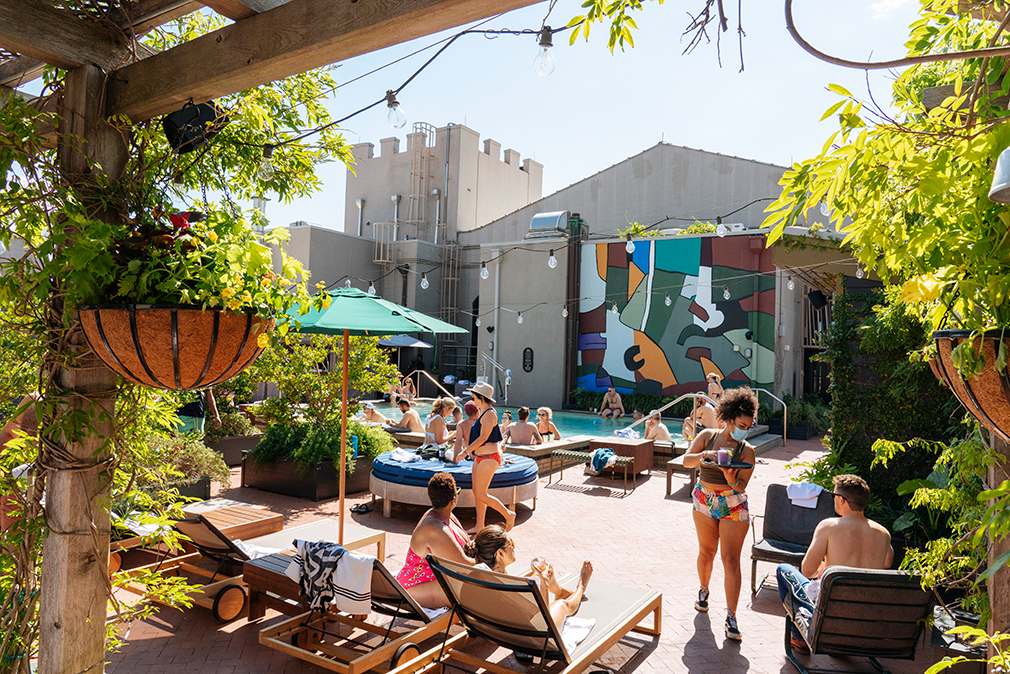 Stay Here

ACE New Orleans
Experience the Warehouse District, where the former Barnett's Furniture Store has been transformed into one of New Orleans' most evocative modern hotels. The ACE NOLA is intent on incorporating the city's melting pot culture with bohemian bravado, the canny hotel, enlivened by the design team at Roman & Williams, offers Seaworthy (oysters and other seafood from all three North American coasts), Josephine Estelle (Italian meets Southern), Three Keys (a musical and artistic venue), Alto ( rooftop pool and bar), and Lovage (a ground-level coffee shop).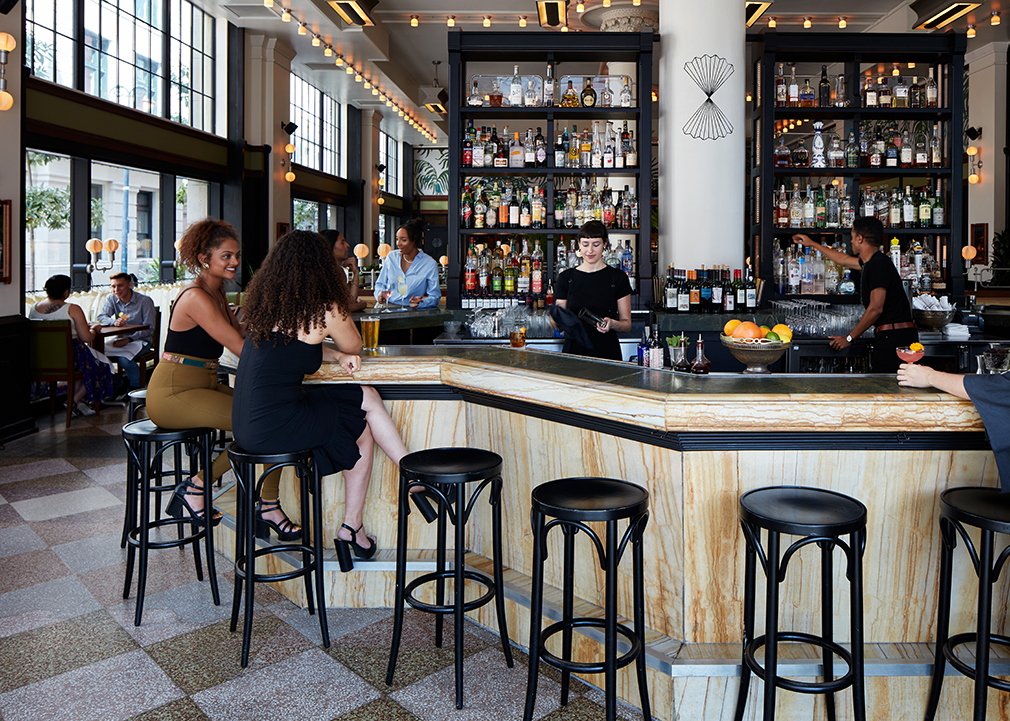 Room to Book: Choose a commodious suite, awash in French Deco design elements, window seats and a custom cotton matelassé quilt.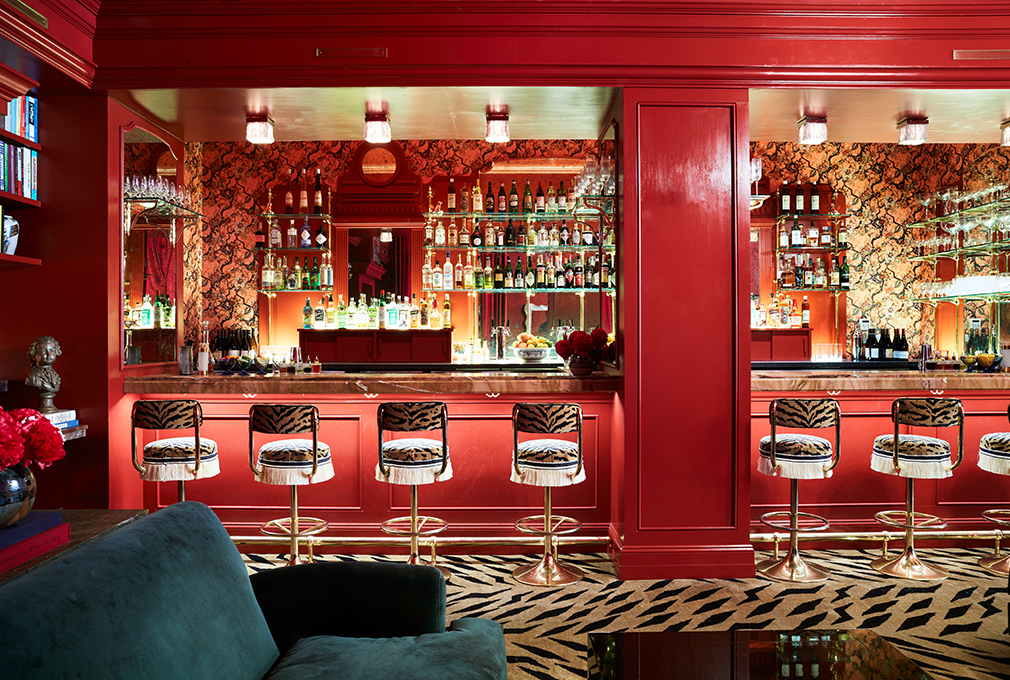 Maison de la Luz
You have to love a hotel that "finds beauty in the curious and defines luxury as moving through the world with grace." Like visiting the home of your quixotic aunt, Maison de la Luz, set in the Warehouse District, feels intimate, elegant and mollycoddling. Designed in partnership with Studio Shamshiri, 67 lushly appointed rooms and suites brandish ornate elements and towering ceilings. Named in two languages as a nod to New Orleans' rich heritage, the hotel draws those seeking more intimate digs with guest-only spaces—such as the Living Room, a sophisticated lounge that serves nightly wine and cheese and craft cocktails.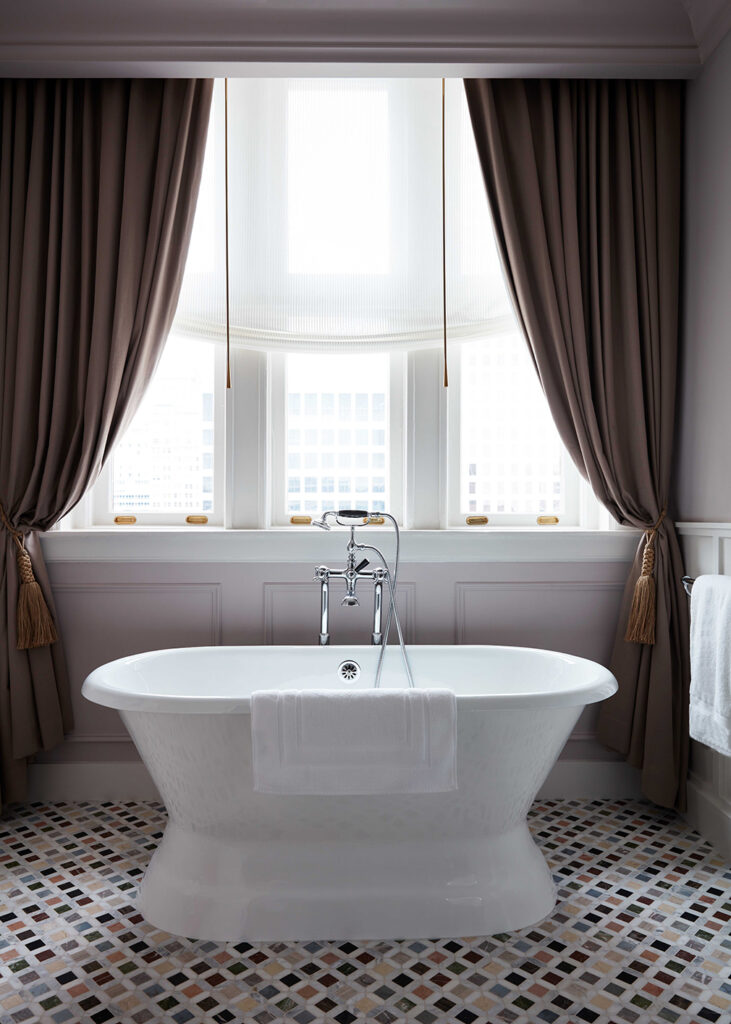 Room to Book: Choose the Grand Studio Suite for its 17-foot ceilings, huge windows and tempting soaking tub.
Four Seasons Hotel and Private Residences New Orleans
In a landmark building listed on the National Register,
Four Seasons Hotel New Orleans, the city's newest luxury hotel, rises 34 stories above the mighty Mississippi River at the foot of Canal Street. Summoning the building's Mid-Century status with stately New Orleans-style gracefulness, furniture and decor acknowledge the era (think: white Carrara marble, sleek furniture), while also embracing the Deep South (magnolia plaster reliefs above each bed). Keeping gastronomes off the street, Four Seasons handily competes with celebrated local restaurants, proffering not one, but two eateries created in partnership with two James Beard award-winning chefs. Enjoy Donald Link's homage to his home state at Chemin à la Mer (blue crab cakes for breakfast). And, at Miss River, Alon Shaya creates a "Love Letter to Louisiana," with both a caviar service and buttermilk fried chicken on the menu. Don't miss an aperitif in the glitzy Chandelier Bar.
Room to Book: The River View One Bedroom Suites won't let you forget where you are and are ideal for entertaining.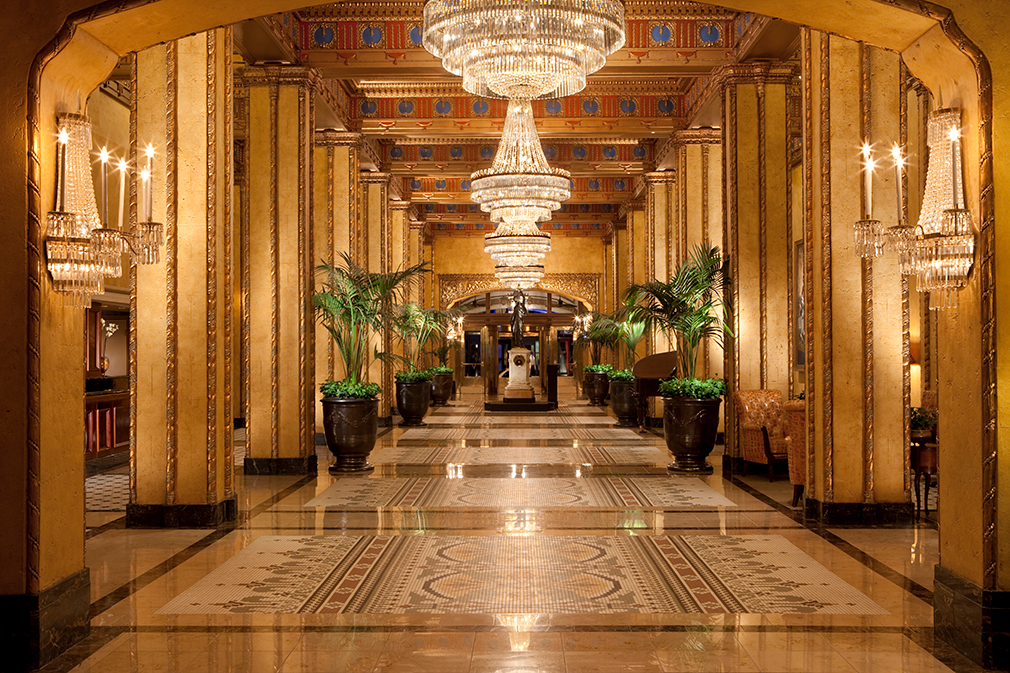 The Roosevelt New Orleans, A Waldorf Astoria Hotel
With bygone beau monde wiles, this historic hotel one block from the French Quarter opened in 1893. Soulfully effulgent and brimming with stories, The Roosevelt still boasts eye-catching Art Deco details that keep it within the realm of both timelessness and romantic fantasy. Classically re-envisioned rooms pamper guests, while simply legendary common spaces delight. Case in point: Sazerac Bar, with its chandeliers and murals, where notorious governor Huey P. Long enjoyed his favorite cocktail, the Sazerac, invented behind the room's polished wooden bar.
Room to Book: Splurge on the 1,900-square-foot Presidential Suite, rife with city views, which can accommodate up to 75 people for soirees.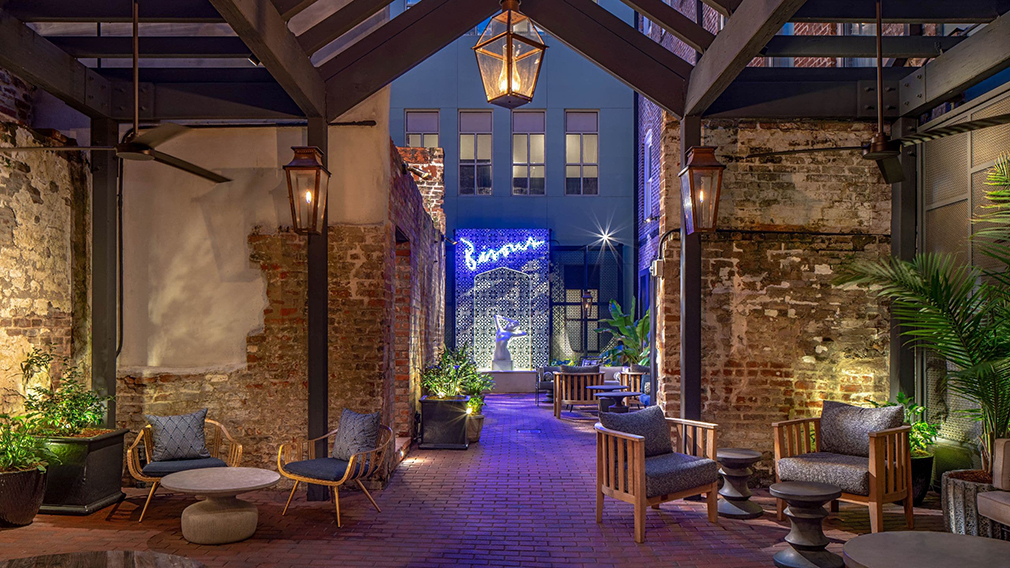 The Eliza Jane
Like all ambrosial New Orleans' hotels, The Eliza Jane was once something else. That makes sense in a city where literature motifs tend toward a preoccupation with rebirth and resurrection. So, it stands as no surprise that The Eliza Jane, once a printing house and bitters factory, now welcomes guests to its wittily embellished common areas and 196 guest rooms, 50 of them roomy suites. Swill in The Press Room, a nod to The Daily Picayune newspaper and the building's namesake—the paper's first female publisher, Eliza Jane Nicholson. In theme it is accented with books and antique typewriters. Be sated with French-inspired cuisine at Couvant, where menu highlights, such as Cote de Boeuf for two and Oeufs Mayonnaise, have an old-school appeal.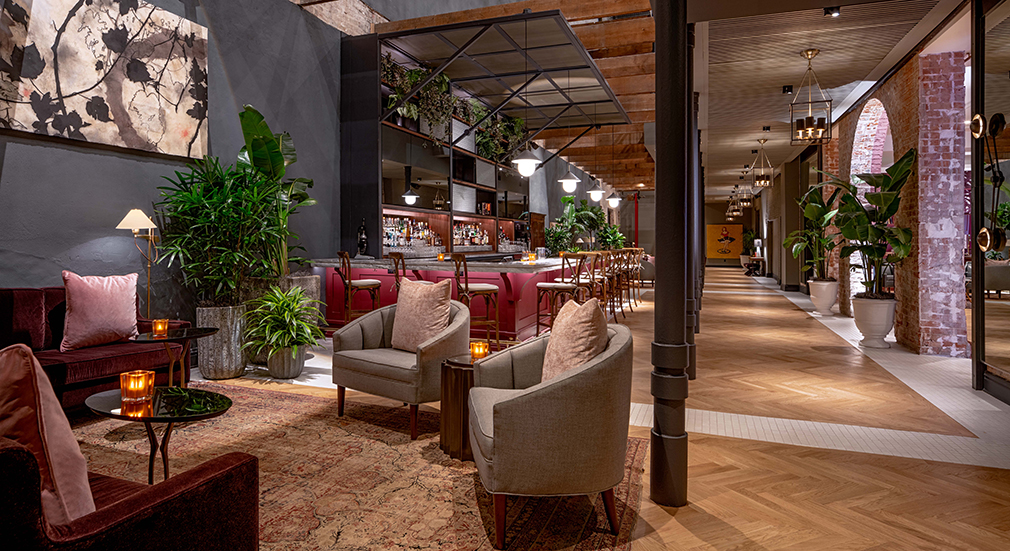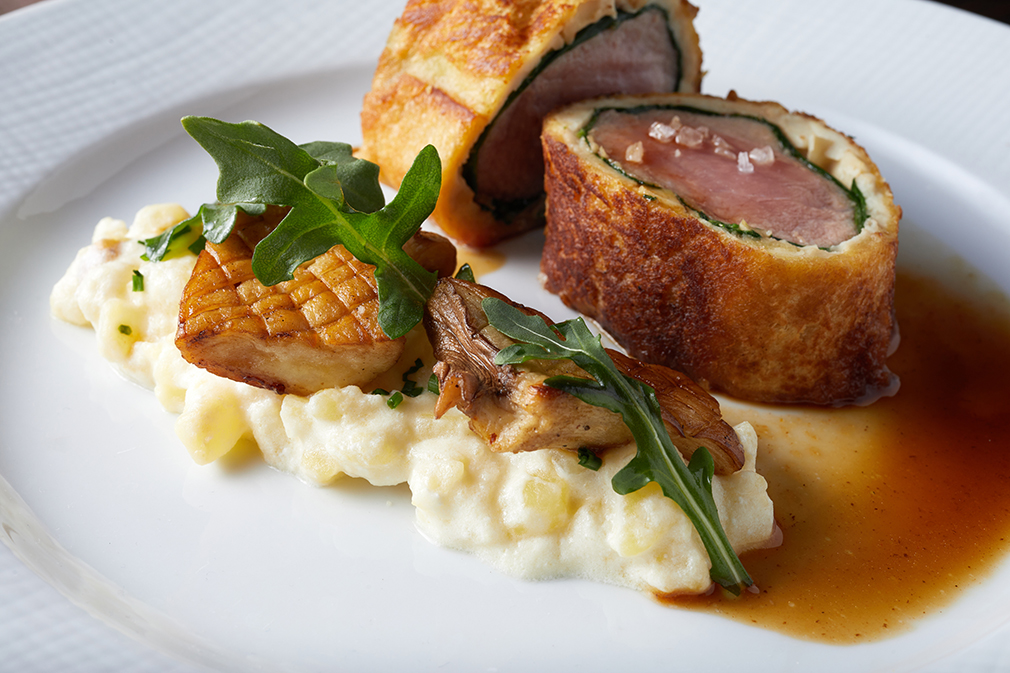 Veal at Eliza Jane
Room to Book: Opt for the One Bedroom Suite, which features unforgettable views of the city and Magazine Street with floor-to-ceiling windows, a separate seating area, and a freestanding soaking tub.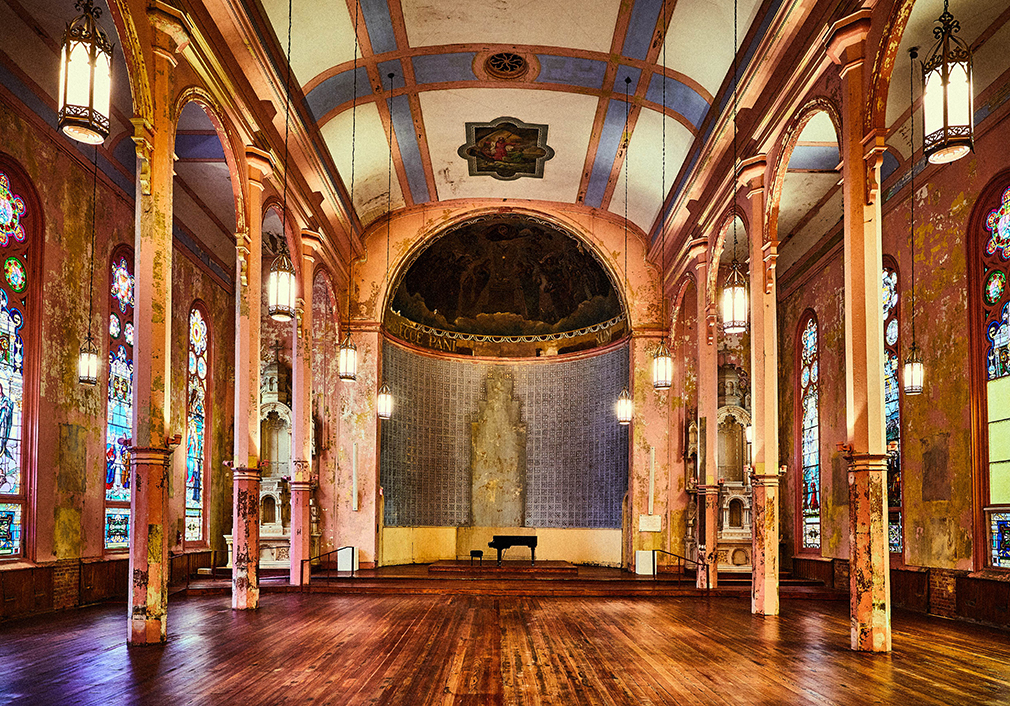 Hotel Peter & Paul
Encapsulating the spirit of New Orleans, lavish Hotel Peter & Paul exudes the decadent chic the city proudly embraces as its own. Occupying four historic buildings that span a 19th-century site, the hotel flows through the bones of a church, rectory, schoolhouse and convent. Now, sporting 71 guest rooms, it also vaunts an ice cream shop, rotating retail space, a unique meeting and events area (in the restored church) and swoon-making food and beverage hotspots. Nibble at the hotel's restaurant Elysian Bar where extraordinary cocktails (such as Dim All The Lights with green chili vodka, rosato apertivo) complement chicken liver toast and crispy pork belly, among other delights.
Room to Book: What a hard call, but I'm voting for the Mother Superior Room in the convent for its canopied bed, stellar antiques and soaking tub.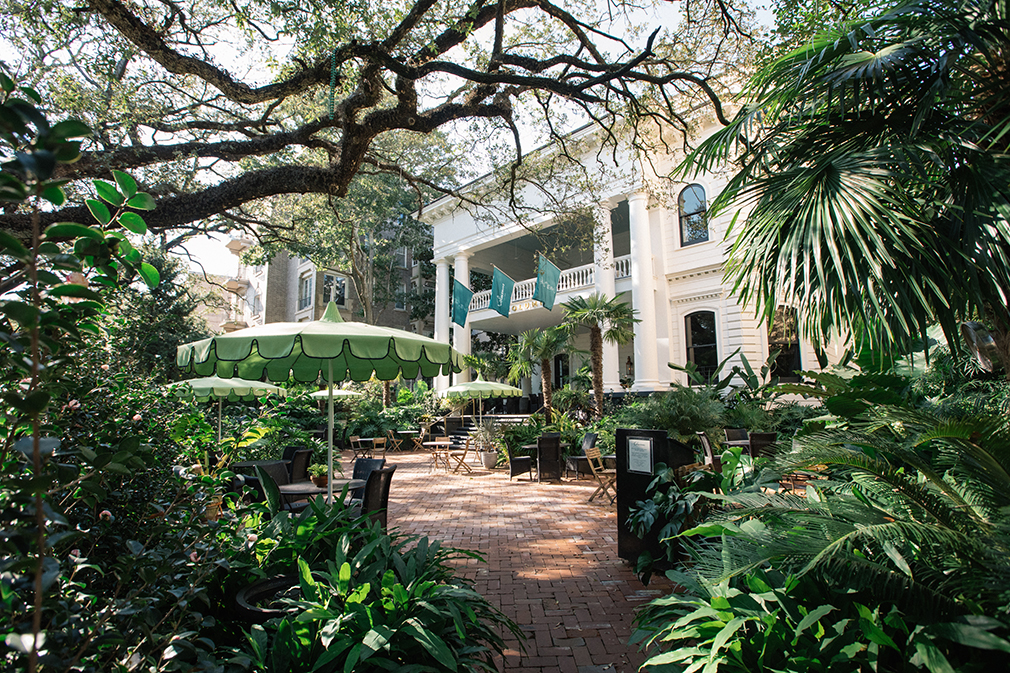 Columns
Intimate hotel lovers will find their cultivated nook at 20-room Columns, constructed in 1883, and listed on the National Register of Historic Places. In the Garden District, New Orleans' acclaimed historic neighborhood, the hotel was preserved, renovated, and re-conceived by hotelier Jayson Seidman. Dazzling with myriad original architectural details, the hotel mingles old and new with fresh features—such as a rooftop sundeck, and large garden, The eponymous bar and restaurant serve festive cocktails, which can be sipped on the second-floor porch, in the garden or amid the hotel's common areas. Try Shrimp and Grits for brunch.
Room to Book: For a romantic weekend look no further than the Premier Avenue Suite for its vistas of St, Charles Avenue and lusty, opulent decor.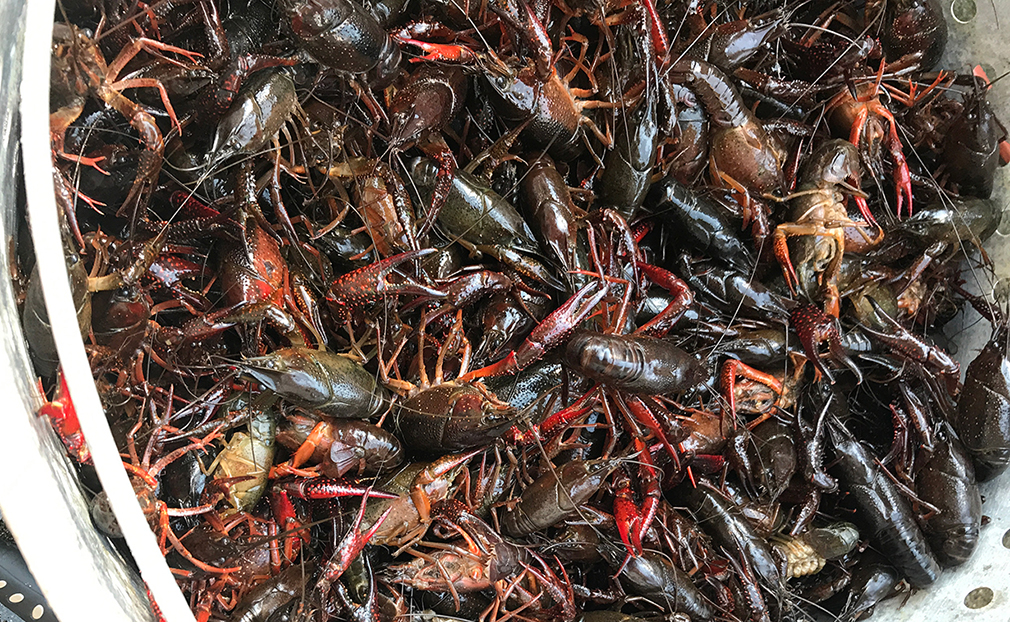 Eat Here

Galatoire's
Forever a Tennessee Williams mise en scène, even after all these years, iconic Galatoire's proudly remains the sort of place that Stella would invite Blanche for lunch. Profoundly part of New Orleans' epicurean history, a refuge from sometimes ramshackle Bourbon Street, the restaurant opens as a sanctuary of gild, mirrors, and white tablecloths. Lunches can last all day here, and Fridays the tables brim with New Orleansians day drinking and nibbling Shrimp Remoulade and Crab Yvonne. Expect to wait in line and be chosen to dine.
Acme Oyster House
Even waiting in line at Acme for oyster ecstasy is a kind of rite of passage in New Orleans. Once you reach the no-nonsense bar, the shucker's expertise will hypnotize you as he plops the briny mollusks on your plate in all their juiciness. Eat them raw or grilled, blanketed with cheese. With their own oyster beds, this cafe has been a scene since 1910.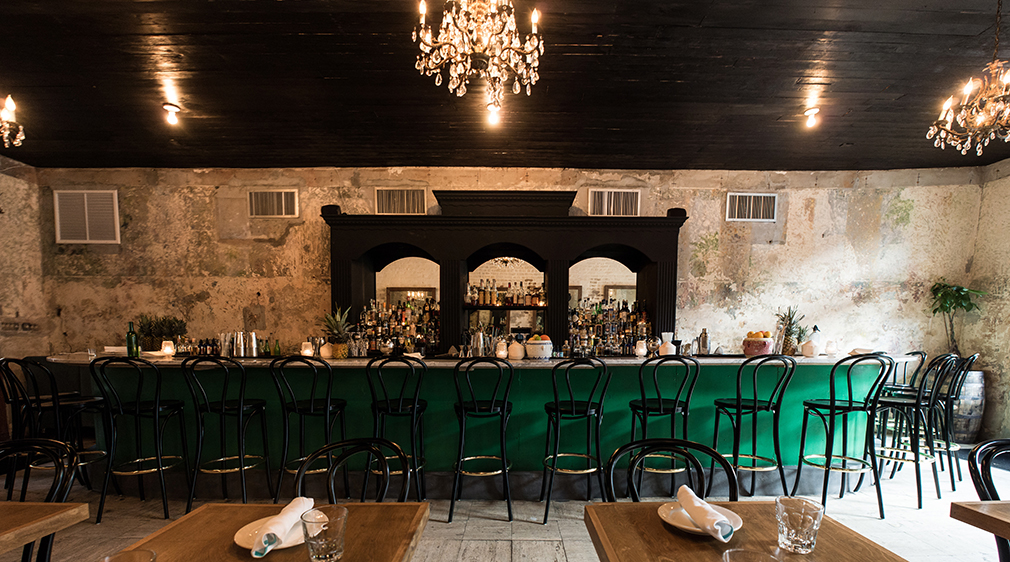 Cane & Table
On Decatur, tucked away in the French Quarter, Cane & Table
occupies an atmospheric building, complete with a romantic courtyard. A New Orleans native of Cuban descent, Chef Alfredo Nogueira brings Pan Caribbean fare to the table—a concept that fits with the Big Easy's diverse cultural fabric. Order up a Coctel de Camarones with fried saltines, followed by Fish Rundown with fried drum, lump crab, coconut curry and Jazzman Rice.
Coquette
Buzzy, understatedly fancy and snuggly all at once, two-story Coquette
is helmed by founder/owner and Michael Stoltzfus and chef de cuisine Ian Mitchel. On storied Magazine Street in the Garden District, the restaurant feels both like a date night special place and an everyday hangout where you might catch up with neighbors. The menu of contemporary Southern cuisine is best tasted a la the no regrets 5-course Blind Menu, where the chefs make all the decisions.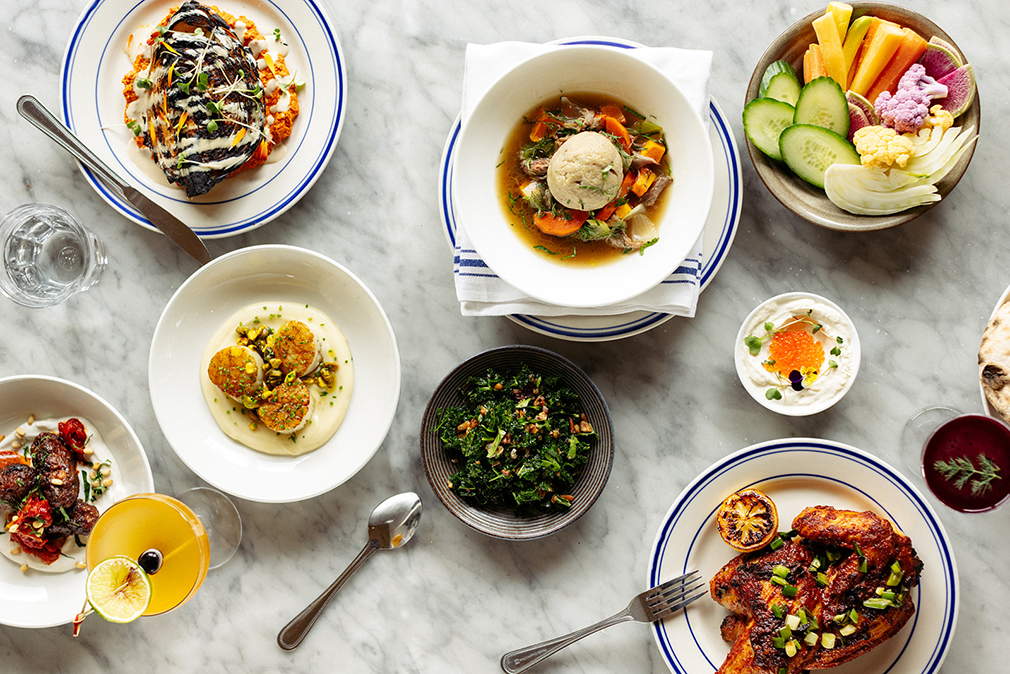 Saba
Saba owner Alon Shaya refuses to rest on his laurels. A dynamo, he has rocketed to the top, winning two James Beard Foundation awards, but most importantly, perhaps, the adoration of legions of eaters, especially those with a penchant for comfort food. Adapting recipes from his grandmother, the Israeli-born chef mirrors New Orleans' cultural potpourri with a medley of his own: Mediterranean food from a slew of nations, including Greece, Israel, Turkey, Yemen, Syria and beyond. A casual, soul-satisfying restaurant, Saba satisfies with off-the-chart Middle Eastern renditions, imbued with some New Orleans sensibilities, including such irresistibles as blue crab hummus and wood-fired, cushiony pita bread.
Cafe du Monde
You will nosh to the reedy riff of a saxophone player, whether your visit this 24/7 al fresco cafe day or night. Located at the French Market, just steps from the French Quarter, this institution serves up milky mugs of chicory coffee and overflowing platters of fried, sugar-dusted beignets, so good you will have to eat every bite.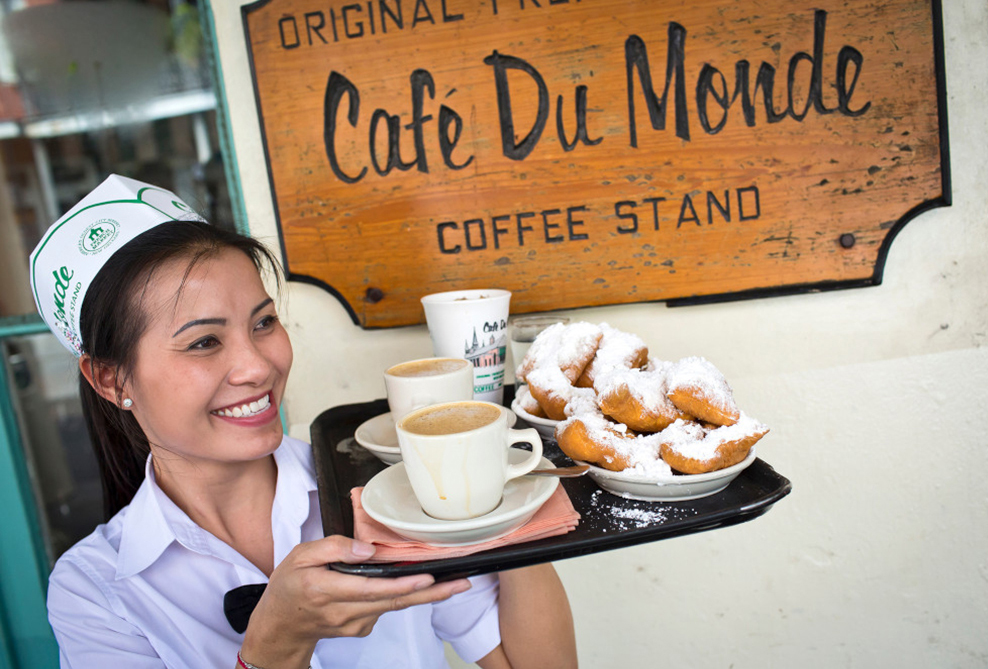 Brennan's
For breakfast, it's gotta be Brennan's restaurant at least once in your life if not every day during your visit. Mannerly, a celebration of New Orleans' ever-hedonistic edge in swanky Creole digs, the celebrated restaurant starts you off with gusto with their famous Milk Punch or the world's best Bloody Mary. Follow with Turtle Soup or Oyster Jaime (Creole tomato gravy and cornbread crumble), then get serious with decadent plates of Eggs Hussarde (housemade English muffins with coffee-cured Canadian bacon, Hollandaise, Marchand de Vin Sauce) or Eggs Sardou (crispy artichokes, Parmesan creamed spinach, Choron Sauce).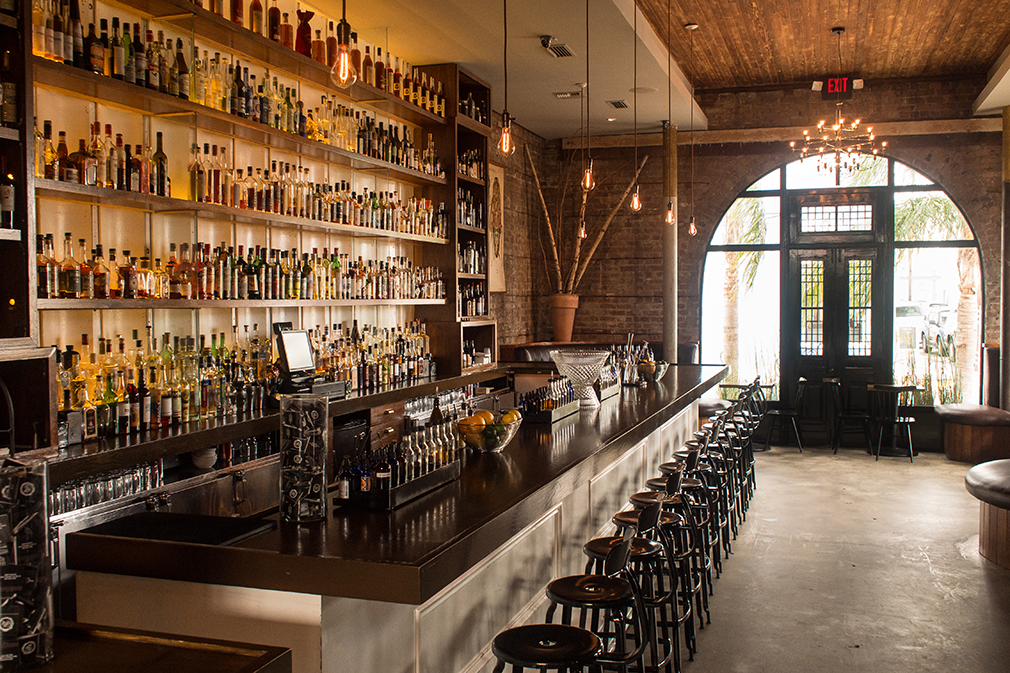 Drink Here

Cure
Led by Neal Bodenheimer, this trendsetting New Orleans cocktail bar set the scene for the spirits-loving city's current profile as a creatively elevated mecca for the cocktail connoisseur's mecca. In Uptown on the Freret Street corridor, it has first-class bar snacks so you can make a night of it. Drink to Swill: Rare Form: a variation on a martini with delicate notes of juniper, pine and birch.
Carousel Bar
In the Hotel Monteleone this whimsical and convivial bar has drawn tipplers since 1949. A circular Merry-Go-Round, ensconced in a capacious room, the circus-themed revolving hotspot might make you dizzier than your drink will.. Drink to Swill: Order a Vieux Carré, an intricate fusion of rye whiskey and cognac, said to have been invented here.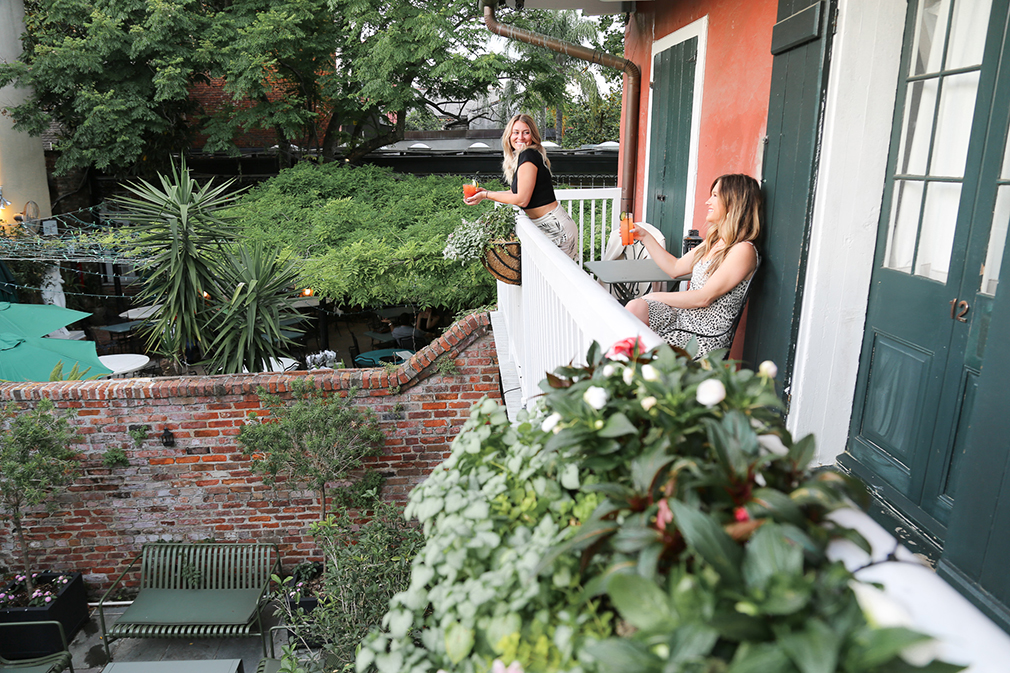 Peychaud's
One of Esquire's 2022 Best Bars in America, swish Peychaud's sits in the French Quarter in the former home of Antoine Peychaud, a 19th-century apothecary famous for creating Peychaud's Bitters. On sun-dappled days, take a seat in the courtyard to imbibe. Drink to Swill: Go for a New Orleans' classic, such as a Ramos Gin Fizz.
Napoleon House
On an historic corner on the French Quarter, in a two-century-old building that abounds with lore (a plot to rescue Emperor Napoleon for starters), this unpretentious watering hole is rumored to have concocted the fruity Pimm's Cup, a fusion of gin, lemonade, fresh fruit and cucumber. Drink to Swill: You know the answer.
French 75 Bar
Within the sacred halls of Arnaud's one of New Orlean's most revered gastronomic restaurants, French 75 Bar recalls a splendorous, clubby bar in Paris, but with undeniable New Orlean's bijoux elan. Posh, it was once the restaurant's gentleman's bar, and staff still wear white tuxedos, keeping the mood genteel. Drink to Swill: Belly up with a hot date to the old-fashioned, polished wood bar to partake of the signature, namesake cocktail, a melding of champagne, cognac and more.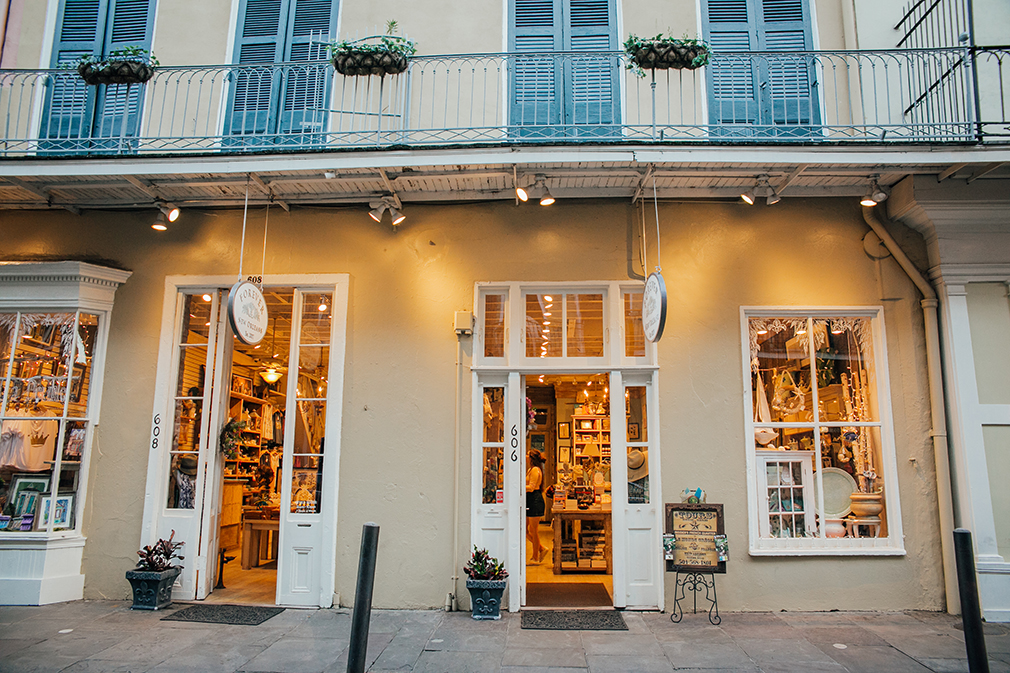 Shopping

Rue Royal and M.S. Rau
Sometimes the Vieux Carré's mobs and carousers feel overwhelming. Seek solace on Rue Royal, just a block from Bourbon Street, a shopping sanctum in the French Quarter, abundant with magniloquent, generations-old antique shops and fine art galleries. The street's creme-de-la-creme is M. S. Rau's Antiques, a wunderkammer that spans 25,000-square-feet, bounteous with furniture, art and collectibles galore.
Magazine Street
Both a mood and a shopping destination, Magazine Street undulates six miles, echoing the course of the Mississippi River, from Canal Street to Audubon Park. Walk the entire artery, and you'll have gone from the Central Business District, through the Warehouse District and on to the Garden District and Uptown. Along the way a plethora of retail possibilities tempt, knitted into the residential and redone warehouse landscape. From book and toy stores to chic clothing boutiques to furniture and art emporiums, the street offers something for everyone.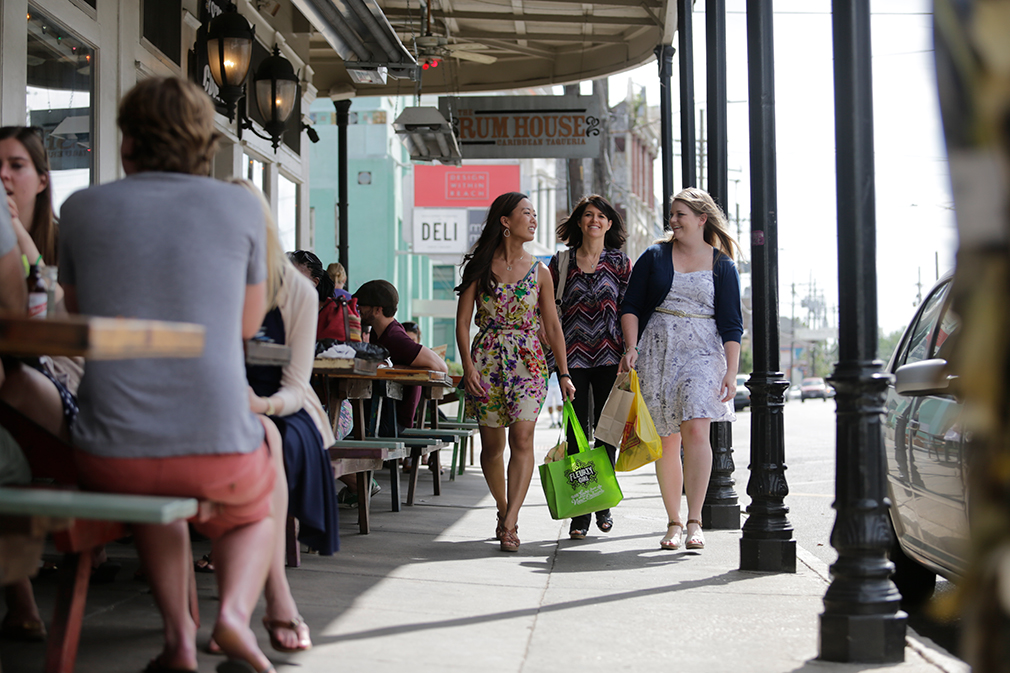 Merchant House
A contemporary antique collective of NOLA-based merchants vends a panoply of vintage and handmade furniture and accessories
St. Claude Social Club
Chock full of expressive, creative clothing and costumes meant to embody New Orleans' eclectic founding cultures, this salon-like boutique carries independent female designers from around the world.
Lionheart Prints
With vintage printing presses and wafting a nostalgic ink and paper perfume, this delightful, sometimes cheeky shop has wrapping paper, stationery, cards, pens, souvenirs and more.
The Historic New Orleans Collection
Founded in 1966, The Historic New Orleans Collection, museum and research center, boasts an outstanding shop stocked with toys, jewelry, classy curios, homeware, books and more.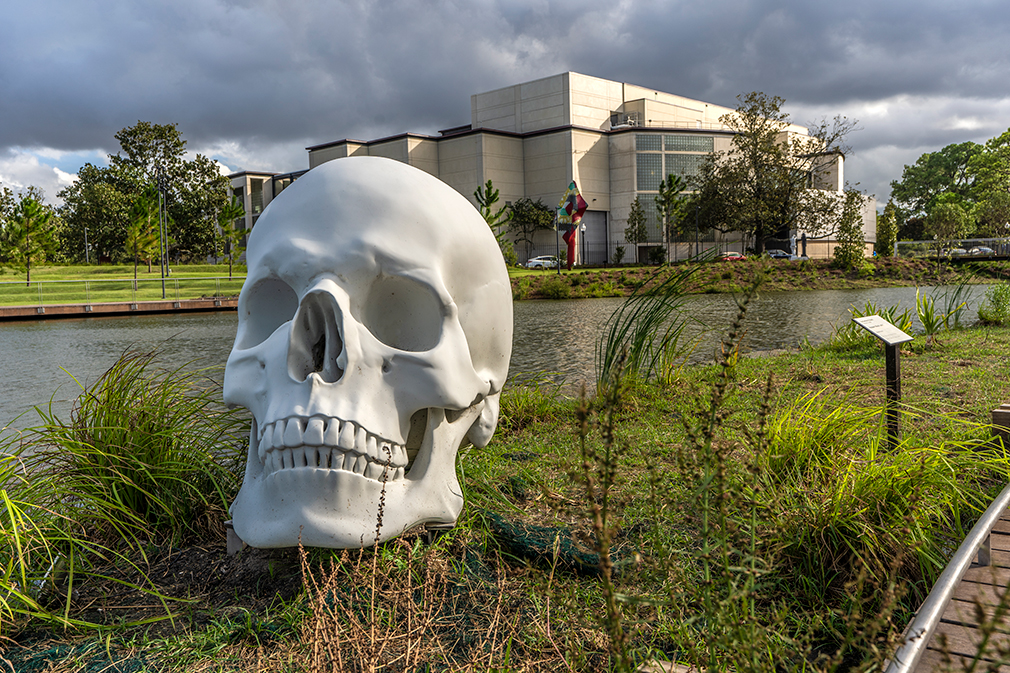 To Do

Sculpture Garden and Museum of Fine Art
Combine a streetcar ride with a foray into the arts. Take a streetcar to City Park—one of the United States' oldest urban green spaces—, where you can explore the extraordinary Sydney and Walda Besthoff Sculpture Garden. The top-of-class outdoor gallery features 80 pieces of art and counting.
The National World War II Museum
Take a break from eating, drinking and music at this highly acclaimed museum in the Warehouse District. Abundant with artifacts, interactive exhibits and compelling for all ages, the museum tells the story of World War II through first-hand accounts, newsreels and objects from boats to uniforms to tanks.
Jazz Playhouse
Music enriches almost every moment in the Crescent City. While you'll hear some great tunes and trills on the street, take a front-row seat at the Royal Sonesta's Jazz Playhouse, a club frequented by visiting musicians and celebrities. Don't be surprised if somebody famous jumps from the audience to join the performers on stage.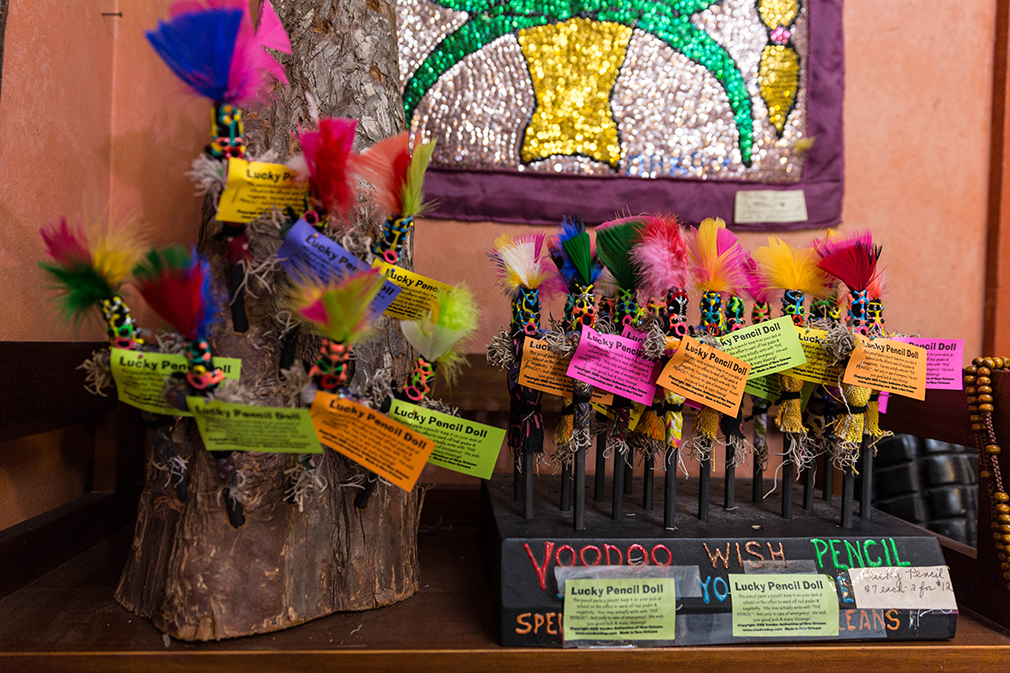 Voodoo
Admit it. You're curious. Voodoo, an intrinsic part of New Orleans culture reigns as an exotic melding of African spiritual beliefs and Catholicism, nature, lore and ancestors—among other elements. Candles, spells, gris-gris, blessings, charms, rites and readings can be part of its mélange. Throughout the city, many authentic voodoo shops offer ways to participate with a practitioner, from tarot readings to spells and incantations. Consider Intuitions in the French Quarter, which provides a variety of both one-on-one and group experiences (perfect for hen parties!).
Walking Tours
Some cities are made for strolling. NOLA has stories to tell and on foot you can hear them more clearly. Many clever companies lead walking tours that run the gamut from food tours to ghost jaunts. Depending on your interests, choose Culinary Backstreets for a foodie foray or Haunted History Tours for something spooky.