As a mountain retreat in any season, Park City stands alone. Unlike the prevailing stereotypes of staid Utah, the famous ski hamlet embraces a fearless liberality that surely dates back to its raucous days as a silver mining boom town in the pioneering 1870s. Today, subtly posh and profoundly earthy, it exudes an Old West-style aura of adventure, independence, and wildness that matches its catawampus Victorian buildings, artsy vibe, and surrounding magnificent nature. Its distinctive shops, galleries, restaurants, and bars add texture, ensuring the destination proves as ideal for outdoor enthusiasts and athletes as for gastronomes in search of a memorable meal. The area, which first gained worldwide attention as host for the 2002 Winter Olympics draws glitterati for its annual star-studded Sundance Film Festival (taking place from January 19th – 29th)—an event for the senses.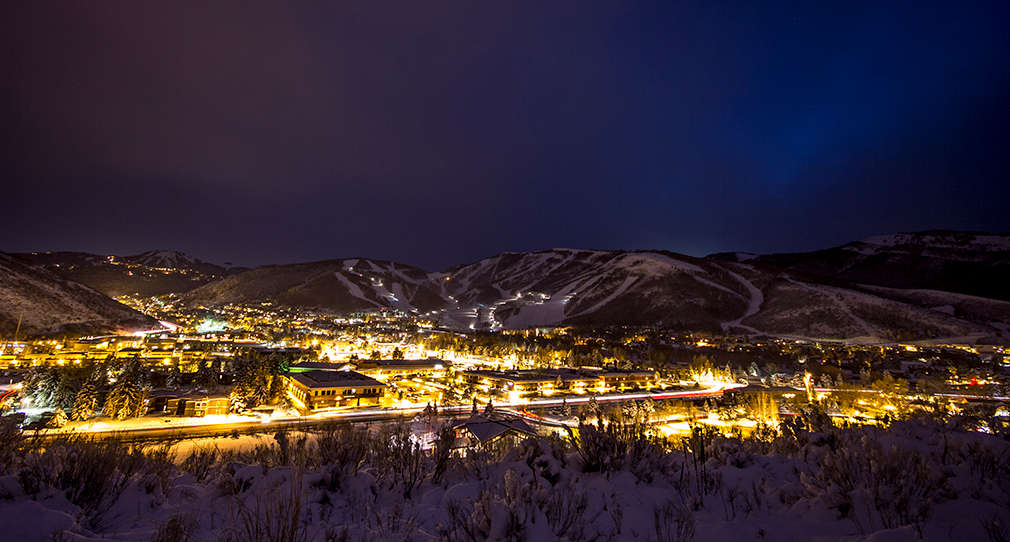 Located just a half hour from Salt Lake City International Airport, Park City and its defining Park City Resort reigns as the United States' largest ski resort, after merging terrain with neighboring Canyons Resort in 2015. Insanely vast, and minimally developed, it feels overall like an off-piste mecca. Nevertheless, it boasts an eye-popping 7,300-plus skiable acres, with 38 lifts, 300 trails, and 14 bowls. Minutes away, like a sister retreat, classy Deer Valley Resort, an old-school outpost of opulence exclusively for those on skis, features another 2,000 acres of groomed, wide-open terrain. And, a short drive from town, Woodward Park City delivers adrenaline activation for extreme sports buffs via a lift-accessed sports wonderland, with activities that range from tubing to mountain biking. In less buzzy summer months, visitors come to hike and bike the entire area's myriad mountain trails and to partake of warmer weather.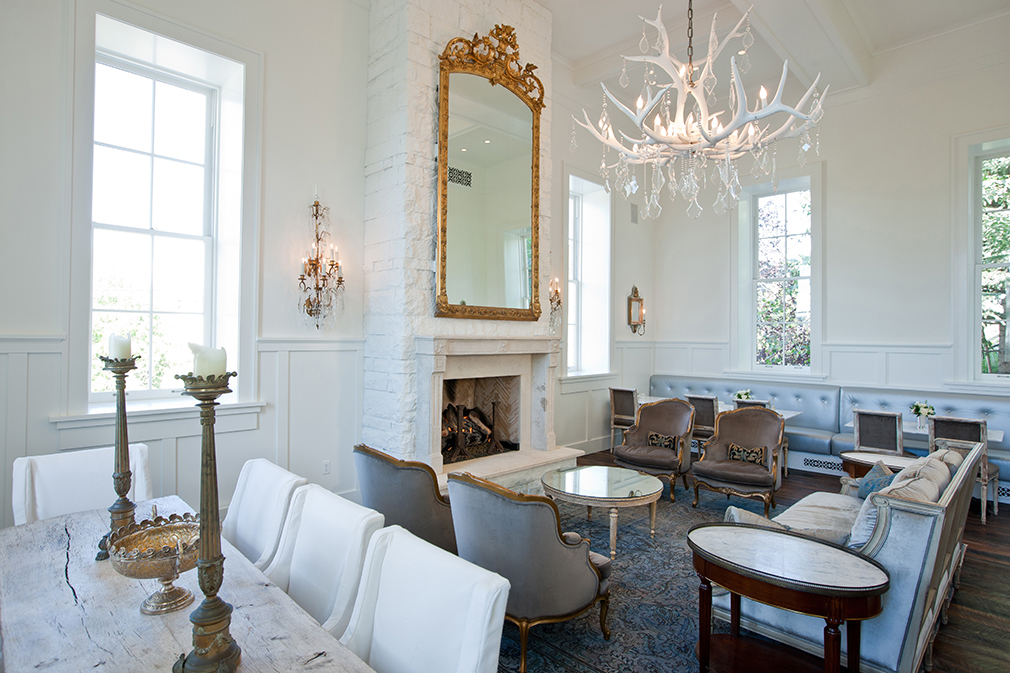 Where to Stay in Park City
Washington School House Hotel
Combining sumptuousness, personality, and history, this intimate hotel occupies one of the last surviving original schoolhouses in the United States. A member of Leading Hotels of the World, Washington School House Hotel was built in 1889 and holds a place on the National Historic Registry. With an immersive location atop Park Avenue, two steps from Main Street, minutes from the ski mountain, family-owned Washington School House delights guests with extras, such as complimentary apres-ski treats in the living room. Deftly adorned with art, antiques and custom-made accouterments (the antler chandelier with glistening Swarovski crystals beguiles) set a wondrous indoor mood; while outdoors a pool in a terraced garden and ski lodge lies behind the hotel.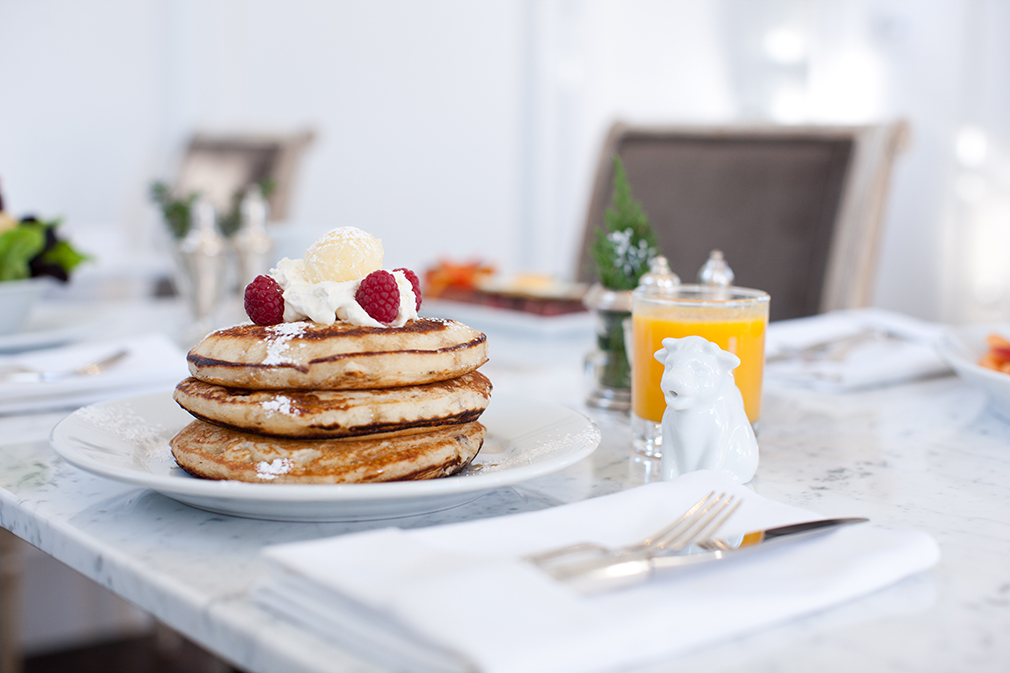 St. Regis Deer Valley
Commodious slope-facing suites, complete with kitchenettes, add to the allure of this castle-like retreat, set in a pine forest amongst the Wasatch Mountains. Enter the premises by flashy funicular or ski home for lunch and afternoon spa treatments in St. Regis Remede wellness haven. With some of the area's A-list eateries, an evening Champagne sabering ritual, signature Bloody Marys (a St. Regis tradition), private ski valets in winter, and activity directors year round, the sprawling hotel accommodates families and honeymooners alike.
The Lodge at Blue Sky, Auberge Resorts Collection
Further flung, the contemporary-looking The Lodge at Blue Sky nuzzles into 3,500 acres of pine-peppered vastness, surrounded by the Wasatch Mountains, about thirty minutes from Park City. Close enough for guests to venture into town and to the ski resort by car or helicopter (though the hotel offers its own thrilling activities) the atmospheric mountain hotel has just 46 rooms and suites—a nest tucked into nature's bounty. Huge windows welcome the landscape indoors from every vantage point. Don't miss the Peregrine Suite's stone-hewn bathtub for day-end repose and the mountainside yurts for apres swills after on-site snowmobile access skiing. A state-of-the-art spa hovers atop a cliff, saddle-ready horses await, and locally derived products comprise the dishes on the soul-sating restaurant's intriguing menu. As for activities to fill your dance card? Most anything can be arranged in season: fishing, biking, snowshoeing, yoga, and sleigh rides to name a few—with thoughtfully curated activities for kids as one of the retreat's priorities.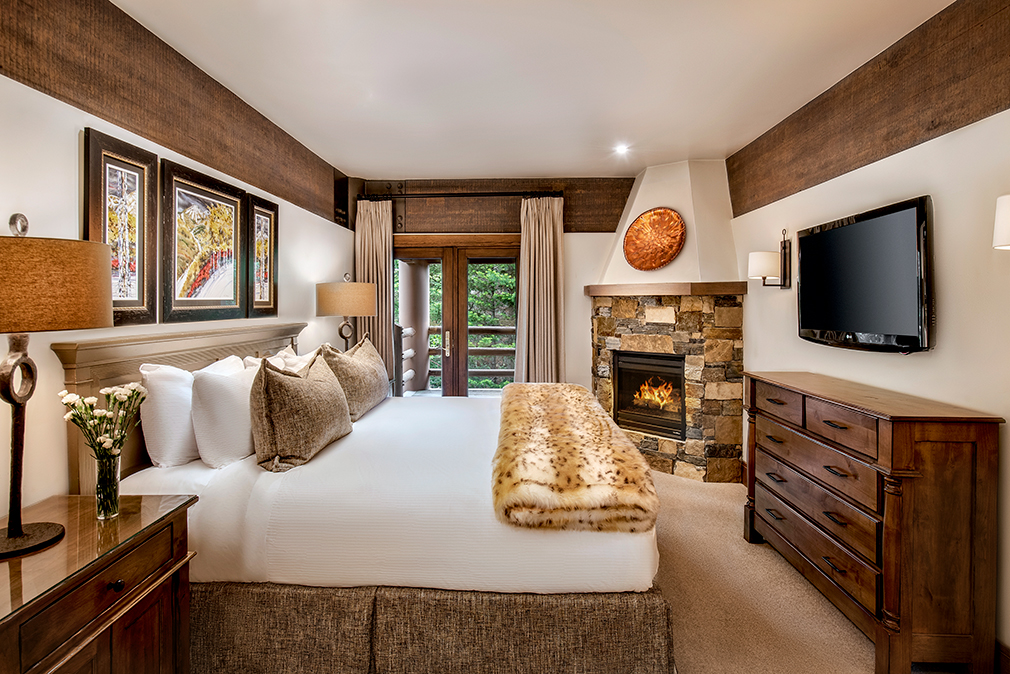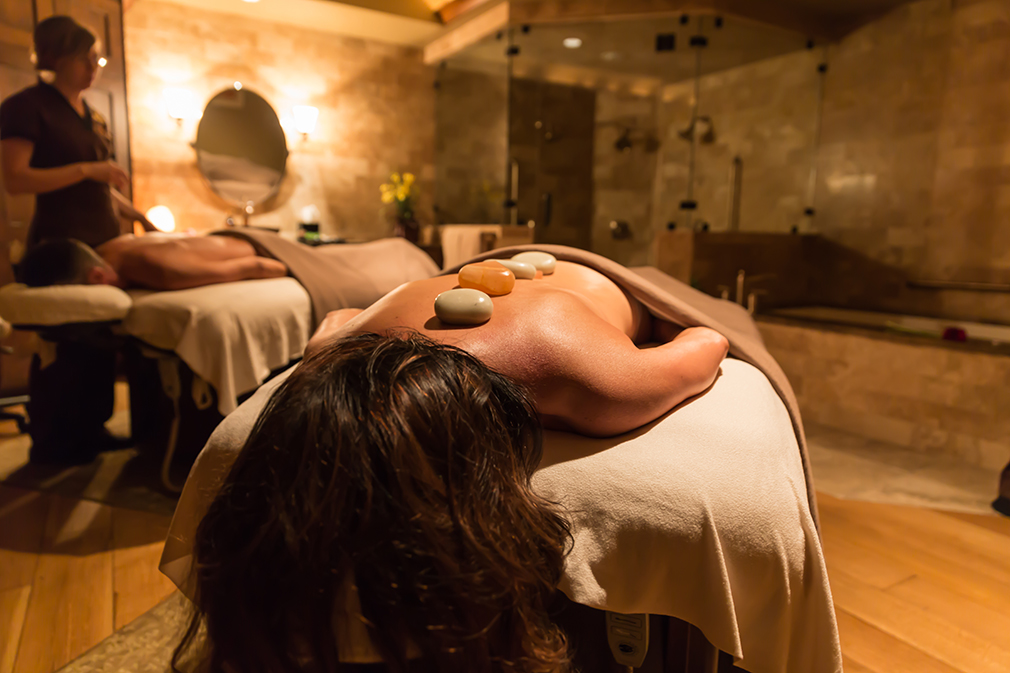 Stein Eriksen Lodge
Slope-side in Deer Valley, this Park City-area original brings a large dose of Scandinavian hygge to the region. Named after Norwegian Olympic Gold Medalist and skier Stein Eriksen, the gorgeously renovated 1980s-era Lodge was a pioneer of luxury in the valley. Channeling Eriksen's native Norway and skier's spirit, the retreat exudes old-world Scandi-charm with hand-painted walls, leather elements, dark wood, custom millwork, and vista-revealing panoramic windows. Set mid-mountain, Stein Ericksen's location is ideal for ski-in, ski-out snow play in winter, and as a hiker's haven in summer. A 23,000-square spa, infused with Norwegian elan, provides relaxation, spacious guest rooms boast cozy fireplaces and breakfast entrees include a robust Norwegian bacon and potato pancake to fuel athletes all day long.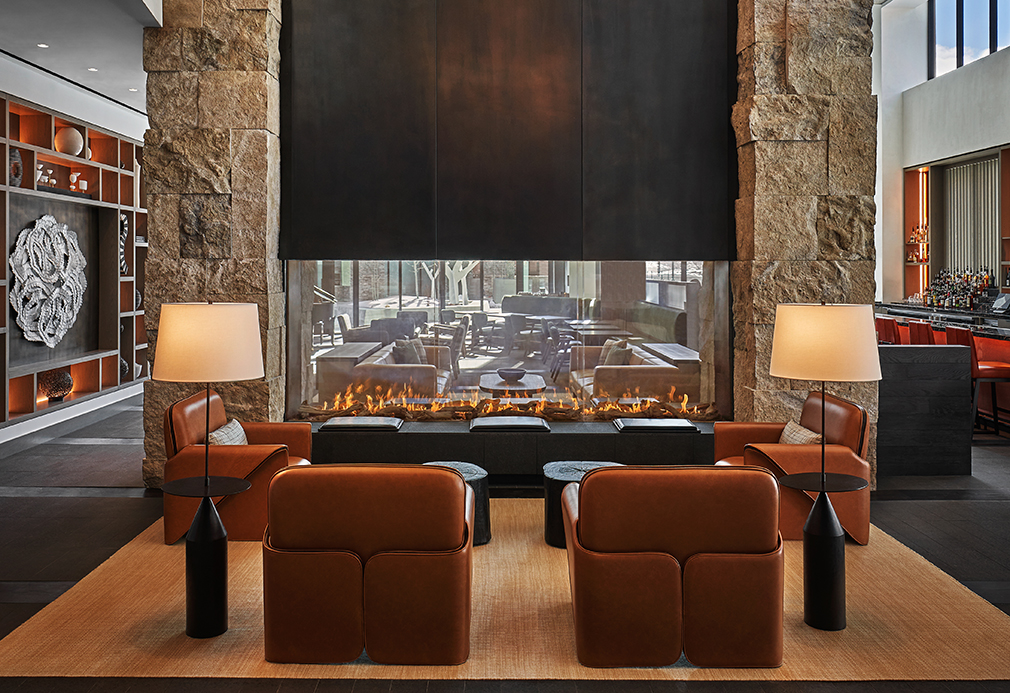 Pendry Park City
One of Park City's newest hotels, Pendry Park City is a sleek stunner on the mountain's base, steps from a chairlift in Canyons Village has everybody talking. Architecturally astute, it reflects the history and landscape of the Wasatch Mountains, while also putting forth its slightly futuristic version of a modern luxury ski lodge. Flaunting a variety of rooms from standard rooms to four-bedroom residences, with four distinct restaurants, Spa Pendry, a kid's club, and a dedicated ski valet, the hotel has been engineered to welcome guests in all seasons.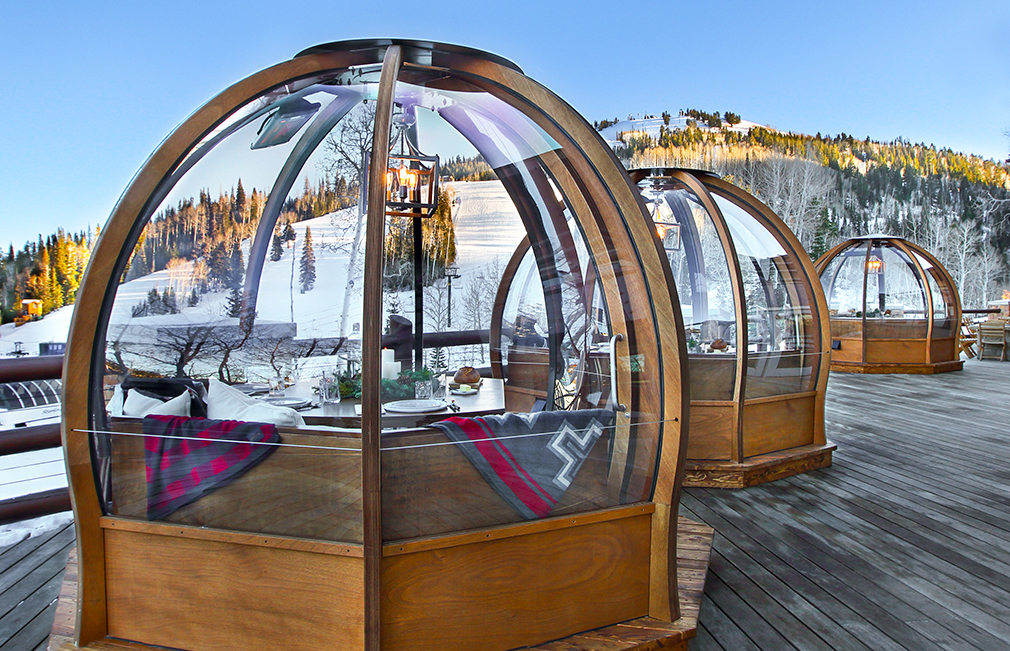 Where to Eat in Park City
Pine Cone Ridge
Breaking News! Lovers of Park City's iconic temple of gastronomy Wahso will be disappointed to discover that after two decades owner Bill White decided to put his ever-thronged, sophisticatedly elevated Asian restaurant out to pasture. In its place, he's brought a New American reshuffle, all exuding the Bill White touch at Wahso's same location on Main Street. Pine Cone Ridge promises the same chic foodie footprint, but with its own riff. Opened December 26th, Pine Cone Ridge features umami-rich dishes, such as Warm Poached Lobster and Crispy Duck Leg in reimagined digs.
Silver Star Cafe
With an ample deck and gracefully earthy aura Silver Star Cafe feels like something we'd find in the French Alps for apres ski fun. Lucky for Park City it sits at the base of Silver Star, one of the resort's favorite lifts. Unpretentious, yet elegant, the eatery (and bar) serves up well-crafted regional American cuisine from locally sourced ingredients in seasonal, creative menus. In the evening choose delectable items such as pan-seared Steelhead trout with roasted tomato-red pepper brodo and olive-citrus tapenade. For breakfast go for the Shakshuka or Shrimp and Avocado Benedict.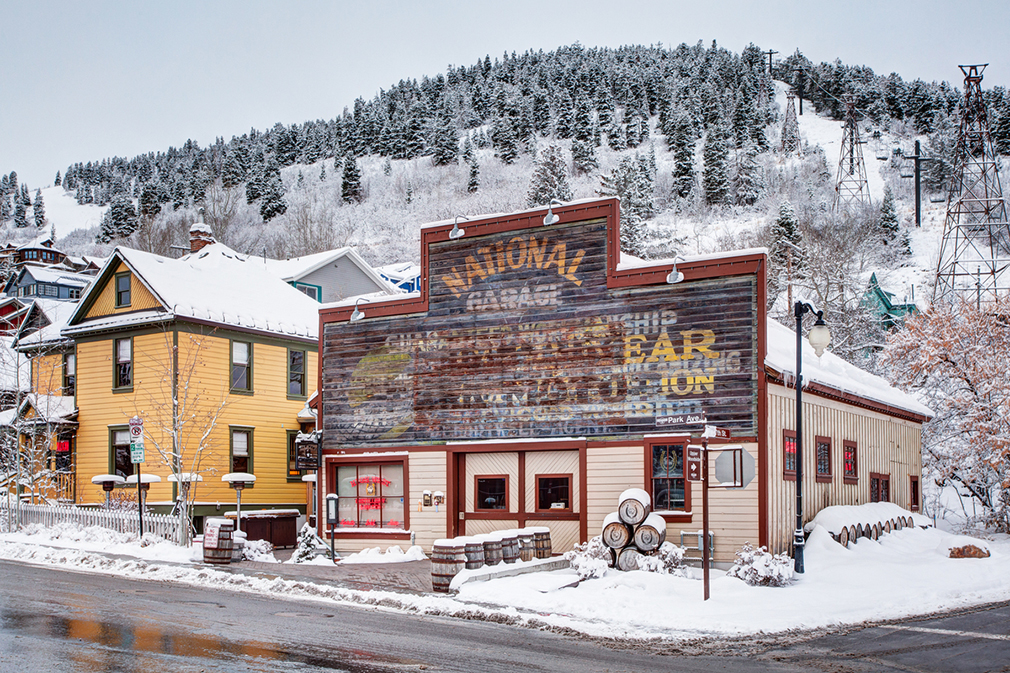 Firewood
Conjuring the Wild West and its campfire cooking mystique on Main Street, Firewood prepares every dish over an open flame, using myriad woods, including cherry, cedar and maple. A fourteen-foot-long cooking bar in the kitchen, divided into five stations, dances and crackles with flames. A captivating, atmospheric sight for guests as they dine, the kitchen can be viewed through glass windows. Dig into charcoal-infused irresistibles, such as Juniper Spice Elk Loin, Coal Roasted Carrots and Coriander Crust Salmon—among other items. Even the cocktails impart a woody tone.
Freshie's Lobster Park City
It might sound weird, but lobster on a soft New England-style hot dog bun on a snowy day can cure what ails you—just ask the locals and tourists alike who line up outside the door in any weather at Freshie's, which has lobster flown in from Maine daily. Having won World's Best Lobster Roll in the 2017 Down East Lobster Roll Festival in Portland Maine, the mountain town institution promises satisfaction. Clam chowder, Blueberry Pie and brown butter sautéed corn make that lobster roll a meal.
710 Bodega Tapas and Wine
Even skiers sometimes want to eat lightly. In a town that brims with New American cuisine and stick-to-the-ribs meaty options, it can be nice to take a break from big meals occasionally. When the mood to nibble with friends strikes, this Spanish bodega rises to the occasion. With a stellar collection of Spanish reds and a chill ambiance, 710 proffers a menu of globally inspired, tapas-sized small plates, including authentic Spanish specialties, such as Patatas Bravas, Calamari, Albondigas, and Spanish Tortilla.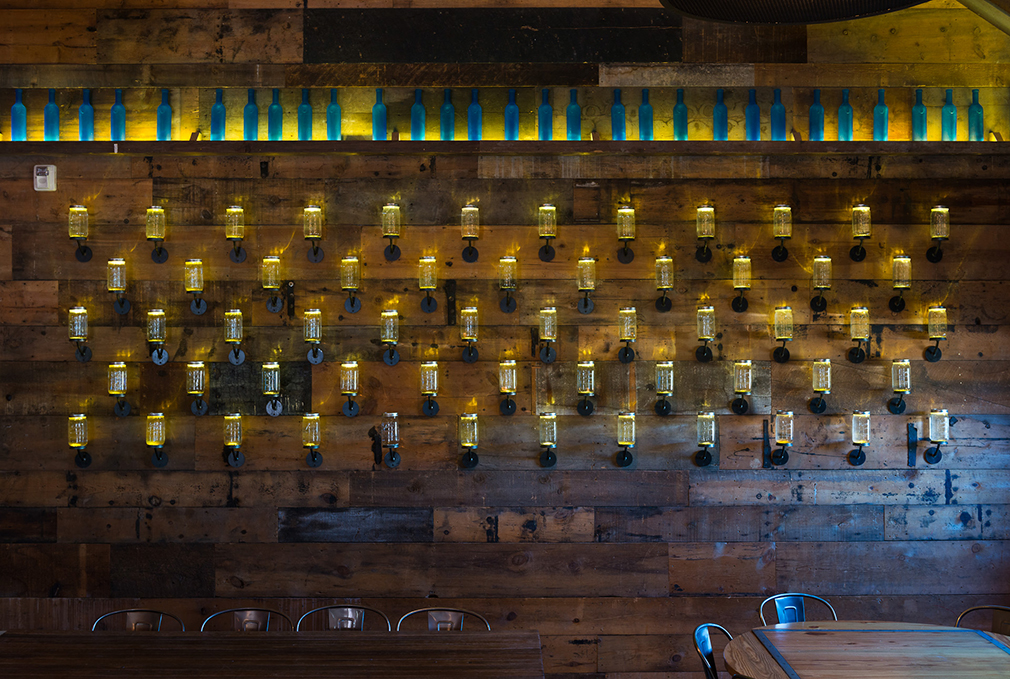 Where to Get Drinks in Park City
High West Distillery
A ski-in distillery, High West made history in 2009 when it became the first legal distillery in the state of Utah since 1870. (We think those rowdy boomtown miners would be proud of it.) Not just a distillery and saloon, but also a clever restaurant, the hotspot caters to both residents and tourists. Visit the distillery, then belly up to the bar in the saloon to taste a flight of house-made whiskey. Cocktail lovers can choose from an array of profound libations including a Grizzly, made with High West Double Rye®, amaro, brown ale, allspice, and cold brew.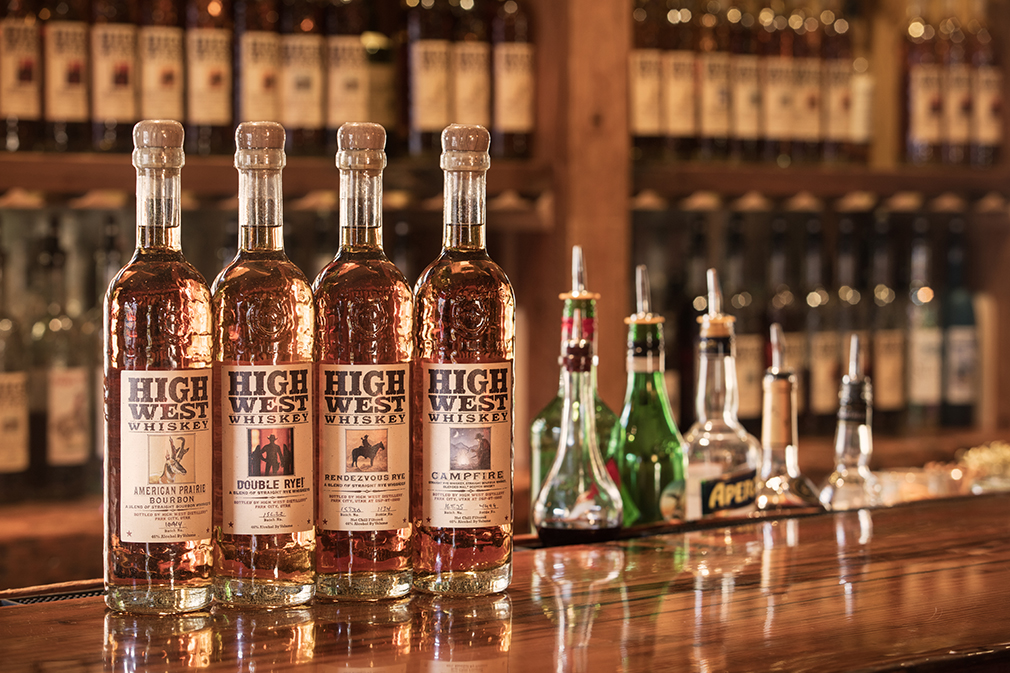 Old Town Cellars Winery
Unassuming and casual, kitted out to look like a wine cave, this oenophile's happy place opened with the goal of making extraordinary wine affordable and accessible to all. Sourcing fine wines, from various top-notch wine regions to blend and bottle on-site, the sommelier-run hangout makes for a tranquil—even intellectual— après ski stop following a day on the mountain.
The Après Lounge, Montage Deer Valley
At the base of Ruby and Empire Express, just behind the tony Montage, this egg-yolk yellow Veuve Clicquot yurt brings out your inner hedonist. With champer vintages aplenty, the rustically elegant bar also has wines by the glass and swanky snacks—such as caviar.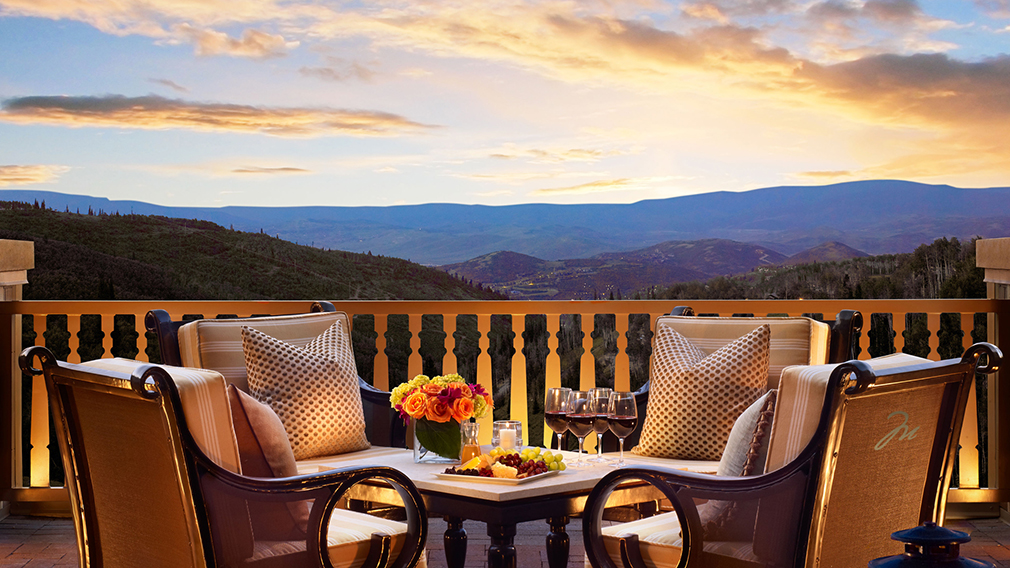 Umbrella Bar at Canyons Village
Not fancy, with stunning mountain views and festive air, this indoor-outdoor venue in Canyons Village features a classic beer and burger menu. Live music invites skiers and boarders still in their boots at day's end for craft and domestic beer on tap, story sharing, and the fruits of that well-earned adrenaline buzz.
Bridge Café & Grill, Base of the Town Lift
Anchoring the base of the Town Lift, this typical mountain village restaurant could not be better located. Ever friendly and fun, the zesty venue has an ample patio, which catches the sun on warmer days. A bar and restaurant with a Brazilian twist, Bridge Cafe & Grill does particularly quaffable Caipirinhas, their signature drink.
Where to Shop in Park City
Dolly's Bookstore
Don't we all just love an independent bookseller? That coziness? The promise of a page-turning adventure? That unique smell of ink and paper? Dolly's Bookstore, a warren of nooks with a resident cat, has been an institution since 1975, when Park City was more mining than ski town. The founder, Dolly, still lives in the area. Look for the store near the Post Office.
Burns Cowboy Shop
Since 1877, this saddlery has catered to real-life cowboys and cowboy wannabes. A fascinating family-owned emporium awash with something for everyone, from cowboy boots to big silver buckles to Stetson hats, this outlet will enhance your Western sensibilities in spades.
Root'd
Design your dream cabin or elegant Utahan home at Root'd, located on historic Main Street. With moan-worthy delights, the stunning store houses edgy furniture with a Western undercurrent (think antler chandeliers or cowhide rugs) but also displays bling-y and uber-sleek furniture, accessories, and lighting.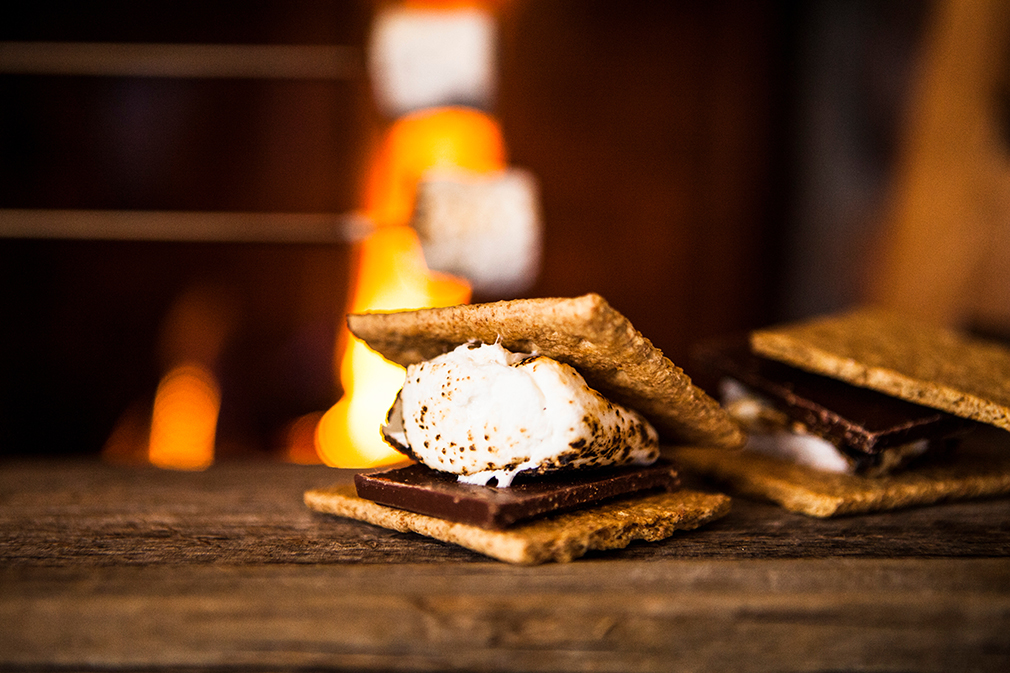 J.W. Allen & Sons Toys and Candy
Situated in the Kimball Junction area of Park City, J.W. Allen & Sons Toys and Candy speaks to those who look back wistfully to toys of yesteryear. A haven for all ages, the enchanted marketplace feels like a toy cabinet of fanciful curiosity. You'll be charmed by candies and toys from your past, while kids will find a hundred temptations from pogo sticks to collectible horses.
Ritual Chocolate
At Ritual Chocolate, craft chocolatiers redefine artisanal at this bean-to-bar chocolate workshop. Dedicated to supporting sustainably committed purveyors and farmers, and advocates for fair wages, the owners have a goal to "revive the focus on quality." They produce small-batch chocolate with European methods and premium cacao originating from peerless locations. Wait until you taste their Fleur de Sel—it's life-changing.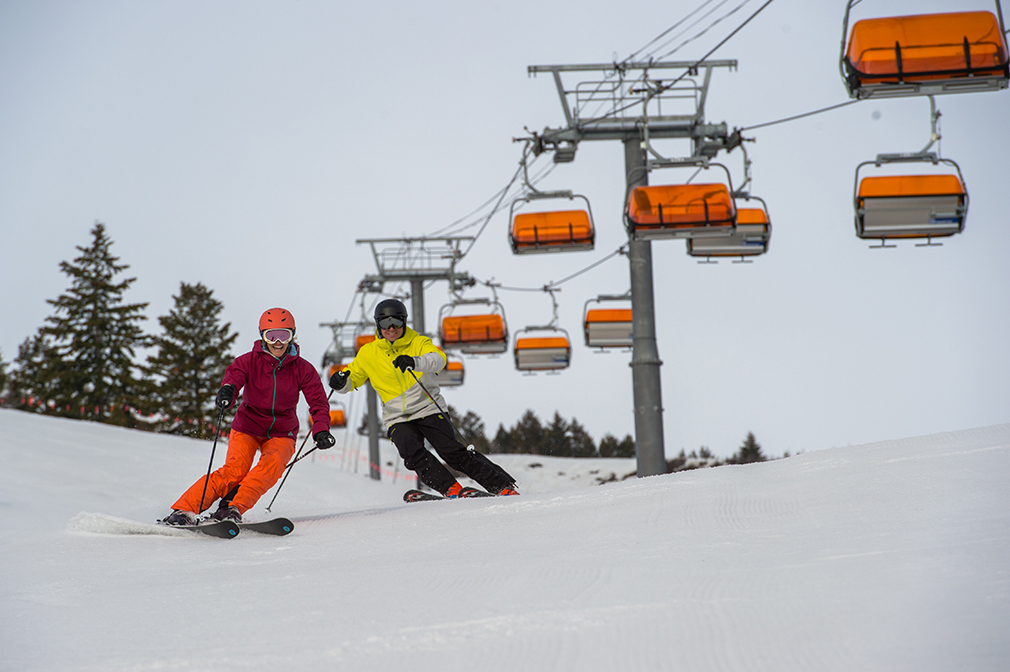 What to Do in Park City
Snowmobiling
We assume you'll hit the slopes on skis or snowboards. Or maybe (we don't judge), you'll just show up in your Moncler clothes for apres ski soirees. At any rate, both active types and partiers can mingle amid the rush of a snowmobile ride. Do it with Red Pine Adventure, which leads small, customized, responsible group tours.
Snowshoeing or Yoga?
With Park City Yoga Adventures, you don't have to choose between two amazing activities, you can do both. Trek through that champagne snow that made the Wasatch Mountains famous in snow shoes, meandering through a white-carpeted forest. You'll end up at a candlelit yurt, where you'll be led through a relaxing and transformative yoga practice at sunset.
Horseback Riding and Sleigh Rides
In winter, majestic horses pull you through the snowy fields on a romantic sleigh ride. In summer, you mount the horses yourself and gallop through the wildflowers. A number of highly rated outfitters offer equine activities in various wilderness areas around Park City. Consider Boulder Mountain Ranch at Deer Valley.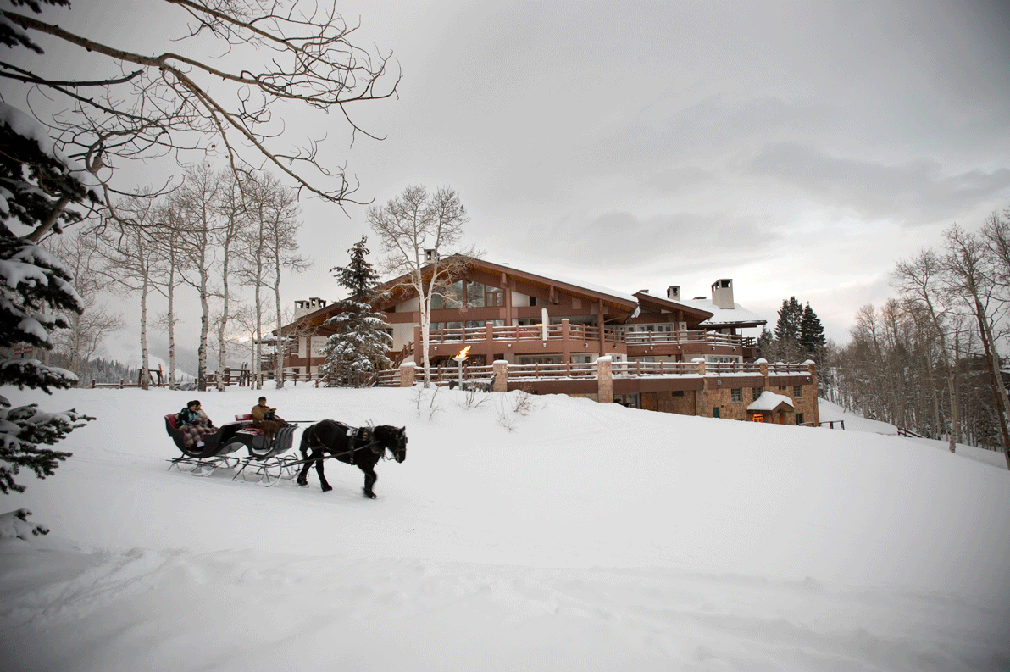 Outdoorsy Pursuits
In any season Park City is not a stay-inside kind of destination. To sample a plethora of outdoor options look to All Seasons Adventures. Well-versed in exhilarating excursions, they'll take you dog sledding, fat bike tire riding, trap shooting, hiking, and more.
Fly Fishing
Have you ever made a casting arc or tied a blood knot? Locally owned Park City Fly Fishing Guides love beginners as much as experts—and they'll teach you all you need to know. The zen of fly fishing is for everyone, an experience to be relished in local waters including Provo River, Weber River, and many other remote springs in the Park City hinterlands. In winter, ice fishing is a frosty alternative.