The legendary father of our national park system, naturalist John Muir wrote: "And into the forest I go to lose my mind and find my soul." His wilderness loving, literal "down to earth" approach to life might not be the first thing we think about when most of us muse about glitterati-teeming Aspen, a former mining town turned swish ski resort in Colorado's verdant Roaring Fork Valley. But the truth remains, that despite the famous festivals, celebrity residents, Guccis and Pradas, swollen real estate prices and buzzy apres ski scene, what ultimately defines Aspen as a destination is something simple and accessible: its breathtaking nature.
Committed to preserving its storybook small-town character, Aspen, a haven of brightly colored, restored Victorian houses and affable residents, has a movement afoot—they want you to look beyond their posh stereotype and see the bounty of their natural resources—mountains, rivers, lakes, forests and outdoorsy people. That doesn't mean you have to give up a meal at Matsuhisa Aspen or eschew the puffy jacket at Moncler, it just means that maybe it's time to stop, look around, see the mountains— and travel (and tag) responsibly – and sign the Aspen Pledge. The Aspen Chamber Resort Association will donate $18.80 to your choice of local environmental organizations.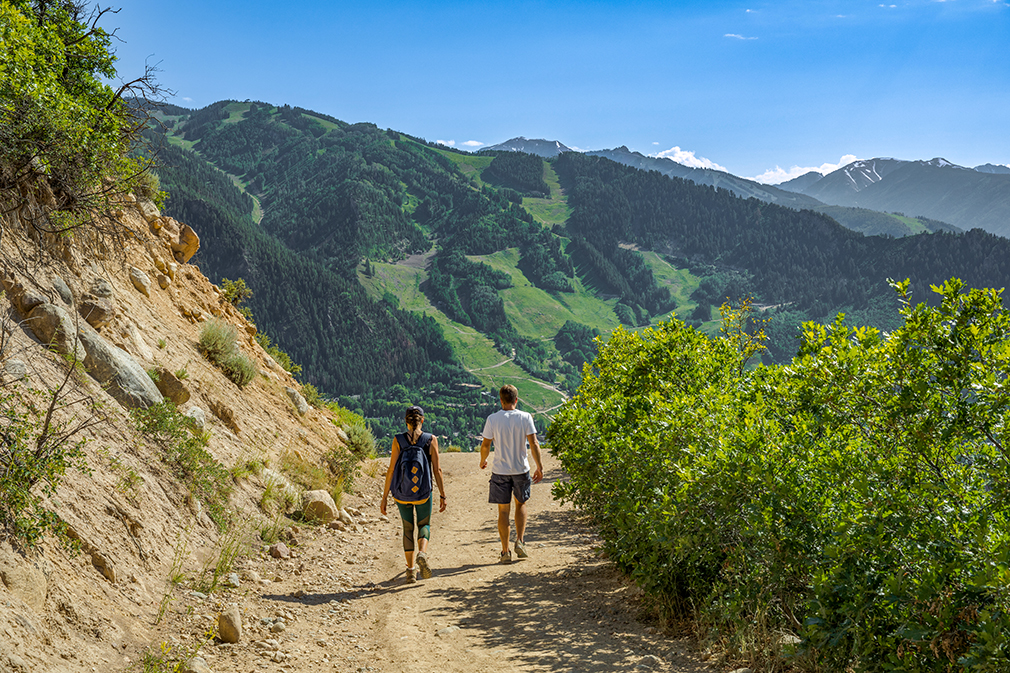 WHAT TO DO

Use Your Body
Hike, bike, trek with your pooch, mediate between the Maroon Bells (two renowned peaks both fourteeners, separated by about half a kilometre), do yoga outside atop Aspen Mountain with Shakti Aspen, camp, raft, learn about wildfires and how to prevent them, photograph the vistas, listen to the Aspen trees whisper in the wind, camp beneath the stars and ski, ice climb and board in season. Whatever you do, leave no trace. Check out the "how to" videos for e-biking, hiking, and other tips.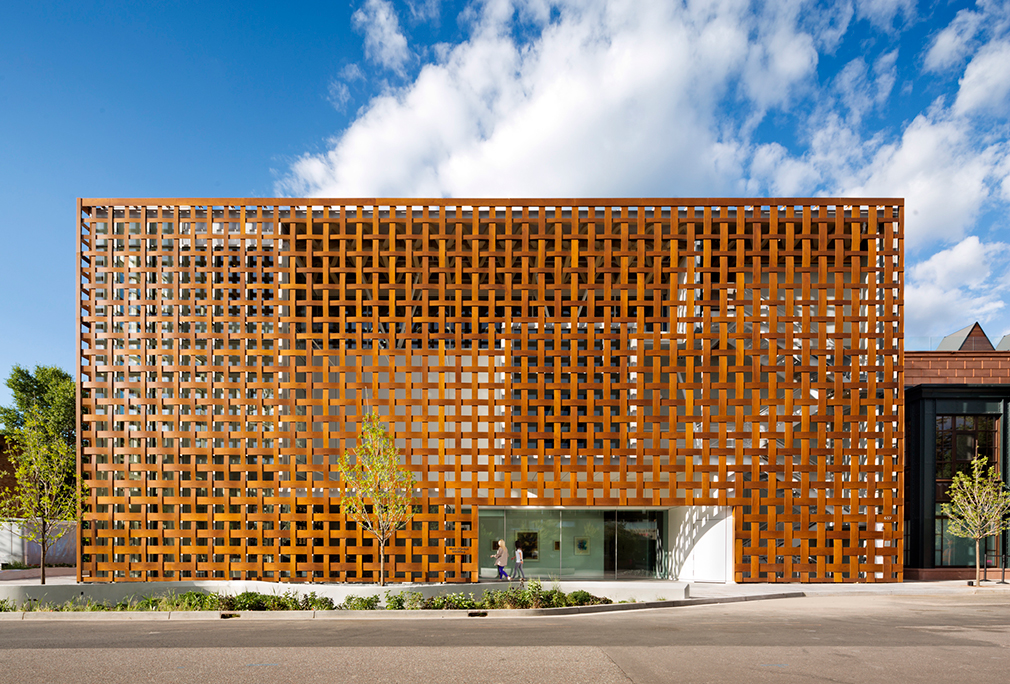 Get Arty
The newest addition to the thriving art scene is the Bayer Center, a jewel of a museum located on the Aspen Institute Campus. Located right downtown the impressive Aspen Art Museum, set in a Shigeru Ban-designed building wrapped in woven wood, an equipped with a stunning glass elevator building displays international contemporary art and biannual shows featuring local artists. Further afield in Snowmass, check out the Anderson Ranch and its evocative outdoor sculpture garden. Be wowed in nearby Carbondale, an artists' colony near Aspen where the The Powers Art Center presents an eye- popping contemporary art collection. including pieces by Jasper Johns. Finally, two dozen art galleries beckon in downtown Aspen alone, each happy to accommodate aficionados.
Walking Tour
One way to embrace Aspen's history is via a history tour with Aspen Historical Society of the historic West End or Aspen's downtown. walkabout with Dean's Walking Tours. Brimming with storied histories, Aspen reigned as a mining boomtown during the silver boom of the 1870s. Those with a penchant for ghosts will get the shivers from tales told during Ghosts, Murder and Mayhem jaunt, which uncovers Aspen's mysteries and historical dark side.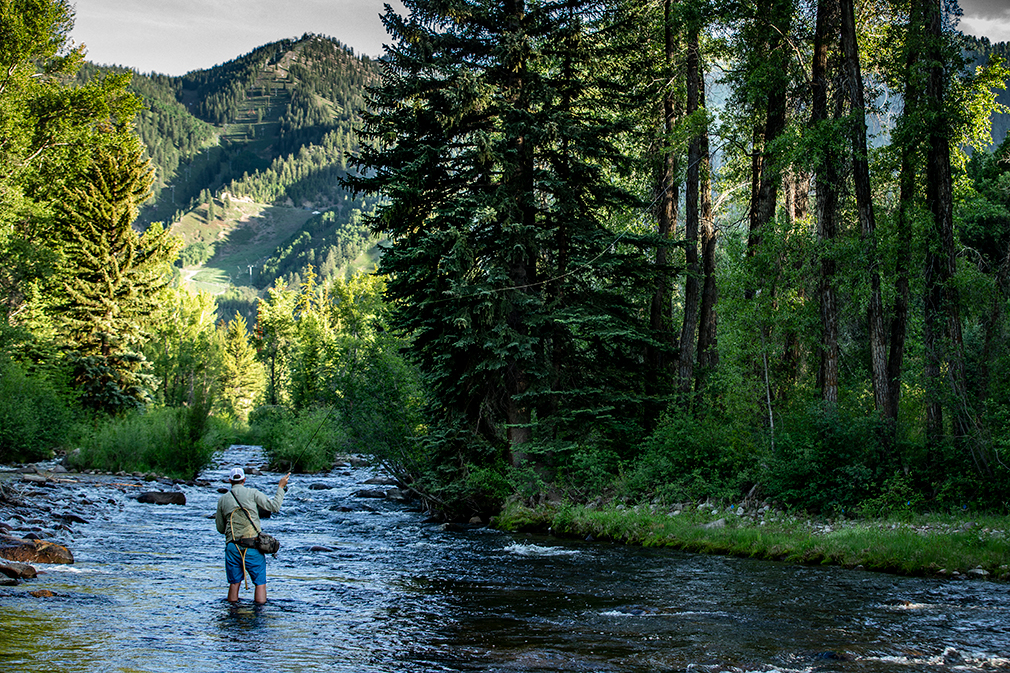 Cast like a Pro
In season, before the snow, fly fishing buffs can immerse in nature's gift of zen with a rod in their hand. Famous for those intelligent, hard to snare Brown Trout (plus Rainbow, Whitefish and Cutthroats), anglers can float down (or wade into) one of the region's four great rivers (Roaring Fork, Frying pan, Colorado and Crystal) to ponder the meaning of life. Choose an outfitter, such as Aspen Outfitting Company, who share their tips and offer half and full day adventures.
Join the Throngs
Aspen inspires. No wonder so many festivals have come to call the mountain hotspot home. Follow your interests and choose a festival that appeals. Some of the most popular fetes include the Aspen Music Festival, the Food and Wine Classic, Jazz Aspen Snowmass, Aspen Ideas Festival, Aspen Arts Festival, Snowmass Balloon Festival and Aspen Filmfest.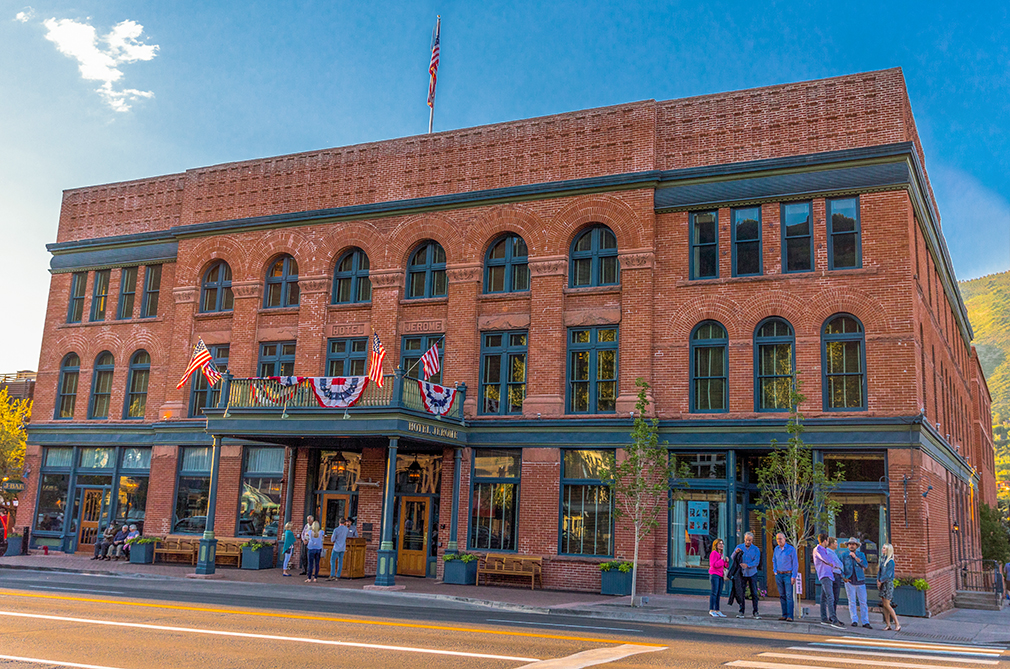 WHERE TO STAY

Hotel Jerome, Auberge Resorts Collection
For me calling out a favorite hotel is like choosing amongst children, but Hotel Jerome has garnered my forever adoration. It's simply the most unique and prodigious hotel in Aspen. Steeped in history (circa 1889), it has borne the Silver Boom, the Great Depression and the rise of the elite ski industry. Not on the mountain, it sits in the heart of the city, reminding visitors that there's more to the town than skiing. What wows me here are the jaw dropping details: design that honors the past without being staid, impeccable service, artistic details at every turn (brass bottomed coffee cups in the rooms, lamps that look like gold plated trees, stunning art and furnishings in the common rooms that invites lingering, a tooled-leather-lined elevator etc.), spacious rooms, a small but thoughtful spa, work-of-art, worthy cuisine and those awesome cowboy outfitted doormen.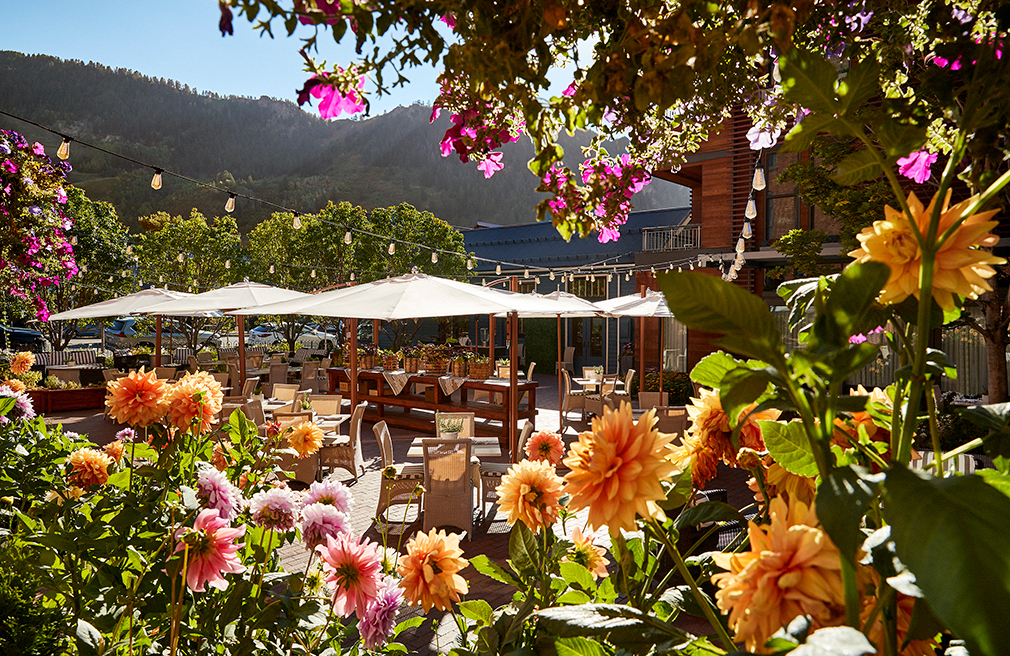 The W Aspen
With one of Aspen's undisputed best locations for winter pursuits, veritably part of the ski mountain itself, the W satisfies those with a penchant for luxurious chic. Contemporary, artsy, and happening, The W Aspen
cleverly pays homage to Aspen's history with mining-centric decor and celebrates fun with amenities such as fire pits and a vivified rooftop pool. While the rooms suffice, larger family/friend groups staying for more than a few days should book the fabulous Sky Residences, three-bedroom, penthouse-like suites with ample balconies, chef-approved kitchens and party tempting common spaces.
The Little Nell
It's easy to forget that cosmopolitan (but cunningly comfortable) The Little Nell
lies slope-side on Aspen Mountain, just a few steps (or high-altitude breaths) from the gondola. That's because the elegant hotel, a destination in itself, offers so many other distractions that one can easily fail to recall the marvel of its perfect location. Take its world-renowned wine cellar, an oasis of some 20,000 bottles, where sommeliers offer private tastings. Or, its various fly fish and dine, hike and dine or bike and dine activities, each meant to reward active guests with the renowned kitchen's largesse, a gourmet post workout recompense. We love the packed picnics, complete with Champagne, ideal for any season. As the town's only five-star, five-diamond hotel, the posh hideaway remains a delightful icon, one that supports guests' whims and mirrors Aspen's infinitely posh meets earthy appeal.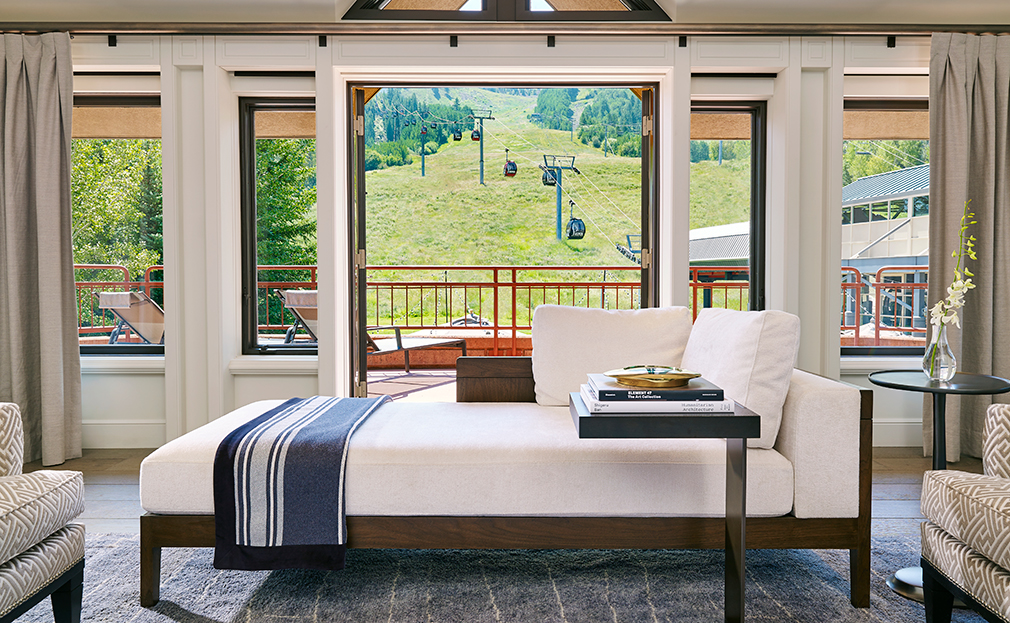 St Regis Aspen
With 180 rooms, the St. Regis feels bigger than most of Aspen's hostelries. But, maybe that's just the fact that the palatial hotel occupies prominent territory between the ski mountain and town. Meant to reference a Gilded Age manor, the sort of folly a silver mining magnate would have built, the grand St Regis Aspen excels at pampering guests amid its opulent interiors and outdoor areas, such as the Fountain Courtyard, a social butterfly's dreamland. A recent $40 million redo streamlined the interiors, leaving clean, contemporary spaces, including custom Ralph Lauren desks and beds. Fight the dry air with a facial in the stunning Remède spa.
The Limelight
A pioneer in Aspen's movement to focus as much on its organic attributes as artificial offerings, the deliciously authentic Limelight Aspen encourages guests to embrace a variety of the mantras that define the hotel's philosophy of being. From "Mi Casa es Su Casa" (our hotel is your home) to "Here and Now" (make the most of each moment), the hotel, deliberately designed to support and protect long term sustainability in the Roaring Fork Valley, represents a feel-good experience for guests. Cozy and cool, industrially chic, with the vibe of a contemporary ski lodge, the hotel, poised across from Wagner Park, minutes from the ski slopes, has been renovated and refreshed in December 2020.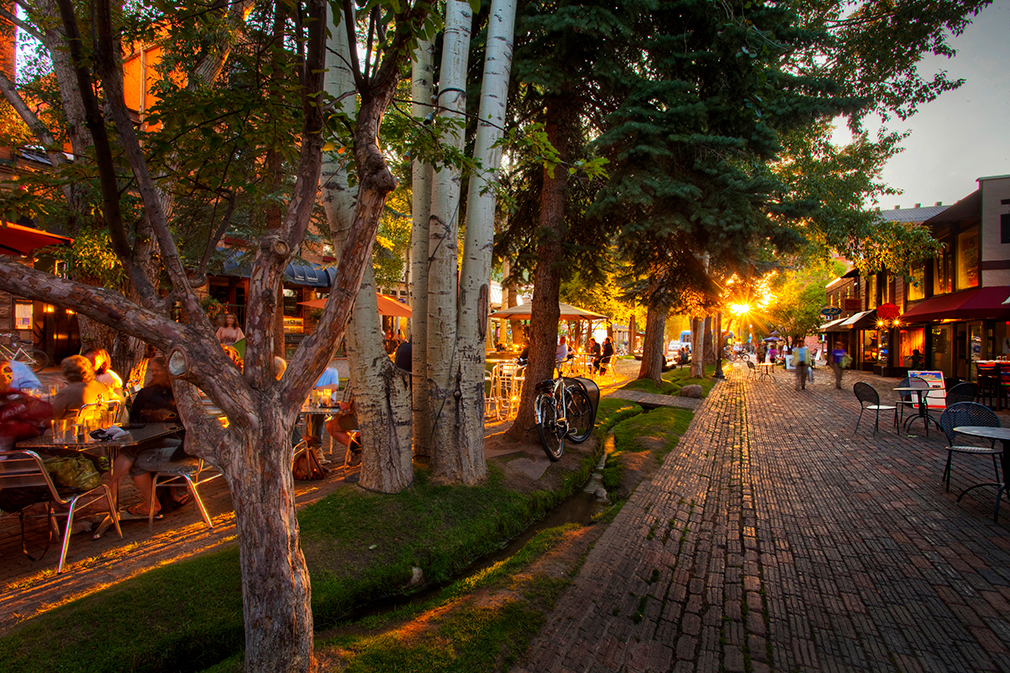 WHERE TO DINE

Bosq
Featuring one of Aspen's favorite decks, this small chef-owned and operated eatery specializes in creative tasting menus. Think: lobster grilled over juniper branches for an appetizer and Colorado lamb loin with escarole and plums.
Casa D'Angelo
A bi-level, airy, light-filled restaurant in the heart of Aspen, Casa D'Angelo serves up both modern twists on classic Italian cuisine, as well as heart-warming recipes served by his own mother. Try Fusilli Mamma, a satisfying, fresh tomato, basil and fresh mozzarella Reggiano masterpiece.
Woody Creek Tavern
Come hungry to this pub-like venue, once the hangout of Hunter S. Thompson. The ideal stopover on a biking adventure along the Rio Grande Trail, Woody Creek Tavern offers hearty fare, such as its lunch of champions, an eight-ounce bison burger, so tall it stretches to the sky.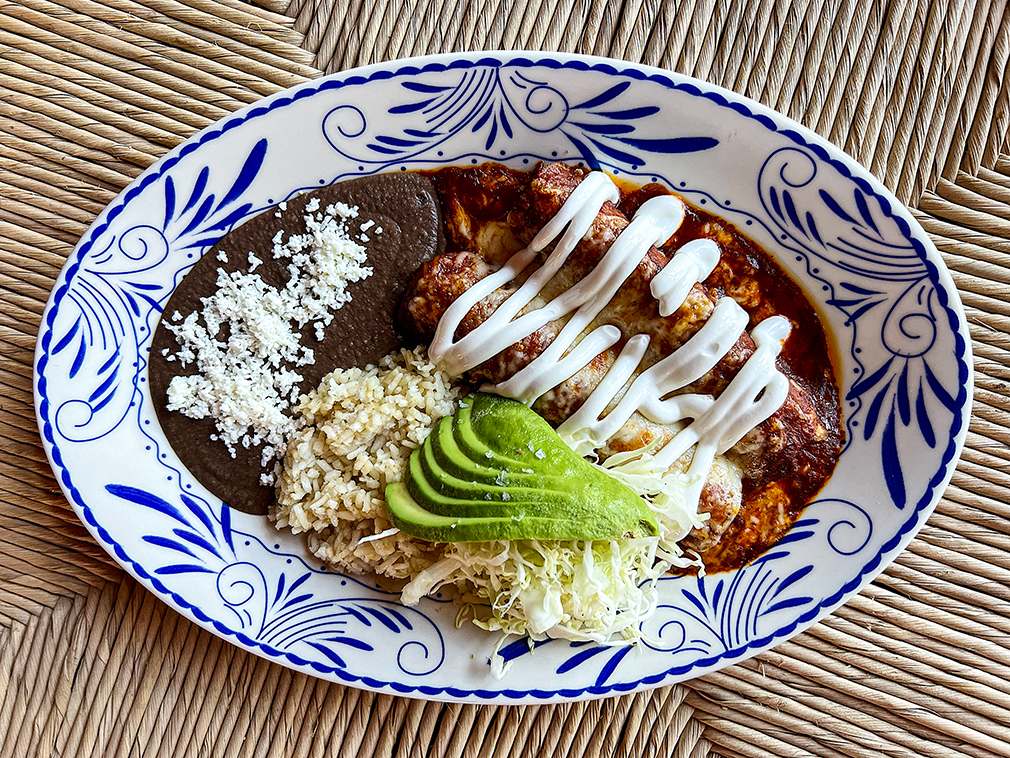 Las Montanas
Las Montanas is one of Aspen's newest eateries, with views of the mountains from its second-floor deck, its Tex-Mex infused menu has Austin roots. Fajita offerings go beyond the usual to include more opulent unusual stuffings for your tortillas, including Maine lobster and bacon-wrapped filet mignon.
The Garden
Part of the Hotel Jerome, ensconced in its al fresco courtyard with clear views of Aspen Mountain, this vibrant social scene feels like a garden party with an exclusive guest list. A boon for people watchers, The Garden
restaurant serves up truly fresh delights (hand-made pappardelle with foraged veggies—such as fiddlehead ferns and morels, for example) and "garden to glass" cocktails, awash in botanicals and herbs.
WHERE TO DRINK

Bad Harriet
If you love a speakeasy, like me, this one looks like the front of a long-closed newspaper office, its vitrine filled with vintage typewriters. Inside, downstairs, a den of moody delight awaits. Martini lovers will swoon over the enticing Harriet, a fantasy of Ki No Tea Green Tea gin, Victoria and Champagne Vinegar.
Hooch Craft Cocktail Bar
Positioned below the beloved Meat & Cheese Restaurant and Farm Shop, this popular drinking hole, Hooch Craft Cocktail Bar owes its success to quality ingredients, craft cocktails and the sort of cuddle-worthy couches. Try the Señor Scarcelli, a mezcal libation created with Negroni lovers in mind.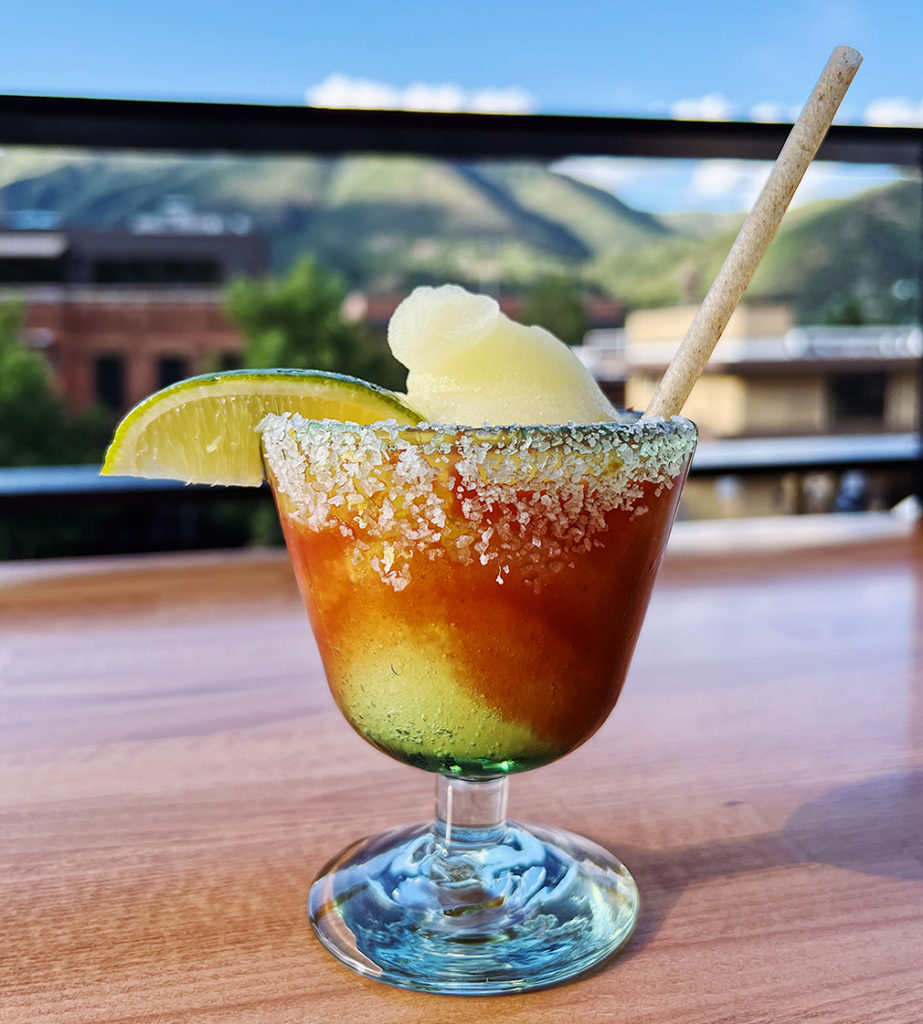 Marble Bar Aspen
Part of the sustainable Marble Distillery in nearby Carbondale, which makes incredibly stellar vodka and other handcrafted spirits, each filtered through the region's famous lightly veined marble, this outpost of Marble Bar Aspen (in the within the Hyatt Residence Club Grand Aspen) presents an array of stunning cocktails that honor the—can we say spirit of the spirit? For a real treat, get thee to Carbondale and stay at the distillery itself, which holds a small inn, immaculately and brilliantly turned out.
Ajax Tavern
We've been downplaying the joys of apres ski in this guide, which honors Aspen for its nature as much as its high-toned vibe. But, let's face it. Apres happens—and it's fun. My favorite place to swill after a last run is Ajax Tavern, an appendage of the Little Nell, found just beside the gondola, at the foot of the mountain. What to order? Truffle fries and Veuve Clicquot Ponsardin Yellow Label NV, but of course.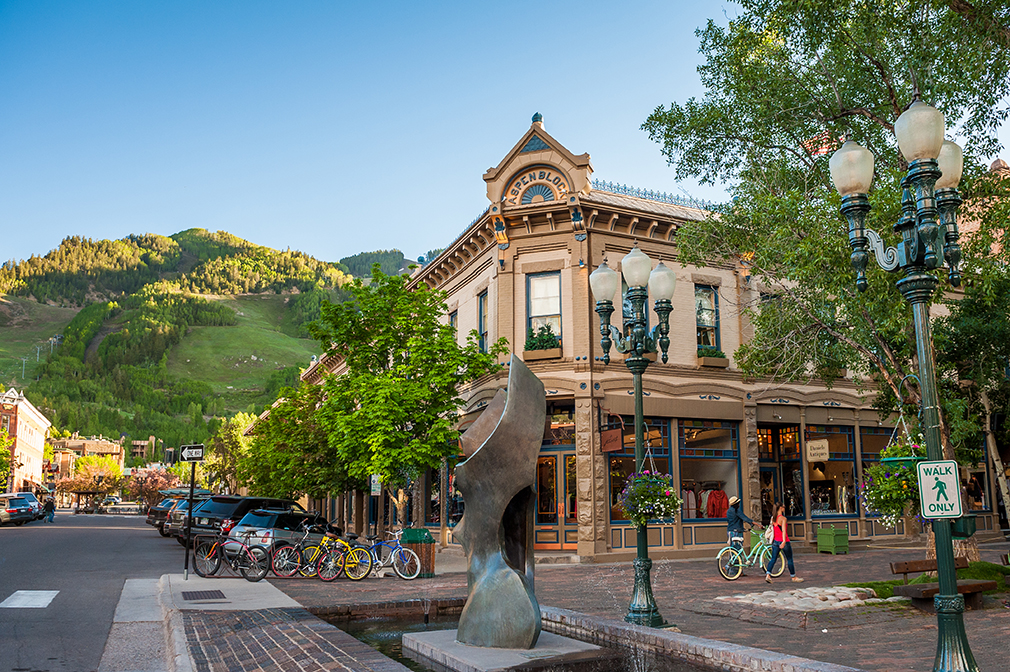 WHERE TO SHOP

Explore Booksellers
Just the way you imagine a storybook bookstore, Explore Booksellers
fulfils our bibliophile fantasies. Rife with books, wafting that comforting smell of paper and ink, Explore occupies a labyrinthine Victorian house on Main Street, abundant with nooks—and books.
Kemo Sabe
The flagship location of a boutique that has expanded to a couple of other locations around the country, Kemo Sabe is a chapeau lovers' shop offering an interactive experience when you fearlessly design your own Stetson. After being shaped by a trained consultant, your hat gets glitz when you pick ornamental accoutrements from the shop's "Swagger Bar."
Aspen Velo Bike Shop
It's not unheard of to become addicted to biking after a trip to Aspen. Family owned, with trusted consultants, state-of-the-art inventory and tons of free advice, the friendly Aspen Velo Bike Shop remains the best place to rent the bikes you'll need for you two-wheeled adventures in the Roaring Fork Valley.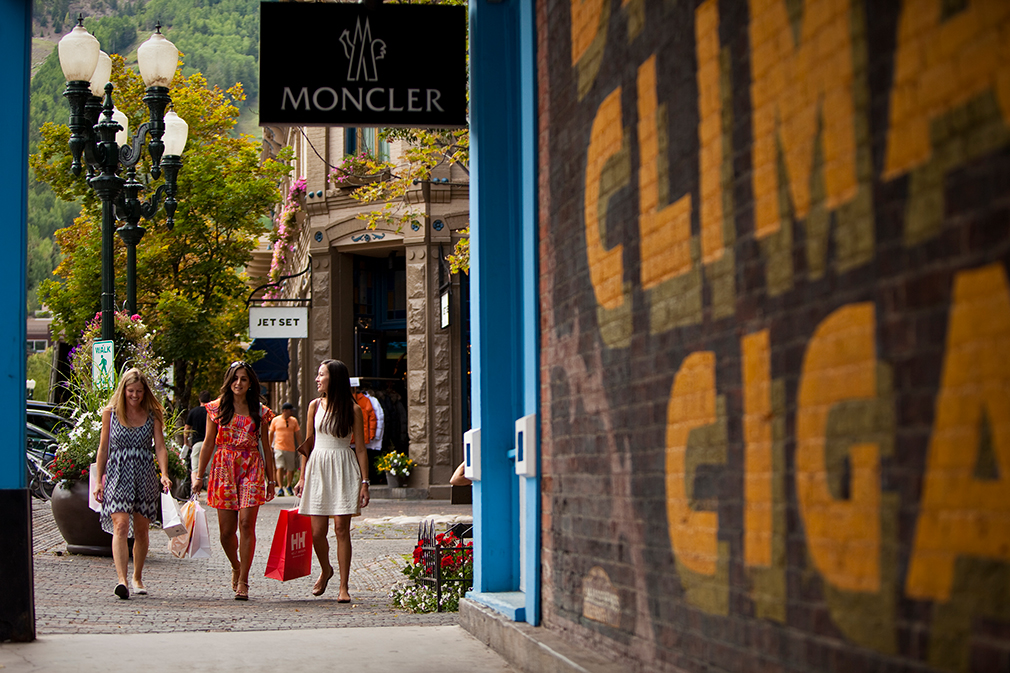 Possession Obsession
If you're like me, you've found some of the best paraphernalia from jewelry to curiosities in museum ships. This store is no exception. A divinely curated stockpile of eccentric items, beautiful bits and soulful clutter, and Possession Obsession in the Aspen Art Museum helps support the artists.
Nuages
A cornucopia of color and texture, Nuages is a divine boutique opened by local Mary Moyer in 1986 stocks an array of expressive clothing and accessories, including hard to find brands, up and comers and well-established purveyors, such as Azzedine Alaïa and Mary Kantrantzou.