Known for some of the world's best beaches, real estate and nightlife, the food scene throughout the state of Florida can also boast some of the most talented regional chefs, mixologists and farmers in the country. Here we showcase a diverse handful across South Florida, and give you our top picks on where to find culinary treats, including a Tequila Librarian, duck ramen and alligator sausage.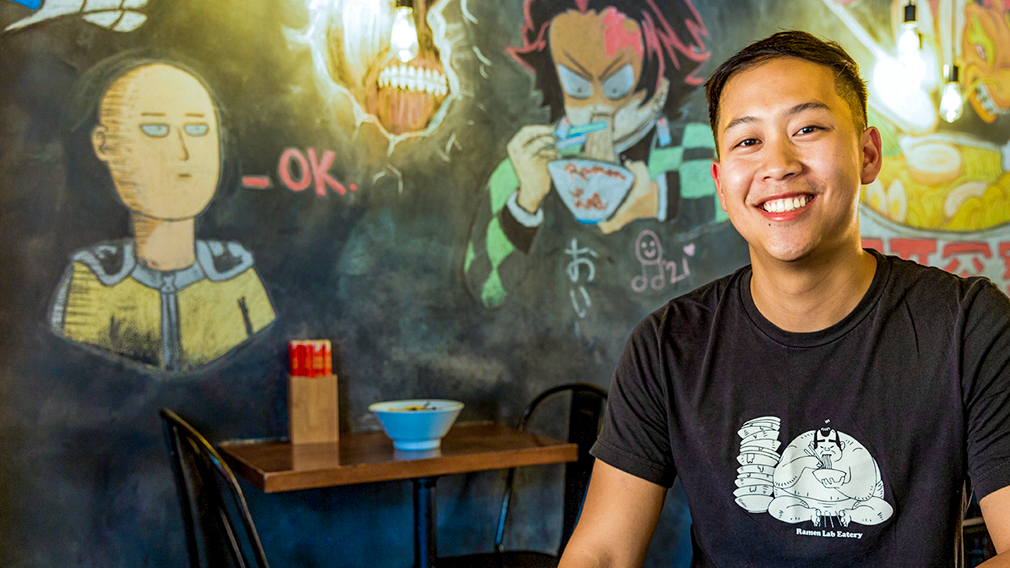 Next Generation: Ramen Lab Eatery, Boca Raton
As the third-generation son of Thai immigrants who opened several local Thai and sushi restaurants in the area, Louis Grayson has watched the food scene grow and become more diverse in Boca Raton. "It expands our culture, and the food brings us all together," he said. "Today I see so many different concepts and cuisines, but they are making it their own."
The restauranteur carried on his family tradition by opening Ramen Lab Eatery, which bridges Thai, Korean and Japanese food with some of the recipes he learned from his grandmother while growing up in Florida, where the humidity and tropical storms reminded her of Thailand.
The food you will find today at Luis's restaurant includes wings, handmade dumplings, and the famous Grandma's five-spices duck ramen. The noodles are made from scratch and the whole bird is stewed for hours with palm sugar, which gives it a special umami flavor. "It has all the culture, warmth, surprise, texture all in this one flavor explosion," Louis said. "And it hits perfectly."
---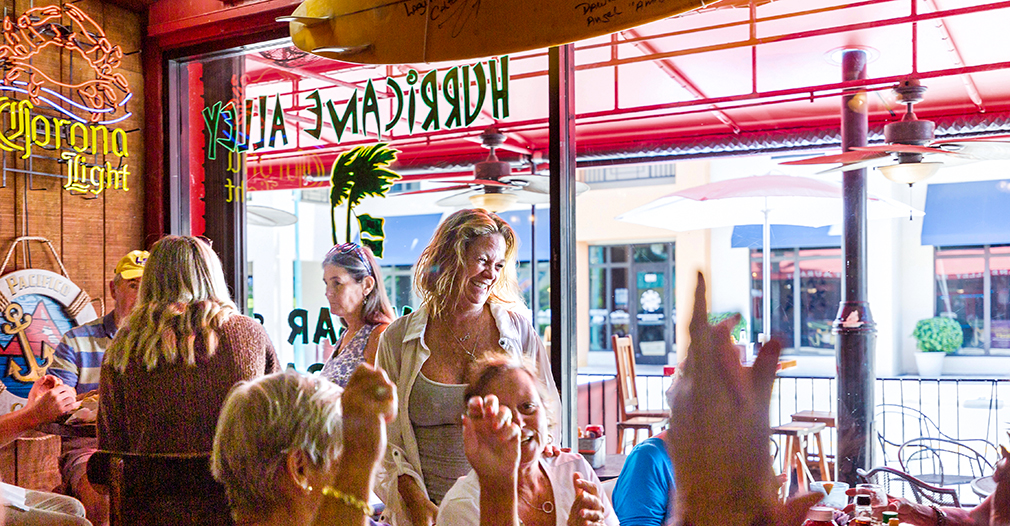 Daily Catch: Hurricane Alley Bar & Restaurant, Boynton Beach
Kim Kelly has been a cornerstone of the local restaurant community in Boynton Beach for more than 25 years. Her husband, Burt Garnsey, is part of a fourth-generation fishing family, running the legendary Sea Mist III drift fishing boat on twice-daily excursions.
And Kim has come up with a tasty experience for Hurricane Alley guests: the 'You hook 'em, we cook 'em' special. If you go out on Burt's family boat and catch a fish, they'll clean and prep it for you to take back to the historic restaurant just a few blocks from the marina, where they'll cook it for free. "We like to share the warmth and generosity," Kim said.
"Seafood is Florida, it's part of the culture and we have a gateway to the ocean," said Kim, who is hands-on with all the prep and cooking. This includes shucking 500 oysters a day, and making the signature conch fritters and smoked fish dip that local families come in to enjoy several times a week.
And, if you were wondering where the name hails from, "We have the community history displayed in here almost like a museum," Kim said, explaining the hurricane and fishing memorabilia that covers the walls. "People love it, and they linger. You will never be bored when you come to Hurricane Alley."
---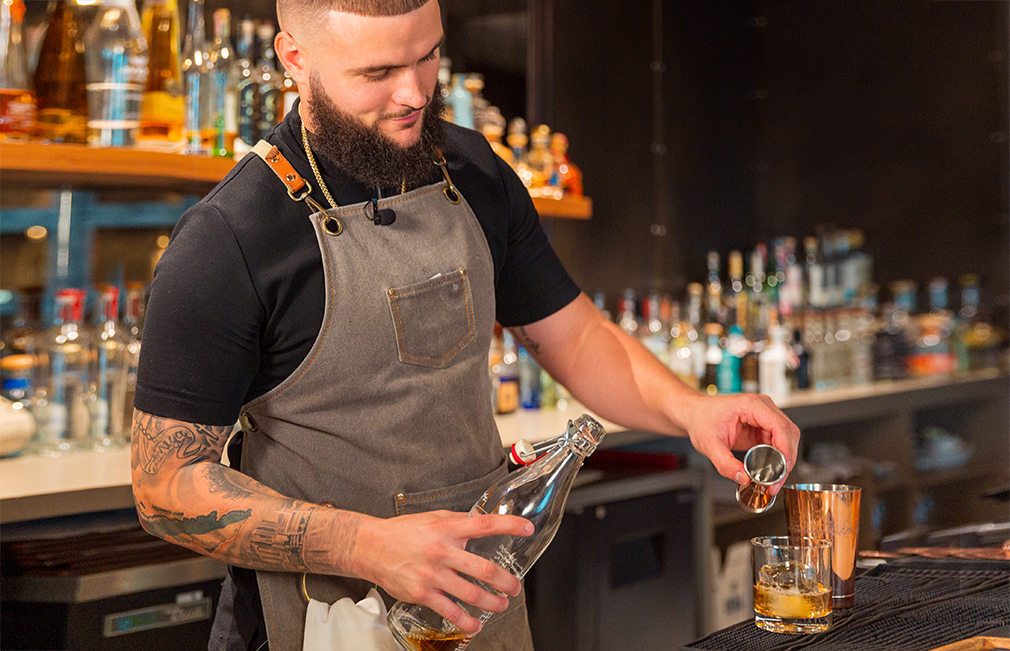 A Different Kind of Library: Toro Latin Kitchen + Tequila Library, Dania Beach
Danny Salgado oversees the Tequila Library in Dania Beach at award-winning Mexican chef Richard Sandoval's Toro Latin Kitchen + Tequila Library. Danny has been entrusted as the "librarian" of the world-class tequila collection, holding more than 350 bottles of tequila (along with 200 mezcals) but he has never viewed this as a job. "I consider this my home," he said. "I educate people on how you are supposed to drink tequila."
While he can make you a signature mojito with fresh Florida citrus that reflects his Cuban roots, Danny's goal is to give you an experience you weren't expecting and create something unique for you. "Some people get overwhelmed and just order what they know, but I try to broaden their horizons."
And just because they have hundreds of tequilas, don't mistake this for a Mexican restaurant. The cuisine is Latin-Asian, characterized with a family-style atmosphere of shared tapas plates with interesting cocktail pairings—think smoked avocado with mezcal. You'll also find ceviche, Peruvian Lomo Saltado and chicken marinated in reposado. "It's all about blending flavors," Danny said, "It's a melting pot just like South Florida."
---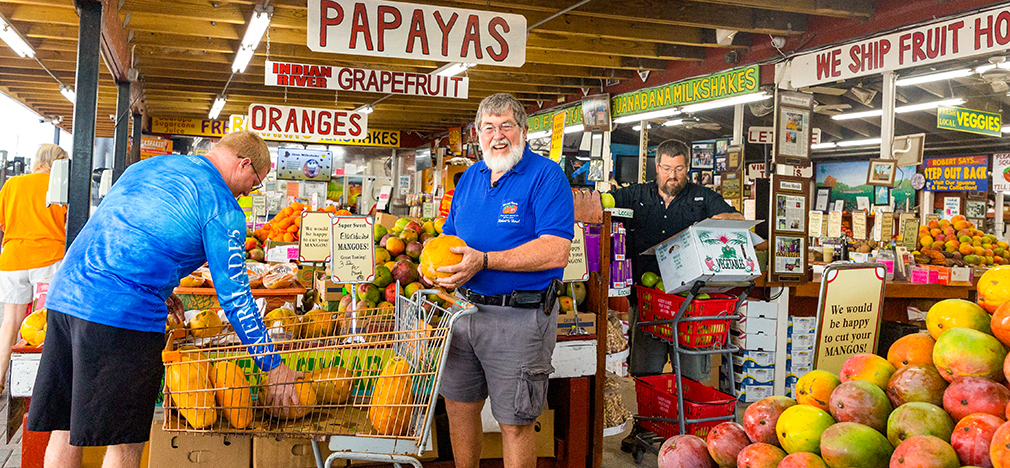 The Fruitstand King: Robert Is Here, Homestead
Tropical fruit producer Robert Moehling, Sr. started developing his passion for local produce as a young boy and ended up devoting his life to farming. He established the widely known Robert Is Here fruit stand in 1959 after selling cucumbers on a streetcorner, and it has been the go-to for farm-fresh fruits and vegetables in Homestead, Fla. For decades.
This is literally a childhood dream come true. "By the time I was 14, I bought a 10-acre piece of property," he said. Over the years, he kept buying little pieces of land and growing tropical fruit, which became his niche.
Today his sons, Robert, Jr. and Brandon are also involved in the day-to-day running of the business, which includes overseeing the 20 acres of mangos for their famous fruit milkshakes. "Our mangos are our pride and joy," Robert, Jr. said.
"Florida mangos are the best in the world," Robert, Sr. said, "Everyone wants to try something different, and we are unique."
---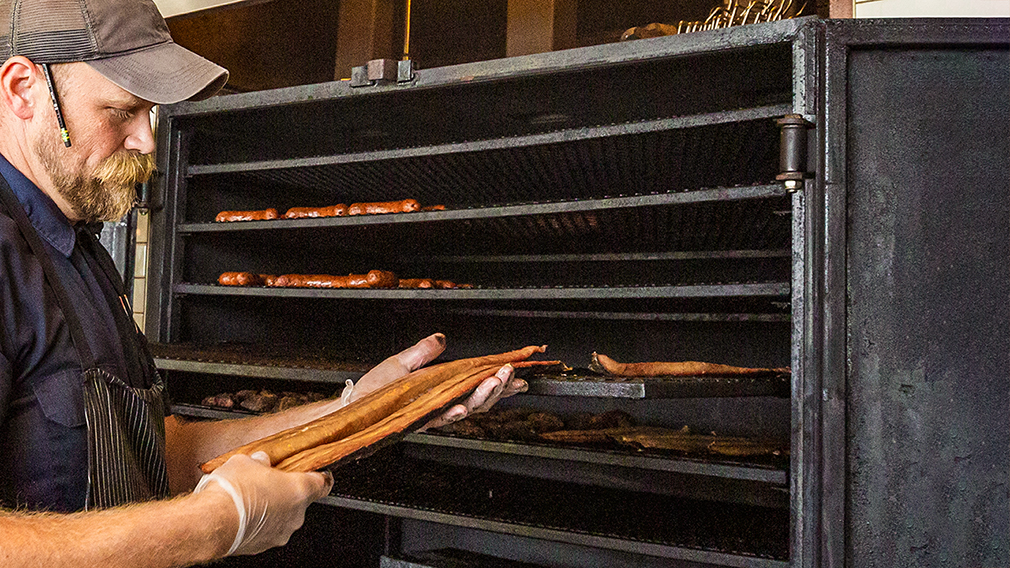 Do You Know Florida BBQ? Tropical Smokehouse, West Palm Beach
After an 'aha moment Chef Rick Mace left the white tablecloth life behind to make regional barbeque in West Palm Beach his "life's work."
His Tropical Smokehouse utilizes the local influence of Cuban, Jamaican and Latin cultures and weaves together those flavors and history that have been passed down from generations into the food. "It's a collection of ideas that makes Florida unique and not stereotypical barbecue," he said.
Chef Rick also researched indigenous cooking methods and custom-built a smokehouse on-site for his specialty dishes that include smoked fish and Caribbean-influenced sides such as black beans and yucca. He also brings together other regional elements: Cuban coffee to his meat rubs, jerk rub on turkey breats, and a mango hot sauce laced with habaneros.
The signature barbecue trays feature all those elements, plus alligator sausage. "A great restaurant is a small percent of creativity and a large percentage of curation, observing traditions and things that make something have this special sense of place and a life of its own."