"Life itself is the most wonderful fairytale."

Hans Christian Andersen
---
I'm waiting for my friend, local gastronome, Frederik Lundberg at Villa Copenhagen, a newish hotel in Denmark's stylish capital, Copenhagen. We've planned a post quarantine reunion and walk around the waterside and canal-brimming city, sometimes called the Venice of the North. As I take stock of the contemporary decor, furniture set in conversational nooks and eye-catching art, I feel enormously contented. I recognize that sentiment as the defining Danish characteristic of hygge, a palpable aura of welcoming "je ne sais quoi" that sets this culture apart. The hotel's sleek interiors harmoniously set off the gravitas of the historic building that holds it, a repurposed, Neo-Baroque structure, kitted out with modern swank, including a rooftop pool. That's hygge in the flesh—as it were. The resulting comfortable grandeur syncs with creative Copenhagen, a buzzy place, steeped in tradition, but driven by a fearless propensity to innovate and cherish the new.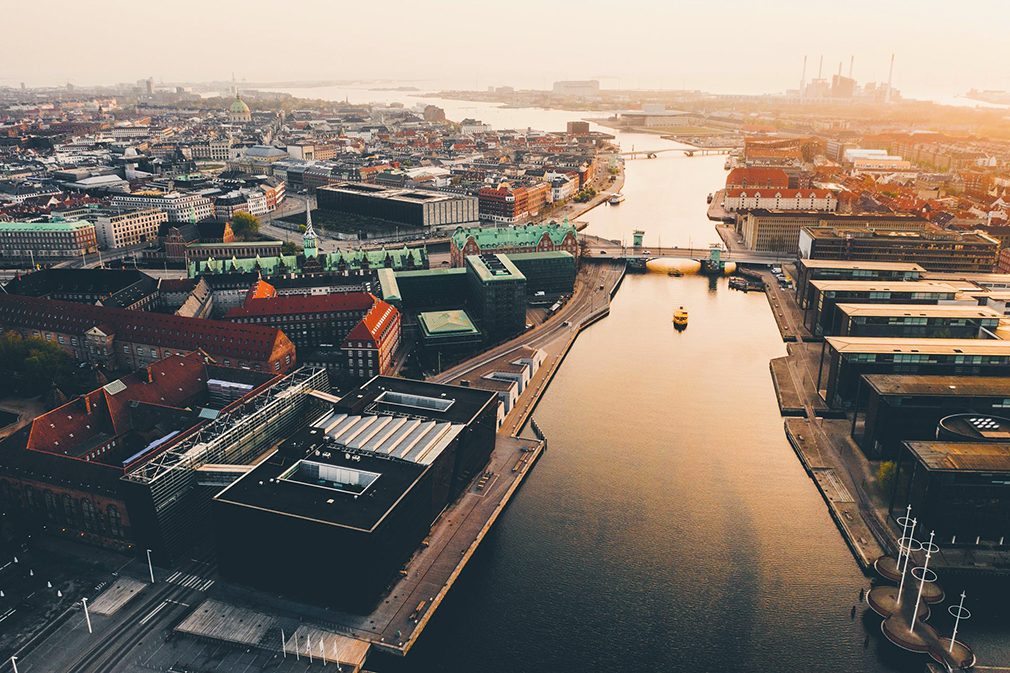 In this city of contrasts, ancient structures stand near avant-garde modern architecture on both cobblestoned streets and new built boulevards, while canals filled with boats offer beaches and quays rife with revelers, restaurants, shops and bars.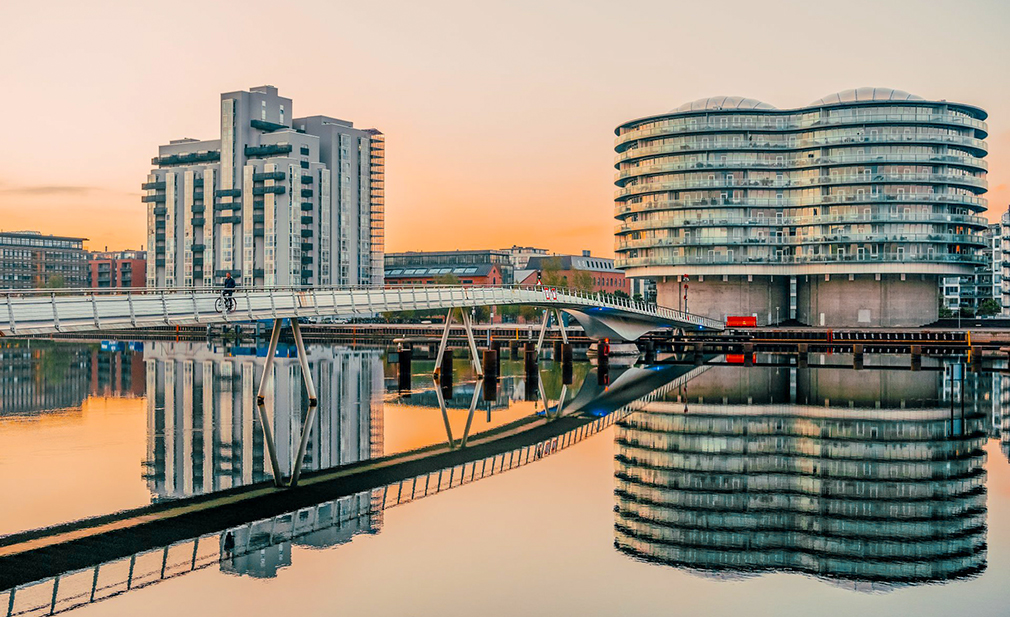 Ever earning accolades for having the happiest inhabitants on earth, Copenhagen reigns as a haven of hygge (pronounced hou-gue), a word not easily translated to English. Most say it refers to an ambiance of cozy comfort and shared conviviality. But I think hygge's more than a mood. In Copenhagen, hygge may be a directive for living well: it embodies mindfulness, cordiality and hospitality all at once—in short, a mantra to turn ordinary moments into a celebration. So, when Frederik arrives to whisk me off to his favorite sites and to introduce me to sky-soaring, multi-layered gravy burgers (yes, that's a thing!), our adventure amounts to being enveloped in hygge, too. Whether it's lounging for a moment in an Arne Jacobsen Egg Chair, gazing at bog mummies in the National Museum, sipping a tall beer by the water, or digging into the impossible largesse of a colossal gravy burger, hygge rules.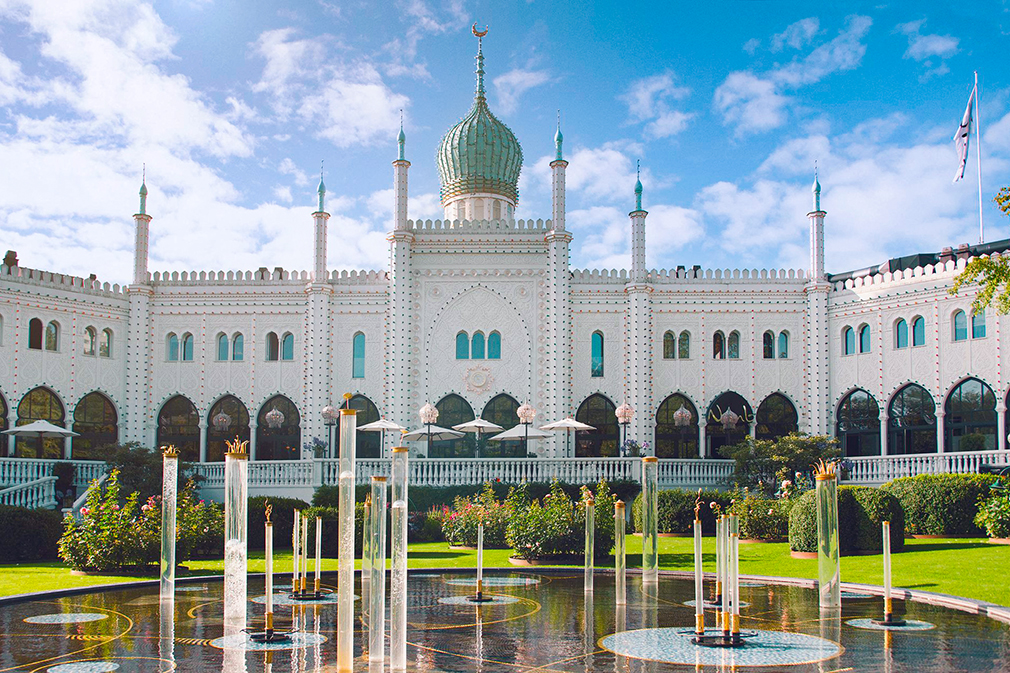 Here's where to find hygge when you go:
WHERE TO STAY

Nimb
By far my favorite hotel in Copenhagen, Nimb garners my adoration for its whimsy and metaphorical treasure trove of glittery abundance. I've likened it to a cabinet of curiosities before, and whether it's the original, Moorish-style facade (circa 1909) or sleekly Danish modern elements added in its recent redo and expansion, this hotel, set on the edge of Tivoli Gardens, brings joy. Intimate, fancy, exclusive, with just 38 rooms, it has a rooftop pool, and downstairs spa, princess-worthy bathrooms (Its fixtures were originally designed for Copenhagen's Christiansborg Palace.), terraces that overlook the park and top-notch service. Don't miss a Hans Christian Andersen, fairytale-themed cocktail at Bar Nimb.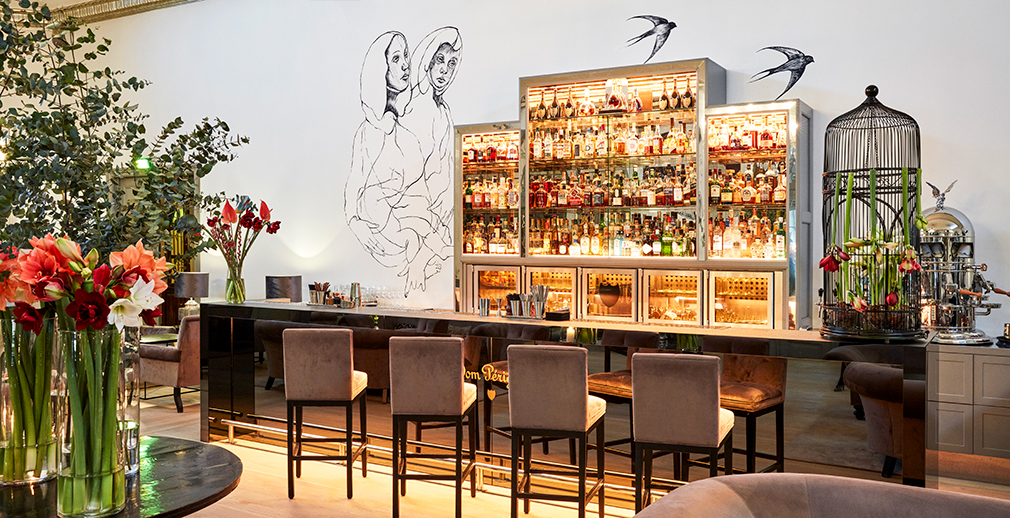 Villa Copenhagen
Steps from the Copenhagen Central Train Station (read: near everything you'll want to do), this much-touted hotel represents the Danish talent for fusing old with new. Re-imagining the turn-of-the-century Central Post and Telegraph Company Neo-Baroque building, London-based Universal Design Studio retained old-world elegance, bringing pops of modernity and Scandi-chic to the airy interiors. With 390 rooms, offering casual luxury, this hotel appeals to leisure and business travelers alike.

Radisson Collection Royal Hotel
Long a pilgrimage destination for design and architecture buffs, this recently renovated hotel pioneered today's widely revered concept of "design hotel," when it was erected in 1960. As the only hotel completely executed by celebutante Danish Modernist architect and designer Arne Jacobsen, the SAS Royal Hotel, as it was then known, loomed as Copenhagen's first skyscraper. Assiduously, Jacobsen masterminded every detail, including the furniture, such as his renowned Swan, Egg and Drop Chairs. Renovated in 2018 by Space Copenhagen, the classic still impresses guests and visitors. Take time to tour Room 606, kept intact with Jacobsen's original design like a trip back in history.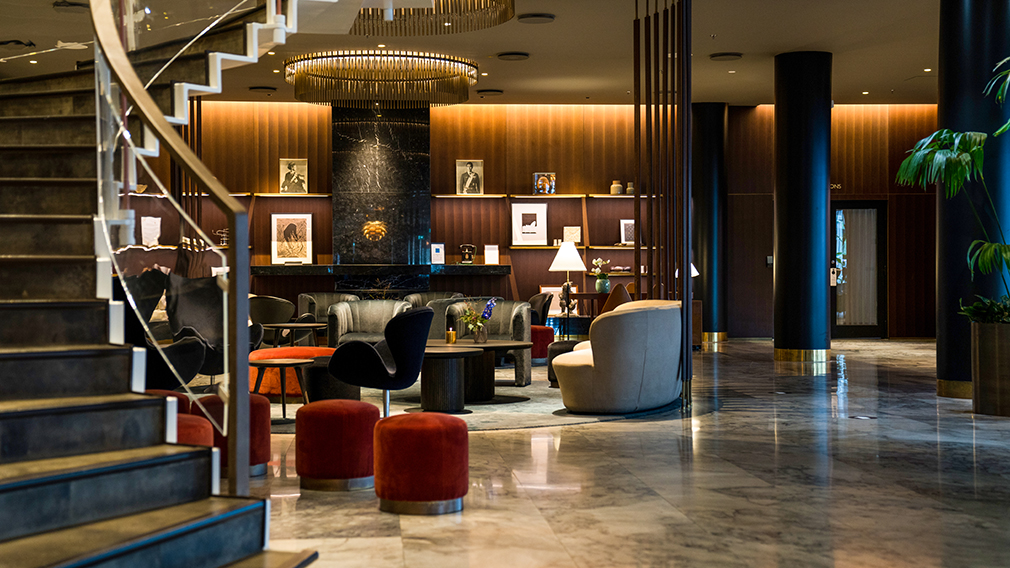 D'Angleterre
Channeling regal Copenhagen of yore this circa 1755 grand dame lords over Kongens Nytorv, the capital's main city square, just off Strøget. A favorite haunt of Hans Christian Andersen and a host of aristocrats over the centuries, D'Angleterre, with its gold-domed lobby, summons fairy tale grandeur and noble majesty. Ideal for honeymooners and those seeking pampering, the hotel features Balthazar Champagne bar (the first and only Champagne bar in Copenhagen) and Michelin-starred Marchal restaurant (helmed by celebrated Chef Jakob de Neergaard). Its spa, Amazing Space, uses only all natural, Scandinavian ingredients in its treatments. Splurge on the Royal Suite for its gilded walls and balcony facing the Royal Theater.

Nobis Hotel Copenhagen
Set beside Ny Carlsberg Glyptotek art museum, minutes from Tivoli Garden, this clever hotel hails from the skill set of a family-owned hotel group renowned for their creative re-imagining of historic landmarks. To whit, Nobis, once the Royal Danish Conservatory of Music, presents renovated interiors by star-chitect Gert Wingaardh. Rooms boast fascinating elements from concrete to marble for a grand finale effect of awe, drama and artistry. Dine at field-to-plate Restaurant NOI, an urban oasis of pleasure, inspired by the region. Danish lobster is a must.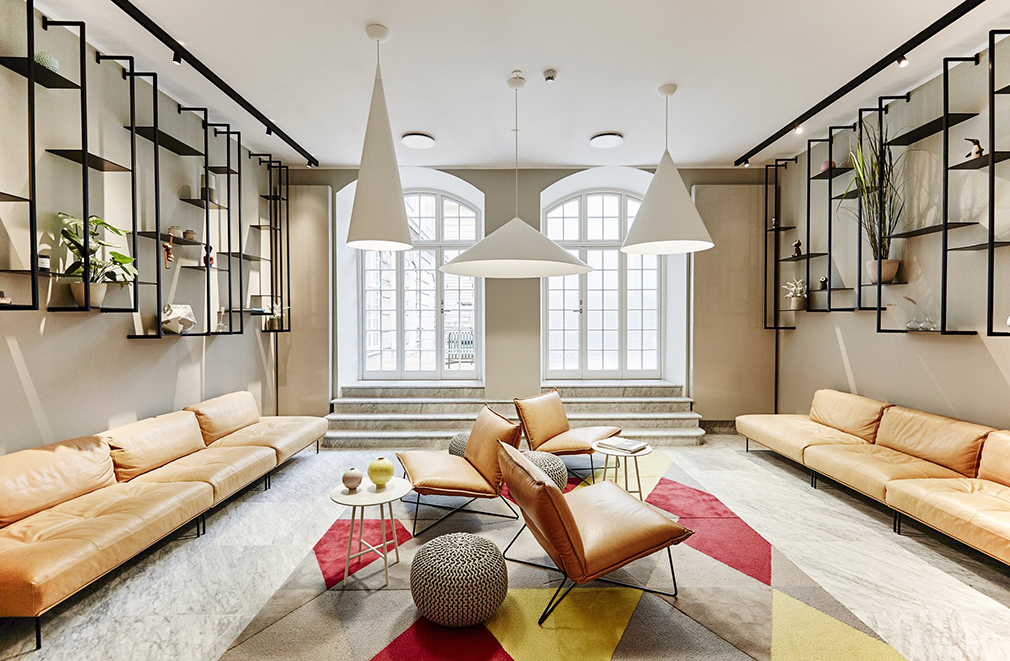 Kokkedal Slott
For a bit of bucolic Copenhagen, check into the nearly three centuries-old Kokkedal Castle, a symphony of wedding cake swirls set between forest and sea on the Danish Riviera, north of the city. Once a family home, the castle still feels welcoming with comfortable chairs and common rooms meant for curling up in with a good book. Lush fabrics, opulent furnishing, period artwork, silver and crystal summon its opulent heyday, while new flourishes, such a spa, pool and restaurants (one is seasonal) speak to the moment.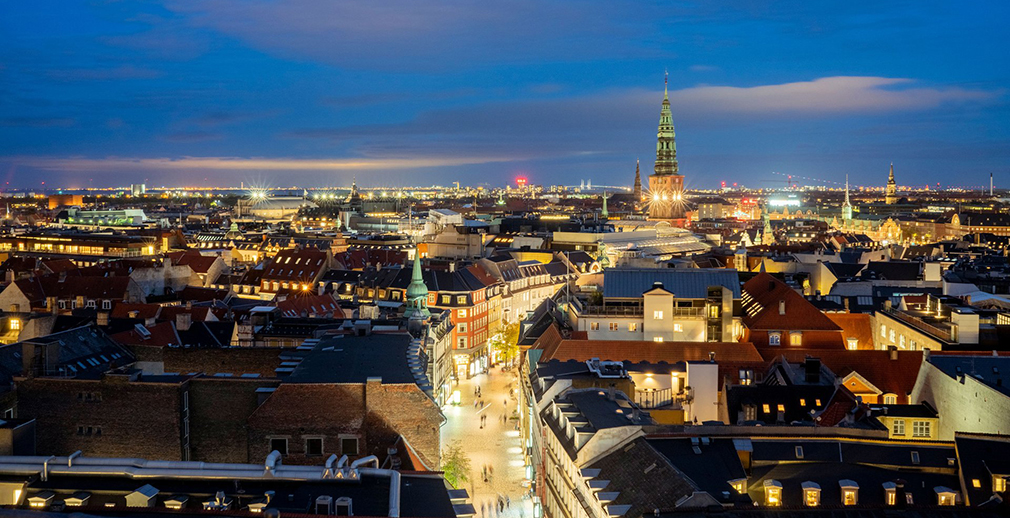 WHERE TO EAT

Restaurant Lola
Wedged into the vestiges of an old windmill in natty Christianhavn, this sustainable restaurant by award-garnering homegirl Kamilla Seidler (who has lived and cooked all over the world) offers courses with a penchant for plant-based ingredients in multiple courses. Progressive and conscientious options vary at Restaurant Lola, but might include items such as poached squid with beurre blanc, white asparagus or oysters.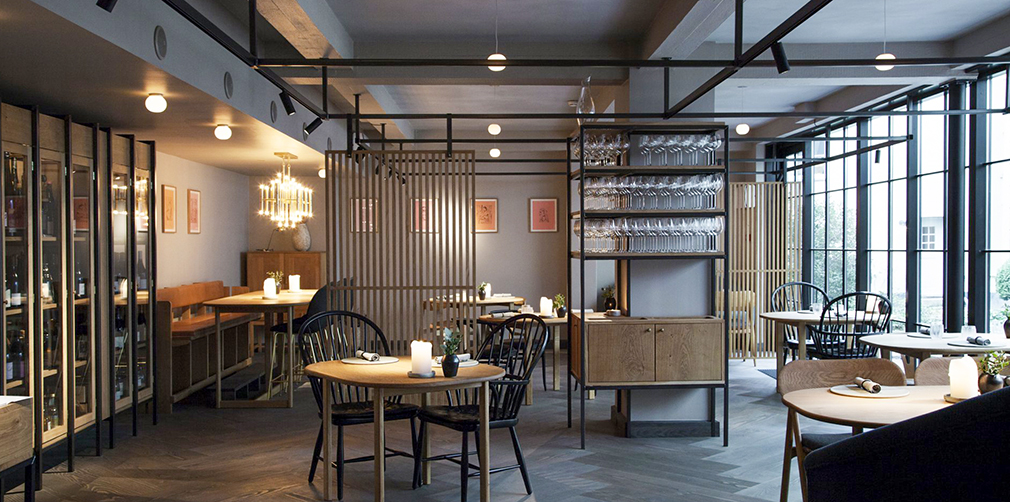 Kadeau Copenhagen
Michelin star-honored Kadeau, located a block from the Christianhavn train station. serves up 4 to 8-course menus born from the chef's boyhood on Bornholm Island in an unpretentious, friendly atmosphere. With plates enchantingly brandished with herbs and flowers from the fields, the restaurant's twist on Nordic fare includes foraged seasonal ingredients woven into dishes such as cold and hot smoked salmon from Faroe Islands, perhaps garnished with figs and fig leaves. A 20-course tasting extravaganza is possible for the intrepid.
Esmée
Elegant and supremely located on Kongens Nytorv in the heart of Copenhagen, Esmée hearkens back to France's Belle Epoque so much that one expects Toulouse Lautrec to walk through the doors. A homage to brasserie life and the warmth of orangeries, it offers both a mirror-flanked indoor area and an outdoor courtyard for diners. Composing French intoned creations with Nordic elan, the menu pays homage to French art d'vivre. Expect such decadences as gougeres with Comté cheese and truffles, grilled lamb chops with purple artichokes or Danish shrimp with lemon mayonnaise.
Restaurant Barr
Epicurean Frederik Lundberg calls Barr "Bistro Noma," and there are various reasons for that. For one, it lies in Noma's first (now re-imagined) location in Christianhavn; secondly, it's helmed by folks inspired by René Redzepi's legacy and innovation. However, this casual, wood-walled bolthole garners its own accolades for its "Beer Belt-style" fare and always has room for tipplers on its bar stools (it features a mind-blowing beer library). A mountain chic aesthetic tempts diners and sippers to unwind, while stunning versions of northern European favorites (think: smoked herring with fennel and green strawberries and elderberry sauce or schnitzel with a twist) sate the soul.
Barabba
On Store Kongensgade, Barabbas, a den of reconstructed Italian cookery, enwraps diners in a dreamy otherworldliness of chandeliers, Turkish carpets, marble tables and rough-hewn wooden cabinets. A 350-year-old table anchors the room as a harbinger of the heartiness the cuisine promises. Both tasting and ala carte menus at Barabba brandish variety that runs the gamut from spaghetti with smoked oysters to glazed pork ribs to rabbit ravioli with yellow tomatoes and Taggiasca olives. Complementing wines, courtesy of sommelier and founder Riccardo Maron (originally of Michelin restaurant 108) are profound, lesser-known and loaded with terroir.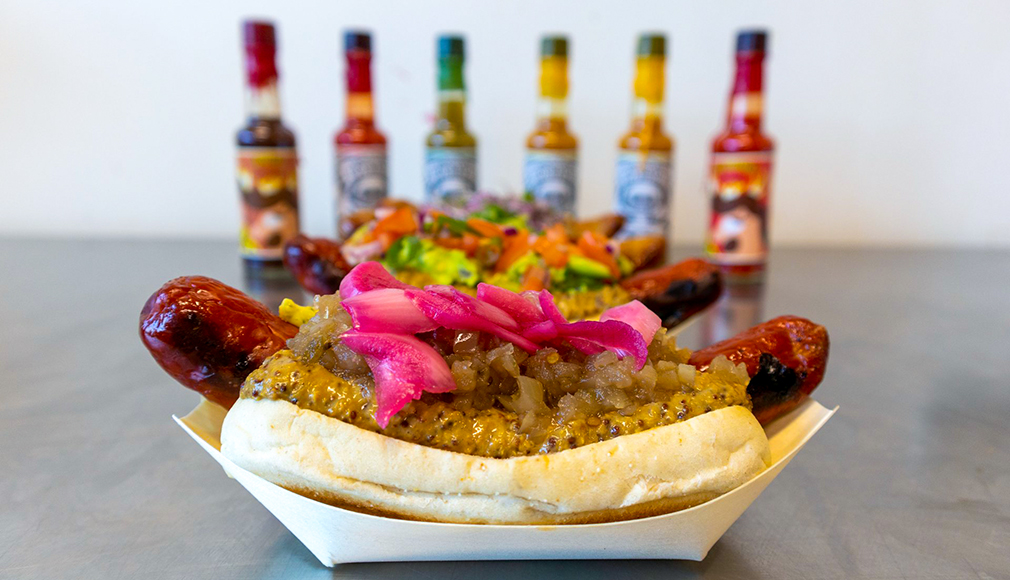 Tips from Epicurean Expert Frederik Lundberg
"Don't miss John's Hotdog Deli." While most of us think of Copenhagen's groundbreaking food scene in Noma terms, the truth is that even the city's street food vendors and unpretentious restaurants turn simple food into a celebration. In the case of John's, a hot dog stand located just outside Copenhagen Central Station. The owner, John, a chef makes all his own sausages and condiments, introducing new ones each week. "These are by far the best hot dogs in Copenhagen," says Frederik.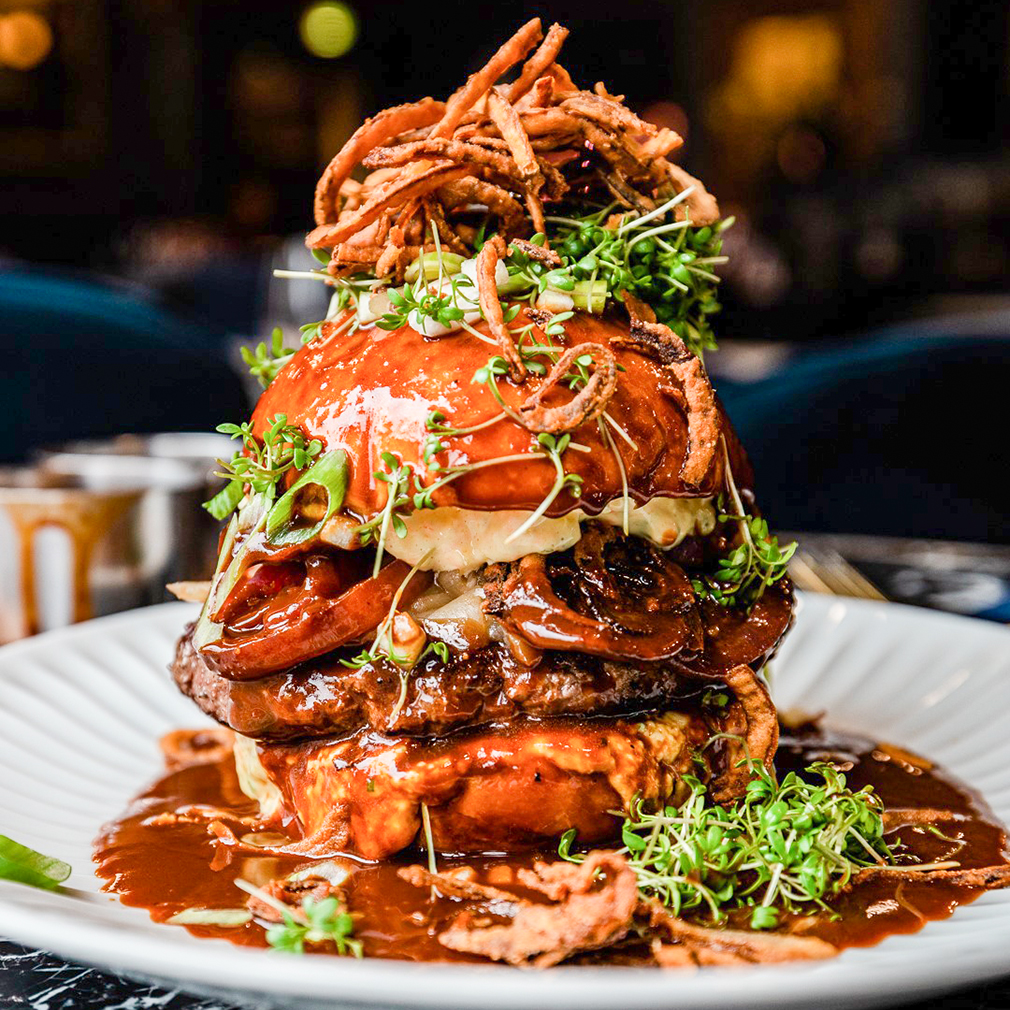 Don't leave Denmark without gorging on a Danish-style Gravy Burger. Frederik judges a serious gravy burger contest each year, and he recommends Capa, where the burgers are blended with apples. Ideally served on homemade buns, award-winning gravy burgers are as tall as skyscrapers, smothered with brown gravy and typically include layers of ketchup, mustard, remoulade, crispy and raw onions and pickled cucumbers and pickled beets.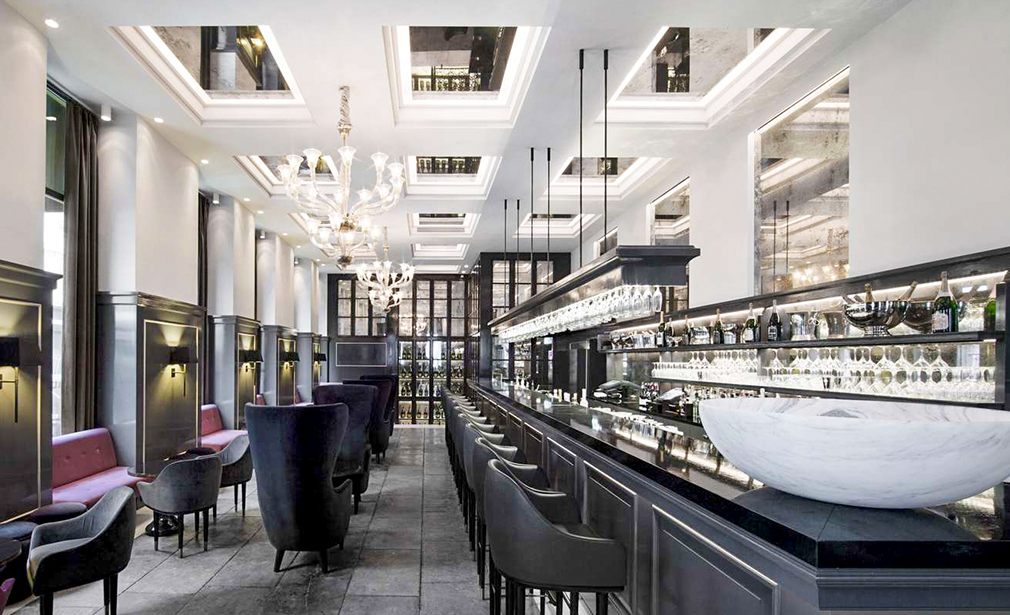 PLACES TO TIPPLE

Balthazar
Play princess at Balthazar Hotel d'Angleterre's elegant jewel box of a champagne bar. A perfect place to rest during a shopping spree, after theater or for a tryst, this swanky bar feels like something from the pages of a novel.
Duck and Cover
Vesterbro's Duck and Cover sits below ground in a moody, speakeasy-evoking haven. Experts in classic cocktails, they also have a seasonal menu of drinks that summon a sense of place with ingredients such as dill, rhubarb, myrtle, akvavit—even asparagus.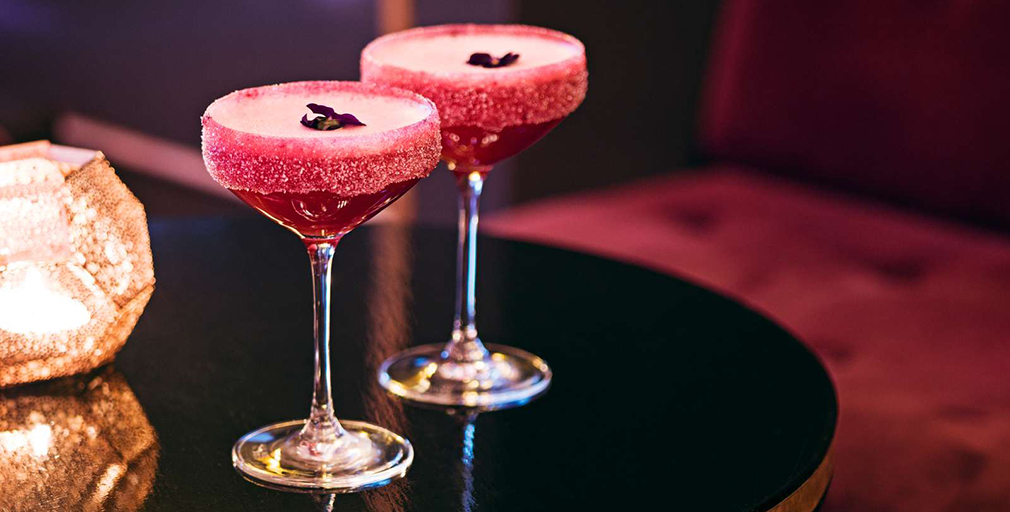 Black Swan
In Indre By, this hygge emanating beer pub's motto "no crap on tap" says it all. Besides a huge menu of beer from around the world, Black Swan features 14 beer taps that spew forth brews from Danish microbreweries.
Lidkoeb
Kitted out in a 19th-century apothecary building in Vesterbro, this three-story factory of groovy alchemy and clever cocktail culture is an escape to libation fantasy land. Each floor brandishes its own personality, with the cozy ground floor defined by original wooden beams, animal skin throws, leather furniture and fires. The second floor specializes in cocktails, while the top floor boasts a serious whisky collection.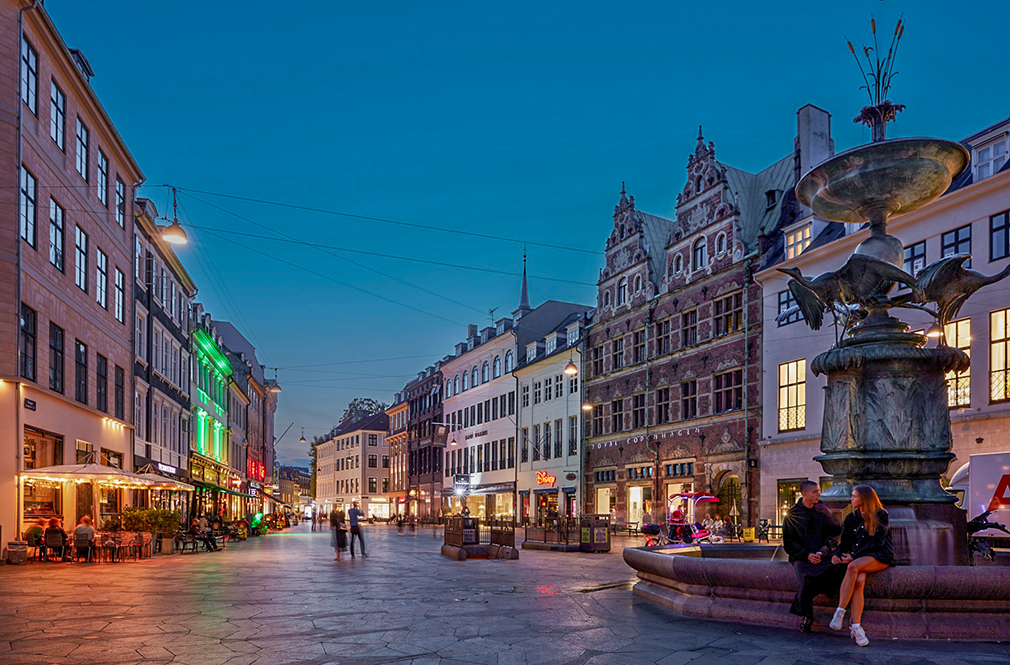 Three Hoods for Shopping
Copenhagen, a city of bridges, translates in Danish to Merchant's Harbor, so the city's persona has been etched in trade. Add in a city that supports creatives, a culture based on ingenuity, admiration for objects that manage beauty and function simultaneously, and freedom to self-express, and Copenhagen offers some of the best shopping on earth.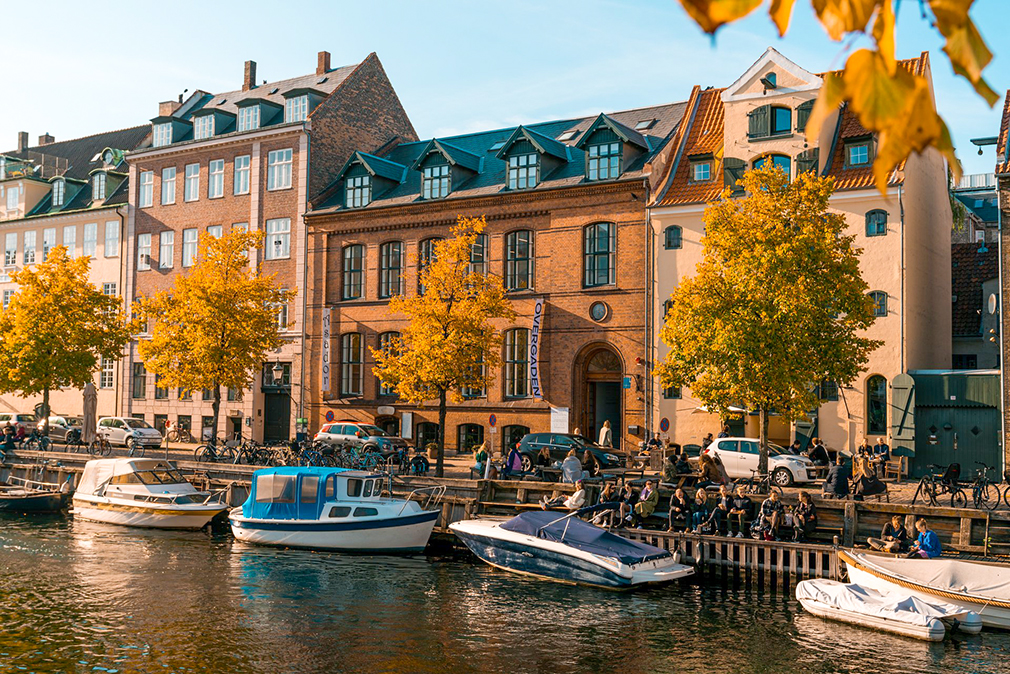 Nørrebro, Copenhagen's most culturally diverse and edgy neighborhood has a bohemian, funky feel. Set northwest of the city center, replete with unique, family-owned restaurants and shops, it's the place to go for vintage, handmade goods, hip street style and independent retailers. Don't miss Hooha for men's fashion, Moss Copenhagen for women's clothing, Keramiker Inge Vincents Studio Shop for ceramics, and Wilgart for customized hats and headwear.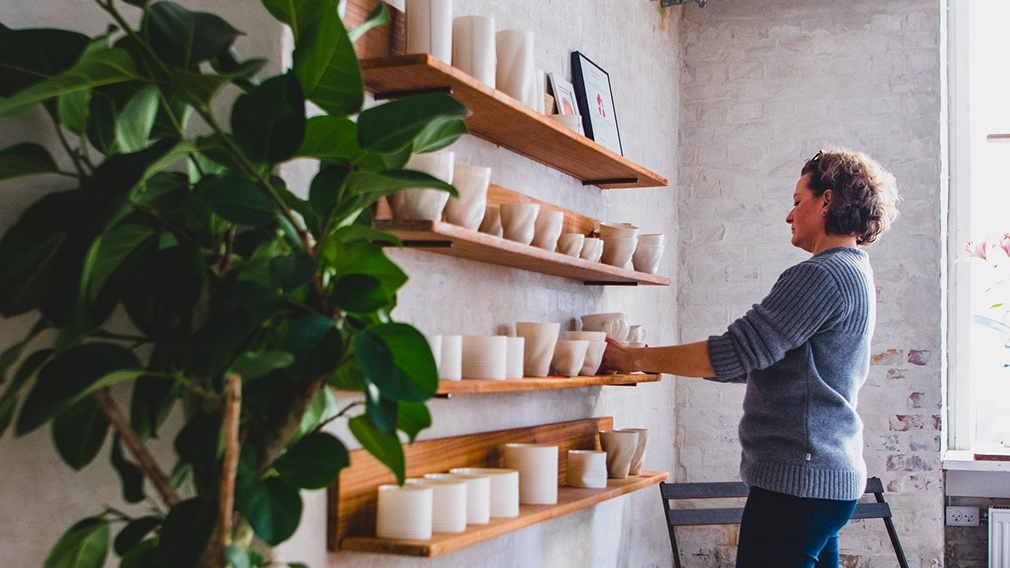 Indre By, the medieval inner city, holds Storget, the touristy but de rigueur undulating central street, one of the longest pedestrian treks in the world, chock full of both budget chains, unique shops and upscale global brands. In the area, look for favorites such as Royal Copenhagen Flagship Store, long a purveyor to the Danish Royal Court. Founded in 1775, it occupies a characteristic 17th-century Renaissance house, and holds a bounty of classic and modern porcelain designs. Also, a purveyor to the royal court, Illums Bolighus and George Jensen Silver present innovative modernly designed furniture, homeware and decor and silverware and jewelry respectively. Those traveling with kids won't want to miss the Lego Store for obvious reasons.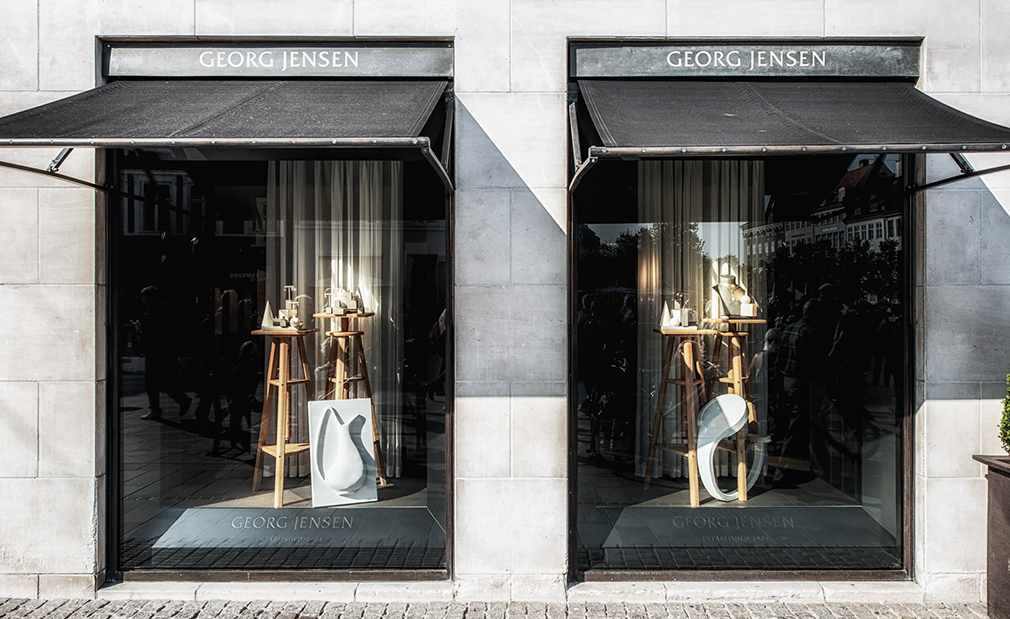 Once gritty Vesterbro has overcome its storied reputation as a "Red Light District" to include resident families, hotels and cool kid shops. Those in search of provocative retail can still find all manner of paraphernalia for sale, but just as many storefronts present indie fashion, books, vinyl, beauty, art and design options. Furniture buffs will swoon over DANSK Made for Rooms, which has upscale, well-crafted furniture and accessories. The eponymous outpost for fashion by Maxjenny Forslund, Maxjenny! features a trove of bold prints in body-pleasing shapes.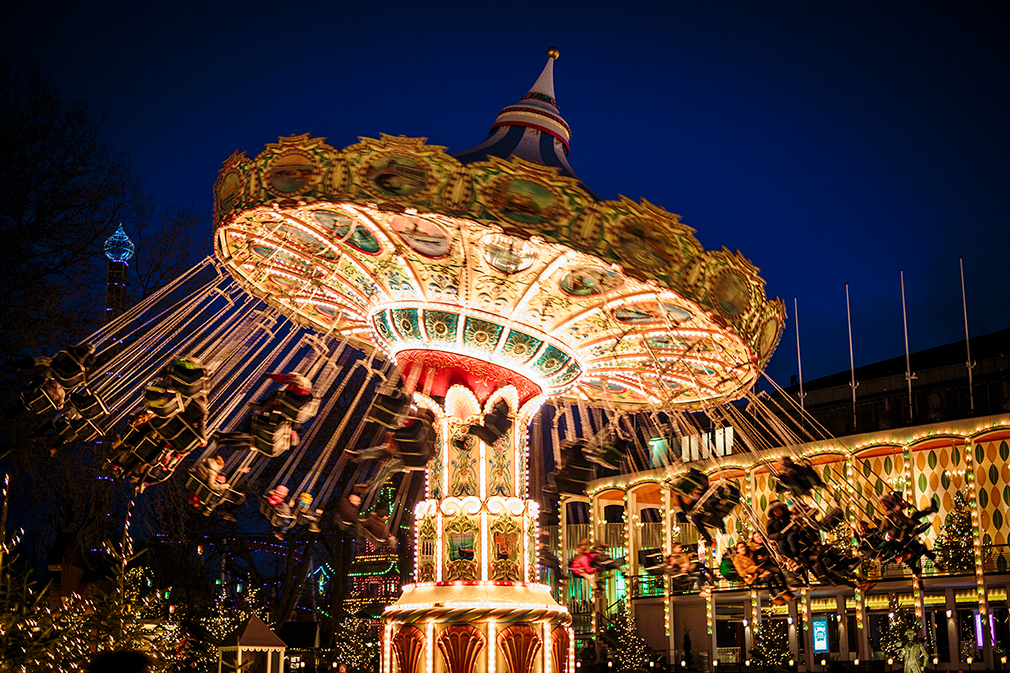 WHAT TO DO

Tivoli Gardens
This is no tawdry carnival. Expect Tivoli Gardens to blow your mind for its swanky take on fun. Full of top-tier restaurants, bars, games of chance, shops, classic rides, live performances, and a thoroughly vibrant, nostalgic social scene, it attracts every sort of person. It's more like a living room and I know a local who drops in almost every day.
Get Curious
Perhaps it seems wrong to hang out in museums in a city known for its beer, but Copenhagen has some that I love so much that they've had to kick me out after closing. I highly recommend SMK (Statens Museum for Kunst) for its jaw-dropping artwork, renowned for its European collection, including Titians and Rembrandts. Private after-hours tours can be arranged for groups of any size. I also swoon over the National Museum of Denmark, a treasure trove of history, full of eye poppers such as Huldremose Woman, a bog mummy. Further afield, marvelous Louisiana Museum of Modern Art bedazzles with sculpture (Giacometti, Henry Moore) and a slew of memorable paintings.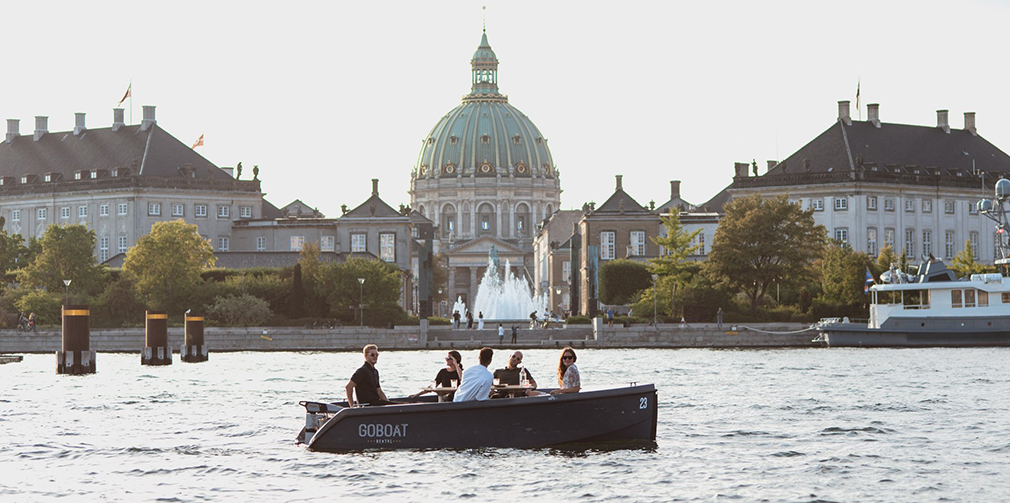 Cruise it
Every waterside city was meant to be experienced from a boat. Right? It's a different view. You'd be remiss not to hop in a boat to cruise the harbor or float along the myriad canals. Whether aboard a private craft, a party boat outfitted with a hot tub, or traditional vessel made from polished wood, options abound. Check out Go Boats for easy to maneuver, solar-powered rentable boats.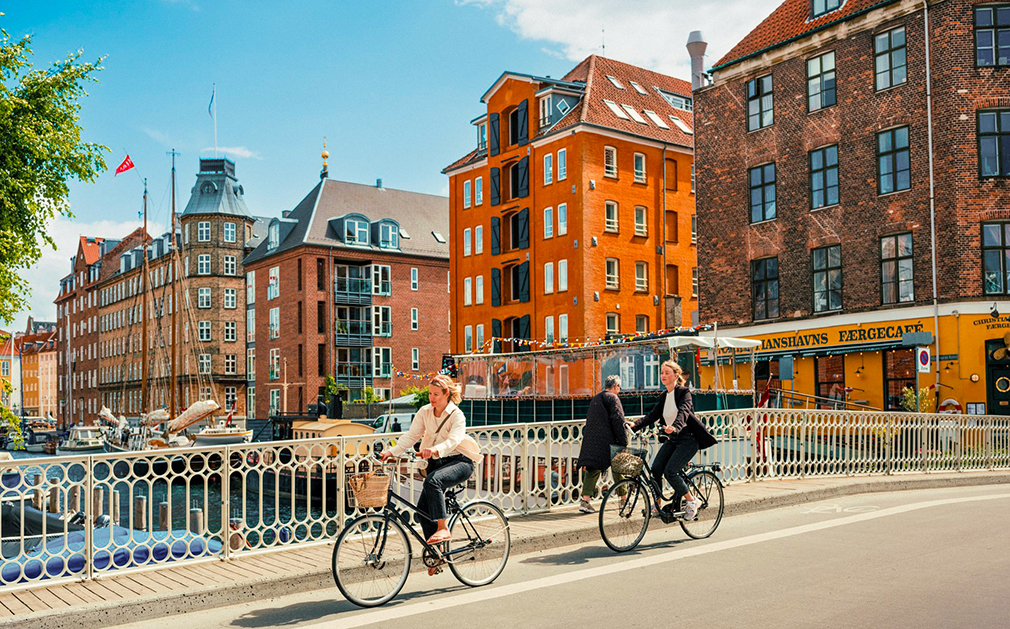 Nyhavn
Instagrammable for all and a favorite spot to slam beers after work for locals, Nyhavn is an idyllic 17th-century waterfront entertainment district, home to bars, eateries, shops and cafes. Ever crowded, it draws throngs for its brightly-colored, canal house-style architecture, its history and its buzz. The district stretches from the harbor just south of the Royal Playhouse to Kongens Nytorv.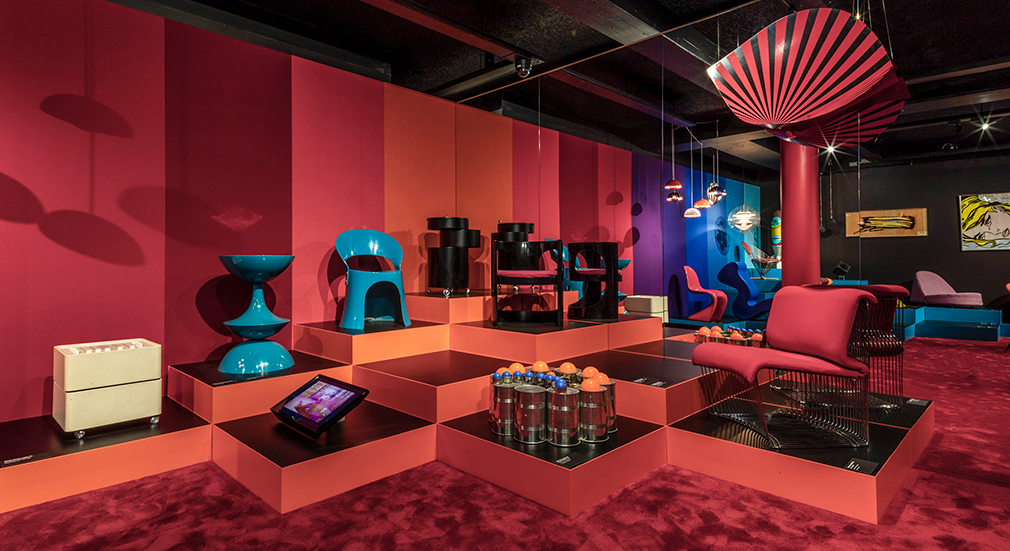 Design ImmersionIn 2023 Copenhagen takes the title of UNESCO's World Capital of Architecture, but it's forever a design-centric destination. Plan to visit Designmuseum Danmark, which reopened in June 2022 with myriad new elements from experiences to exhibitions. Since 1926, this space has been key to understanding Danish design and its history. Peer into Room 606 at Radisson Collection Royal Hotel and drink a cocktail in the lobby to immerse in the spirit of Arne Jacobsen, who designed the hotel in its entirety. Walk down Broad Street aka Bredgade to peruse the array of atelier, art galleries, design shops, furniture stores, antique outlets and iconic venues such as Bruun Rasmussen (the Danish Sotheby's) an exemplar auction house. Not far away, Paustian deals in classic Danish design objects and Frama Studios offers an assortment of delightful objects from lighting to furniture.