Travel Dish spotlights Michelin-star chefs, master mixologists and global gourmet treats that you can recreate at home.
If you were ever going to start eating healthy and clean up your culinary act, January is a great time to examine what and how you are indulging. With plant-based and vegan cuisine continuing to rise popularity, consumers are keenly aware of the importance of taking care of our overall health and wellness while protecting our planet.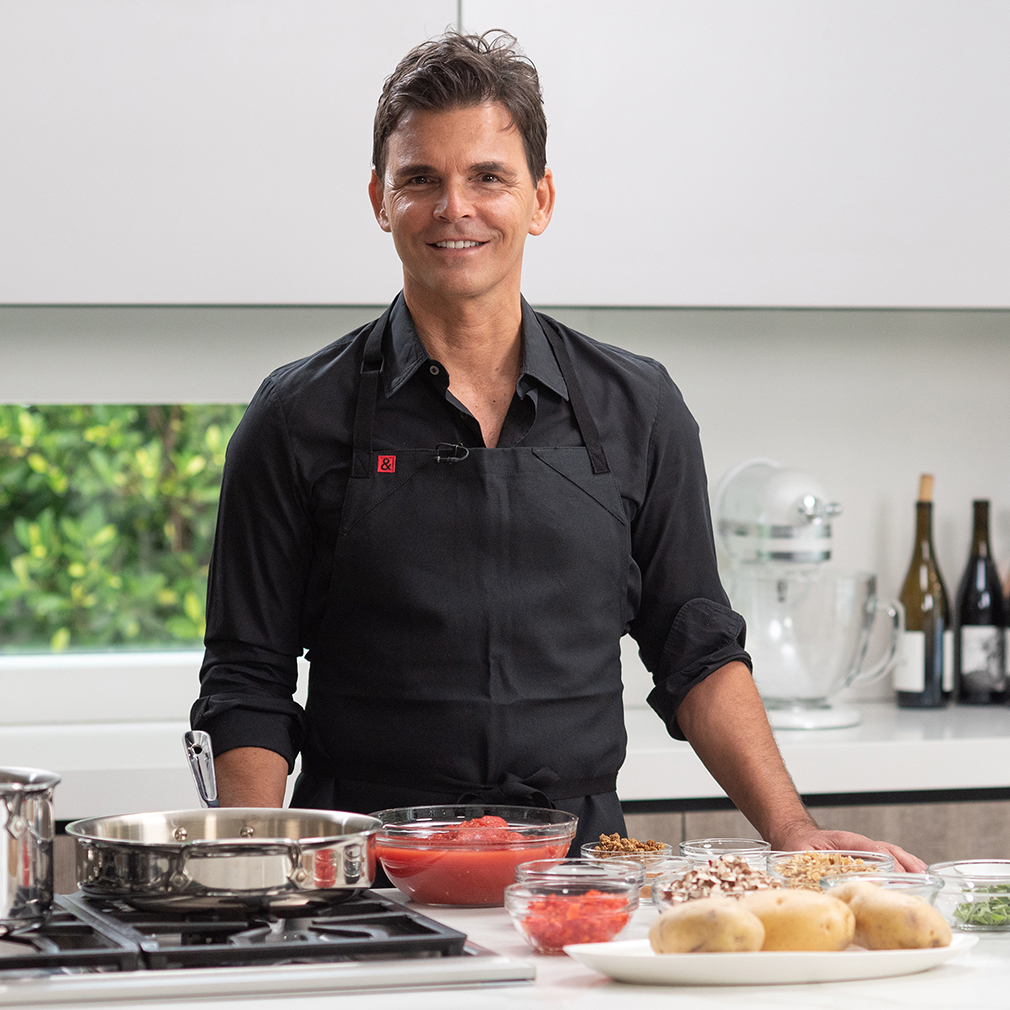 One of the early adaptors and tireless promoters of this lifestyle is James Beard-nominated, French Culinary Institute trained, Plant Food + Wine founder, educator and chef Matthew Kenney who has been dubbed "the healthiest chef on the planet." With close to 20 plant-based culinary academies and restaurants in a dozen international cities from Sydney to Sao Paulo.
Chef Kenney just realized a longtime dream by opening Adesse at Selfridges high street department story in London, and at Expo 2020 Dubai. The award-winning broadcast and documentary chef also created a range of vegan products, has authored over a dozen books on the subject and is about open additional international restaurants in the coming year.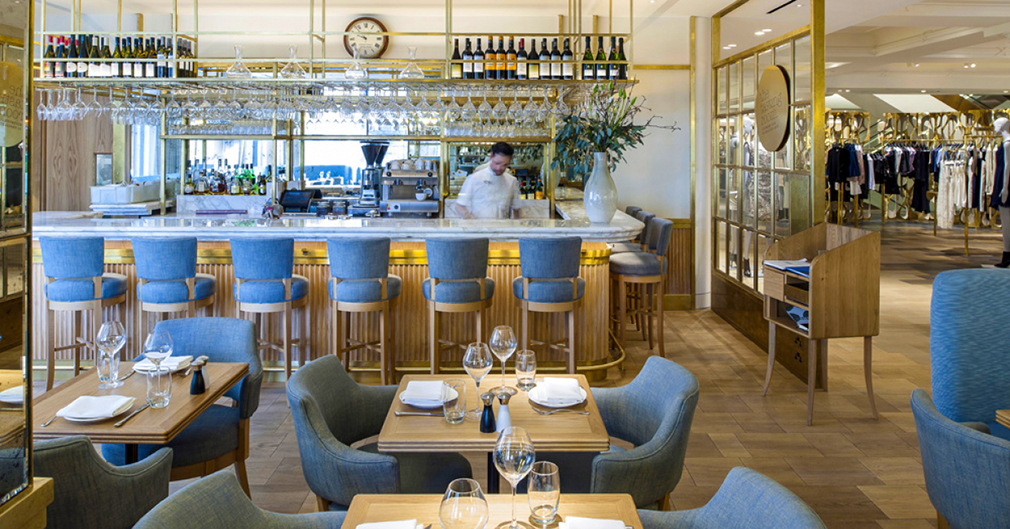 We know you are always on the move and evolving. Can you tell us why you wanted to expand to London and the Middle East at this time?
Global expansion has always been a part of our plan. We have had restaurants in Australia, Colombia, Argentina, and Dubai for some time now. The Middle East expansion, which consists of five concepts in Dubai, along with one in Bahrain, Kuwait, and Riyadh, makes a lot of sense given the strong demand for plant-based cuisine, and the area's affinity for innovation in all things, including food. London is also key for us, as it is our first restaurant in Europe, and we certainly plan to continue to grow our footprint there.
What part of the Expo Dubai project did you enjoy the most?
EXPO is a long-term event, and we will be there for several more months. I visited last month and plan to visit again in January. We will be hosting an event with our partners at XTI Aircraft, as MKC is designing the interior of their private jets, so I'm really looking forward to that. Onn my last visit, the energy and excitement that is palpable at a grand Expo is just so much fun. It's an experience and we love seeing our brands thriving in that environment.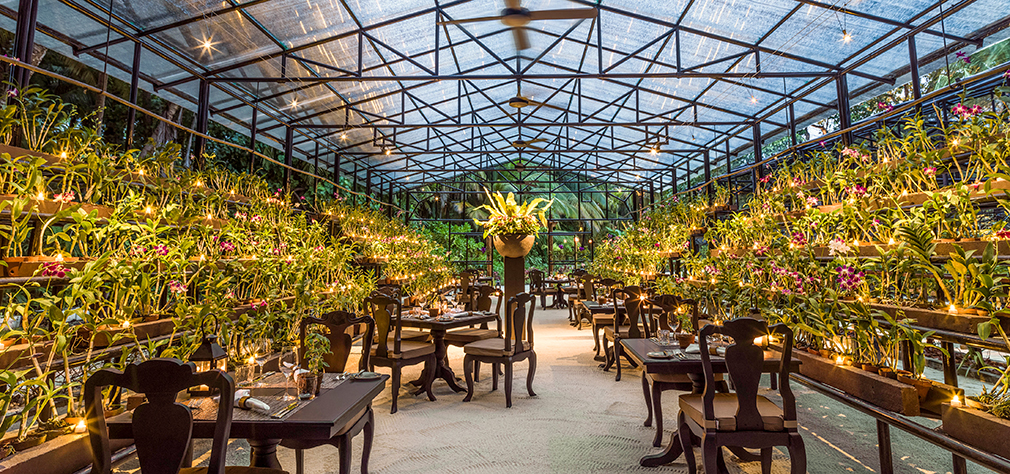 Are there any other cities where you are planning or would like to open, even visit, in the New Year and why?
Internationally, we are looking at spaces in Qatar, another permanent location in Dubai, as well as Saudi Arabia, and our restaurant at the One & Only Palmilla in Cabo is getting ready to open soon. Here in the states, we have a slew of openings coming up in cities such as New York, LA, Orlando, Boston, and Palm Beach, among others.
What are some of your favorite spots to dine in LA and New York?
We love experimenting with new restaurants, so we're constantly exploring places we've never tried, both in LA, and when traveling. I'll occasionally go to Jean-Georges at the Waldorf in Beverly Hills just for the gazpacho alone. It's one of my favorite foods, and they do it well. The rooftop is a nice addition as well, with a perfect view of the hills. Wally's​ [Beverly Hills and Santa Monica] has best wine selection, always a great vibe and atmosphere.
In New York, I love ​ABCV​ for lunch (also by chef Jean-Georges) – the carrots with almond-seed butter are to die for – and ​Cosme​(by Mexico City-based chef Enrique Olvera) for dinner. Both have vibrant, clean plant-based options and great wine and cocktail lists.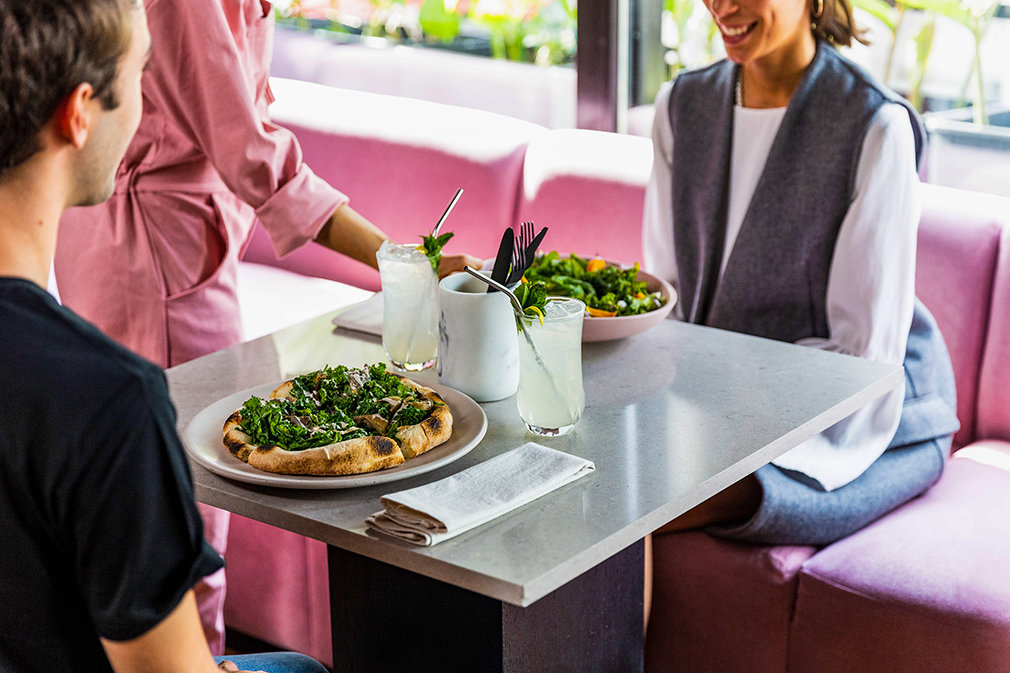 What has changed the most for you as a plant-based chef now that the world has embraced or is more open to this concept?
The opportunities are more and more varied. We are able to reach more people and let them experience exquisite plant-based cuisine, perhaps change a few minds about what it can be. For me, my goal has always been the same, to create a more sustainable future for our planet. The popularity of the plant-based movement gives me hope.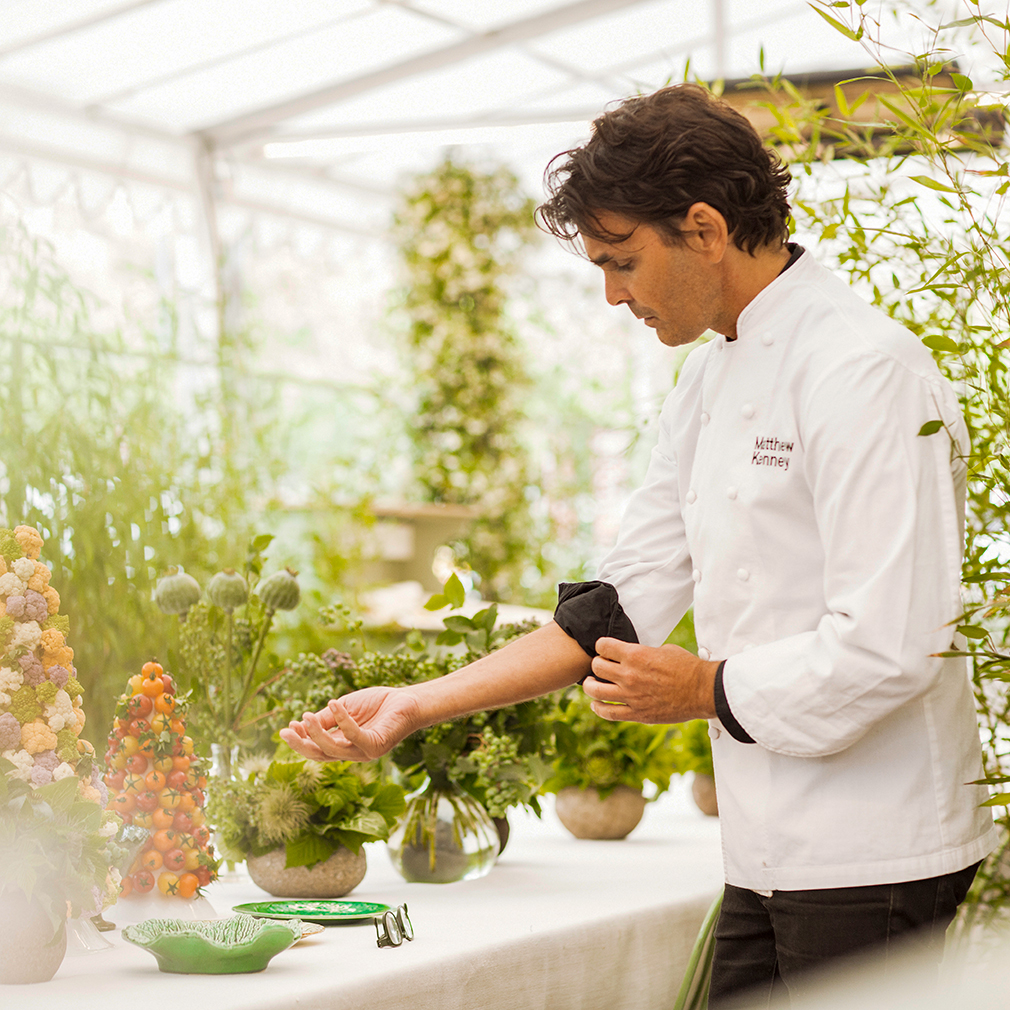 Are there any new ingredients that you are excited about working with and implementing into menus moving forward into 2022?
We're lucky to be on the forefront of innovation in the plant-based food space, and I have been impressed with some of the cheeses that have graced the mainstream. We typically make all of ours in our restaurants, but I like that there are options for the masses.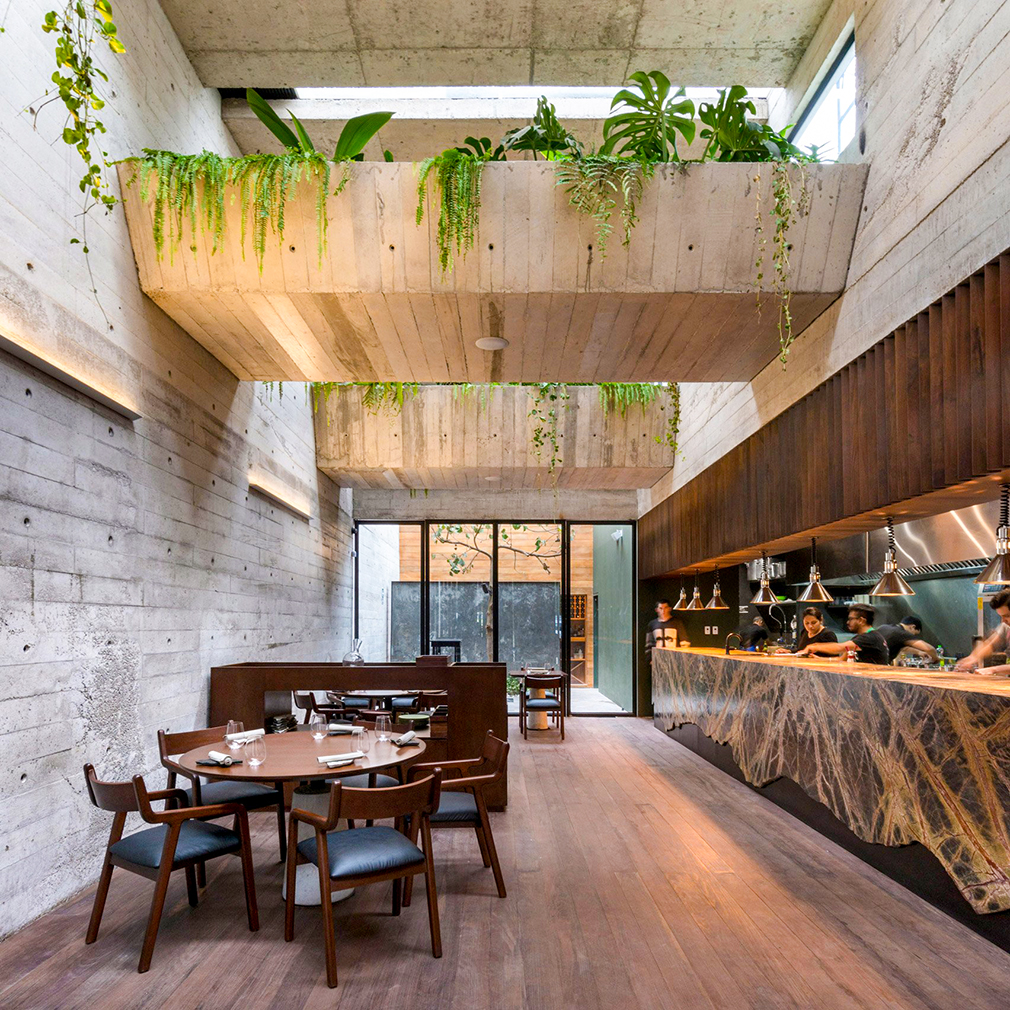 For people looking to change eating habits, what are some of the key benefits of a plant-based diet?
There are many benefits of eating a plant-based diet to maintain health. "One of the most crucial factors is the presence of fiber in plants, which is instrumental in supporting healthy digestion. Fiber helps move toxins out of our body and aid in regular bowel movements. Plants are abundant in fiber, whereas animal products have little to no fiber content within them. Some foods with the highest concentration of fiber include chia seeds, flax seeds, various fruits, and leafy greens.
In addition, there are many plants which obtain "prebiotics" – a special form of dietary fiber that acts as a fertilizer for the good probiotics in your gut, helping them thrive in your microbiome. A good 'grocery list' for a healthy gut includes Jerusalem artichokes, chicory root, asparagus, banana, dandelion greens, onion, garlic which are all plant-based.
Can you please share a favorite or new recipe so our readers can enter into a healthier 2022?
This one is from our culinary school, Food Future Institute, and it's one of my favorites. We recently featured it as a part of Thanksgiving dinner we had as a company, but I think it's perfect all winter long.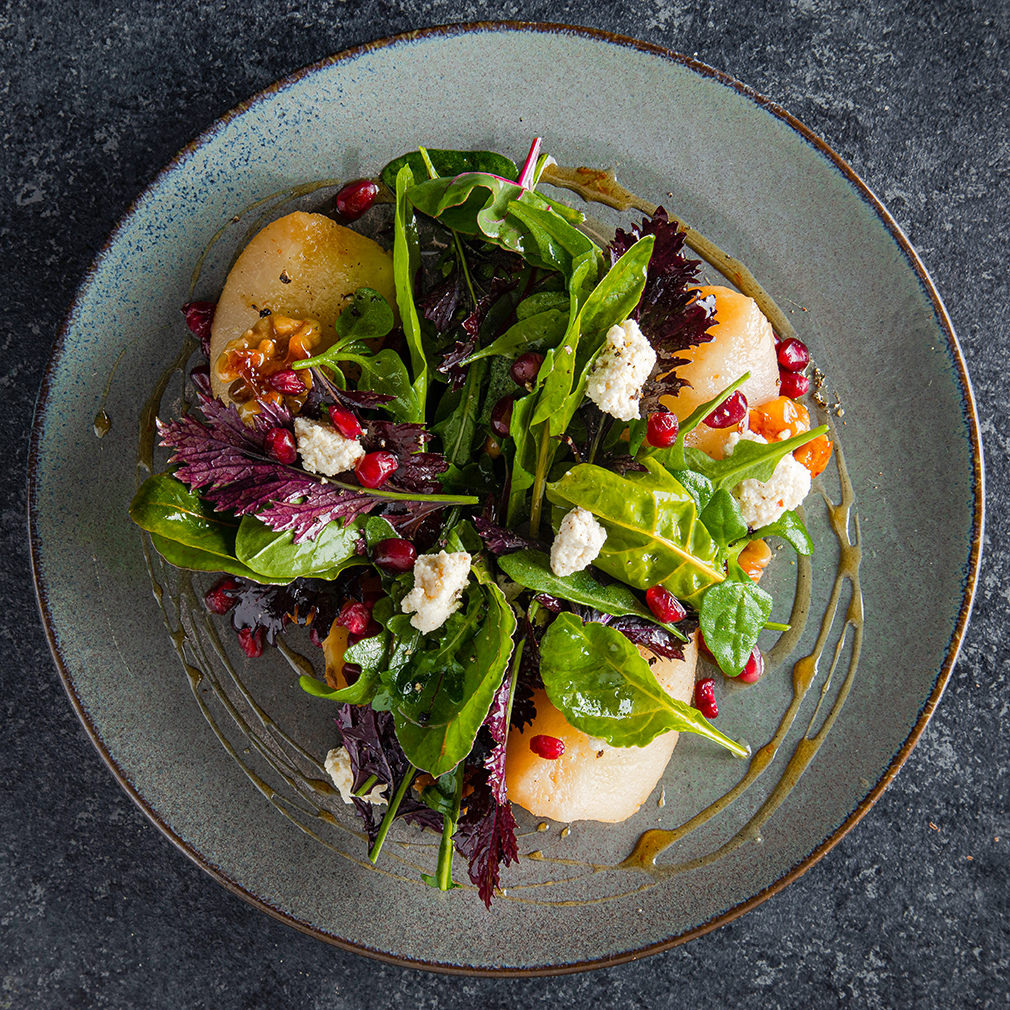 Poached Pear Salad
The flavor combination here is fresh with crisp, juicy pomegranate and beautifully sweet poached pears. The maple sherry dressing adds a rich tang, this makes this recipe a go to salad to put into your repertoire with its perfectly complimenting flavors. When adding candied nuts to your salad you launch it to a different dimension while adding textures which compliments the delicate leaves.
Equipment
Vegetable peeler
Small pot
Slotted spoon or tongs
Small skillet
Small mixing bowl
Whisk
Prep time: 20 min
Cook time: 45 min
Total time: 1h 5m
Yields: 2 servings
Ingredients
Poached Pears
2 Pears, hard, not ripe
1 cup (240g) White wine
A/n Water
4 Tbsp (30g) Brown sugar
1 Orange, zested
1 Vanilla pod, split lengthwise
2 Mint sprigs, stems only
1 Star anise, whole
2 Cardamom pods
1-inch Cinnamon stick
Candied Walnuts
½ cup (40g) Walnuts
1 ½ Tbsp (20g) Agave
¾ tsp (5g) Dairy-free butter
Pinch salt
Maple Sherry Dressing
4 Tbsp (50g) Sherry vinegar
3 Tbsp (45g) Maple syrup
1 tsp (10g) Yellow mustard (M2, L4)
½ cup (70g) Extra virgin olive oil
½ tsp (3g) Salt
Assembly
A/n Mixed baby greens
A/n Vegan Feta (M2, L6)
A/n Pomegranate seeds
Method
Poached Pears
Peel your pears and place them in a small pot just big enough to fit side by side. Add the wine, water, vanilla, brown sugar, orange zest, mint and aromatics. The liquid should come up to the top of the pears so that they are fully submerged. Poke pears with a cake tester or fork. Bring to a boil, lower heat, and simmer covered for 30 minutes. Pears should be tender yet still firm.
Carefully remove the pears from the pot with a slotted spoon, reserving the liquid, and allow pears to cool fully. Once cool, place in the fridge. The cooler the pear, the easier it will be to slice.
In the same pot reduce the liquid on low heat until a syrup has formed. Reserve at room temperature until ready to use.
Candied Walnuts
Heat a small skillet to medium low heat and add all the ingredients. Cook for 6-8 minutes, stirring occasionally, until the nuts are fully coated and toasted.
Set aside and allow to cool until ready to use.
Maple Sherry Dressing
Place all ingredients except the oil, into a small bowl and whisk until fully combined. While whisking continuously, slowly rain in the oil to emulsify.
Store in an airtight container in the refrigerator for up to 5 days.
Assembly
Slice the pears in four and discard the core. Toss pears in the reduced syrup to coat and place pears on a plate. Scatter the plate with candied walnuts, vegan feta and pomegranate seeds. Gently toss the greens in the same bowl with some maple sherry dressing and place around the pears. Top with a fresh crack of black pepper.