Italy is always a beloved travel destination. But if you can't make it over to Europe this year, there are several Eataly locations across North America that are taking the motto of "eat, shop and learn" to new heights. In addition to showcasing the best sustainable Italian products, they're also bringing the cooking methods and talent directly to you.
Icons of Eataly is a new national project launched this summer to celebrate Italy's most beloved national dish: pasta. The six-month series will run through November 2023 and features an ongoing program of special dishes, hands-on classes, events with guest chefs and brand pop-ups all in celebration of one of Italy's finest culinary achievements.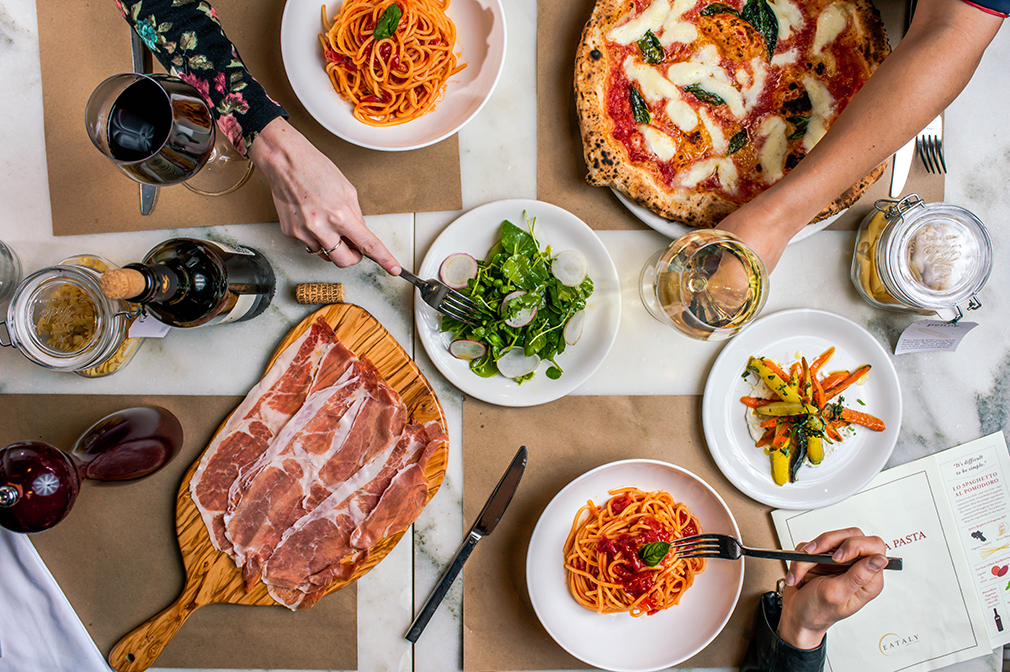 In addition, each month Eataly will release a limited-time pasta dish that tells a story about Italy's unique history and distinctive regional traditions—and there's more to come.
"The Icons of Eataly project debuted with pasta, one of the most iconic Italian products, but in the future, the program will expand to pizza, salumi, extra virgin olive oil, cheeses, and wine," said Dino Borri, Global VP of Eataly. "Icons of Eataly is a campaign to communicate Italian icons in the world. The project has consistent initiatives in our nine stores in North America."
After a kick-off event at Eataly LA, the festivities featured special guest appearances from some of the world's top culinary talent, including Stefano Secchi from Rezdôra in New York and Mattia Agazzi from Gucci Osteria in Los Angeles.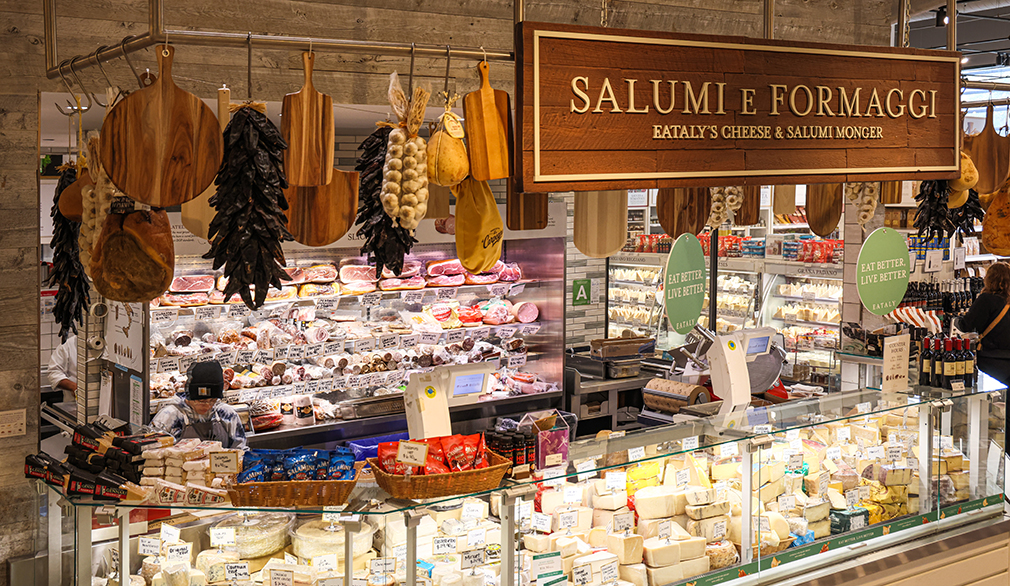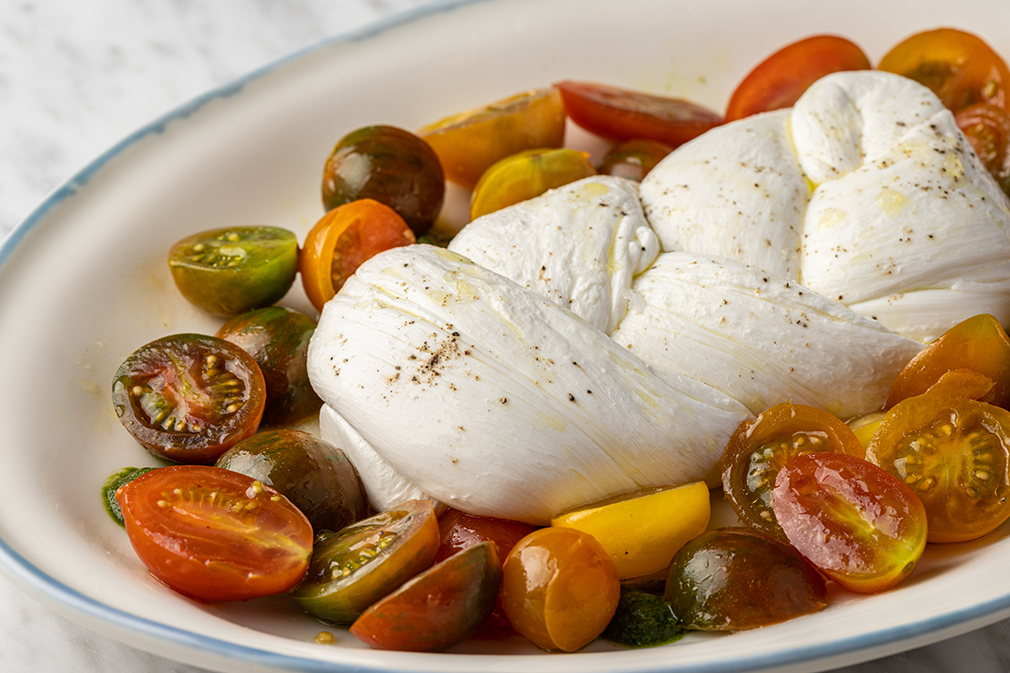 During workshops and demonstrations offering complimentary experiences in the Eataly marketplace with tastings and hands-on pasta lessons from Impastiamo—a platform for cooking classes and team-building experiences. As it turns out, rolling dough and cooking together is great for family bonding and work colleagues alike.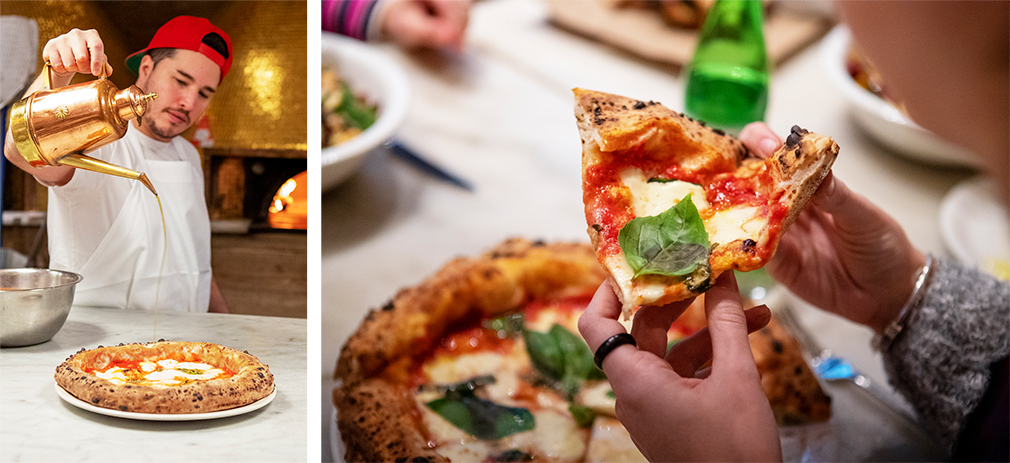 Standout events included a pizza and pasta party with Italian soccer player, Giorgio Chiellini, and an in-store party with pasta-tasting stations throughout the marketplace plus beats from LA's Rigatoni Club, a members-only dinner and social club dedicated to rigatoni pasta and Italian culture. Yes, when it comes to the love of Italy, there is a club for everything and everyone.
In partnership with Consorzio del Pecorino (the Consortium for the Protection of Pecorino), Eataly LA is bringing in renowned chef Luca Fatin of Tokyo's Bulgari Hotel to offer a special one-night-only pasta menu.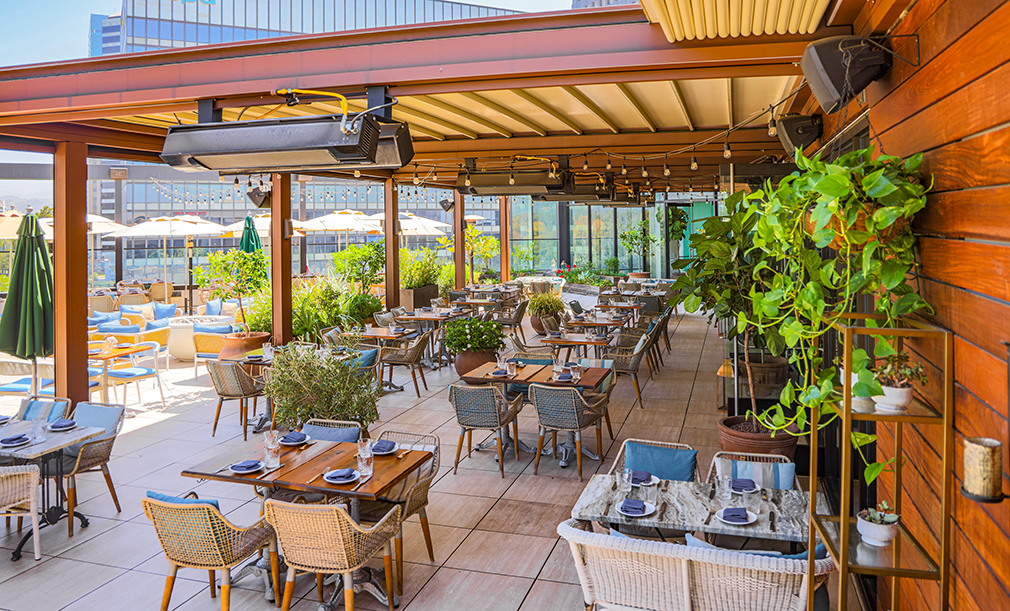 Three renowned chefs will also be flown in from Italy thanks to Journey in Italy, an organization that shares authentic Italian gastronomy through a strong network of hospitality professionals. The featured chefs include Heinz Beck from La Pergola in Rome, Luca Fantin from Bulgari Hotel in Tokyo, and Matteo Matullio from Harry's in Trieste.
Featured dishes include linguine allo scoglio, the beloved seafood pasta made with mussels, cockles, squid, and prawns that is also known as Linguine ai Frutti di Mare. Native to Southern Italy, the dish's name translates to "linguine with stones" and refers to a clever cooking technique historically employed by fishermen. Before cooking the dish, they would add scogli or small seashore rocks to a pot loaded with live shellfish. By shaking the pot, the stones would help detach the mollusks from the shells, making them easier to eat.
The rest of the dishes remaining in the monthly series are below.
August | Linguine allo Scoglio
September | Tagliatelle alla Bolognese
October | Lasagna Emiliana
November | Rigatoni alla Carbonara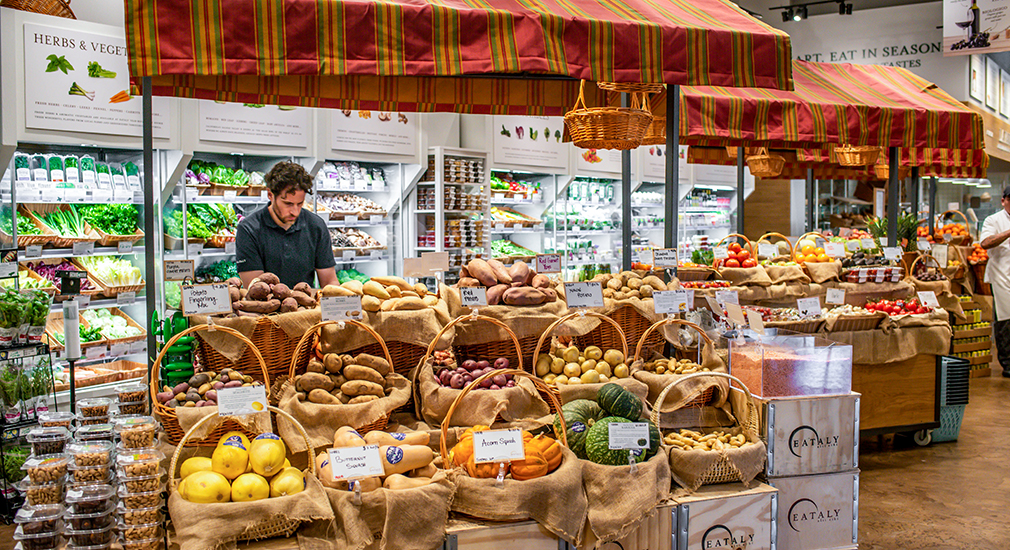 In line with Eataly's signature "eat, shop, and learn" approach, the monthly programming will include hands-on classes taught at the brand's La Scuola cooking school by Italian culinary experts. Classes will focus on elemental techniques like making fresh pasta as well as recipe-focused labs that offer step-by-step guidance on iconic dishes like tagliatelle alla bolognese and spaghetti cacio e pepe. Ingredients will be available at Eataly's marketplace, making it simple to prepare Italy's most famous pasta dishes at home.
Plus, they will touch upon every element of pasta, including artisanal dry pasta, fresh handmade pasta, and how to pair different pasta shapes with sauces.
Below, Eataly shares a recipe featuring the September icon, tagliatelle alla bolognese.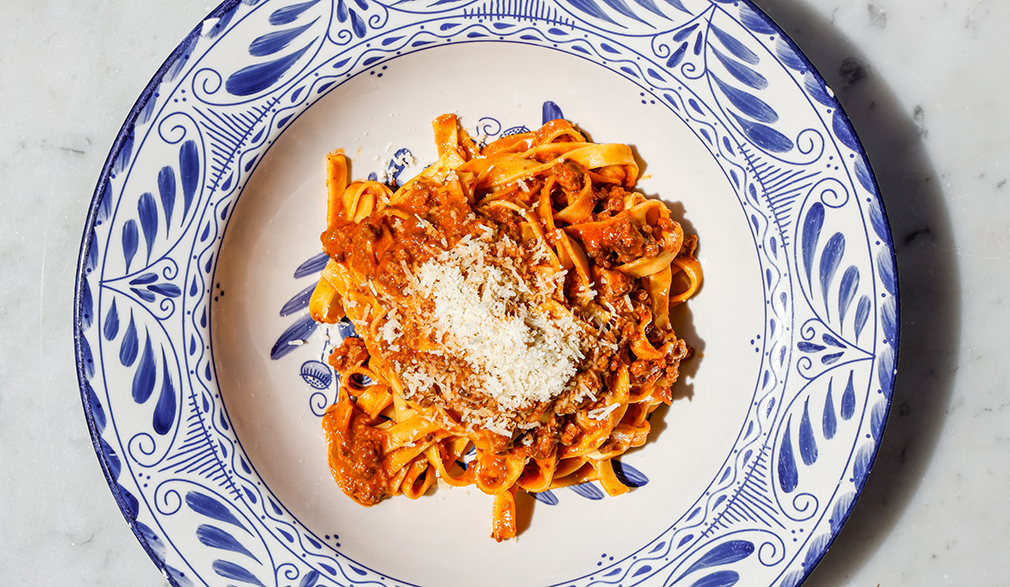 Tagliatelle alla Bolognese Recipe
Ragù served over silken egg tagliatelle is one of the signature dishes of Bologna, the food-loving capital city of Emilia-Romagna. In fact, this rich, meaty tomato ragù is so closely associated with Bologna that any dish described as Bolognese will be cloaked in it. In our recipe, we have given you two options: make your own pasta and ragù following the traditional steps, which typically takes about two hours, or use authentic Emilia-Romagnan products to create an authentic dish in half an hour. Whichever you choose, the dish will transport you to the terracotta rooftops of Bologna with each bite.
For the Pasta
1 pound egg tagliatelle (use dry or make fresh dough)
Grana Padano DOP cheese, for serving
Coarse sea salt, for pasta water
For the Ragù
Using a producer's traditional ragù:
1½ cups of ragù alla Bolognese
Extra virgin olive oil, to taste
1 clove garlic
To make your own sauce:
2 tablespoons unsalted butter
2 tablespoons extra virgin olive oil
1 small yellow onion, minced
1 small carrot, minced
1 rib celery, minced
1 tablespoon garlic, minced
4 ounces ground veal
4 ounces ground pork
4 ounces ground beef
¼ cup tomato paste
¼ cup white wine
¼ cup chicken or beef stock
Fine sea salt, to taste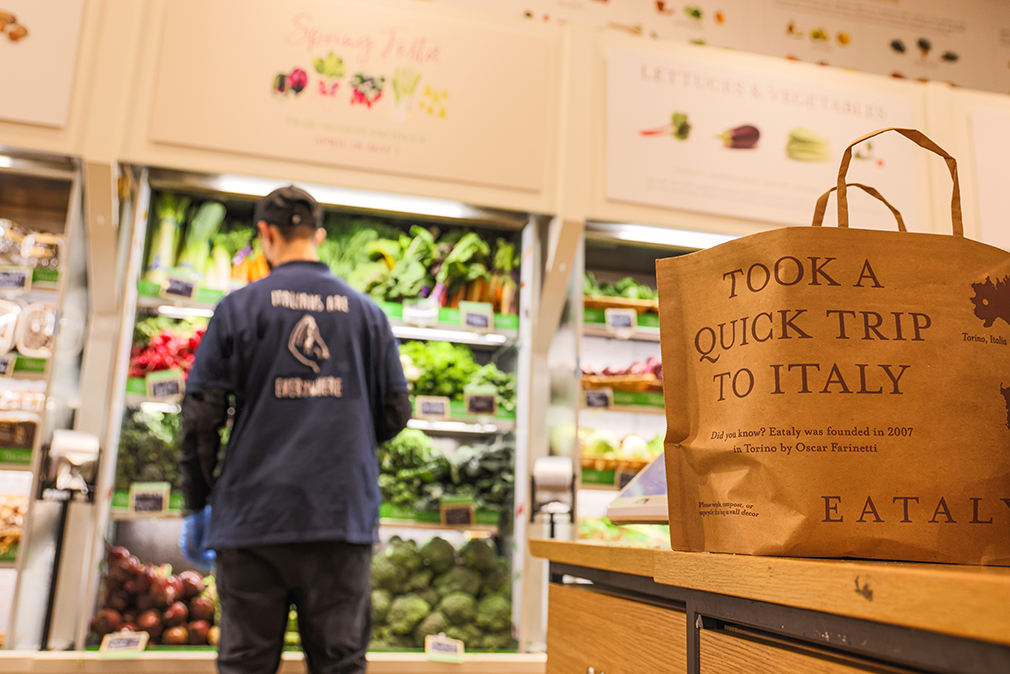 To Make Your Own Ragù
In a heavy Dutch oven or large heavy-bottomed pot over medium heat, melt the butter with the olive oil. Add the onion, and cook, stirring frequently, until the onion is translucent, about 5 minutes. Add the carrot, celery, and garlic, and cook, stirring frequently, until softened and fragrant, about 2 minutes more.
Crumble the veal, pork, and beef into the pot. Season with fine sea salt. Reduce the heat to low and cook, stirring frequently, until the meat has rendered most of its fat and is just beginning to brown, about 5 minutes. Spoon out and discard some of the rendered fat, but leave enough to cover the bottom of the pan. (This will depend on the meat you are using: there may not be an excessive amount of fat.)
Add the wine, and increase the heat to medium. Cook, stirring occasionally, until the wine has evaporated, about 6 minutes.
Decrease the heat to low, add the tomato paste, stir to combine, and cook, stirring frequently, for 20 minutes. Season to taste with salt and pepper. Add the stock and adjust the heat if necessary to reach a gentle simmer. Simmer until the stock has reduced but the sauce is still moist, about 45 minutes longer. Taste the sauce, adjust the seasoning if necessary, and remove from the heat.
To Cook the Pasta
Bring a large pot of water to a boil for the pasta. When the water is boiling, salt it with coarse salt and add the pasta. Cook a few minutes less than package instructions if dry or until the pasta rises to the surface if fresh.
When the pasta is cooked, drain it in a colander, preserving a small amount of the cooking water. Transfer immediately to the saucepan, and toss vigorously to combine and allow the pasta to cook a final minute in the sauce. If needed, add a small amount of the cooking water, to loosen the sauce.
Serve immediately with the grated cheese on the side, and dream of Bologna.