OUT OF OFFICE SPOTLIGHTS PIONEERS WHO HAVE DECIDED TO PURSUE THEIR PASSIONS BEYOND THE TYPICAL 9-TO-5 JOB.
If being in charge of "fun" sounds like a cool job to you, then you'll want to meet Donna Hudgeon, the Coordinator of FUN at Bonaire Landsailing Adventures on the tropical island of Bonaire.
This is truly one of the most unspoiled spots on earth where you can dive to find over 350 species of fish, or relax on over 22 beaches on the Caribbean Sea. But, Hudgeon's business requires you to be above the water on dry land. Find out more about Landsailing Adventures in our interview with her below.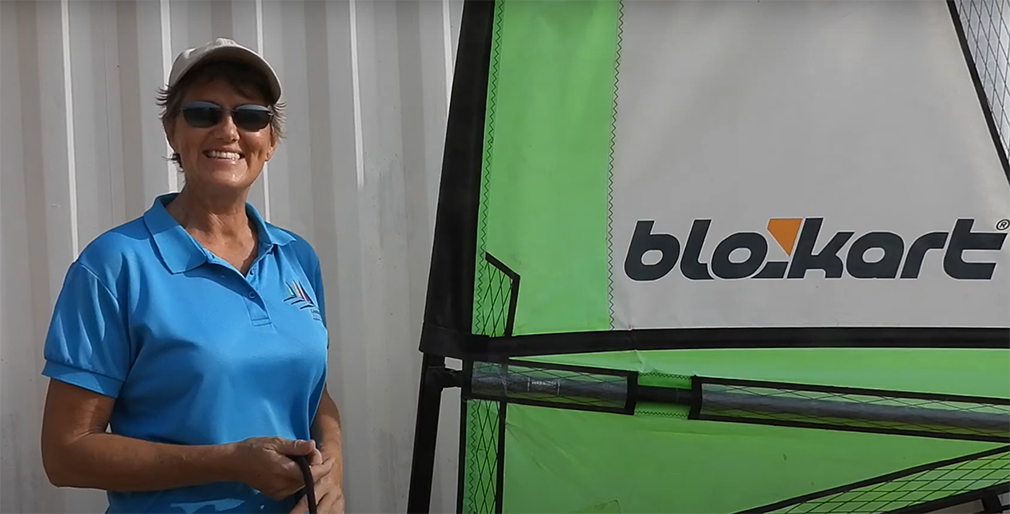 How long have you been the Coordinator of FUN at Bonaire Landsailing Adventures and how did you land this dream job?
My husband, Andrew, and I started Bonaire Landsailing Adventures 5 years ago because we wanted to share our love of blokart landsailing. So, really, I created the "job" I wanted to have in the "office" I wanted to work in.
What is a typical day like for you?
The first part of the day is at the computer finalizing the bookings that have arrived overnight as well as coordinating the day ahead. I really like talking online with our guests and building the excitement for their holiday plans.
Then, it's off to the track or into the van to pick up a customer in town to bring them to the wild and windy side of the island. I call it the "spicy side"! The rest of the day is spent briefing the guests so they know what to expect for their landsailing experience and coaching and encouraging the sailors out on the track. We work with the adrenaline junkies to ensure they know how to get the most from the blokart, as well as the timid ones who are a bit nervous about trying. In the end, everyone has fun and feels a real sense of accomplishment.
At the end of the day, I publish the hundreds of photos and videos we take so everyone has a chance to see how cool they look sailing … on land!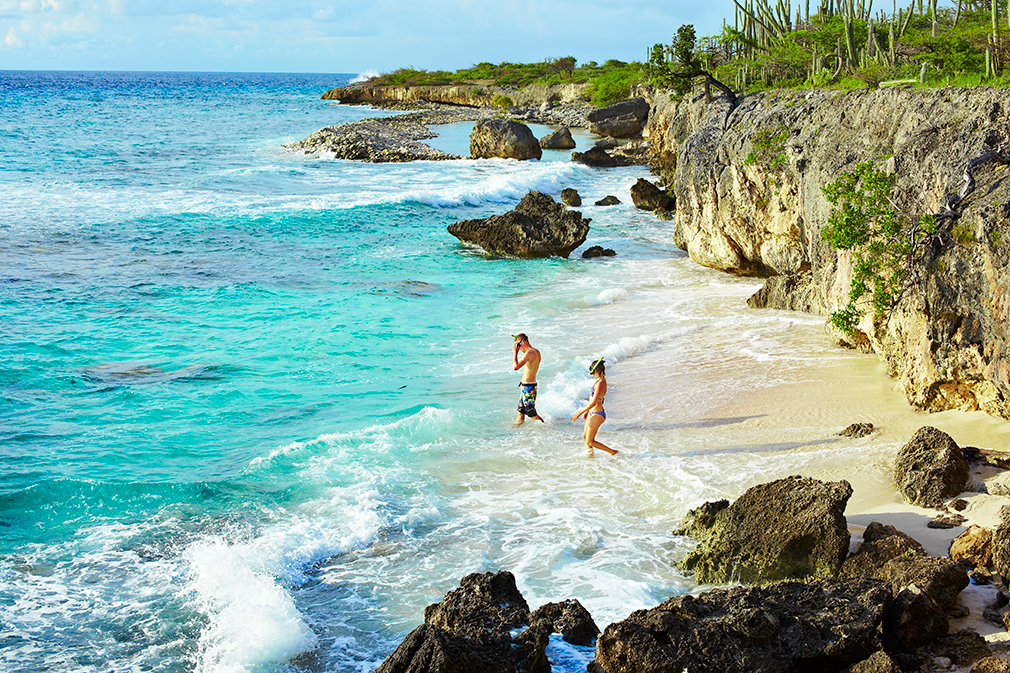 What are some of the advantages of land sailing vs boating?
Andrew says, "you don't get wet"! But, you also go faster. And you can step out of a blokart at any time. They also fold up into a suitcase and you can check them onto a plane. Right now, we're working with a company to establish landsailing in the middle of a desert. So, the opportunity to experience sailing in places, otherwise unheard of, is exciting.
In some countries, blokart landsailing is used to train young sailors. It's much easier to keep several newbie sailors safe when they're on land, but still be able to teach them the mechanics of sailing, rope skills, handling the sail, and turning into the wind and with the wind. Landsailing takes out the extra element of the water and the opportunity to end up either wet, or far away.
What is Landsailing and who can do it?
Landsailing is literally, sailing on the land. We sail in blokarts which are a one-design land yachts from New Zealand. They consist of a lightweight, 3-wheeled kart with a mast and a sail. We have 5 different sail sizes to choose from depending on the size of the sailor and the wind conditions on the day. Blokarts are able to sail 2.5x wind speed which provides appeal for the hard-core sailors but they are so easy to handle that we have 8-year-olds who sail solo.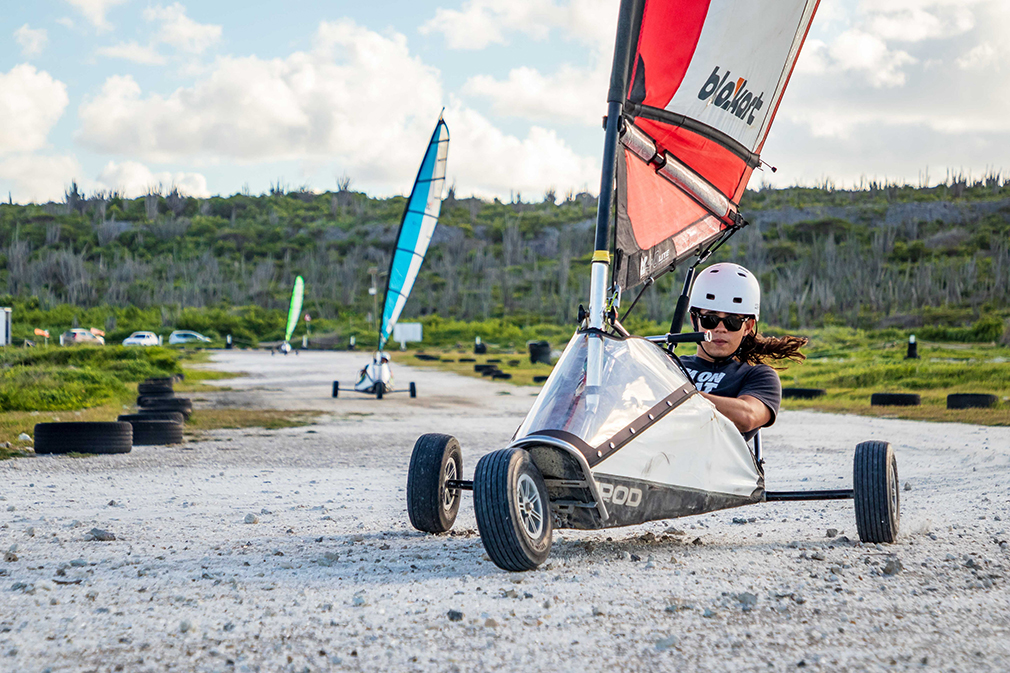 The activity is suitable for anyone who has use of their hands and arms and for those who don't, we have a shadow kart (a tandem kart) where they can ride in the side seat. A couple of years ago we had a 91-year-old lady sailing with us. Recently, a pregnant woman in her seventh month experienced landsailing for the first time. Blokarts are also popular with our disabled community. Sailors can go straight from their wheelchairs to the blokart where they can be found competing alongside the able-bodied competitors.
Why is Bonaire a great spot for this sport?
Bonaire's tradewinds are ideal for landsailing. We get wind consistently from the east averaging 15 knots about 330 days of the year. The island is flat, sunny, dry, beautiful, friendly, and sustainability-minded. The locals are already into their wind sports such as sailing, windsurfing and kiteboarding so landsailing was a good fit. And the visitors to the island are active, "doing" people. They often come to dive, but we have been able to persuade them to try something different which still allows them to experience Bonaire's amazing nature on land.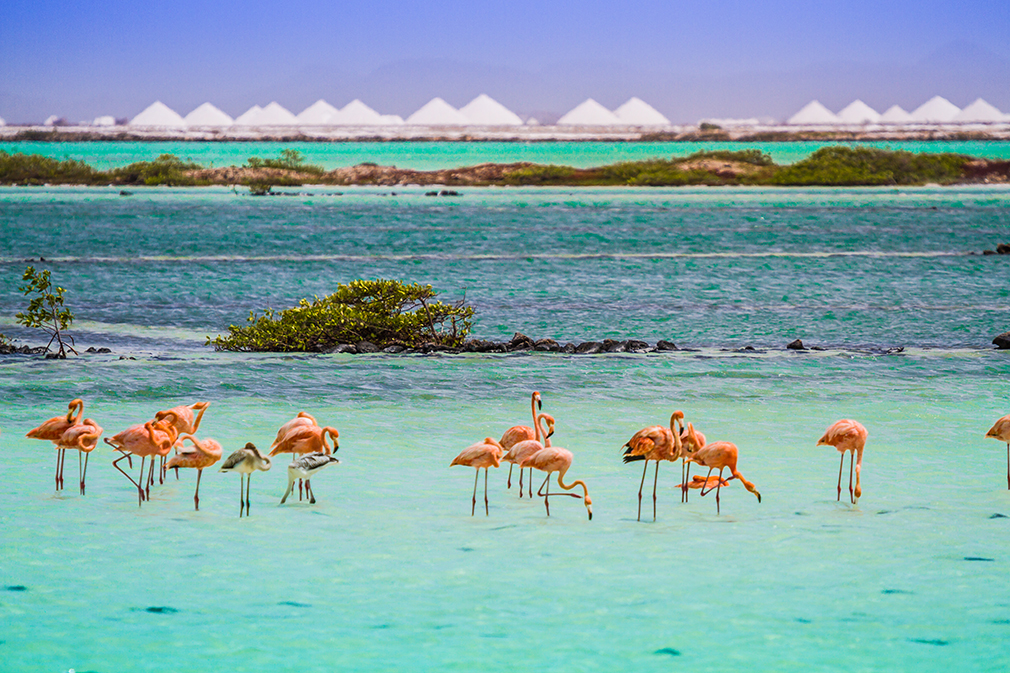 We sail on a purpose-built track on the shores of the Caribbean Sea. There are not many views better than ours. And as we're on the windy side, we often experience waves crashing 20 – 30 meters high. Spectacular!
Any safety tips to share or ways to make the most out of a land sailing adventure?
Landsailing in a blokart is super easy. The briefing takes about 10-15 minutes and you're ready to go. We encourage our guests to wear comfortable, sun-smart clothing and come with a sense of adventure. We'll be sure to put that "blokart grin" on your face!