Things that come to mind when I think of Santa Fe, the United States' oldest capital city? Plates of blue corn enchiladas drenched in both smoky red and earthy green sauce, salmon-colored adobe houses with blue-tiled roofs at every turn, kiva fireplaces burning piñon logs, ancient chapels built by 17th-century Spanish missionaries, and an otherworldly red dirt landscape profuse with juniper trees and oddly shaped land formations. Add in the glue: a distinct foundation of pervasive Native American culture and a profusion of Spanish, Mexican and Old West influences that mingle together to make the whole.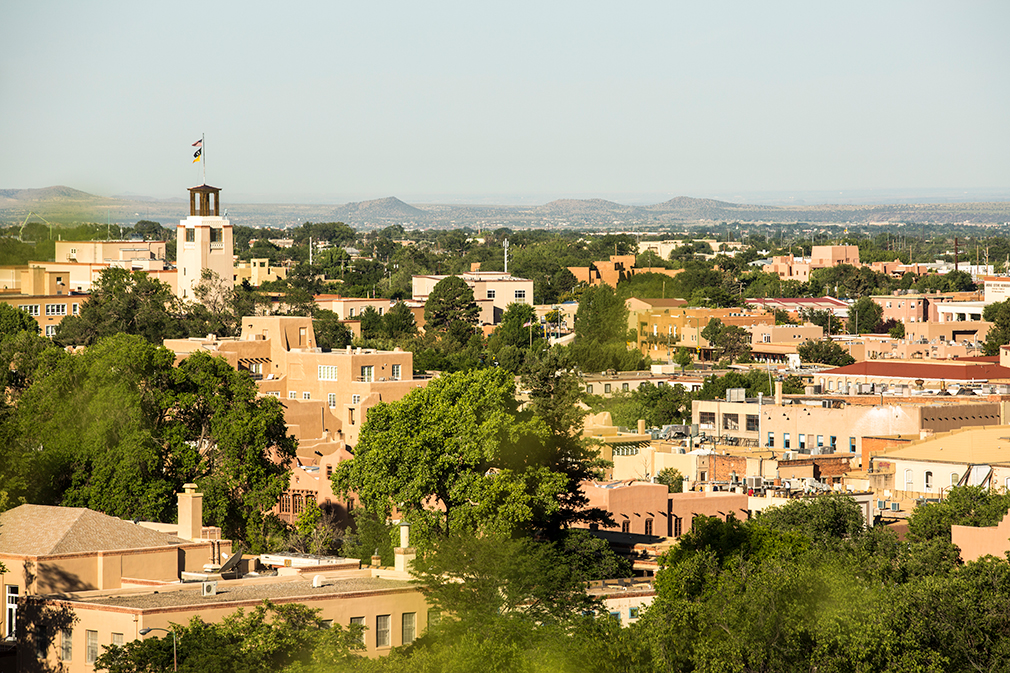 As an arts haven that boasts more than 200 galleries—many that line its famous, undulating Canyon Road, rife with temptations—the city reigns as an aesthete's dream. That magical mood is furthered by Santa Fe's much-trumpeted world-class opera company, complete with its dramatic opera house, set on a hillock outside of town. Imagine: a stage that opens to the terrain, making the Sangre de Cristo mountains and the region's explosive sunsets part of the show. With its own ski area, acres of wilderness for hiking, biking and river rafting, as well as myriad hot springs, Santa Fe's hinterlands satisfy the outdoorsy crowd, too.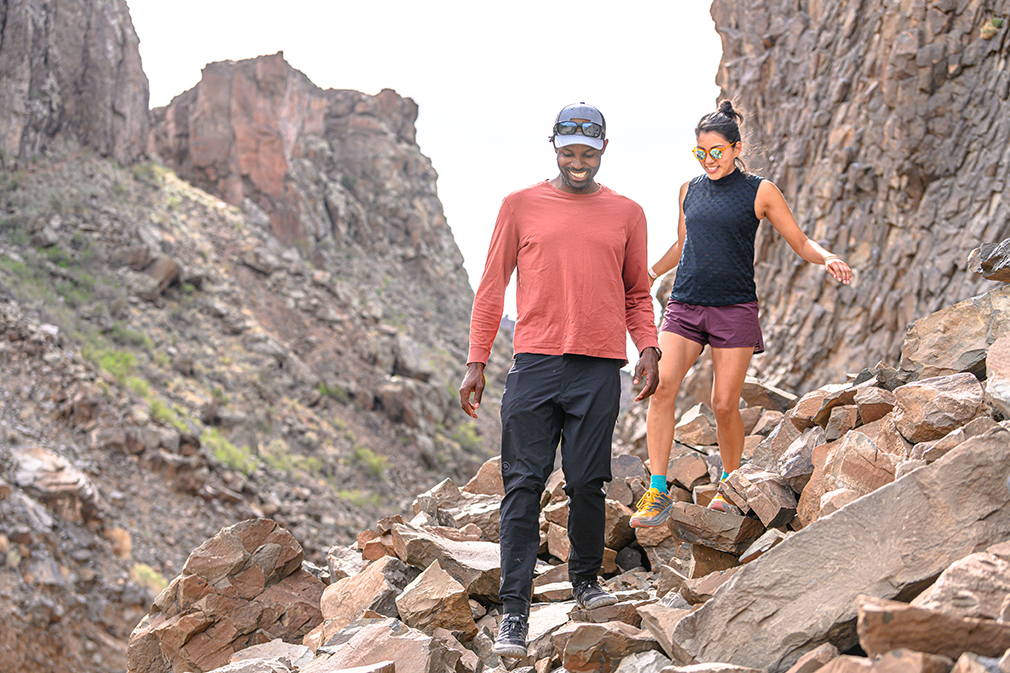 History lovers can spend days exploring the plethora of nearby ancient wonders and monuments—from cliff dwellings to petroglyphs. And every traveler will find a museum or delightfully curated shop that matches their interests. Throughout "The City Different" hand-carved furniture, antiques, silver work, turquoise bedecked bodies and bygone paintings manifest the fusion of cultures that comprise this US urban treasure trove—a place I tell everyone they must visit for a slice of captivating Americana and artistic inspiration.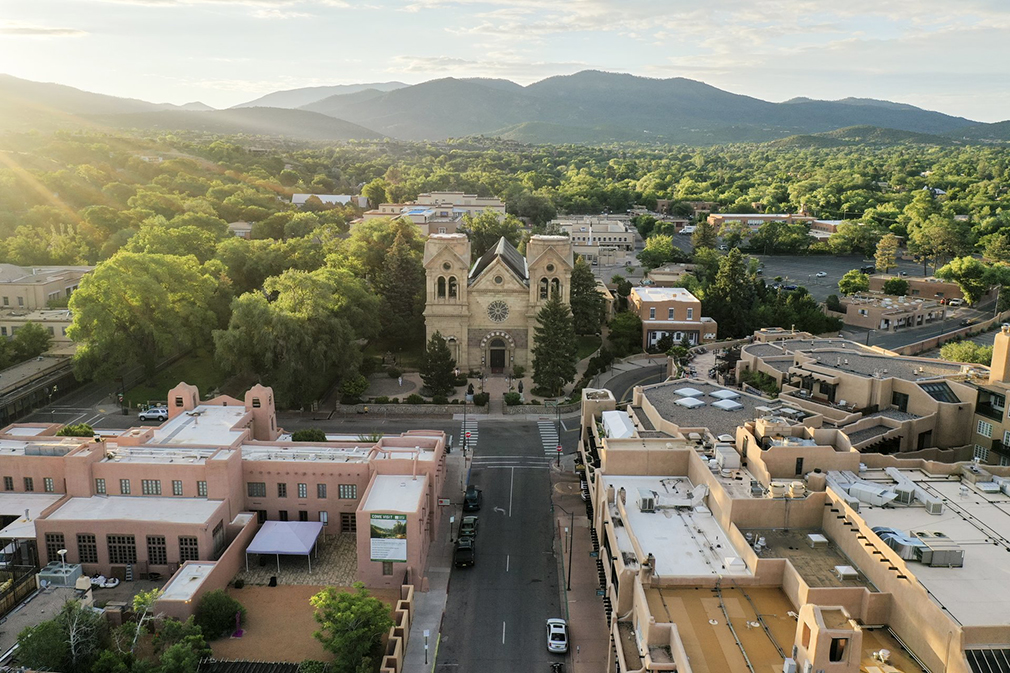 Check In

Four Seasons Resort Rancho Encantado
Just north of Santa Fe, taking full advantage of its jaw-dropping 57 acres of New Mexican high-altitude terrain with views of the Sangre de Cristo Mountains, this hideaway retreat, pocketed into undeveloped nature, equally allows for getting quickly to the opera house or into downtown Santa Fe, as desired, for dinner, shopping and museum fun. Offering luxurious bungalow-style accommodations, guided activities, an exemplar restaurant, and amenities such as a fireplace butler, the resort features a miracle-making 10,000-square-foot spa, set within an (purported) energy vortex. Don't miss the various hiking trails, which begin right on property or lounge-time at the pool.
Fun Fact: Sunset enjoyed at an outdoor table at the gastronomic restaurant, Terra, will change your life.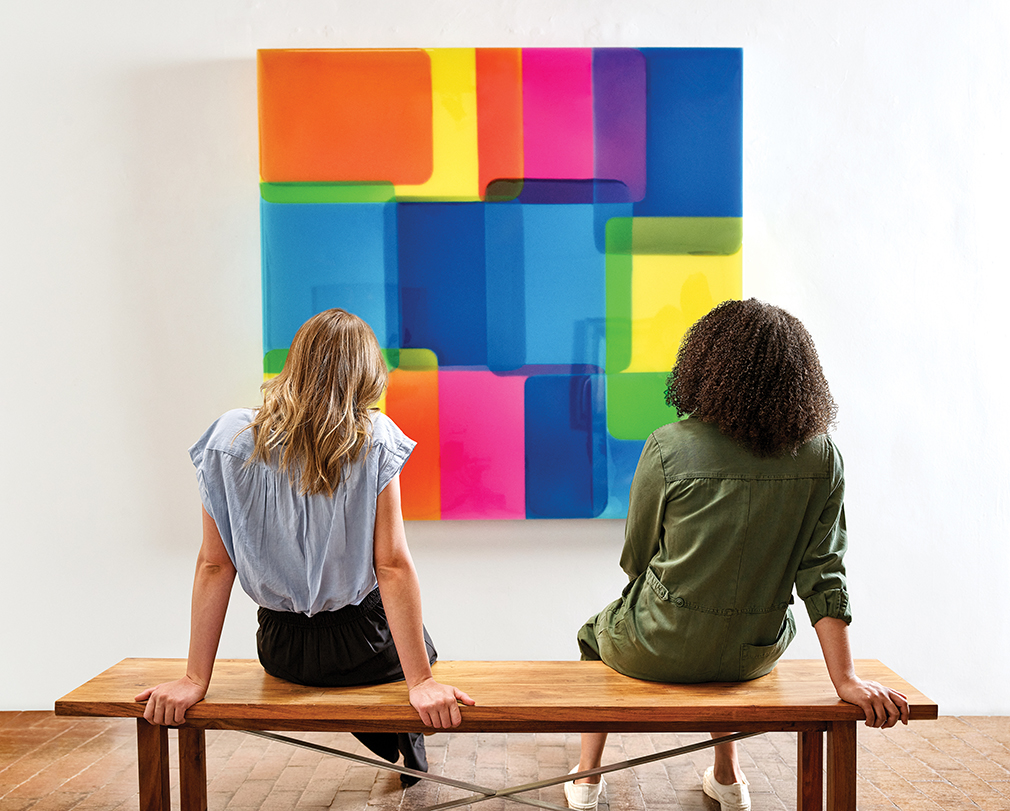 Rosewood Inn of the Anasazi
A lustrous hotel with an authentic, intimate jewel box vibe, the
Rosewood Inn of the Anasazi conveys guests into Santa Fe's prodigiously historic and artistic soul. Sophisticated but friendly, it lies on Santa Fe Plaza amid the thick of the city's offerings, from museums to shops. Handcrafted textiles and hand-carved wooden furniture adorn both common rooms and guest quarters. Dine at The Anasazi Restaurant, Bar & Lounge, a touted hotspot for gourmets, with dishes such as Oven Roasted Bison fillet. Pedal around town on one of the inn's cool blue bikes, provided for guests' enjoyment.
Fun Fact: Enjoy a hot air balloon adventure or guided tequila tasting, two of the hotel's offerings.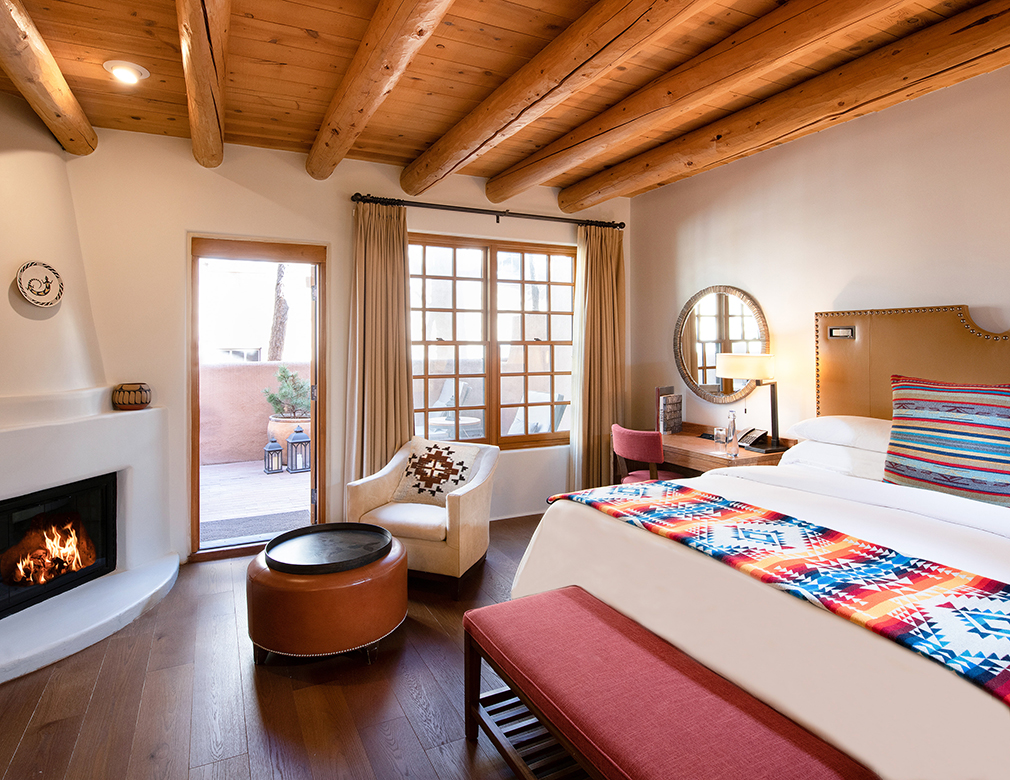 Bishop's Lodge, Auberge Resorts Collection
Tucked into the Tesuque Valley just a ten-minute drive from Santa Fe's storied Canyon Road and other city attractions, Bishop's Lodge, formerly an upscale dude ranch, now elevated by Auberge, provides such a plenitude of pleasantries that guests may consider never leaving the resort. From a fully equipped stable complex with stately horses and experienced cowpokes to a fly-fishing outpost with Orvis guides to a serenity-instilling spa defined by its unique energetic offerings, Bishop's Lodge keeps guests entertained on site. Configured like a village, with a historic chapel as its centerpiece, it vaunts stylish Santa Fe furnishings and art throughout. Now reimagined, the resort was once the country estate of Santa Fe's first Archbishop, Jean Baptiste Lamy. Somehow, though lavish, it still feels like a home.
Fun Fact: Happy Hour here is dubbed Bishop's Hour, which makes tippling feel deliciously sinful. Drink yours on the porch at SkyFire restaurant.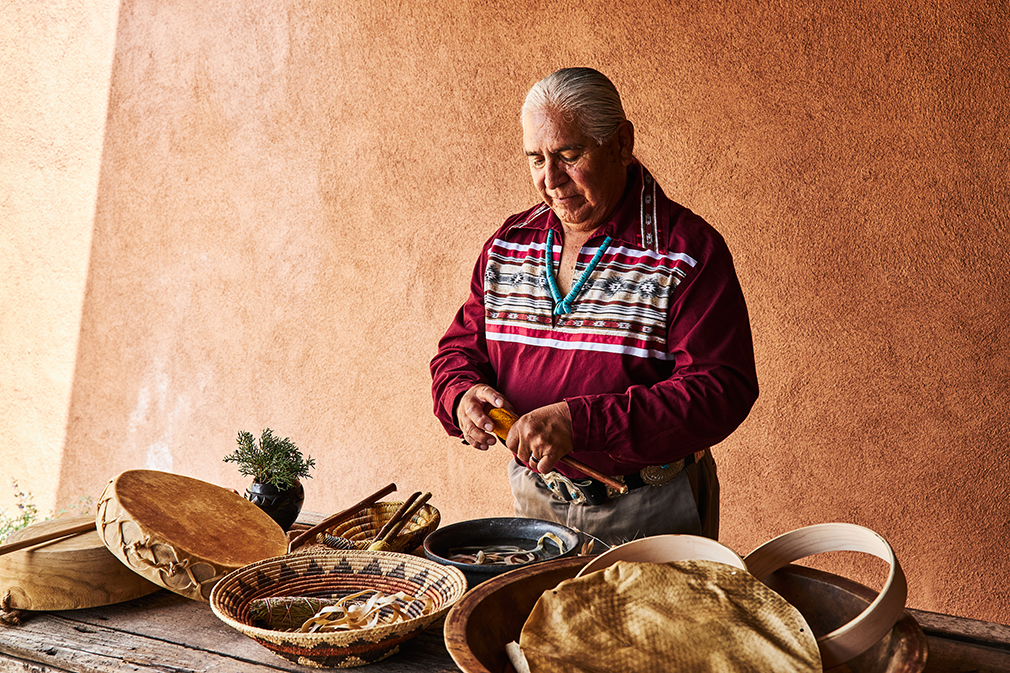 Ojo Santa Fe
Submerge into the healing power of Santa Fe and its surrounding nature at this wellness sanctum, defined by its spring-fed pools. Located just twenty minutes from the bustle of Santa Fe Plaza, Ojo Santa Fe (sister to Ojo Calientes, a renowned hot spring hotel), stands out as a destination in itself for wellness seekers. Tranquil rooms, complimentary yoga, a waterside spa, and a farm-to-fork restaurant support guests in their quests to reset their busy lives and connect with glorious nature. When the yearning for a gallery visit calls, Santa Fe awaits s short drive away.
Fun Fact: Canine lovers will cherish the opportunity to cuddle puppies at the resort, which partners with Espanola Shelter to host fur babies for possible adoption.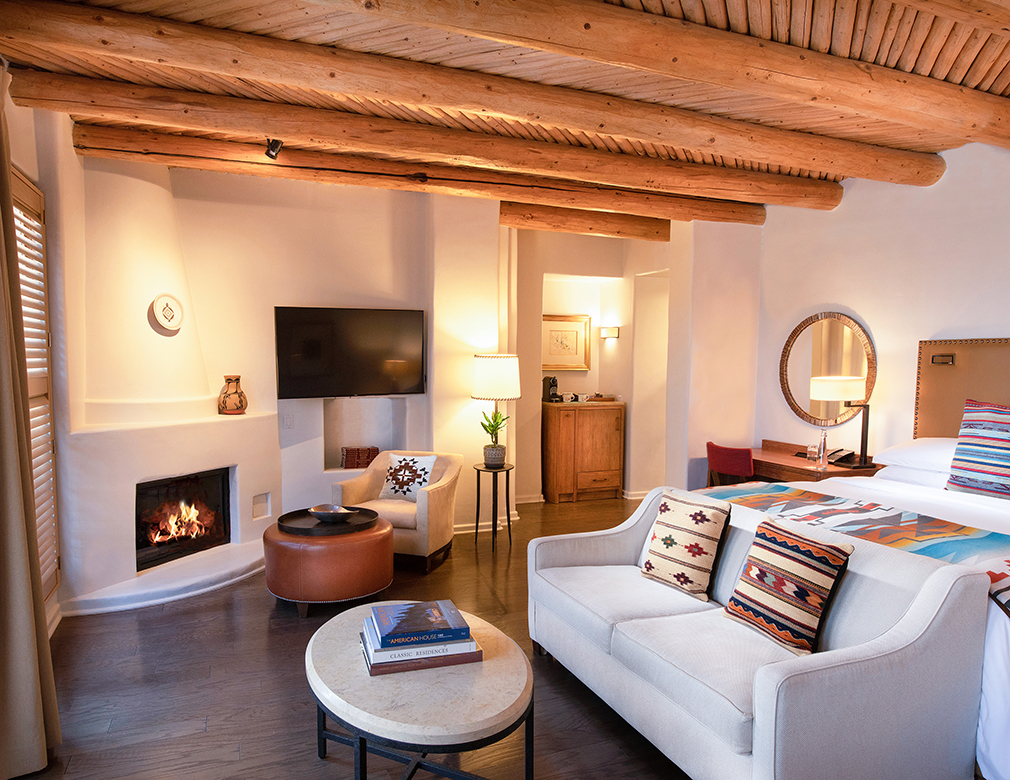 La Fonda on the Plaza
Celebrating its centennial this year, La Fonda on the Plaza prevails as Santa Fe's most famous hotel. Ever abuzz, lording over the plaza, with multiple entrances, interior restaurants—one set in the original 1920's center courtyard— and shops galore, the thoroughly renovated inn brims with local and visitor traffic, exuding that frenetic energy of connection one sometimes feels in a legendary New York City hotel. But, thanks to La Fonda's deep ties to the Southwest and its inimitable history, the comparison ends there. With adobe walls, wooden roof beams, Native American blankets and rugs, hand-painted, hand-carved furniture and an enviable, atmospheric New Mexican art collection, the hotel proudly brandishes a folkloric spirt that feels thoroughly Santa Fean.
Fun Fact: Drinks at the 5th-floor Bell Tower Bar sport moan-making views. Docents are available to take guests on a tour of the hotel's art collection.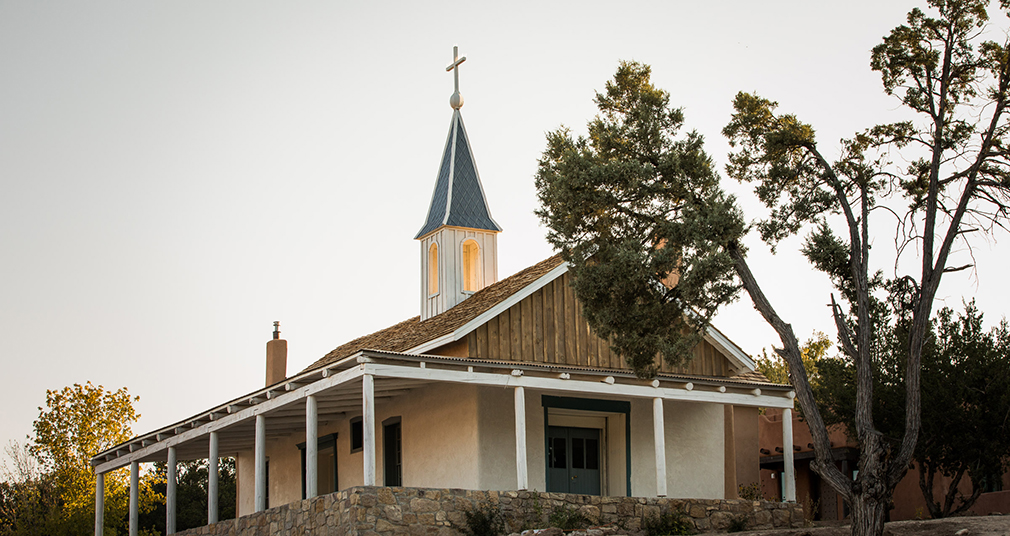 Hotel St. Francis
Elegant and sacredly intoned with Santa Fean panache, the exceptional Hotel St. Francis, pays tribute to the Franciscan monks and missionaries who established the city. Just a block from the plaza, it lies in the thick of things on a side street, more of a whisper than a catcall. Though welcoming, it emits a clubby, quiet, members-only appeal. With antiques and modern decor by local artisans, St. Francis reflects the style of some of Santa Fe's centuries-old buildings, such as the Palace of the Governors, located a few steps away. Don't miss a craft cocktail at its atmospheric bar, El Secreto.
Fun Fact: Hotel St. Francis was built on the site of another hotel that burned down in 1922. Creative reuse abounds, such as the luggage carts, composed of antique headboards and footboards from the prior hotel.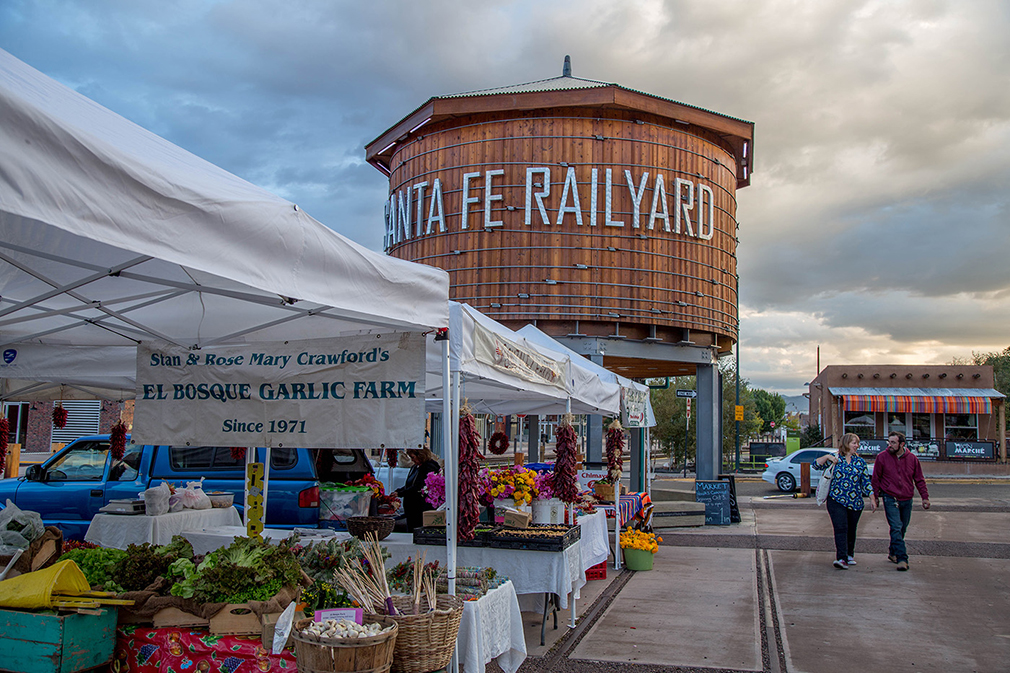 Where to Eat

Sazon
Take it from the James Beard gang, Chef Fernando Olea has got it going on at Sazon. 2022 Best Chef Southwest, Olea, who hails originally from Mexico City, pairs generations-old Mexican soul food recipes with global ingredients for an inventive take on interior cuisine. Think: shrimp enchiladas with creamy zucchini blossom sauce or Chile en Nogada served as a tower, rather than relleno form.
Horno
Street food goes indoors and gets a modern riff at Horno, which opened in 2021 to become an instant success. In sleek digs, this affordable, unpretentious gastropub focuses on delicious flavors and lip-smacking renditions. A beer-battered fish sandwich, char siu glazed pork belly and Pollo Mattone, a roasted chicken with pancetta, capers and polenta exemplifies Horno's approach.
Pink Adobe
"Meet me at the Pink," say locals. Strangely, but wonderfully, infused with a Cajun-meets-New Mexican brio, this long-established classic occupies a 350-year-old Pink Adobe house. Begun by a chef/owner decades ago, it was the place to be seen when I was a child coming with my parents to Santa fe. Today, utterly unique, it serves up both chicken enchiladas and shrimp rémoulade in a vivified ambiance.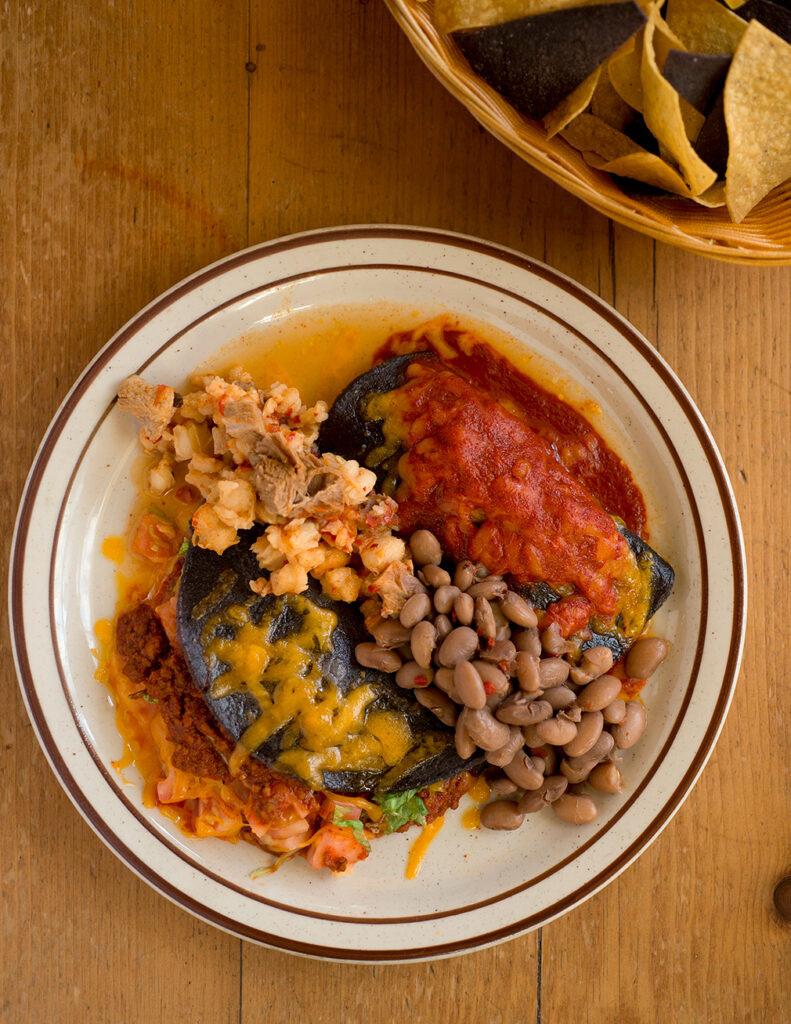 The Shed
You may have to wait, but it's worth it. Family-owned since 1953, The Shed (La Choza) is a casual sanctum of local fare that incorporates and melds flavors and ingredients drawn from Pueblo, Spanish and Mexican influences. Go for the tamale appetizer, blue corn tortilla tacos, the green chile burrito or even Frito Pie, which was supposedly invented in Santa Fe.
Market Steer Steakhouse
Tucked into the St. Francis Hotel, owned by its female chef who grew up on a ranch in southern New Mexico, Market Steer Steakhouse is a passionately run dreamscape for carnivores brings the best of the west to the table. Start with Smoked Bone Marrow, have a Bacon and Butter (lettuce) salad next, then gorge on an 18-ounce Cowboy Ribeye, topped with an extra— like Crab Oscar. House-made steak sauce and truffle butter are only two of the sauces you'll want.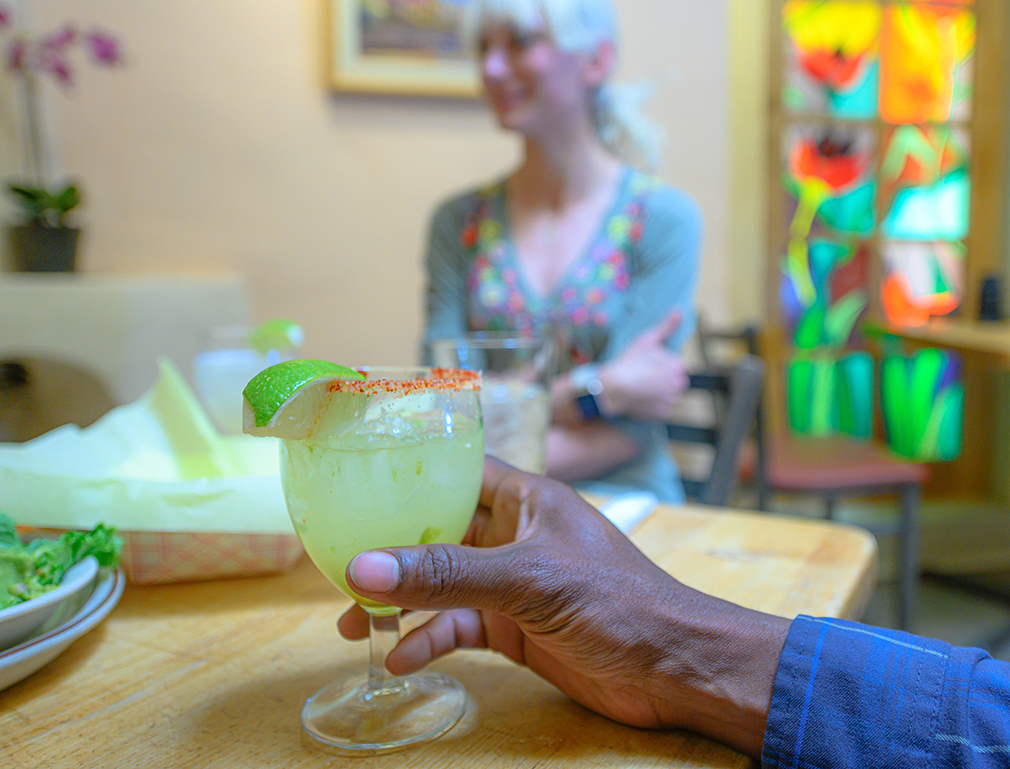 Bars

Do the Trail
You'll need a passport—but you can download it. Not to be used for traveling around the world, this one gives you access to some 40 libation locales and their signature margaritas on the official Santa Fe Margarita Trail. With a limit of two drinks per day, the pub crawl-like challenge incites participants to (slowly) sample a range of margaritas during their stay. Expect unique renditions at each stop—such as the "Meowgarita" at Meow Wolf's FLOAT Bar, a blend of reposado tequila, Cointreau, agave, fresh lime juice & butterfly pea flower tea topped with a cloud of cotton candy.
Dragon Room
Listed as one of the top 19 bars in the world, the atmospheric Dragon Room
at the Pink Adobe has been a swiller's sanctuary for decades. Order up the Black Dragon, a margarita made with Corazon Silver tequila, Cointreau and Chambord with lime.
Altar Spirits Distillery
Take a tour at this super fascinating Distillery, helmed by a passionate woman distiller. It pays homage to all those bygone spirit makers, from monks to bootleggers. Tipple innovative creations, such as Sigil, a bright high desert gin or Aradia, a liqueur with Gentian, Angelica, Citrus Peel and Cherry Bark.
Honeymoon Brewery
It's not beer—it's kombucha! Drink up. This awesome, woman-owned Kombucheria and Tap Room pours their own hard kombucha, the first in the southwest. Blending both old-world techniques and new methods, the Kombucha beer—a boon for the gluten-free crowd—clocks in at 5.5% ABV with tons of flavor. Find Honeymoon Brewery between La Montanita Co-op and the Better Day Coffeeshop.
Gruet Santa Fe Tasting Room
New Mexican favorite, Gruet, uses champagne methode techniques for its brioche-y, Reims-style sparkling wine, long an award winner in wine-tasting events around the world. Try it for yourself in the Gruet Santa Fe Tasting Room
at Hotel St. Francis.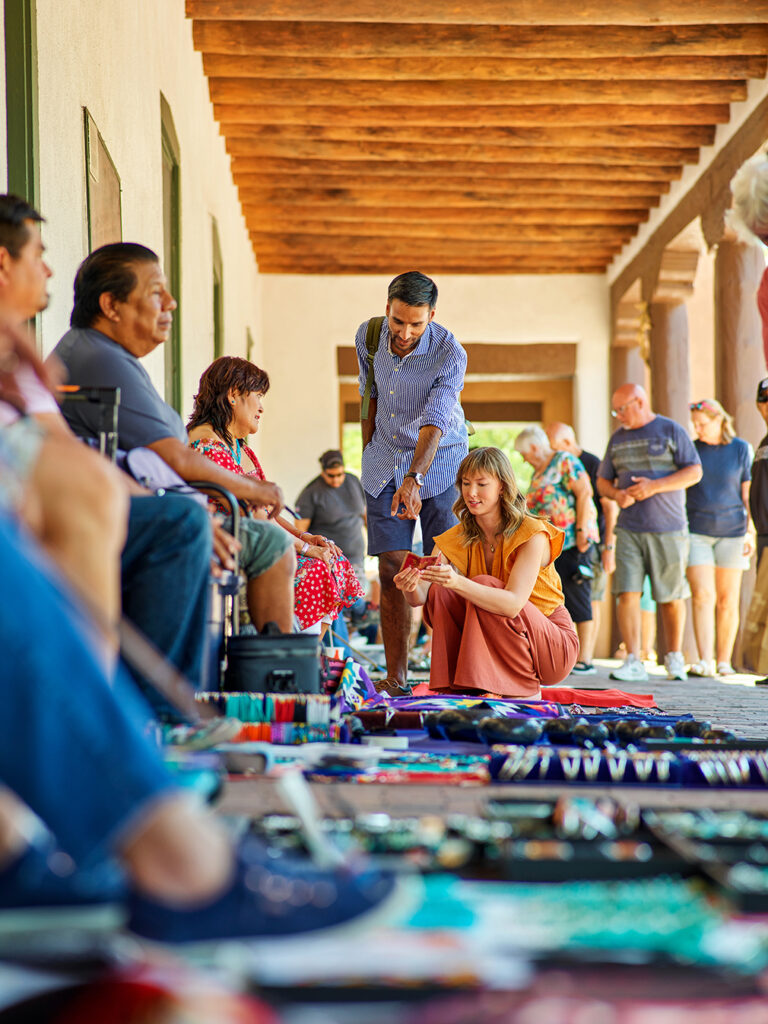 Where to Shop

Patina Gallery
Strut your stuff with wearable art from Patina Gallery. A discriminating space for functional art, artisan jewelry and adornment by artists from around the world, the long-beloved gallery has been a Santa Fe staple since the 1990s.
Shiprock Santa Fe
This modern take on a trading post involves scores of artists and their goods. Eclectic, and inspiring, the shelves at Shiprock Santa Fe overflow with everything from books to blankets to fine art to baskets to jewelry. On Santa Fe Plaza, the gallery embraces local traditions and then some.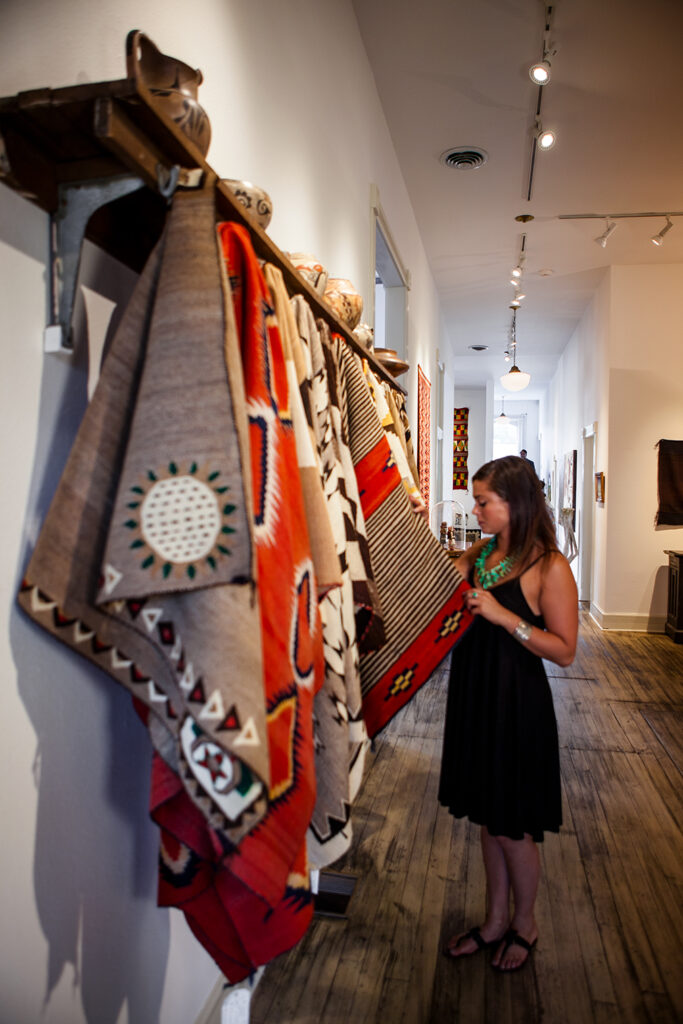 Hecho and Hecho a Mano Galleries
These two galleries, one on Canyon Road and the other situated in the Plaza area, focus on the work of printmakers, ceramicists and jewelers from New Mexico and Mexico
Museum shop at the Museum of International Folk Art
Don't we know museum shops put forth all the best stuff? This one goes beyond the pale, a hidden gem of truly irresistible books, toys, art, jewelry, textiles, home décor and more from around the world
What to Do

Georgia O'Keeffe Museum
In a Pueblo Revival Building downtown, the fascinating Georgia O'Keeffe Museum honors the American Modernist artist who spent many years in New Mexico and Santa Fe. A small museum, which will be expanding in the future, its galleries hold a captivating assemblage of her work. Don't miss the video at the beginning, which does much to explain the collection.
Meow Wolf House of Eternal Return
Playful, immersive and mind-blowing, this experiential flagship museum has 70 rooms sure to delight visitors of all ages. Highly Instagrammed, this colorful portal of fantasy has a panoply of options: Consider Dave's Room, Infinity Spa or The Forest.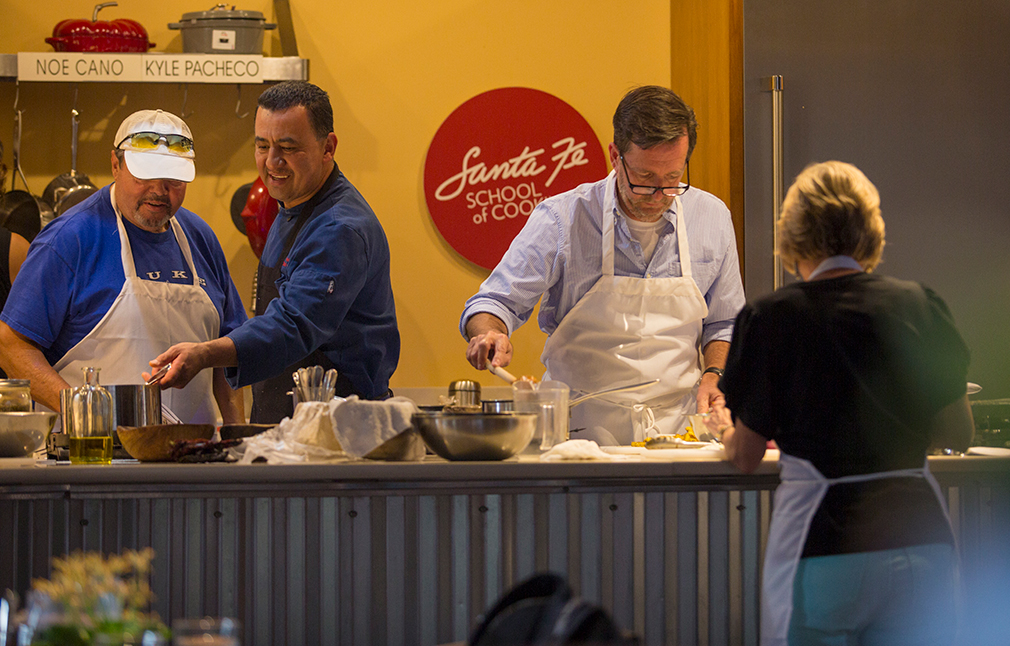 Santa Fe School of Cooking
In the most thorough collection of classes imaginable this sleek, creative kitchen and boutique downtown offers an astonishing array of cooking and food-focused classes and experiences that run the gamut from demonstration to hands-on to restaurant walking tours to culinary boot camp. Favorites are the many courses that showcase the cultures that comprise Santa Fe: New Mexican, Native American, Spanish and Mexican. Don't miss the shop, which brims with local ingredients.
Dubbed one of the top in the United States, this collection of more than 150 farmers and producers draws crowds Saturdays from 8am-1pm all year long at its main location on Paseo de Peralta. Seasonally, it stays open on Tuesdays as well.
Sky Railway
All aboard! This new activity is all the rage. Chug along on the historic Sky Railway between Santa Fe and Lamy New Mexico in retrofitted train cars. Expect music, entertainers' food and drink on each of its themed trips, which run the gamut from sunset runs to holiday rambles to brunch jaunts. Upgrade to the Acoma Car, one of the original lounge cars from the 1937 Super Chief.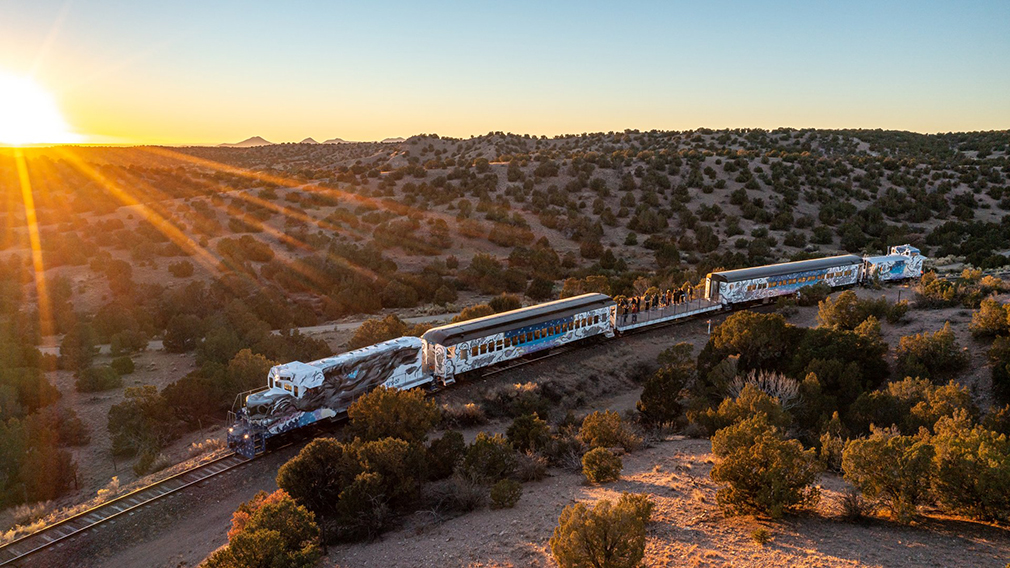 Ten Ways to Go Santa Fean

-Wear your turquoise no matter how big or small.
-Watch a sunset. Arrive 30 minutes early for the best show.
-Take a photo in front of the red Chile ristras hanging on many buildings around town.
-Soak in a tub of hot water at either Ten Thousand Waves or Ojo Santa Fe.
-Order Christmas Sauce on your food—that's both green and red at once.
-Peruse the galleries of Canyon Road and stop for a glass of wine at one of the cute restaurants.
-Shop for beautiful handmade jewelry, art and accessories from the Native -American vendors at the Palace of the Governors.
-Visit with a curandera, a traditional New Mexican folk healer.
-Get outside and get active: run, bike, raft, climb—it's up to you.