First, a bit of history: Dr. Angelo Cerina revolutionized the world of thalassotherapy with its introduction 32 years ago. This therapy treatment method, which is focused on the therapeutic properties of seawater, is used by wide variety of medical professionals, such as sports, aesthetic, and dietary medicine specialists, who utilize it for their clients.
This method of therapy is led by Dr. Cerina who is exclusive to The Acquaforte Thalasso & Spa located in Forte Village, Cagliari. This one-of-a-kind five-star luxury destination resort is located within 120-acres of lush natural wilderness on the south coast of Sardinia, has completely restyled its Acquaforte Thalasso & Spa for the 2022 season. The latest renovations of this state-of-the-art spa experience combine deep-rooted thalasso therapy with complete immersion in nature for a 360º mind and body wellness experience.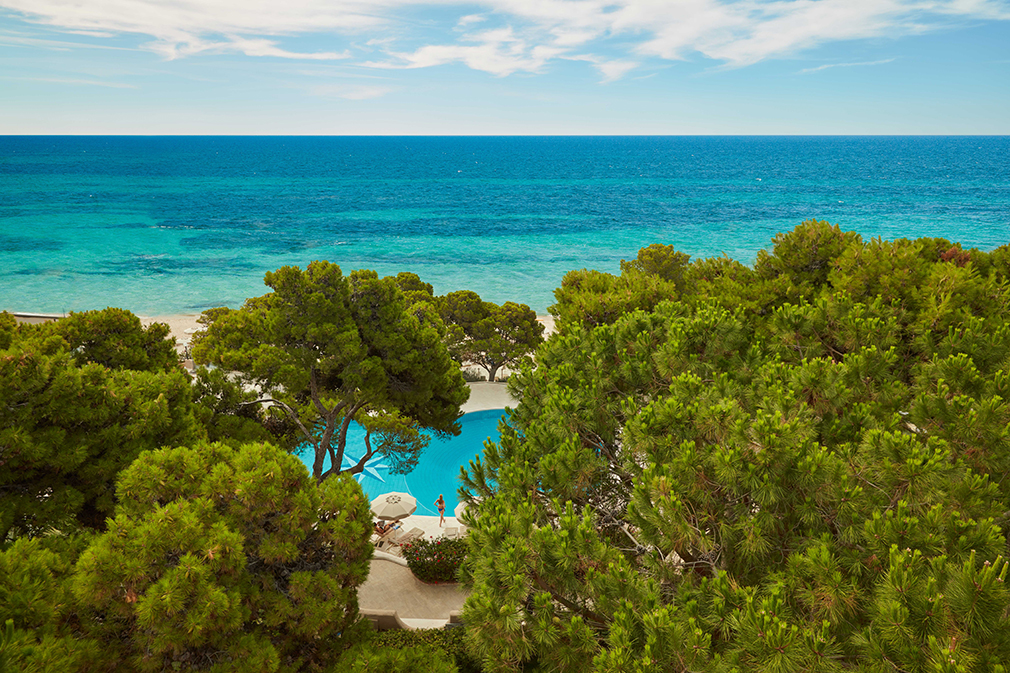 The Acquaforte Thalasso Spa consists of a sub-tropical garden landscape, a complete six pool Thalasso circuit, a newly renovated gym, 30 separate treatment rooms, a brand new "tisaneria" (an herbal tea bar), and upgraded changing rooms. Light illuminates all parts of the spa thanks to the installation of skylights along walkways and surrounding glass architecture. Sounds of water ruffle through the air from the spa's new fountain creating a relaxing atmosphere.

The spa's thalassotherapy method is available to aid guests in improving their health status from insomnia, anxiety, muscle pain, posture, digestion, hypertension and more. Personalized treatments and programs accessible with an in-house medical team that includes world-renowned Dr. Joanna Hakimova.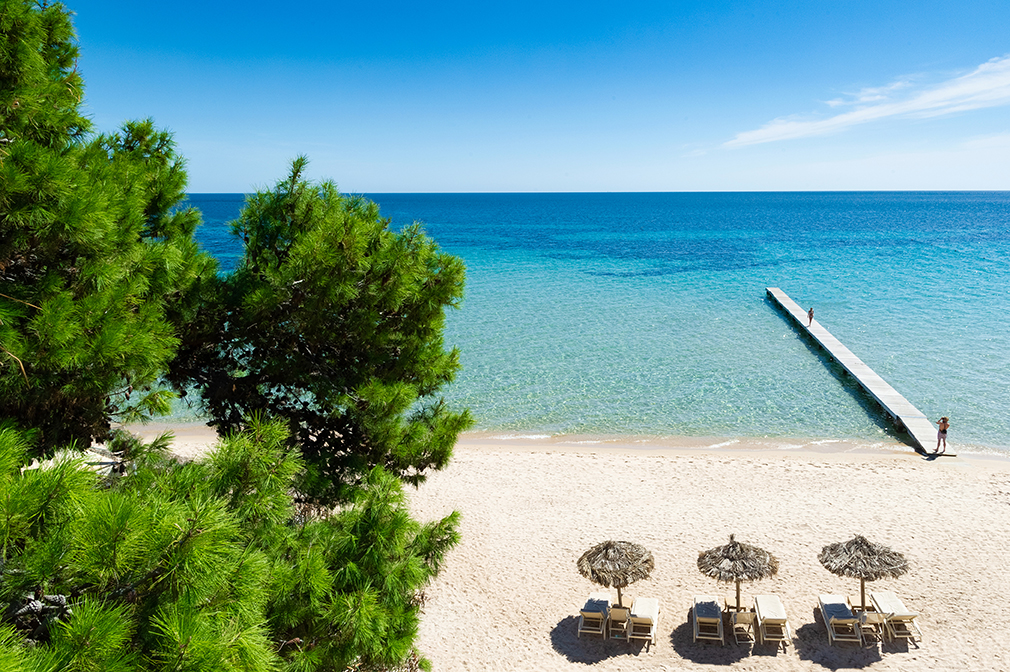 Forte Village enjoys a wonderful microclimate which combined with the thalasso circuit, helps to strengthen the immune system, and reinforce immune defenses, offering further healing benefits through spa and wellness treatments including an array of massages. The pools at Acquaforte Spa are also composed of a higher saline density from the salt deposited into them which creates a unique Sea Oil that is used exclusively in Forte Village's cryotherapy. This means guests can enjoy unique and powerful anti-inflammatory effects and detoxes.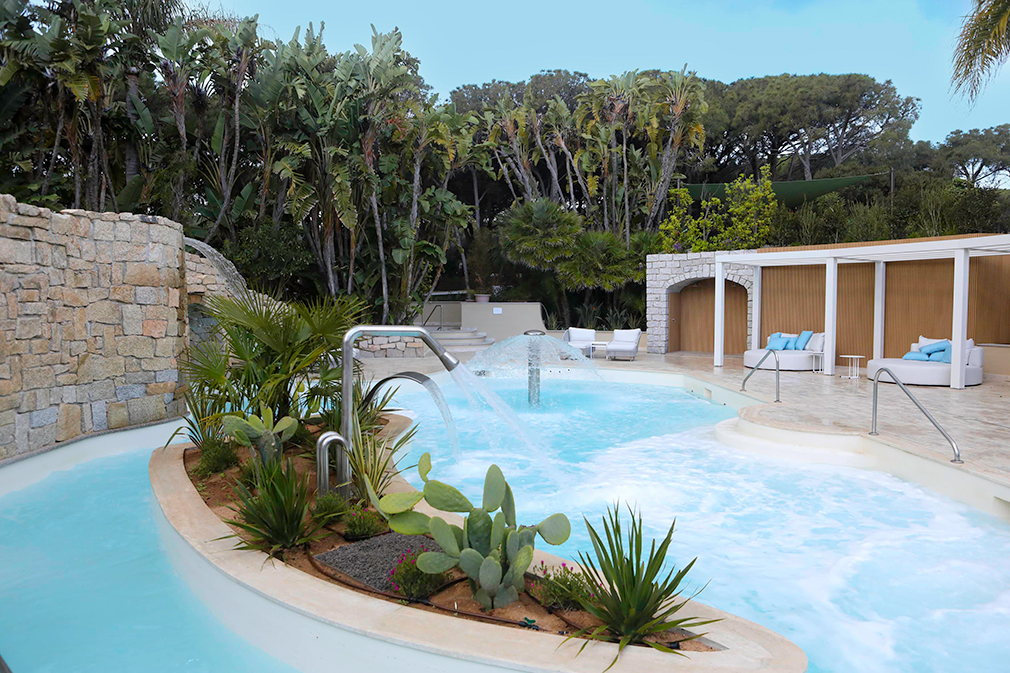 Each of the six pools at Acquaforte Thalasso & Spa offers a distinctive health benefit.
The first pool contains high concentrations of magnesium salts and guests will feel the water at work curing their joint pain and relaxing their muscles.

The second pool stimulates the senses with its mixture of aloe, mint, and Sea Oil to enhance phytotherapy treatment.

The third pool acts as a water massage that eliminates toxins and offers a psycho-physical relaxation through its high-temperature water and mineral-rich sea salts.

The Fourth pool is perfect for dissolving tension in the body by use of hydromassage jets and elevated water temperatures.

The Fifth pool creates a stimulating vascular workout that firms tissues, eliminates muscle toxins, and prevents fibrosis.

The Sixth pool concludes the vascular workout therapy session via a counter-current hydromassage which provides the body with energy and lightness.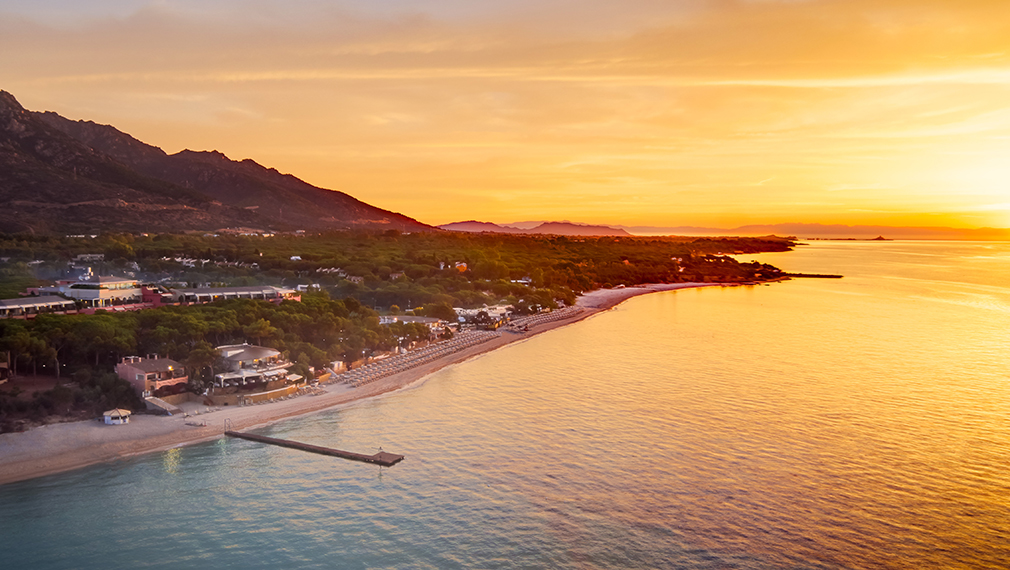 Acquaforte's spa & wellness team developed a menu of exclusive treatments to enhance the effects of the Thalassotherapy circuit. These include native salt exfoliating treatment, thalasso massage, sea mud shaping treatment, cryotherapy with sea oil and aloe, and a heavenly legs treatment. These treatments provide guests with a multitude of benefits that range from prevention of skin aging, to improving circulation, to many other anti-inflammatory effects.

Now available for exclusive use by family and friends, Acquaforte's Private Spa is located in a private garden with 4 thalasso pools with convenient access to all of the spa specialists and treatments.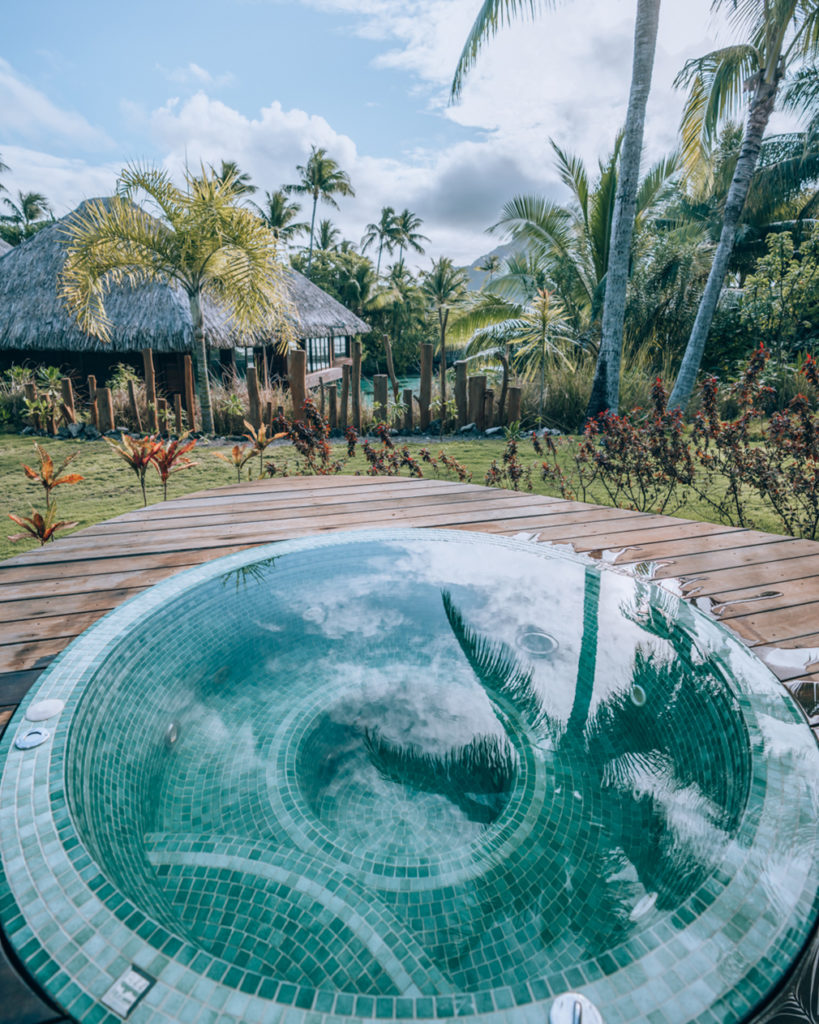 Accessible only by boat, the Intercontinental Bora Bora Resort & Thalasso Spa was the South Pacific's very first thalassotherapy center, harnessing healing seawater rich with marine nutrients in wellness treatments, and the only place in the world to use the benefits of water drawn from more than 900 meters below the surface of the Pacific Ocean. Sea water organically restores the skin's natural balance by countering ion, mineral, and micronutrient deficiencies in skin cells. It also has toning and astringent properties. Using Algotherm products, a brand known for being pioneers in algotherapy and having developed the ultimate knowledge through extensive study on algae, assembling the perfects species for skincare needs and requirements (30 total), the Thalasso Spa combines both modern and ancient techniques to best harness the powers of the ocean. Owned by Pacific Beachcomber, a company that greatly values and puts forth the healing properties of the ocean, an incredible natural resource, the resort is yet another great example in the company's portfolio, which includes The Brando. Deep-sea water is actually also used at both properties through the SWAC (Sea Water Air Conditioning), which the IC Thalasso was the first to use, furthering Pacific Beachcomber's sustainability promise.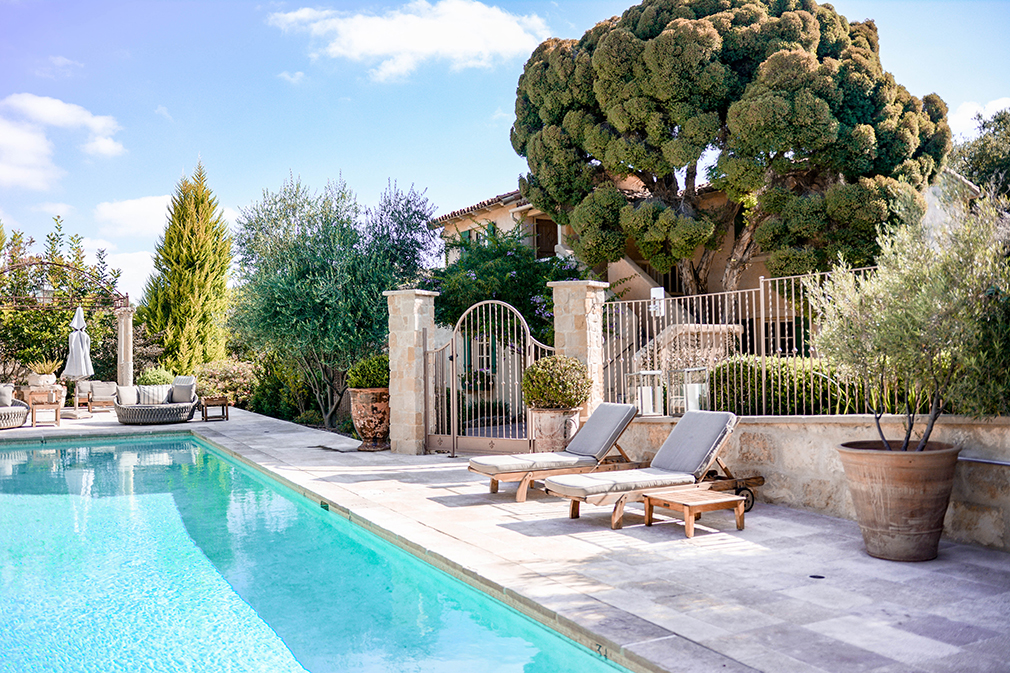 The sea, science, and serenity are front and center in the Thalasso seaweed wrap treatment located at the spa amid the 500 private acres of Cal-A-Vie just north of San Diego. Seaweed contains all the minerals, trace elements and vitamins essential to life. They also naturally initiate the body's internal mechanism of detoxification and assist the body's metabolism. Warmed seaweed is painted on the body to facilitate in the release of excess water and to flush toxins from the body. While you are in the warm cocoon of this wrap, you will receive a relaxing scalp massage. Finally, after a shower and brief cool-down, an application of contouring, firming and hydrating crèmes leave you in a state of harmonious balance.