TRAVEL DISH SPOTLIGHTS MICHELIN-STAR CHEFS, MASTER MIXOLOGISTS, AND GLOBAL GOURMET TREATS THAT YOU CAN RECREATE AT HOME.
After graduating from the Culinary Institute of America, chef Richard Lee began his career at two-star Michelin restaurant Gilt in NYC, before moving to three-star Michelin restaurant Eleven Madison Park. During this tenure, he worked his way up to Sous Chef while earning the spot of #1 Restaurant in the World.
Back in his hometown of the Bay Area, Chef Lee worked numerous positions at Saison before his recent appointment as Chef de Cuisine. The chef instinctively marries the cooking techniques of his Chinese heritage with Saison's lauded live-fire cooking tradition to create incredibly complex and flavorful works of edible art with ingredients from around the world.
Here we find out how to prepare a stand-out cold-weather fish dish for any holiday soiree, along with expert tips on truffles, fermentation, and more.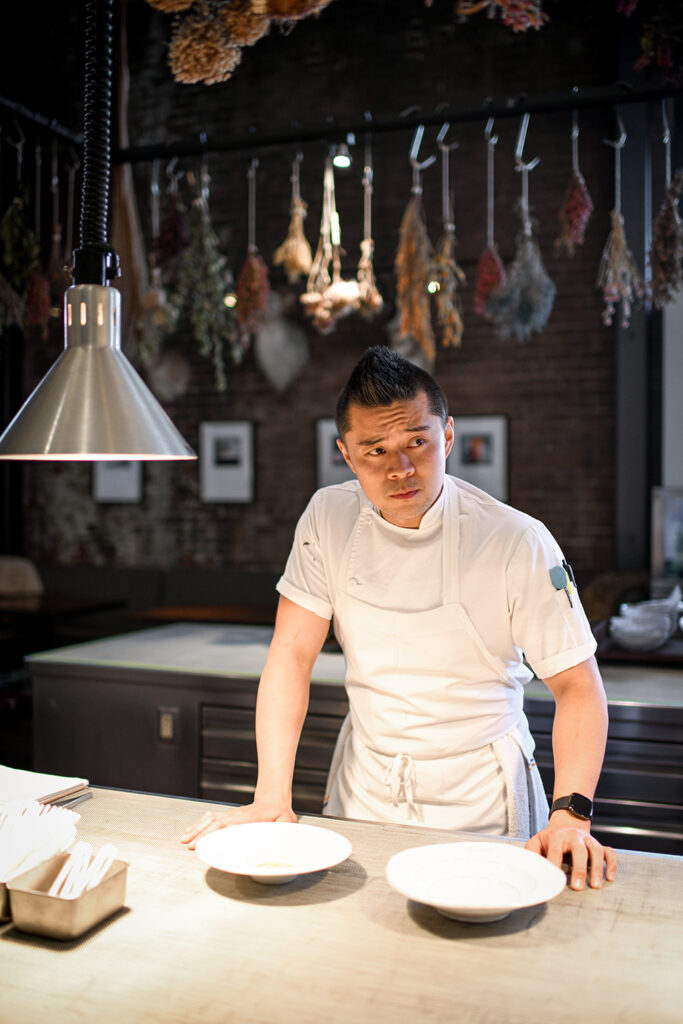 How are you utilizing Chinese American culture and flavors in your Michelin-level fine dining restaurant?
It has been such an incredible time for a first-generation American chef. Growing up in a Chinese household, it's amazing to see how the flavors and textures that I grew up with are now so openly welcomed by excited and curious diners. Today we have much more access to high-quality Asian ingredients, so it's easy to explore and experiment with different ingredients and techniques. What was once just simple soy sauce in the Asian aisle is now small batch of soy and tamari. Farmers that once grew turnips and eggplant are now growing makrut limes and celtuce. I like to utilize my Western culinary training and combine it with the common pantry items I enjoyed growing up, hoping to achieve that special balance of flavor. Whether it's just a little fish sauce in stock or some fermented black bean in a filling, these traditional flavors put dishes to another level. I think we have just scratched the surface of how we can use Asian flavors and ingredients to push the boundaries of fine dining and food.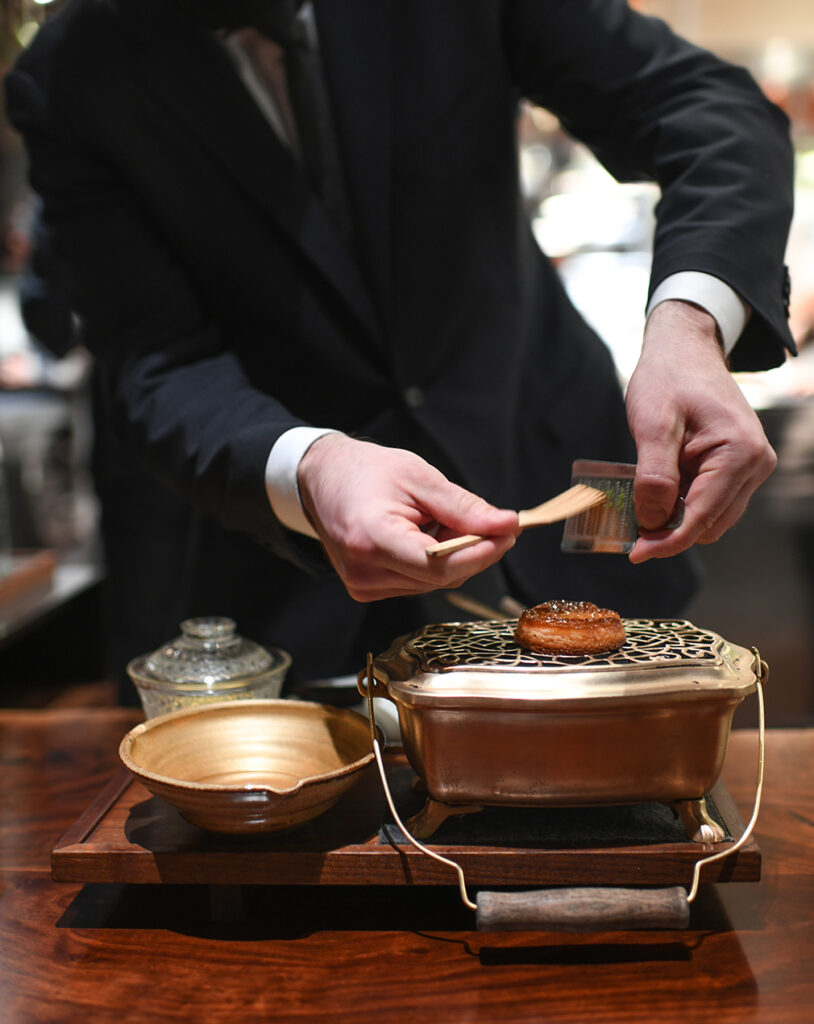 What are your favorite truffles and how do you use them in your winter dishes?
White Truffles are definitely my favorite. It has such a powerful aroma and flavor. In general, I believe truffles work best with something rich or creamy to help open them up. I don't get to do it often, but I love to make a beautiful, nice creamy risotto with white truffle. Nothing crazy added to it, just a touch of parmesan and white wine cooked into it to really let the truffle shine.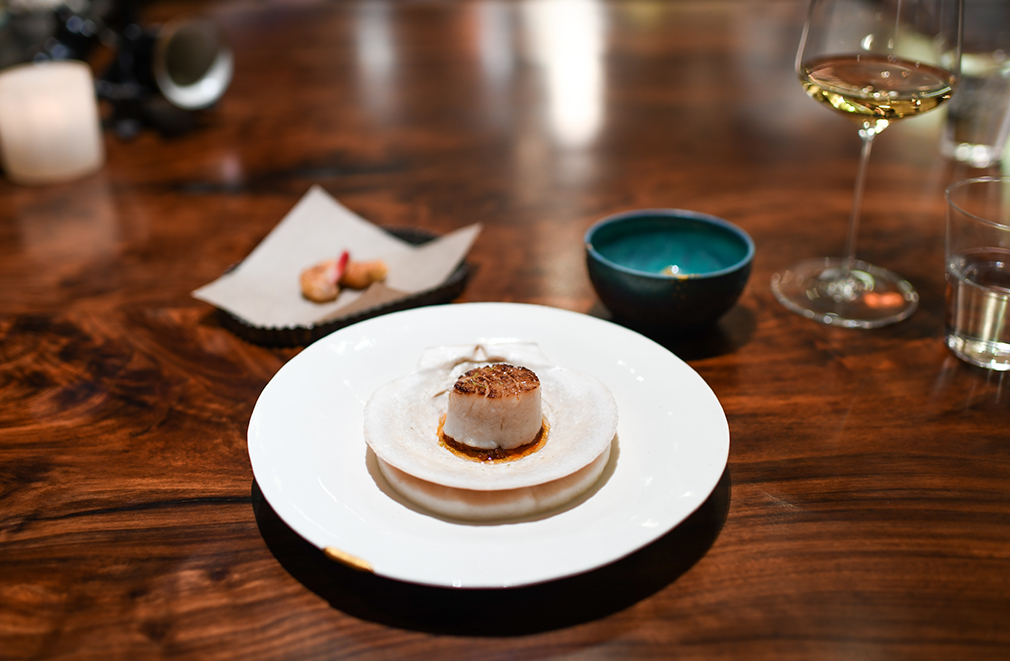 For pescatarians, do you have any tips on cold-weather fish and how best to prepare it?
The winter season and cold waters help produce some of the best seafood in my opinion. From fish to shellfish, cold waters help produce much tastier fish with more pronounced flavor. I generally like to include ingredients that let the delicate flavor of fish shine. Most of the time, that means just some olive oil, lemon and salt. It really goes a long way. If you do find a nice spiced pepper blend (we usually make our own in house at Saison during the summer season) you can toast your dried pepper mix in butter and garlic just until the spices release their flavor. You can then save it to melt and put it on things like scallops, lobster, crab, salmon, or most white fish.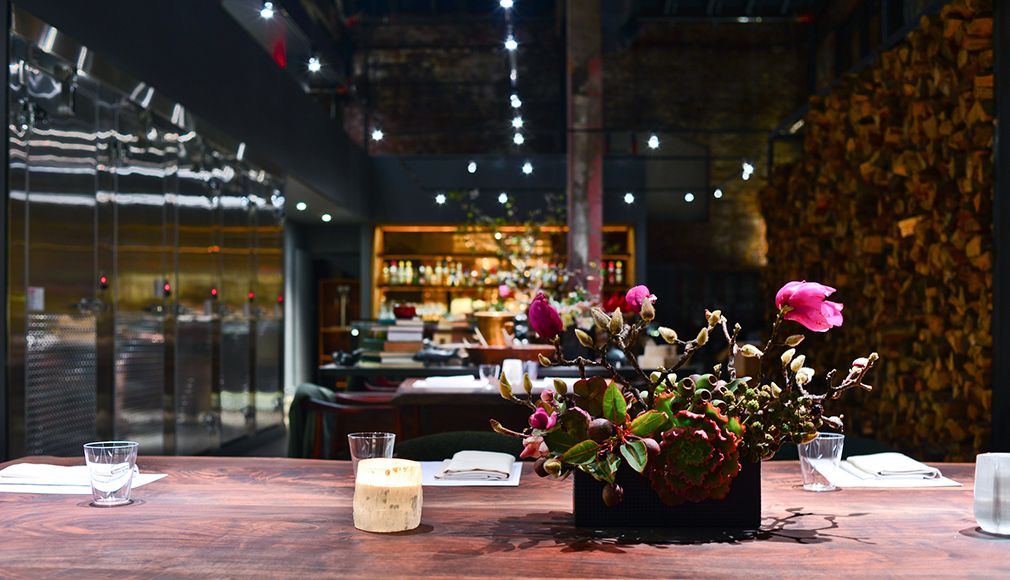 Can you tell us why you think fermentation is so hot right now in the dining world?
In the past decade or so, I've seen a lot of intricate food trends utilizing science and new techniques. It's only natural now that we start to look back and apply all this new knowledge to practices that are centuries old. I also believe that as we have explored more Nordic and Asian flavors in the past decade, we discover that fermentation techniques are so rooted in these cuisines, especially with Asian foods, using ingredients like fish sauce, soy sauce, and misos that help create such strong base flavors to build on. Some of the flavors from fermentation just can't be recreated quickly. In the case of really good garams and misos there is just this depth of flavors. There are characteristics that are achieved with such finesse that cannot be mimicked otherwise. By adding ferments like lacto-fermented vegetables and kimchis, they offer an incredible depth to dishes that have not been seen in fine dining until recent years.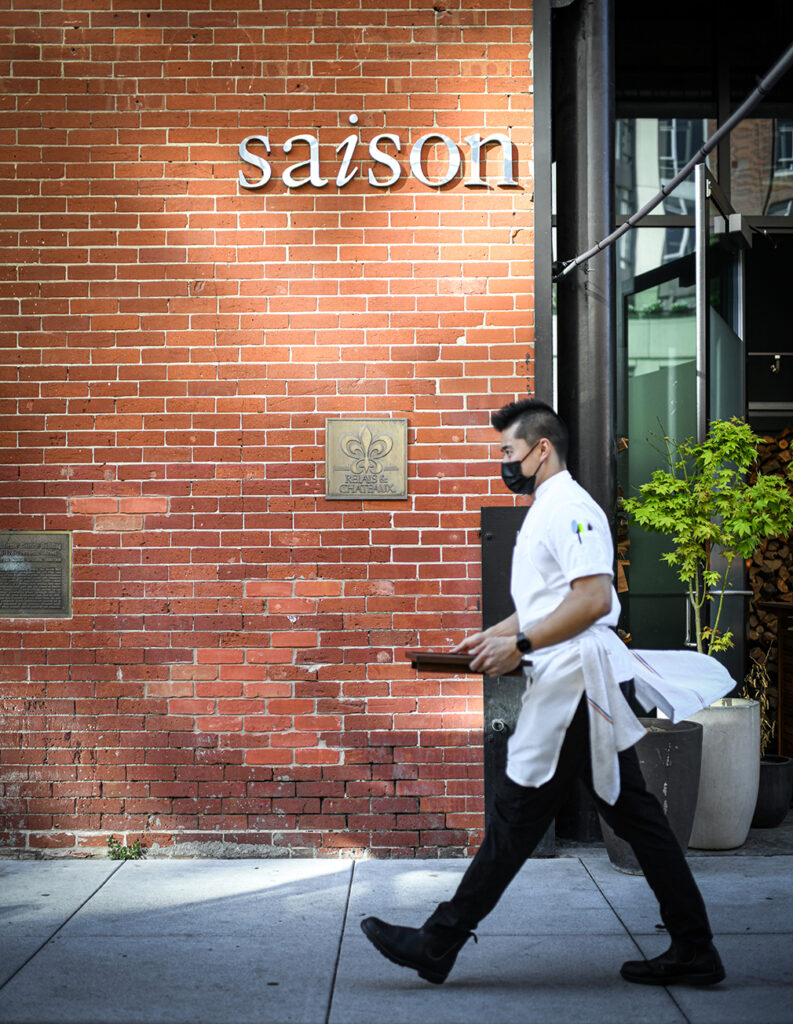 Where do you like to travel for inspiration when you are not working?
I unfortunately have not traveled as much as I would have liked to in my life so far, but growing up in San Francisco and working in New York, there is so much diversity in the cuisines of these cities. I recently went back to New York to dine at some of the fine dining restaurants to see the kinds of techniques and flavors some of the best chefs are cooking with. In San Francisco, I love eating at all the Asian, Mexican, and Latin American spots that we have on the West Coast. These flavors just work so well with the ingredients we get out here.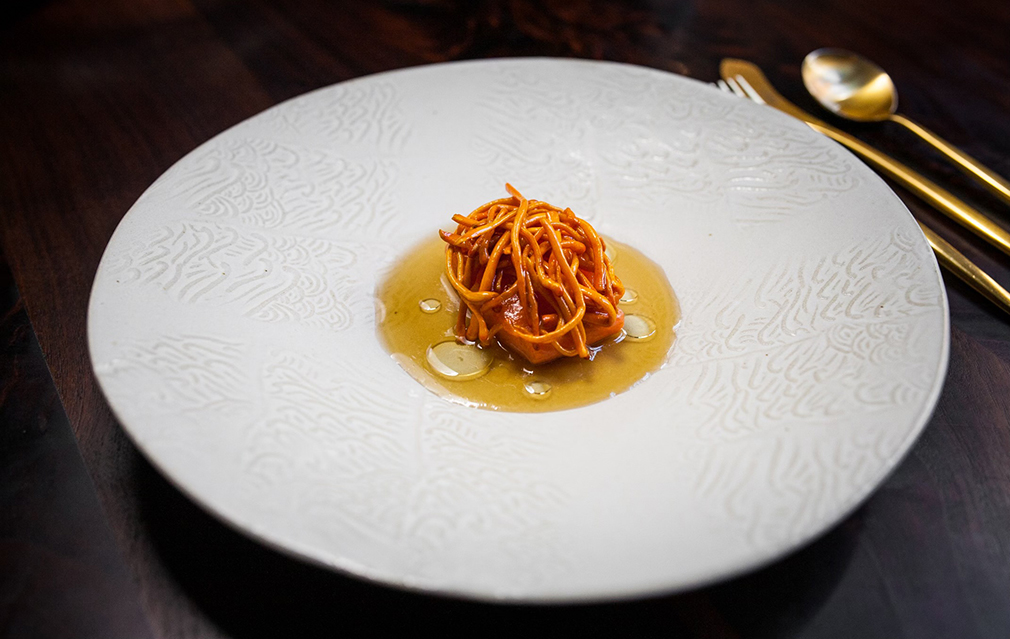 Dish Name: Hay Smoked Trout, Cordyceps Mushrooms, Sauce of Smoked Trout Bones
Ingredients:
Trout
1ea Trout, Mt Lassen or Tasmanian Sea Trout
Trout Cure
100% Sel Gris, ground
5% fennel, ground
.5% orange, zest
1% lemon, zest
Trout
1ea Trout, Loins, Mt. Lassen or Tasmanian
2% Trout Cure
5% Olive Oil
Hay
Bacon Bouillon
30g clarified butter
150 g (raw weight) Bacon, .75 cm thick cut, Grilled
50g Smoked Trout Bones
10 g Garlic, .25 cm thin sliced
40 g Shallot, .5 cm thin sliced
1 g Black Peppercorn, cracked
1.5 g Thyme
2 g Sel Gris
500 g Chicken Bouillon
25 g Champagne Vinegar
Bonito Sauce to taste
Meyer Lemon Juice to taste
Smoked Trout Bones
Trout Bones and collar from 1 ea trout
100g Maple Syrup
200g Tamari/Soy Sauce
Caper Brown Butter
150g butter
50g capers, rinse and dried
Cordyceps Mushrooms
30g Clarified Butter
200g Cordyceps mushrooms
Salt to taste
To Plate (1 Portion)
1ea Cooked Smoked Trout (40-50g)
100g Bacon Bouillon
25g Cooked Cordyceps Mushrooms
1ea Meyer lemon for zest
Fluer de sel to finish
10g Caper Brown Butter
Method:
Trout
Cut off the fins and head of the trout,
Scale the trout
Filet the trout, remove the pin bones and remove belly cage bones
Remove skin
*Save collar and all bones for sauce. Trout Cure
In a Mortar and Pestle, grind all ingredients
Trout
Cure trout with the trout cure for 15 minutes for belly and 20 minutes for dorsal.
Rinse with water and pat dry.
Portion to 40- 50 gram portions
Marinade in olive oil for an hour.
Place Trout in a grill or smoker that is turned off. Add burning hay and suffocate the fire. Smoke the Trout for 1 minute.
Slowly warm in an oven set to 250 with a pan of hot water. The trout is done when it temps out to 120F internal or a cake tester pushes through without resistance.
Bacon Bouillon
In a pot, melt clarified butter
Add Garlic and cook until golden brown
Add shallots and them sweat until slightly translucent
Add grilled bacon, smoked trout bones and black peppercorn and cook for a minute
Add chicken bouillon and simmer until flavors have peaked
Strain through a chinois
Season with champagne vinegar, salt, Bonito sauce and meyer lemon juice
Keep warm until ready to serve
Smoked Trout Bones
Marinade bones in Maple and Tamar for 12 hours.
Remove bones and collar from marinade and lay out on a metal tray with a rack and allow to dry overnight.
Cold smoke the trout bones with applewood for 30 minutes.
Reserve for making the Bacon Boullion
Caper Brown Butter
in a small pot melt the butter over medium heat
Add capers and continue to cook until the butter solids become brown.
Strain through a fine mesh strainer.
Keep hot until ready to use.
Cordyceps Mushrooms
In a pan heat up clarified butter
Add cordyceps mushrooms and saute until tender.
Season with salt.
To Plate (1 Portion)
In a bowl ladle in Bacon Bouillon
Place Trout in the middle of the bowl
Add a small amount of lemon zest and sel gris to the top of the trout.
Drape Cordyceps mushrooms on top of the fish and try to cover the sides of the fish.
finish with a small spoonful of the caper brown butter over the Boullion.