Travel Dish spotlights Michelin-star chefs, master mixologists and global gourmet treats that you can recreate at home.
Fasten your seat belt for the background of Israeli Chef Eyal Shani who has 40 restaurants around the world including Tel Aviv, Ibiza, Singapore and Melbourne. Stateside, there are 7 in NYC alone, with outposts in Boston and Miami. In new and highly anticipated news, two of his top restaurant concepts, will be opening at the Venetian Resort in Las Vegas soon.
Originally from Tel Aviv, Chef Shani is often described as a "founding father of modern Israeli cuisine." He will make his mark on the Las Vegas Strip opening his two popular restaurants, interactive Mediterranean sensation HaSalon and fast-casual Miznon, which offers a unique take on pita. They both showcase the riches of Mediterranean cuisine and HaSalon will open in early 2023, with Miznon bringing Israeli street-food favorites to the resort in late 2022.
We decided to connect with the very prolific Eyal Shani to find out where he finds inspiration around the world and what we can expect in Las Vegas. And, scroll down for one of his most famous global recipes.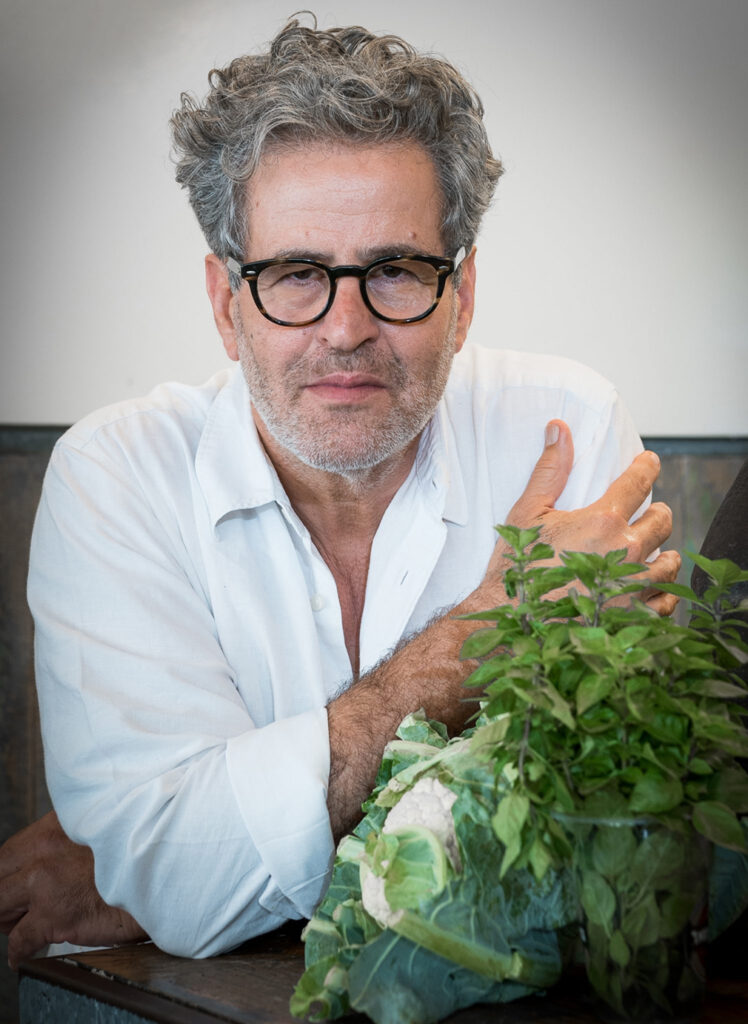 Can you describe your approach to 'Modern Israeli Cuisine?
The first step was to find inspiration. That was the nature of Israel. Israel is a small country and there's not much agriculture. There are, however local herbs in the mountains around Jerusalem in the Galilee mountains Mountains. I began with sage, oregano, thyme, rosemary. I looked at the Arabs and I saw that they are using olive oil and eating lambs. These were the first steps in finding signs of locality. It was about ingredients. It was about answering the question: what is the endemic food of Israel.
And now the young chefs are looking on NOMA and on fermentation and trying to copy it. But all of these things are very strange to Israel because you can import it, you can copy it but there's a gap between copying it and translating it into the thing that you think that you are.
They're reacting very quickly the Israeli chefs. They are the first in the world to put their finger on the place where they can find the new thing that is going to come into the world and before everyone else in other places is catching it, the Israelis are marking it and importing it and recreating it.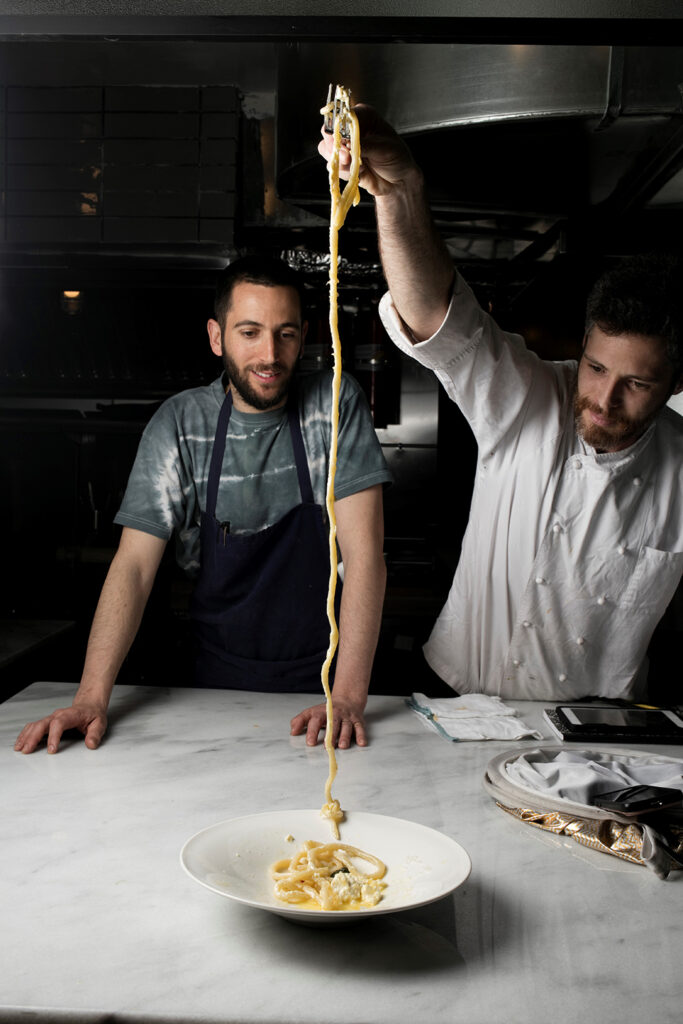 Fashions are coming and going. The chefs are very flexible. In the end, this is because they come from a lot of different cultures. In the beginning, the government cut the roots of the Israelis, they are now looking back and trying to find their roots while still making them their own. Using new methods combined with the history of their cuisines to create something new.
There are a lot of people that are trying to create new shapes. In some way, the key is to work outside of your instincts but not out of your knowledge. Sometimes people will take all of the details of a dish and assemble it. But we are not assembling. We are recreating it from the bottom to the top for each plate that we are making. It's a big difference.
That's what's so beautiful about Israeli cuisine. The cooks are not afraid to break the borders and they are not afraid to recognize this.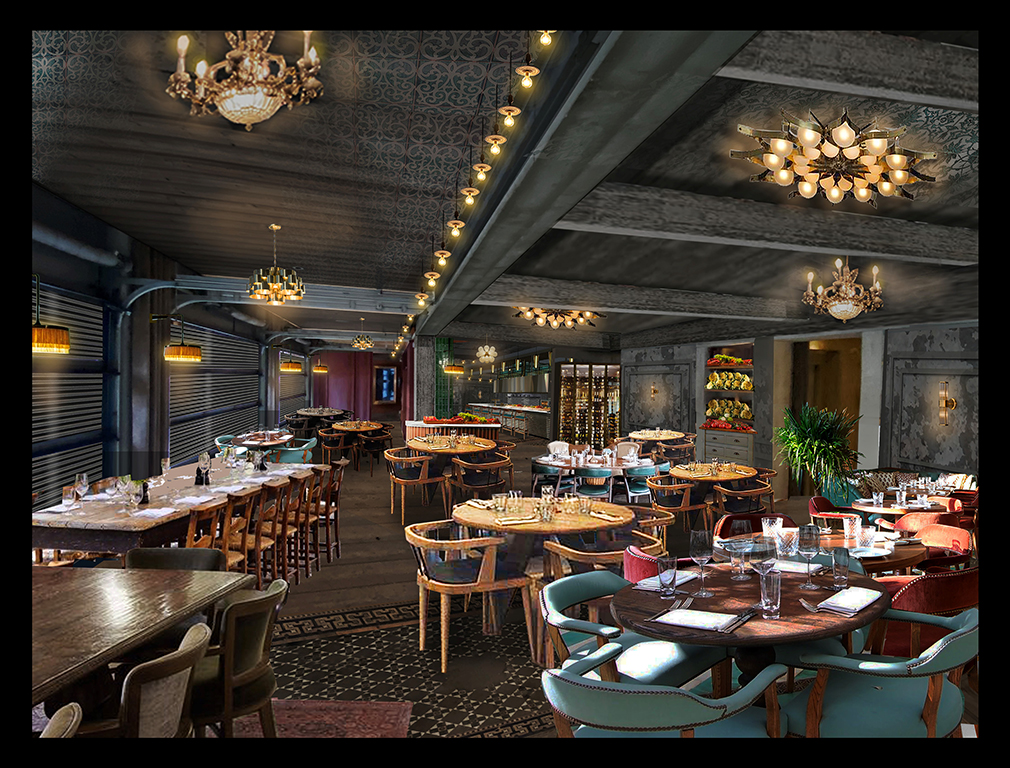 What are some of the street food dishes that you will be bringing to Vegas this year?
When we [myself and my team] come to a place, we are trying to analyze the idea of the place, the idea of the culture, the thinking and dreams of the people, even the things they don't know they're dreaming of. We try to find the essence and try to translate it into a pita, into a plate.
For example, imagine we are sending a lot of people to the moon. We are building a lot of neighborhoods there and we have to give them food. We should give them Italian food, Japanese food, and burgers, etc. but there's no connection between the burger and the condition of the moon. We are not going to be inspired by the food that's there. There is no food on the moon. The inspiration, therefore, is coming from the energy and mood of the place, and the reason for the place. This is what we are doing with Las Vegas. It's about the energy of the food much more than what is going to be inside the pita.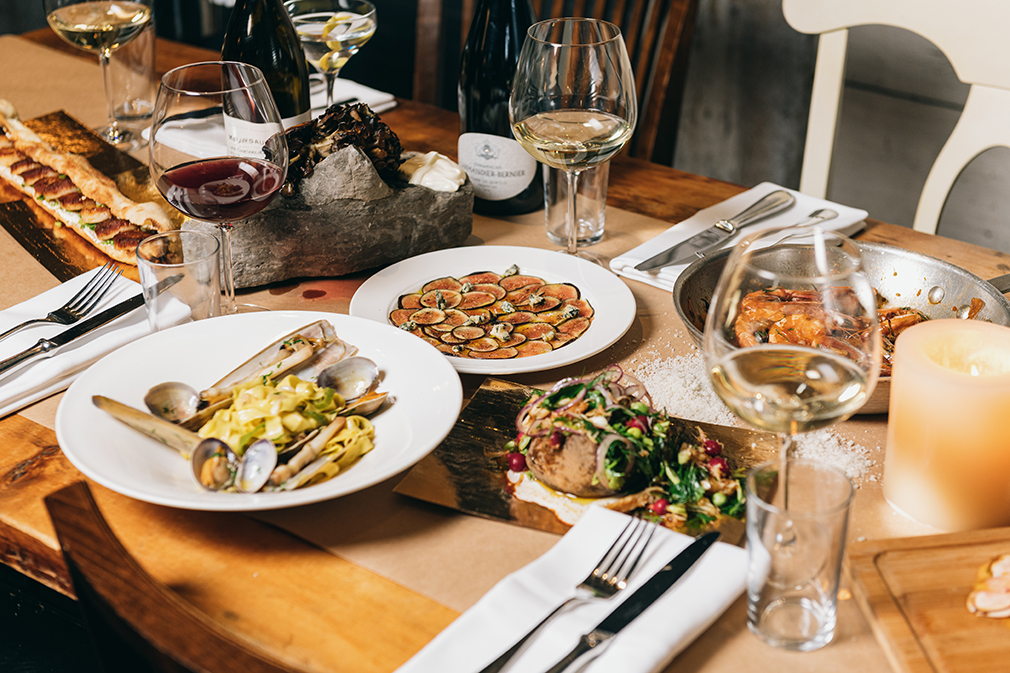 With so many restaurants around the globe and in the U.S., why did you want to open in Vegas at this time?
It's very edgy there. It's bringing attention to your chance, bringing it to the edge. You can come poor and end rich, you can come rich and end poor. It's a high-risk territory. And that is seducing. It's similar to how we're working the risk with food.
When I first gambled three years ago, I didn't know how to play roulette but it's easy to understand it. You have to find your position, how to gamble. You have to stay alive. I asked myself what do I have to do? And then I understood that to gamble is very similar to the act of making food in a restaurant. Because you have to feel very precisely in that moment where you are standing and you have to create the immediate ability to touch the part of your soul and make a decision in the same way you create your food. I stood on the roulette table like I am a chef that's doing a dish on it. In my first steps, I made one movement after the next, about 20 times. I didn't lose because I created dishes with those coins. I looked at the numbers and found the matrix of the numbers inside myself like I feel the matrix of the ingredients of the dish inside myself. In that way, I won.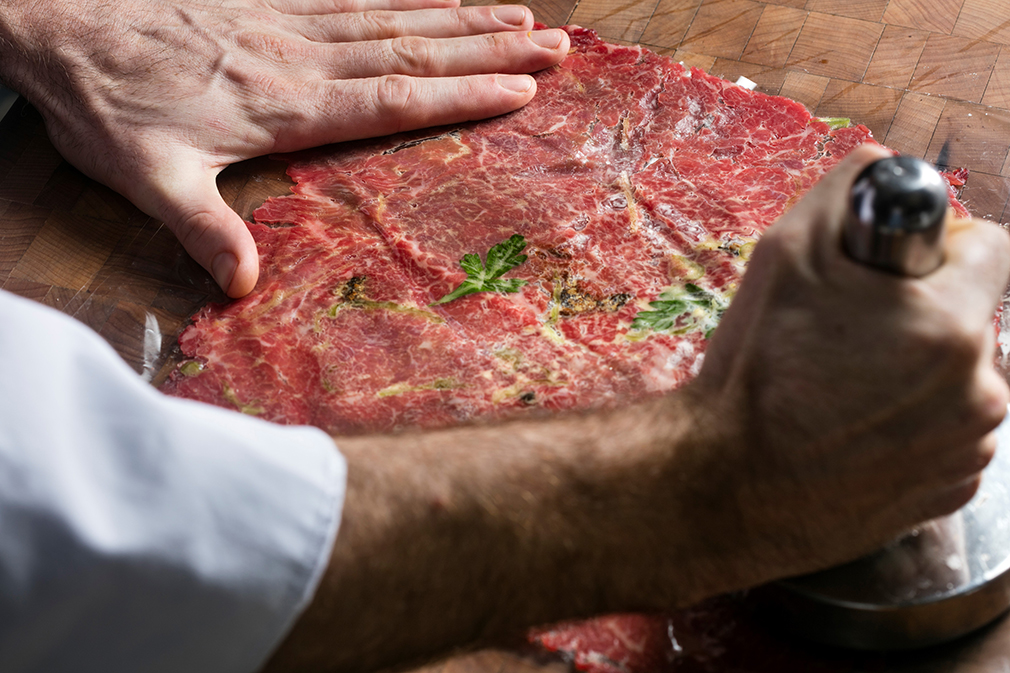 Where do you like to travel for inspiration in the kitchen when you are not working?
First of all, I am always working when I travel because it's like there is a big dictionary inside my head and I feel that I am trying to collect the words that belong to the nature of the cities I visit. I put these things inside myself without thinking about it. And I find myself assembling things that do not connect to each other and forming it into a dish.
If we are talking about inspiration from food, it's mostly not coming from visiting cities. It's coming from traveling into the sources where they are creating the basic of the basic traditional food.
There was one restaurant that I found in Ibiza on a very small beach. It's something unbelievable that's happening there. There's the first shift and second shift, like in any other restaurant. There is no kitchen, there is a cave. The restaurant is a cave with a veranda where people are sitting and eating. There they are lighting fires under the roof. There is a plancha, a piece of warm iron. They've got a fishing boat, a very small, modest one. In the morning they are getting out to sea, fishing their fish, bringing them into the cave. And then, they are taking the fish and cutting them into very small steaks and roasting them on the plancha, above the burning wood. When they are flipping it, they are brushing it with olive oil and parsley. They are placing it with seven layers. The freshness is unbelievable. It is like you are eating the power, the depth of the Mediterranean. I took everybody to this restaurant and I will never forget in my life. Very elementary, but very crystallizing. It's a very pure food. There is no foreign influence. It's a food that belongs to the precise place, precise time, that it's made and that you are there. It's something very rare to find in the world. Chefs around the world are making combinations, but when they do this they're masking it. I want to meet the food without the masks.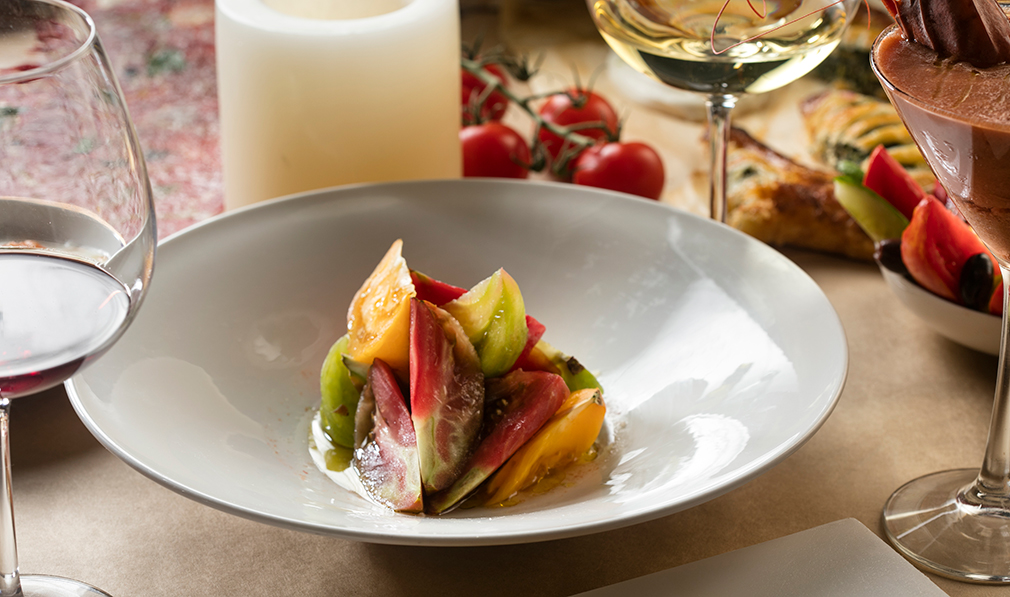 Any other favorite restaurant locations to visit?
When I'm going to my home in Italy, I'm flying to Malpensa in Milan. I have to travel three hours by car to get to my home. I always fly at the right time so I can come to the noon service in a very famous Italian restaurant called Bice. It's a very classic Italian restaurant, 130 years old, the 5th generation managing it. You are eating the best parmigiana in the world. The best spaghetti vongole. You are eating the best bread, the best olive oil. Nothing is new, but it is a very modern restaurant. It's a thing they know very well how to do. These restaurants are very rare in the world and in Italy also.
Of my restaurants, I like to visit HaSalon in Tel Aviv. Even though I have no continuity with her now, it wasn't created out of knowledge. It was created out of my senses and my instincts. In New York, I like to visit SHMONÉ. I think that in SHMONÉ we created the freedom that a chef has to get, but often cannot get in New York. I feel that he has such freedom to move between his own history and my own line, and mix both with the atmosphere of New York inside it. He's bringing the freshness that is rare in New York into restaurant food. On the other hand, to assemble all of it inside one language, where everything is addressed with the other thing, is something really great that we have there. And it's a real restaurant. It's so fantastic and there's so much to do there. He has such a long life to live and create there.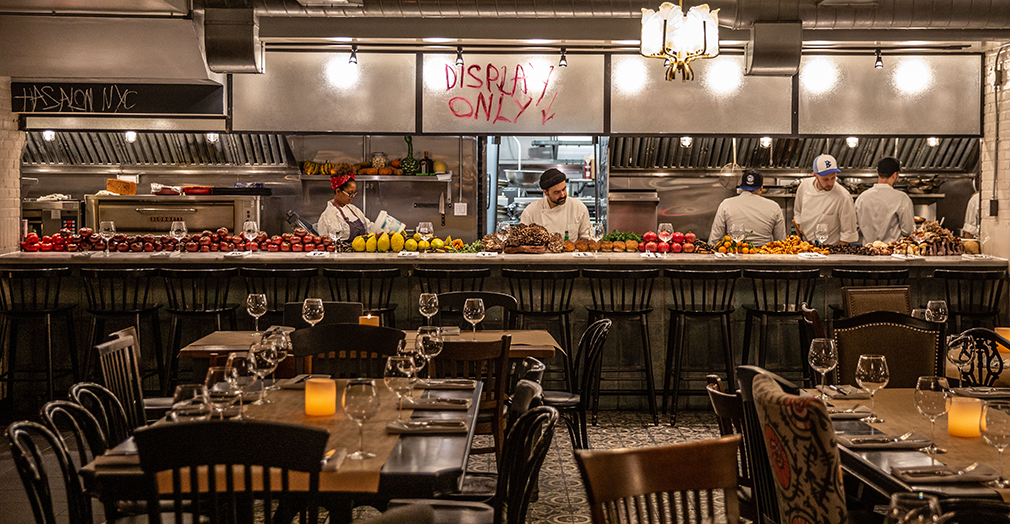 Can you share with us any other openings we should be on the lookout for in 2023?
HaSalon Las Vegas. Miznon in Spain (Barcelona and Madrid). My own version of Italian cuisine is very similar to my own cuisine in Tel Aviv.
Whole Roasted Cauliflower from Chef Eyal Shani
Available at Miznon restaurants around the world
---
1 Flower (A Cauliflower)
In short: We will never break any more flowers
1 medium-sized cauliflower
Water for boiling
Salt for water (1 gram per liter)
10 ml olive oil
2 grams salt
Instructions:
Slightly cut the base of the cauliflower but make sure to keep the leaves intact. Boil the cauliflower for about 7 minutes, it is ready when it gives in to a fork while still a little firm.
Take out of water and place in a baking tray. Let the cauliflower chill and then rub it thoroughly with olive oil. Sprinkle the salt and place in an oven preset to 480 ºF.
The cauliflower is ready when it's a beautiful golden brown. For serving, heat the cauliflower, drizzle some olive oil and a bit of salt. The cauliflower is served in parchment paper that wraps it like petals.
Please note: Keep the right boiling time. An over-cooked cauliflower will fall apart in the oven and be soft and gooey. An under-cooked cauliflower will be hard-textured and unpleasant to eat.
The green leaves are some of the tastiest parts. Keep a good quantity of leaves, the cauliflower also looks better that way. Before placing the cauliflower in the oven, the excess water should be removed from it.