The travel boom is upon us and doesn't look like it's letting up anytime soon, not that a destination like Paris needs the help of post-pandemic forces to be popular with American romantics. As the days between New Year's and Valentine's Day get fewer and far between, the eternal impulse to spend spring in France's most charming city gets stronger. So if you're one of the lucky few who found a great deal on a plane ticket to Europe, or just decided to splurge on a trip to Paris, here are a few hotel recommendations that will still give you a great taste of the city and culture, and a picturesque lot of moments, without further running up your credit card bill.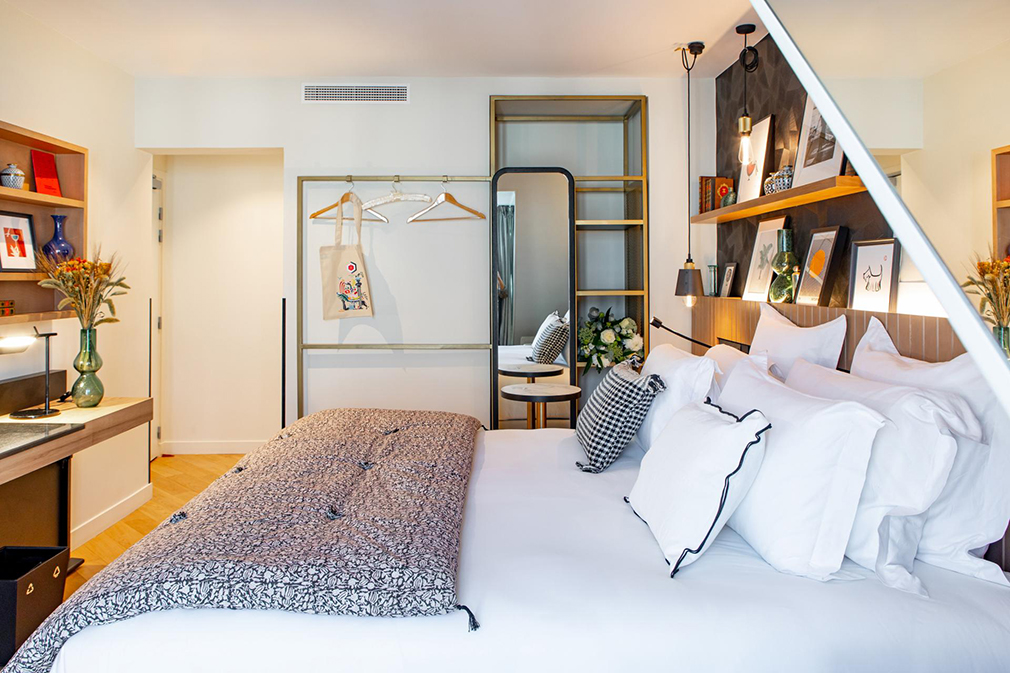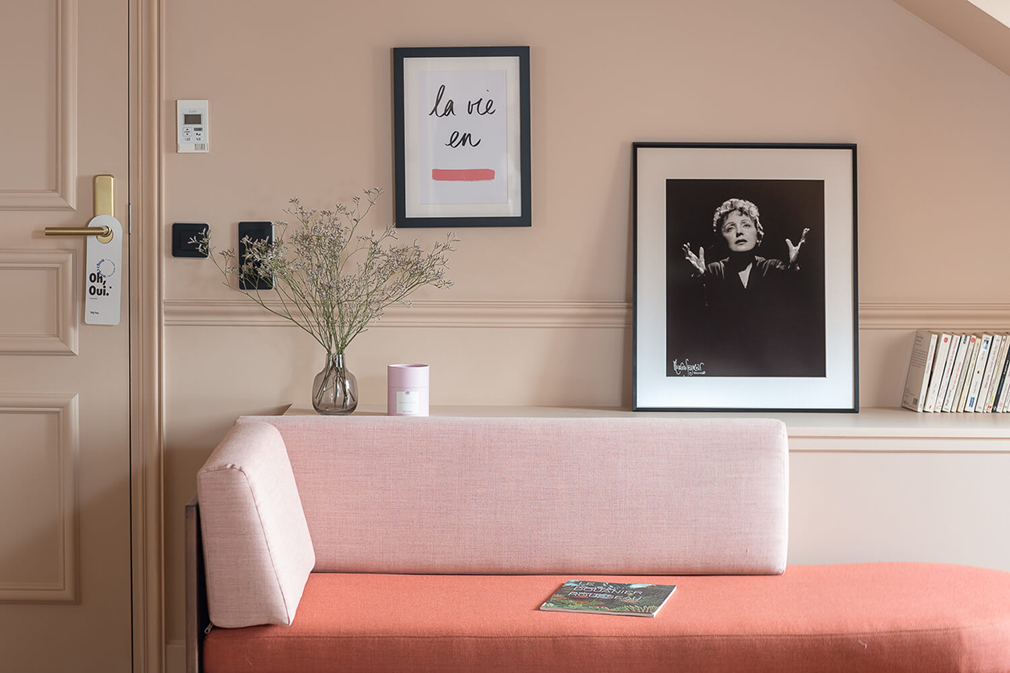 Maison Mère
9th Arrondissement
With just 51 rooms, the imminently cozy Maison Mère is perfectly located for seeing the sights, as it's within walking distance from both Sacre Coeur and the Moulin Rouge, plus a host of great restaurants and shops in the Opera District. The rooms themselves are luxurious little capsules of Parisian decor, with customized art and books in every room, comfy full-sized beds that avoid the double-twin-posing-as-king mattress paradox, and a sleek, modern bathroom. If it's a working holiday, the lobby doubles as a coworking space—a rarity in European hotels—and there's ultra-fast wi-fi, a built-in desk in every room, and even a personal tablet and TV if needed. Foodies can venture out to the nearby ChoCho for inventive tapas or Racines, a Michelin-lauded bistro known for elegant Italian staples.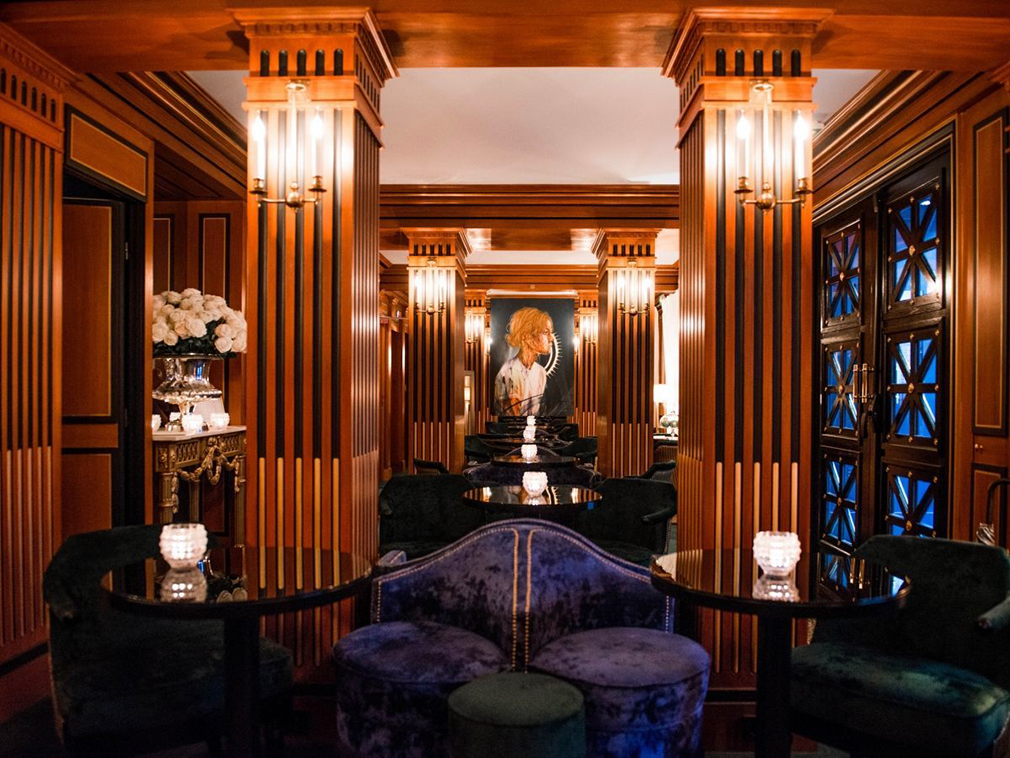 La Chambre Le Marais
Le Marais
4th Arrondissement
For plenty of visitors, La Chambre du Marais is the number one Parisian neighborhood on their radar, as its cobblestone streets of charming shops, tucked away mansions and gardens, and thriving cafe culture make it a French daydream come to life. Stick close to the heart of this effortlessly romantic area with a stay at La Chambre du Marais, one of many beautiful options in the 4th Arrondissement, but definitely among the more affordable without skimping any on the quality. Every room is different, done up with brocade touches, gilded picture frames, and old-world wardrobes and crown molding. There are only nineteen rooms in this tiny boutique property, but the bustling "Bar De La Chambre" serves both hotel guests and locals from noon to midnight.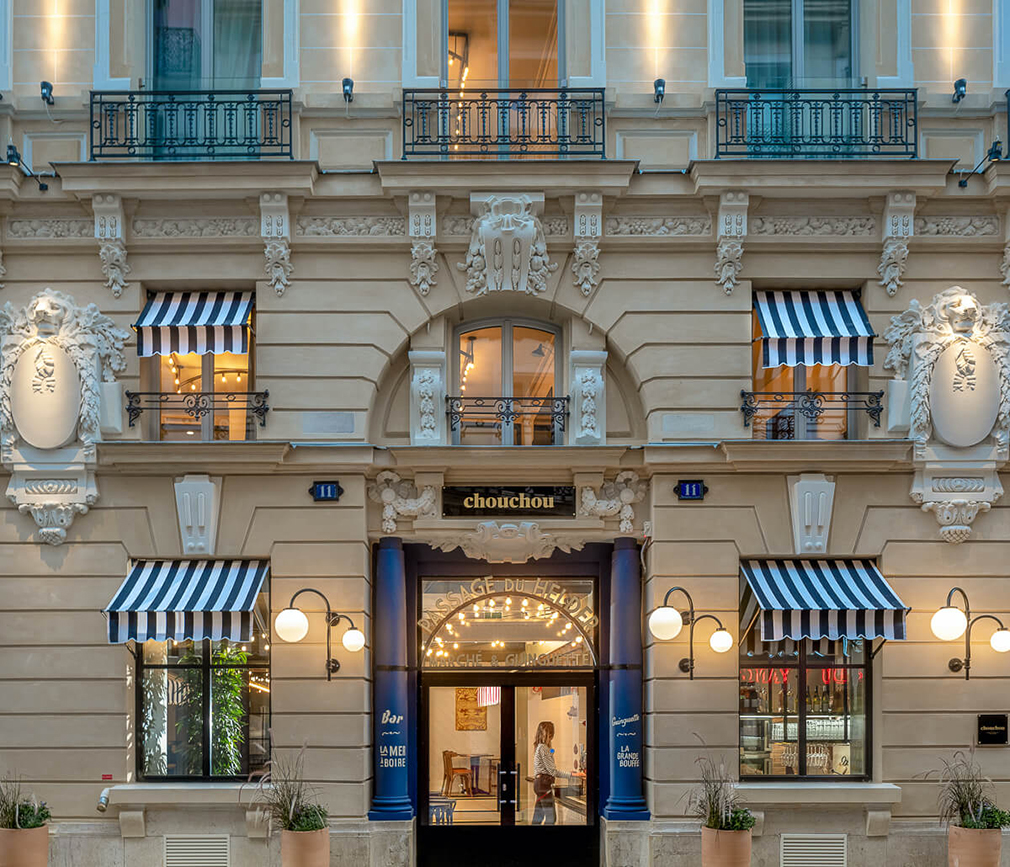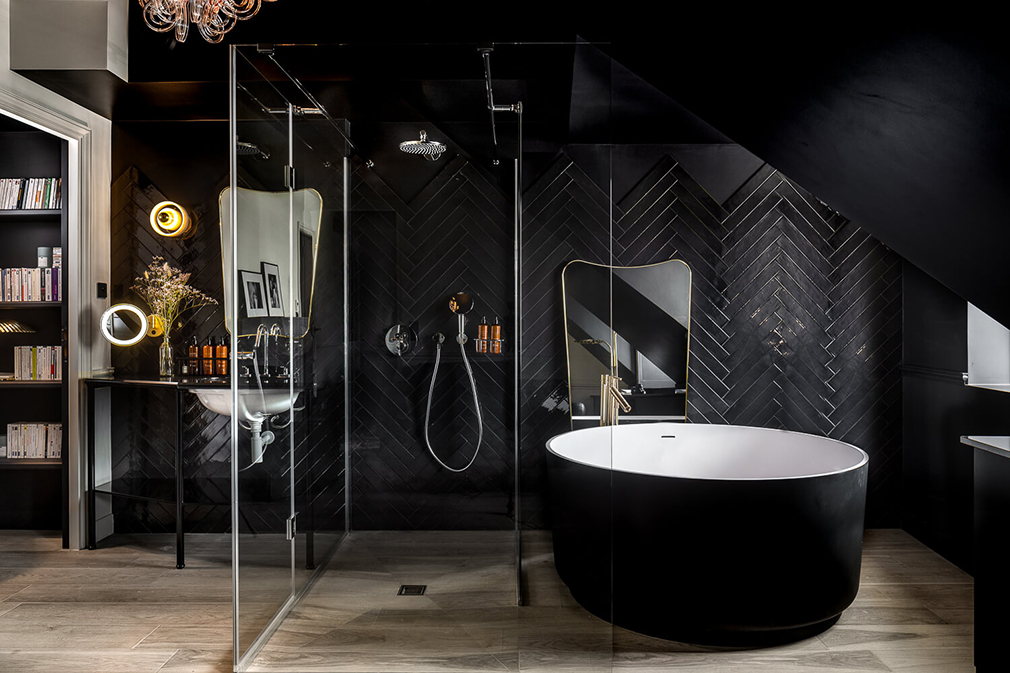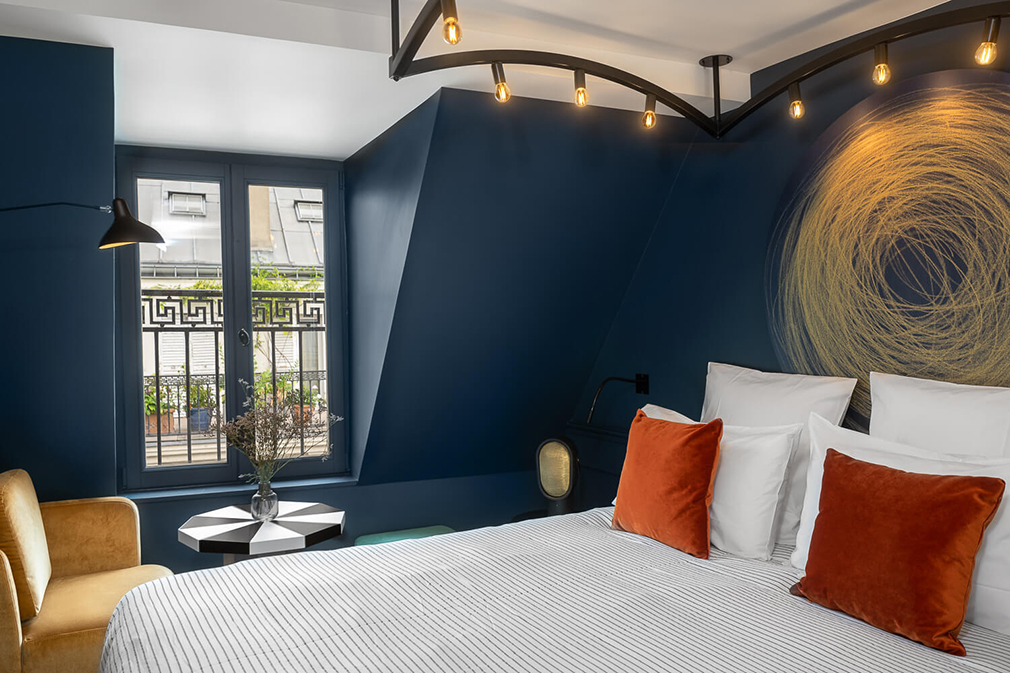 Chouchou
Opera District
Named after the French nickname for pet, Chouchou, this chic hotel is a destination not just for travelers, but also for their ground floor restaurant, Bar Guinguette, which regularly hosts live entertainment under a greenhouse-style glass roof, and their public baths. What Americans might call a spa tub, these secluded little enclaves are available for rent to both hotel guests and other visitors, and an incredibly unique romantic experience—or relaxing moment of self-care. As for the 63 rooms, each is decked out in royal blue finishes that define the property's visual aesthetic, with modern light fixtures and art, enormous windows to let the light in during the day, and thick velvety curtains to keep it dark during the night.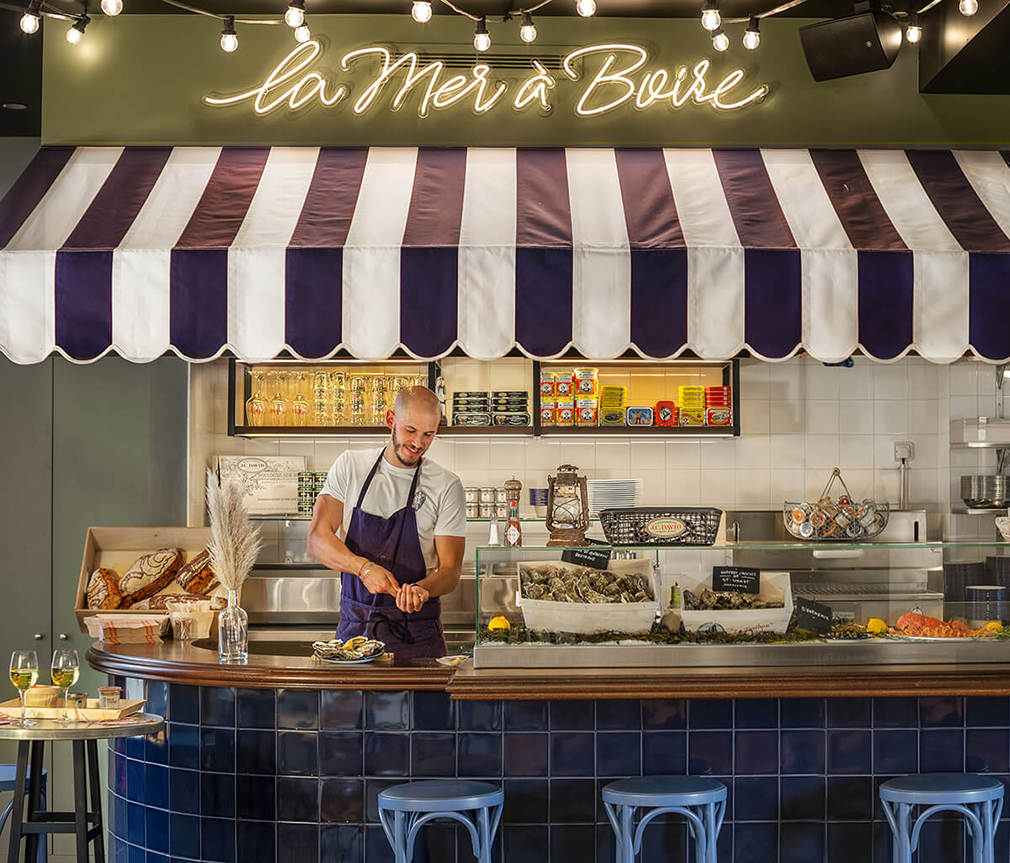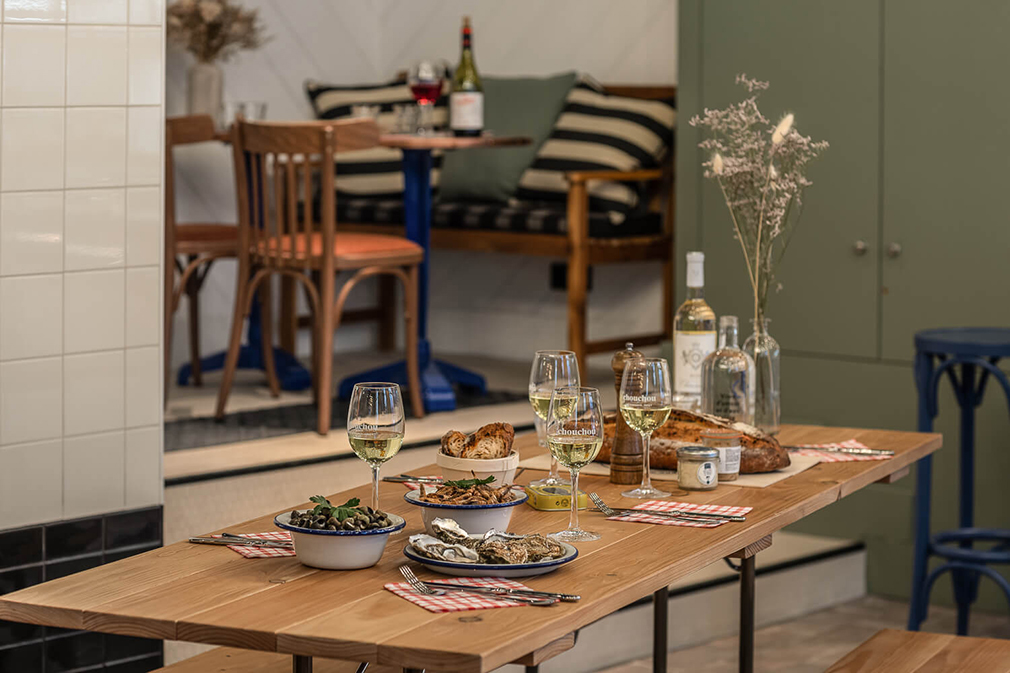 Hotel Grand Amour
10th Arrondissement
Older sister to Hotel Amour, which boasts an absolutely beautiful garden a little closer to the 9th Arrondissement, Hotel Grand Amour is the kind of hotel that's cool enough to release their own compilation album. It's a must-stay for music lovers, with disco balls in the ceiling and their own outdoor patio and restaurant. This one is a bit more of a splurge than some of the other options on this list, but with bathrooms made of gorgeous pink marble or bright blue tile, plenty with their own standalone tubs, the love is real. Given this hotel's name, it's obvious that couples of all kinds are more than welcome to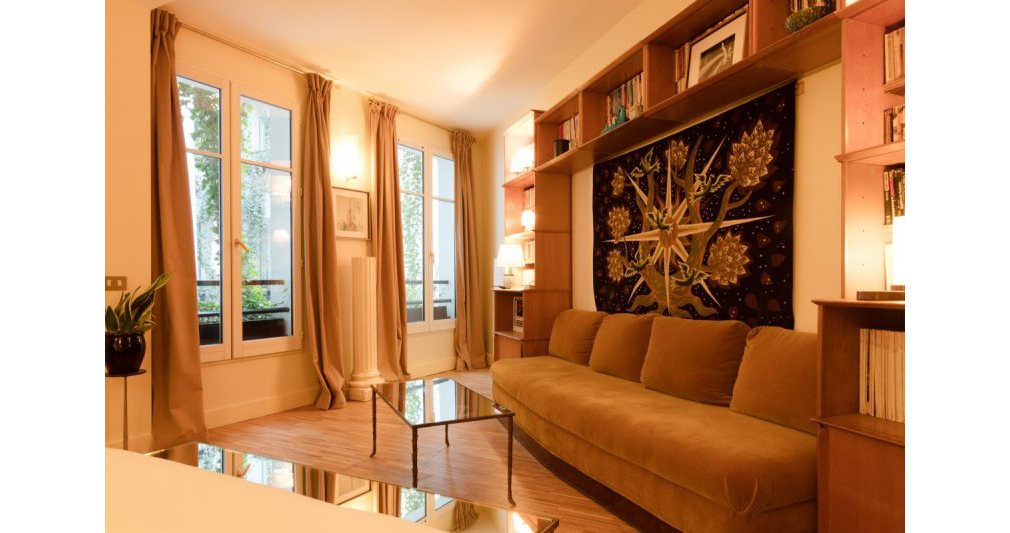 Hotel Bradford Elysées
8th Arrondissement
Part of the expansive Astotel network, a collection of 17 boutique hotels spread across Paris that travelers on a budget should definitely keep in mind, the Hotel Bradford Elysées
is one of the budget-focused network's more elevated four-star hotels. Located in the 8th Arrondissement, which is beloved for its proximity to the Seine river and the Champs Elysées, the museums and parks in this neighborhood make it great for those who really want to explore Parisian culture. While plenty of European hotels are defined by cramped staircases and tiny hotels, the nearby sister hotel, Hotel Le 123 Elysees, is ADA accessible for people with reduced mobility, without sacrificing any boutique appeal.