It would be obvious to showcase the grand hotels of Europe from Venice to Vienna with treasure-troves of art in historic buildings that are museums in their own right. We decided to highlight some of the most interesting under-the-radar and historic hotel finds in North America, Australia and Africa with world-class contemporary collections that you might not have known about. And, if you stay at one of these spots, you can sleep amid works by Warhol and Basquiatwhile skipping the lines at the local museum.
Art Concierge in Tel Aviv
Amid the UNESCO-protected Bauhaus buildings of Tel Aviv's White City sit The Norman Hotel's two 1920s townhouses, which house elegant rooms with bespoke furnishings and Israeli artwork The pieces are a host of media; painting, sculpture, print, photography and textile are by internationally recognized artists. The Norman Art Collection of original Israeli contemporary art was curated by Tamar Dresdner until 2018, and from 2019 until today additions to the collection have been curated by Robin Greene.
The art concierge service helps guests interested in purchasing from the collection as well as offering a special kind of exposure to the Tel Aviv art scene through lectures by the featured artists and personalized art tours to galleries & artist's studios, within the hotel's vicinity.
Within the collection are artworks by renowned Israeli artists such as Miriam Cabbesa, Sigalit Landau, Irit Azoulay, Carmel Ilan, Moshe Gershuni and Tsibi Geva, together with emerging artists such as Shir Moran, Liat Livni and Orit Fuchs. Additionally, works are currently on loan from the Start Collection, by Serge Tiroche, Gordon Gallery, Hezi Cohen Gallery, Givon Gallery and other high-profile galleries and artists. For art enthusiasts, the Concierge team is able to arrange tailor-made art tours, studio visits, and invitations to gallery openings, in order for guests to best experience Tel Aviv's vibrant art scene.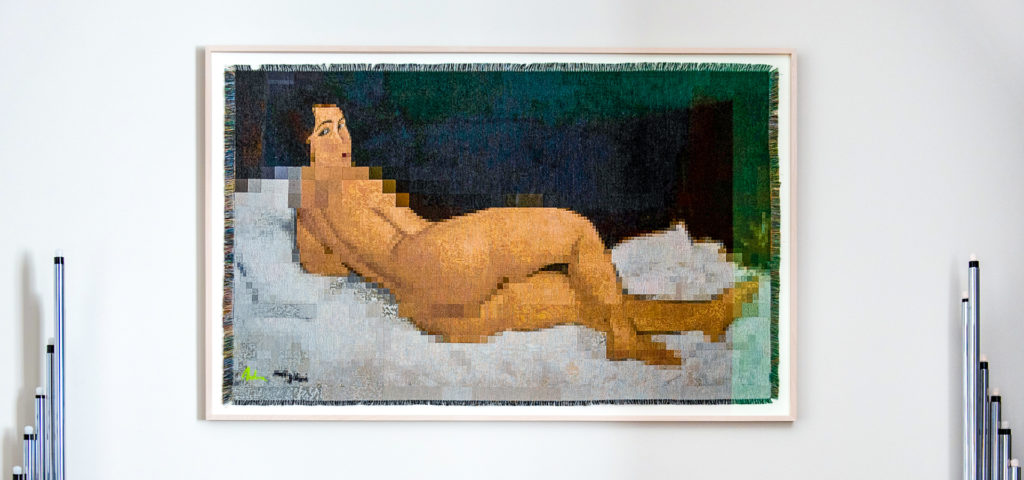 Africa
Botswana's Xigera Safari Lodge's showcases the world's largest art collection of Southern African art and design in collaboration with Cape Town's acclaimed Southern Guild Gallery. Guests are invited to stay in a 'living gallery' of bespoke works commissioned exclusively for the property by Africa's hottest up-and-coming local artists including Adam Birch, Madoda Fani, Porky Hefer, Otto du Plessis, Stanislaw Trzebinski and many more.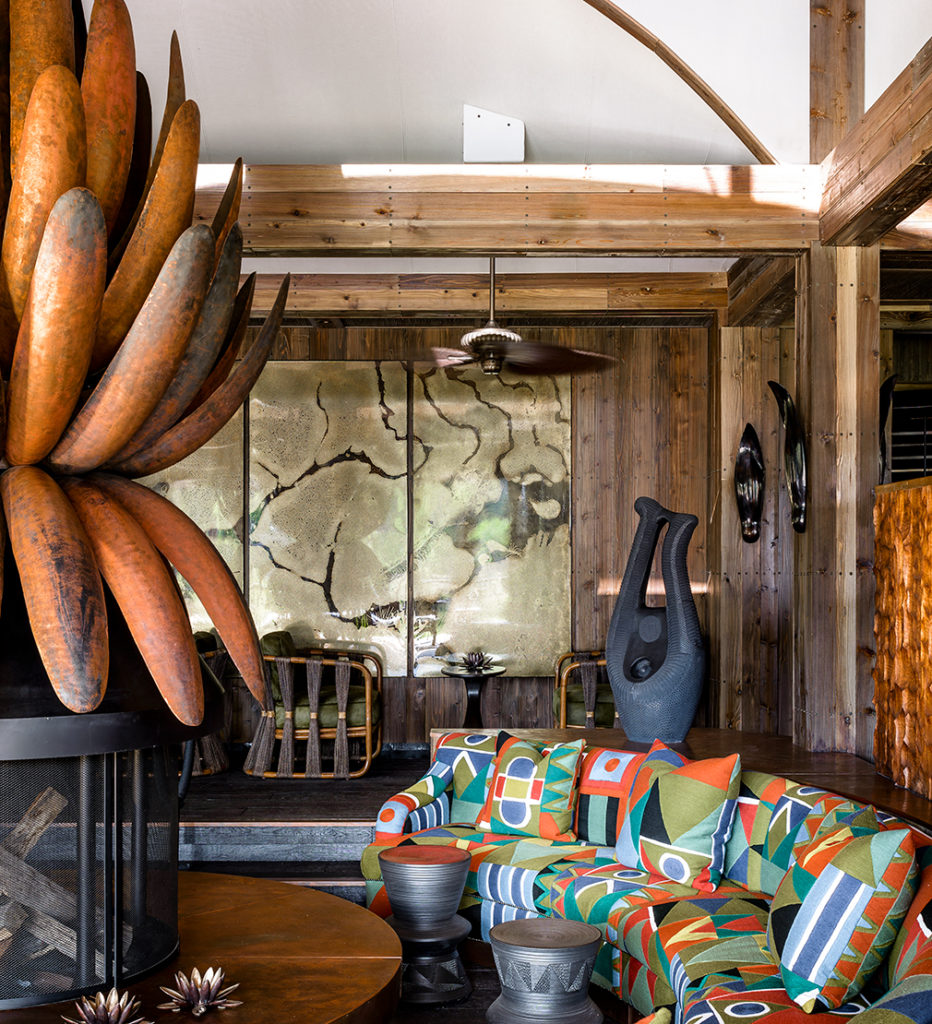 New York
The storybook Village of Aurora near the waters of Cayuga Lake is where you will find the Inns of Aurora, a lakeside luxury boutique resort. Five impeccably decorated boutique inns are adorned with extensive selections of original art from founder Pleasant Rowland's personal collection, including works from David Hockney, Wolf Kahn and Helen Frankenthaler. The resort's new healing and wellness center, the Spa at the Inns of Aurora, was designed by award-winning global design firm Hart Howerton to promote deep healing and harmony. Showcased throughout is additional artwork from Pleasant Rowland's collection including works from Tom Wesselmann, Sol LeWitt, and Jennifer Bartlett, who created two of the major works in the Spa — "Apple Tree" and "Mirror."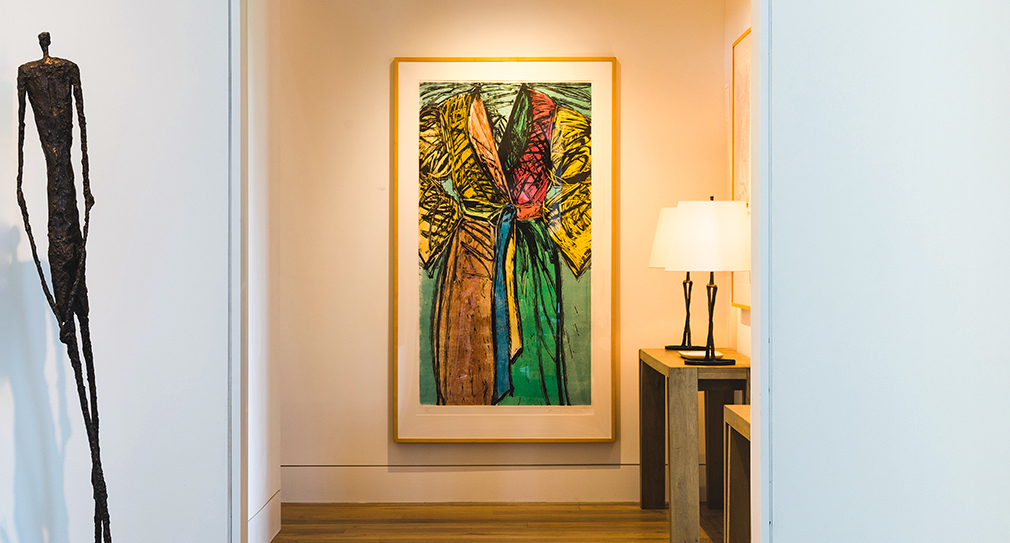 New York City boutique luxury hotel, Dream Downtown, is launching the largest permanent NFT exhibition in partnership with The Crypt Gallery. The gallery will encompass 70 digital displays embedded throughout the hotel's main lobby areas and Swing Room. This is the second NFT exhibit in Dream's portfolio, as the company originally partnered with The Crypt Gallery to launch an NFT installation at sister West Coast property Dream Hollywood in July 2021.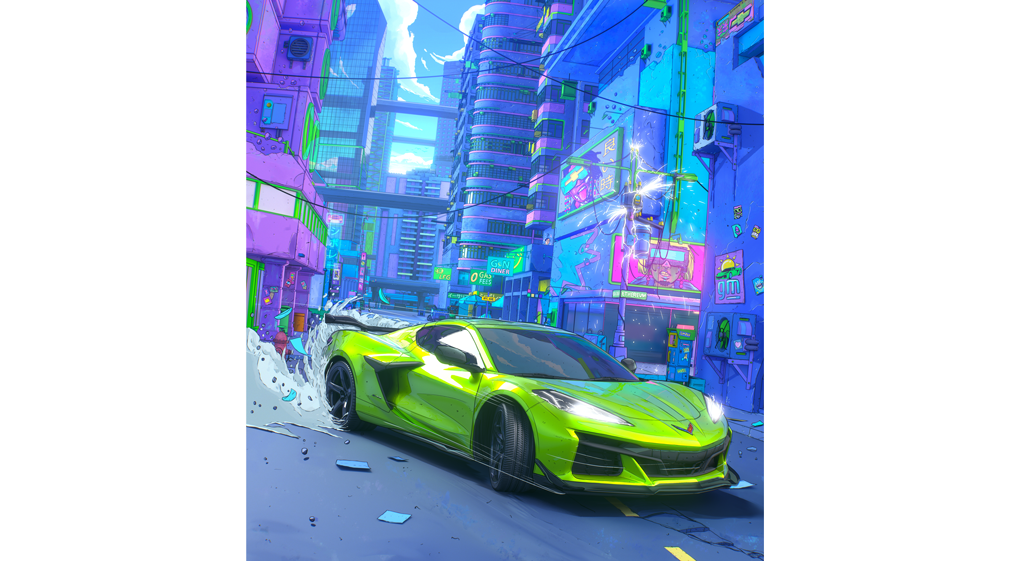 West Coast
Since its inception in 1926, Hotel Figueroa has been a hub in downtown Los Angeles for creative souls while paying homage to the hotel's feminist roots and female solidarity for close to 100 years.
As part of the ongoing support of the arts, the hotel showcases the work of L.A.'s most compelling female artists and culture-makers, ranging from emerging to internationally established talents in a rotating art gallery. The creative work flows to the guest rooms and hand-painted elevator banks by local women artists such as Gabby B-Vasquez, and even the building exterior features a 13-story high custom Fig motif designed by U.K.-based muralist Bella Gomez. The main lobby and café has art and sculpture at every turn and the long hallway leading out to the pool area and other restaurants and bars is lined with the Featured Artists Series Exhibit. Hotel guests and visitors can also purchase the art.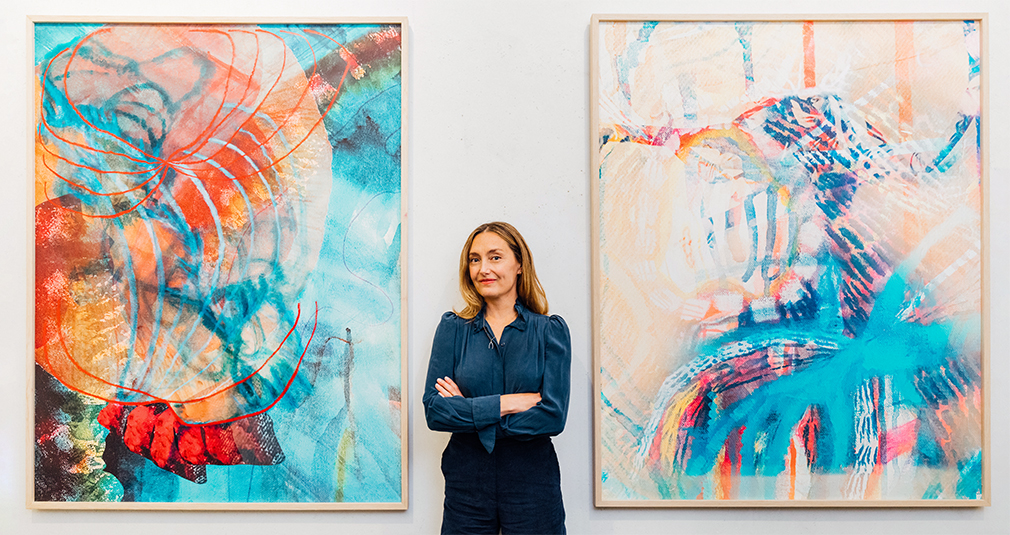 Tucked away in the hills of Bel-Air the serenely bucolic Hotel Bel-Air surrounded by greenery and floating swans, not only houses a Wolfgang Puck restaurant and a piano bar with original photography by legendary Norman Seeff, that ranges from Tina Turner to Mick Jager and Steve Jobs, but the lobby also hosts rotating blue chip art exhibits like the current Timothy White collection.

If you left your heart in San Francisco, head to the French Quarter, at the crossroads of Union Square, the Financial District, and the gates of Chinatown, to Hotel Des Arts. Not just a prime location, the uniquely-designed guest rooms were created by local artists and the hotel showcases the contemporary works of emerging artists from around the world. Walk the halls as if you're in a museum gallery and continue the experience with art in your private suite. The hotel provides an environment where people can experience art in a new and more immediate way.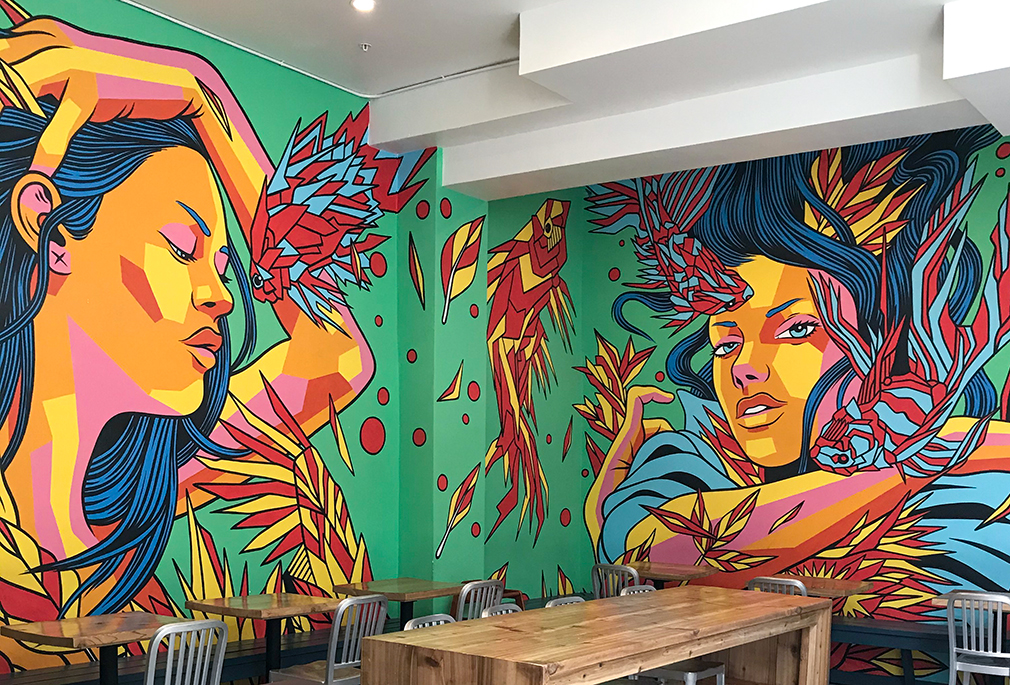 Coming soon to Victoria, BC, Canada
Oak Bay Beach Hotel: Nestled on the shores of the Pacific Ocean, the Oak Bay Beach Hotel is considered Canada's landmark luxury hotel. The hotel prides itself on serving the Victoria community by supporting local artists, community fundraisers, and broader partnerships. In partnership with The Madrona Gallery, the hotel will highlight Canadian and international artists through rotating exhibitions beginning in July 2022.
Dallas, Texas
HALL Arts Hotel is located in the Dallas Arts District. Living up to its location, the hotel has a curated collection of inspiring and surprising works of art populating the public spaces. Each of the 183 well-appointed rooms, including 19 specialty suites, features local photography, many of which were inspired by the juried "Through the Lens" photography competition. In addition to admiring the art in passing, guests are invited to join the hotel's Experience Curator for an exclusive art tour every Thursday-Saturday from 4:30-50:30 p.m. for hotel guests only.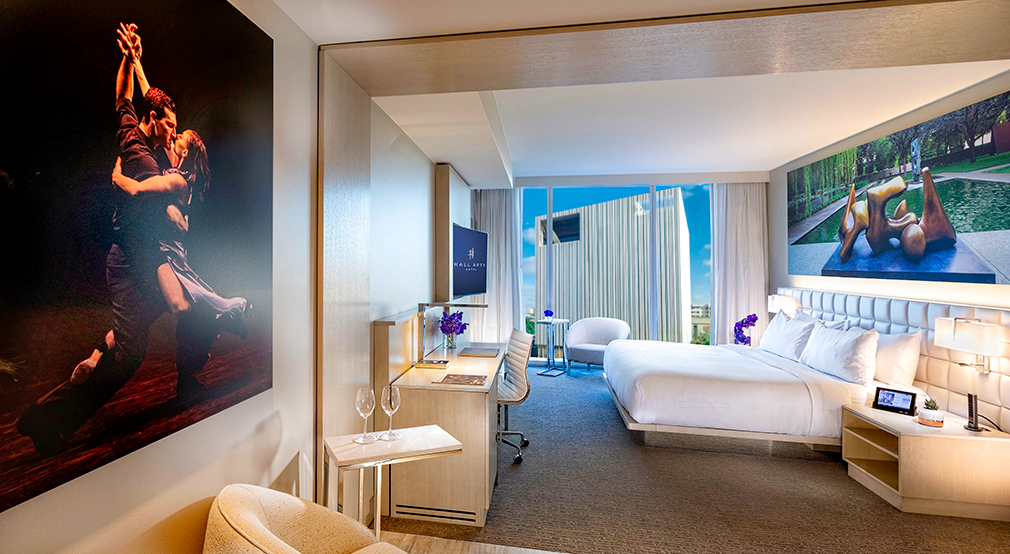 Built in the 1920s and once the Dallas National Bank, this neo-Gothic landmark was transformed into The Joule in 2008 and is now a cultural landmark in downtown Dallas. With a lobby that resembles a contemporary art museum, The Joule features a larger-than-life issue of TIME, engines encrusted in crystals, rescued and restored mid-century glass mosaics and pieces by prominent artists including Andy Warhol, Tony Cragg, Roger Hiorns and more. Just across the street, admirers cannot miss one of Dallas's most popular photo-ops from on Main Street: the 30-foot-tall fiberglass, steel and resin sculpture by Tony Tasset, The Eye.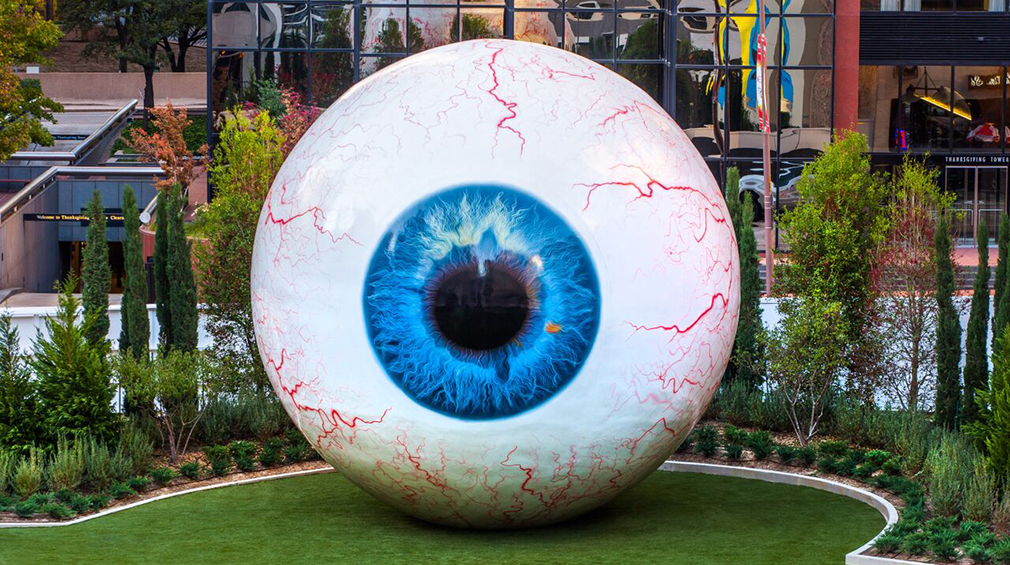 Hotel Dryce – Fort Worth, TX
Hotel Dryce is a new boutique hotel in Fort Worth's Cultural District, which is housed in a repurposed dry ice factory and features artwork by emerging BIPOC artists funded through a grant with local non-profit art gallery Art Tooth. Fort Worth artists Brenda Ciardiello, Guillermo Tapia, Jean Fernandes, Adam Mckinney and Niki Dionne created custom artwork, ranging from feltwork and photography to performance art, that represent the city's funky roots and diverse community.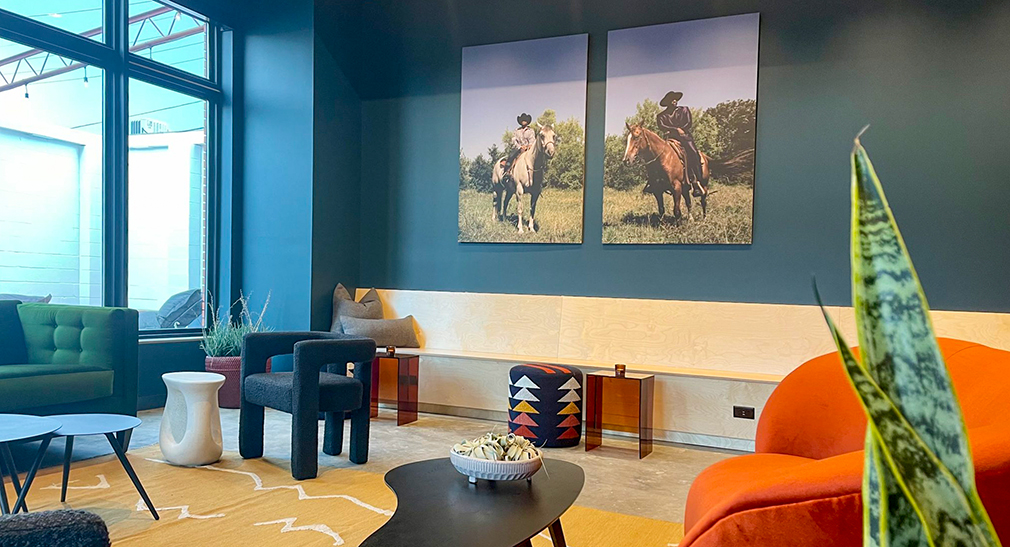 21c Museum Hotel – Kansas City, MO and Lexington, KY
Visitors of the 21c Museum Hotel in Downtown Kansas City will be immersed in contemporary art from their guest room to the on-site museum. Housed in the historic Savoy Hotel and Grill building, each of the 120 guest rooms are decorated with original artwork from the 21st century. Even non-guests are free to explore the six galleries with curated exhibitions, site-specific installations and cultural programming from emerging artists.
At the sister property, 21c Museum Hotel – Lexington, KY, you'll find a rotating set of eye-catching art exhibits filled with over 2,000 works including commissioned artwork by some of the contemporary art world's most exciting artists as well as emerging and established Lexington-based artists. 21cLexington is housed in the former Fayette National Bank building (originally designed in 1913) and located in downtown Lexington's Historic District. Last year, the hotel debuted a Queen's Gambit-inspired "Harmon Room," from the series (set in Lexington, KY), including a larger-than-life chessboard installation suspended from the ceiling.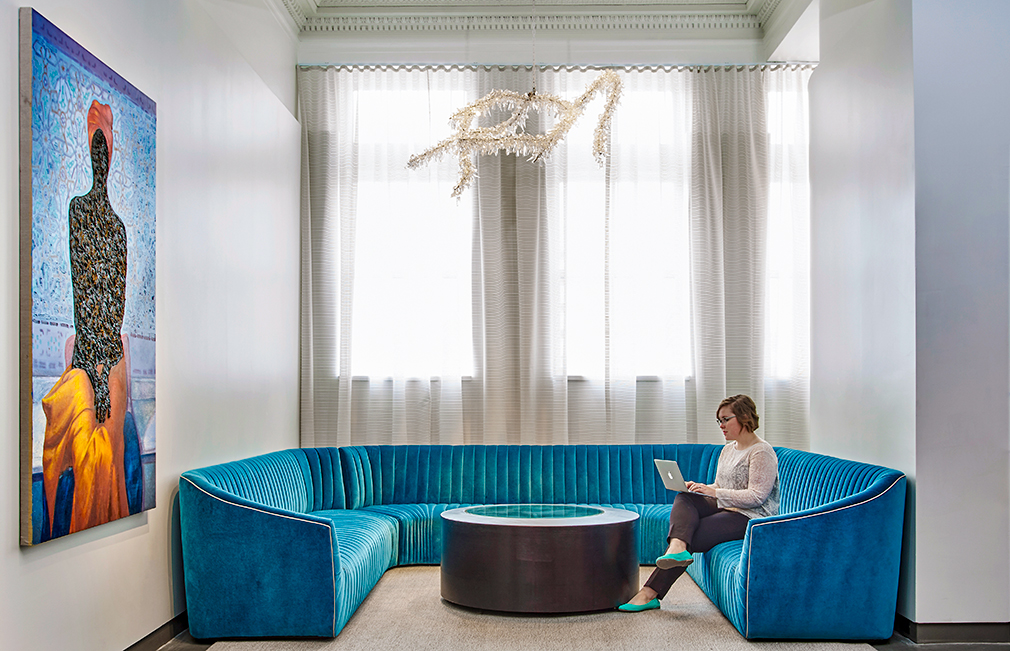 Nashville, TN
Conceptualized by the Pizzuti family, with architecture by Arquitectonica and bespoke interiors by INC. Architecture & Design, The Joseph, a Luxury Collection Hotel, celebrates Nashville at its most refined, elegantly showcasing the vibrancy and culture of the locale through contemporary design and impressive art pieces. The sophisticated hotel acts as an art gallery allowing for guests to constantly be "living with art," with more than 1,000 pieces on display throughout the hotel either specially commissioned by artists with connections to Tennessee or from the Pizzuti family's private collection. Notable pieces include an expansive Hank Willis Thomas sculpture, immersive digital installations at the porte cochere, and a stunning chandelier by Misha Kahn floating above the hotel bar. The Joseph's front desk is embellished with a hand-tooled, custom-designed leather panel created by renowned bootmaker, Lucchese and a closer look at the design reveals the story of a Monarch butterfly, as it migrates north.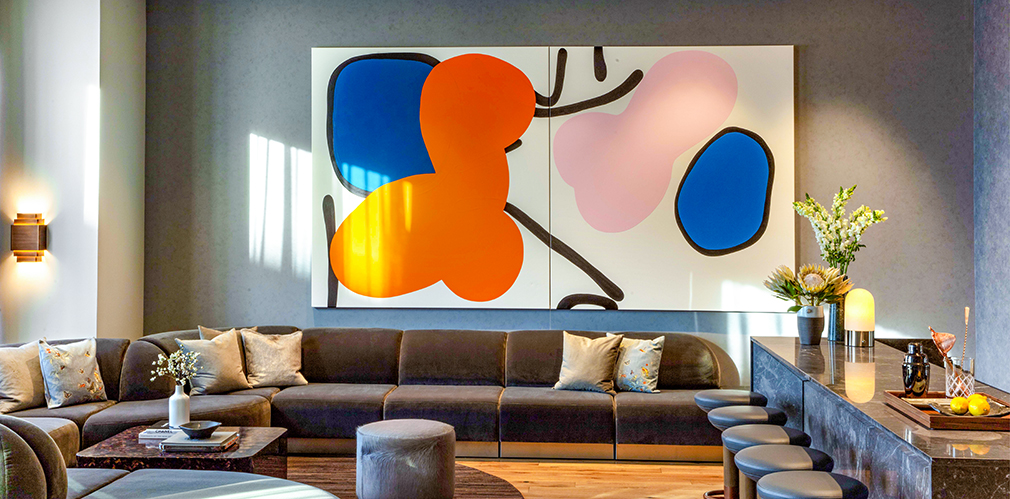 W South Beach – Miami Beach, FL
W South Beach is home to one of the largest and most impressive art collections at a hotel, valued at $100 million and focuses on the iconic duo Andy Warhol and Jean-Michel Basquiat. There are 21 original Warhol's in the collection, three of which are a collaboration between Warhol and Basquiat, curated by part-owner Aby Rosen from his personal collection. The museum-worthy art collection is open to the public on display throughout the hotel's lobby spaces.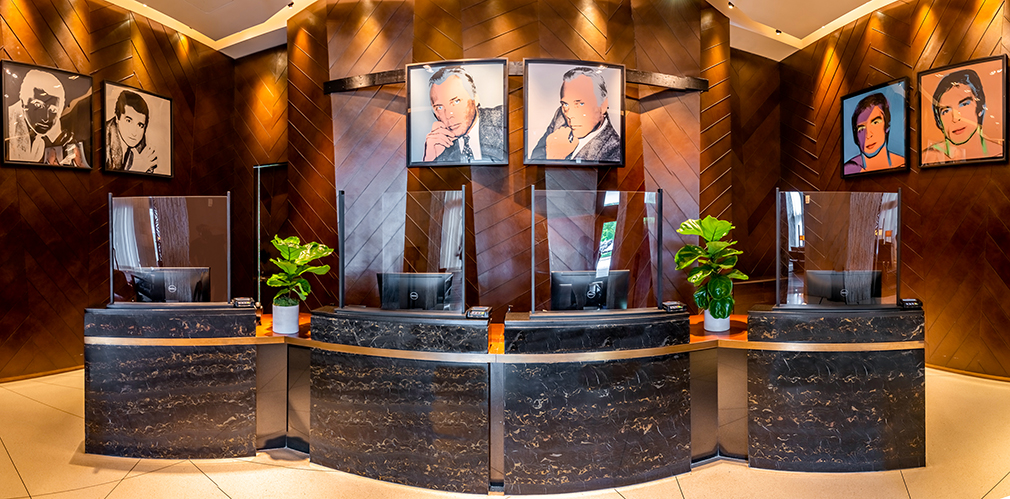 Victoria, Australia
Jackalope Hotel is situated on a vineyard amid the Mornington Peninsula wine region and appears like something out of a modern science fiction movie with outdoor sculpture pieces and concrete decor, juxtaposed against rolling vineyard views. The Jackalope Art Collection currently comprises international works by Tracey Emin, Nick van Woert, Tatsuo Miyajima, and Random International. Onsite pieces include: Emily Floyd's 7m Jackalope Sculpture, Rolf Sachs' 5 Flasks "light chemistry" lamp, Andrew Hazewinkel's Three sculptural works comprising 11 agate faced busts, Rick Owens' Stag Bench, and more.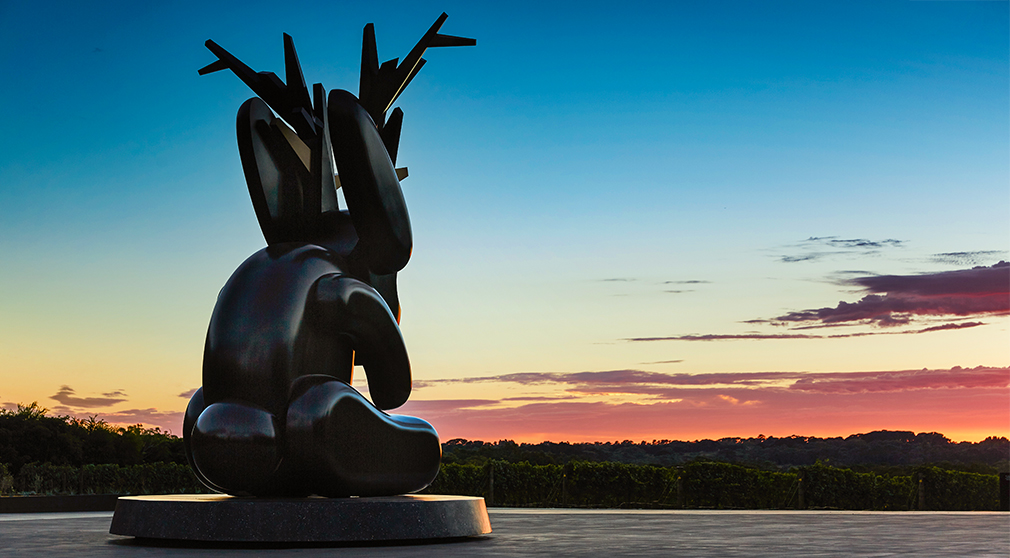 Hawaii
Sensei Lāna'i, A Four Seasons Resort, is a luxury wellness retreat set within the Hawaiian island's 90,000 acres in the spiritual uplands of Ko'ele. Founded by Larry Ellison and Dr. David Agus, with the goal of helping people live longer healthier lives. And, strolling the grounds to admire the art is part of that equation.
Intentionally placed among expansive garden foliage, the retreat houses a premier outdoor sculpture garden that includes larger-than-life pieces from renowned artists like Fernando Botero, Jaume Plensa, Baltasar Lobo and more. As guests venture further, Ju Ming's "Tai Chi Arch" opens to an onsen garden and Robert Indiana's iconic "Imperial LOVE" sculpture ignites a sense of joy and rejuvenation. A selection of artwork throughout the retreat was commissioned exclusively for the hotel featuring artists David Ellis, Miya Ando, Haure Shimomoto, Sky Pape, Brooks Shane Salzwedel and Lauren Collin.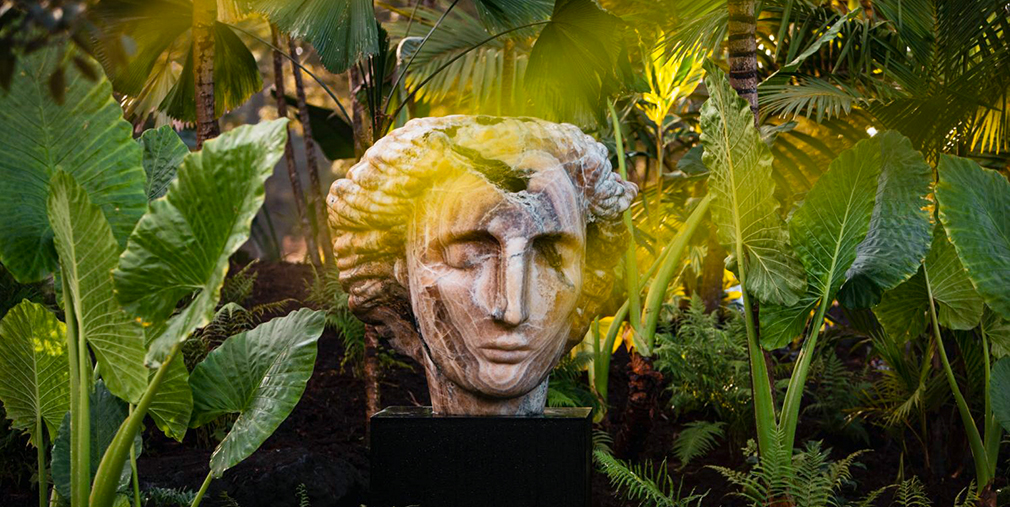 The Surfjack Hotel & Swim Club, a retro-inspired boutique hotel set in the heart of the city and only moments away from the iconic Waikiki Beach. Beautifully designed by Honolulu-based design studio The Vanguard Theory, the hotel's walls are adorned with locally made, vibrant artwork such as a wall mural titled, "Our Treehouse," painted by local Hawaii artists, "The Wooden Wave," and a colorful "POW! WOW! Hawai'i" piece. In the suites, framed vintage beach postcards line the walls. The hotel's most visually stunning piece is the especially striking, "Wish You Were Here" pool , located at the center of the property, and exclusively designed by local artist Matthew Tapia.