TRAVEL DISH SPOTLIGHTS MICHELIN-STAR CHEFS, MASTER MIXOLOGISTS, AND GLOBAL GOURMET TREATS THAT YOU CAN RECREATE AT HOME.
Mexico City is one of the most sought-after destinations for travelers in 2023, and once you land in this buzzing cultural metropolis, the Roma Norte District is the epicenter of cool art, design, and some of the most exciting dining options.
As the executive chef of one the region's most forward-thinking restaurants, Fonico, Billy Maldonado blends influence from Mexico's Sonora and Baja California regions for his seasonally changing menu with sustainably-caught seafood and local produce, showcasing traditional flavors through a modern lens.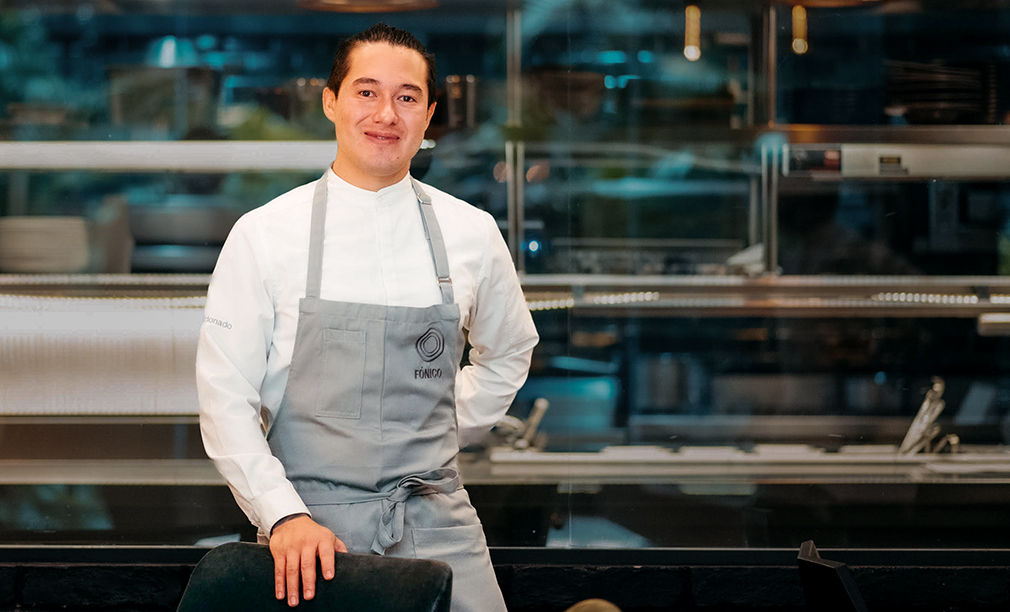 Born in Mexico and raised in Los Angeles, Maldonado honed his cooking skills in Madrid, before moving back to the United States to work at The Mark Restaurant by Jean-Georges in New York City and at some of the most lauded fine-dining establishments in the country, including The French Laundry in Napa, and Le Cirque in Las Vegas.
Maldonado describes his cooking as "honest", and is also an expert in the art of making mole negro. At the restaurant, he uses more than 50 different ingredients for his recipe (such as chilies and chocolate from Oaxaca, nuts and spices, herbs, and locally-grown fruits and vegetables), which takes about four days to perfect. The result is a deeply rich, velvety sauce that is versatile.
Housed in a landmark, heritage estate in Mexico City's Roma Norte, Maldonado makes dishes not only for the fine dining Fónico Restaurant but also the Rayo bar which blends dynamic, spirit-forward cocktails with contemporary Mexican cuisine. The two unique experiences are seamlessly complimentary, both pushing the envelope by fusing traditional flavors with inventive techniques.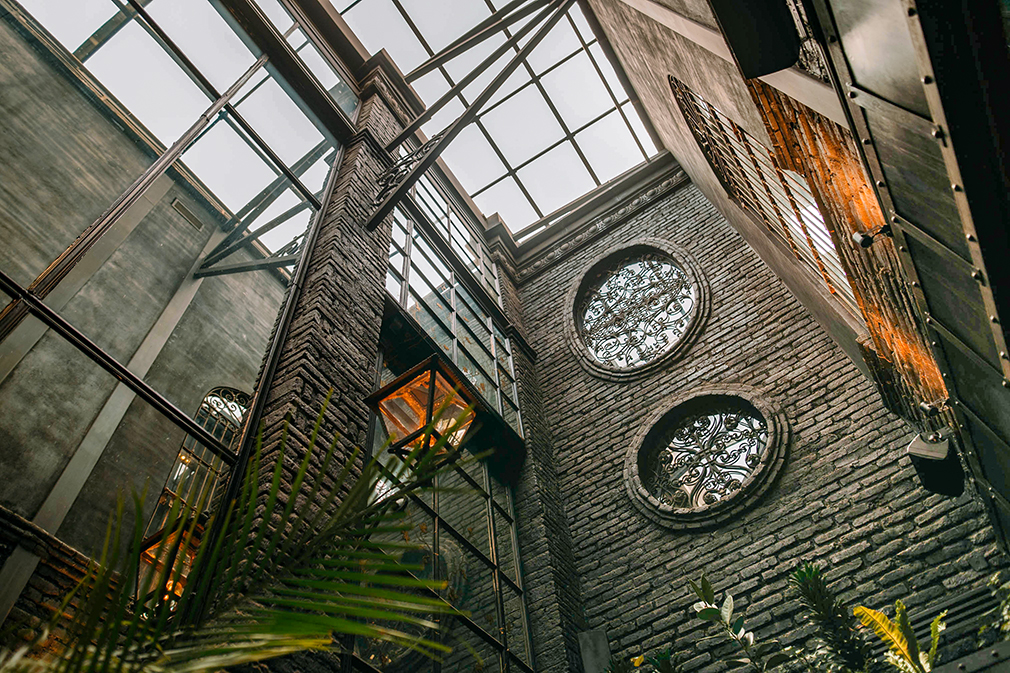 "The word Fónico is an abstraction of the word aphotic, meaning no light," says Maldonado. "It is also the name of the deepest, darkest part of the ocean, of which more than 95% has never been explored by man," he says. "While there is of course light in Fónico, the name represents our constant culinary search toward the unknown and the unexplored."
What you can expect on the menu are elegant cuts of raw fish with fermented fruits and fragrant vinaigrettes, soups, such as a green-tinted pozole made with local chocolate clams, and main dishes cooked on the grill, including Sonoran short ribs glazed with ancho chili and ginger, and served with green apple, jalapeño puree and sweet baby corn. There is also a variety of delicate tostadas, which guests can top with Pacific abalone, Bluefin tuna, Enamorado-style octopus or raw shrimp.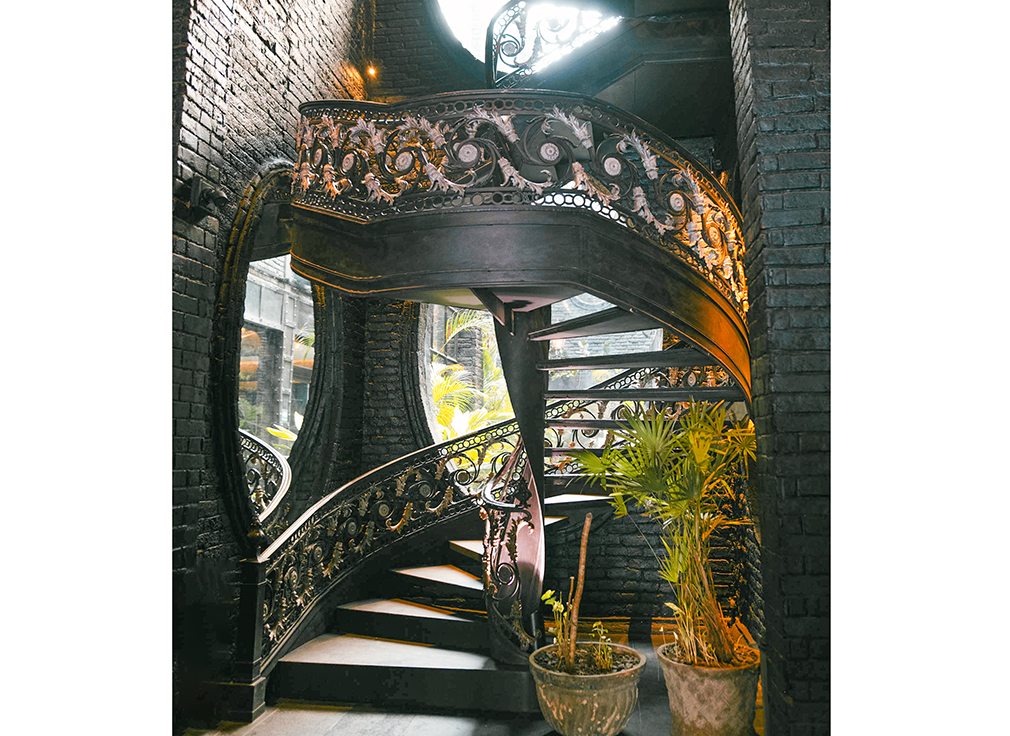 The bar and restaurant are split across a striking, multi-level mansion, which has been lovingly restored to incorporate both modern and antique elements. Sitting on the top level, Rayo Cocktail Bar takes its inspiration from the legend of Mayahuel, a Mexican goddess who descended to earth in the form of an agave plant. The menu, created by Alvaro García Arroyo, Victor Garibay and Tito Pin-Perez, showcases three cocktail categories: Signatures, Classics with a Twist and Mocktails, all inspired by different Mexican tales and legends.
Rayo's airy, blue-hued room is accentuated by angular, neon light fixtures, intended to resemble the lightning bolts that brought Mayahuel down to earth. A sleek, marble-topped bar is punctuated with high-stool seating, while an outdoor terrace, lined with eye-catching agave and cacti, brings an indoor-outdoor feel.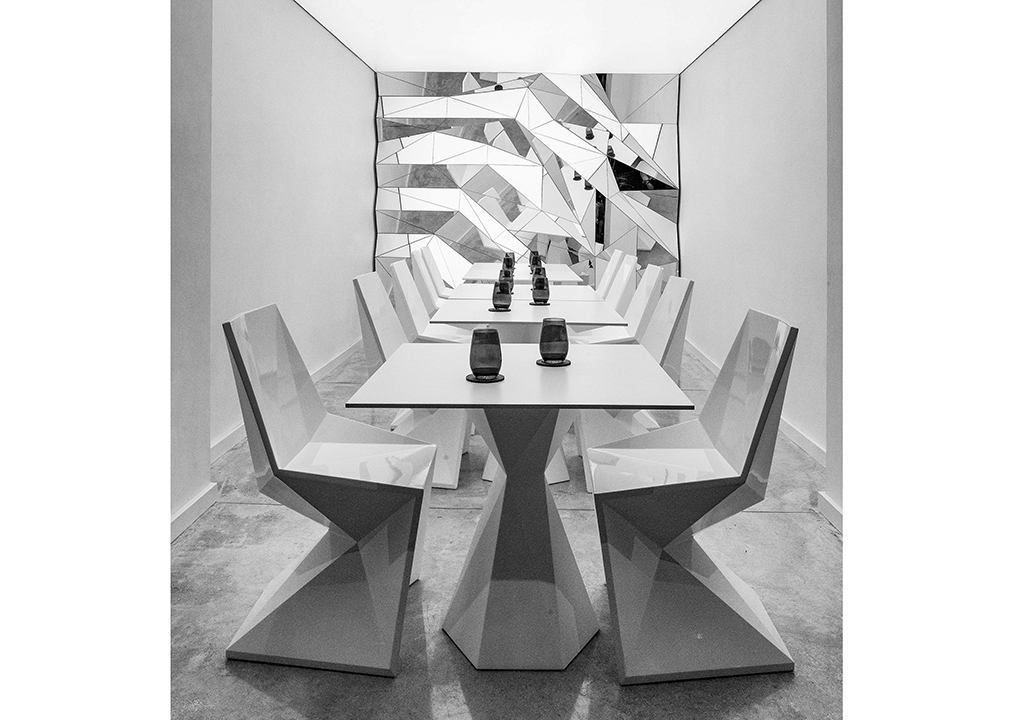 Fónico is located downstairs, which guests can access from one of the oldest working elevators in the country. The modern and elegant restaurant space was designed by internationally renowned Mexican architect Francisco González Pulido with antique touches, original timepieces, and old-school furnishings, curated by notable antiquarian Daniel Liebsohn.
We spoke to the chef to find out more about the region, sustainability practices and grab his signature white fish ceviche recipe.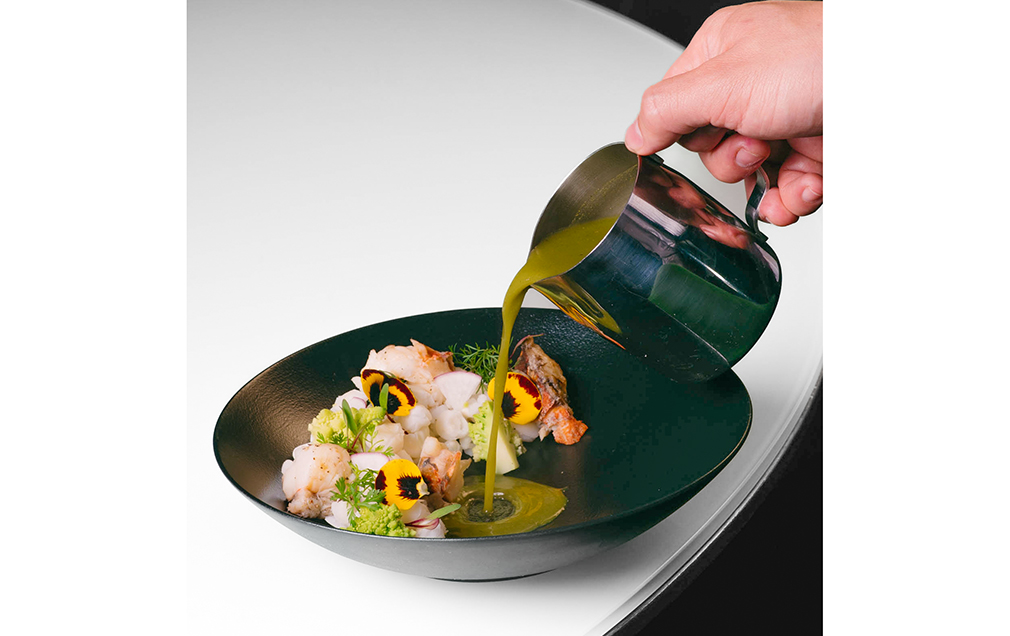 What is exciting to you right now in terms of the ingredients available in Mexico City?
Mexico is home to some of the most delicious and well-known ingredients across the globe, such as corn, tomatoes, chilis, vanilla, avocados, and chocolate, just to mention a few. Seasonality is fundamental when it comes to creating new recipes. I have always said that respecting seasonality is a respect for the ingredients, and therefore a respect for the environment.
Why did you want to work at a restaurant in the Roma district?
I think one of Fonico's successes, apart from its team, is the actual house, which is positioned in the Roma District and was built sometime during the 19th century; the architectural design and the history it holds, has become sort of a landmark for the district.
I took the role of Executive Chef at Fonico because I saw this opportunity as a challenge. I've been Executive Chef before at another restaurant, but had never actually built anything up from the ground up. I wanted to have that experience, and so far, it has given me more than I ever could have expected.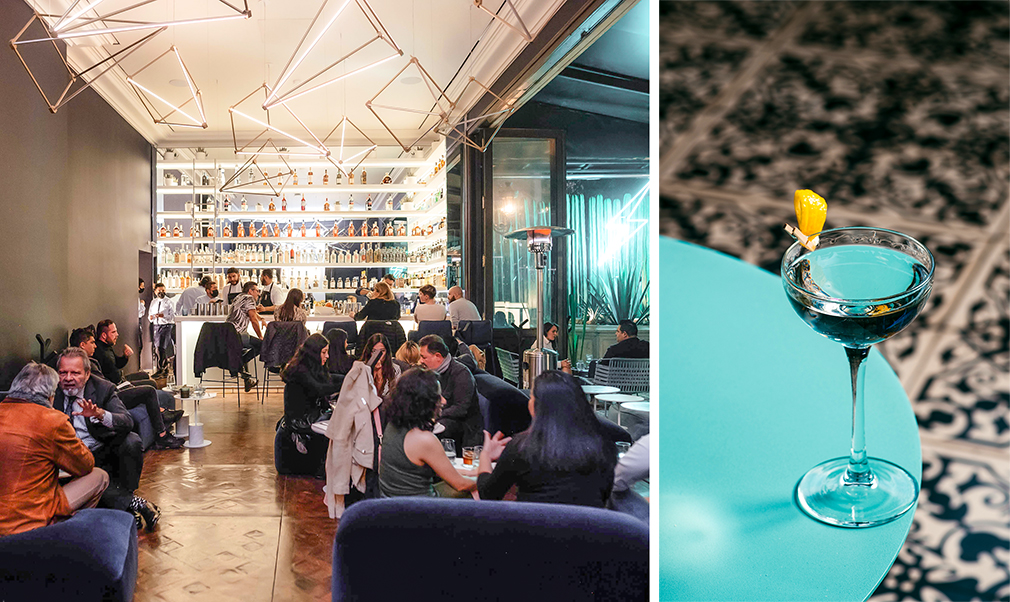 How do the two spaces work together?
In building Fonico and Rayo, we also had to build and train an entire staff. We see each other as family and we share not only the same core values but also the same goals. But, the menus are completely different. Fonico is much more of a fine dining concept (although still maintains a relaxed and playful energy), whereas Rayo focuses on cocktails and elevated bar snacks. The kitchens utilize the same ingredients but bring very different results.
Tell us which city has influenced your cooking the most (Mexico City/LA/Madrid) and what are some of your signature dishes now?
Mexico first and foremost; the culture and complexity of flavors is like none other. New York, too, because it has become a melting pot of many different cultures and it has embraced diversity wholeheartedly.
How are you utilizing sustainable seafood practices in your restaurant?
We only use what's available and what the sea gives us. We share constant communication with fishmongers. Every day I receive a call very early in the morning to let me know what is around, I tell them what I want, and that same morning the fish is delivered to us within 2 hours so that it arrives freshly at the restaurant.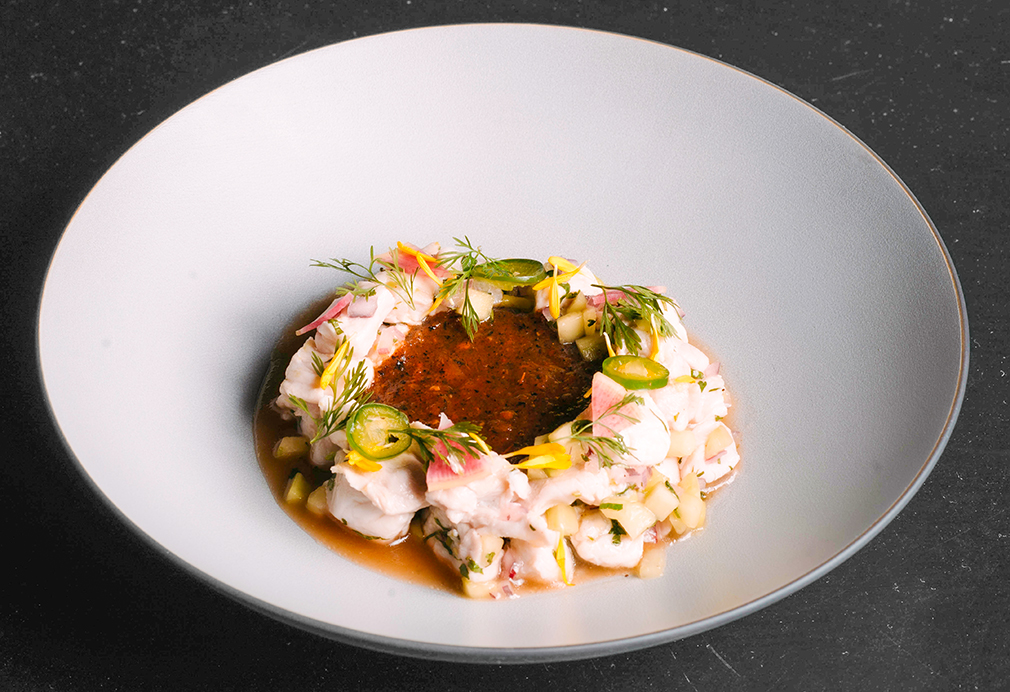 RECIPE
White Fish Ceviche with Charred and Roasted Citrus-tomato Marinade
The beauty of this dish is that it not only is very easy to make but it will also impress anyone in your house for the complexity of flavors.
---
For the fish marinade:
500 gr lemon juice
500 gr spring water
30 gr salt
1000 gr red snapper fillets (or any other white fish that you like) skin off, cut in cubes 1/2" thick.
Mix ingredients until the salt has dissolved. Add the marinade to the fish cubes and mix thoroughly, making sure everything is submerged. Let it marinate in the fridge for at least 1 hour, or until the fish starts to turn white-pale on the outside, but still maintains a pinkish-colored center. Strain and reserve very cold.
---
For the charred citrus tomato marinade:
700 gr Roma tomatoes, cut in half, lengthwise
100 gr yellow onion, cut into chunks
10 gr garlic cloves, peeled
Place ingredients in a 400F oven on a baking sheet lined tray. Bake until the ingredients start to take a deep charred color on the outside. Once charred, place in a blender and add a touch of lemon juice and olive oil. Blend to a coarse paste and season with salt to taste. It should be tangy and a bit salty. 
---
For the fresh vegetable mix:
Purple onion, chopped very finely
English cucumber, cut in small cubes
Celery heart, cut in cubes
Avocado, cut in cubes
Cilantro, finely chopped
Serrano chilis, chopped very finely
Combine the fish mixture and ¾ of your vegetable mix together, then season to taste. Place your tomato marinade in the center of a shallow bowl, then spoon the fish mixture around it. Garnish with the rest of your fresh vegetable mix.
Serve very cold accompanied by any kind of tostadas or tortilla chips.