With the surge in fuel costs, airfare escalating up 25% (not to mention labor shortage causing delays and cancellations), chain hotel room rates continuing to rise, and of course global inflation, traveling this summer is pretty expensive.
Since travel costs are at its highest in decades, we decided to share with you 8 properties under $145 per night. In fact, we scoured over 20,000+ properties at eviivo to select the best affordable and unique independent accommodations in US and Canada — including a rustic winery, an incredible spa retreat and a former jail.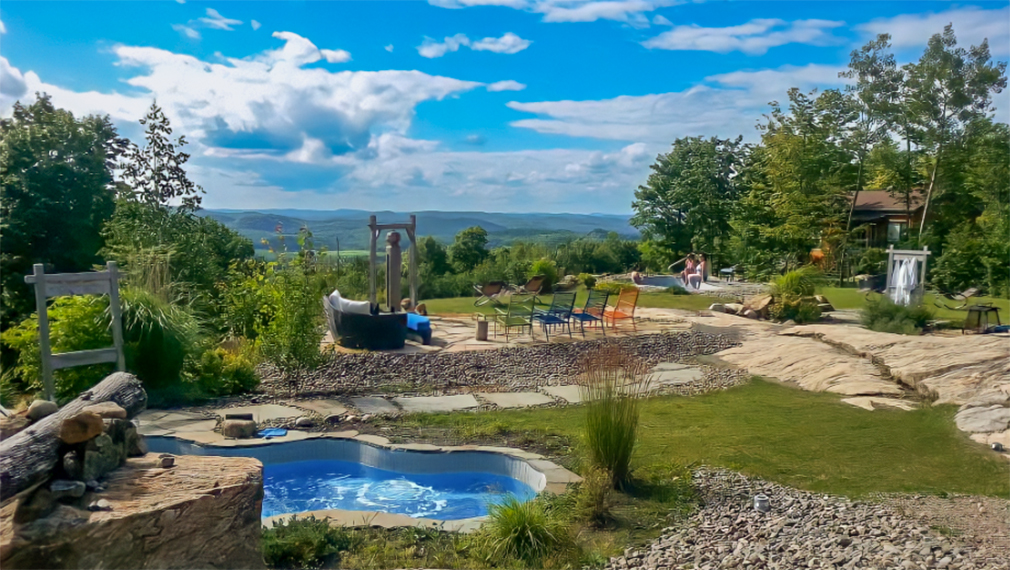 eviivo is a booking/property management platform that works with over 20,000 independent accommodations (such as Airbnbs, vacation rentals and boutique hotels) globally, is the only travel tech company that spans US, Canada, France, Germany, UK, Ireland, Spain and Italy.
These properties are not only affordable, they are some of the apps best-kept secrets from romantic and history-rich gems that offer cozy rooms, scenic surroundings and excellent dining for couples, friends and families alike.
We also rounded up amazing, affordable properties in the UK (under £95 per night) and Germany (under 80 Euro per night.)
Here is a rundown of what to expect at each place.

Latchis Hotel
Brattleboro, Vermont – $140/night
With Grecian and Art-Deco-inspired architecture, Latchis Hotel and Theater was built in 1938. Surrounded by green hills, locally-owned businesses, and a historic downtown, Latchis Hotel and Theater is a great place to stay for those who want to be transported to the past and immersed in a local culture.
Barn Suite at Peachbarn Winery
Alto Pass, Illinois – $90/night
Located in the scenic fruit and wine country in the rolling hills of southern Illinois. Not only does Peachbarn Winery offer a gourmet food and wine pairing, but located above the 1940's Peachbarn is a private and cozy barn suite designed for peace and relaxation.

Inn on the Green at Laurel Ridge Country Club
Waynesville, North Carolina – $145/night (2 night minimum)
Inn on the Green offers a rustic-chic option for those who want to practice their golf swing and enjoy all North Carolina has to offer. With a "Stay and Play" package, guests have access to the top-of-its-class mountain golf course, Clubhouse dining and various seasonal activities.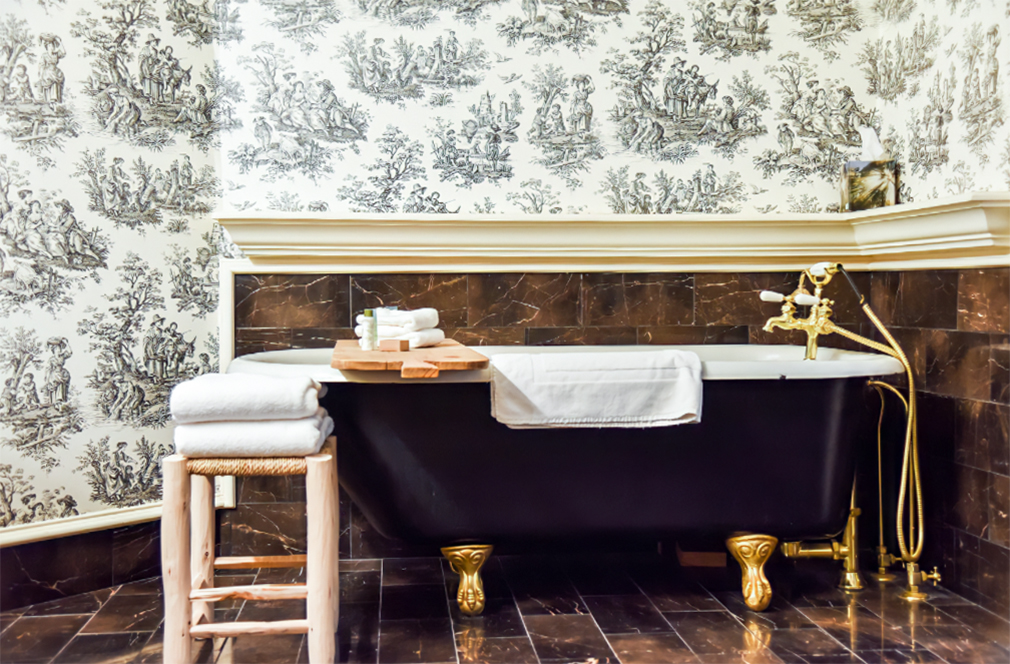 The English Merchant's Inn
Waxahachie, Texas – $140/night
This quirky and unique Inn located in Waxahachie, Texas will make you feel like you're across the pond. From whimsical room designs, British flags and eclectic shared spaces it's perfect for those who want to feel transported to a different time and place.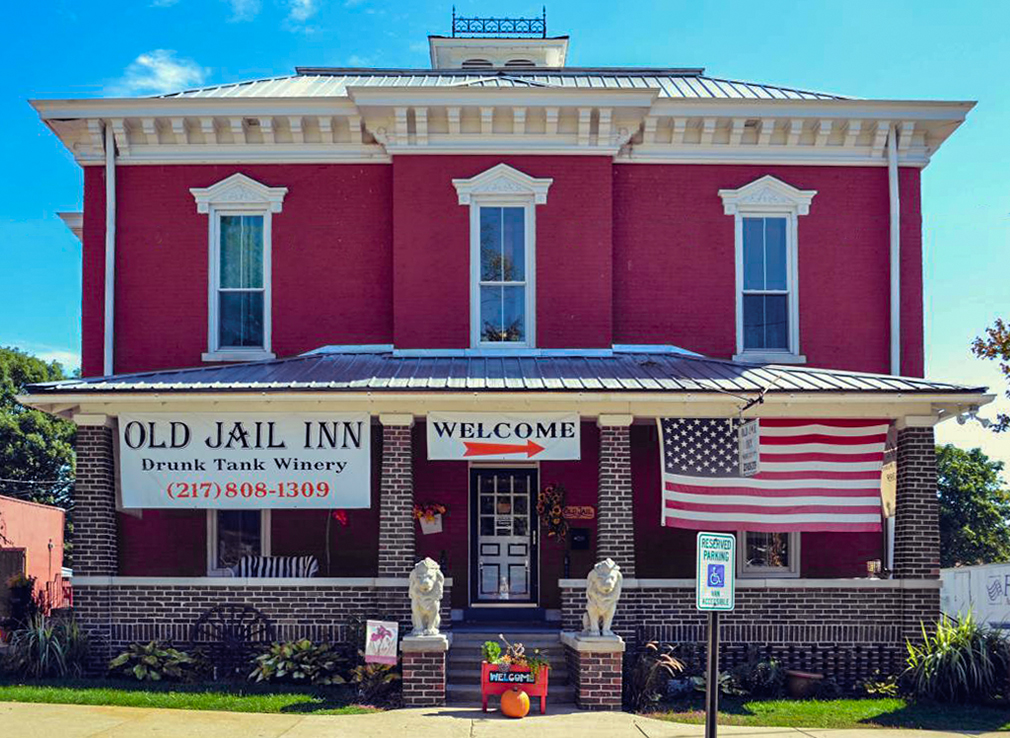 Old Jail Inn
Rockville, Indiana – $79/night
Originally the Parke County Sheriff's office and jail is now converted into a true one-of-a-kind stay experience. With fun famous criminal-themed cells, such as Al Capone Cell, guests can feel like a criminal themselves for a night. Or if a jail cell isn't your thing, there are additional rooms and suites available inside the Old Jail Inn.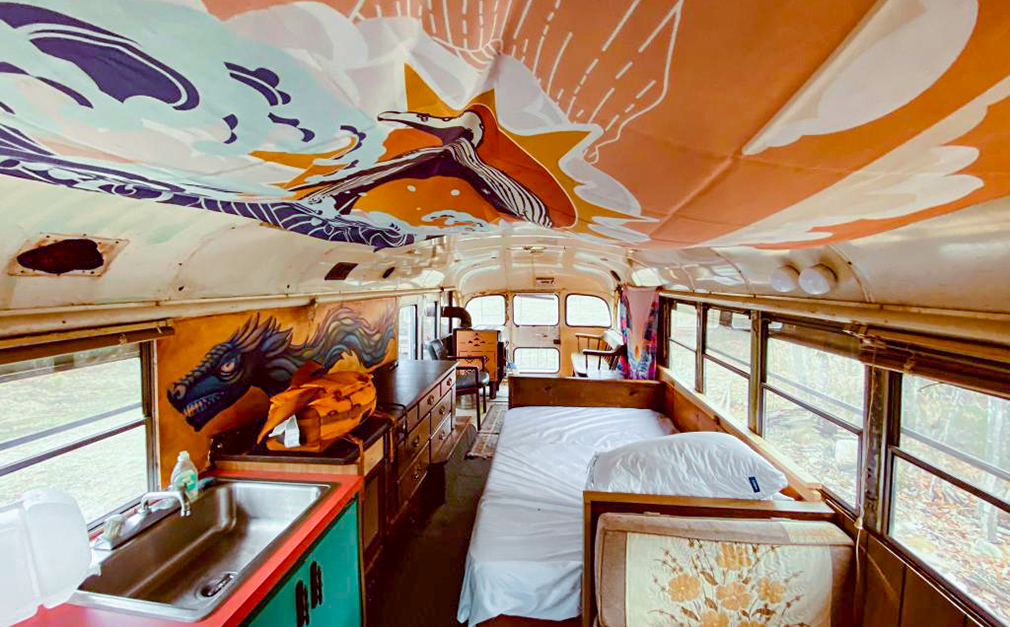 Cassidy Vintage School Bus at Toad Hill
Chatham, New Hampshire – $75/night
A privately owned 45-acre landholding in the White Mountain National Forest in Chatham, NH, Toad Hill offers off-grid luxury camping accommodations close to hiking, elevated mountain fishing ponds, and even a waterfall. From a vintage Hippie bus to a Tippie there is an assortment of quirky stays to choose from.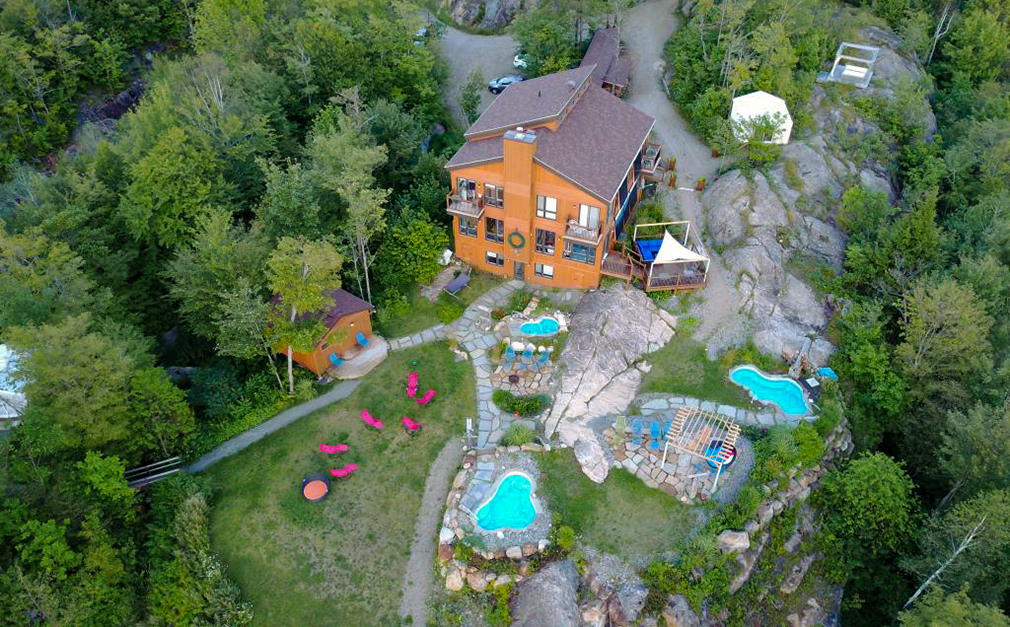 Eco Highland Spa
Argenteuil, Quebec – $108/night
Nicknamed the balcony on the sky, this stunning retreat is located in the middle of nature in Argenteuil, Quebec. Hiking trails, massages, and thermal baths makes Eco Highland Spa is the perfect location for self-care and tranquility.
The Annex at Hayes Valley
San Francisco, CA – $90/night
Surrounded by one of the most creative and coolest neighborhoods in San Francisco, The Annex acts as a sense of comfort after a long day of excitement and exploration. With a simple and relaxed atmosphere, any visitor will feel like they are staying at their friend's house.